It's Halloween next week and one person who couldn't be more excited about it is my son, Patrick! He's been talking about jack-'o-lanterns, ghosts and monsters non-stop for weeks so I decided to embrace the celebration by decorating our entry. But without wanting to spend a fortune or buy too much stuff that will take up precious storage space, I set a goal to spend under $100.
Here's what I did and my tips to spooktacular Halloween styling for less!
Related: Creating a spooky yet stylish Halloween (table styling)
Related: DIY Halloween door mat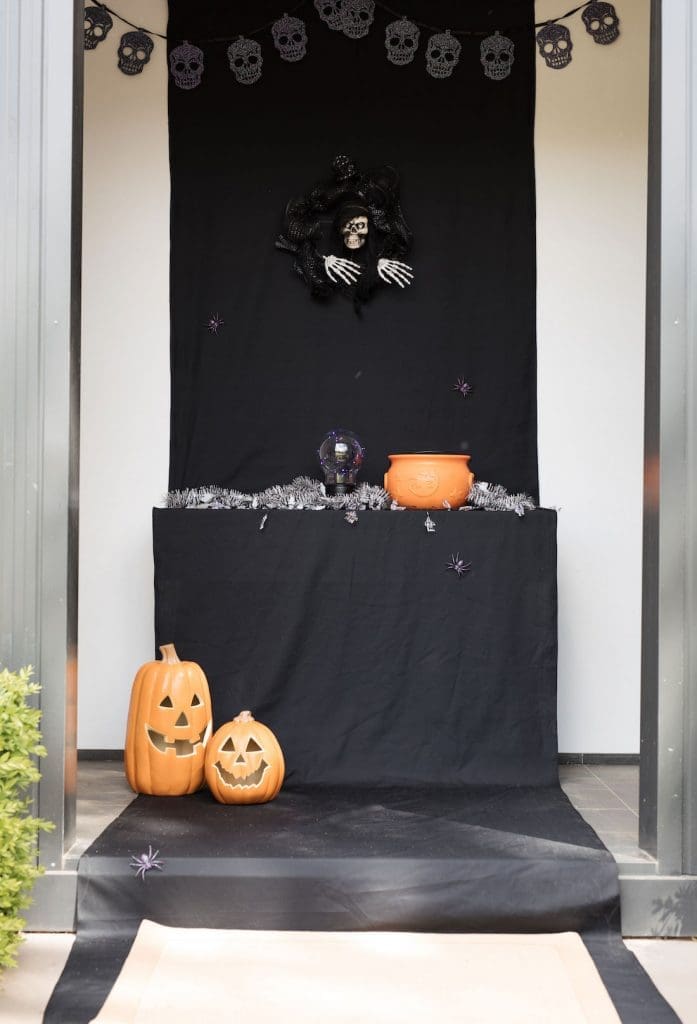 1. Decide on an overall look
You would have heard me say it before but all good styling starts with a plan — even fun, festive styling! So, before hitting the shops and becoming overwhelmed by the plethora of Halloween décor on display, I suggest taking a step back and thinking about the look you want to create.
This will help in 2 ways — you will only buy items you'll use (and create a more cohesive, wow-factor look) AND you may be able to identify easy DIY ideas or hacks using items you own to keep costs down.
I started by doing a quick Pinterest search to see what looks people had created — and you can find some of my favourites at the end of this post — and thought about what worked well or what I could do differently. As much as I LOVED some of the pics I saw, many of them seemed like too much effort or too wasteful i.e. painting dozens of pumpkins to cascade down your front steps.
I decided to keep things simple, opting for a black and sparkly theme with a few accents of orange, but added wow factor with a black fabric backdrop. This fabric is only $2 a metre and can be repurposed for other styling in future (I'm thinking it would make a great table cloth for some Christmas styling).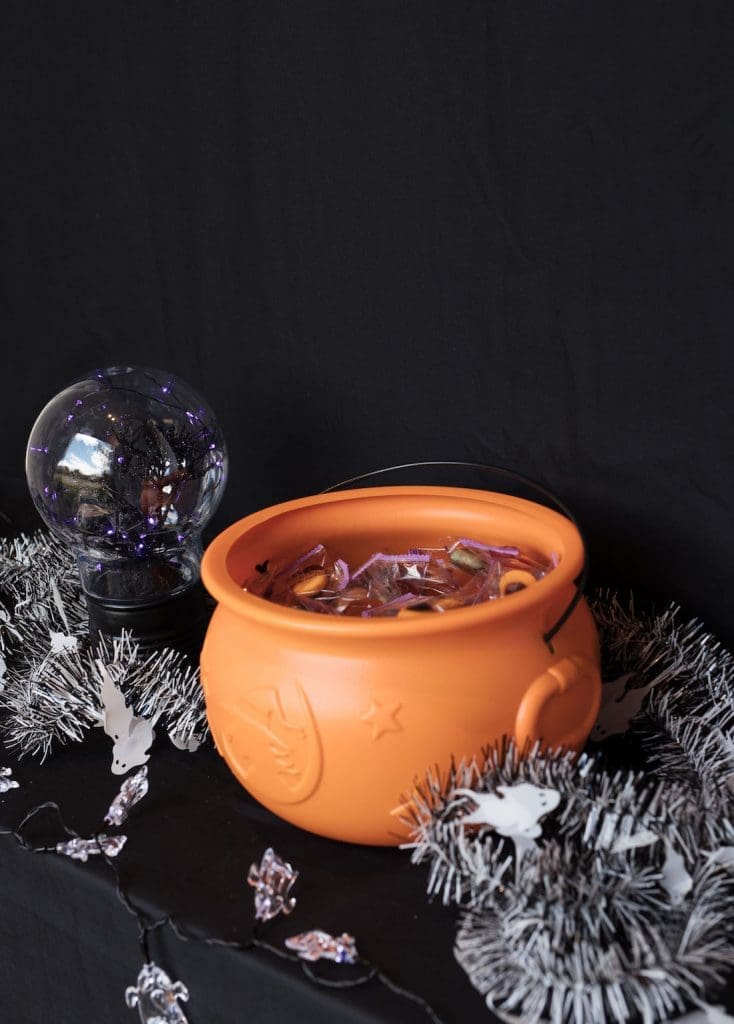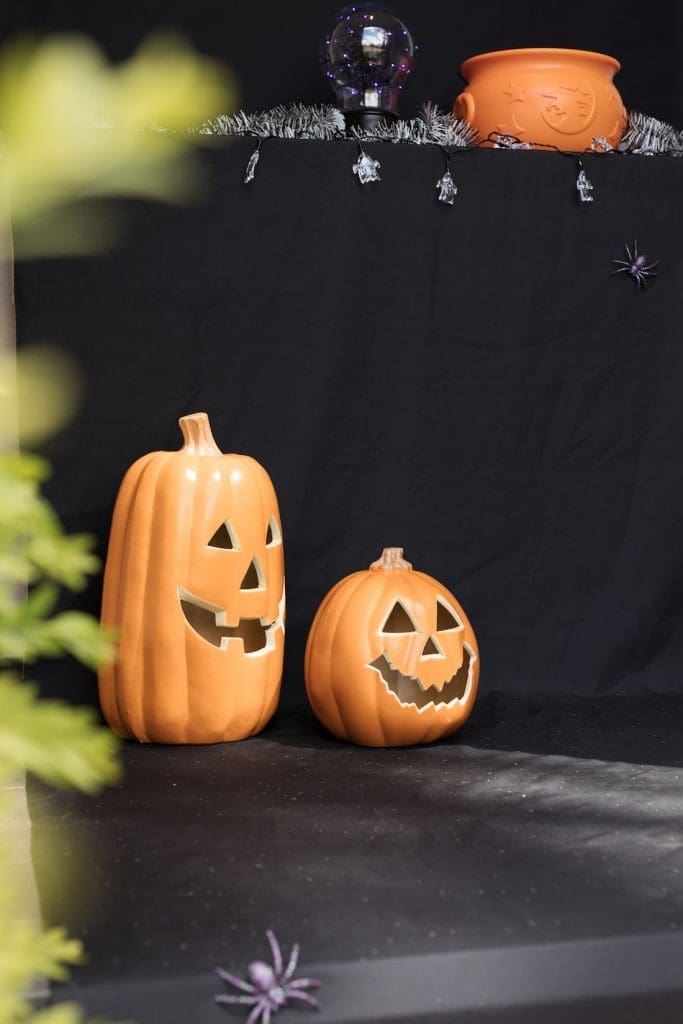 2. Shop smart
It's easy to spend a fortune on festive décor… but you needn't!
There are plenty of stores offering stylish, high quality Halloween décor at affordable prices. Everything I used was from Big W where items started from $2 and the maximum cost was about $20. I did buy a few 'splurge' items at $20 each — the skull wreath, spider light bulb and large pumpkin — which took up the bulk of my budget. In hindsight, I could have created just as much impact by buying more glitter spiders, which were only $2 for a pack of 4. For example, I could have bought 10 packets of spiders for just $20 and had them crawling all over the black fabric and down the path.
Another super cheap Halloween prop that creates a big impact are those faux spider webs, selling for just $2 a packet. Next year I'm going to string up a few of these, which will contrast well against the black fabric.
It's worth shopping around to see what's available that fits your theme and budget.
Tip:
Repetition of items or materials instantly makes styling look more sophisticated so when working to a budget, I suggest finding one or two materials, objects or colours that you can repeat 5 or more times across the space.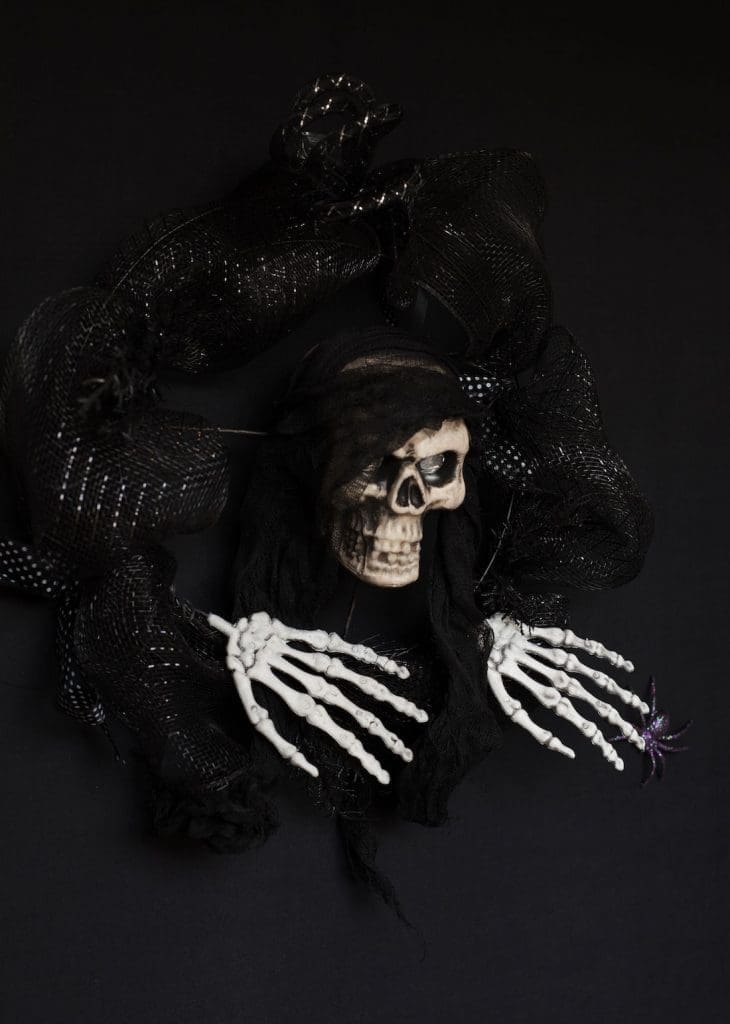 3. DIY or hack something
I mentioned it in the first point but one of the best ways to style your home for Halloween for less is to look for ways you could make or repurpose items.
The hack I used was to use double-sided tape to hang the black fabric backdrop, which creates a big impression for just a few bucks, but some other ideas could be:
painting old brooms black for a witch theme entry
painting or filling maison jars
painting or carving pumpkins
cutting and hanging cardboard or paper, for example I made paper bats in this Halloween table styling and I've seen some people create garlands using cardboard.
You may also find plenty of objects around your home that could be used in your Halloween styling, such as candlesticks, lanterns, bird cages or fairy lights.
I hope these tips have helped you think of ways you could create your own terror-ific Halloween home styling for less. Keep scrolling to see some of my favourite Halloween looks from others.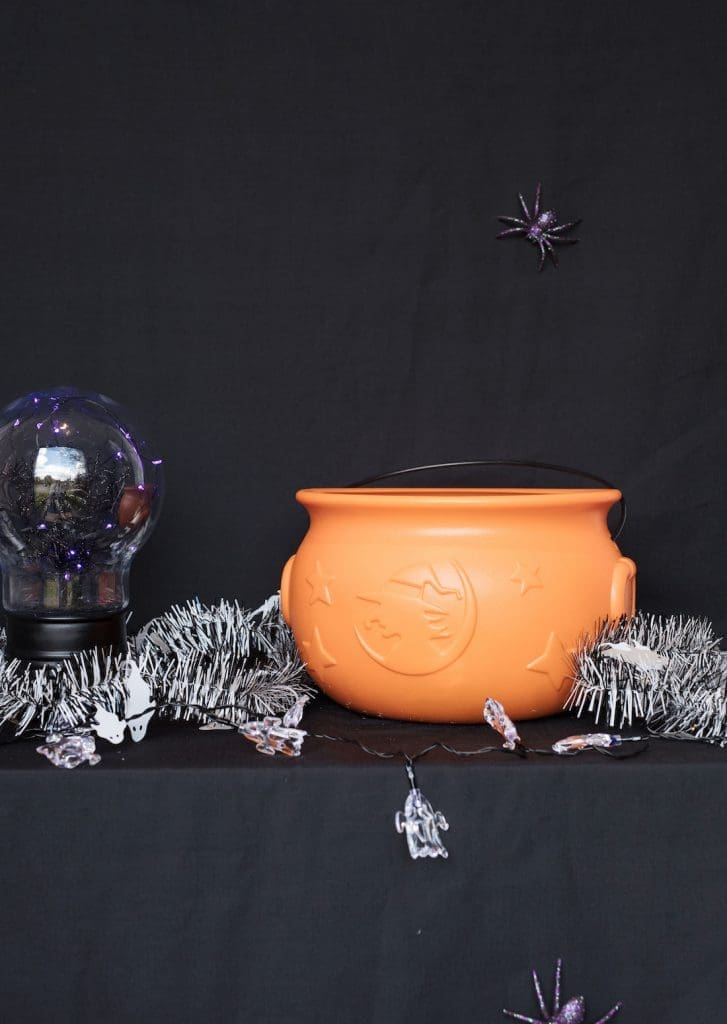 More Halloween entry ideas to inspire you
As I mentioned in the first point, there are so many different ways you could put your own spin on Halloween styling so here are some seriously Pinterest-worthy pics to inspire you. While I'm sure many of these weren't within the $100 budget, I hope you'll find some ideas to use and make your own at your house!