The end of The Block 2020 is edging closer and we're getting so excited for auction day! Who are you tipping to win? Our bet is on Daniel and Jade or Luke and Jasmin… despite them both coming joint 3rd place this week for their studio and garage reveal.
But we're jumping ahead. Let's start with House 1 where it was another week of tears…
Related article: The Block 2020: Week 10 — front garden and facade reveal
Related article: The Block 2020: Week 9 — Hallway, powder room and laundry reveal
Harry and Tash
Yes, it was another emotional week for Tash! She put herself down for last week's 'poor budget management', which is an extra tough pill to swallow considering her actual job is a Project Manager.
We might roll our eyes at all the tears, but we know it all looks a lot easier from the comfort of your own couch. Pretty sure we'd be in tears 99% of the time too if we were ever on the show! Due to budget issues, they started this week with $15,000 less than the other teams to complete their studio and garage reveal.
But thankfully, they won this week's challenge and nabbed themselves some much-needed cash.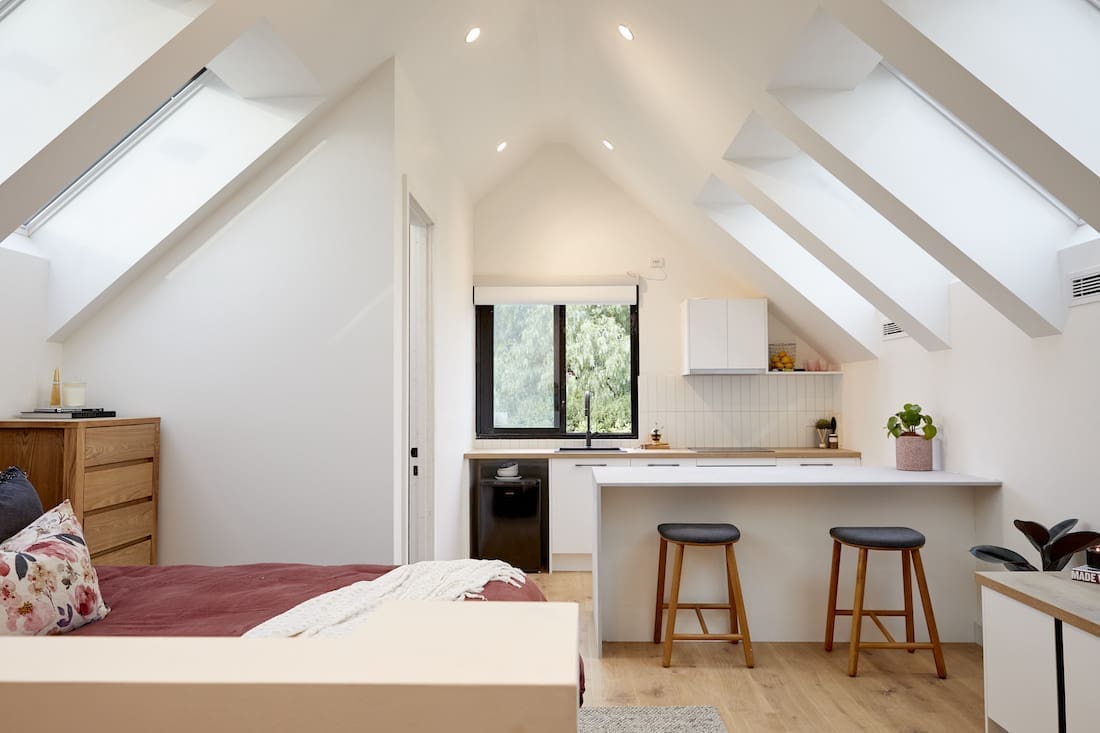 Ouch… these guys got burned this week. With not enough budget (or time) they delivered an unfinished studio and garage.
Let's start with the positives though! They presented a completely self-contained studio which could pay off big time come auction day.
The judges loved the artwork in the studio, the bathroom tile choice and… that's kind of where the positive things stopped.
They felt the kitchen was too big and there should have been a more obvious work from home space. The bathroom, delivered unfinished, had a bit of an awkward layout. It could have been better planned to make it more functional.
We thought it deserved more points than the judges awarded. They were harsh! The natural light, thanks to the skylights, flooded the space with light and made the space look huge.
Lots of potential, just not quite executed due to budget issues. We felt sorry for Harry and Tash this week. They've been down the past few weeks and haven't quite managed to pull themselves out of their funk, receiving the lowest score of The Block this series.
Score: 20 / 30 (5th place)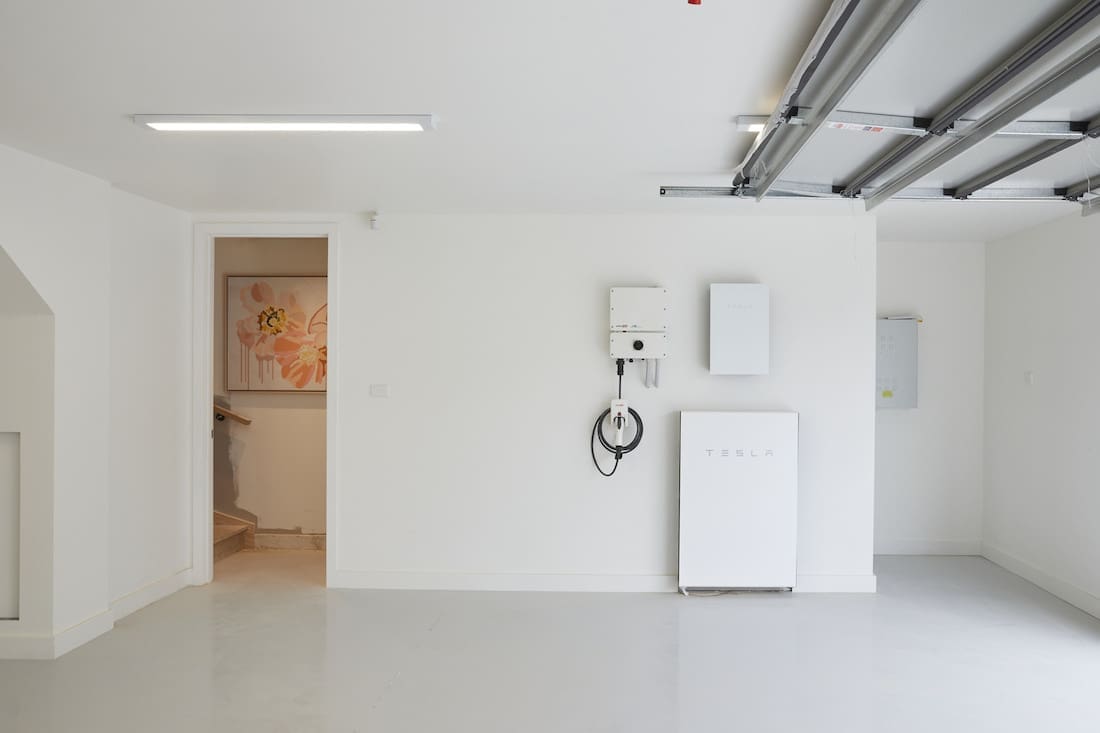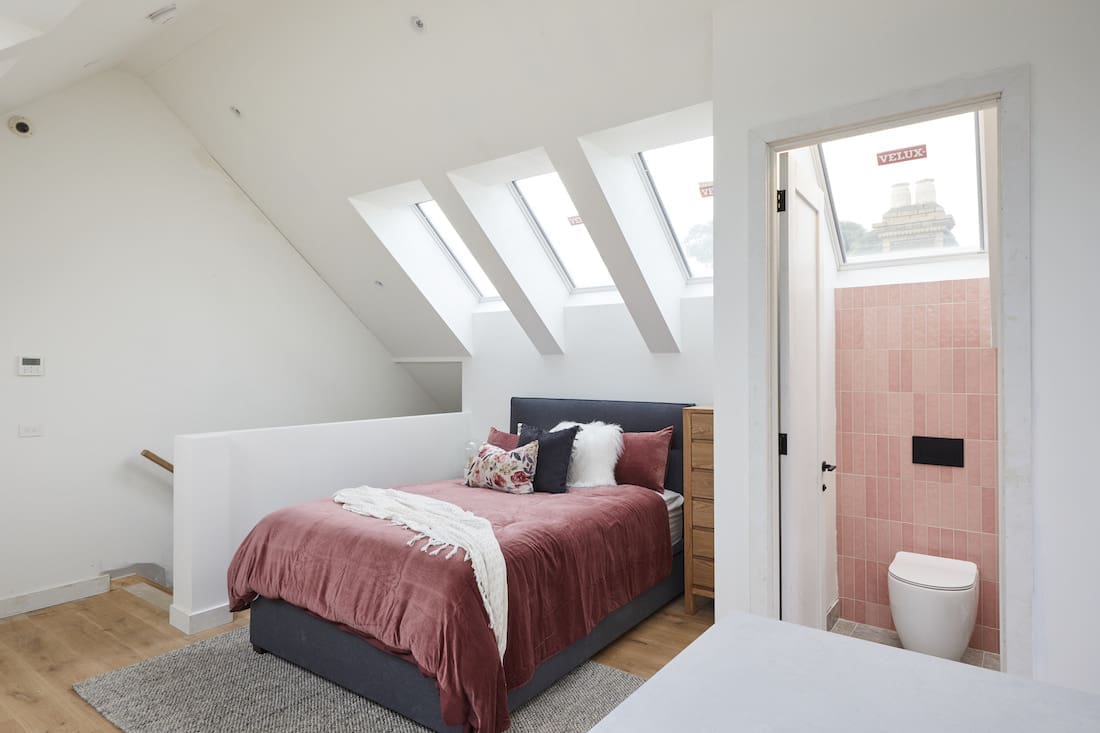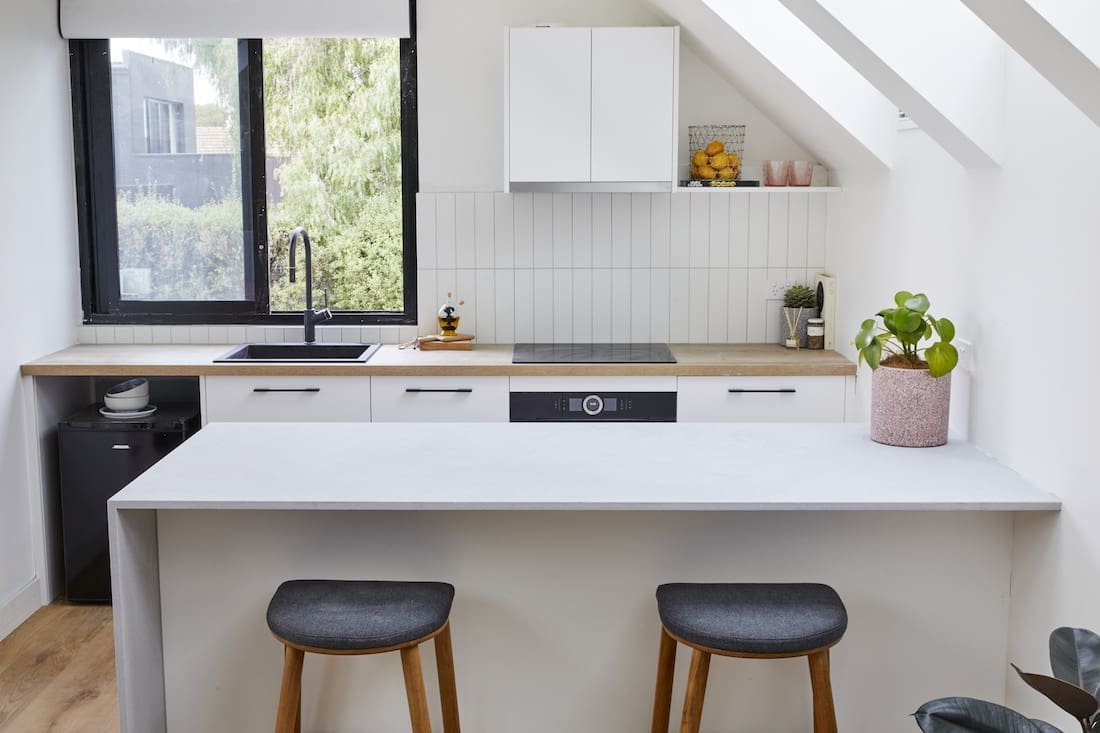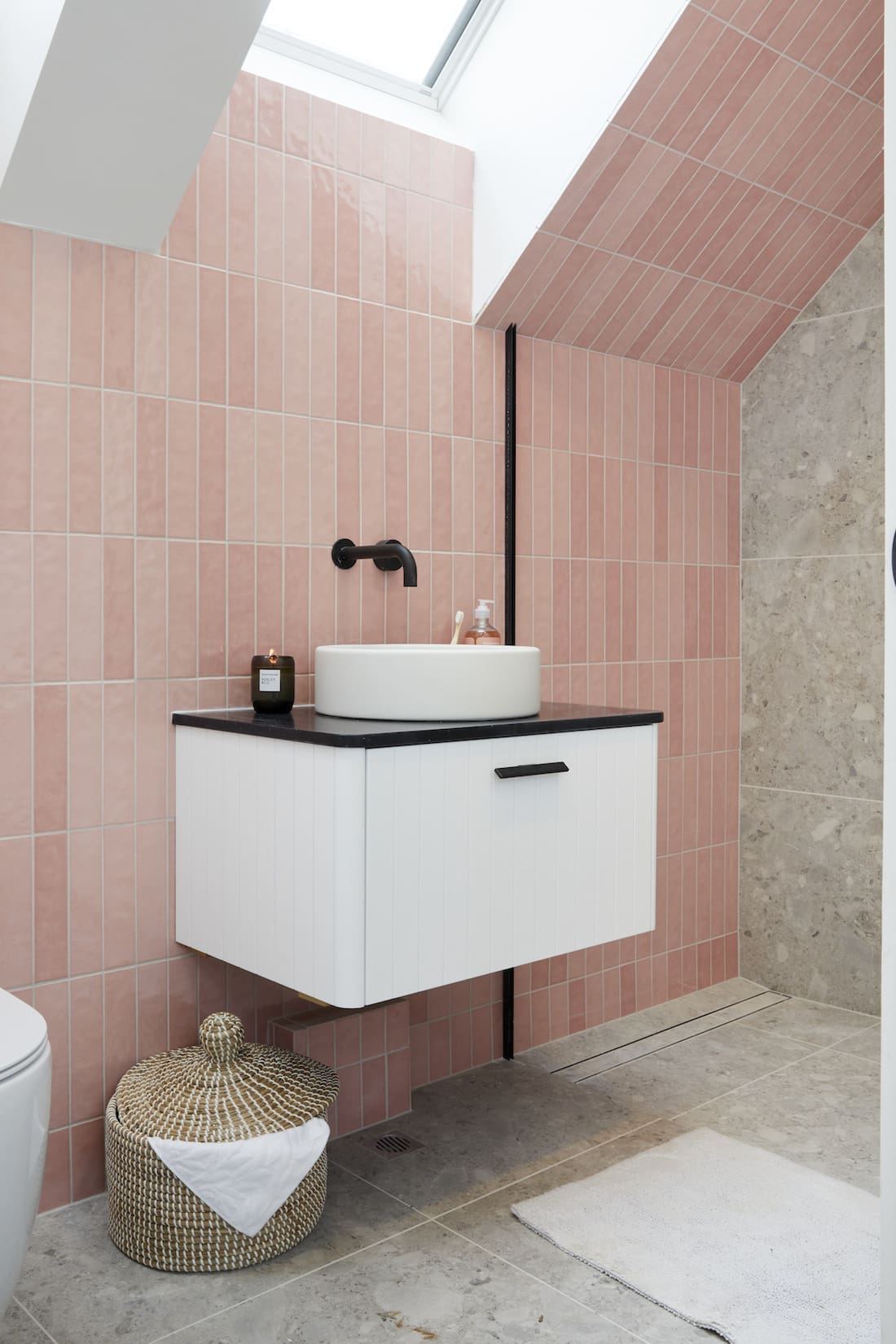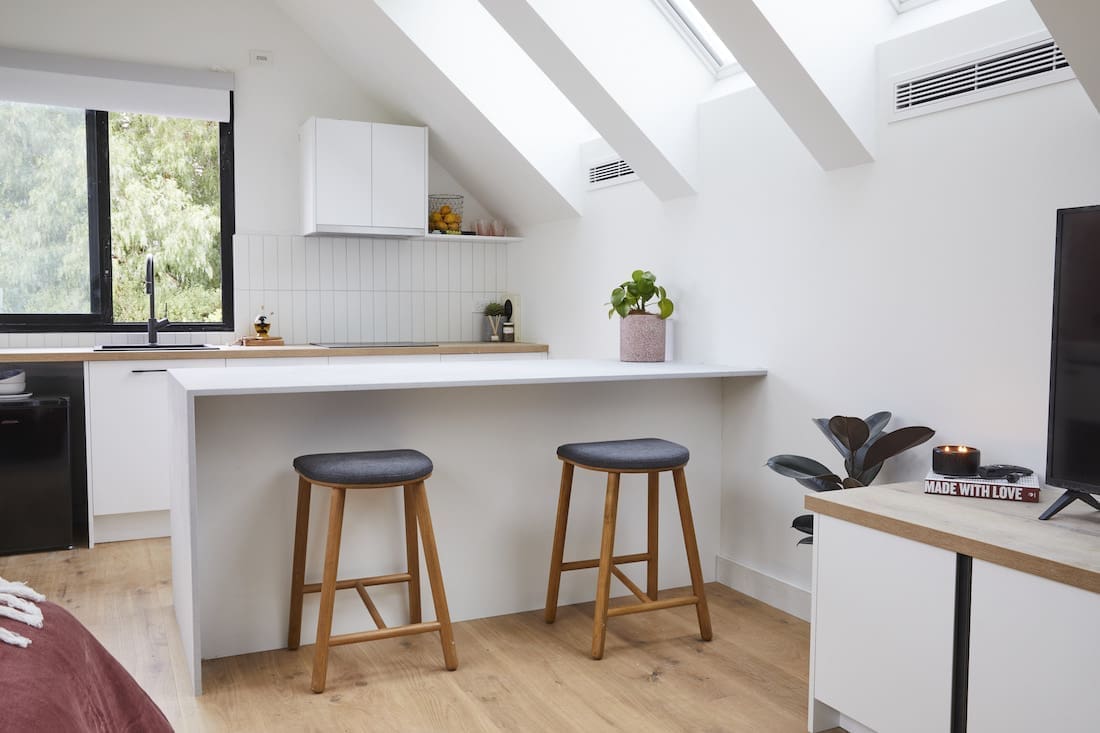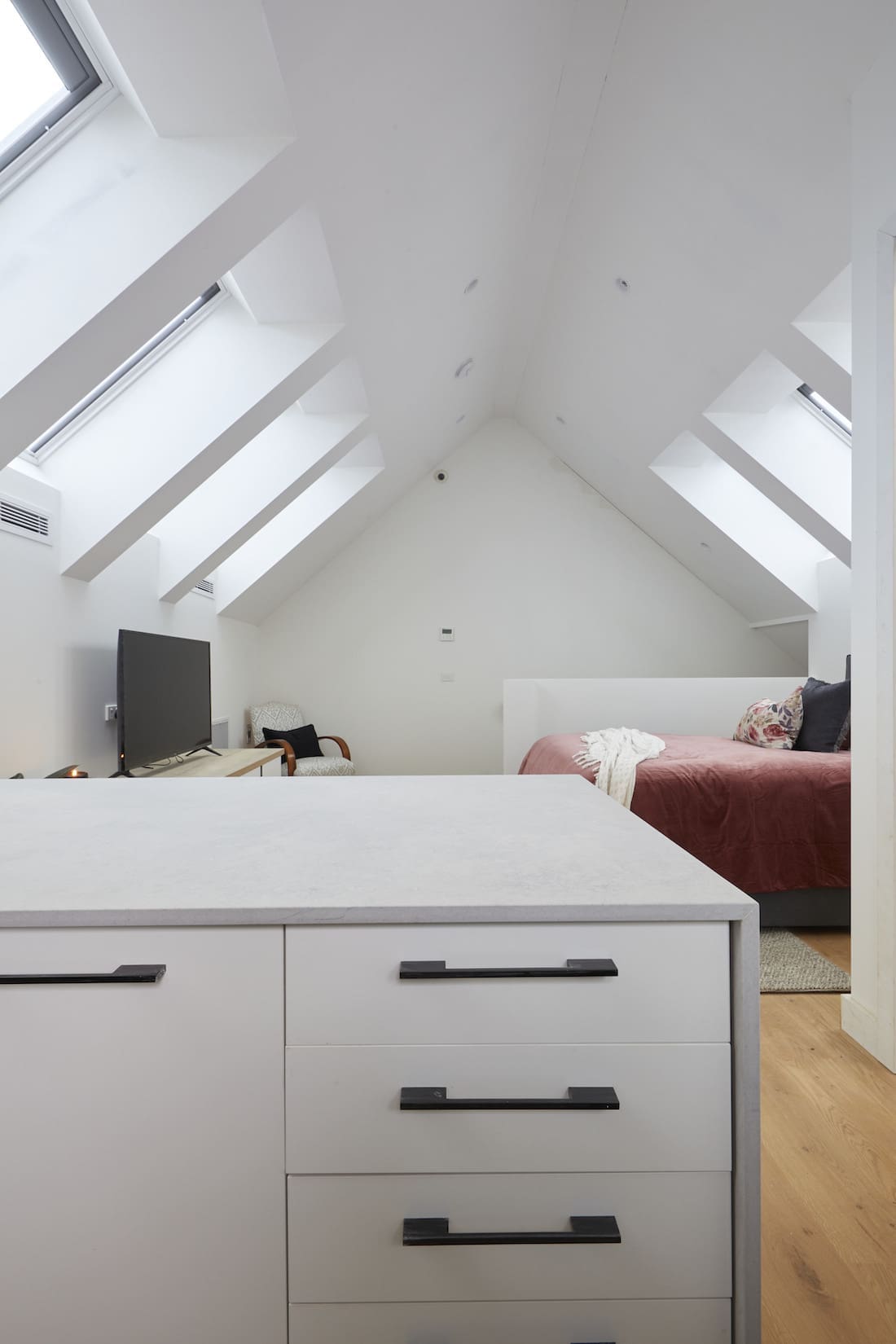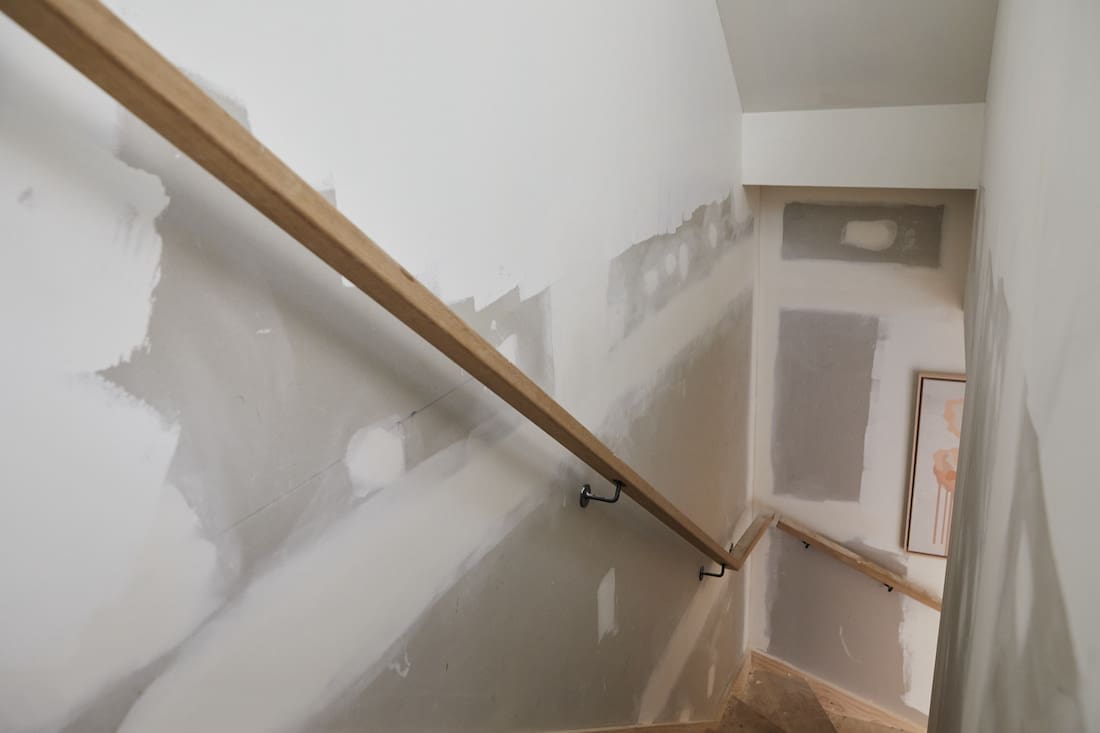 George and Sarah
After last week's somewhat controversial win (you guys seemed to agree with us more so than the judges!) the contestants also had a look around each other's front gardens.
House 2's garden was described as 'simple' and 'meh' which we must admit made us a giggle, cause that's exactly what we thought!
But George and Sarah had the last laugh, taking home top spot and giving them two wins in a row!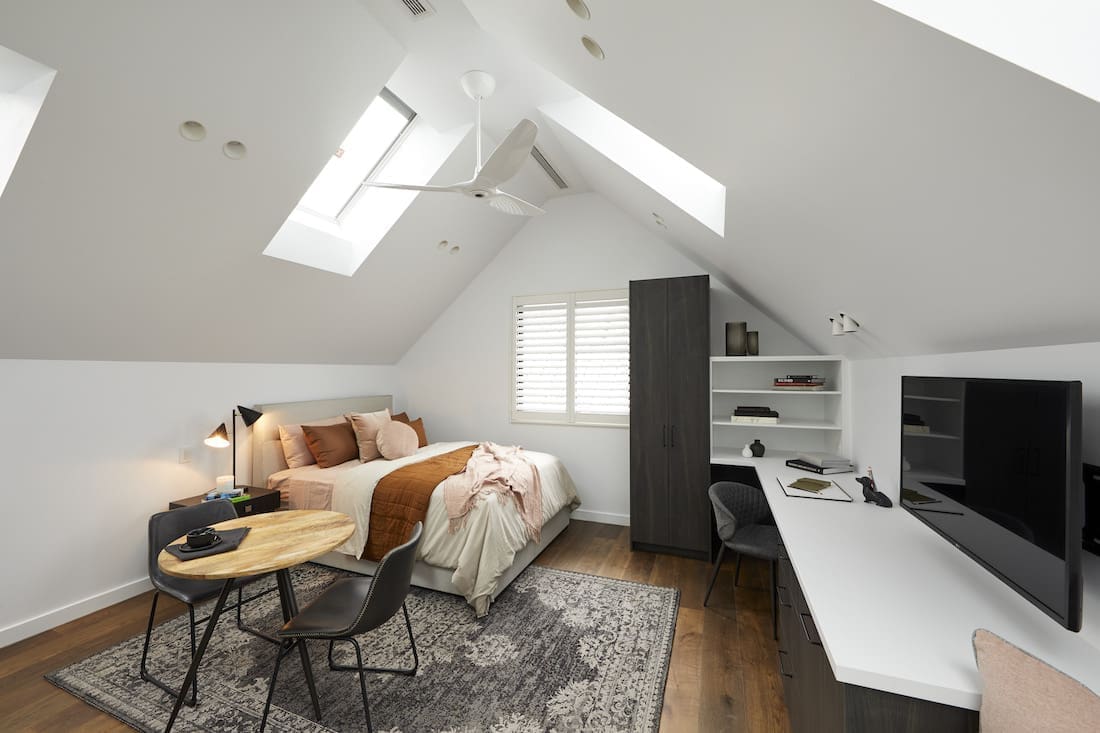 Nabbing their best score so far, the judges loved House 2's studio and garage reveal. Their garage got top marks for added storage and artwork featuring local Brighton landmarks.
Their upstairs studio also got plenty of praise. They delivered a laundry, kitchenette, bed, bathroom and work from home space, phew! The judged loved the terrazzo tiles in the bathroom (and so did we, as not so secret lovers of terrazzo ourselves!).
We were soooo impressed with their garage but the joinery in their studio could have been more refined. The large dark wardrobe doesn't work with the pitch of the roof and dominates the space. Overall they did a fab job but again, not our pick for top spot.
Score: 29.5 / 30 (1st place)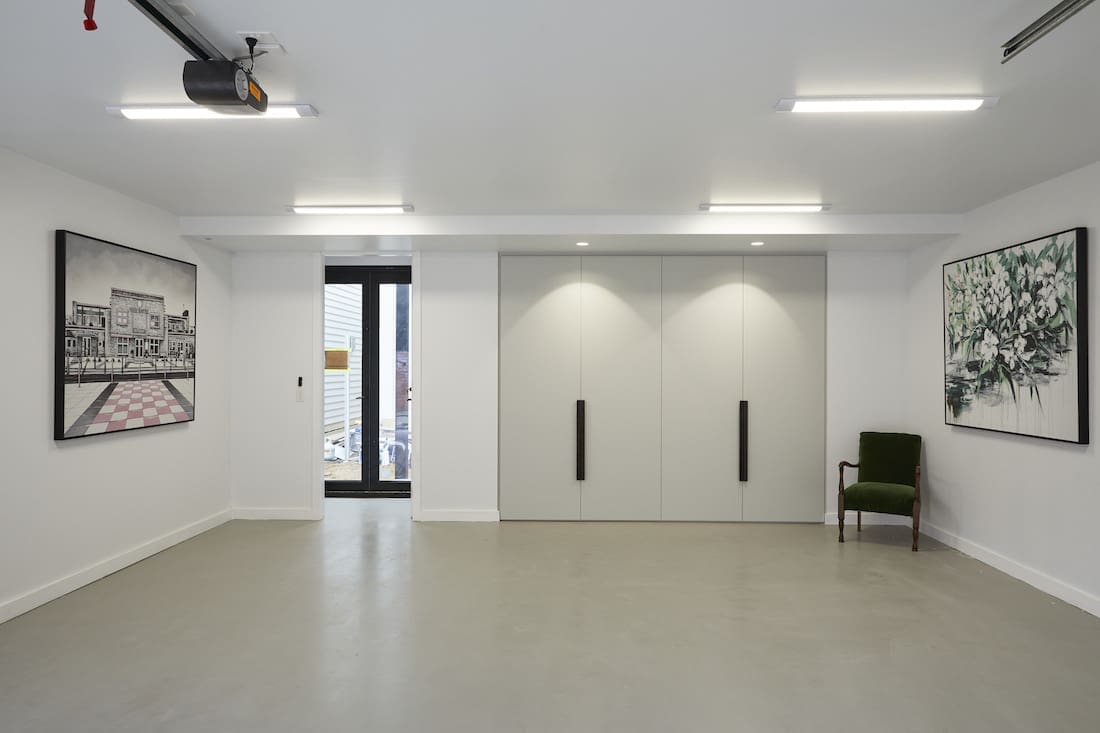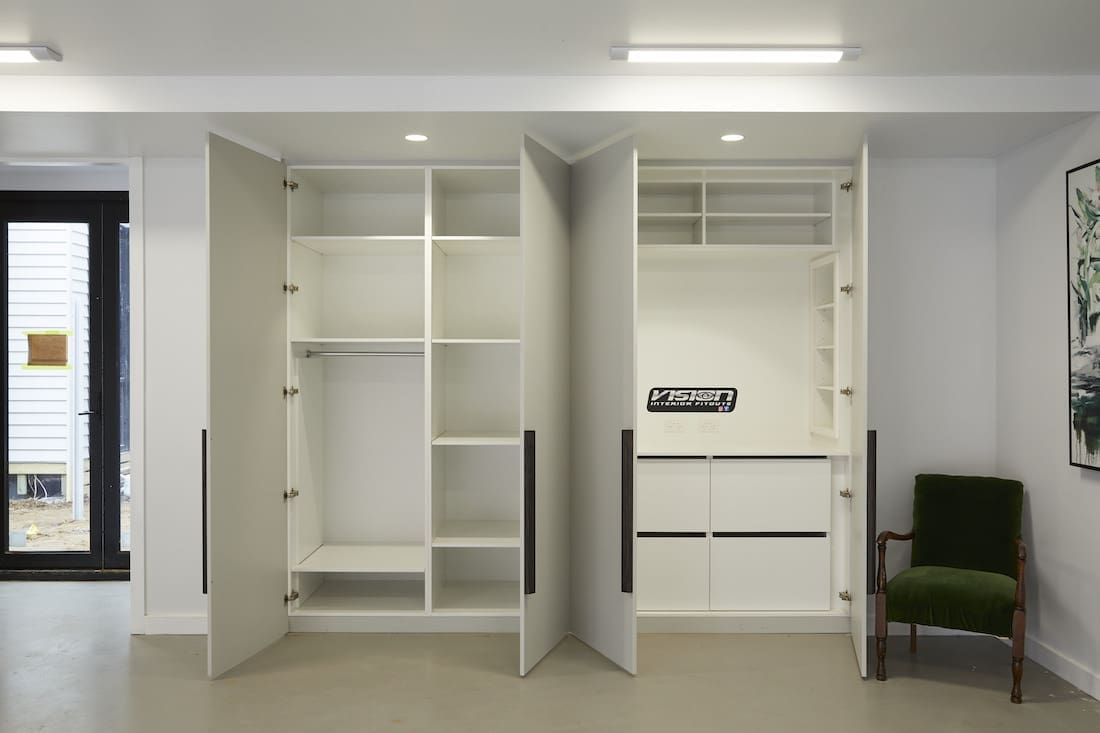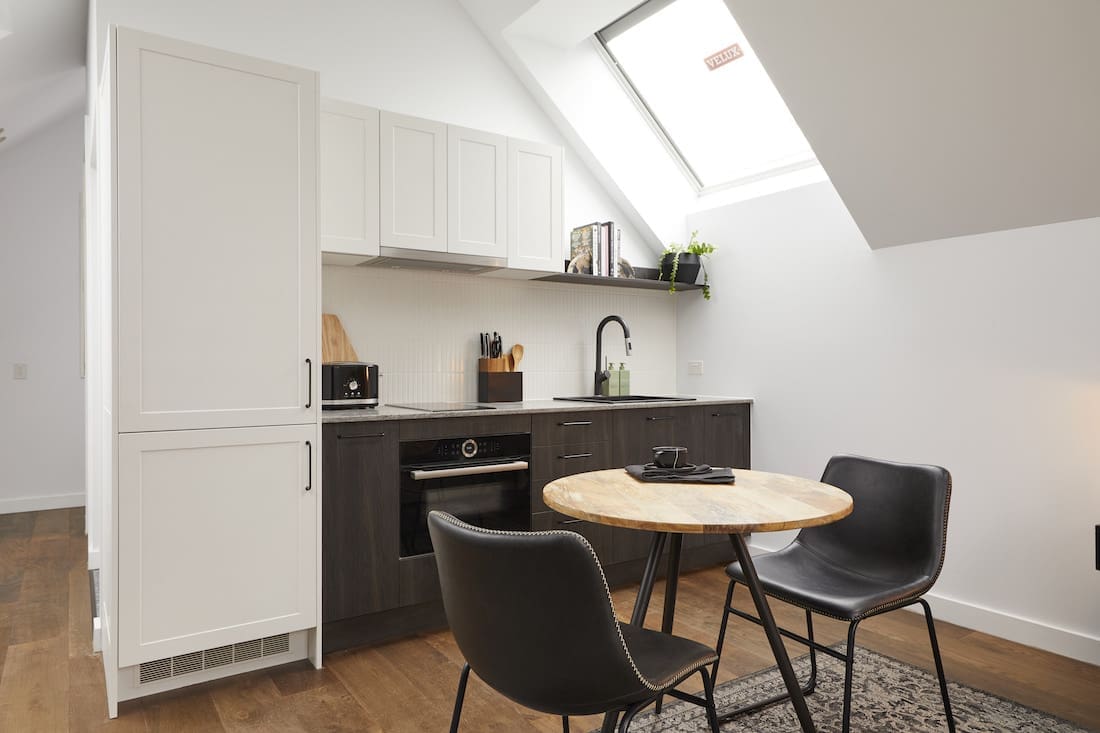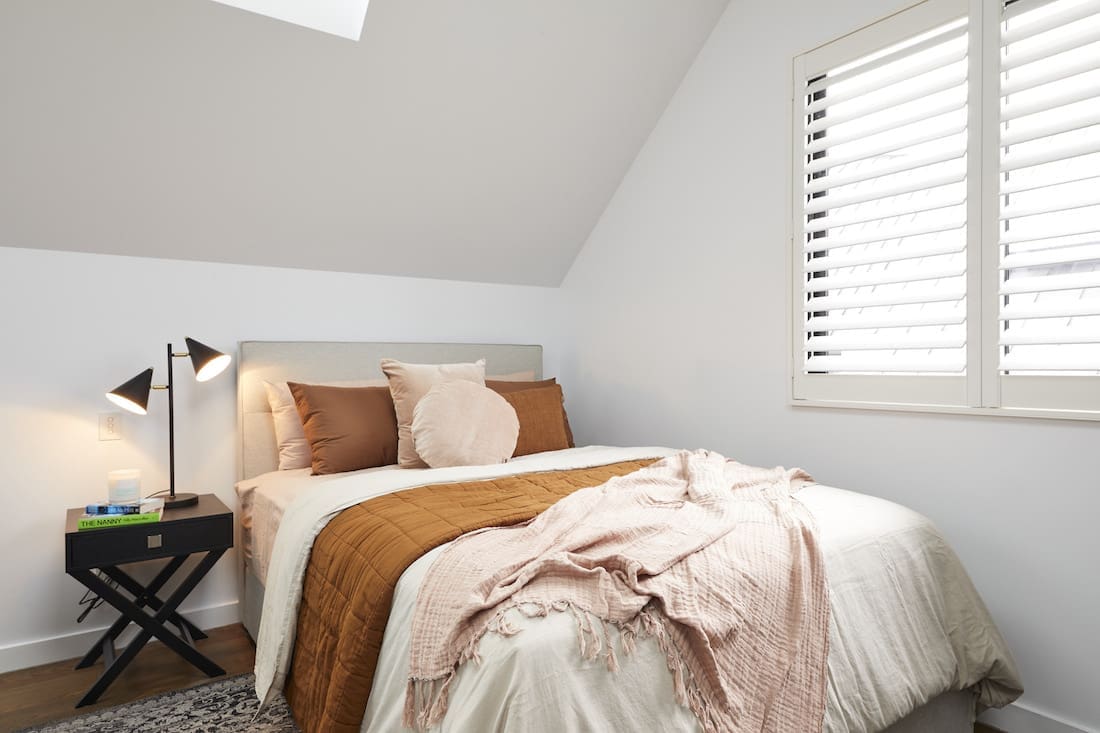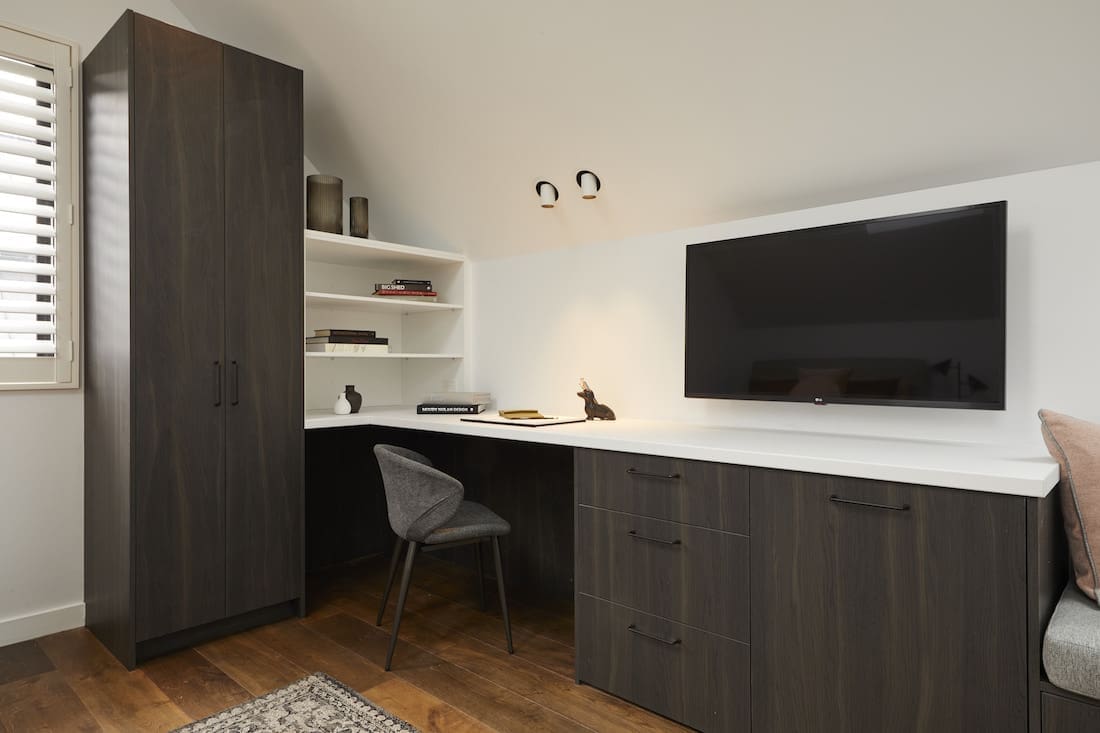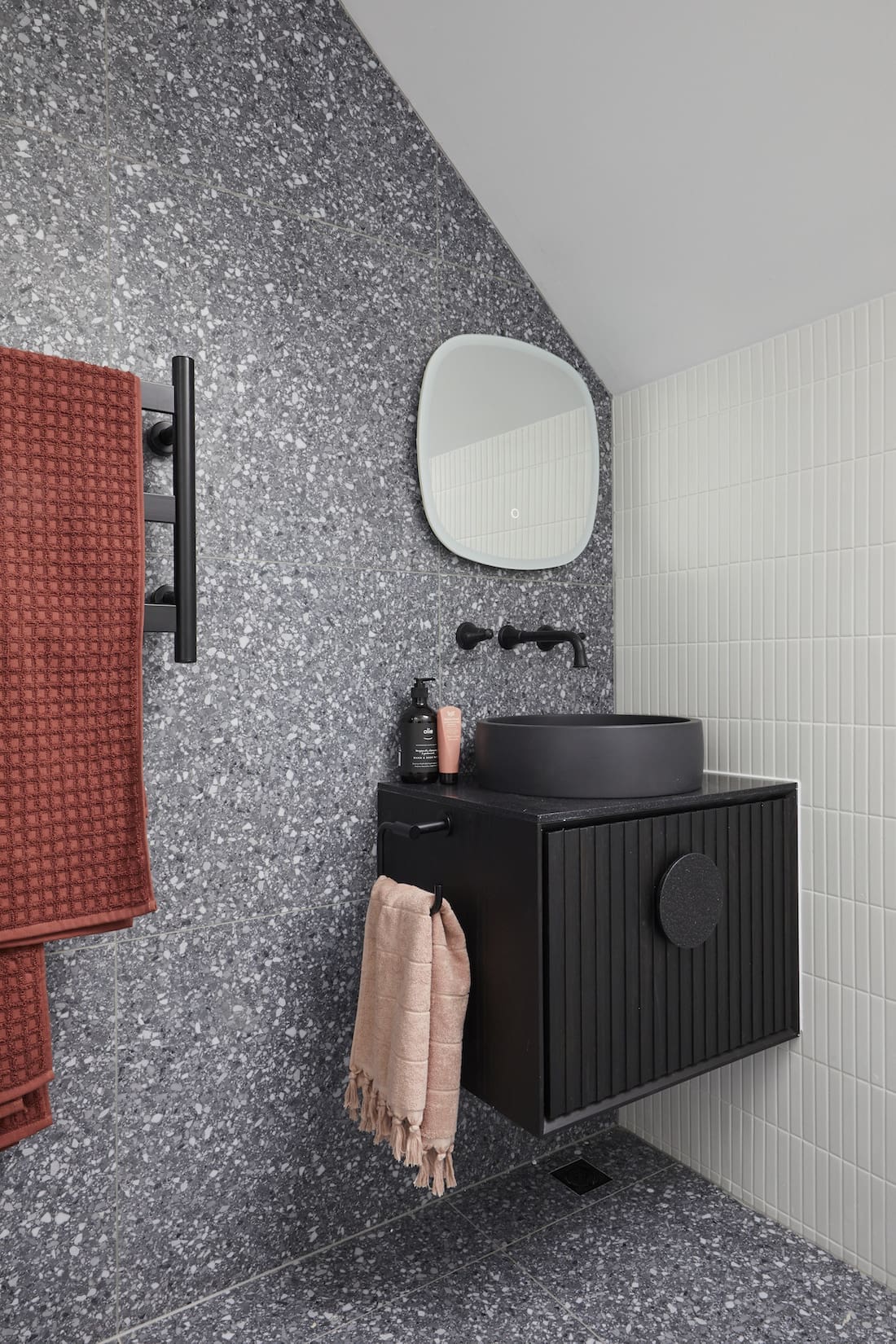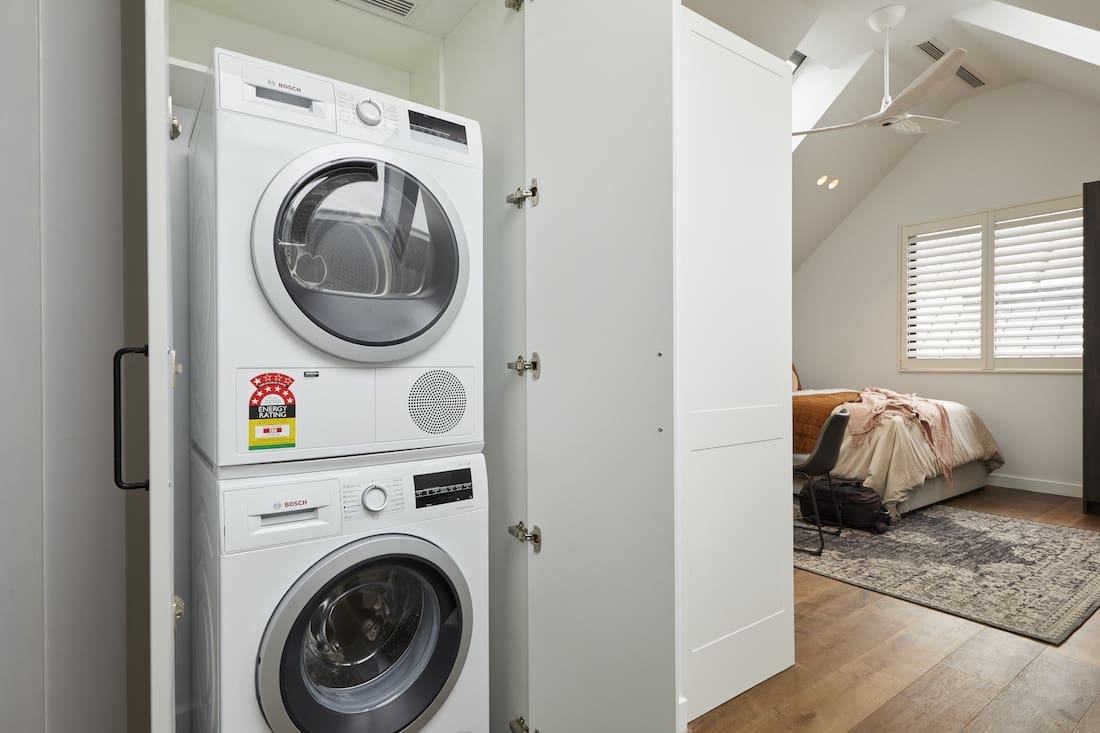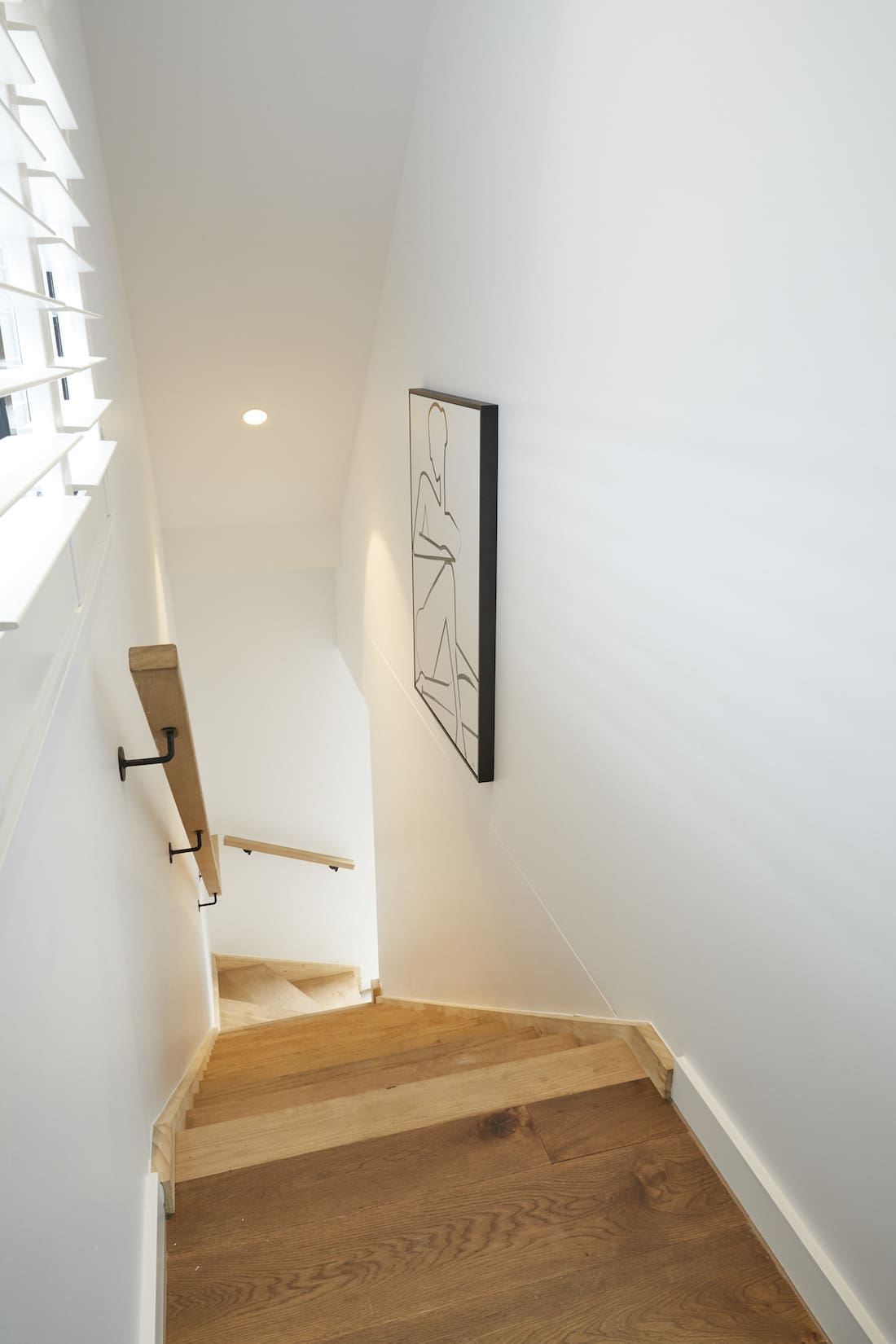 Daniel and Jade
A rough week for Daniel and Jade, being yet another team to deliver an unfinished room. They really seemed to drop the ball this week, which is a shame as they've been so consistent up until this point.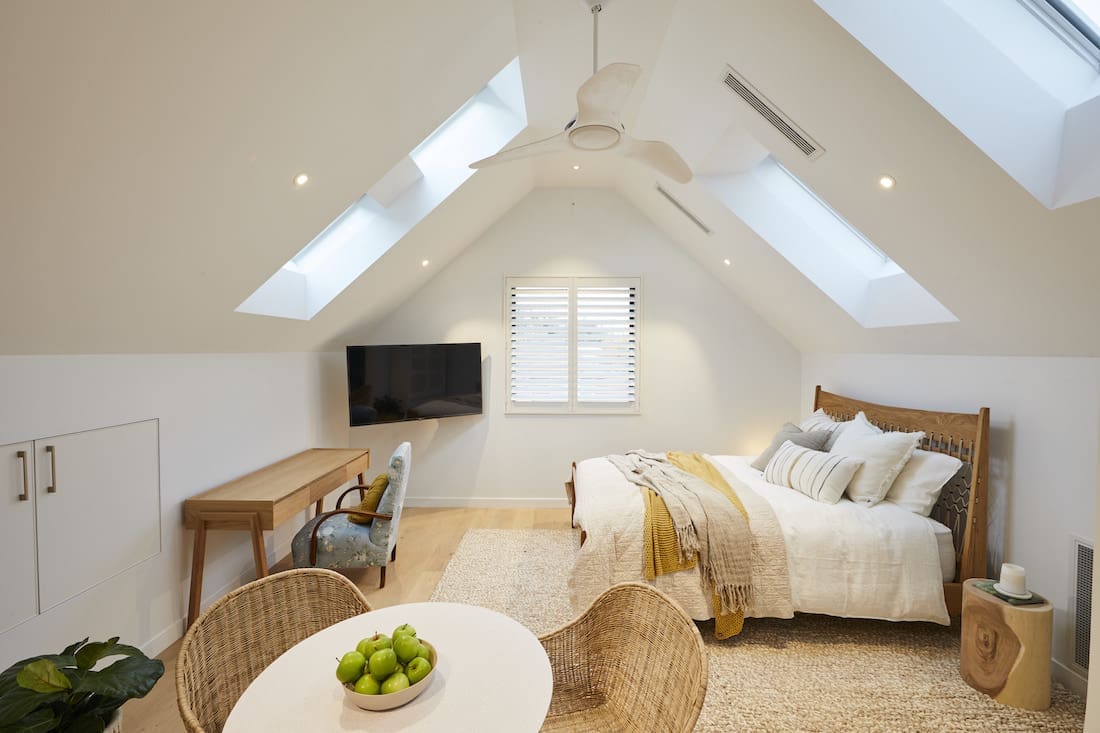 These guys did the clever thing and added a toilet in their garage which will surely add value to their property, with the space being so close to the (soon to be put in) pool and back garden.
It was a real shame that Daniel and Jade didn't get to finish off their staircase. And presenting their studio space as yet another bedroom left the judges a little disappointed. Shaynna pointed out that considering House 3 has now delivered six bedrooms, it might've been better to incorporate more of a home office space. Because let's be real… six bedrooms is probably a little excessive. But then again… this is Brighton, darling!
We say fair point. But also, just because something is styled as a bedroom doesn't mean it has to be a bedroom. With a few tweaks to furniture (and adding powerpoints), this space could easily be a fab office space.
Their kitchen was our FAVE for style and functionality. Although their studio and garage spaces were restrained, we actually loved what these guys delivered and feel the relatively blank canvas will serve them well come auction day as it gives the buyer an opportunity to make the space their own.
Score: 25.5 / 30 (joint 3rd place)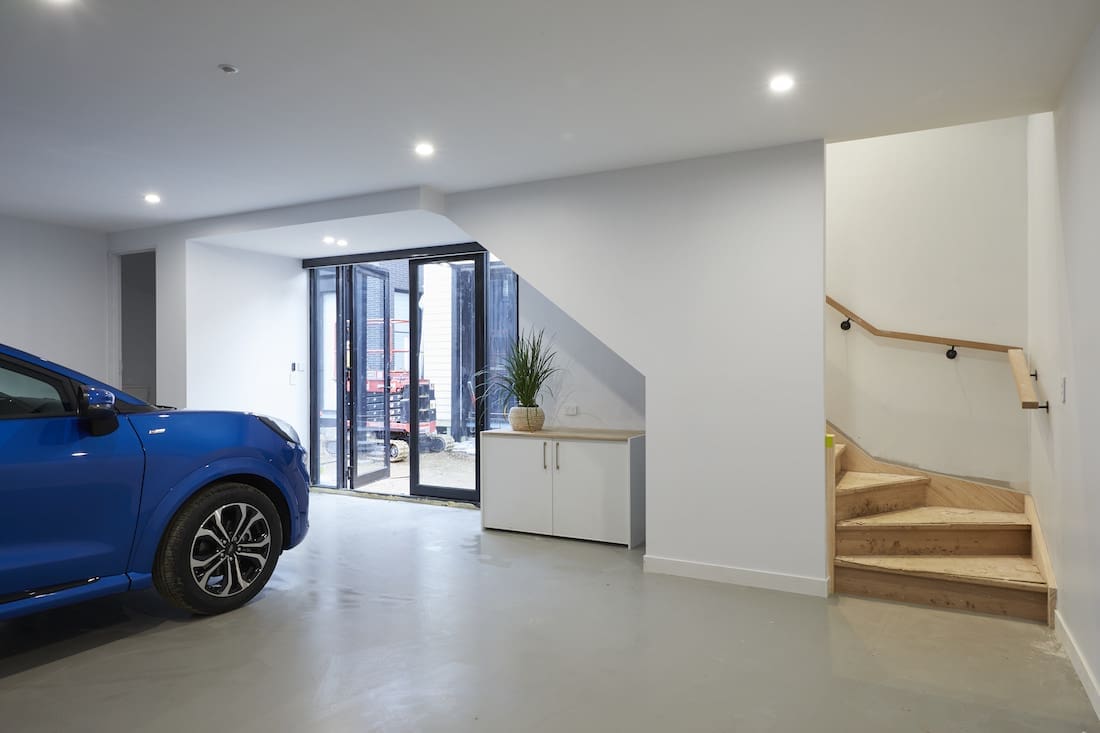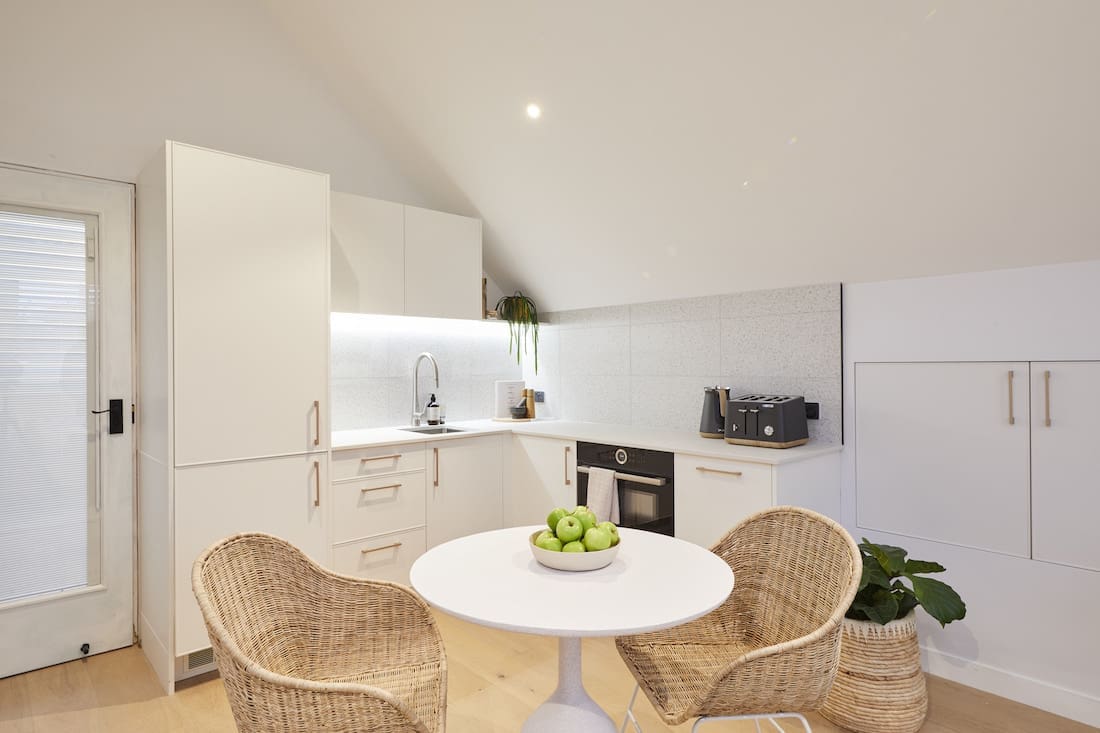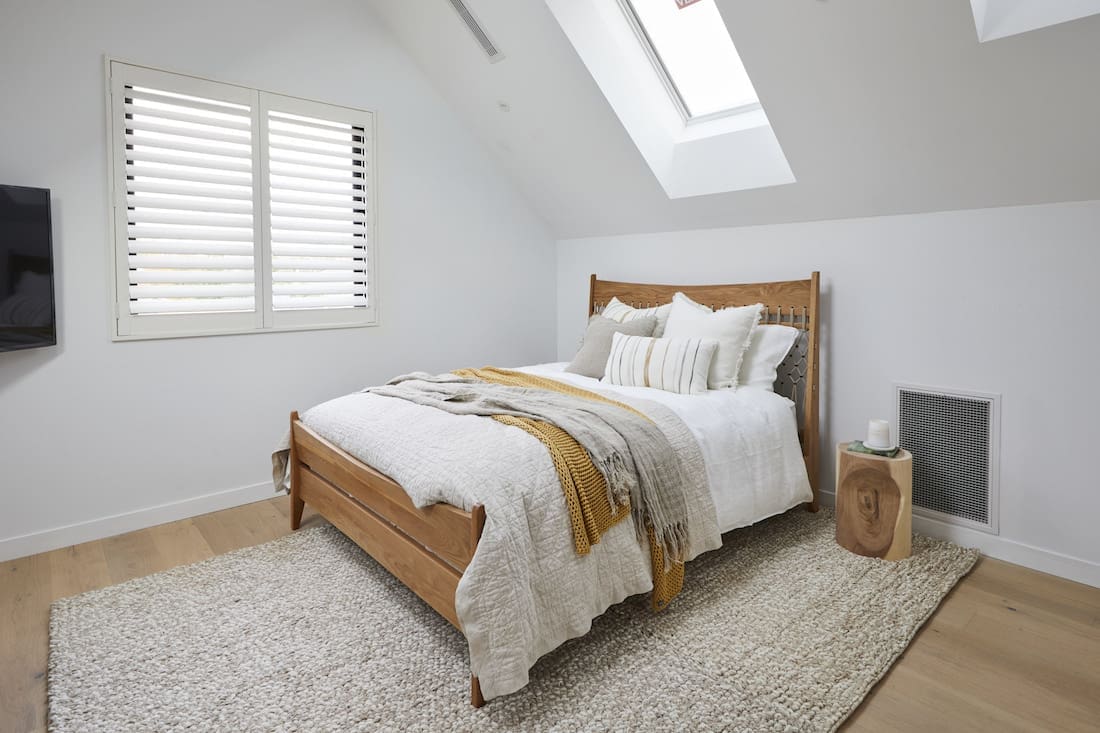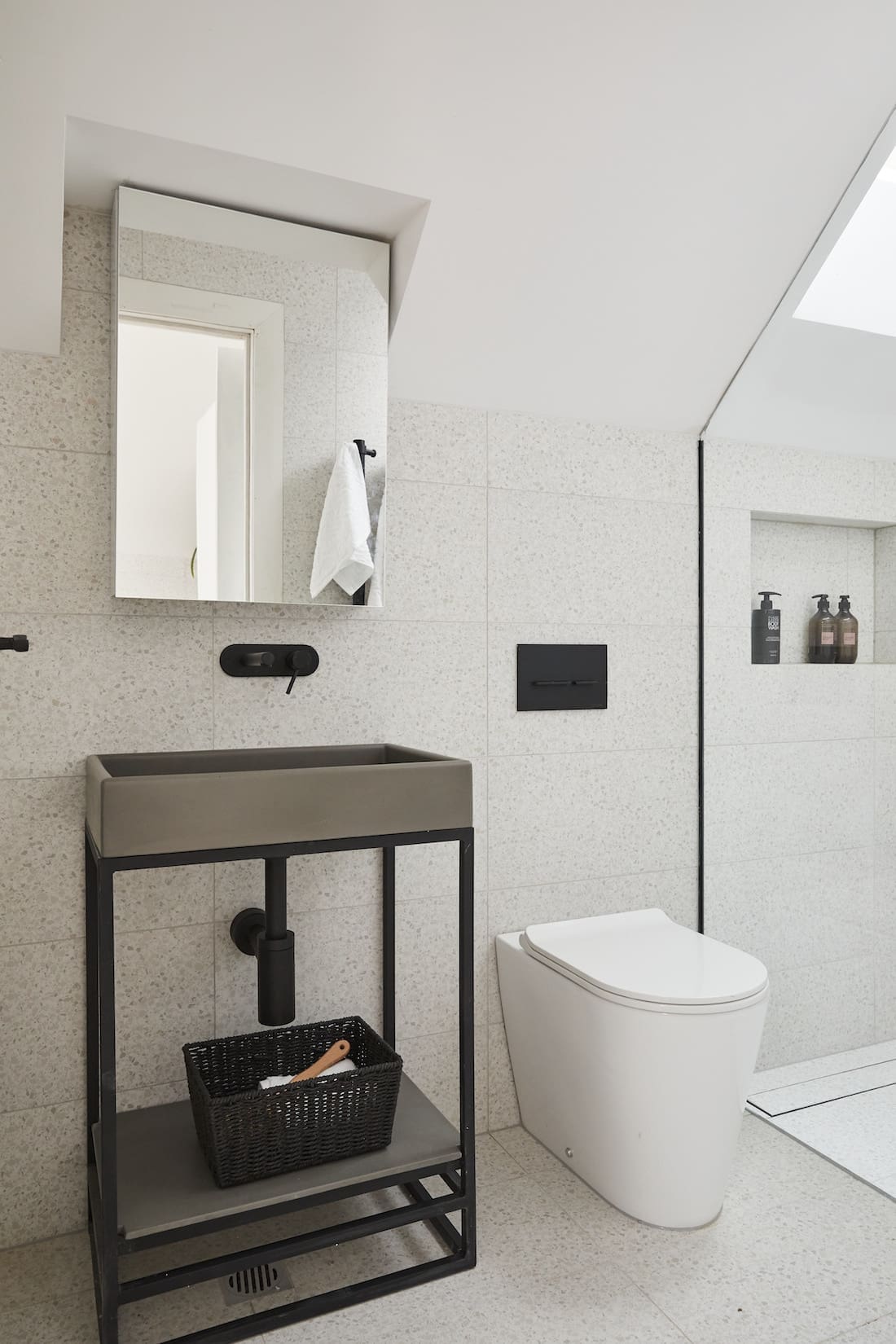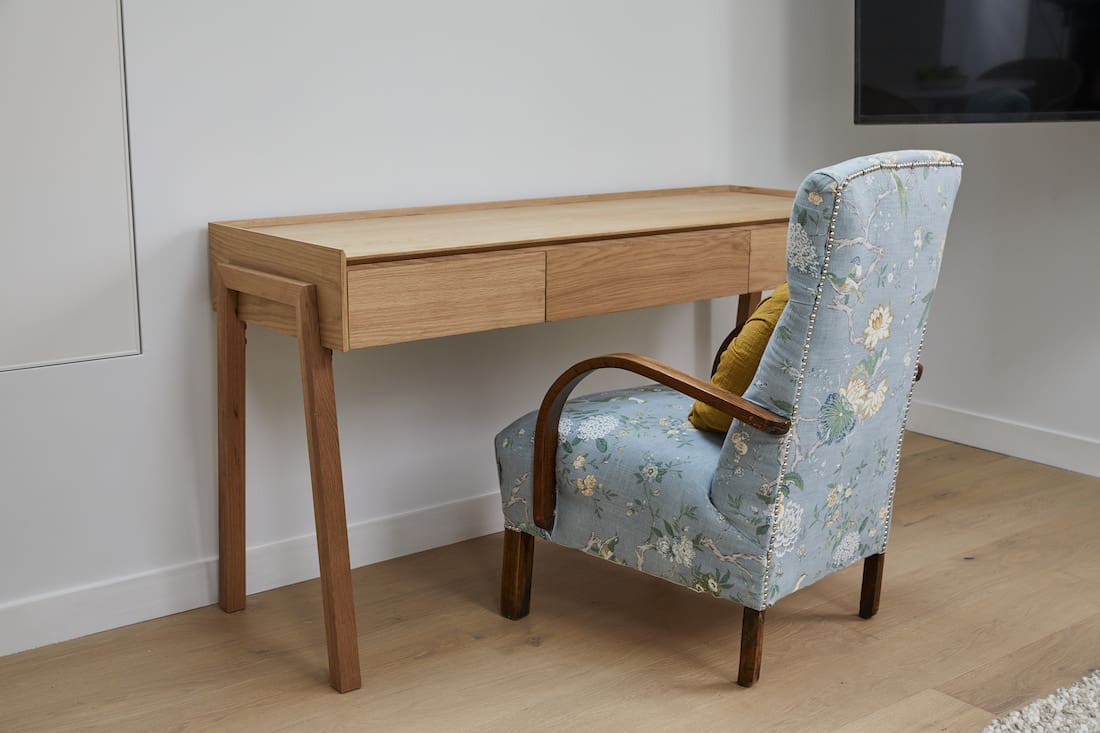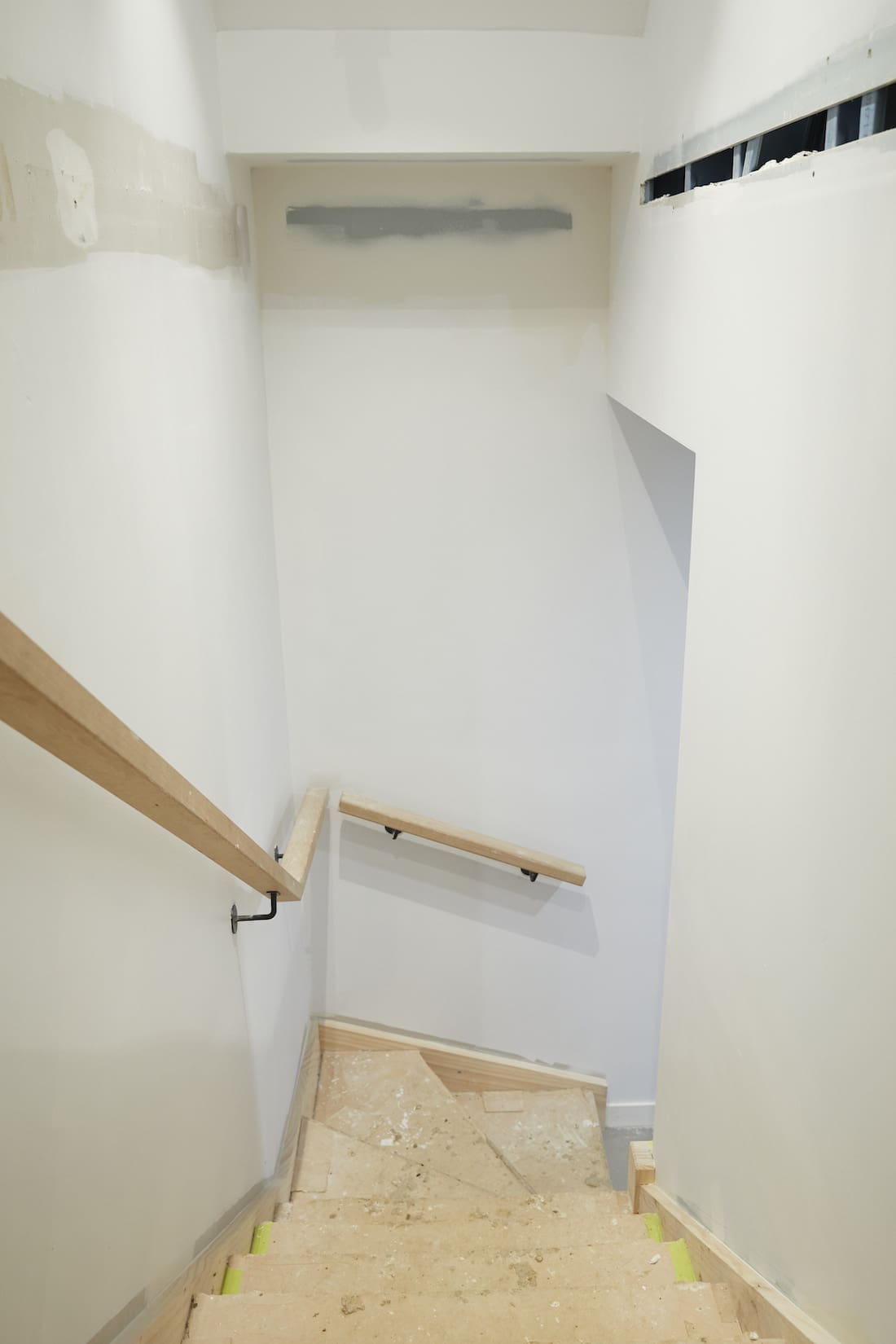 Luke and Jasmin
These guys had big issues this week with waterproofing concerns in their studio apartment. Their hard work had to be ripped out, causing long delays and major frustrations. This all resulted in them being the third team to deliver unfinished spaces this week.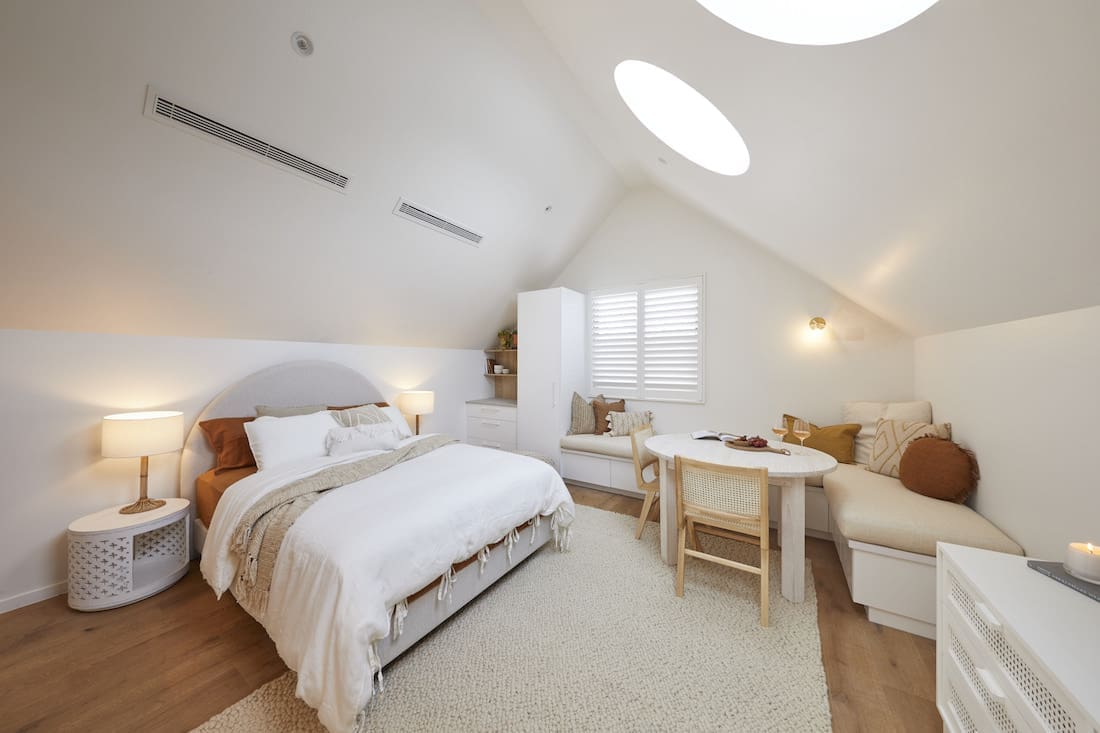 There was high praise for the practical storage in the garage Luke and Jasmin delivered which got big ticks from us too.
Their plasterer came up short this week, meaning they didn't finish their staircase and it was pretty obvious how upset this made Jasmin. On the plus side of things, the judges loved seeing the unique circular Velux skylights. Gorgeous!
They lost points for not having a more obvious working from home space and for their bathroom not having a door. Yes, you read that correctly. We get that not having a door on a bathroom is a trend, like we saw in this Three Birds renovation, but we personally think a door is a small yet necessary addition!
Pretty sure this will be the last time Jasmin listens to Luke cause he was the one who insisted on no door! But back to the studio — everything was beautiful. The bed, the kitchenette, the little shelving nook, amazing built-in bench seat and the bathroom (sans door). Beautiful, but just missing the mark.
Score: 25.5 / 30 (joint 3rd place)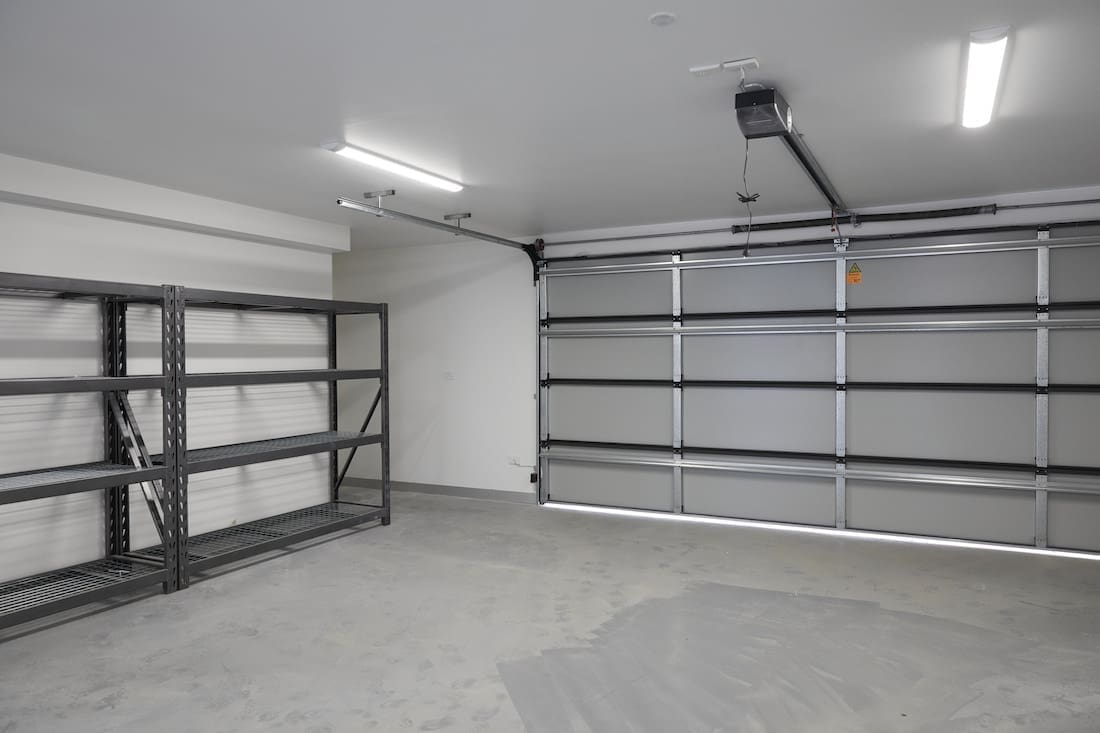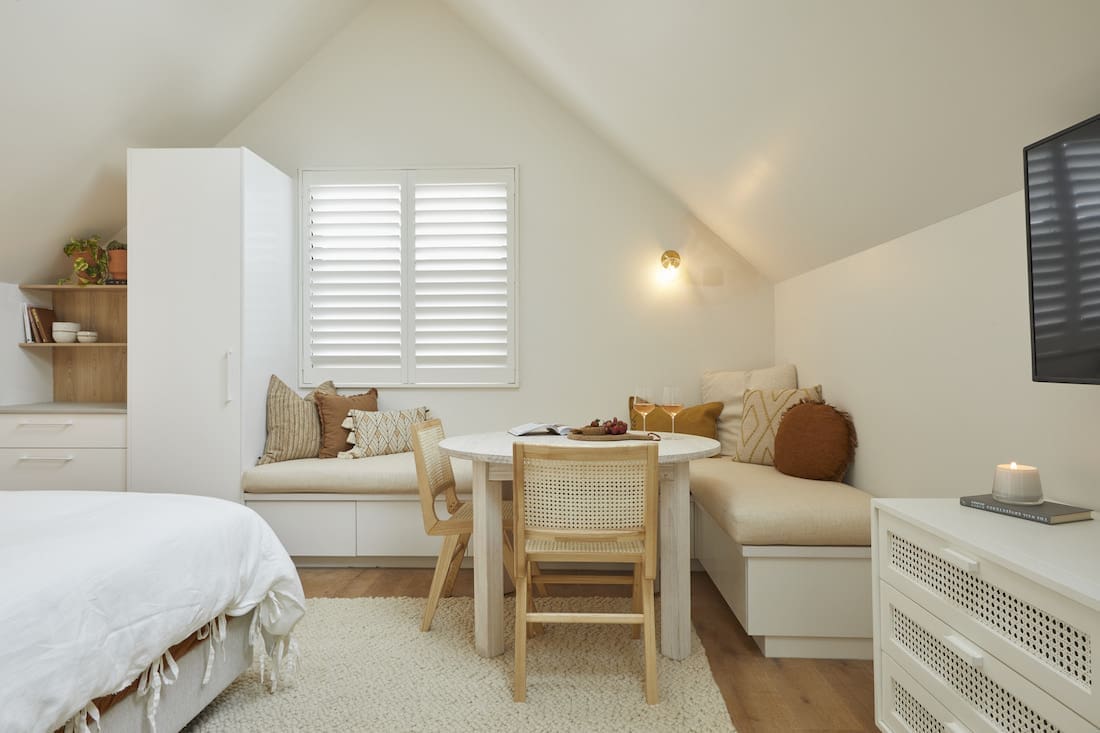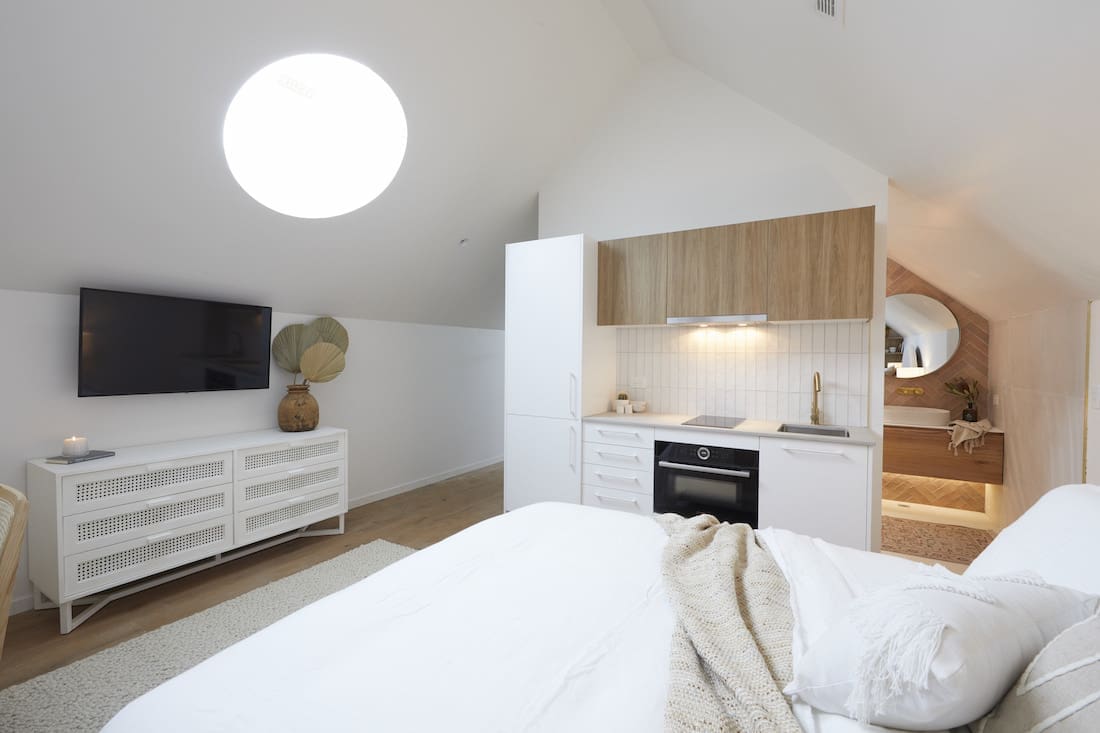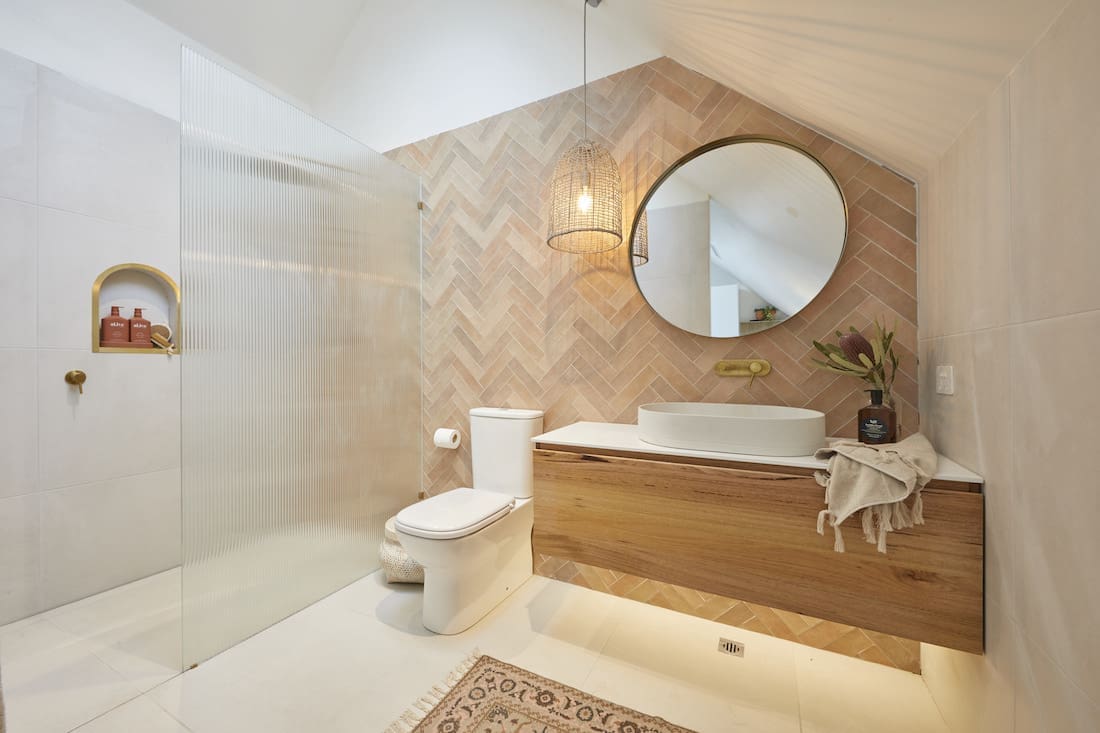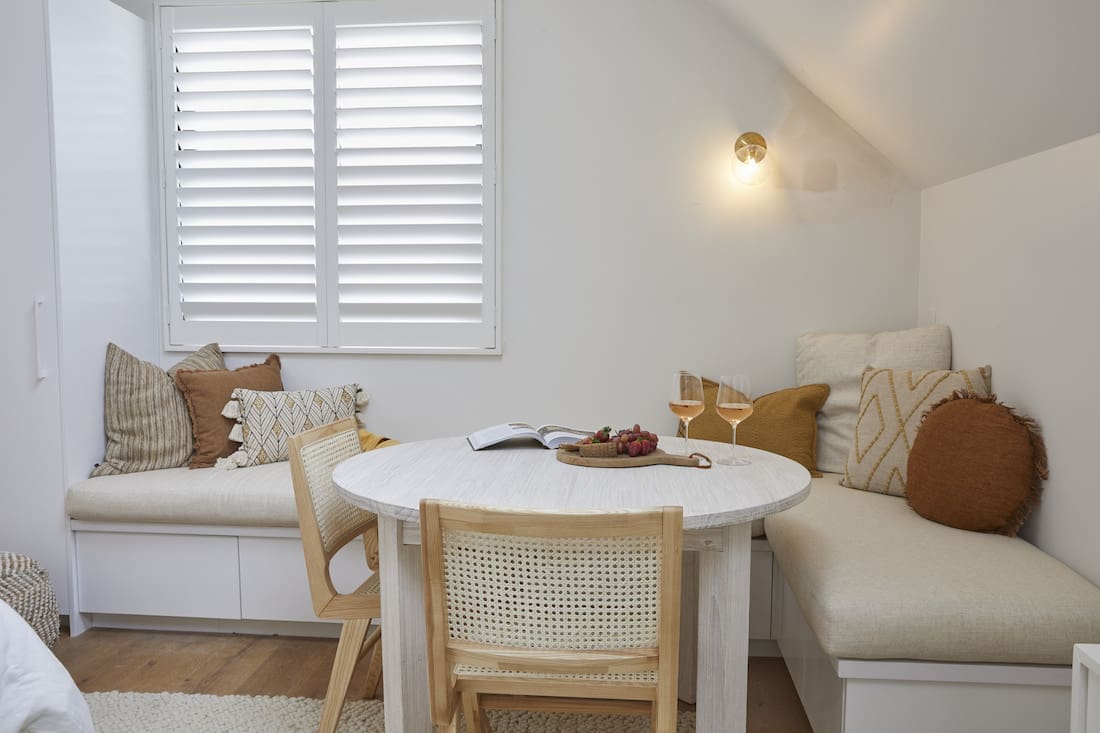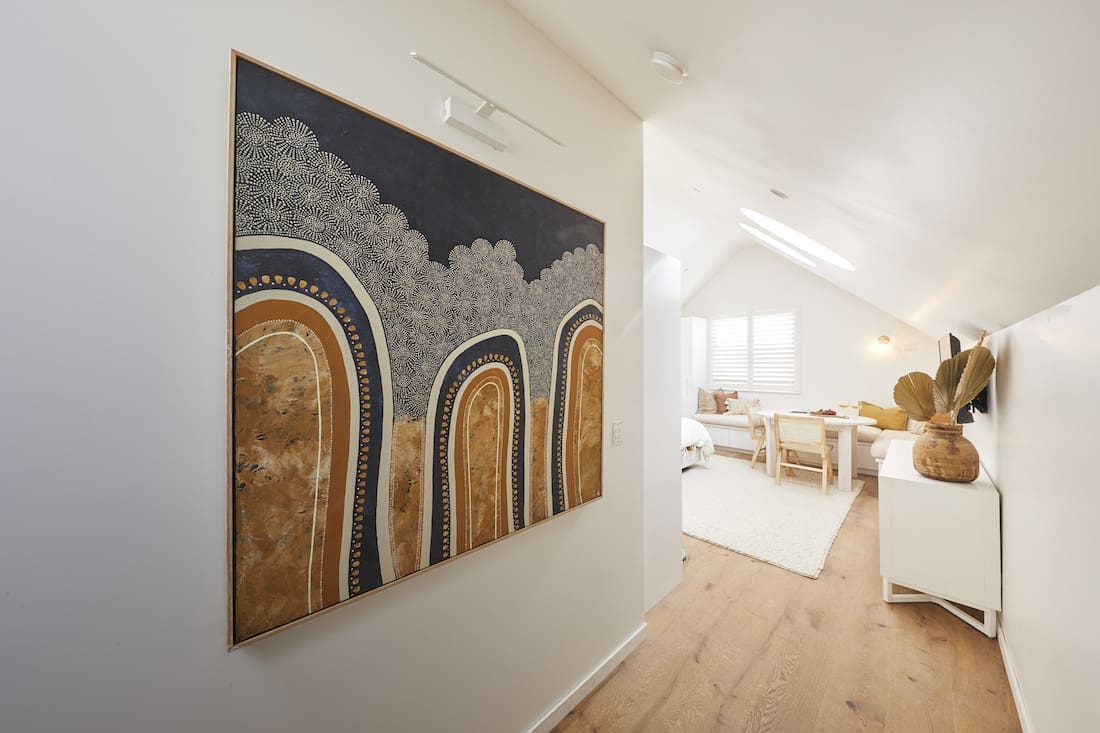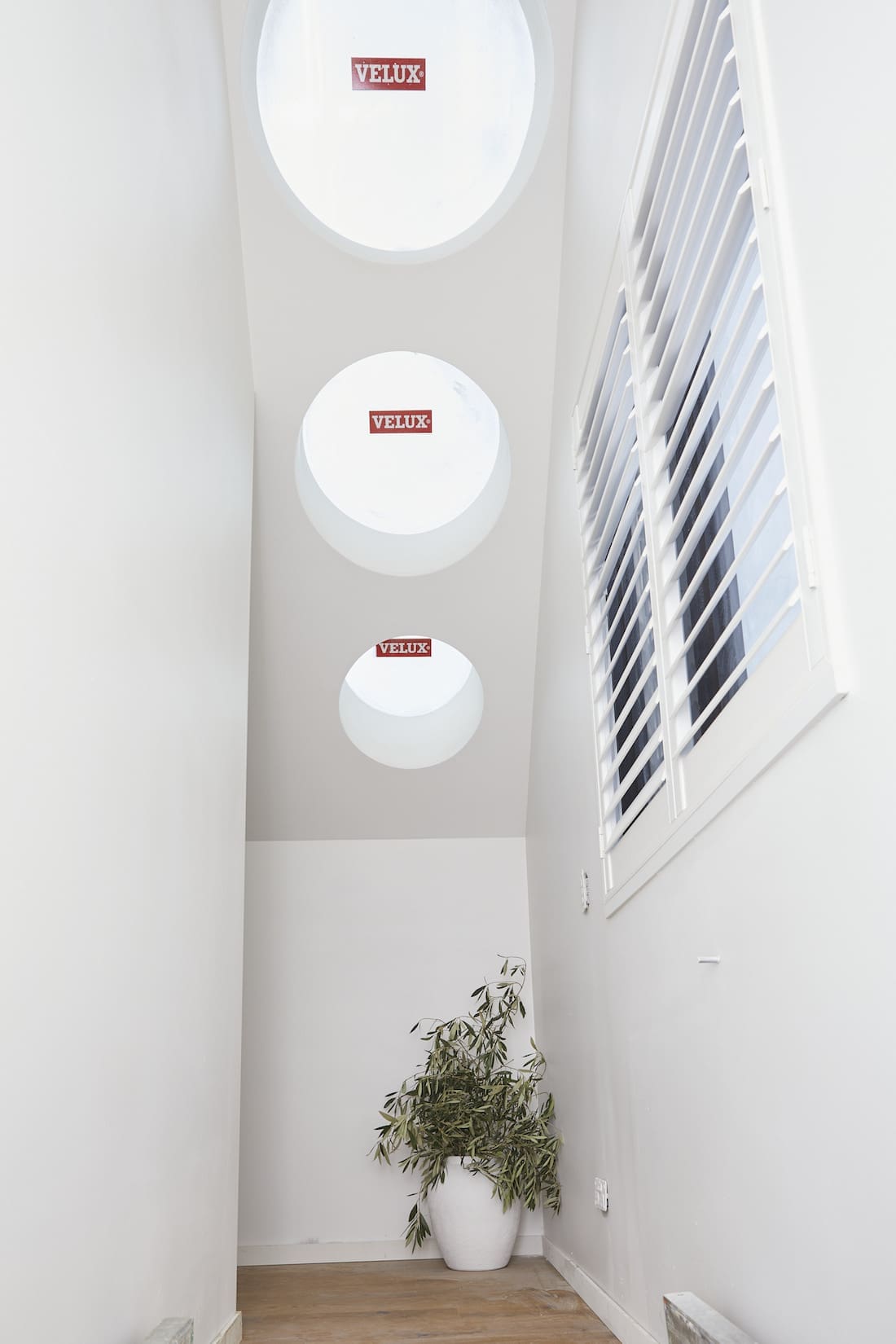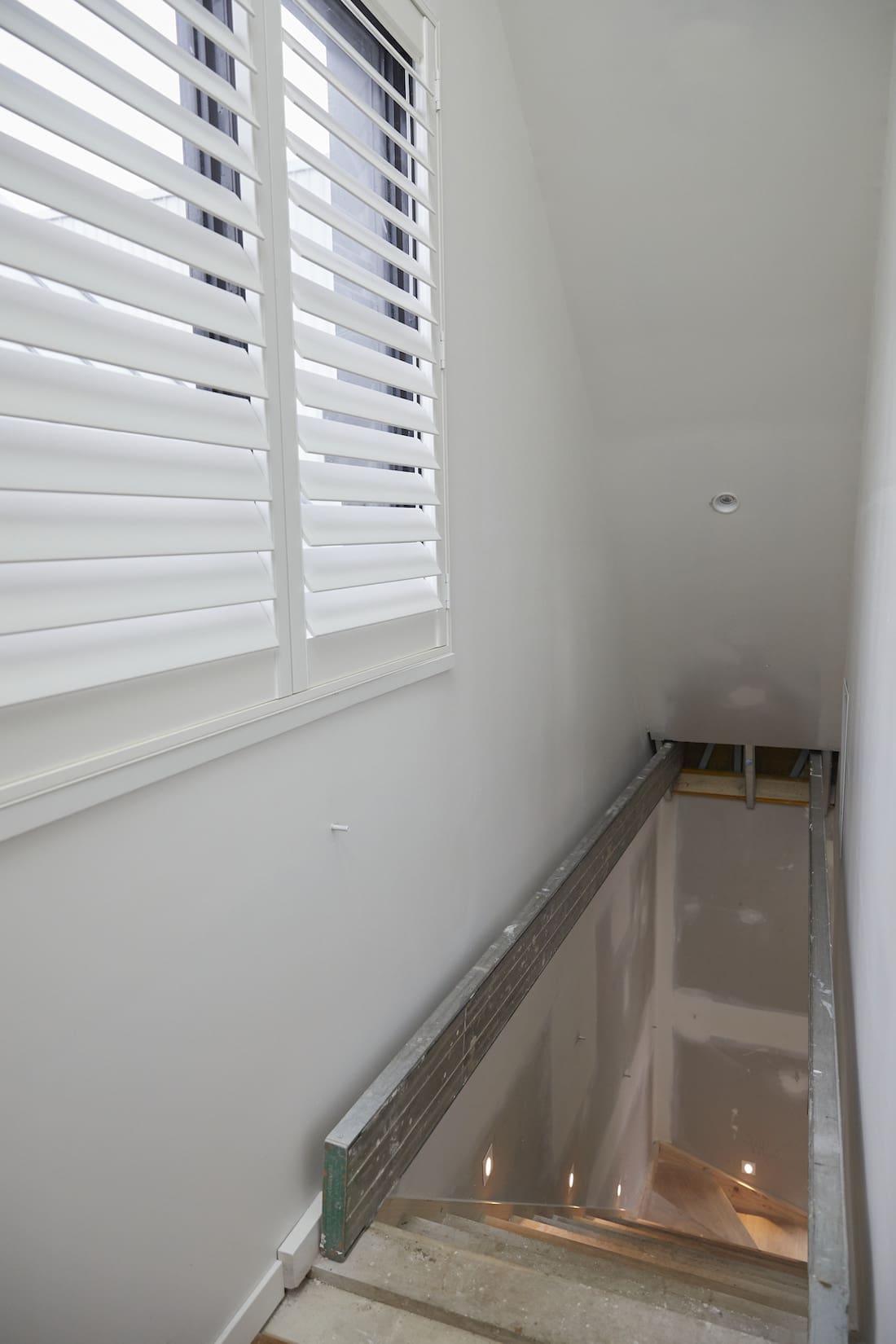 Jimmy and Tam
Cashed up from all their room and challenge wins, Jimmy and Tam were still sitting pretty this week. Even so, they decide to use the hipages lever to help them out in completing their studio and garage reveal.
And they lost by just half a point (so now they know how it feels 😉 ).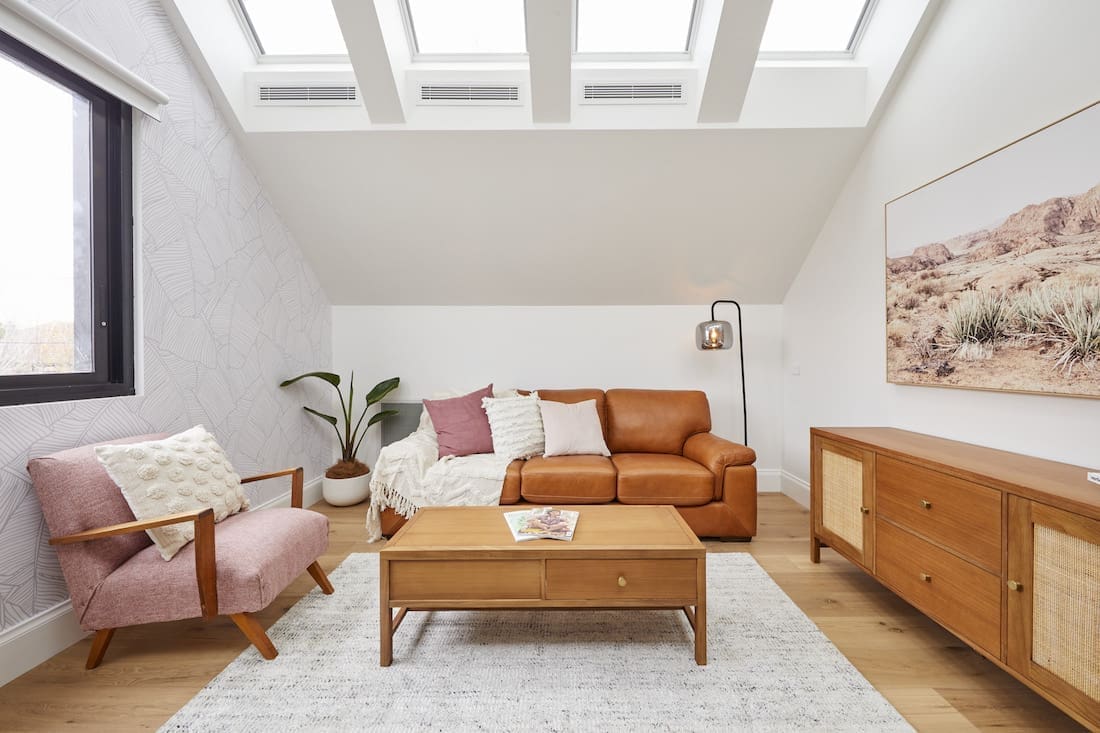 As per usual, Jimmy and Tam took a bit of a different approach to their garage reveal. They included a full equipped home gym complete with TV. We think this was a super smart move, considering home workouts are very trendy (cheers Covid).
The judges were pleased to see a more obvious work from home space in the couple's studio. Their galley-style kitchenette that morphed into a desk got top marks.
The huge sofa bed that can change the space into a bedroom got high praise and gave Jimmy and Tam another strong score. The team with the highest score at the end of judging will not only get to choose the order of auctions, but their house will also feature on the front cover of Domain magazine.
And in a race this tight, every point counts!
Score: 29 / 30 (2nd place)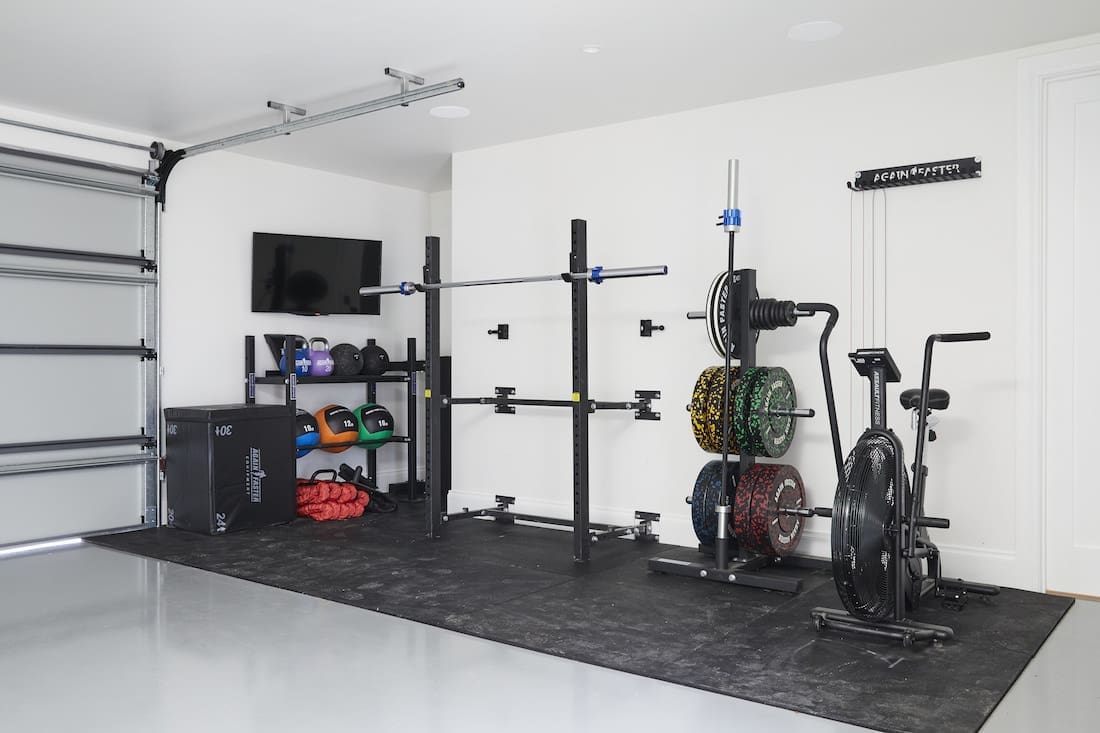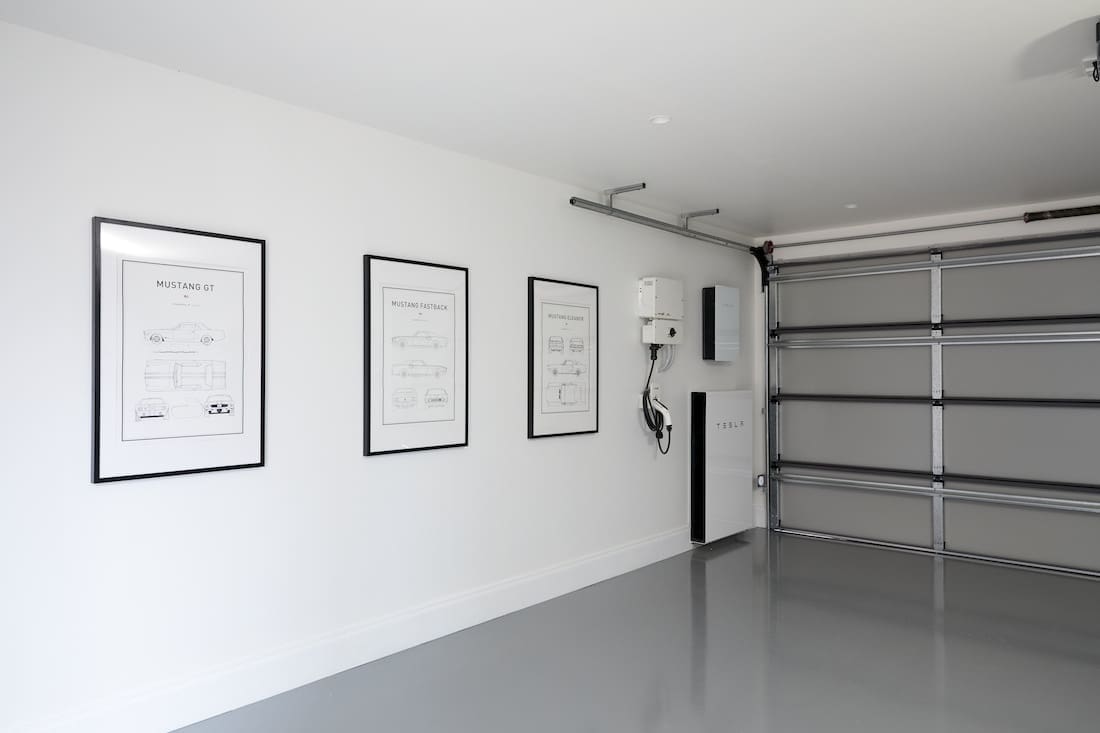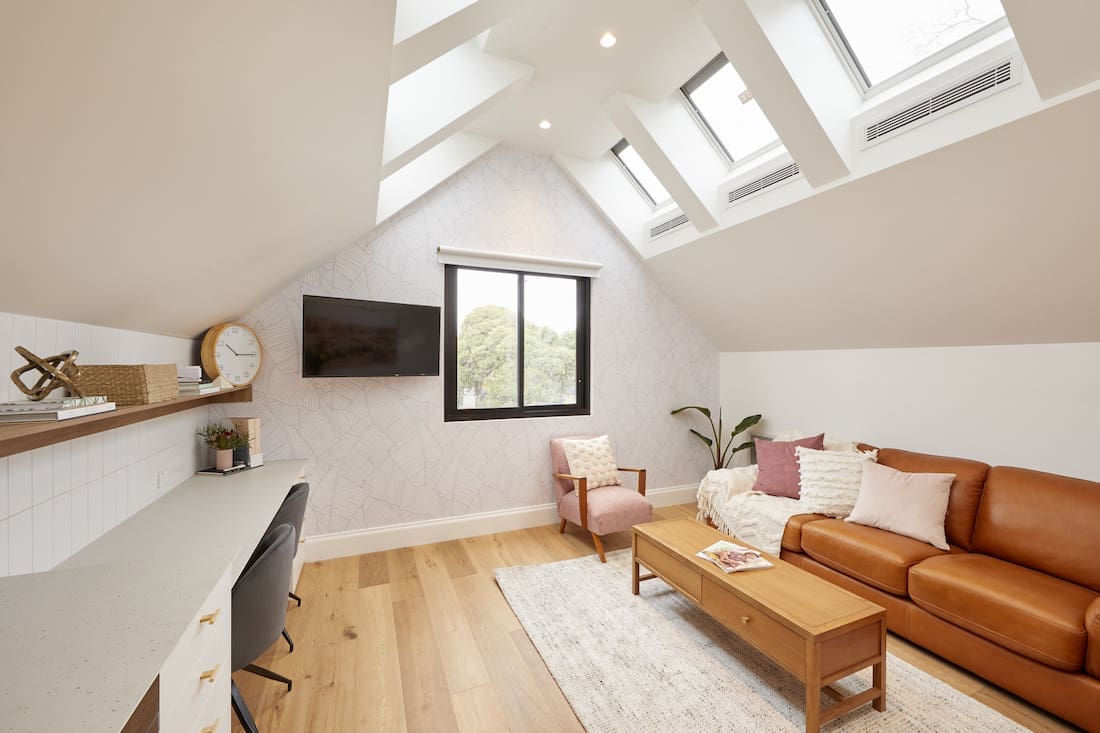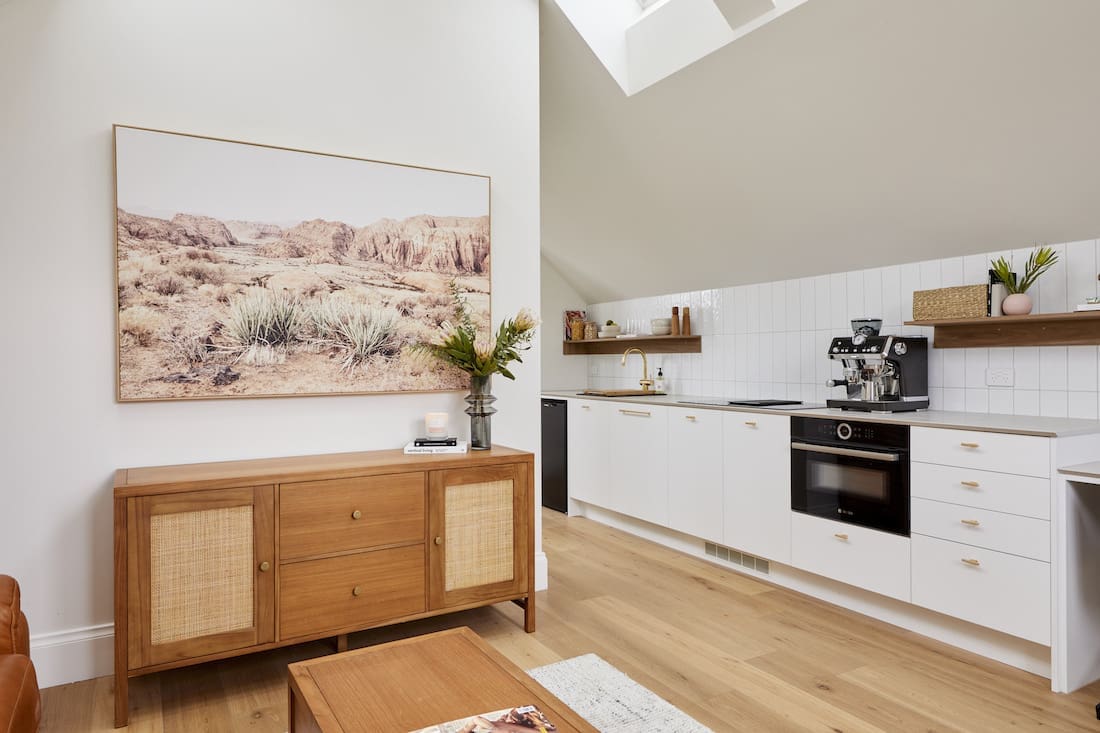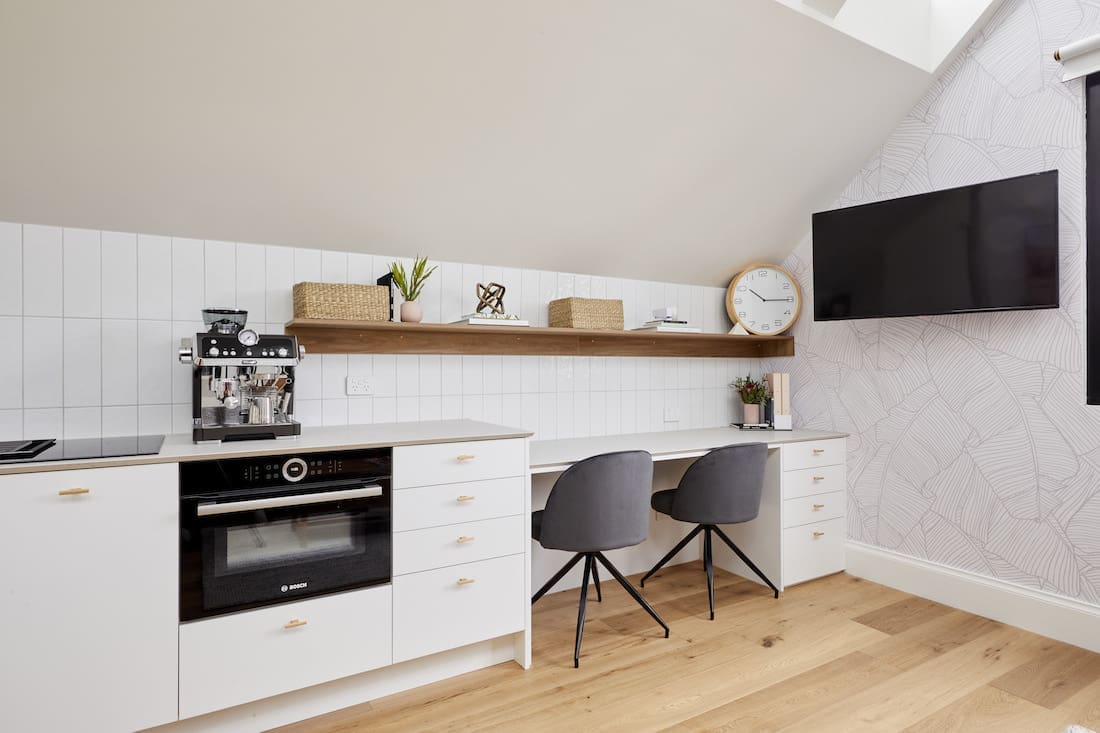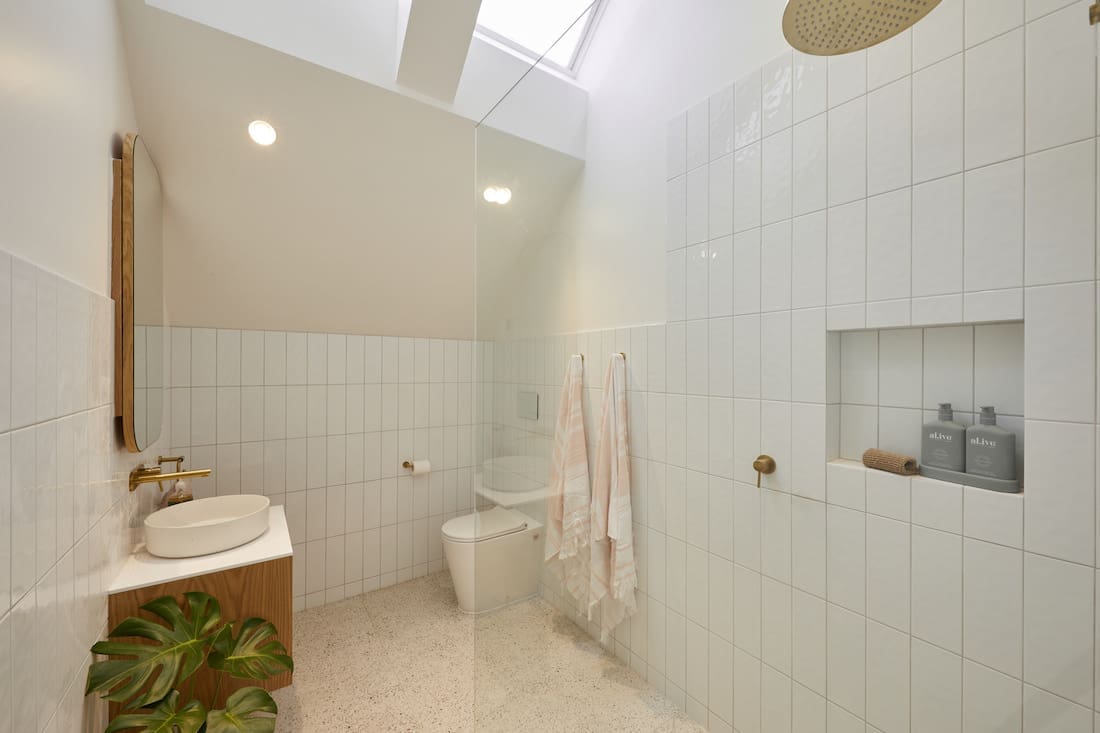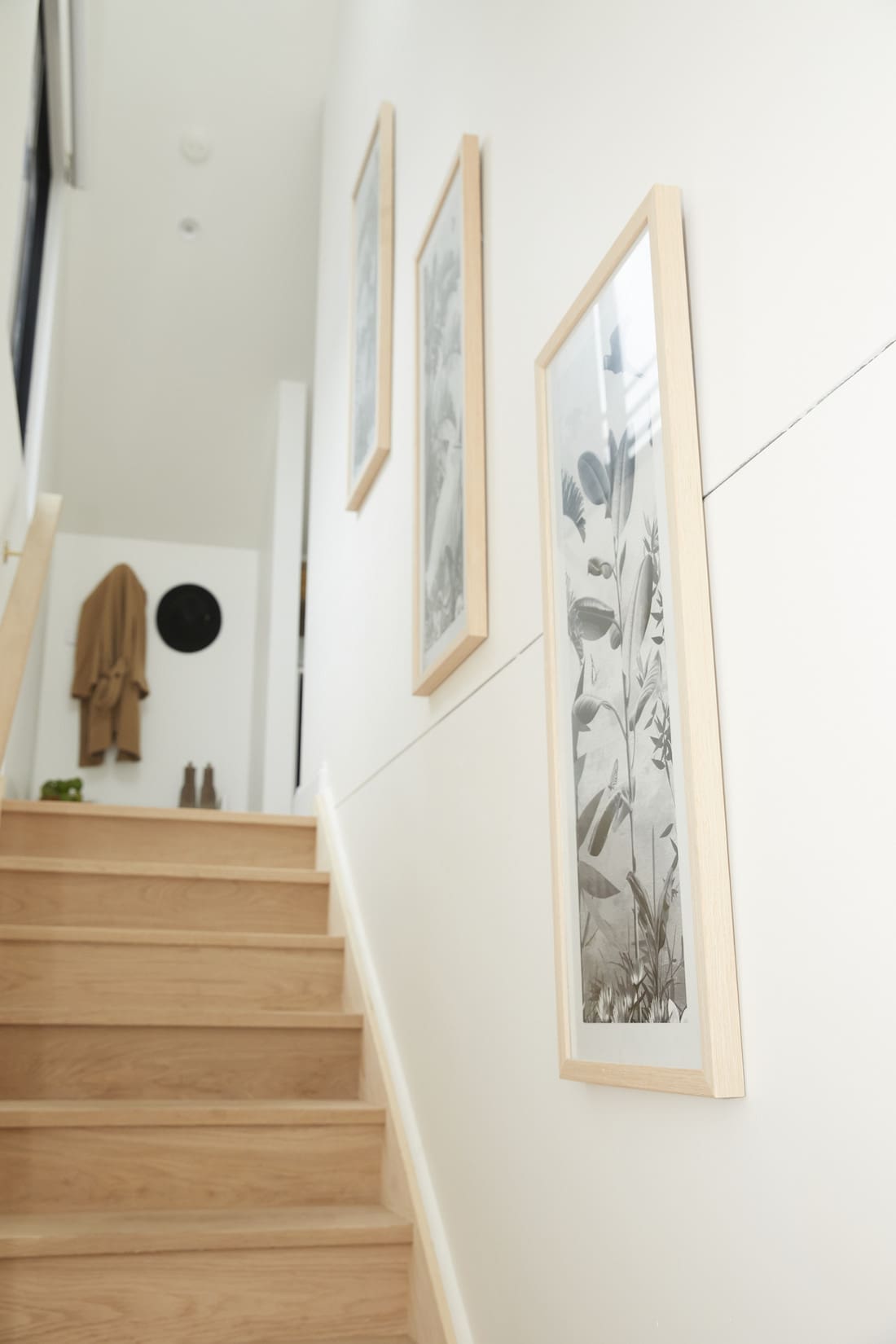 What did you think of this week's studio and garage reveal for The Block 2020? Did you agree with the judges (or us?!). Tell us in the comment section below!
Be sure to check out The Block Shop if you've spied something you love in this week's reveals. And you can catch all The Block 2020 goss on the official website.
All imagery by David Cook Photography