If you're hosting Christmas this year then no doubt you're already thinking about the menu… food intolerances… do you have enough seating? … and how you'll decorate the table among a million other things you need to prepare!
(And if you're not thinking about any of those things, you should, there's less than 3 weeks until the big day!!)
Creating a beautiful Christmas tablescape can bring so much extra festive spirit to the day and doesn't have to cost a fortune or take a long time to create.
Today we're sharing this black and white Christmas table styling with a native Australian twist — it takes under 20 minutes to create and we've got details on where to buy all the affordable pieces to create the look.
We're also sharing our top table styling tips so you can take these principles and apply them to whatever theme you want to use on your table this Christmas.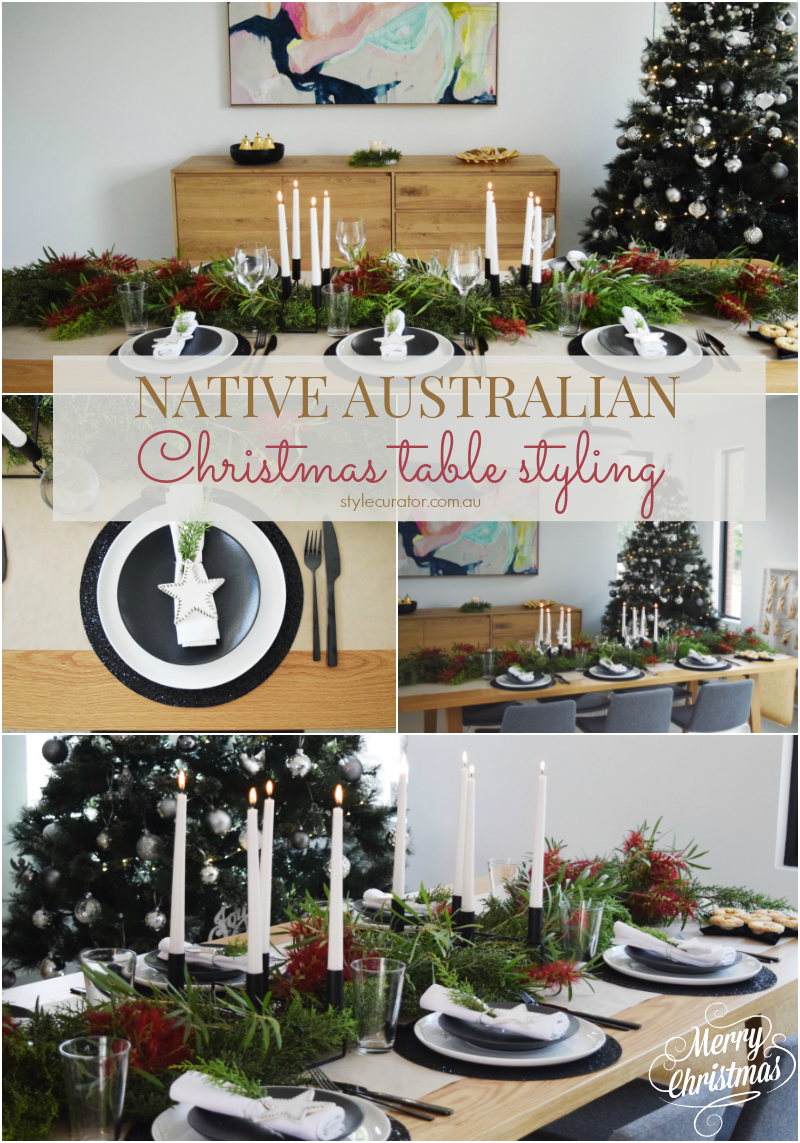 Choose a theme
Like with any styling, it helps to have a plan first!
Think about the inspiration for the table — it could be a silver theme like Chris from The Life Creative, a floral and berry theme like A Quiet Style, or even one of the three themes stylist Stephanie Stirling shared.
There are endless possibilities and if you're looking for ideas, Pinterest is a great place to start.
Once you have a theme in mind, consider the colour palette you'll work with and look for pieces that suit the style.
We opted for a black and white Christmas table setting with a natural base (timber and recycled paper), and then added life and pops of colour with a green centrepiece made from branches we foraged (just be sure to spray them well with insect spray before placing them on the table so you don't invite any critters to your feast).
Use layers to create a tablescape with interest
Using a roll of inexpensive recycled paper, we created a table runner that cascades over both ends of the table. It's a nifty styling trick that creates a great base to begin styling — and it only costs $2!
Next we created the green centrepiece by placing branches in a herringbone pattern — pine branches create the bulk while native Australian Bottle Brush flowers add pops of red.
Two black candle holders from Kmart add height and ambient lighting (for only $6 each these are an affordable alternative to the Kubus candle holders) and you can find candles in a range of colours to suit your style.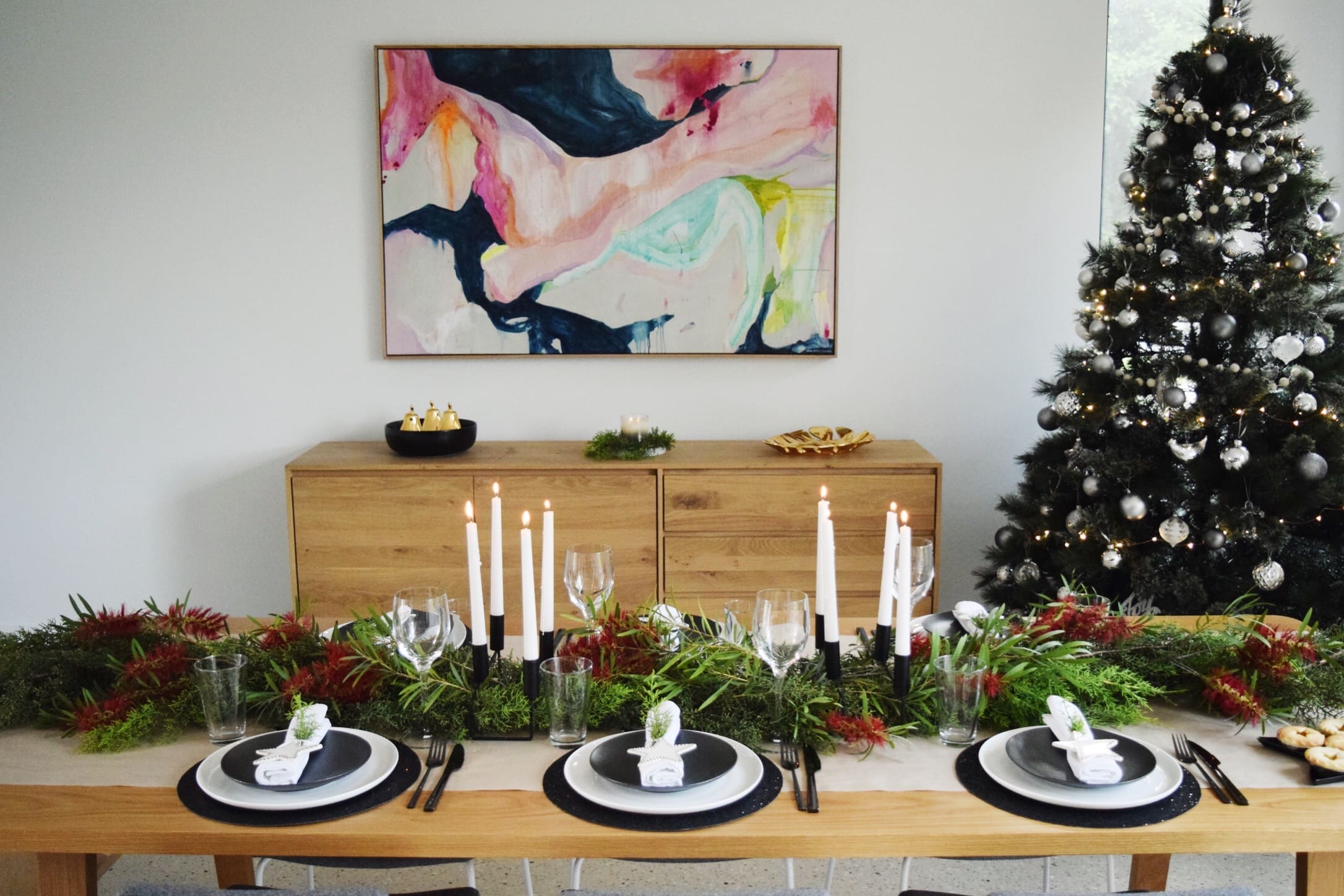 Create beautiful place settings
Christmas ornaments don't just belong on your tree. Here we used beautiful ceramic stars from Biome to decorate each place setting.
Starting with these black shimmery round place mats from Temples and Markets, we layered a white and smaller black plate from Kitchen Warehouse, and then finished the setting with a white fabric napkin held together with the ornament. Black cutlery from Salt & Pepper also work beautifully with our theme.
If you have a smaller table or need to seat a large number of guests, round placemats are a great idea because they take up less space than rectangular mats (preventing mats from overlapping and the feeling guests are sitting on top of each other).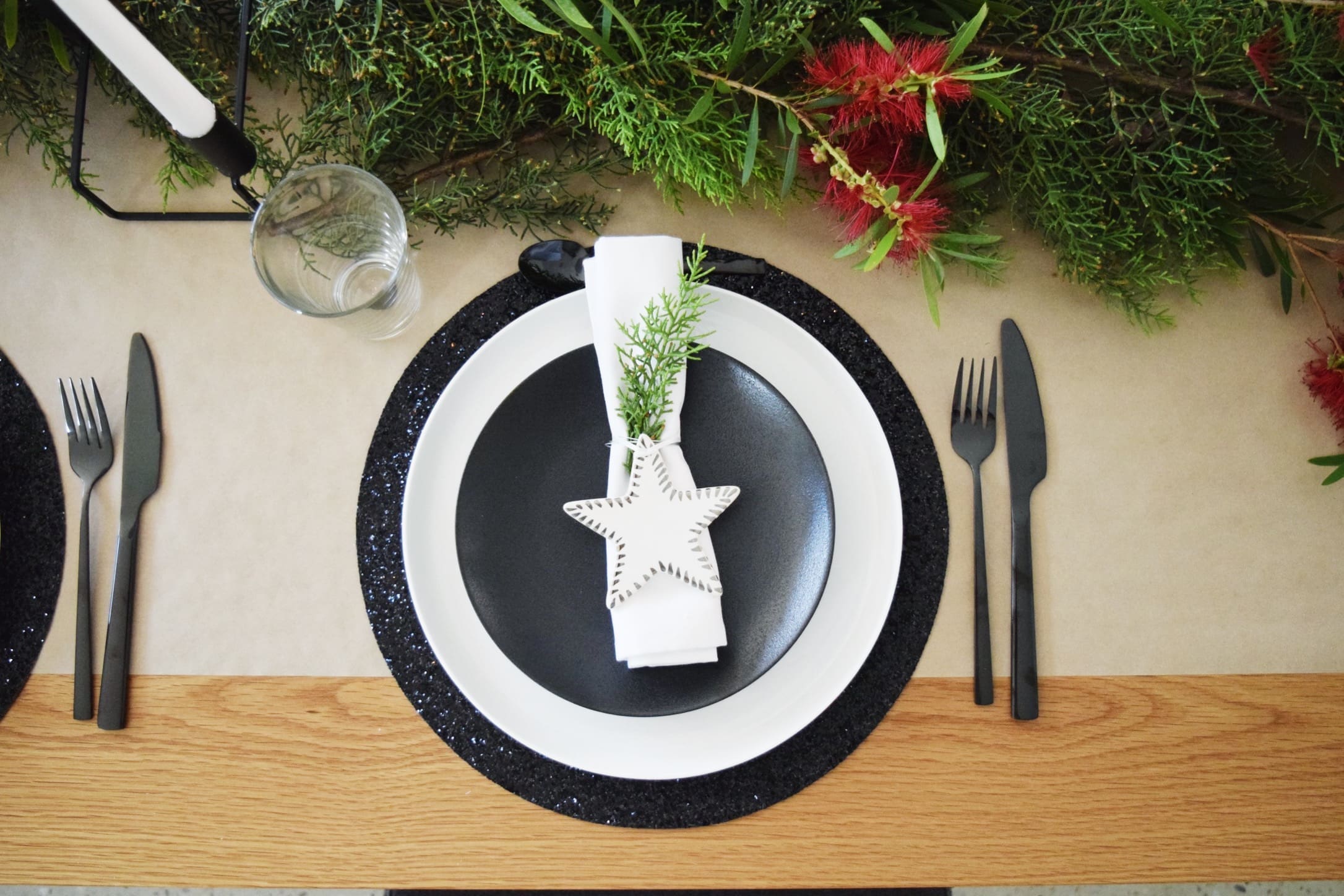 Style the space around the table
Finish creating a beautiful dining setting by looking at where you can inject some Christmas styling around the room.
Our Christmas tree is a beautiful backdrop (particularly with those LED lights and pom pom garland from Biome).
We also styled the sideboard with a Christmas candle from Glasshouse that we placed a branch wreath around. Black and gold decor from Salt & Pepper including the black bowl, gold pears and gold leaf platter, finish the styling on the sideboard. And our DIY advent calendar looks great in this space too.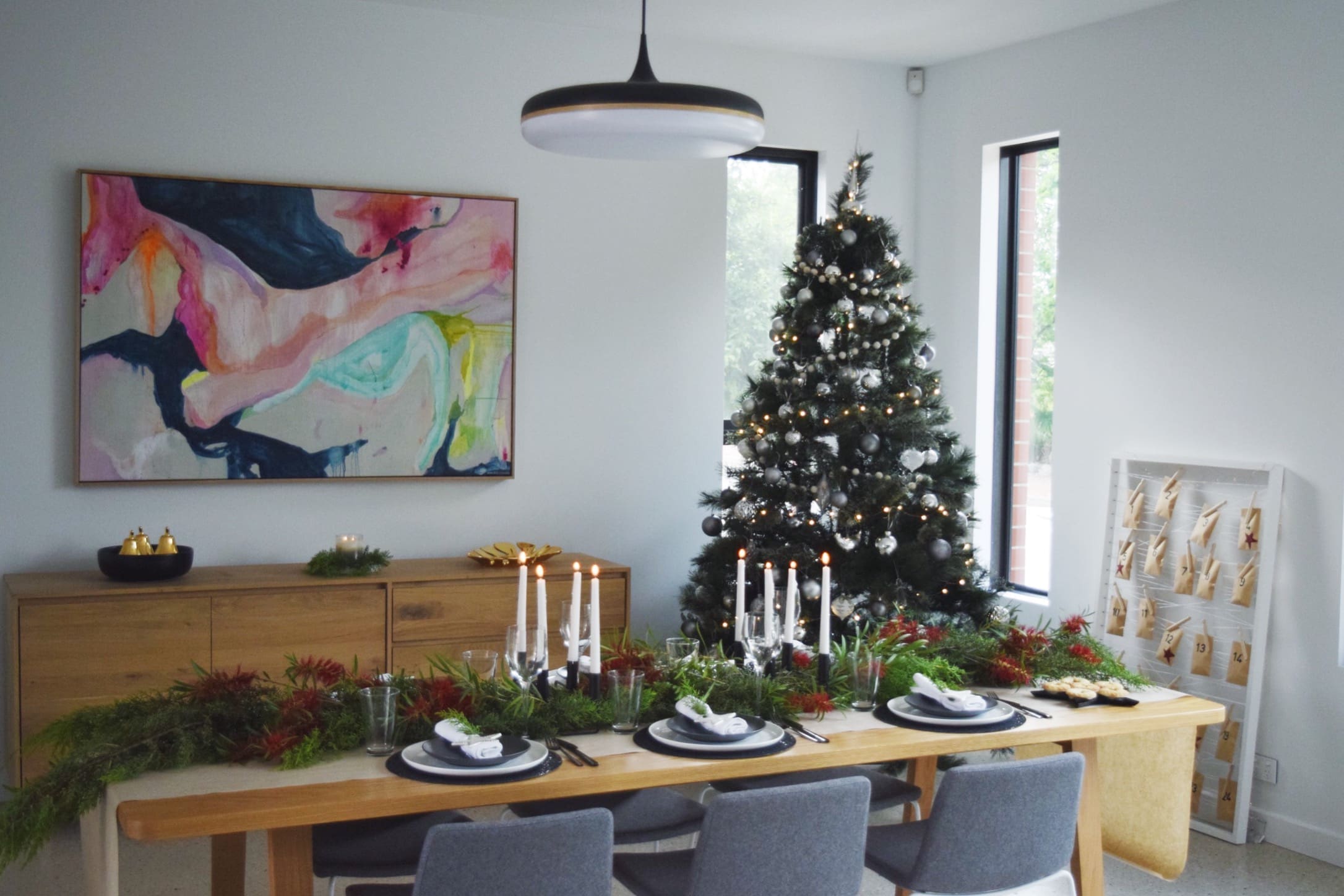 There you have all the tips and tricks to create this festive native Australian Christmas tablescape in your home! The entire centrepiece (wrapping paper, candle holders and candles) will set you back just $20!
Hopefully this has inspired you to start thinking about your Christmas table and you've discovered some great new stores to shop for affordable decor.
If you decorate your table this Christmas, we'd love to see photos or for you to describe the look in the comments below!