A boho coastal kitchen is just dreamy, isn't it? The perfect blend of an airy and earthy palette, this fusion style is definitely one of our favourites.
And because we just can't seem to get enough of this style lately, here's our round up of the best boho coastal kitchens we've seen.
Keep scrolling to see some SERIOUSLY drool-worthy kitchens!
Related article: 5 kitchen upgrades on a budget
Related article: How to style and organise your pantry
Beachy Byron luxe
A mix of wood, clean whites and pops of eucalyptus green give this divine kitchen in the Barefoot Bay Villa some seriously relaxed vibes. It's available to rent through Airbnb so you can take it for a test drive and fall in love with it in person! Take the full home tour here.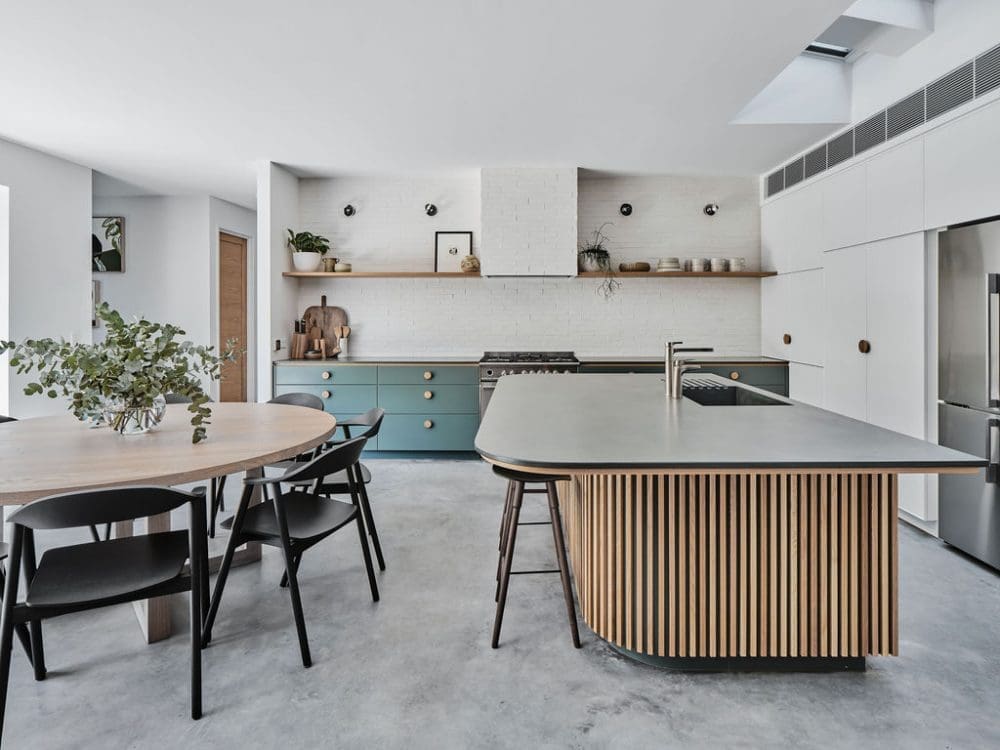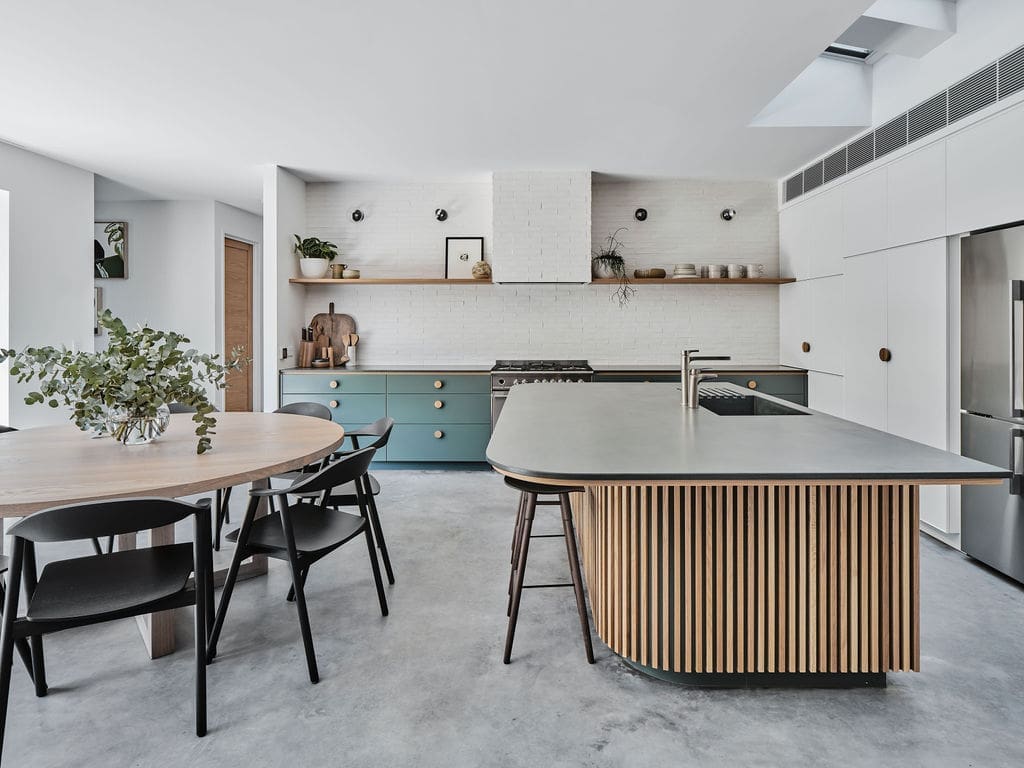 Rattan pendant lights
Nothing says boho coastal kitchen more than gorgeous, large rattan pendant lights. They instantly bring that touch of coastal style to your kitchen without spending big.
Shop our favourite lighting
Coastal chic
The light-filled space with warm timber flooring and crisp white tones just makes us feel instantly relaxed when we look at this kitchen. Kyal and Kara's Long Jetty home takes coastal style to a whole new level — take another look around here.
Upcycled vibes
Painting your kitchen cabinets in a muted colour like Gen did in her recently renovated kitchen takes them from basic to designer for minimal spend. We adore this rustic island bench and contrasting tones used in this space.
Contemporary luxe boho
Mixing dark, moody rendered walls with duck egg blue cabinetry gives this kitchen those boho coastal vibes. Throw in tonnes of natural light and you've got one luxe space. Revisit this stunning home tour here.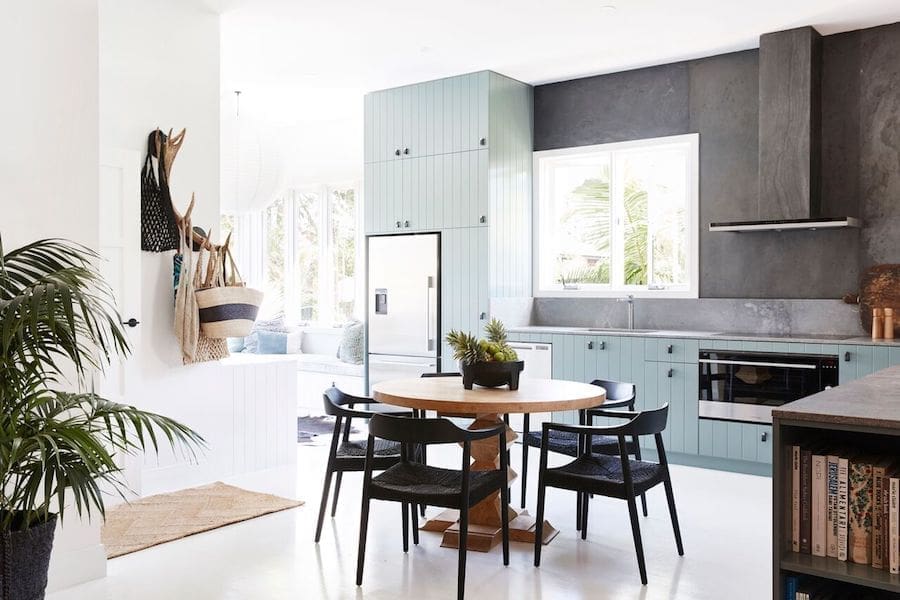 Tropical plant vibes
Long-time fans of Style Curator will probably remember this GORGEOUS kitchen from an earlier real home tour. The neutral colour palette, textured accents and beautiful styling makes this one of our fave ever boho coastal kitchens. Take another tour of this home here.
Textile it up
If this doesn't scream boho to you, we don't know WHAT will! Keeping the kitchen itself simple means you can throw in boho textile accents and still have the flexibility to update your style if you ever feel like a change.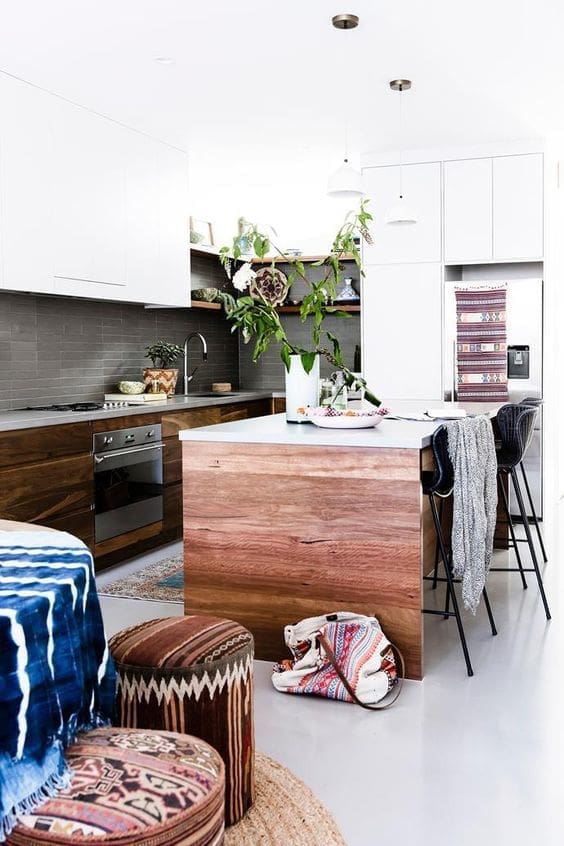 Shop our favourite decor
Throw down a rug
Adding in a printed rug immediately adds warmth and texture to your kitchen space and there are heaps of bohemian styles available. We love the crisp white cabinetry and gold hardware to elevate this space.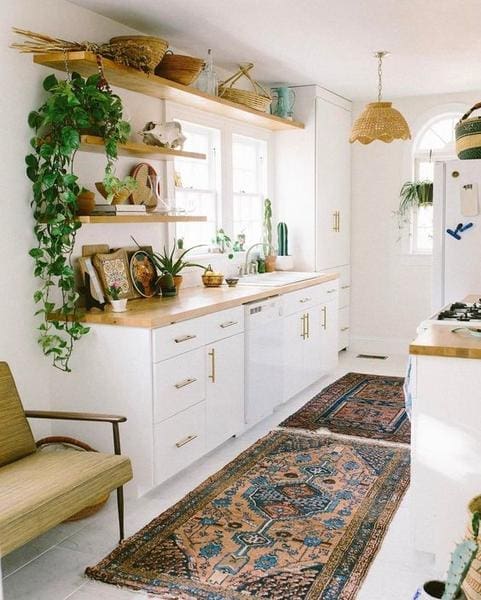 Simple, clean lines
Boho coastal doesn't have to mean wild colours and basket lights. Using a simple, earthy palette is another way to achieve the look. In this kitchen, the wooden flooring continues up the island kick to give the space a soft feel. A few simple accessories complete the look!
Add rattan accents
This is a sophisticated, modern space with stunning navy shaker cabinetry and brass hardware and tapware. But the addition of the cool basket light, rattan weave stool and fruit basket bring in a touch of boho coastal without going OTT.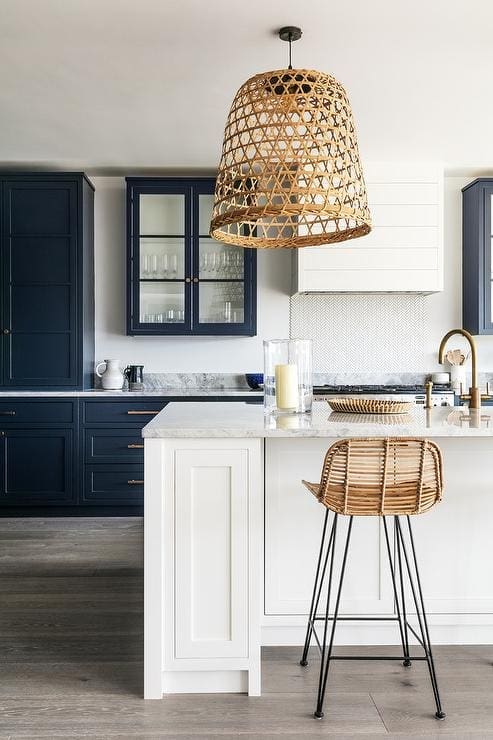 Functional feature wall
The patterned rug is a dead giveaway but another way to add a touch of boho to your kitchen is with this cool wooden chopping board feature wall. It instantly relaxes the space, is useful AND looks fab.
Vaulted ceiling and feature light
We're a little bit in love with these vaulted ceilings which add a whole other dimension to this space. It helps dial down the huge pendant light, which makes a bold, coastal statement in this airy kitchen.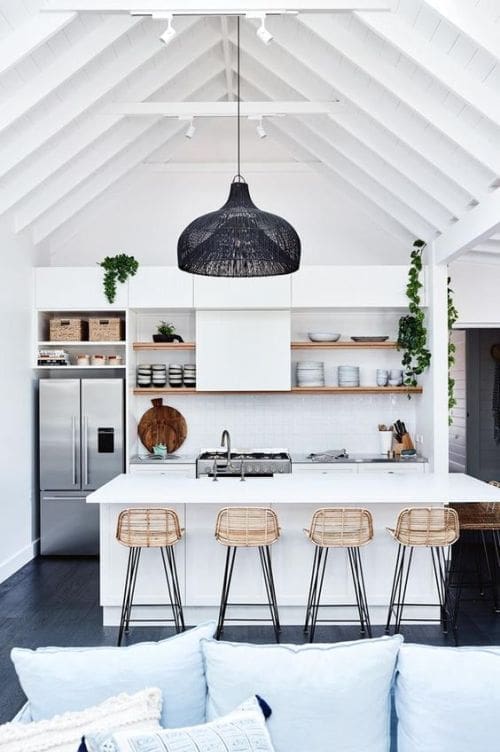 Add open shelves
Open shelves have featured in quite a few of these boho coastal kitchens and for good reason — they're the perfect way to display artwork, ceramic pieces and other treasures. In this kitchen, we also love how the fabric stools play off the patterned rug to finish off this otherwise simple kitchen.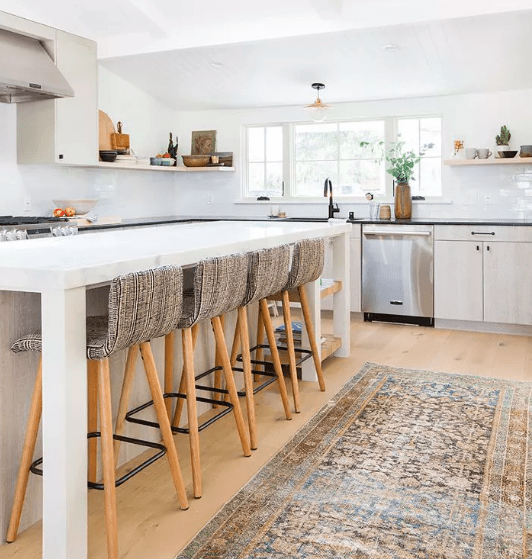 White on white
We have never been shy about our love for white on white in ANY part of the home but we particularly love it in the kitchen. It's something that will never date and always looks crisp and sophisticated. Just be sure to play with texture and materials for interest, such as the panel detailing around the island. The open wooden shelves and woven basket pendants give a subtle nod to the boho coastal style.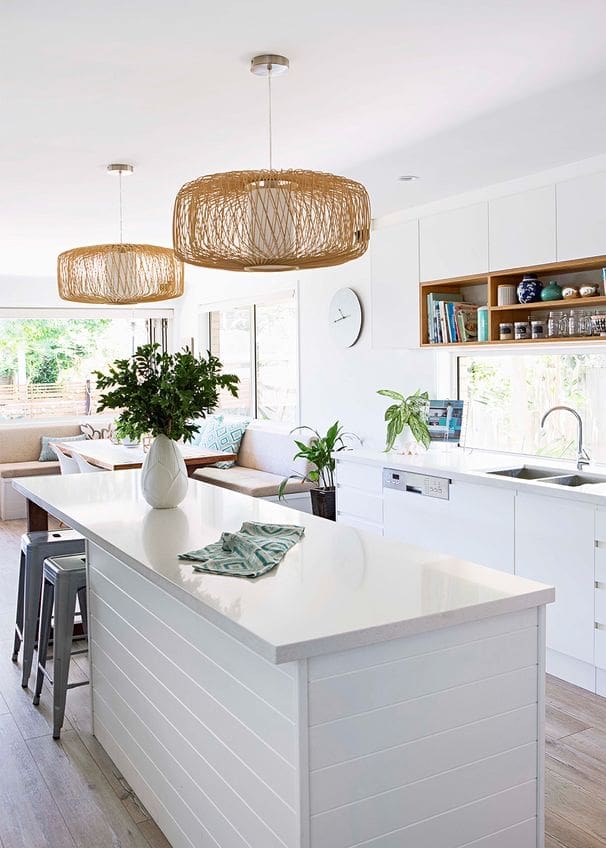 Shop our favourite lighting
Make your ceramics a feature
When you have a ceramic collection this stunning, why hide it away? We LOVE the rustic open shelves in this kitchen, mixed with the gorgeous floor runner and leather drawer handles. It's the perfect mix of modern vs boho.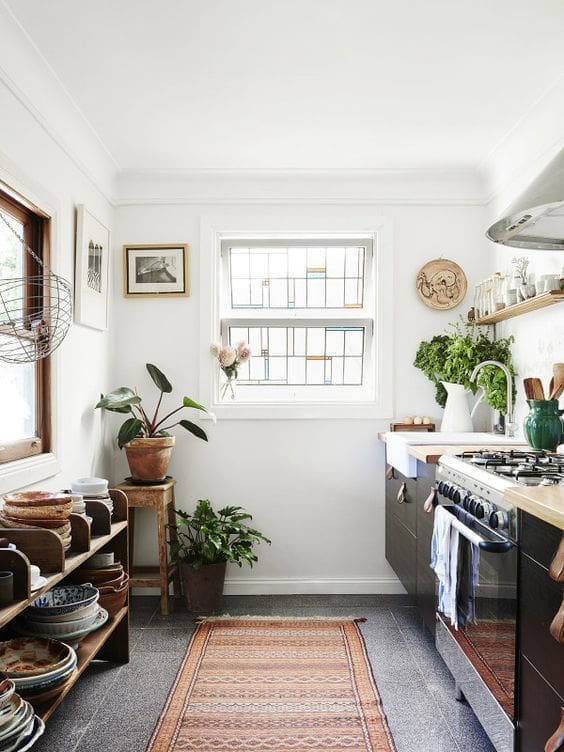 Go green with envy
We're not sure what we love more. The textured jade green tiles, the copper accents or the abundance of greenery! Keeping the rest of the space simple with white cabinets and marble benchtops stops this kitchen from feeling too overwhelming.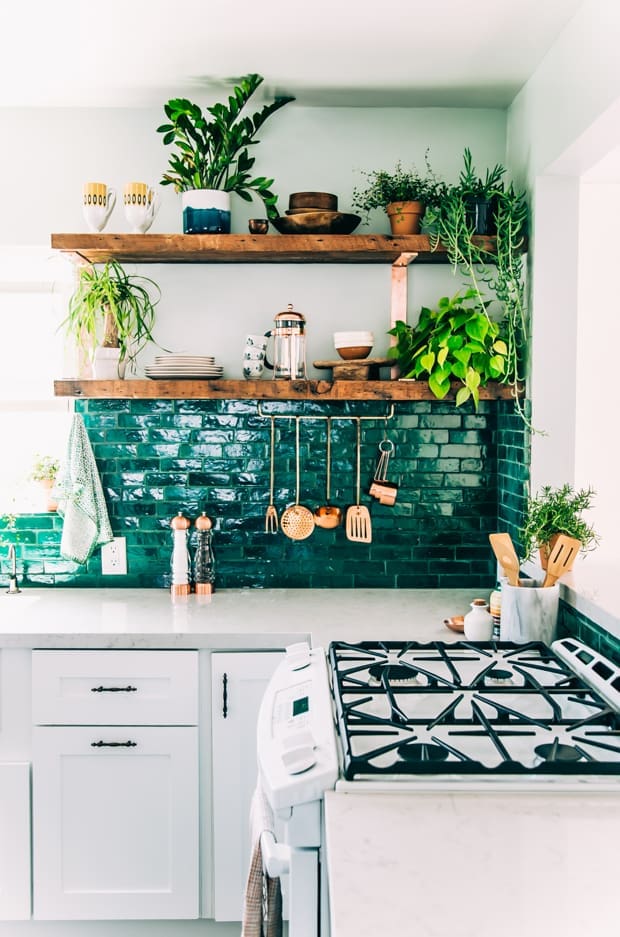 Elegant boho
This sophisticated space is kept super simple with its beautiful white everything and chrome accents. The simple addition of marble splashback and a printed rug take it straight into boho coastal territory while not taking away from its elegance.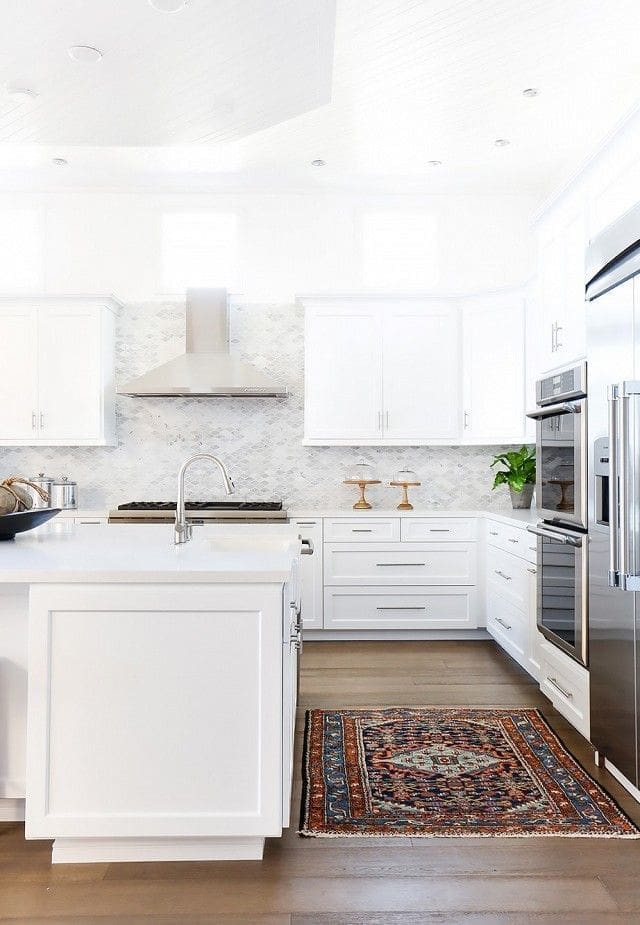 Wooden features and tropical fruit
The colour palette in this space keeps things neutral and airy to give off that coastal chic. The rug in the open plan dining room adds in a touch of boho and the look is completed with that tropical fruit centrepiece!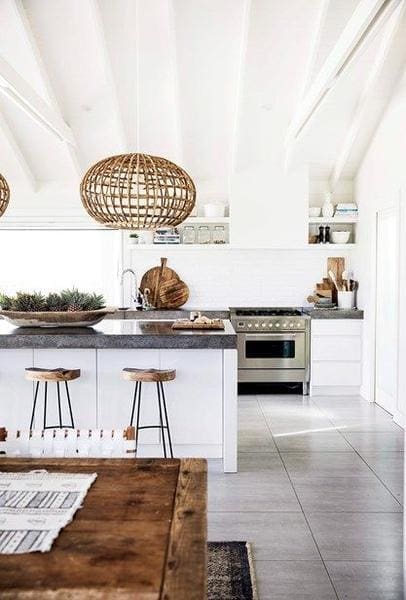 Ultra modern understated boho
This space from Kate Walker Designs is ultra modern and understated with just a touch of boho. The timber cabinetry, wicker stools and addition of a lush green plant keeps things feeling relaxed in true Aussie coastal style.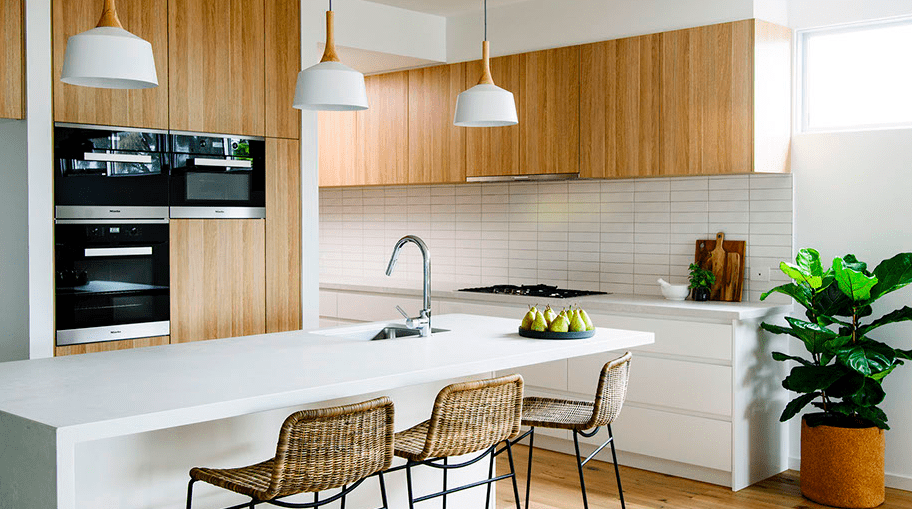 Raw beachy vibes
Adding natural materials to your kitchen such as wicker, rattan, bamboo and soft linens keeps the beachy vibes flowing. The floating shelves are the perfect addition to showcase artwork and amp up the coastal tones.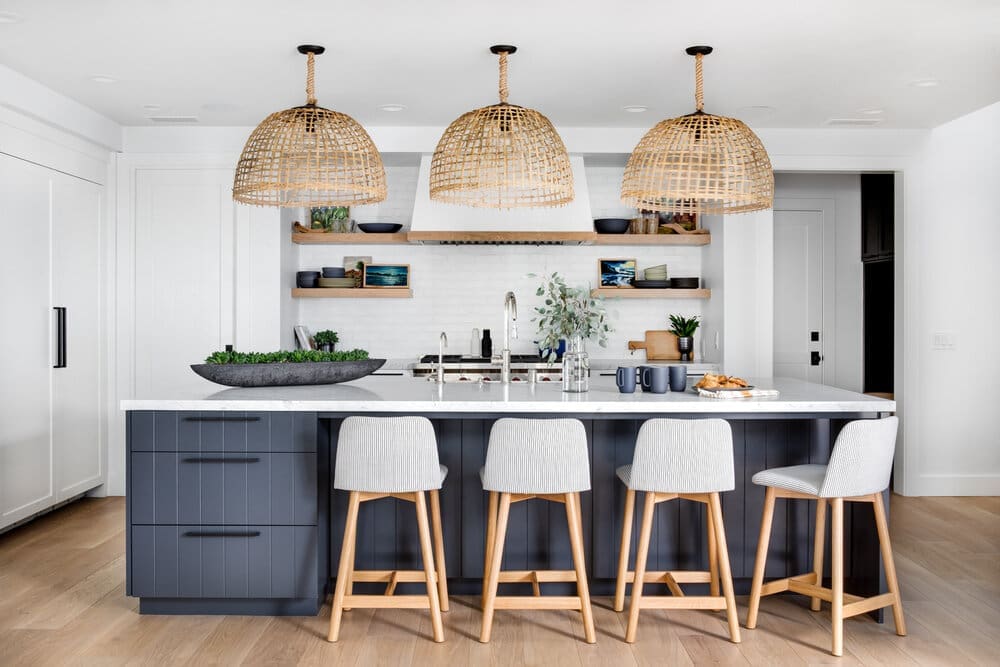 Which was your fave space from this jam packed gallery? Was there a particular feature or decor piece you'd love to add to your kitchen? Tell us in the comment section below!