Basket pendant lights are seriously on trend right now. We're seeing them pop up in kitchens, bathrooms, dining rooms and even outdoor living spaces. From coastal cool to boho chic, there are so many styles to give your room that perfect finishing touch.
So we thought we'd do a bit of shopping (all in the name of research 😉 ) and show you where to shop the best.
Related article: The ultimate guide for achieving a coastal interior style
Related article: What height to hang pendant lights?
Shop our faves: Basket pendant lights
For a classic take on the basket pendant light, it's hard to go past Freedom. Featured in one of our fave ever bathroom renos, we love how the pendant takes this bathroom to the next level.
Their small, but bang-on range has something for every budget.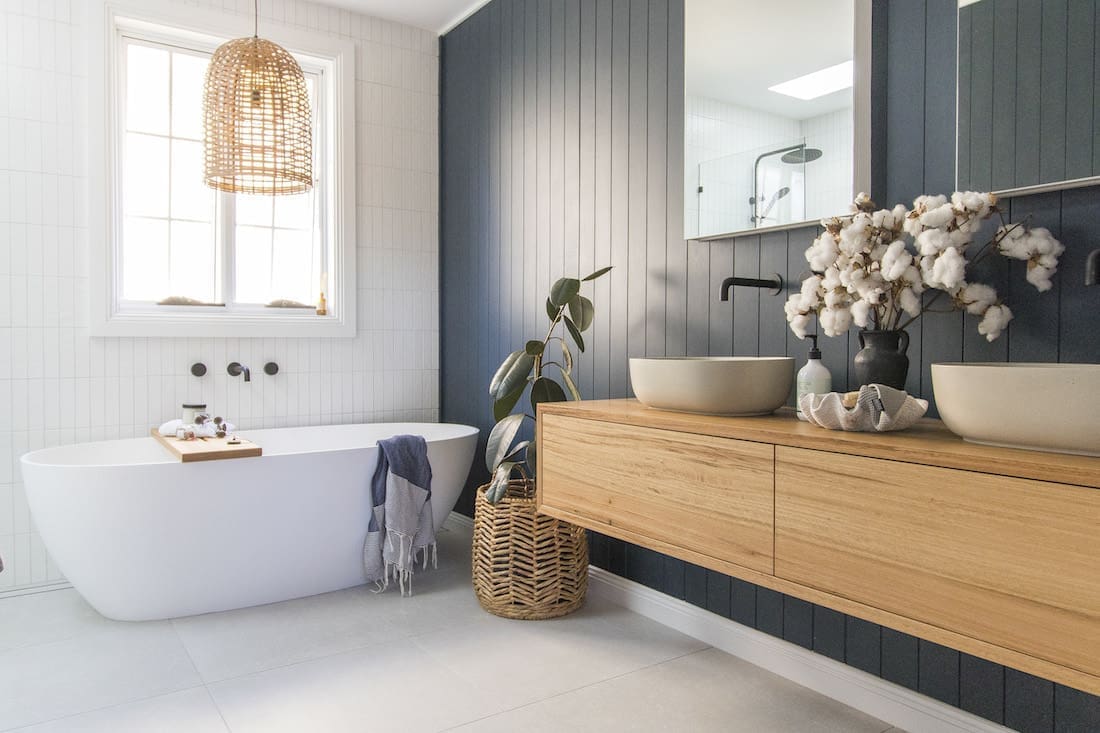 Temple & Webster has long been our go-to for many things… including basket pendant lights. They have a fabulous selection of colours, shapes and sizes to suit any room of your home.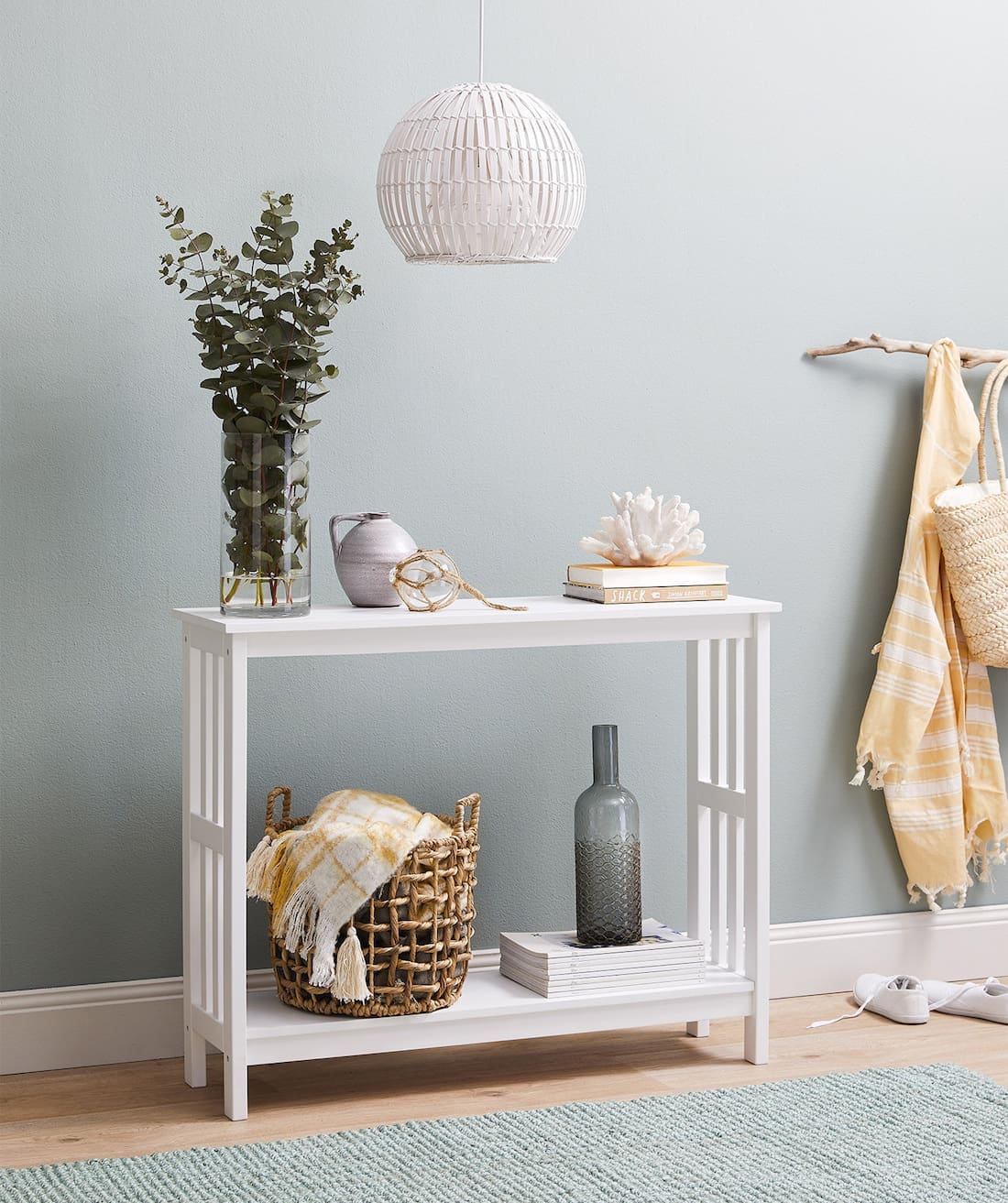 If you're looking for something a little different, Etsy is the place to go. From classic to eclectic, their range is unbeatable! Be warned though, once you start you may get lost down the rabbit hole of beautiful basket pendant lights for hours!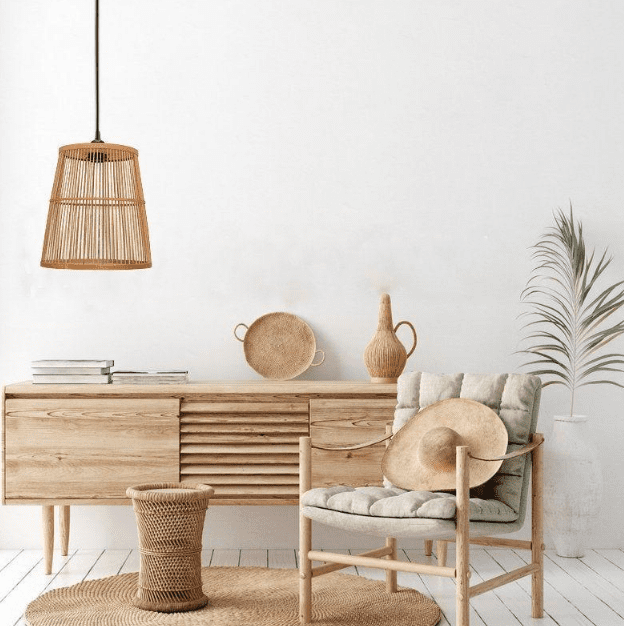 Specialising in beautiful handmade pendants, Wanderlust Lighting is one of our absolute fave places to shop for basket pendant lights. This artisan lighting brand's Instagram feed will give you all the heart eyes.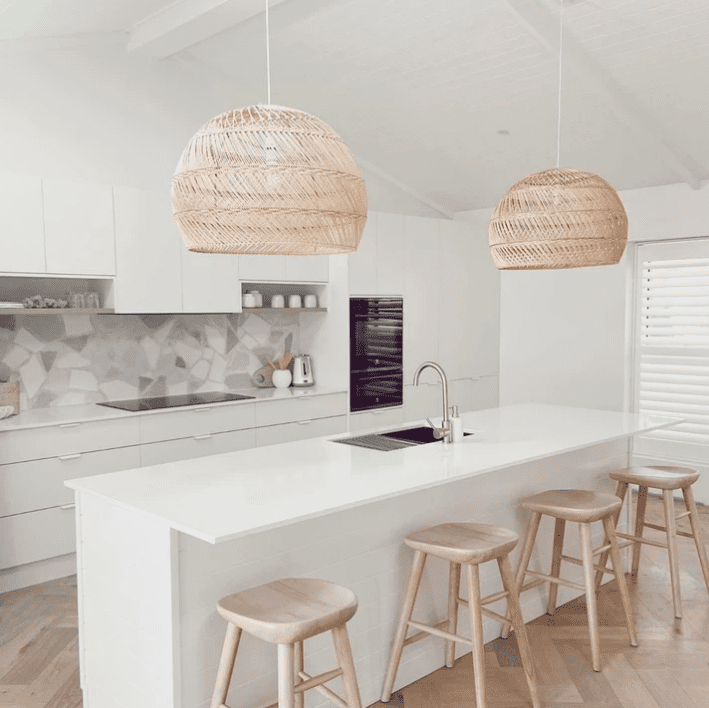 We loooove the lights from Ivory & Deene. They're absolutely beautiful and make a room seriously Instagrammable! Think classic chic shapes right through to bold statement chandeliers. Swoon!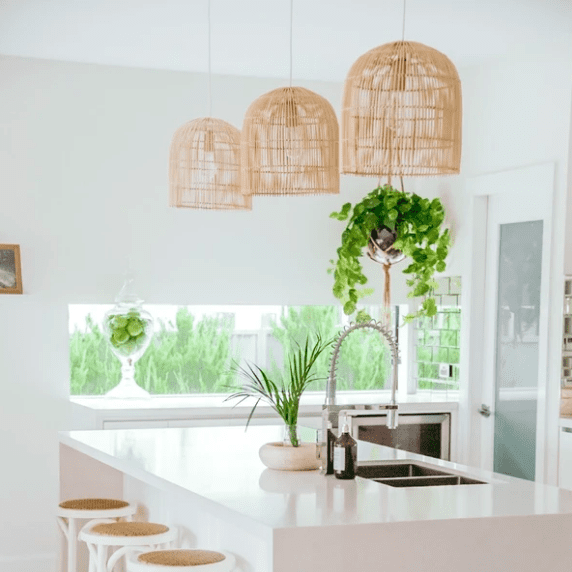 If boho is your thing, you need to check out Trader Trove. As well as their gorgeous range of furniture and homewares, they also stock a unique range of lighting for something that little bit different.
And to see just some of the collection, check out owner of Trader Trove Avalon Beban's home, who we recently featured on the blog. Boho inspo overload!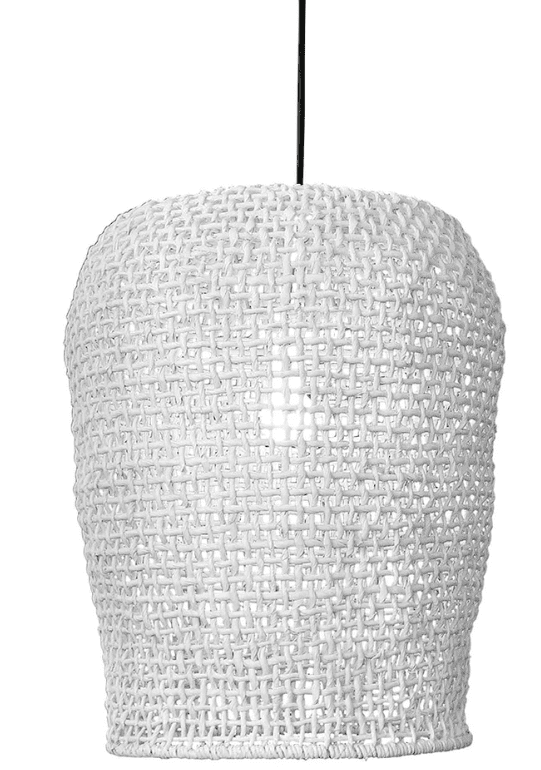 If you've vibing rattan at the moment (aren't we all!?) then you'll love the range of lights from JD Lighting. They have a great selection of rattan, woven, bamboo, basket, teardrop… loads of lights!
There's something to suit all styles and budgets.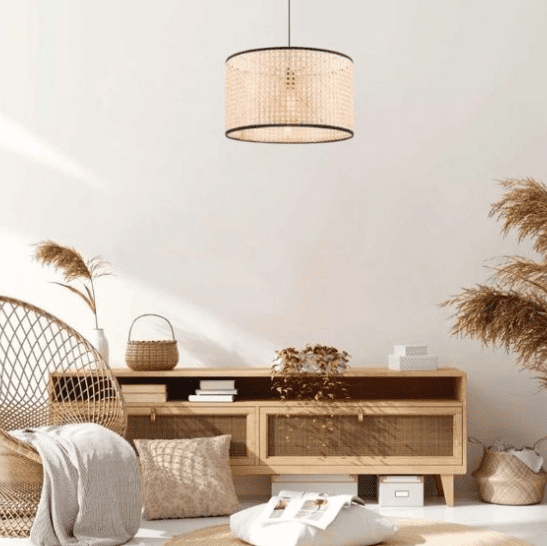 When we were shopping for this article — we mean… researching! — our focus kept being drawn back to these dreamy, lace-weave lights. And some of the best come from Fat Shack Vintage.
Made from sustainable materials, these basket pendant lights would look perfect over a kitchen island, stairwell void, hallway or living area. Actually, we think they'd be perfect in any room of the house!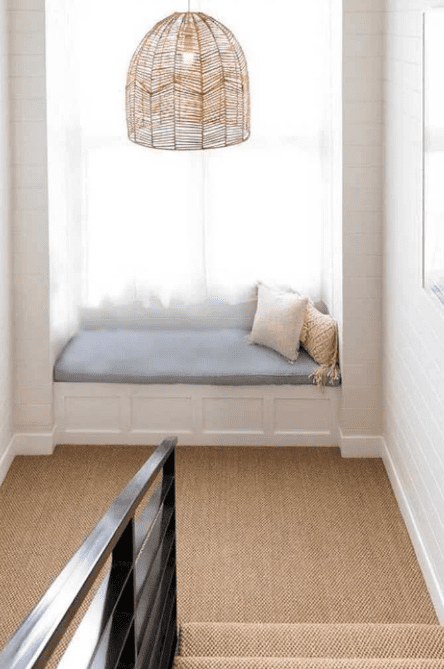 If you're an avid Block watcher (or you just simply can't get enough of our weekly Block recaps) you've probably spied a light or two you love. Beacon Lighting has a fab range of basket pendant lights, and if you're not in a rush, they often have great sales so you can snap up a bargain.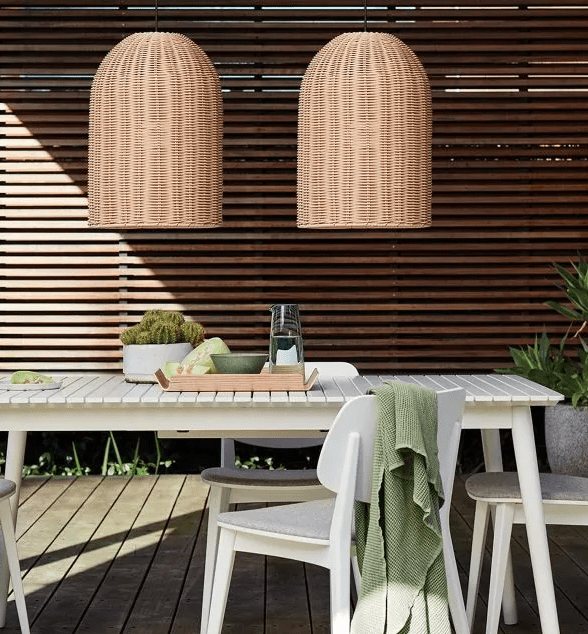 For those who love the designer look, but not the price tag, Mica Lighting might be the place for you. Featuring a range of replica designs at a fraction of the price, we especially love the Replica Ay Illuminate range.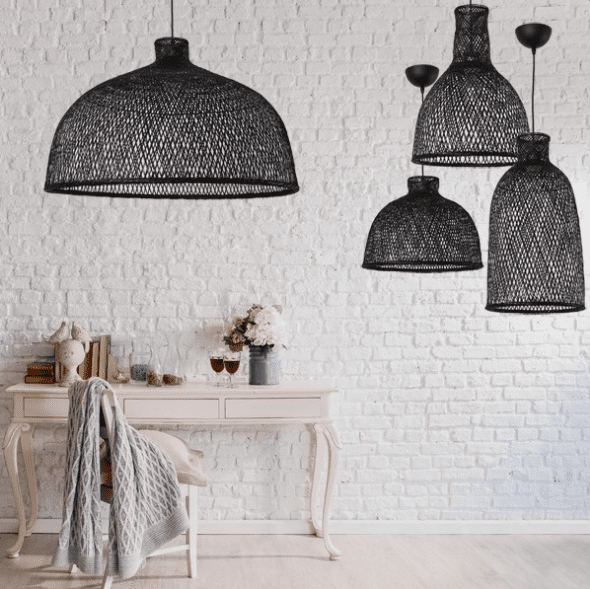 DIY your own
If you just can't find that perfect basket pendant light, perhaps you might like to DIY your own?! We've seen some ah-MAZING DIY lights made from baskets and table lamps, making them a much more affordable option and something totally unique.
Take a look at the ones we found in our Kmart, Big W and Ikea hack articles!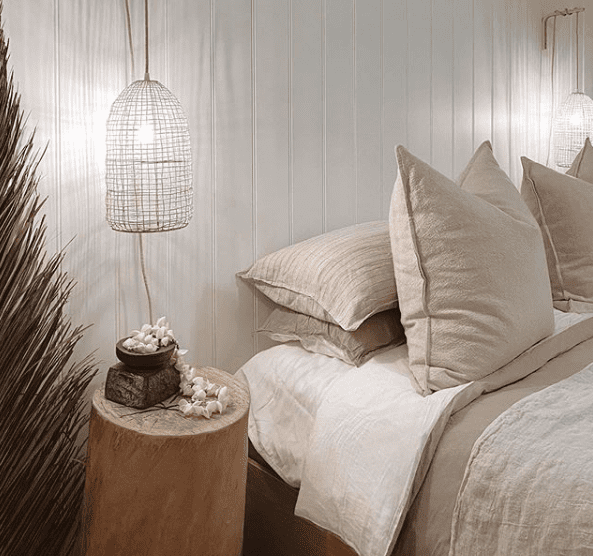 So what did you think of our basket pendant lights round up? Did you have a fave? Have we inspired you to go shopping? Or maybe we've missed another fab lighting store! Tell us in the comment section below.
Shop our faves: Basket pendant lights
Disclaimer: This post contains some affiliate links. This means when you click on a link and purchase something from that site, we may make a small commission at no extra cost to you.