We love a standout feature in the kitchen, but sometimes, classic is what we crave. Come and take a look around this stunning all-white kitchen with Catherine Heraghty from boutique interior styling company, The Stables.
To us, Catherine and her team never put a foot wrong, and this kitchen is no exception. This is a classic, all-white kitchen that will never go out of style.
Related article: Tips on how to plan the perfect kitchen: A dreamy, contemporary coastal kitchen
Related article: The ultimate parents retreat: An elegant living room featuring curves and stunning custom joinery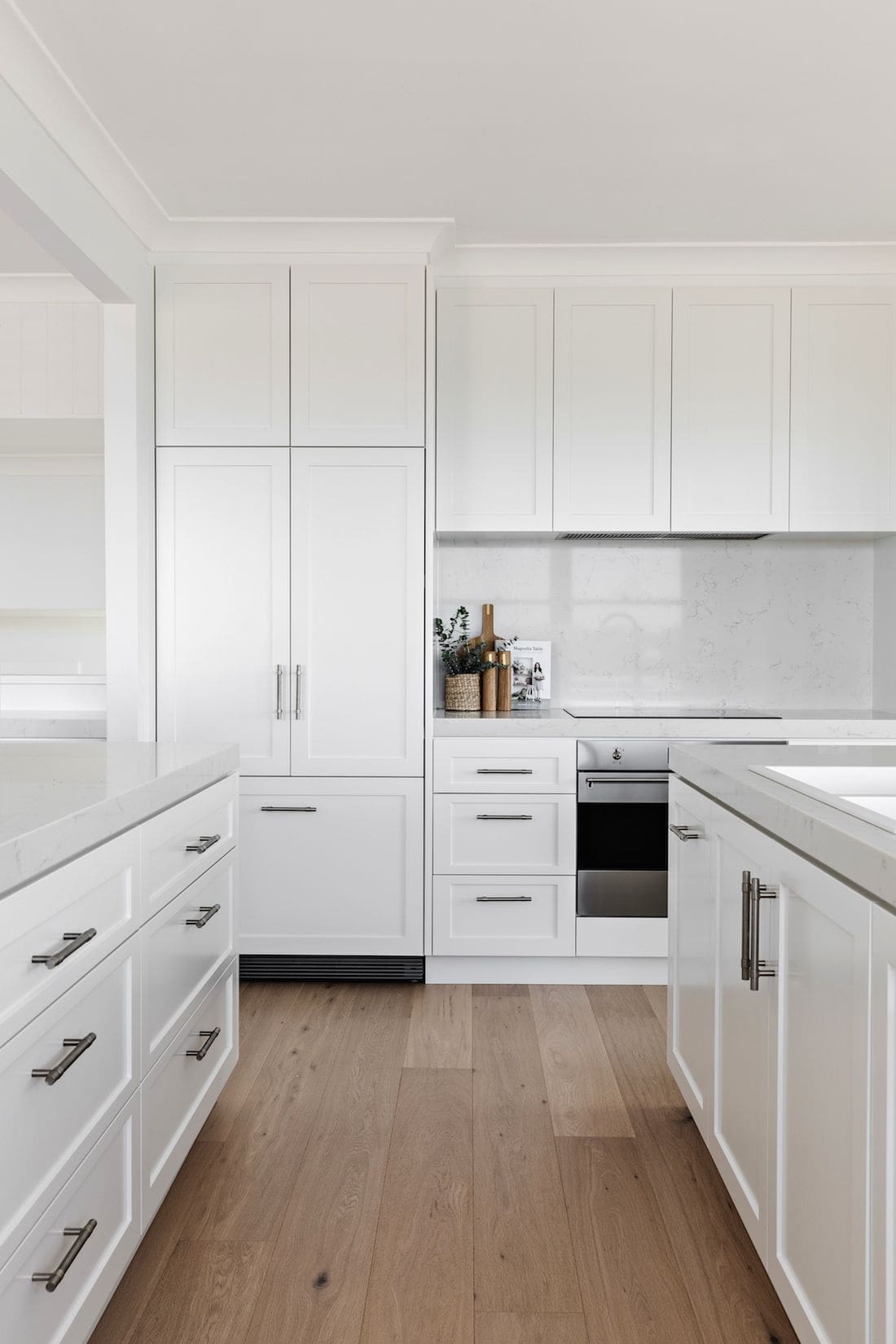 This kitchen remodel was part of a larger home renovation, and like the rest of the home it takes on a modern Hamptons feel.
"Our clients love Hamptons interiors, so naturally this inspired us to create a contemporary coastal Hamptons look evident throughout all the elements of the kitchen design," Catherine explains.
"Due to the existing floorplan, the kitchen layout is quite unique. We found it was the only way to create a successful, functional space. What's interesting is it has a large central island that sits in the middle of the kitchen area, running vertically to the back wall of joinery, rather than horizontally.
"Funnily enough, the positioning of the island ended up being an advantage to the full kitchen. It encouraged the island bench to be a feature of the room. It also assisted the living, dining and kitchen to feel open, bright and spacious. Plus, the height of the bench created zoning of the kitchen space.
"What makes this kitchen typically Hamptons, is the classic shaker style joinery, the brushed nickel tapware and thick Talostone benchtops."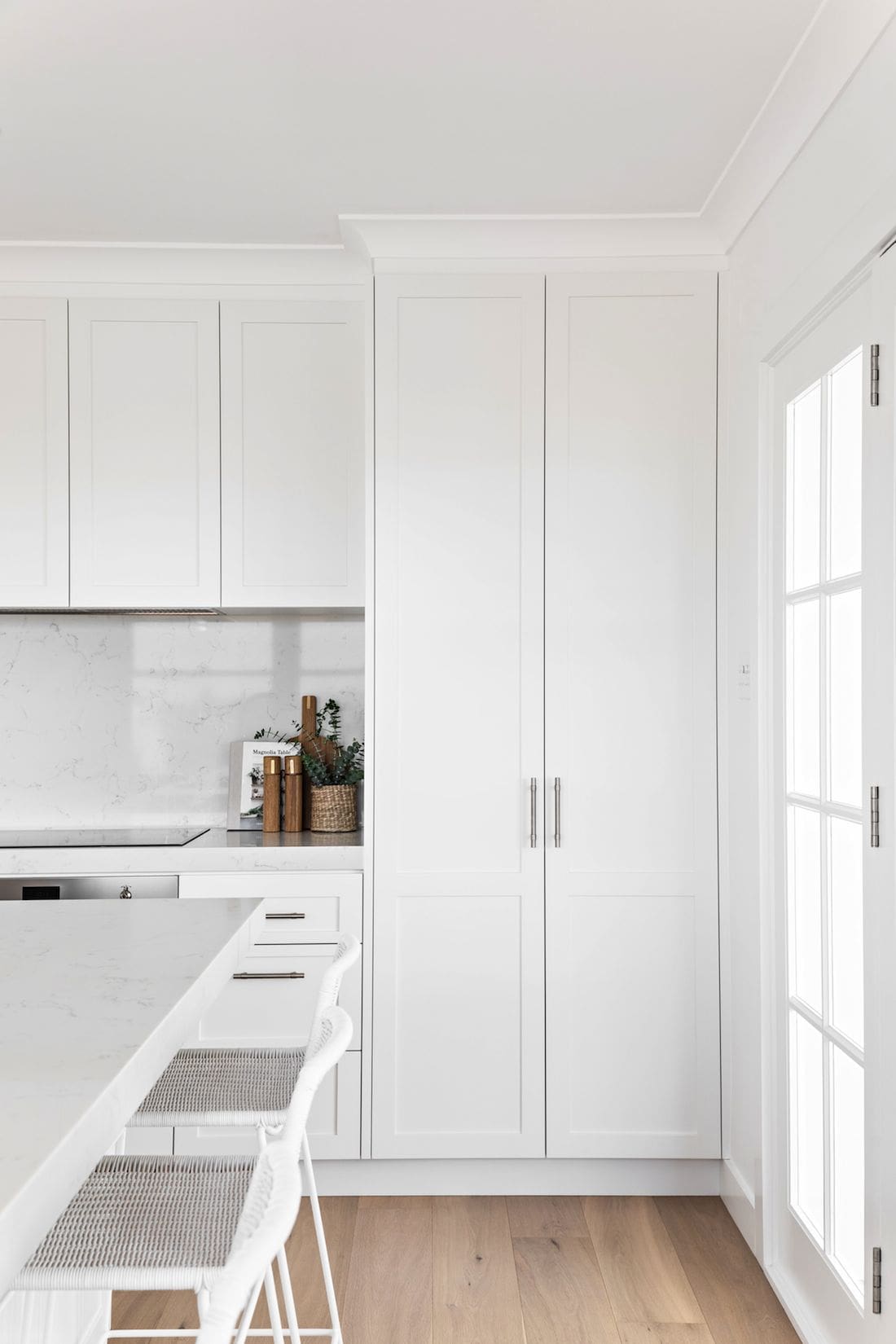 Having worked her way around more than a few kitchen renovations, Catherine knows a thing or two about designing the perfect space.
"As with all of our kitchen designs, we select specific internal organisation systems. This gives the homeowners plenty of hidden storage within the doors and drawers to ensure they get the most out of every part of the design.
"When it comes to designing a kitchen, first start with your theme or concept. For this all-white kitchen we went for Hamptons coastal. This meant when we were selecting the finishes and fixtures, we were able to come back to our theme to ensure the selections aligned with the aesthetics of the concept.
"We love a neutral, classic colour palette. Something like this all-white kitchen will withstand the test of time. To stop it from feeling sterile or boring, consider door profiles to create interest, such as these shaker style or v-groove," suggests Catherine.
"The decision to go with or without handles is key to the overall aesthetic. If you decide to go with handles, ensure they work in with your tapware finish.
"When it comes to your splashback, this is the opportunity to have fun with a classic design. It's important to consider the grout selection and layout too, to ensure these fit within the timeless style you want to achieve."
For tips on choosing the right grout, take a read of this article.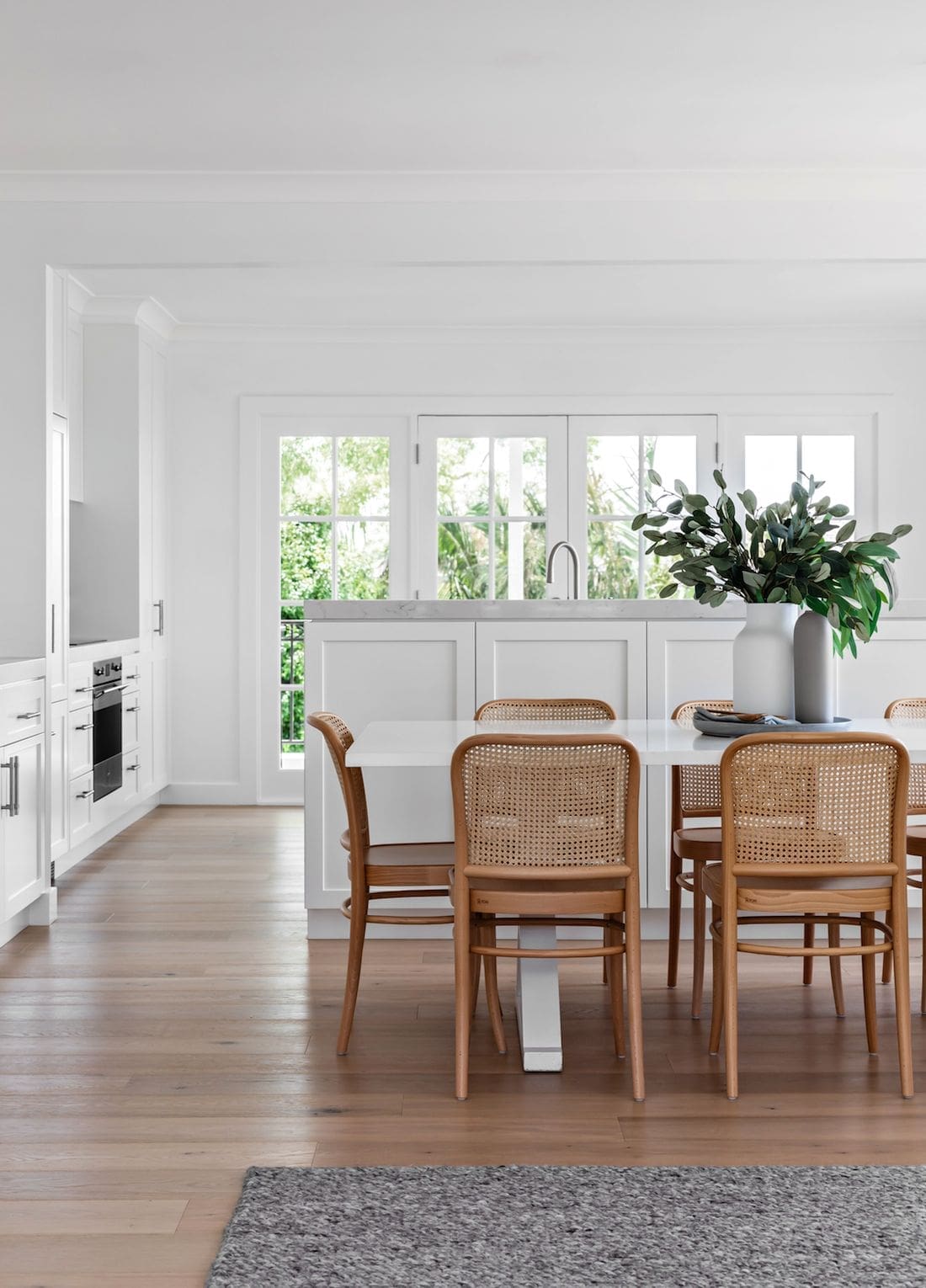 The kitchen is often the most expensive space in your home to renovate, so we wanted to hear Catherine's top kitchen must-haves, plus where to save and where to splurge.
"It sounds boring, but quality joinery and craftsmanship are essential if you want your kitchen to last for years to come.
"Where possible, integrate your appliances. You will love it! Consider integrating your appliances so they don't affect the consistency of your design and overall aesthetic.
"Ensure you've got a practical floorplan. Your cooktop, oven, sink and fridge should all be within range of each other for easy everyday use. This isn't anything new, but it's pretty important if you want a well-functioning kitchen that you'll actually want to be in," says Catherine.
"Definitely invest in soft-close mechanisms for all your joinery — an added expense but one that's well worth the investment. And while you're there, go for clever internal organisation systems to help keep your kitchen functional and easy to use.
When it comes to splurge vs save, splurge on your joiner. This is a strong, long-lasting investment and something you will not regret. You can easily save on your splashback tile. There are so many beautiful, cost-effective options available these days."
Photography — The Palm Co.
Builder — Ben Richardson Building
Joinery — Scotts Kitchens
Design and styling — The Stables
Another stunning space from The Stables team! Thank you to Catherine for showing us around this Hamptons coastal kitchen. Visit The Stables website or Instagram page for more home and styling inspo. Has this space inspired you to go for a classic all-white kitchen? Chat to us in the comment section below.