Why oh why did I jinx myself with my last construction update when I said I finally believed I'm 'so close' to moving in?!
It's been a fortnight of disasters and you guessed it, I still haven't moved in and won't be for at least a couple of weeks!
What could possibly go wrong you may wonder? A LOT!
Related article: Construction update 18: A race to the finish!
Related article: Construction Update 19: My birthday wish came true and a surprise…
Flooding
Grrrrr I'm beginning to regret my choice of in-wall toilet systems! We've had three flooding situations in the past fortnight — in our upstairs ensuite, our laundry and the laundry in the little house.
To repair the leak in our upstairs ensuite we had to pull off some of the wall tiles but managed to contain it before there was too much damage. Unfortunately the same cannot be said for the leak in the small laundry which was only discovered once there was a 6mm deep pool of water in the house! And best of all, it happened the day our new carpets went in so we had to pull up the carpet in one of the bedrooms which has been drying out with a blower for the past week.
So yeah, it's been a fortnight of one step forwards, two steps backwards and this is only the first of our construction issues!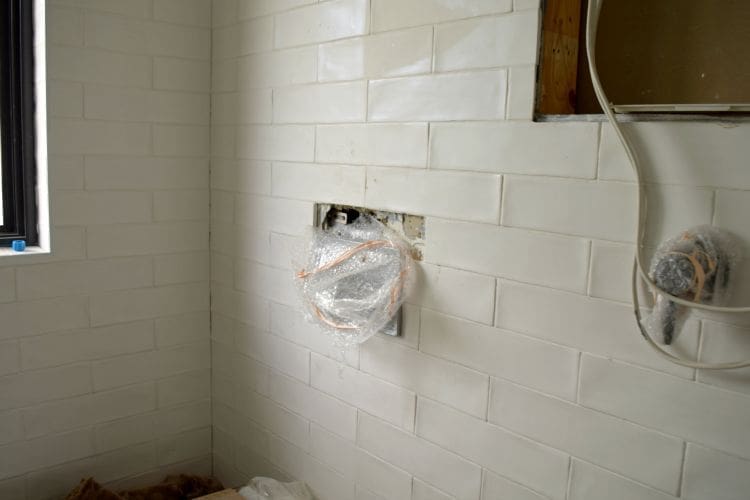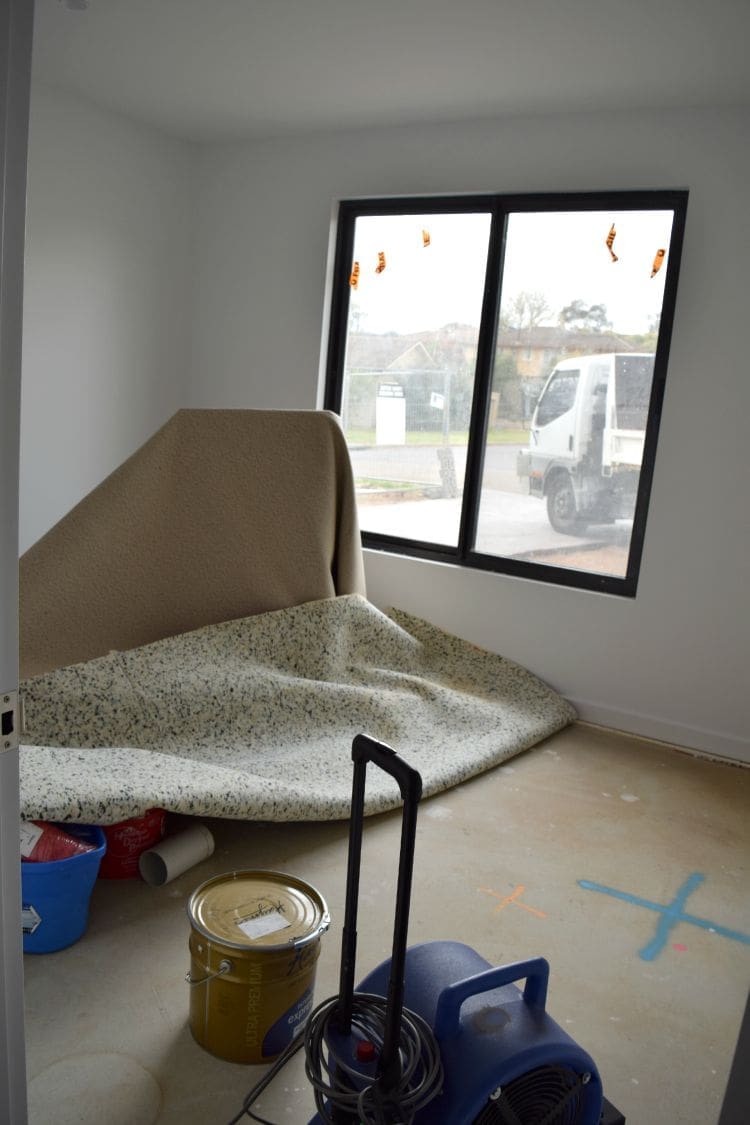 Holes in walls
My beautiful newly painted walls aren't looking that beautiful at the moment 🙁
Just as we were putting the 'finishing touch' of our handrails on… we couldn't find the plywood backing behind the plaster to secure the handrail. Turns out some of the battens were secured too low so we had to cut into the wall to put new battens in. It's a fairly easy fix — our plaster will come back to patch the wall and then the painters will touch it up — but it just feels like another case of going backwards with the build.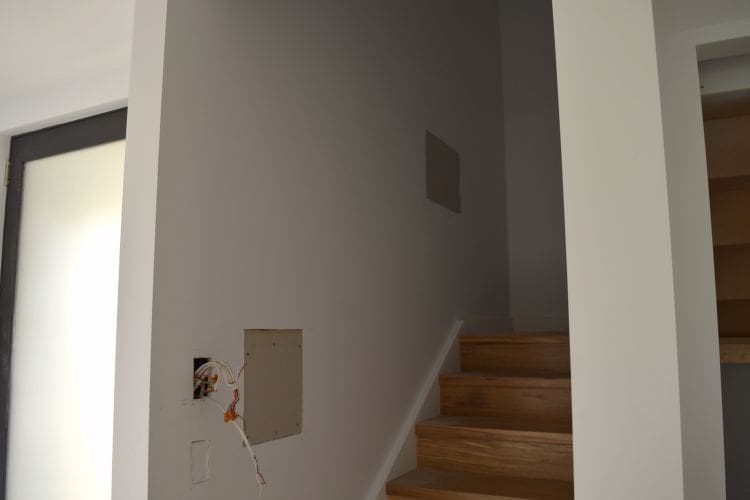 And the bath that just isn't meant to be
You have no idea the bath drama that's been going on for months.
The one thing I was sure of when I started planning my ensuite months ago was that I wanted the Clearwater bath in my ensuite (preferably with a glass panel ceiling but that idea got thrown out long ago). As the build went on it became clear it was going to be a verrrrryyyyy tight squeeze and ringing in my ears was Neale Whitaker's voice 'Luxury shouldn't be cramped'.
When it became clear the bath wasn't going to fit in our ensuite, I looked at where else upstairs we could put it — in our bedroom by the window or in our walk through wardrobe? Unfortunately both those options got ruled out because there wasn't enough space in the floor to create the fall we needed.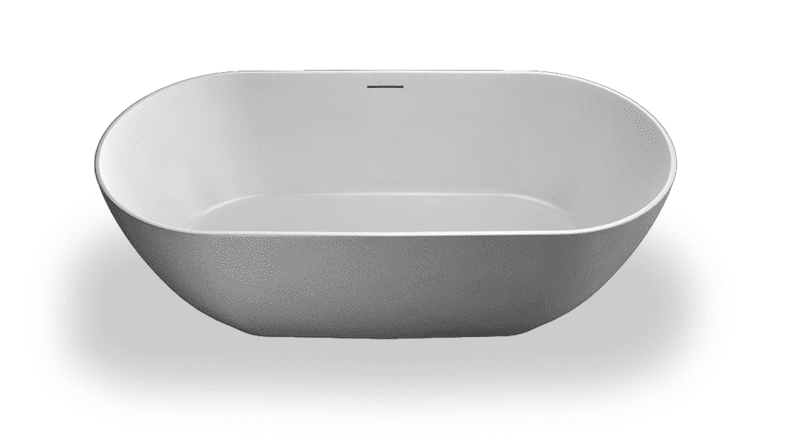 So just when I settled with one Clearwater bath in our main bathroom it turned out the plumbing had been put in the wrong spot and unless we jacked up the floor (after the tiling had been finished!) I had to pick a different bath.
After all that effort, I said good bye to my beautiful Clearwater bath and had to go with this one instead. It's still a stone/resin composite and a similar shape but an annoying error that didn't have to be (and for the same price I'd rather get the bath I want!) #bathrage #firstworldproblems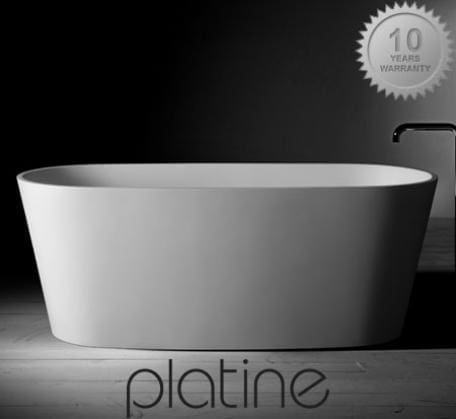 I'm sure there are loads of other construction issues that I just don't even register any more and then of course there's the issue of our totally blown budget, ha ha, so for now I'm letting go of any ideas of move in dates and just riding this phase of the build out. Wish me luck to move in by my birthday in a month!