Supported by Ever Wallpaper
If you're looking to give your kid's bedroom a themed makeover, there's no denying the space theme has gained major popularity! Incorporating a space-themed wallpaper makes a huge impact and immediately sets the tone. Whether it's promoting dreams of becoming an astronaut or simply dreaming of visiting the stars and galaxies, galaxy wallpapers are an excellent choice to excite children about their bedroom environment.
Incorporating visually stimulating wallpaper in your kid's room can be both fun and functional, as it will also help them develop their imagination and creativity. But since there are so many different galaxy images to choose from, finding the best option can be challenging — especially if you want something that's both easy on the eyes and full of space magic. Check out these 5 unique space galaxy wallpapers for a kids room that will help you create an imaginative and fun atmosphere for your little ones. 
Related article: Amazing makeover: From beige and bland to a super cool kid's bedroom
Related article: Genius toy storage solutions: Get organised with the best storage ideas for kids toys
Black star and constellation wallpaper
The first galaxy wallpaper for a kids rooms isn't your typical stars and planets design. We often suggest 'styling up' when it comes to a child's room so they won't outgrow the space. And this edgy black and beige star and constellation wallpaper will do just that!
Whimsy enough for a child's room yet sophisticated enough to take them through to their teen years and beyond. It's a wallpaper design getting 5/5 star reviews and it's easy to see why! We love the warm atmosphere it creates and how it also picks up on the zodiac trend running through interiors and fashion.
This wallpaper features a night sky filled with stars and a crescent moon. In some areas of white, you can see clusters of smaller stars that make up constellations. The wallpaper is so realistic that it makes anyone feel like they are looking out into deep space, even though they're just looking at their own walls. If you have a kid who loves astronomy, then these wallpapers can be a real treat.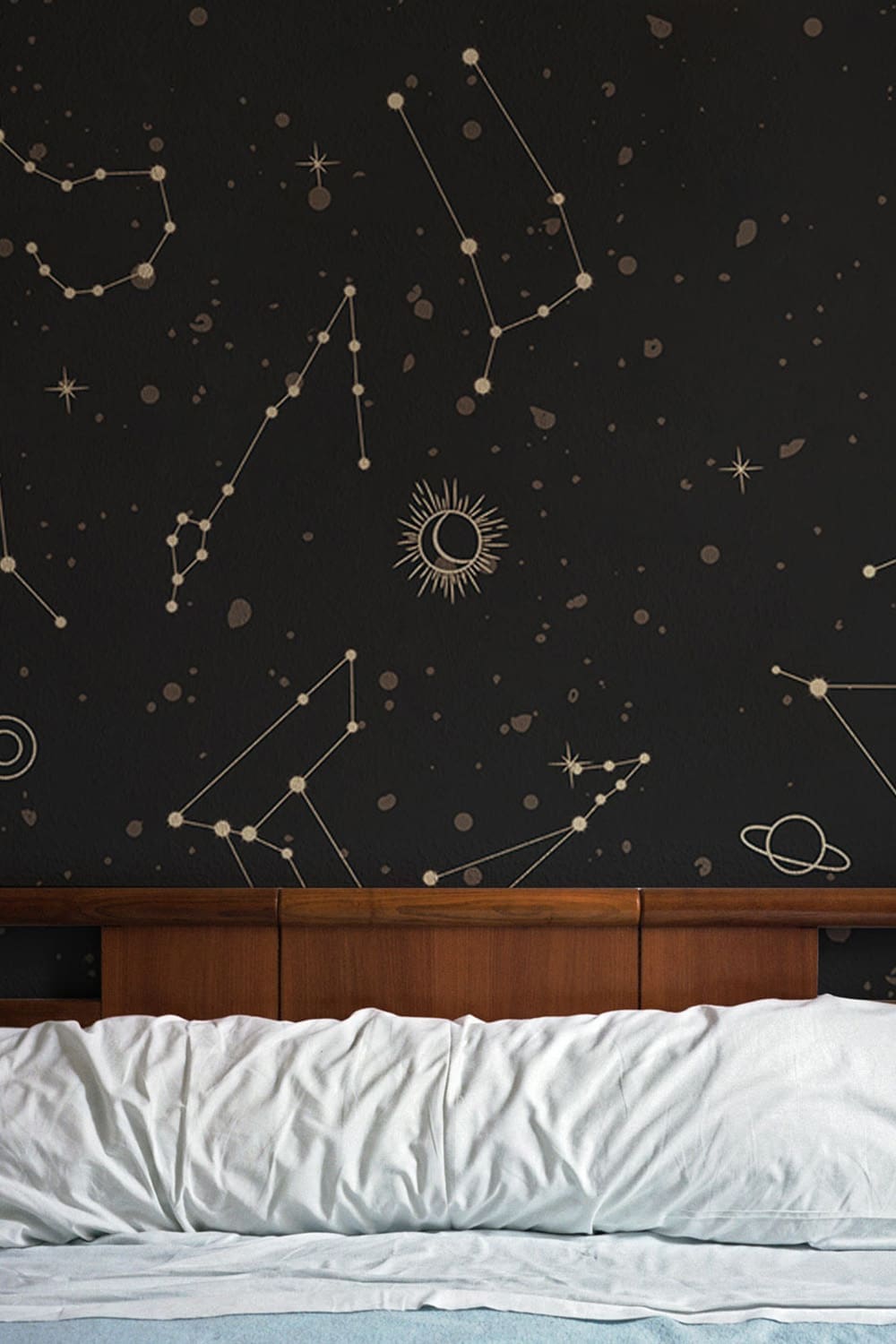 Solar and lunar wallpaper
Dialling up the enchanting levels, this navy blue and blush pink solar and lunar wallpaper is every girl's dream. It's an epic space galaxy wallpaper that blurs a sense of astrology with magic.
We love the on-trend colours that make a bold statement. And the addition of dragonflies means this wallpaper isn't your typical outer space design. Best of all, this wallpaper allows you to experience the dreamy world even when the lights are off! The pink accents softly illuminate in the night to give this intergalactic scene a whole other dimension.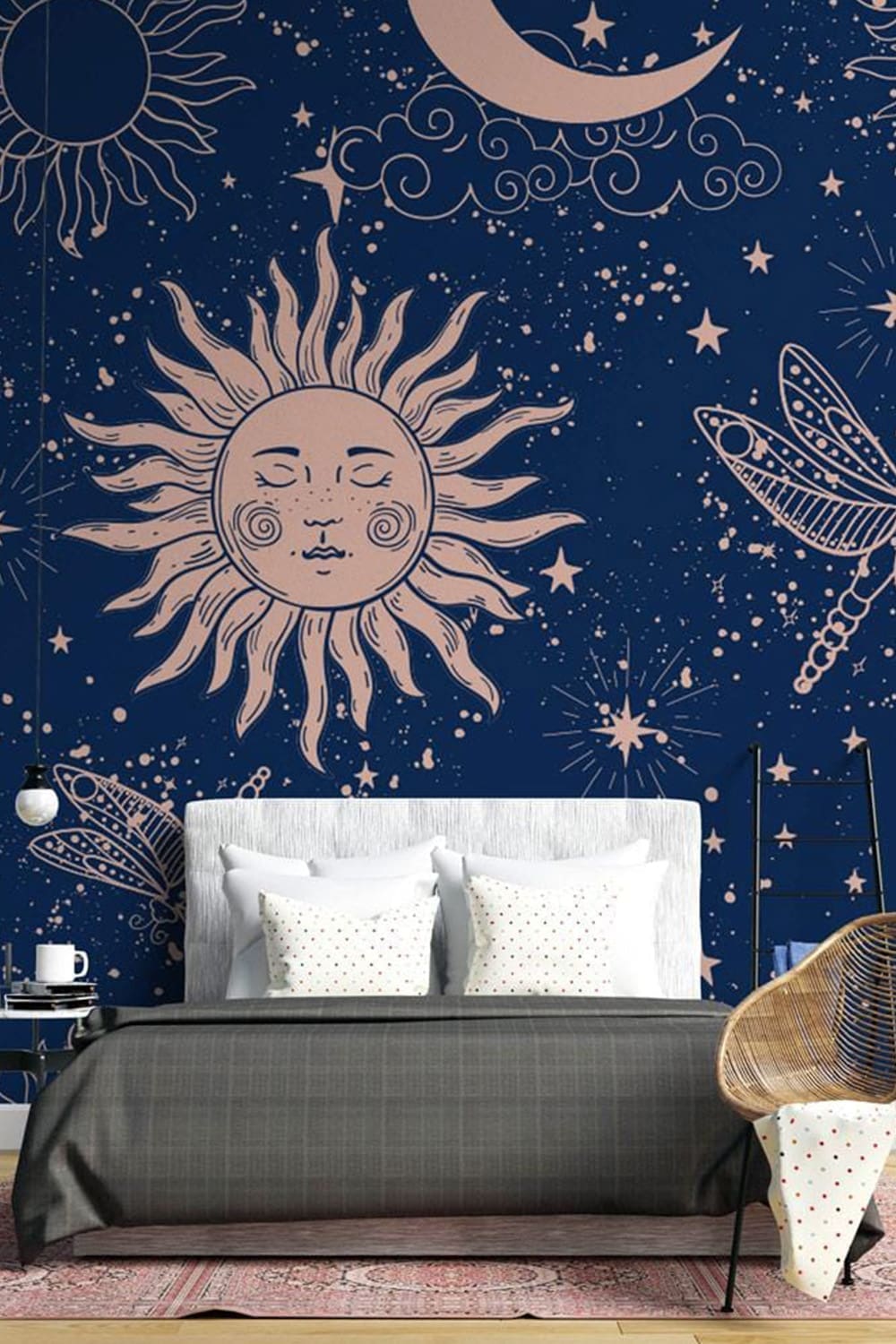 Space galaxy wallpaper mural
For a more realistic space scene, look no further than this space galaxy wallpaper mural. The dazzling scene of vibrant stars, planets and milky way transports you into outer space.
With so many colours throughout this space mural design, you can incorporate it into any girl's room or boy's room with ease. Play up the purple and pink tones to achieve a feminine space themed bedroom, or accentuate the deep blues and hints of brown for a more masculine aesthetic. However you choose to use it, there's no denying this space-themed wall mural wallpaper will stimulate your child's imagination and inspire them to dream big!
The best part, this wallpaper is easy to apply and leaves no residue when removed. So, you can love this bold space wallpaper now… and down the track can easily install a new design.
This space wallpaper is also popular option in media rooms, bedrooms and living rooms. We could see it on the ceiling of a media room to channel the vibe of Ronnie and Georgia's home theatre from The Block.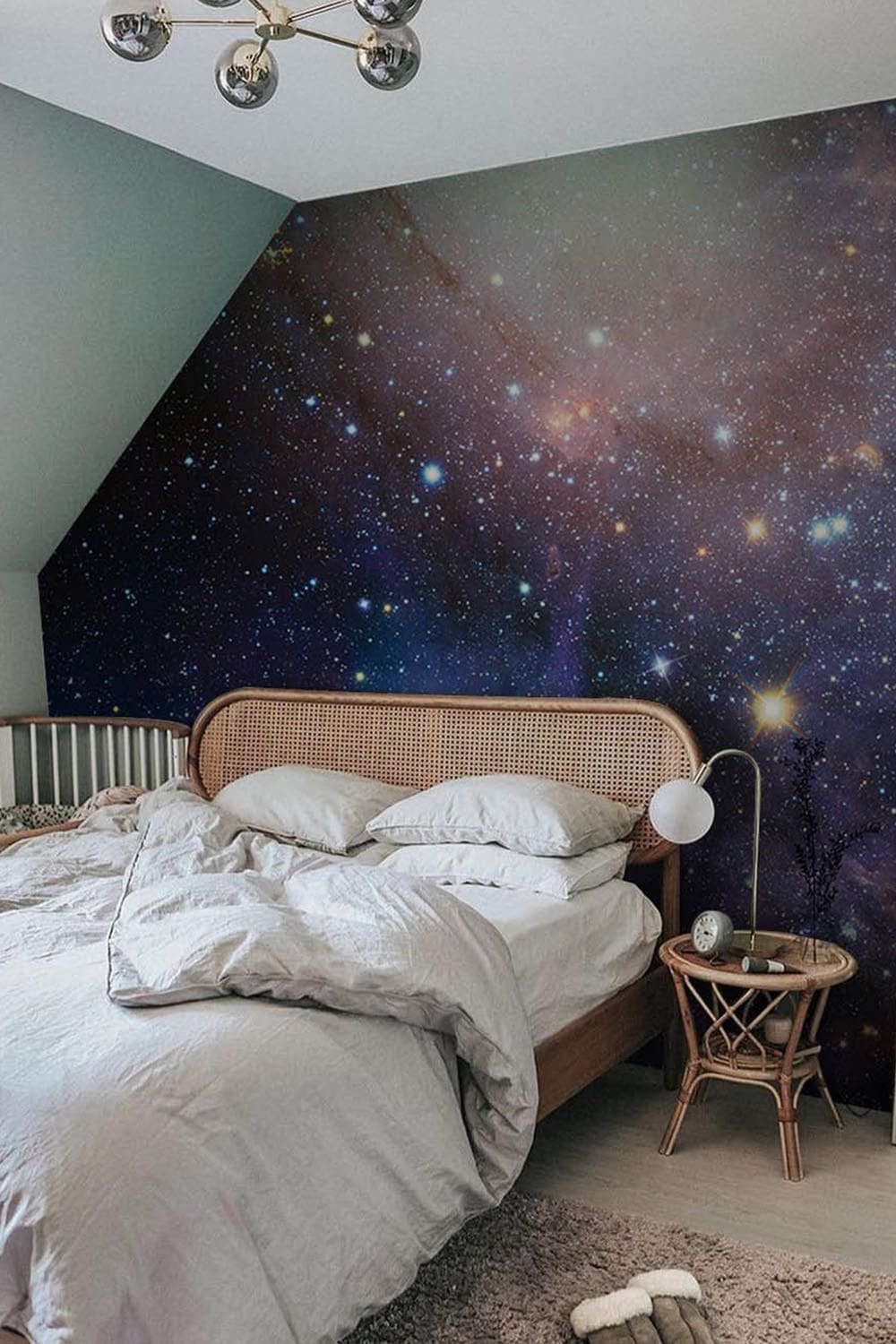 Little astronaut wallpaper
If you're looking for a sweet design that will spark your child's imagination without being too intense, this playful astronaut wallpaper could be the perfect fit.
Let them explore space through an astronaut's little eyes. They can float among stars and dream of taking a ride on a rocket ship with this fun space-themed wallpaper. Featuring muted colours, it's a softer take on the space theme that's age appropriate for a little one.
All of the wallpapers in this article are available in a range of sizes, so you can wallpaper just a small nook or an entire wall.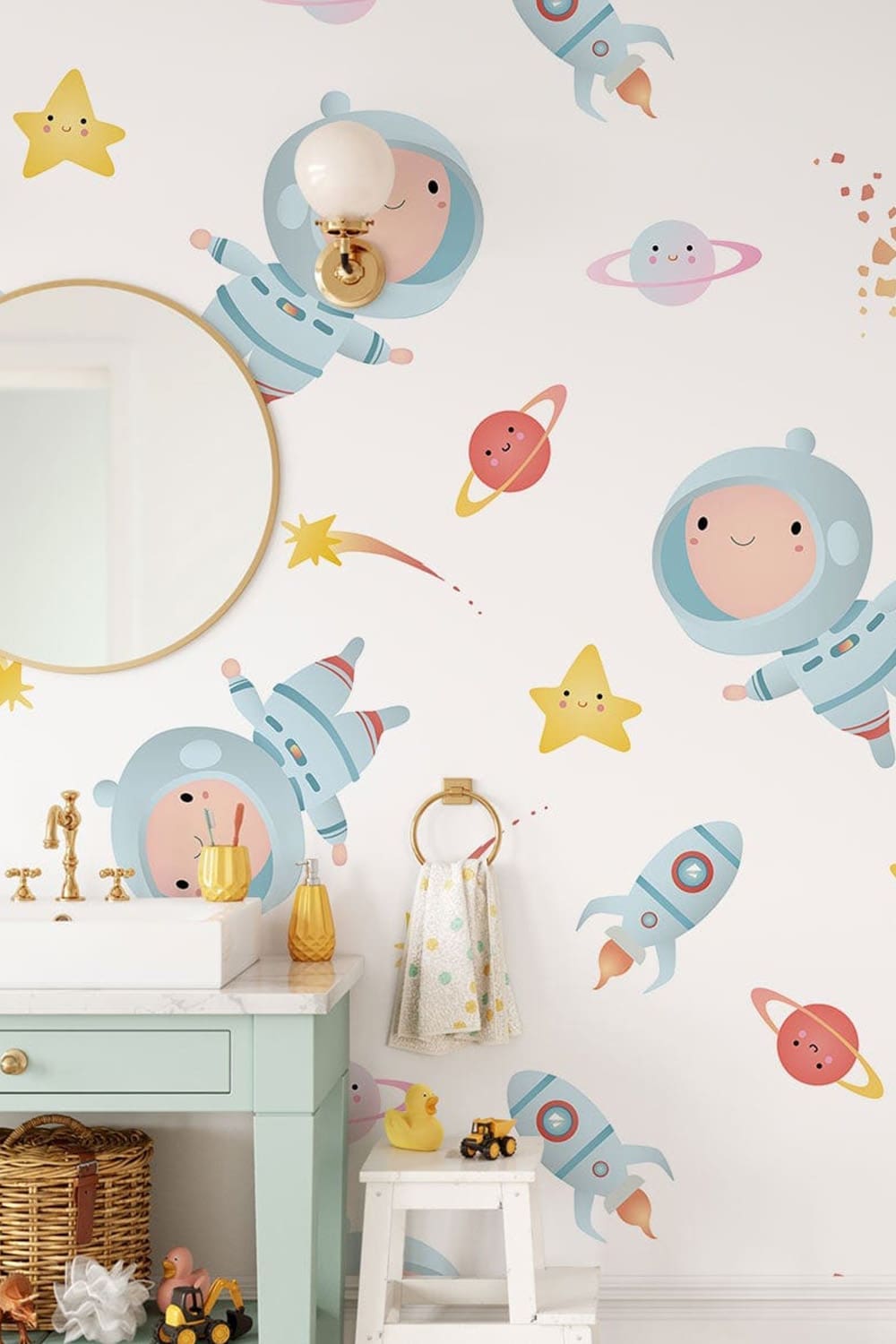 Planet art wallpaper
Finally, this planet art wallpaper is a more sophisticated design that's sure to delight any child or teenager. It's a space design with zodiac influences and we're here for it!
With a neutral backdrop, the design isn't overwhelming and those bronze and soft pink accents are to die for. You can temper your bedroom design with natural furniture and decor (rattan would look stunning) for an earthy look. Or play up the glamour with decor that has metallic accents and luxurious fabrics. It's a design that offers loads of styling flexibility. This wallpaper is also reasonably priced, making it a great choice as well as a budget-friendly one.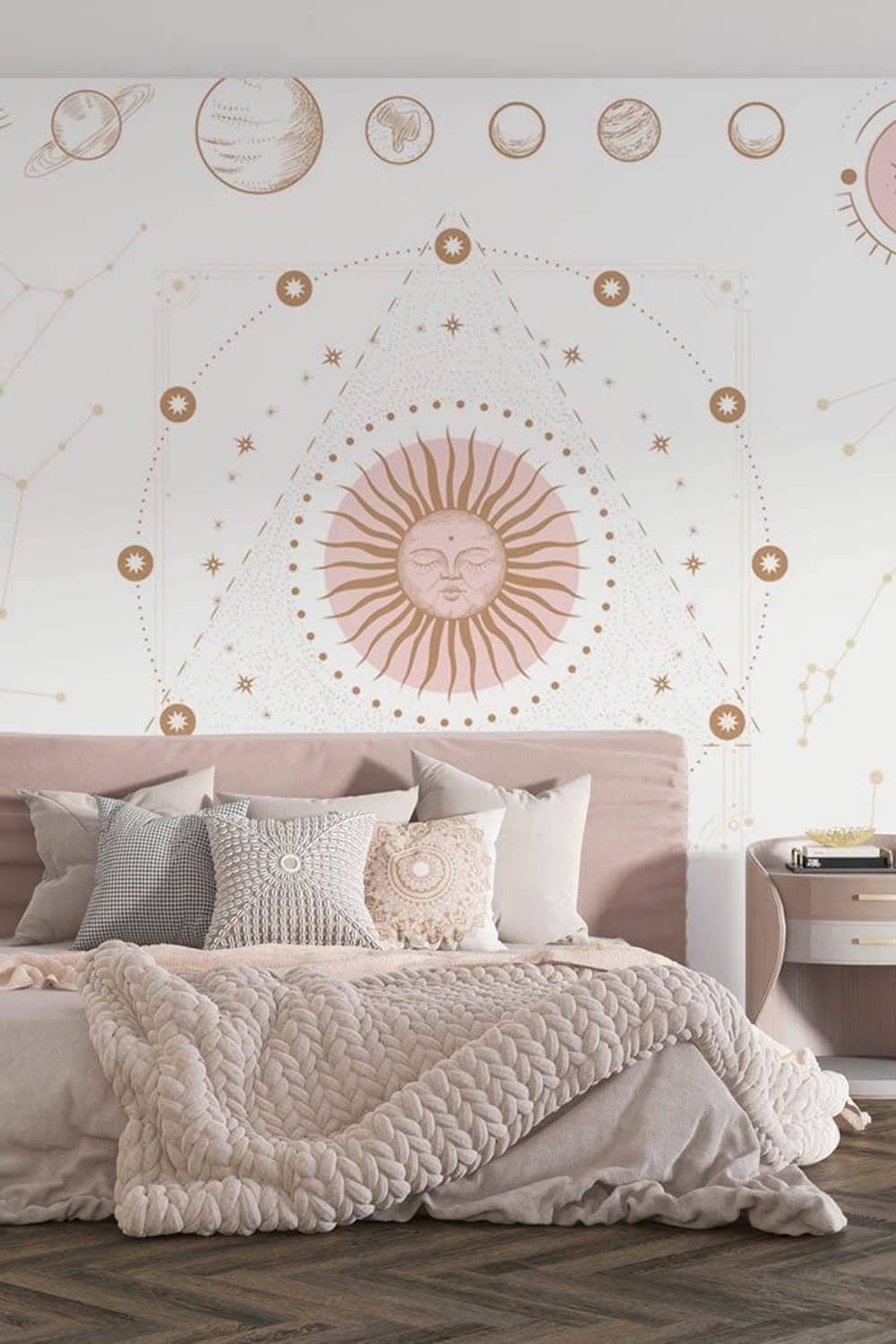 We hope this round up of 5 unique space galaxy wallpapers for a kids room helps you create an out-of-this-world space for your child. Tell us, which one is your fave? To browse the full collection of Ever Wallpaper designs, check out their website or connect with them on Instagram.