Ever stood on a rogue piece of Lego? Thought to yourself, these soft toys are definitely multiplying overnight. Or wondered how your kids have managed to accumulated so many toys?! Yeah, us too! So we decided to track down the best storage ideas for kids toys.
Because where there are kids… there's clutter! And where there's clutter, there are organisation solutions to be found! Time to get organised… and inspired!
Related article: 6 tips to create a stylish and functional kids bedroom
Related article: My secrets to keep your home organised and tidy
Make baskets and boxes your BFF
Sounds simple enough, but storing toys in boxes and baskets keeps things contained, neat and tidy. We know it's not a revolutionary tip but trust us… once you join the basket life, you'll never look back 😉 .
Another thing to keep in mind, especially if your children are still quite young, is to avoid baskets and boxes with lids. It's just one less step for kids to remember.
Here are some of the best basket and box toy solutions we've seen…
Box storage shelves
Pre-kids we thought we'd only allow aesthetically pleasing toys into our home. They could be a decor piece AND educational at the same time. Fast-forward to actually having kids and the jokes on us!
So this beautiful box storage shelf using wicker baskets jumped out at us! It's the perfect way to hide away all those glaringly bright plastic toys… keeping things pretty and practical.
Or, perhaps you love a bit of colour? These rainbow crates are fun and oh so pretty! We found a similar version to the ones shown below at Cotton On.
Plastic tubs in modular systems
You've probably seen the TROFAST storage system around a lot… and for good reason. It comes in many configurations, is easy for kids to use, and is budget friendly. Plus you can paint it to suit your decor or keep it au naturel like this stunning space.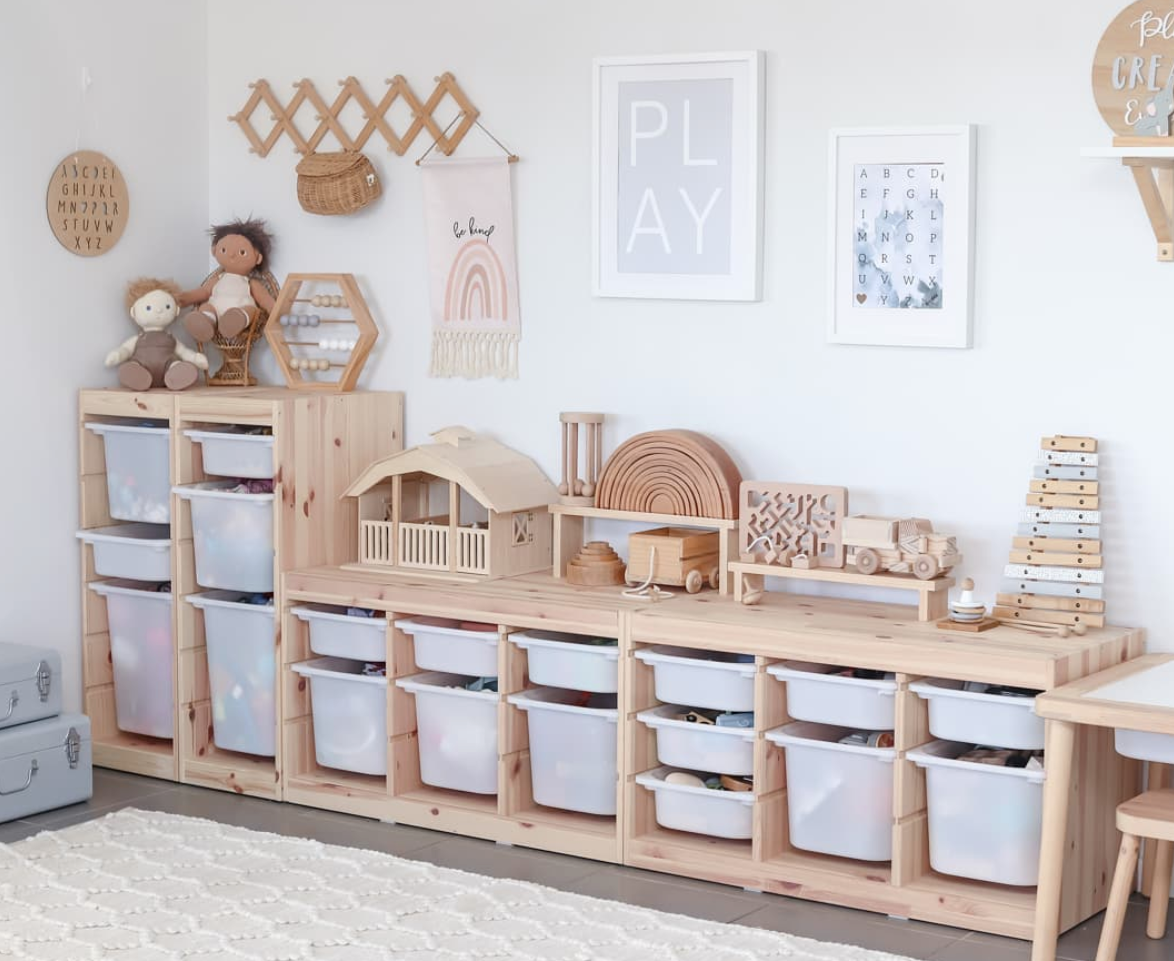 Open shelf furniture
Another simple option is to go for tilted storage. Tilted bins are terrific for kids to be able to see what's inside, meaning they won't need to remove the basket and chuck everything on the floor (we can dream… right?!). They're low to the ground and easy for kids to pull out exactly what they want, and put it away again.
No need to remove any baskets or boxes… it's a chuck and go system!
Storage for sports supplies
Toys don't just end up in the bedroom or playroom. They end up everywhere. For example, the garage can be a fabulous hoarding spot / dumping ground for all that extra 'stuff'.
We love this one for sports and outdoor toys. Using storage tubs, drawer runners and labels, it keeps everything neat, organised — and easy to access.
Use available wall space for toy storage
Kids can sometimes drive you up the wall, so why not make good use of them while you're there?! Using available wall space is one of the most overlooked storage ideas for kids toys. It gets things up off the floor, and if done well, can add a big dose of style to your space too.
Embrace floating shelves and rails
One of the simplest ways to use wall space is with a picture ledge shelf or rail. You can find these for a few dollars at IKEA or DIY your own. Practical for holding everything from kids art and craft supplies to displaying kids books, smaller toys and other light objects. It's an inexpensive 5 minute home DIY project that will be useful for years to come!
Consider using a pegboard
Pegboards aren't just for the office or shed. This versatile storage solution is also terrific for storing kids toys. As well as using brackets, you can also fix small storage tubs or spice rack shelves, turning the humble pegboard into one of the most flexible storage solutions for kids toys.
Or you can go BIG! Just take a look at the example below — is that not the coolest collection of nerf blasters you've ever seen?!
Wall shelves
Wall shelves are always a good idea! And as Kathleen demonstrates with her Lego hack below, you can think outside the square (or should we say circle!). It's a way of maximising storage while creating a bit of a wall art moment at the same time. Check out more Kmart hacks for kids in this article.
Do you have ten thousand tiny cars at your place?! We hear you! A simple shelf with little pockets makes the perfect car garage.
The simple magnetic strip is also a cute idea for storing cars. Fun for the kids to use, gets them up off the floor and looks great too!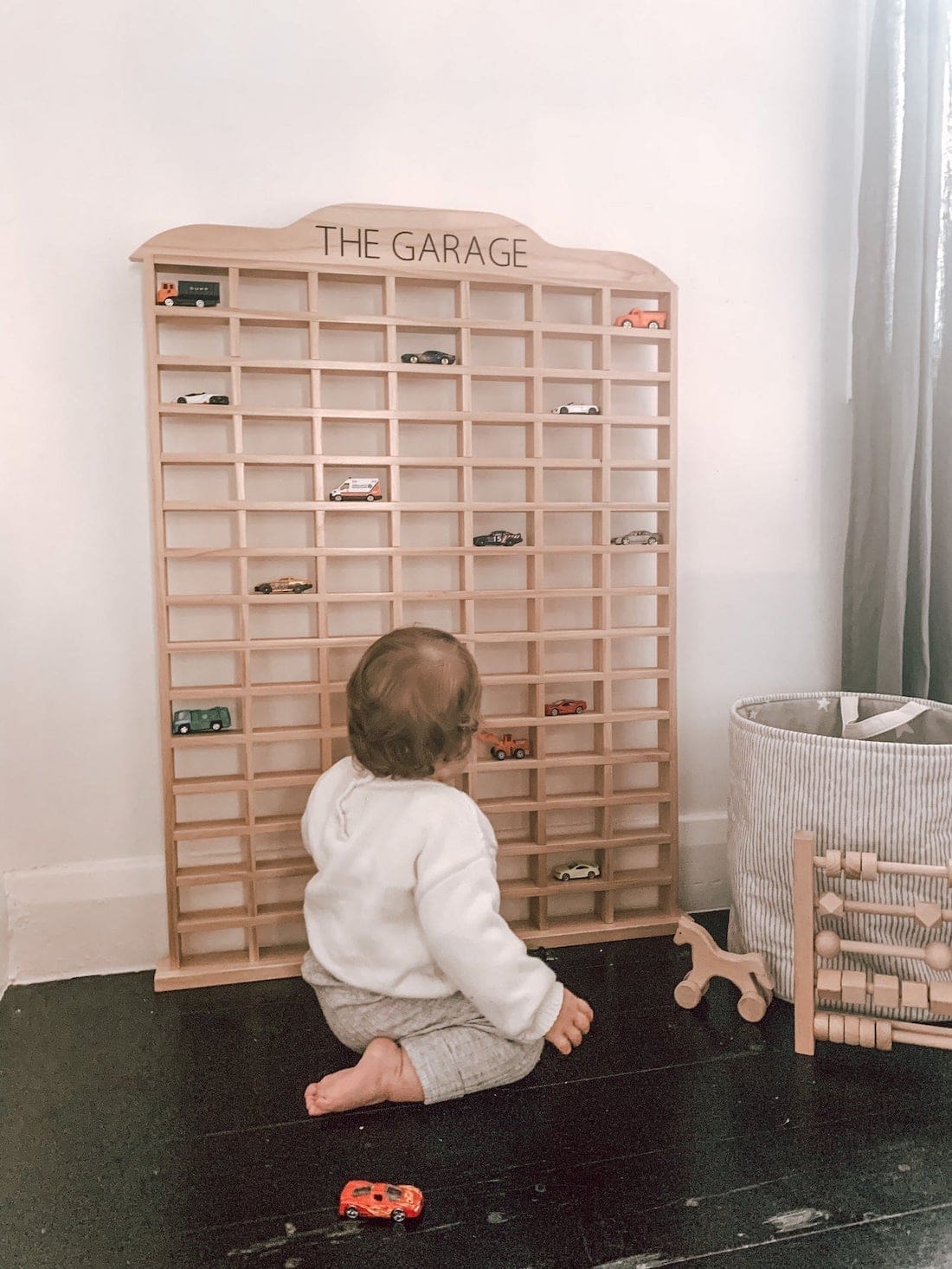 Hide it!
If you ask us, the best kind of toy storage is when it's completely out of sight. Ahhh, feel the serenity! Depending on your home's design, you may have your own unique hidden toy storage solution to add.
Concealed behind joinery (or flooring!)
This genius and super fun idea from Austin Maynard Architects makes creative use of space. They built storage into the floor so when you're done, you simply sweep the toys into the pit and slide the floor back! Sure, this one isn't going to work for everyone, but it's still SERIOUSLY cool.
Multifunctional furniture
Another way of hiding toys away — that's a bit more achievable (and cost effective) — is to hack a classic KALLAX storage shelf from IKEA. To make this bench seat with concealed toy storage, simply turn the shelf on its side, pop in some toys and add a removable cushion top. Voilà! Toys hidden and neatly packed away.
Under-stair toy storage
Perhaps you have an awkward space in your home which is under utilised? Like under your stairs or an oversized cupboard. Well, this could be the perfect solution for another of our best storage ideas for kids toys.
Gina created this super fun toy cubby for her boys under the stairs as a way to keep the clutter out of the living spaces. And best of all, when it gets messy… just close the door to hide it away!
Smart storage solutions to keep the clutter at bay
Under the bed
Whether it's a simple slimline box, or a more permanent built-in solution, using the space under your child's bed is a game changer. This idea is especially useful in homes where space is at a premium.
Under the bed storage is great for toys they might not play with as often (out of sight, out of mind, right?!). Or, perhaps use this space to store games they're partway through playing. Like an epic Lego or Duplo set up, or animal zoo! Place all the items on a rollaway board (or even just a large piece of cardboard) to keep it safe and sound.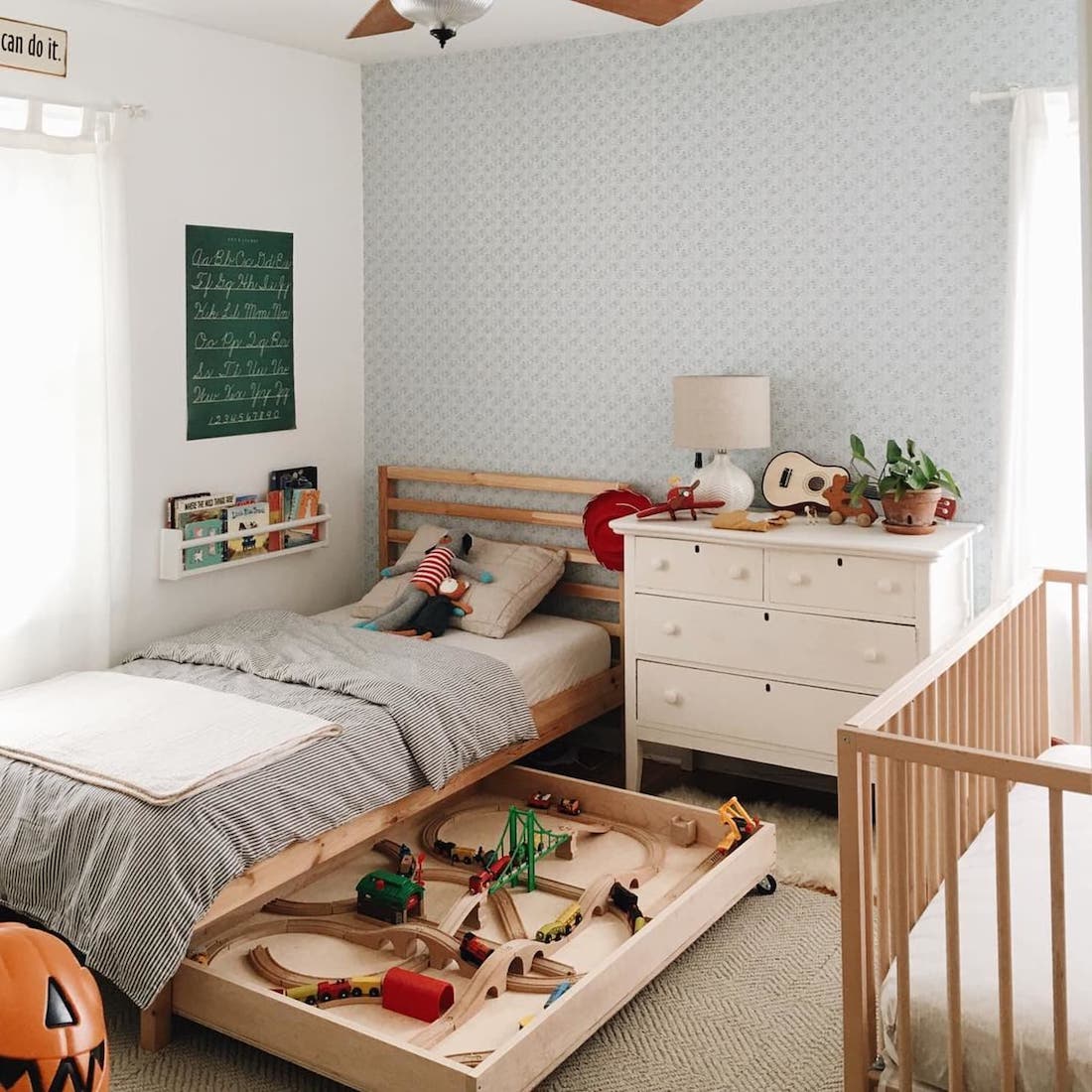 Book storage
We love displaying kids books as it encourages reading and with all the fabulous shelf options out there, can look super stylish too. Talented small makers on Etsy also have some beautiful options available.
Or if you fancy a bit of DIY, why not try your hand at making your own sweet bear bookshelf? Then of course places like Kmart and IKEA have plenty of budget-friendly and on-trend shelves.
Our book storage tips are to keep shelving low so kids can access the books independently. Also, one of our fave ways to display books is in a rainbow colour palette. It might sound OCD but there's no denying it looks pretty and can make it easier for children to organise their books.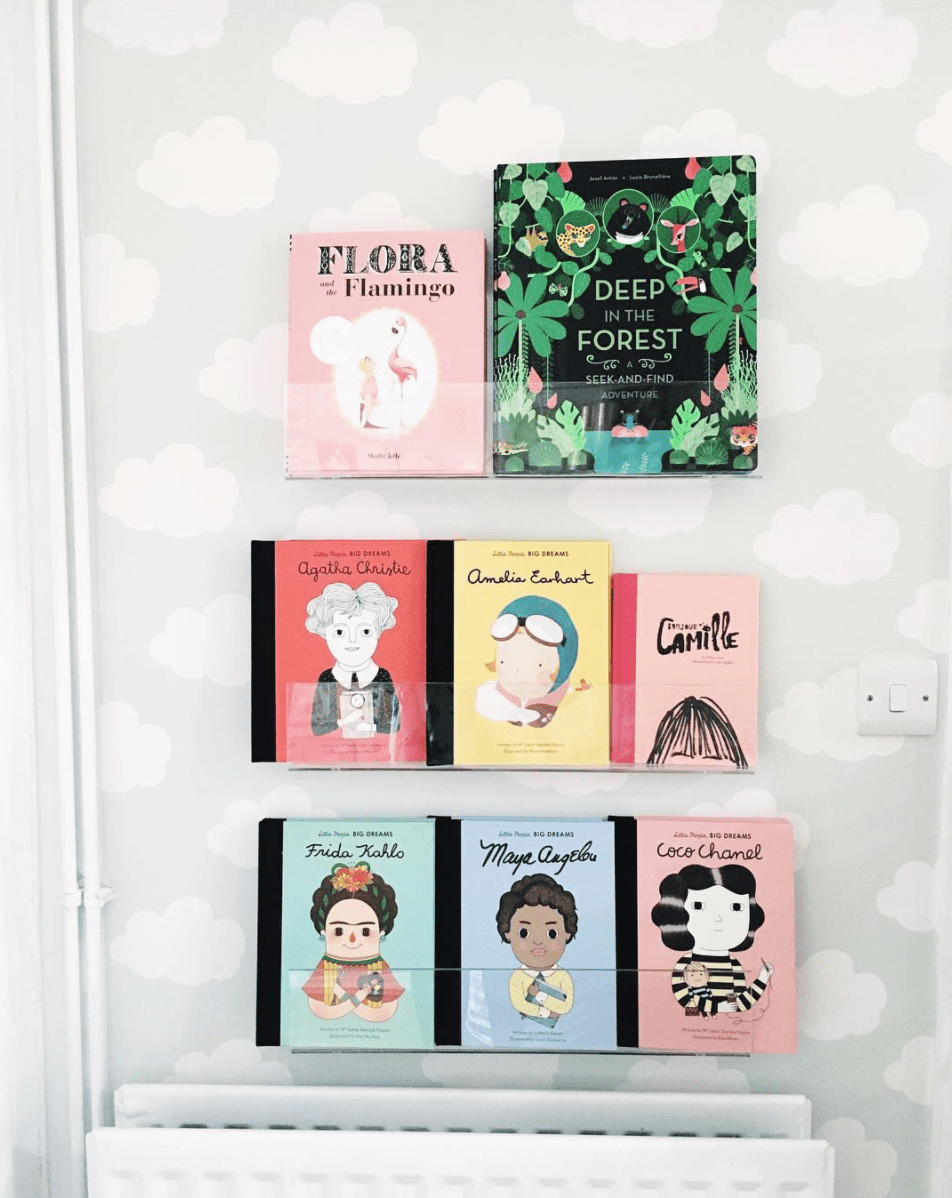 Lego storage
Ah Lego… it's a right of passage in every kid's life, and the bane of most parents' existence! For those of us with Lego-obsessed kids, we found some seriously cool organisation solutions.
This one that we discovered on Home Talk takes the cake! It utilises peg boards to colour coordinate Lego blocks, has attached shelves for Lego mats and instructions. It's functional and fabulous.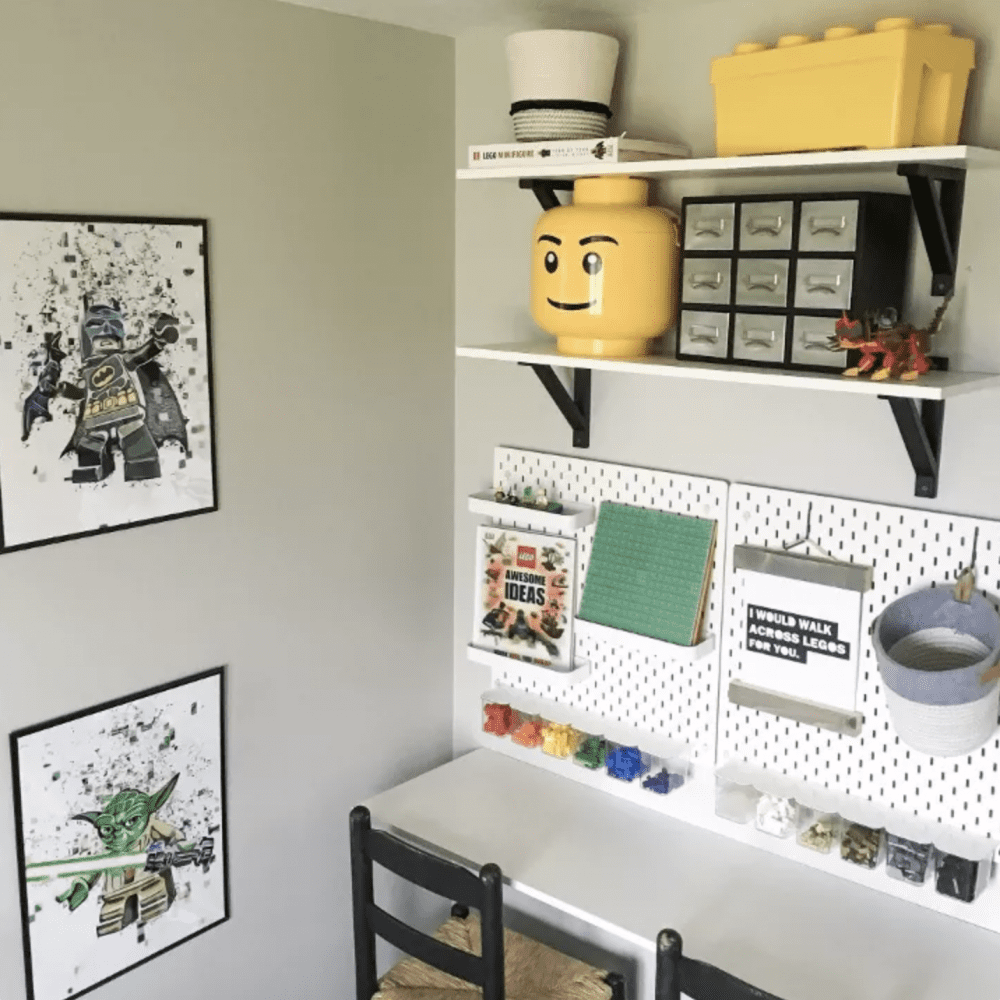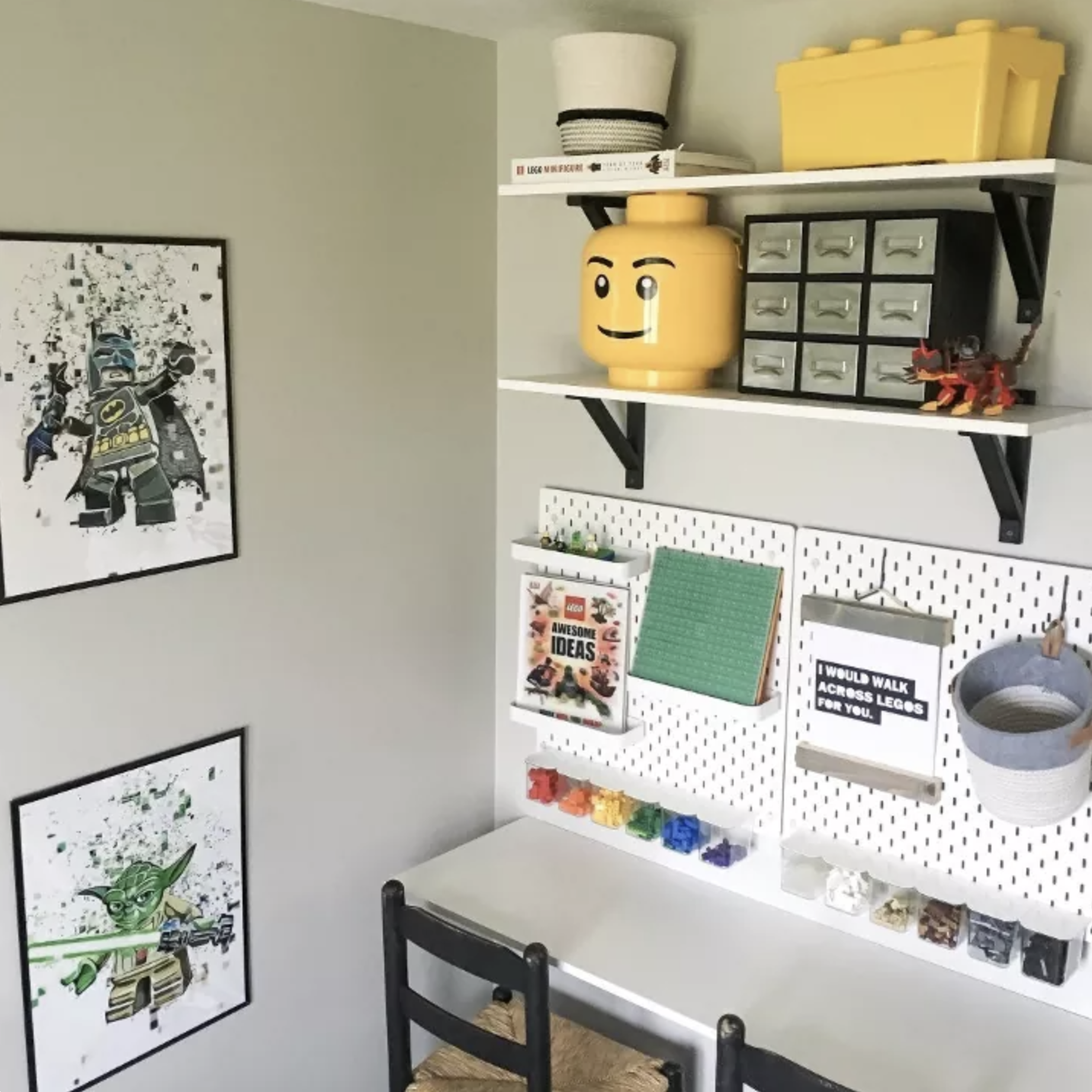 Trusty IKEA also has a range of storage solutions for Lego. Their FLISAT table with under-mount storage tubs hides pens / Lego / craft / whatever you want! It keeps the space tidy and is a useful table for the kids to play on.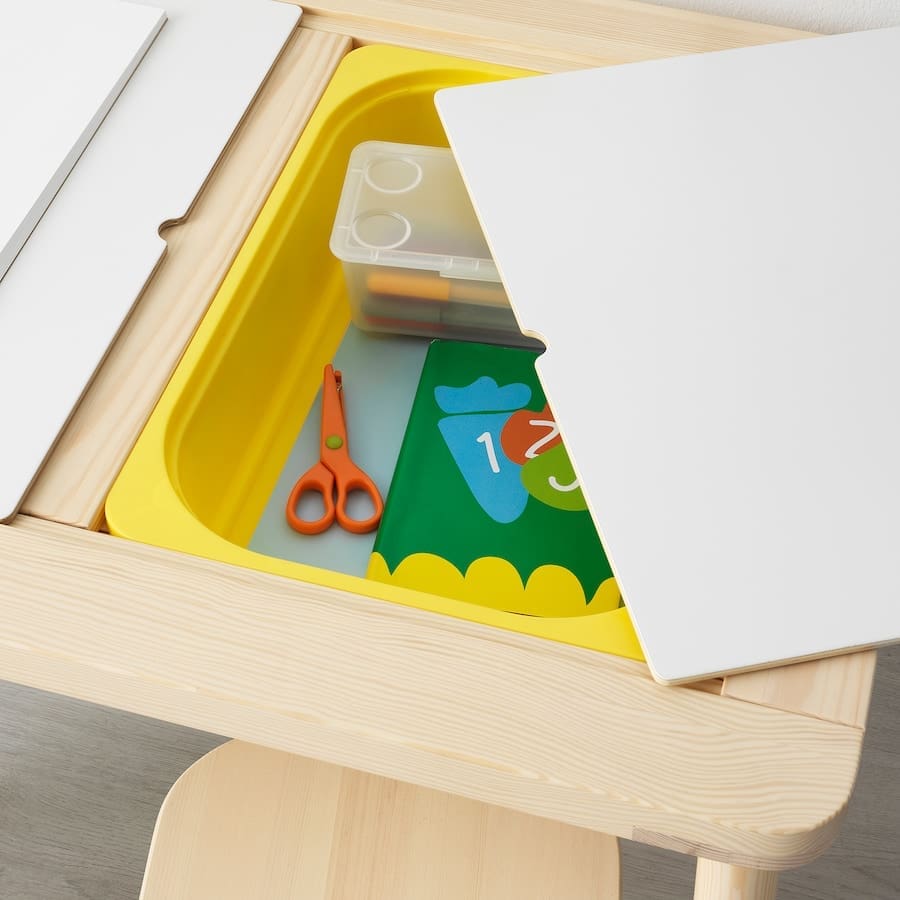 This is one of our faves for Lego storage. Colour coordinating bricks is a solution that makes it easy for your kids to understand and follow when it comes to tidy up time.
We also love this idea of upcycling an old table into a Lego table. You can use any table to do this — bonus points if it has drawers for Lego brick storage.
A drawstring playmat is a super simple idea for storing Lego. It opens up to become a play mat and when you're done, simply pull the drawstring and it's all neatly stored away.
We found this one on Etsy. And it's also great for packing toys for holidays.
Puzzle storage
Puzzles can be pesky! Not being able to find that one last piece can end in a complete meltdown, or you may be forever finding random pieces all over the house.
Here's a great (cheap!) tip. Keep them contained with document holders. The hard plastic ones fit most wooden puzzles and you can find them in the stationery section at places like Kmart. They're easy to open and close by little hands, and stack neatly in a box or basket.
Or, you could also use oversized pencil cases or simply large ziplock bags.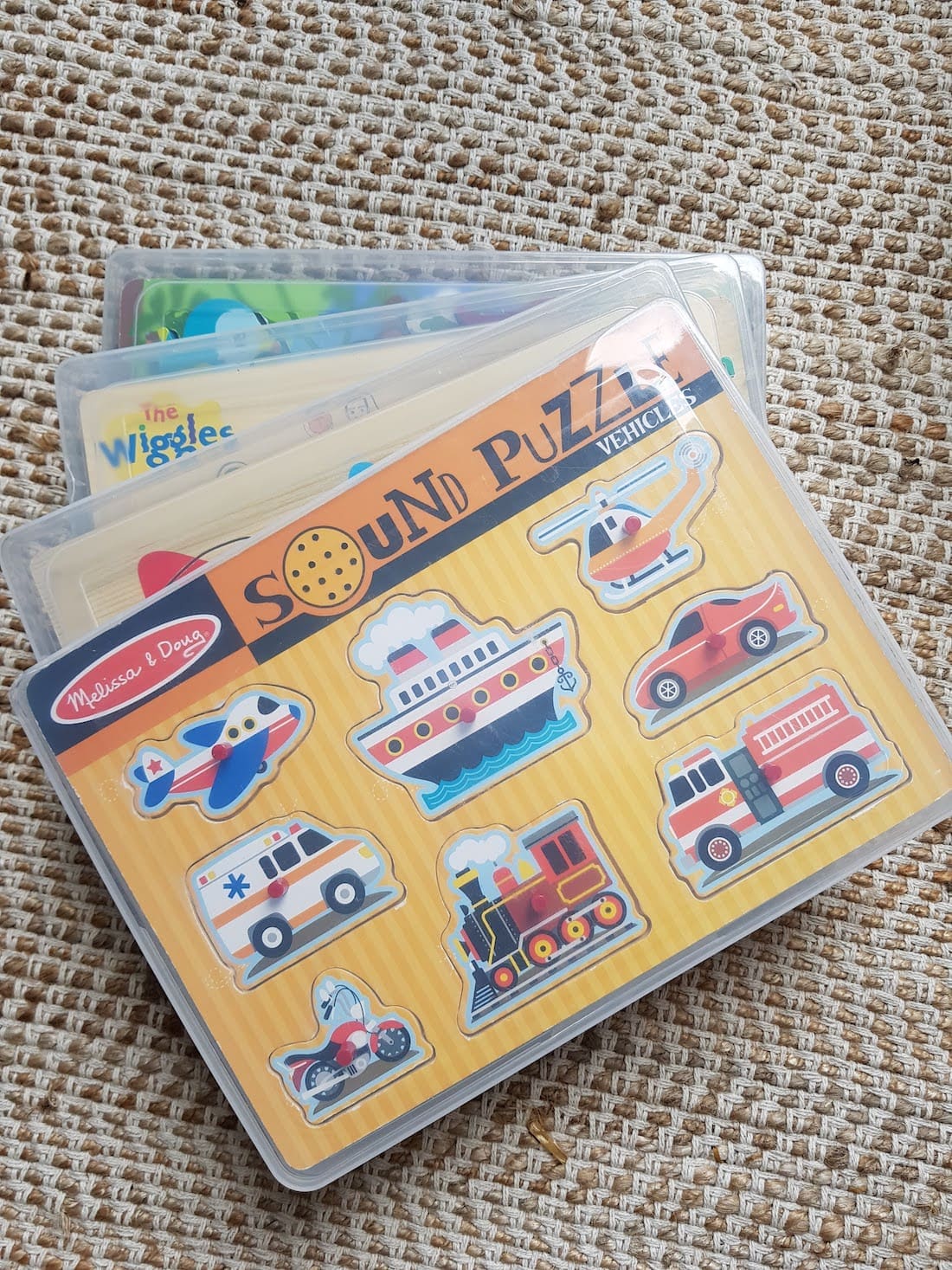 Craft supply storage
Is your home where felt pens go to die? Why not try the sweet and simple idea of creating a craft caddy. It immediately grabbed our attention while we were searching for the best storage ideas for kids toys.
A cute multi-tiered cart on wheels houses everything neatly. Simply wheel it out when you need it… where ever you need it! And wheel it away when you're done!
Bath toy storage
Take the stress out of bath time with these clever toy storage ideas for bath toys.
This bucket has a drainer attached to it so simply scoop the bath toys up and it will drain into the saucer. Suction holders are readily available and cute designs like this whale can be a solutions for keeping bath toys contained.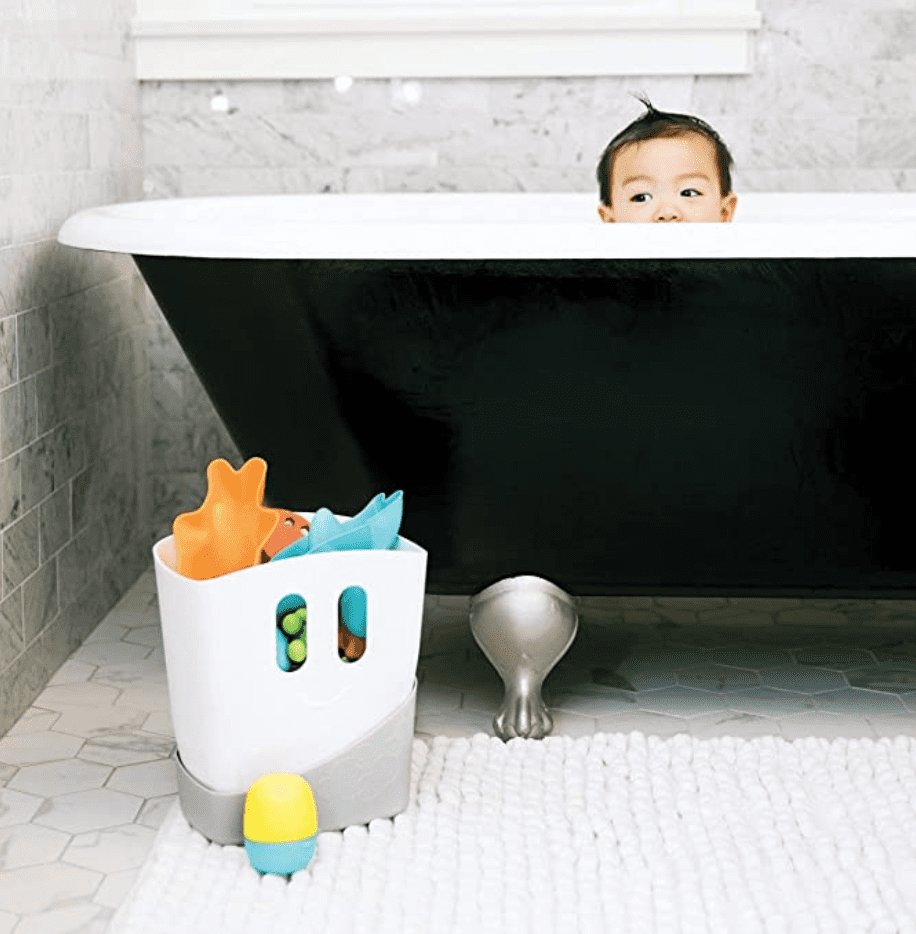 Or for a super cost effective option, this mosaic basket from Kmart is a great choice.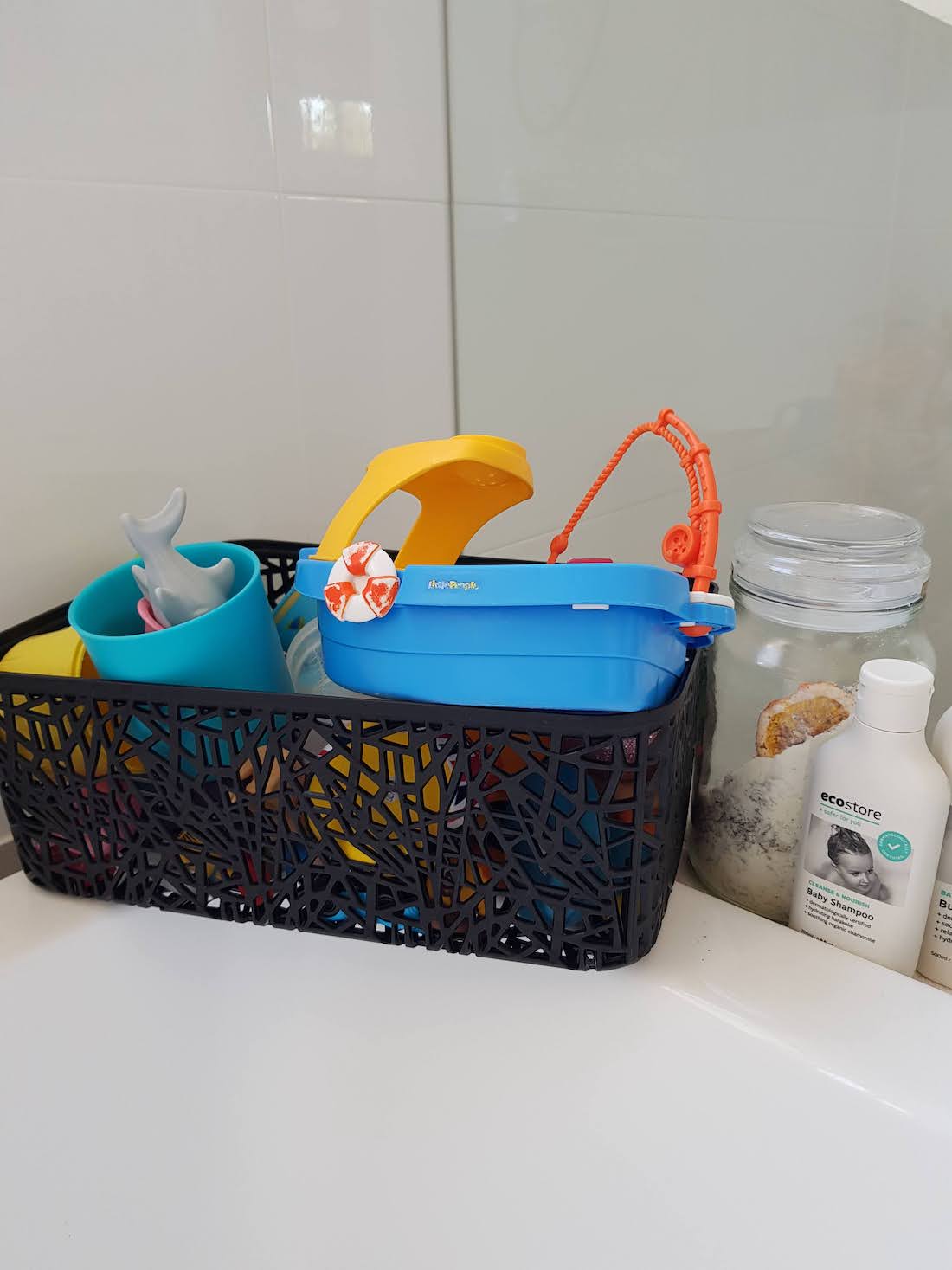 Soft toys storage
A cute way to wrangle all those soft toys (they multiply overnight, don't you reckon!?) is with a toy hammock. We'll admit, many of the ones we spied during our search were gaudy and a bit of an assault on the eyes. But then we found this one! Cute, stylish (hooray!) and an easy way to contain some of those fluffy friends.
More tips and storage ideas for kids toys
Try toy rotation
We're sure you've heard of toy rotation but stick with us, because it's now something we swear by.
The idea of toy rotation is to keep a couple of each type of toy out at any one time. Like 1-2 puzzles, 3 or so soft toys, 2-5 toy cars etc. Aim to only have around 20% of their toys out and the other 80% packed away in a cupboard or the garage. Then let your children dictate when it's time to rotate. It could be as frequently as once a week or as little as once a month. You'll know when it's time to switch things up.
Toy rotation makes it easier for your kids to clean up because there are less toys! It also allows them to have something to focus on. Sometimes too many toys can be a bit overwhelming and they'll be jumping from one thing to the next without really playing with anything!
It can help them appreciate the toys they've got and when you do a toy rotation, the old toys feel like new again and gives them something fresh and exciting to play with.
Doing regular toy rotations also allows you to do a regular (and necessary) cull of toys your kids no longer play with or have outgrown.
Label it
It's no secret we're slightly addicted to labels! But for good reason. They WORK!
If your kids are still quite little or are just getting used to packing their toys away, try using picture labels. You can buy cool silhouette ones or, simply print out photos of the toys that belong in each box.
Labels help to keep organisation systems in place… and if you ask us, just look great!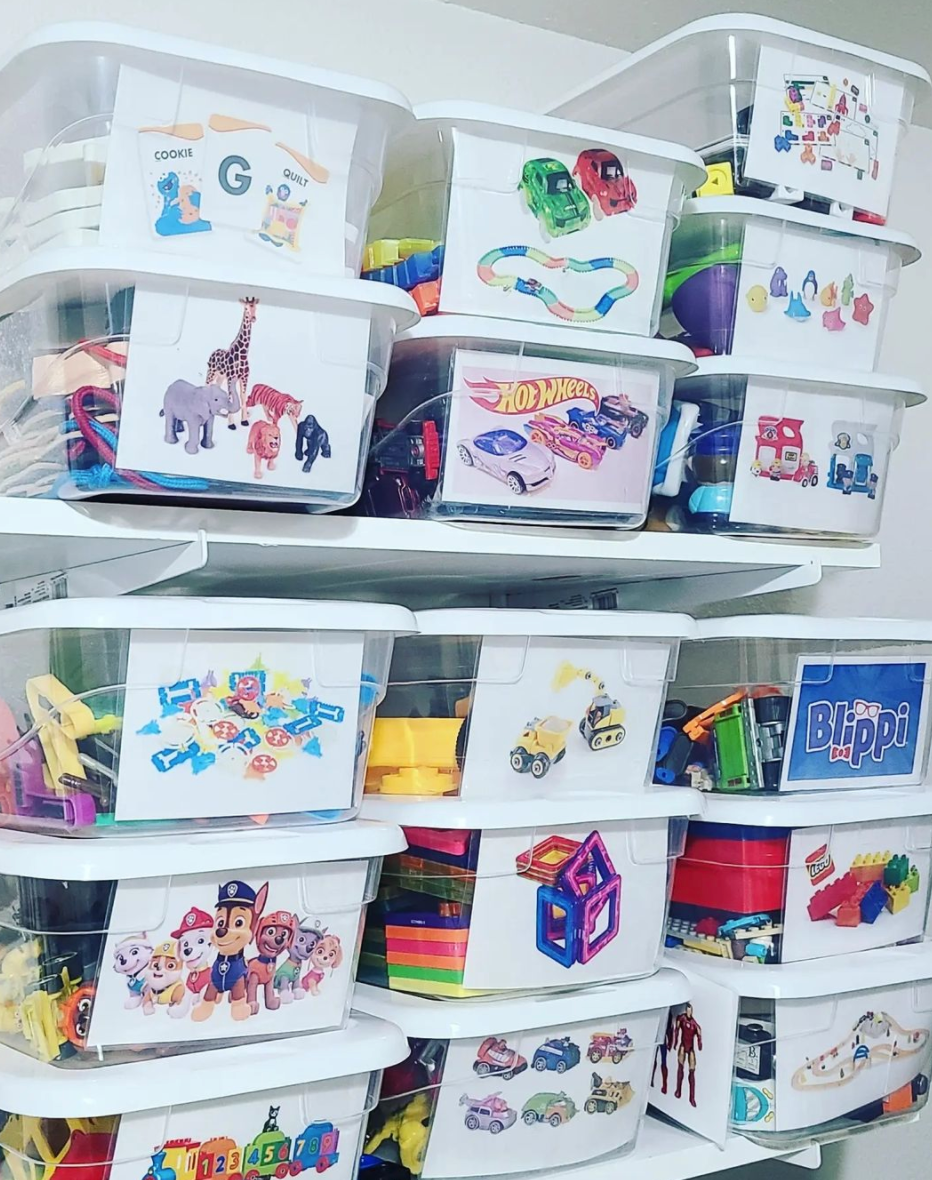 Make it clear
Clear storage bins are a wonderful way to store toys so you (and your kids) can see what's inside. It's as simple as that really!
Has this article inspired you to tackle your kids toy stash? Maybe it's given you some fresh ideas or perhaps you have your own fave storage ideas for kids toys you'd like to share with us?! Tell us in the comment section below!
Disclaimer: This post was first published in September 2021 and continues to be updated with the latest and best kids toy storage ideas. It contains some affiliate links. This means that when you click on a link and purchase something from that site, we may make a small commission at no extra cost to you.