Earlier this year I shared my kitchen on the blog and promised the butler's pantry tour would be coming soon!
Today is that day and I've even made a mini video to take you around the space. Excuse the dodgy hand held production :).
Related article: How to design the perfect walk-in pantry
Related article: How to style and organise your pantry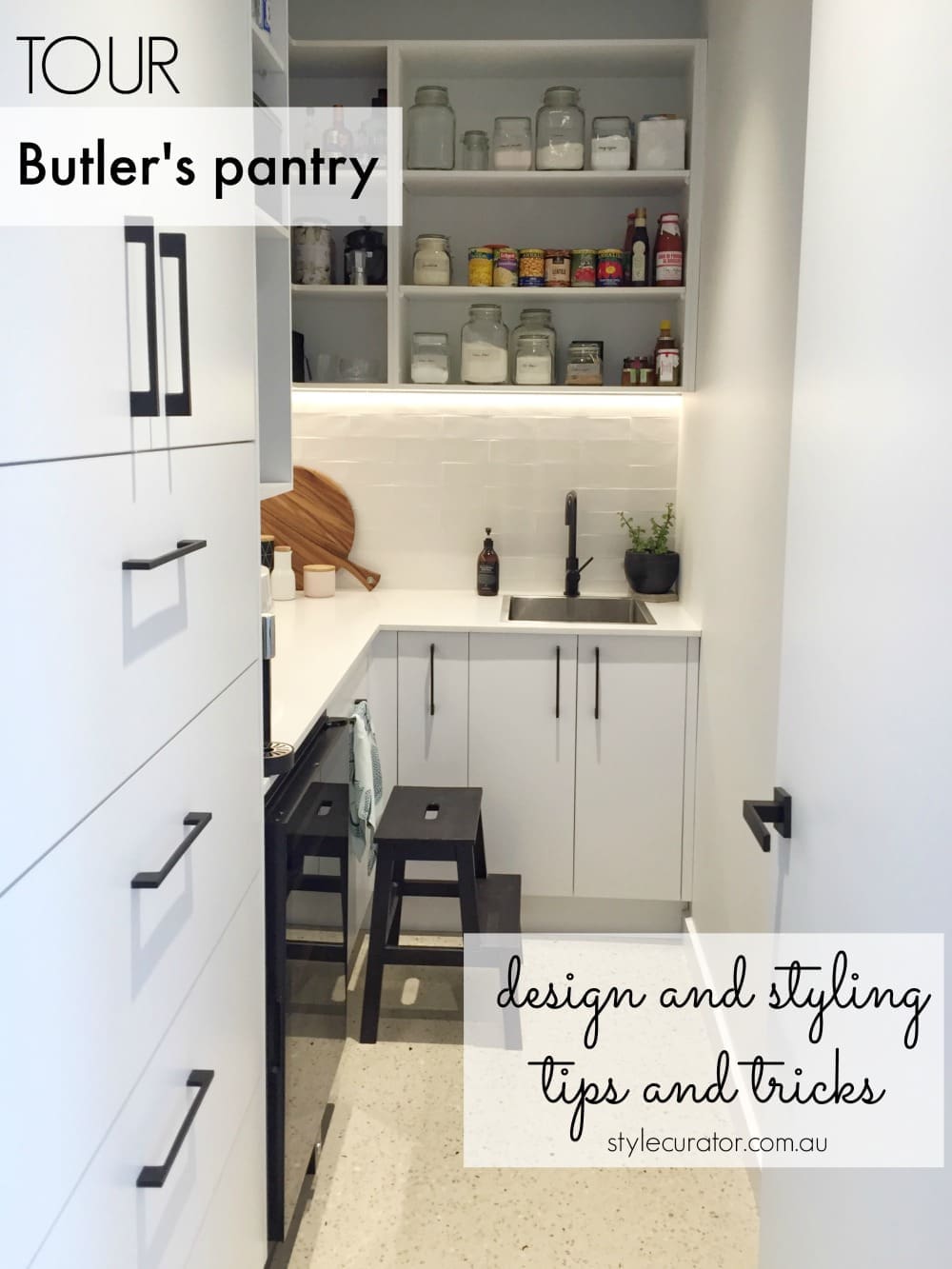 Layout
Our pantry is 1.5m wide and 3m long. We used an L shape configuration in this space with closed cupboard as you enter, open overhead shelves, lots of bench space, and closed cupboards below.
The closed cupboard has doors above with 3 shelves inside, and 4 deep pull out drawers below. Our kitchen designer recommended we include this closed-in cupboard to keep foods fresh (i.e. stop potatoes from sprouting). It will also prevent attracting animals.
In the overhead cupboards I keep appliances I use less often. In the corner is a drinks section, and in the main open shelf unit, I keep cooking essentials that I can easily see and grab.
The space below the bench has wine fridge (essential!), integrated dishwasher, pull out spice drawer, and cupboard below the sink.
Design aspects I love
I'm really happy with the layout, especially the deep pull out drawers — they're a great use of space and I can easily access everything inside without trouble.
Having a sink in here is really useful! Even if it cost a bit more and limits the use of the cupboard below. It means I'm not having to always walk into the kitchen to fill up the kettle or coffee machine. I can also hide dishes when we have guests over 🙂
I'm glad I stuck to my guns and went with open overhead cupboards and carried these right up (they're just over 2.5 metres high). Our kitchen designer thought it wasn't the most practical use of space and having them so tall was overkill. I do use all the shelf pockets, we just keep a little step ladder in here. Although open shelves do require you to keep the space tidy, I like the homely feel it brings (having them all closed up would feel a bit too much like a filing room for me!).
The microwave at shoulder height is also a winner, making it easy to get things in and out. And a wine fridge is always a good idea.
Aesthetically, I love the white cupboards with matte black handles and matte black tap. Soft close finishes are also a nice touch.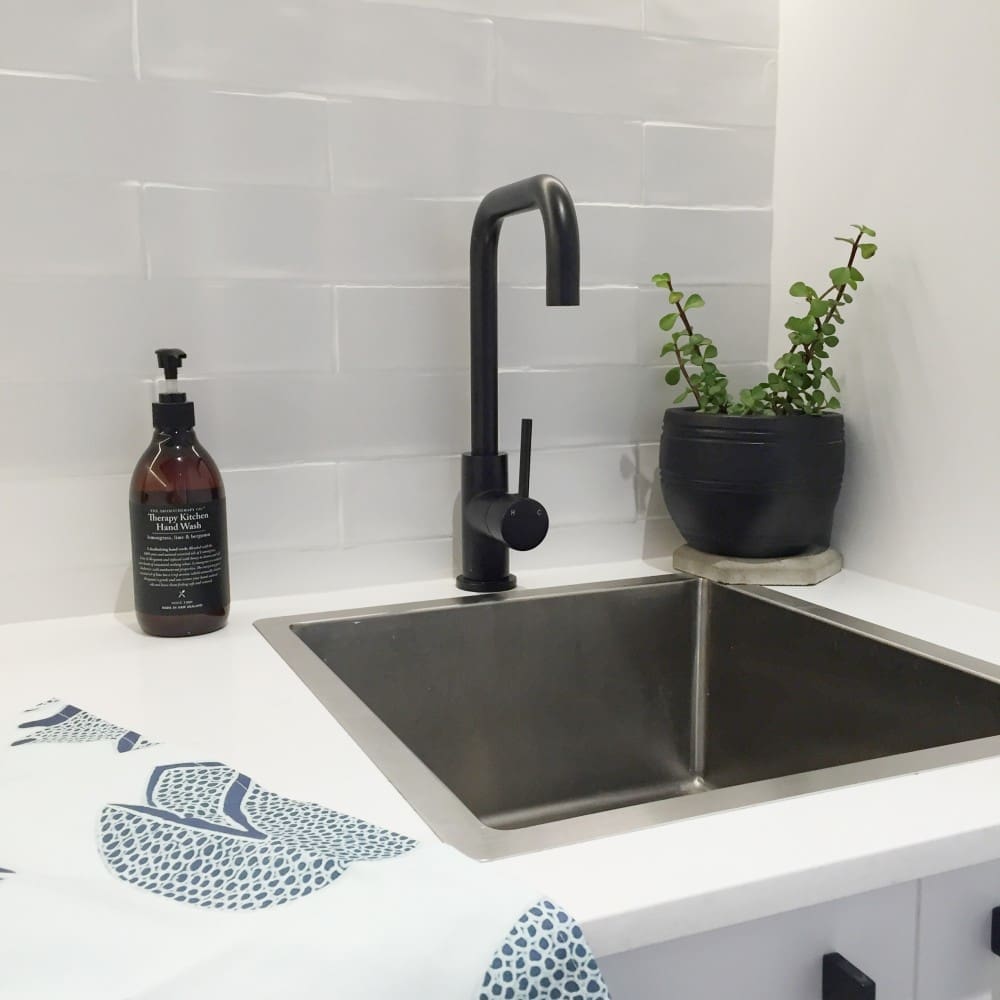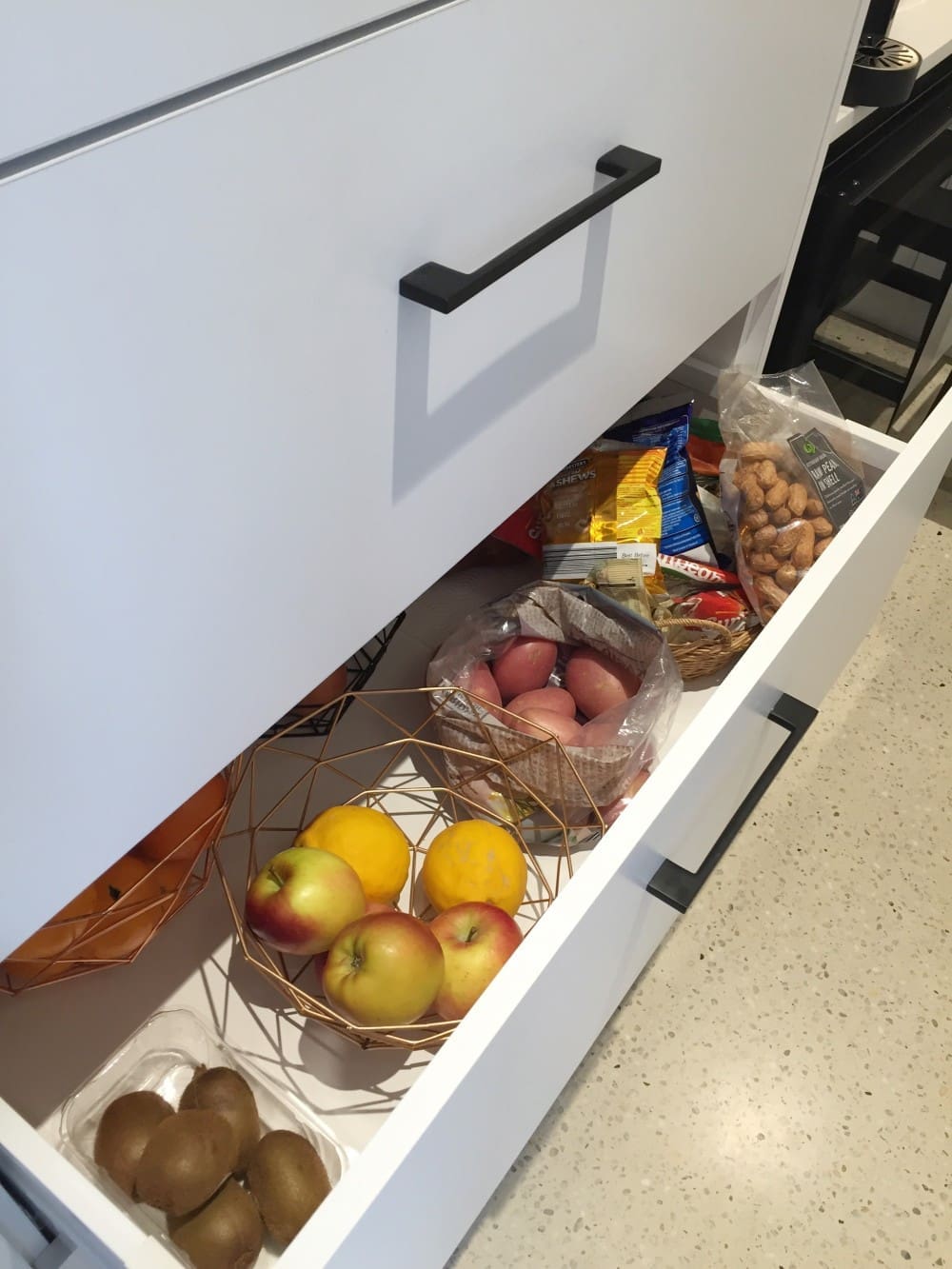 What I would change
We have a second dishwasher in here and embarrassingly it still hasn't been used. If I were designing this space again, I wouldn't have a second dishwasher. Now I would have used the space for more pull out drawers instead.
By not having a dishwasher in here, I also would have been able to better use the corner space below the bench. Because of the dishwasher and plumbing under the sink, our kitchen designer could not fit another large cupboard door in this space. This was needed to access the corner cupboard so there is some dead space below the bench there.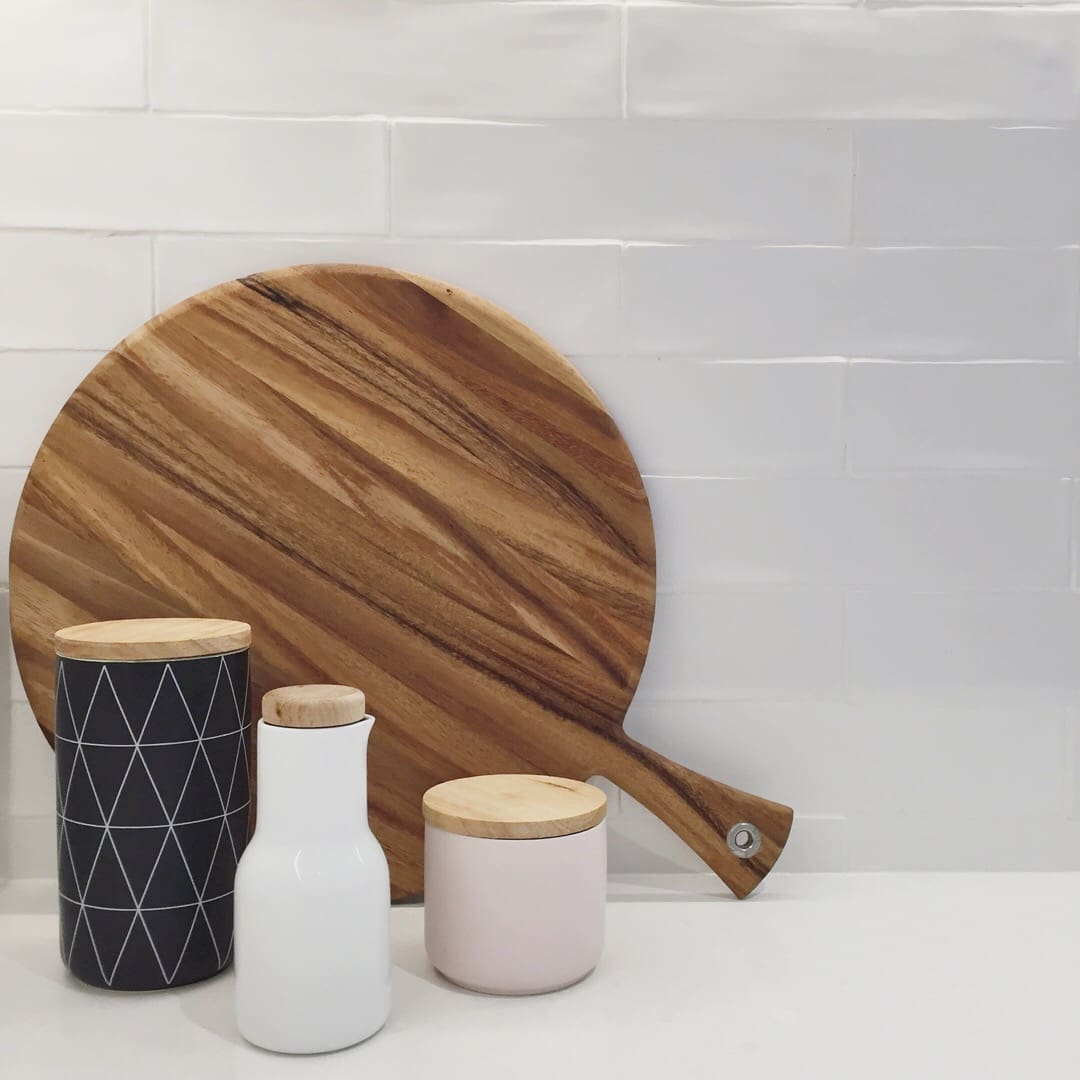 Styling
I used the tips I shared in this pantry organisation post when organising the overhead cupboards.
All the glass jars in here are from The Reject Shop. Last time I went in there this week to stock up, they had some new shapes (the squarish ones) and they're all discounted too.
I also picked up the black accents with a set of black tins from Kmart for bread, tea, coffee etc.. The the black geometric canister is from Kmart too!
In the back corner I made a little arrangement with a cutting board and some canisters (love the white MENU one I bought this week). I think I'll add to this by layering some more cutting boards and pieces in future. For now I'm channeling a minimalist vibe 🙂
Also have to mention the gorgeous Nicoya tea towel with hand drawn artwork by Australian designer Lauren Rugless #supportlocal.
Here's a video tour of the space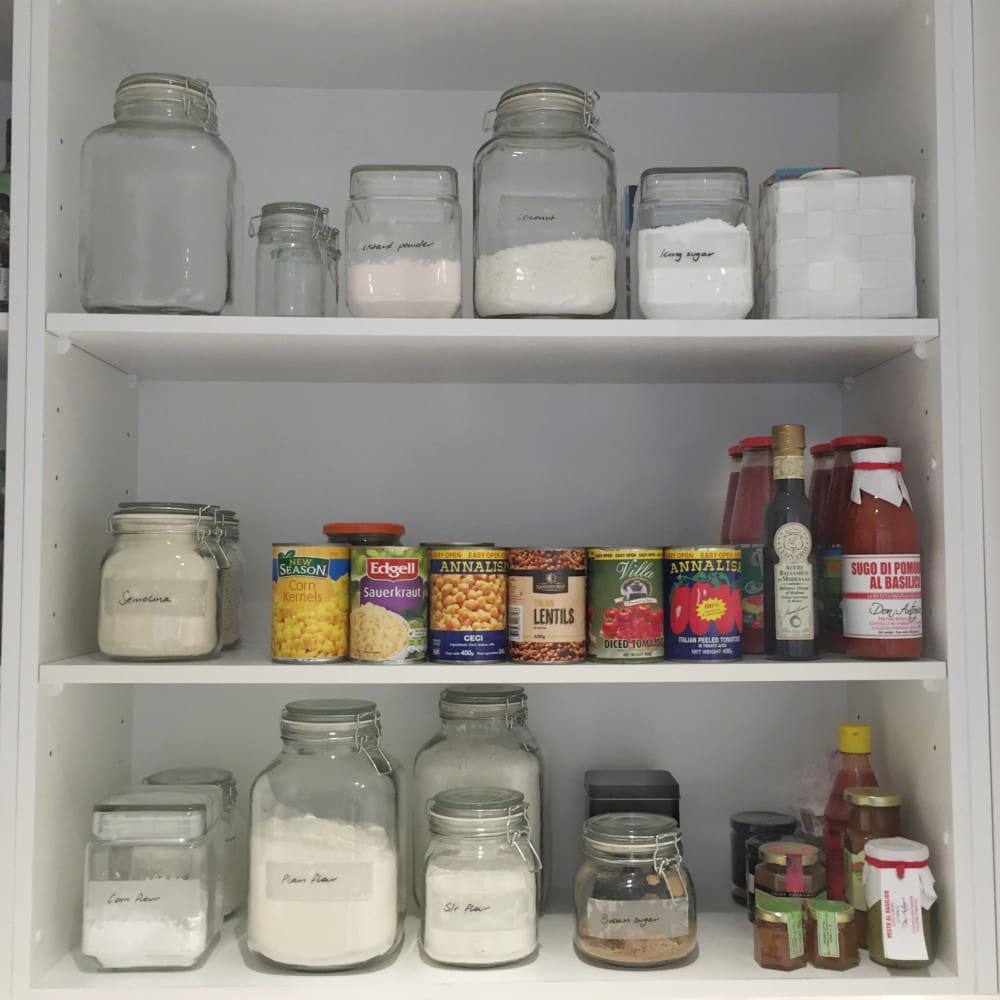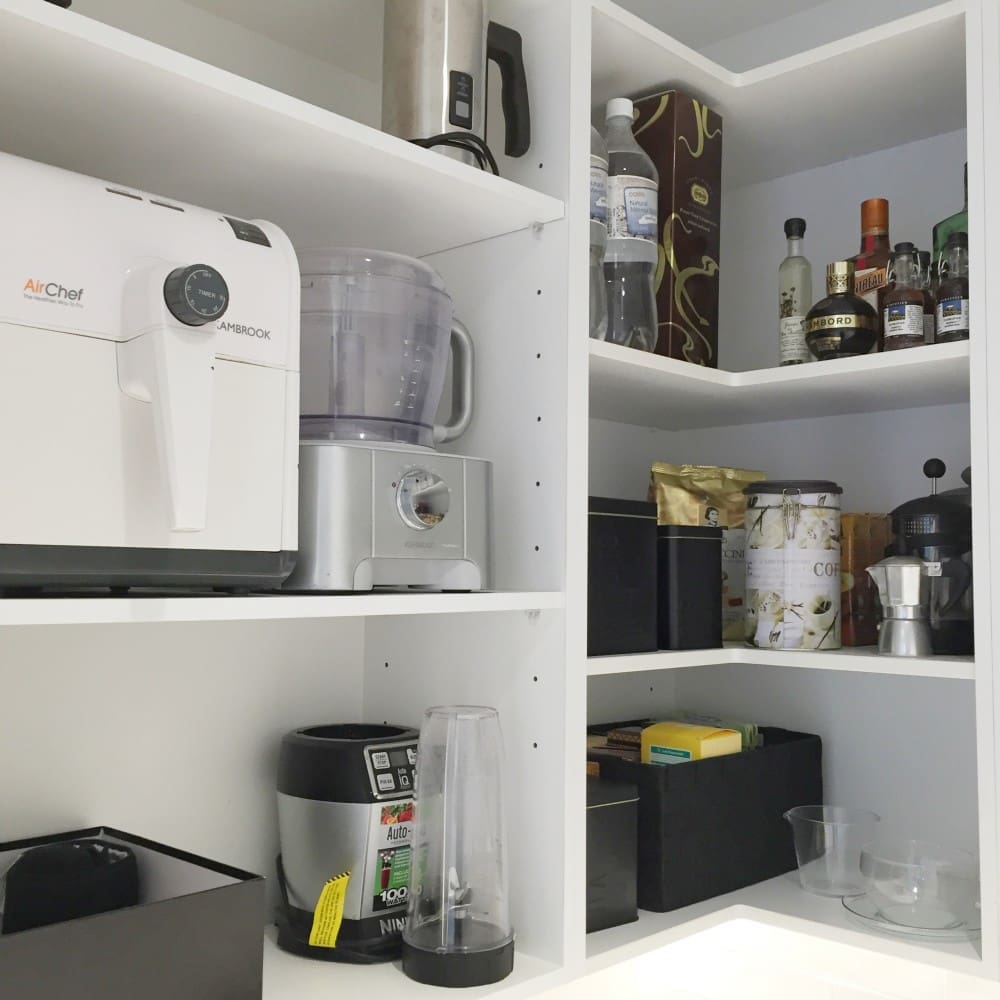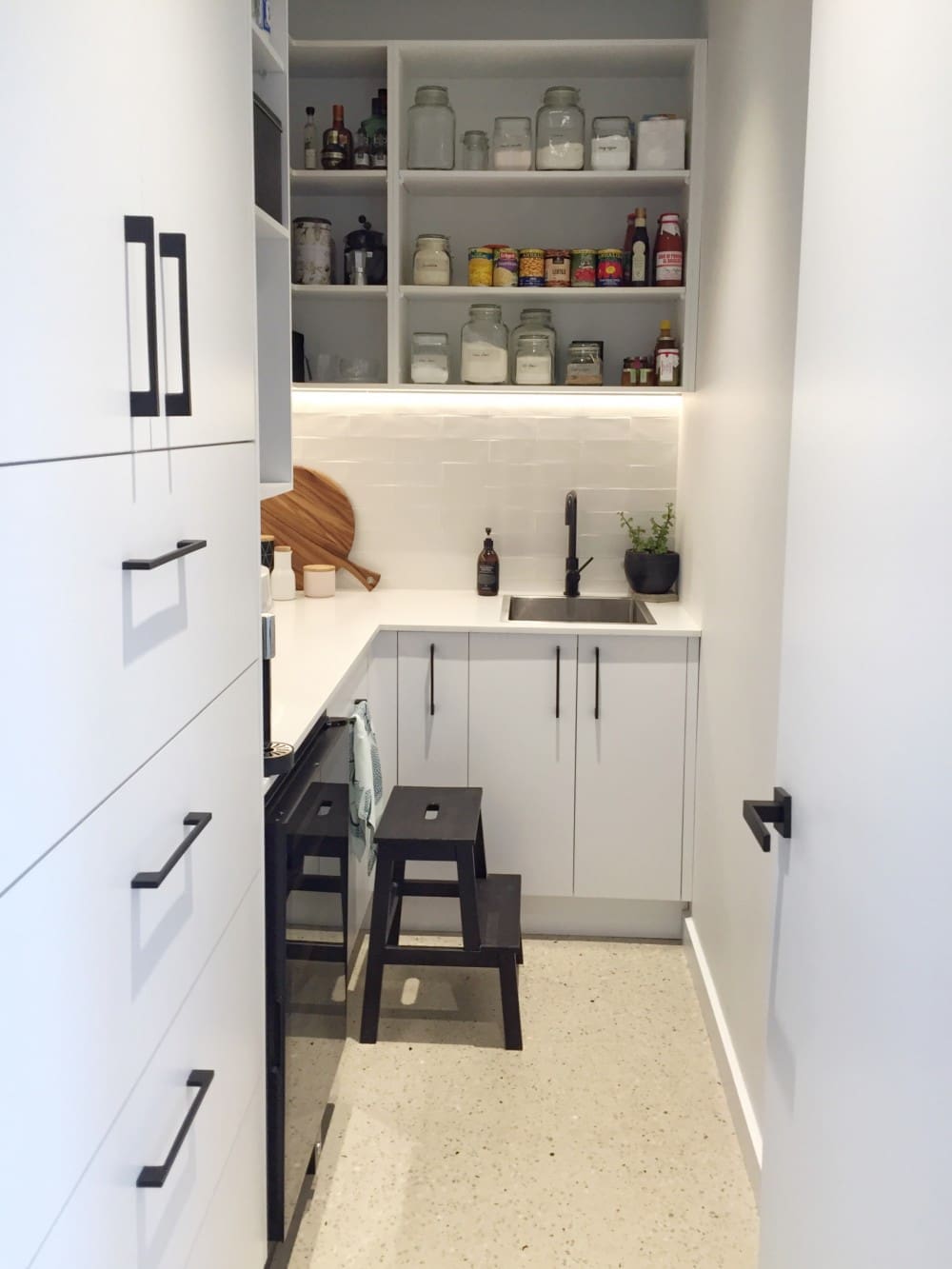 If you have any questions about my butler's pantry tour, drop them in the comments below and I'll get back to you asap.