The latest room in my home to get a mini makeover is our bedroom!
While I love the bones of our bedroom (especially that raked ceiling, sheers and joinery), it had been seriously neglected styling-wise. In fact, the endless piles of clean washing that needed to be put away and growing collection of toys Patrick brings upstairs each morning meant it reflected anything but the sleep sanctuary it should be.
So before baby #2 arrived, I knew I had to seize my chance to give this space some TLC.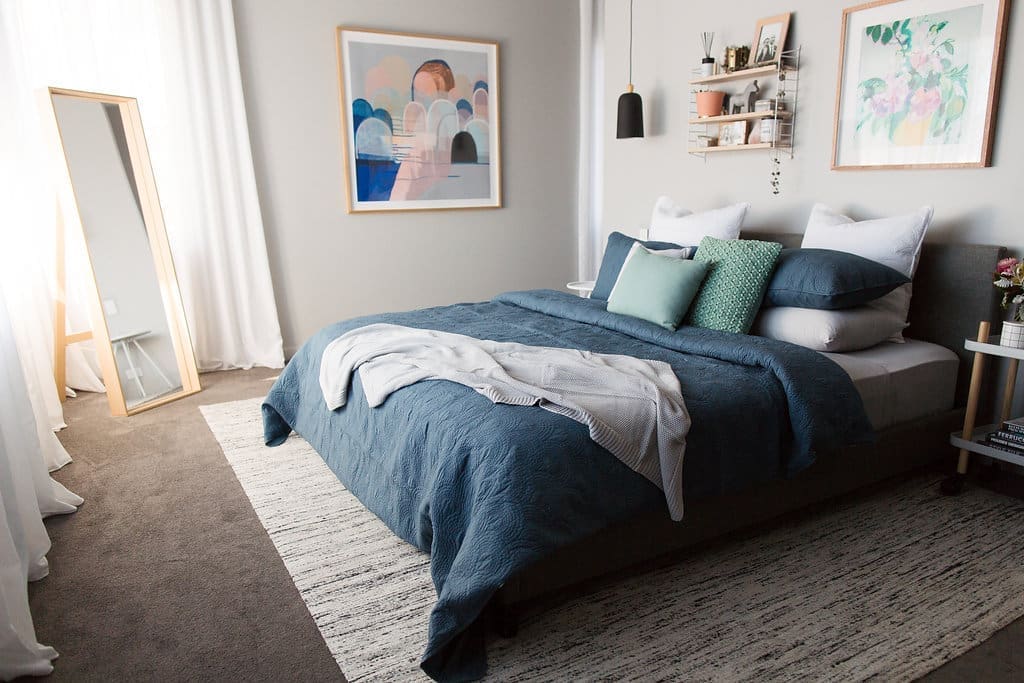 New artwork
The first thing I needed to address was the blank wall space above our bed. Previously I had the large Marnie McKnight painting there but I felt that having two large abstract artworks of similar size and colours actually looked quite odd in our bedroom (you can see what I mean here) — it's like the eye didn't know where to travel when you walked into the space — so I moved that painting into our living room (you can see my living room makeover here) and for the past few months had nothing but a lone wall hook above our bed, ha ha.
Mia Oatley is an Australian artist I've long loved and recently she launched a series of affordable, limited edition works on paper. I selected the 'Yellow Vase' artwork and had it framed in natural timber. The smaller size works much better with the artwork on the adjoining wall and there are enough similar colours for it to 'fit' in the space without it being matchy-matchy.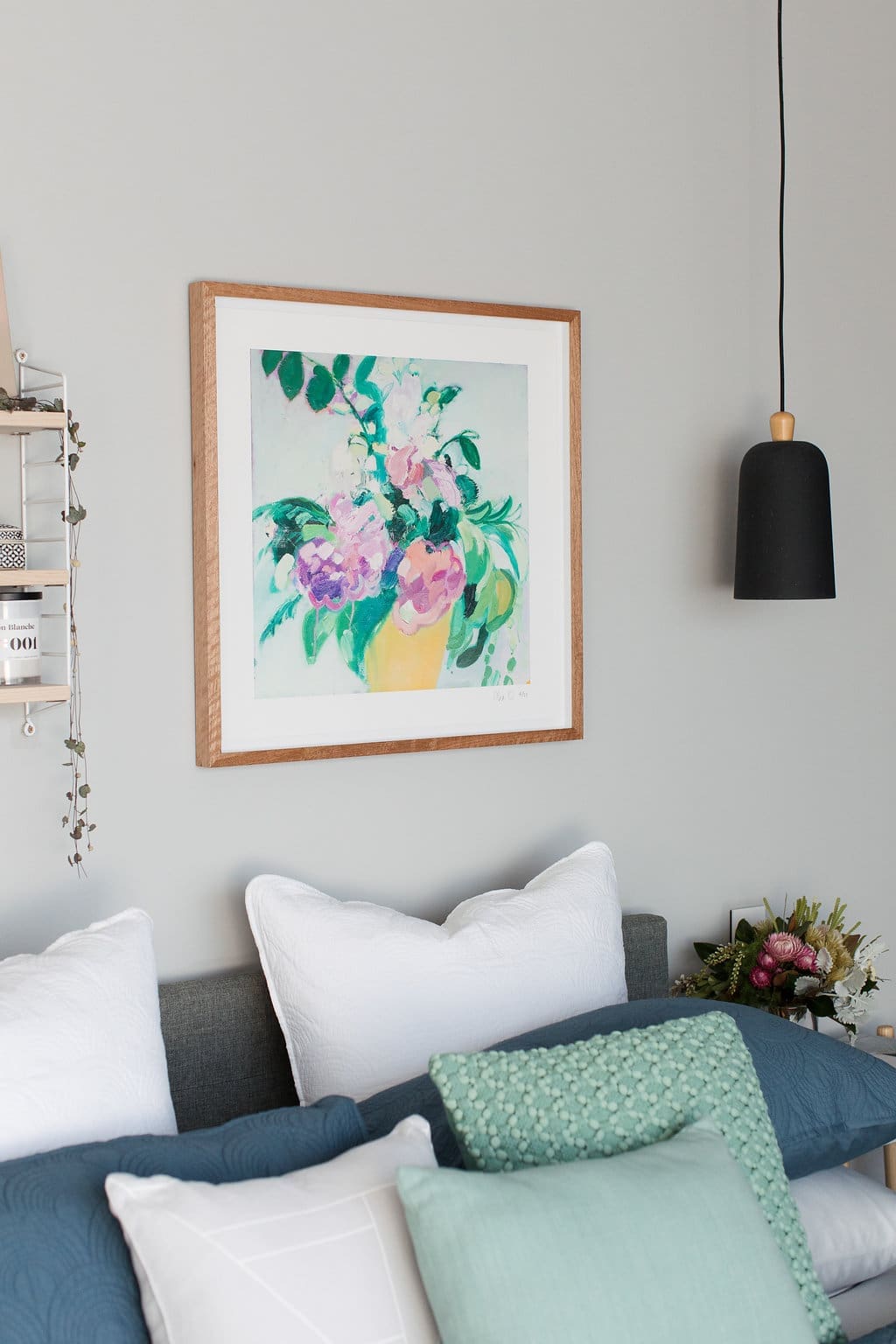 Shelf above bed
Given the area above our bed is quite large, I decided to position the new artwork to the right and hang my string shelves above the bed on the left. Because I knew a cot and change table would soon be taking over my side of the bed for at least six months and I would lose my bedside table, I liked the idea of having something in close reach where I could rest drinks and other things.
So at 38 weeks pregnant I removed the wall hook, patched the wall and repainted it to make way for the shelf and artwork above our bed. I'm really happy with this combo for above our bed and that I'll be able to change the look up with different shelf styling.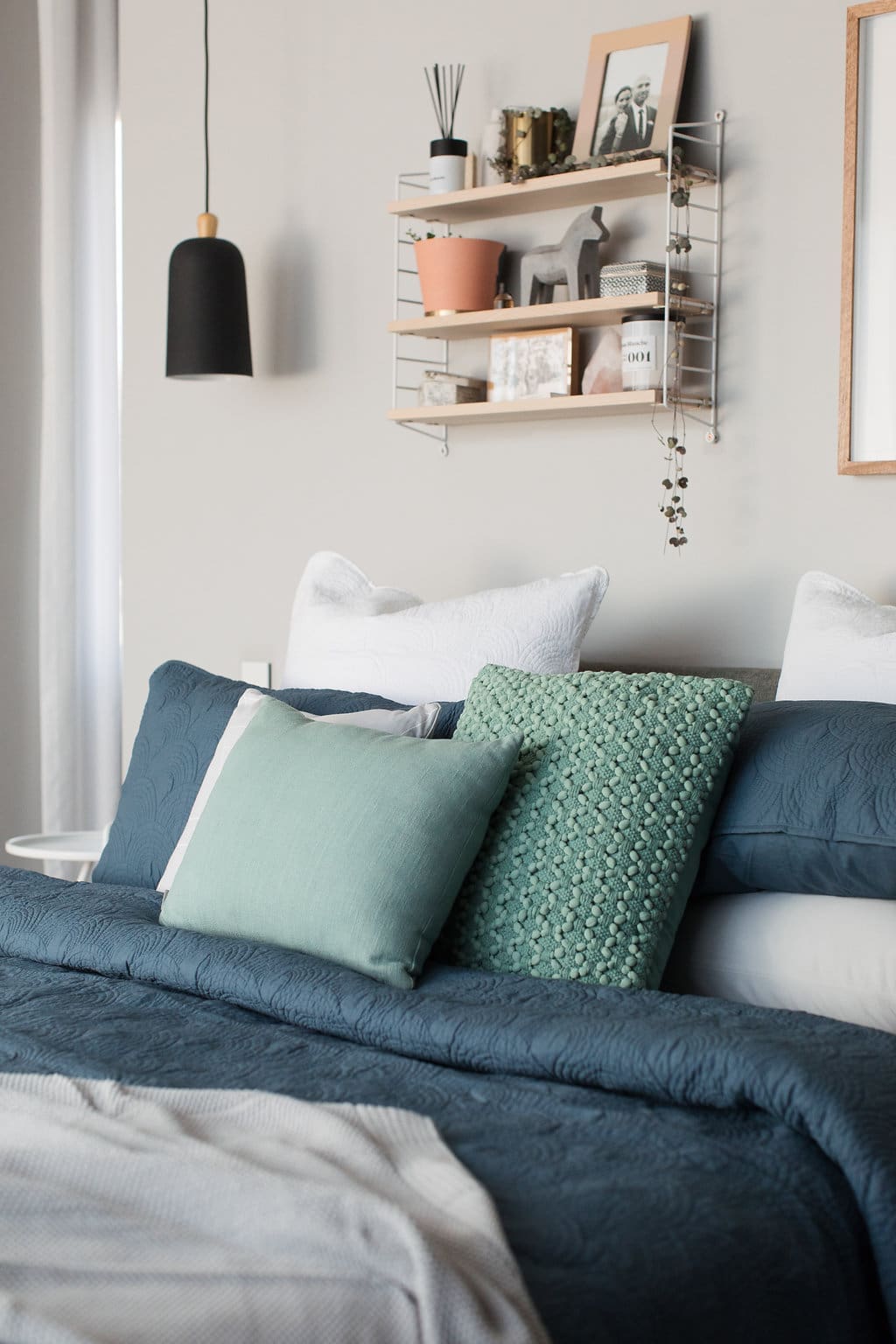 Large rug
Another new addition in here is the large rug under our bed from Rugs of Beauty. I always wanted a rug in here to lighten the flooring and anchor the space, and I love the simple yet sophisticated look of this Bodo rug. I chose a low, flatwoven pile rug because they are harder wearing, easy to clean and are less of a trip hazard (Patrick runs circles around our bedroom every morning!).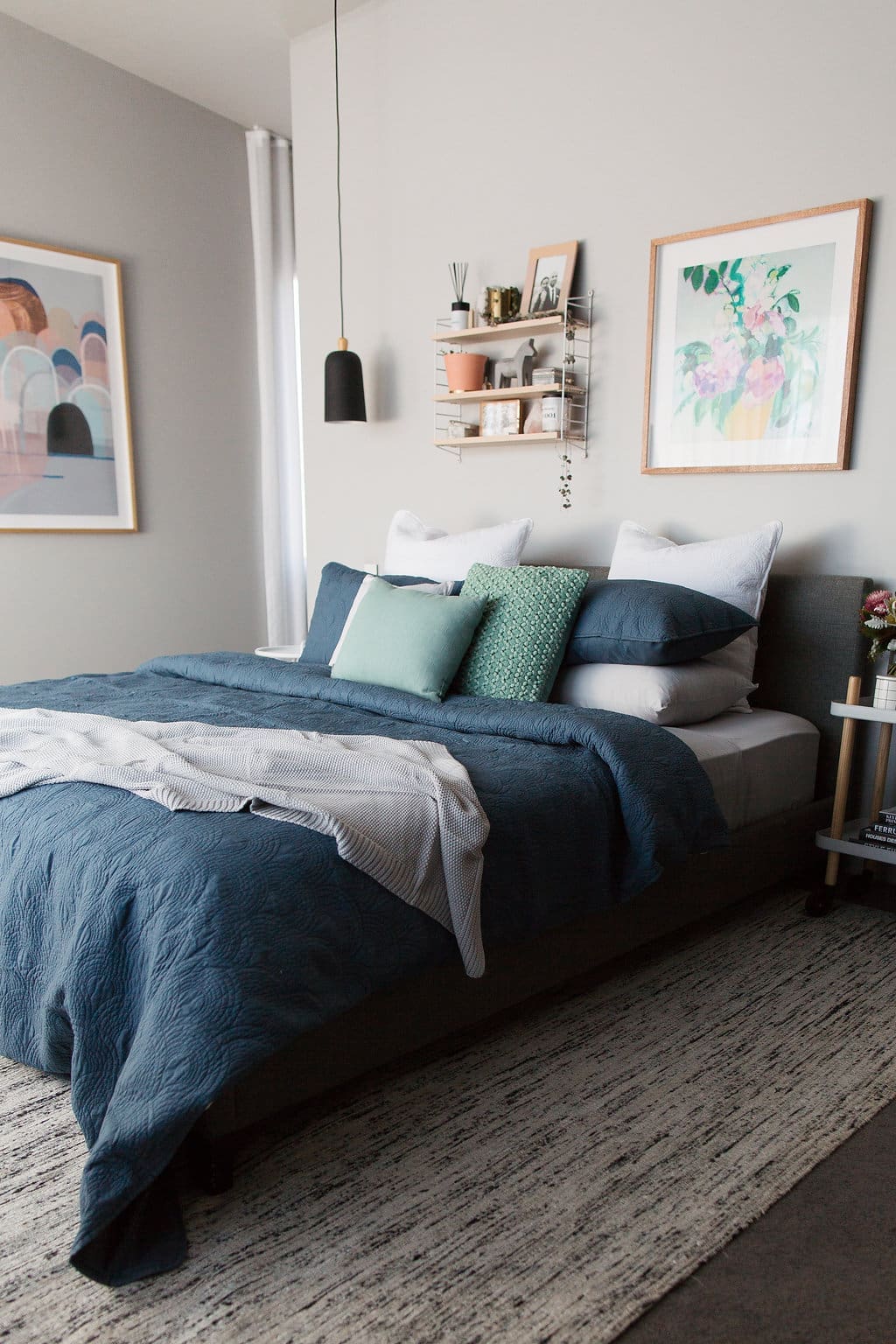 New bedding
Of course, a bedroom makeover wouldn't be complete without new bedding and this time I picked out a range of beautiful new season pieces from Pillow Talk. The quilted petrol blue bedding instantly stole my heart and I paired it with some jade coloured cushions and neutrals of grey and white. Although it doesn't show so well in the photos, the white Euro cushions feature the same fish scale quilted pattern as the quilt cover. (If you're on the hunt for super soft sheet sets, this one feels like silk.)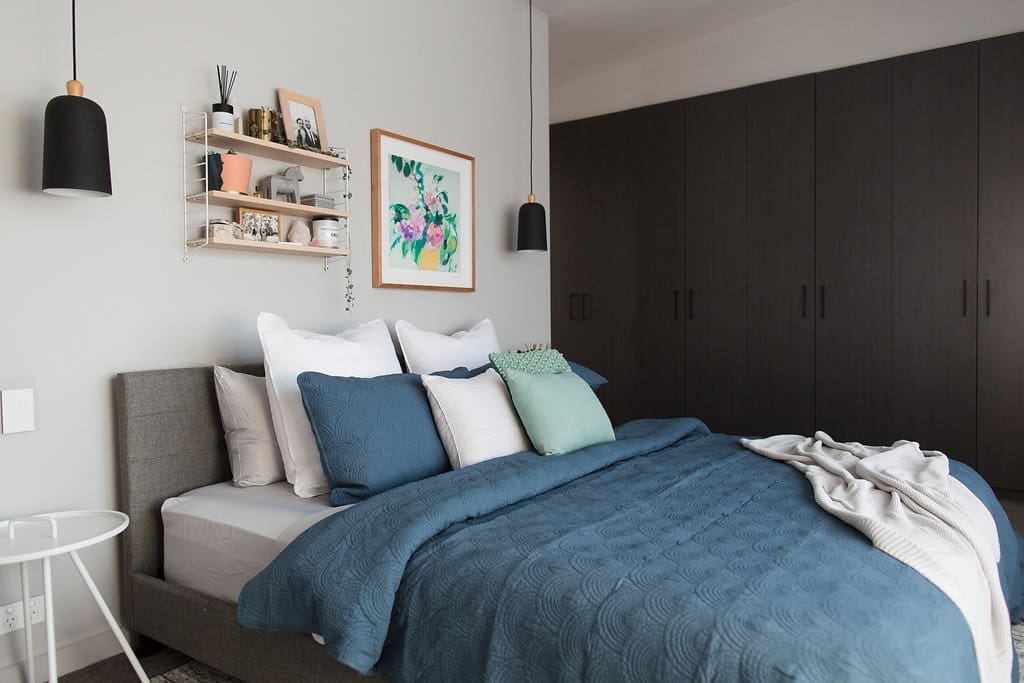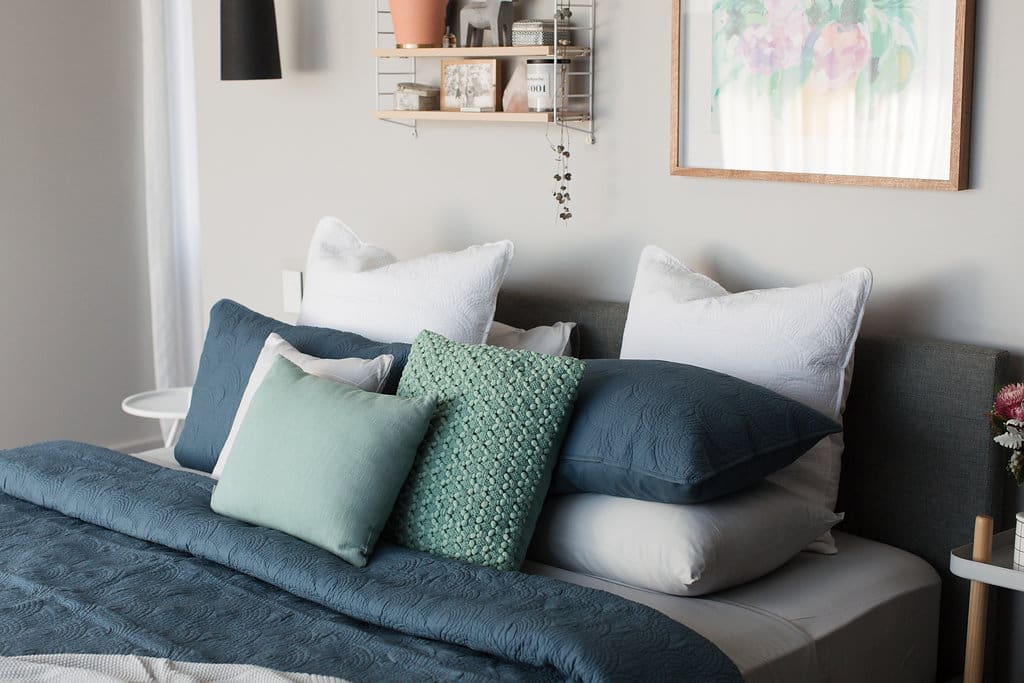 Supplier list
Bed: Tommy Swiss
Bedside tables: Grey block side table from Curious Grace / White metal side table from Kmart
Rug: 'Bodo 159 Silver Grey Multi Colour Patterned Modern Rug' from Rugs of Beauty
Shelf: String shelf from Curious Grace
Mirror: Matt Blatt
Artwork: Floral still life 'Yellow Vase' by Mia Oatley / 'Coastal Hills' by Antoinette Ferwerda
Bedding: Quilt cover, Euro cushions, fitted sheets, throw and knot texture feature cushion from Pillow Talk
I'm so happy with this bedroom refresh! Our bedroom now feels like a relaxing and inviting space that I want to spend time in. Eventually I would love to have a custom bed made but this is very much a 'nice to have' and there's a long list of other things around the house that need attention first.
If you'd like to know where any products are from that aren't listed, just pop your question in the comments below and I'll let you know asap.
Photography by Thorson Photography
*Disclaimer: Some products were gifted