After over a year of having our bedroom overrun with baby furniture and toys, this weekend I turned our bedroom back into an adult space… and of course, while I was at it, I took the opportunity to restyle!
Shortly after I shared photos of our main bedroom last year, baby Patrick was born. We made quite a few changes in our bedroom to adjust to parenthood including adding an IKEA hack bassinet to my side of our bed, putting his change table in the corner and creating a play zone in one side of the room.
Now that he's moved into his big boy room downstairs (zero styling has happened in this space, stay tuned!), it meant I could clear away his change table, toys and other bits, and turn this place back to an adult zone.
New artwork
I love the Antoinette Ferwerda print I got from hubby on my birthday the year before last which I hung on our side wall but the space above our bed was feeling void.
As soon as I saw this gorgeous Marnie McKnight original artwork on bluethumb, I knew I just had to have it!
The blush pinks and blue tones work perfectly in the space and it connects the room together. LOVE IT.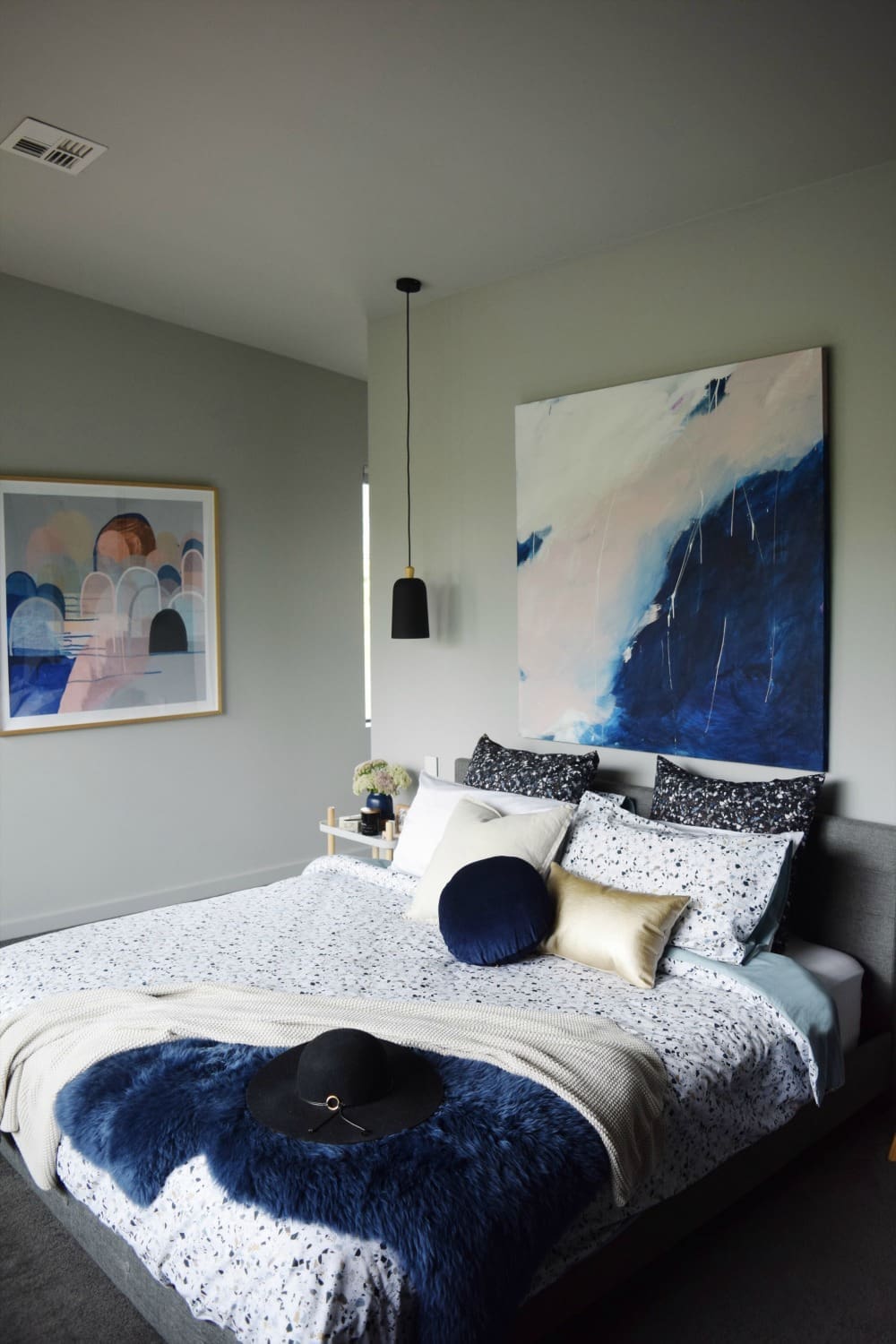 Freestanding mirror
Up until recently there wasn't one full sized mirror in our house… dressing myself was always a bit of a guessing game where I'd just hope my outfit worked, ha ha.
Once we moved the change table downstairs and the corner of our room by the windows was freed up, I thought I'd make use of the space by bringing a mirror into our room. (I used to have an armchair and side table in the corner and while I did enjoy having my morning coffee there, those slow mornings of sipping coffee are gone. Now I'm up early chasing around our speedy little monster!)
I fell in love with this Matt Blatt mirror right away — the sleek design and European Oak frame is just too gorgeous and works with the other timber accents in our room.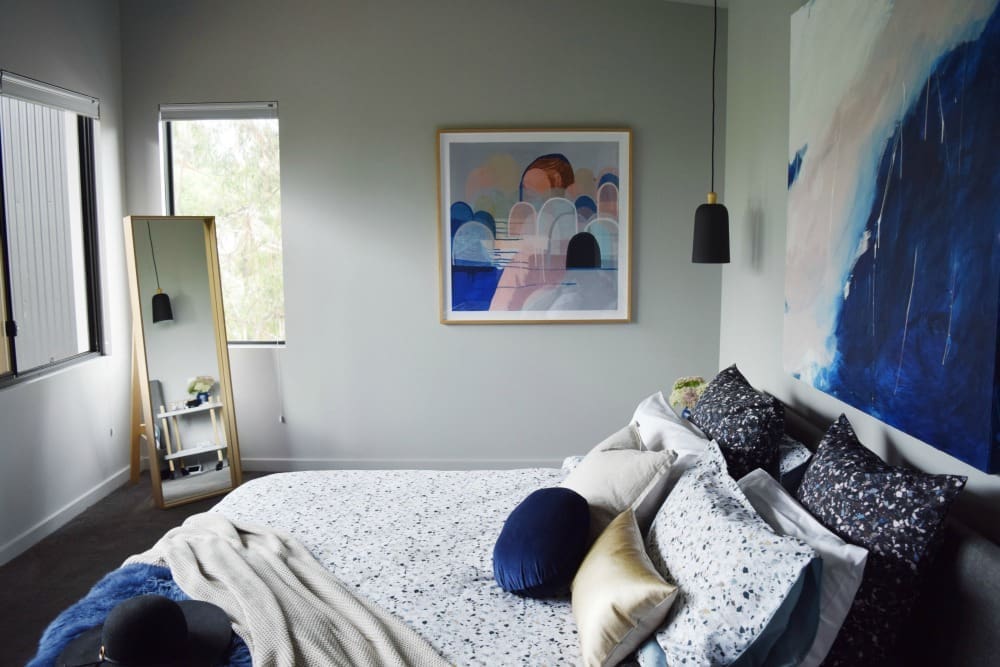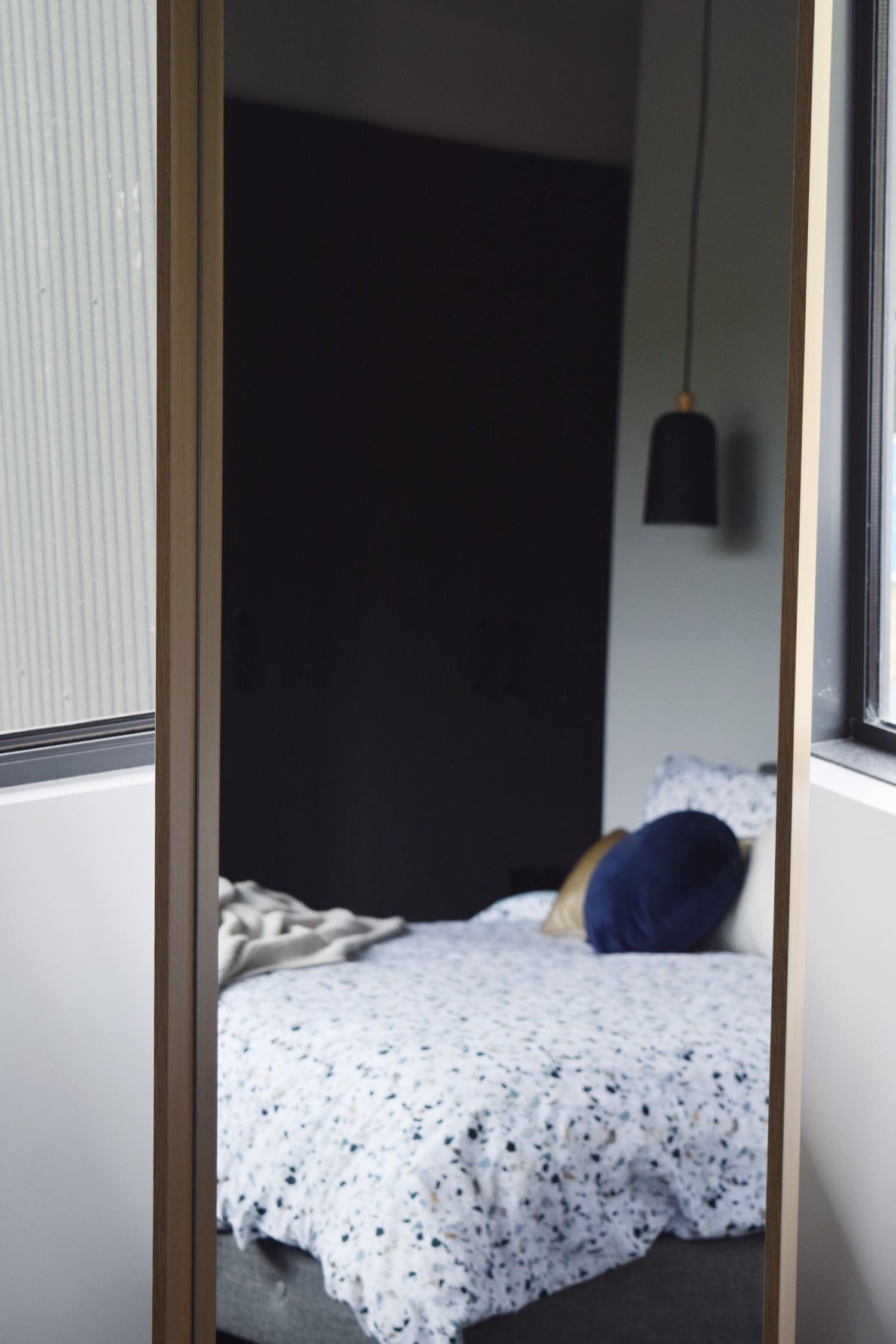 New bedside table
O-M-G sometimes amazing things happen and this bedside table is one of them! Without wanting to give too much away, there may or may not be a #stylecuratorchallenge with our friends at Curious Grace coming up which may or may not involve winning this incredible bedside table! Stay tuned for 1 April lovelies. You don't want to miss this one!
In the meantime, I'll just gush over my new bedside table by favourites Normann Copenhagen which has been on my wish list FOREVER!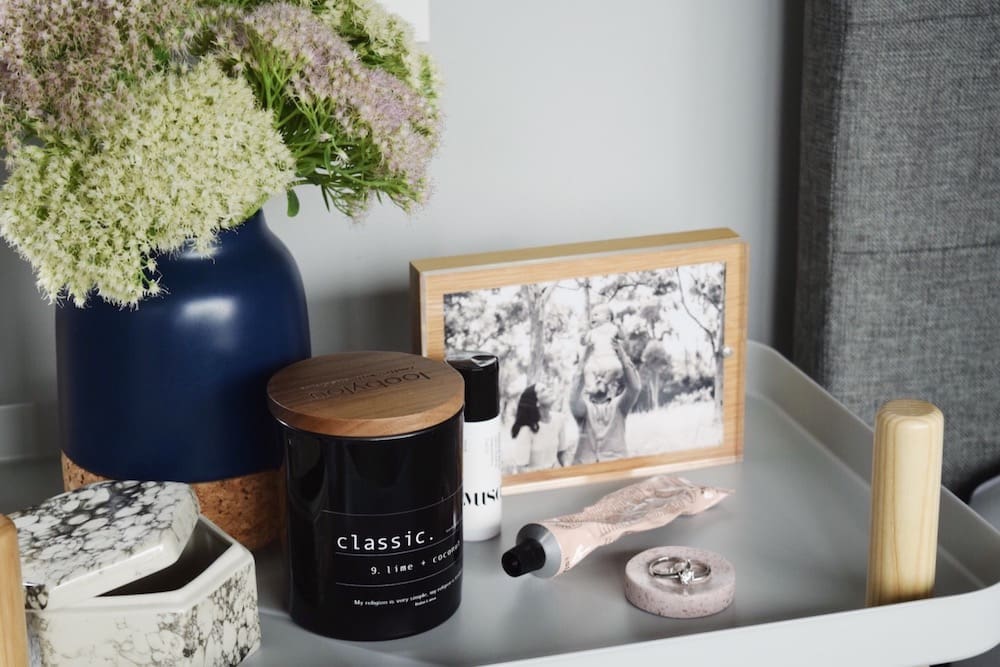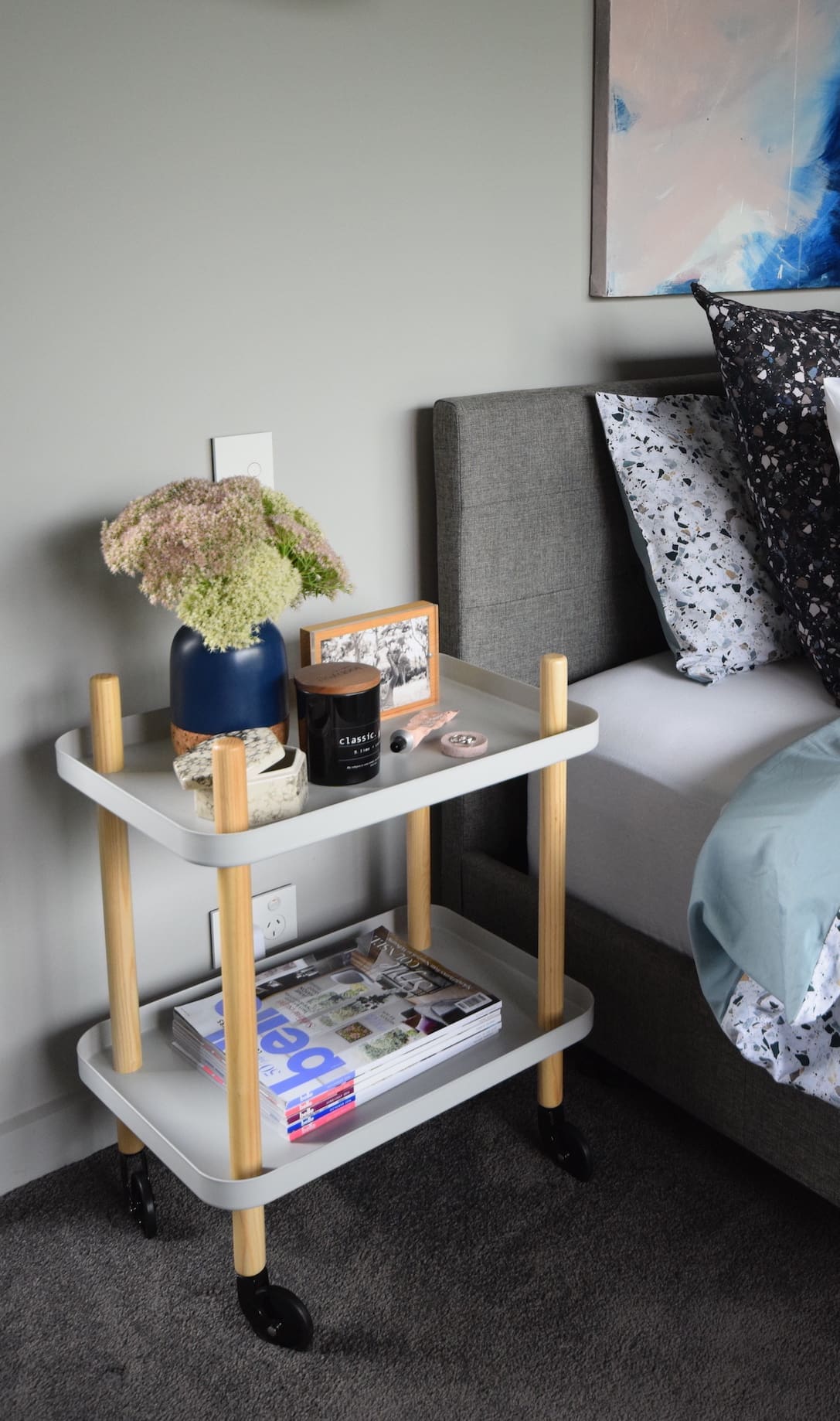 Terrazzo bedding and new cushions
I have a new obsession and it's terrazzo. It's actually starting to concern me how much I adore this material.
So when I spotted terrazzo print bedding and matching euro cushions at Adairs, I of course snapped them up right away. I'm not sure if they're hideous or gorgeous but I don't care, they're terrazzo and right now they make me so happy.
I treated myself to some new cushions too — an oatmeal linen cushion, bronzed rectangular cushion and navy velvet cushion (which will be available in the Style Curator Store on Friday!). On the foot of the bed I've got a blue sheepskin and oatmeal knit throw (both also from Adairs).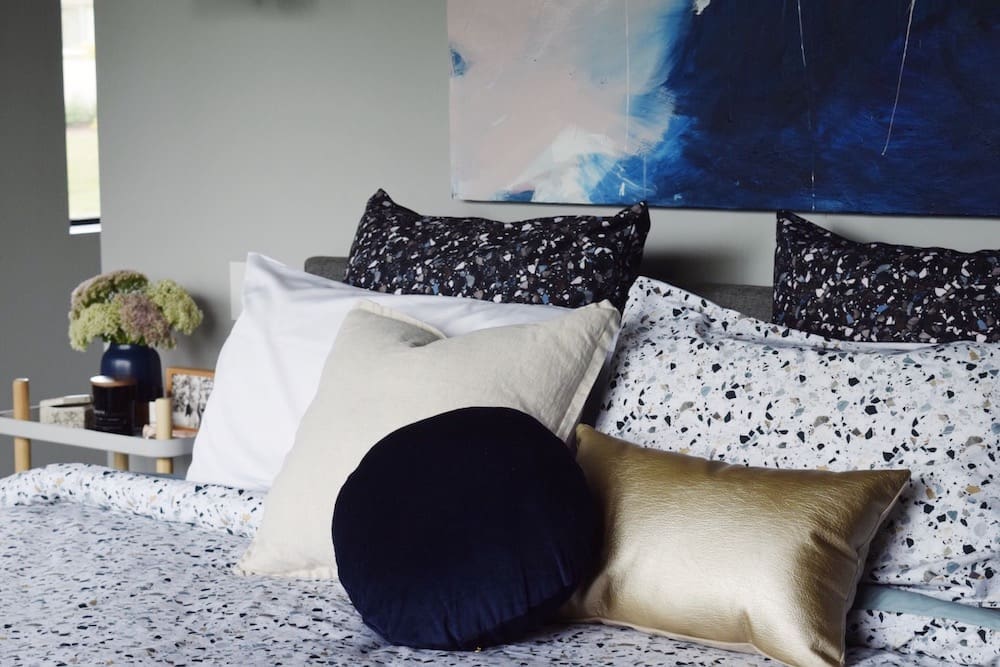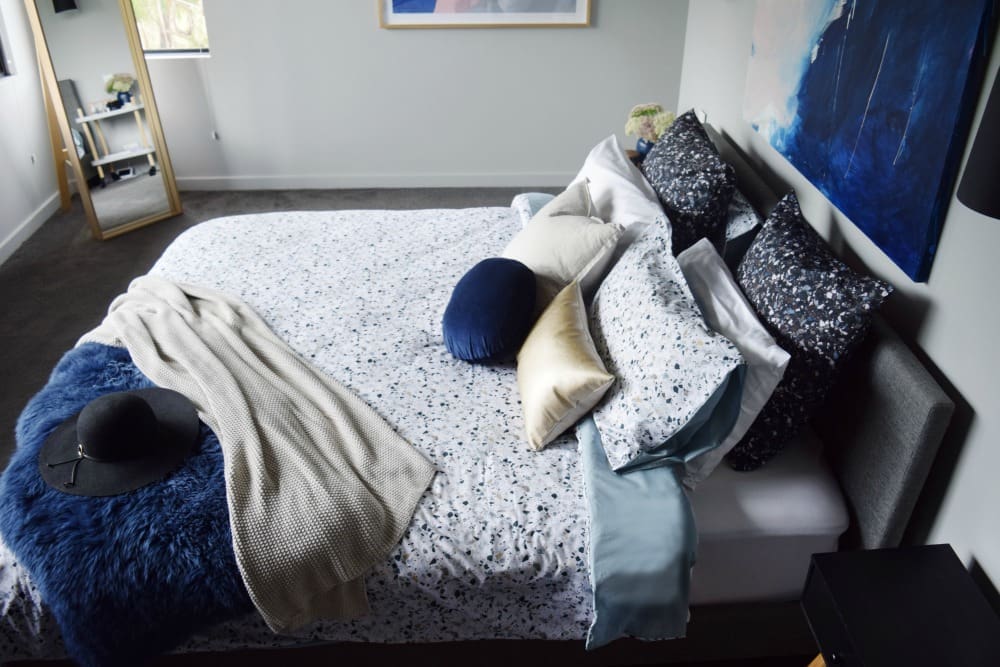 I'm loving this new bedroom vibe and all the additions to the space. If you'd like to know where any other products are from that I didn't mention, pop your question in the comments below!
*Disclaimer: some of the products featured in this post were gifted.