If you can't tell by all the decorations available in stores, Halloween season is officially here! Halloween has been gaining momentum in Australia for years and it feels like this year, everyone is up for the celebration. Whether you want to go all out and decorate your home in spooktacular fashion, host a terrorific event with friends, or create some creepy crafts with your kids, we've gathered all of the best Halloween ideas!
Keep on scrolling (and scrolling!) for our complete Halloween home styling guide. Filled with a variety of indoor and outdoor styling tips, DIY decor ideas and even some of our favourite spooky snacks, this complete Halloween guide is the ultimate witches brew of ideas to celebrate Halloween in style.
Related article: Spooktacular Halloween bar cart styling
Related article: DIY Halloween door mat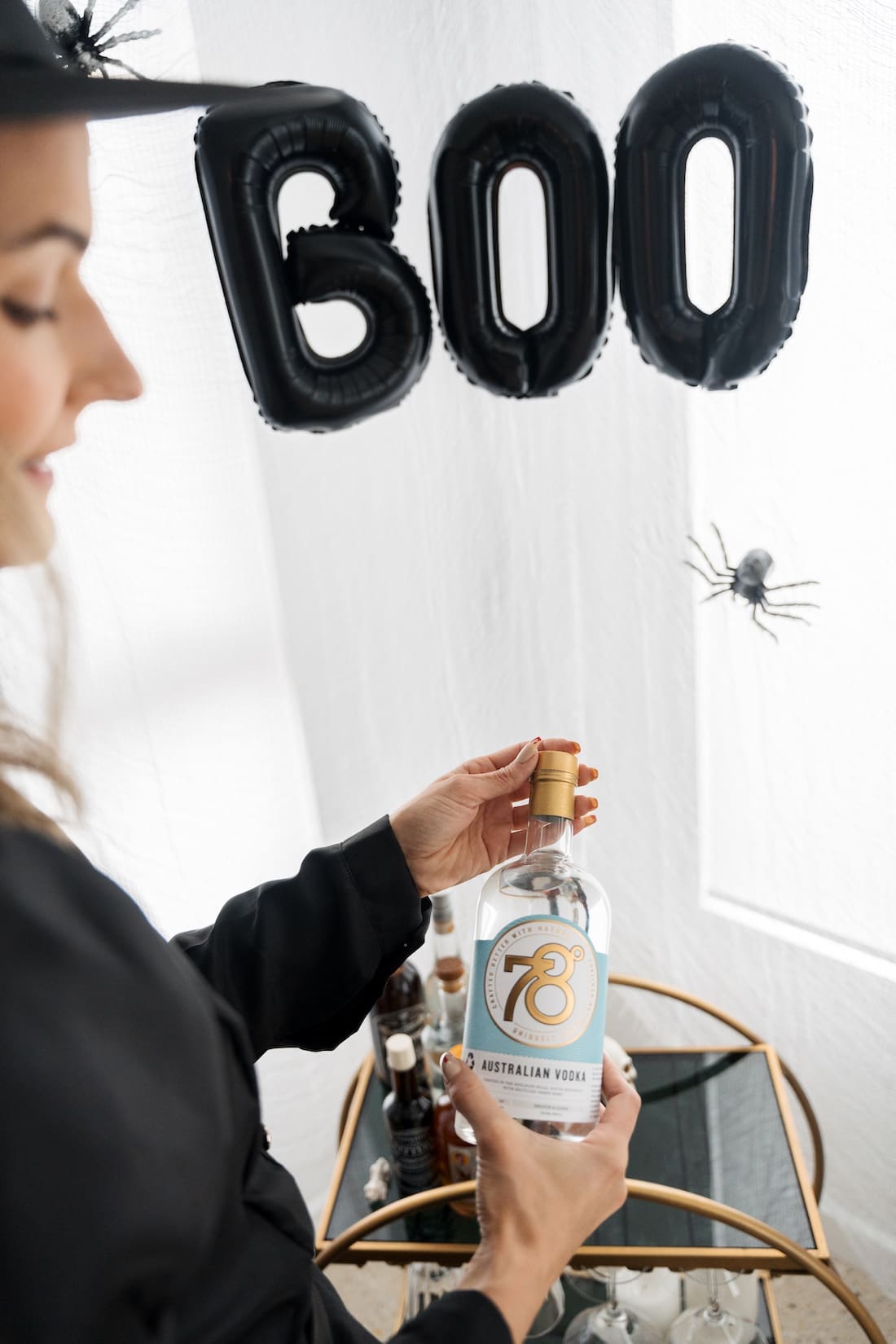 Where to start?
Before hitting the shops and picking up any Halloween home decor, we suggest thinking of a theme or colour scheme. Having a common element, such as colour accents or objects, running through your home will create a more elevated look (read: not tacky!). It's also a great way to save money at Halloween as you'll know the direction you want to take. This means you won't buy things you don't need and can DIY your own boo-gie on a budget Halloween decor.
Some classic Halloween themes and elements include:
skeletons
bats
witches and broom sticks
pumpkins
ghosts
zombies
graveyards
spiders and spiderwebs
black cats
crows.
But when it comes to modern Halloween home styling, almost anything goes! So don't feel you have to stick to one of these traditional Halloween themes.
Interior Halloween decor ideas
With a theme in mind, let's start this Halloween home styling guide! Because we have found so many ideas to decorate your home for Halloween, we've split this guide into indoor and outdoor ideas. From entryway styling to gallery walls, cushion styling and more, these are our favourite ways to introduce Halloween into your home.
Entry styling
Your entry is one of the most popular spots to decorate your home for Halloween as it creates a boo-tiful first impression.
Use the surface area of a console table to create a spooky vignette or add some Halloween decorative cushions to a bench seat. Leaning a broom against the wall is also a subtle but effective Halloween touch. Dress it up further with some spiderwebs.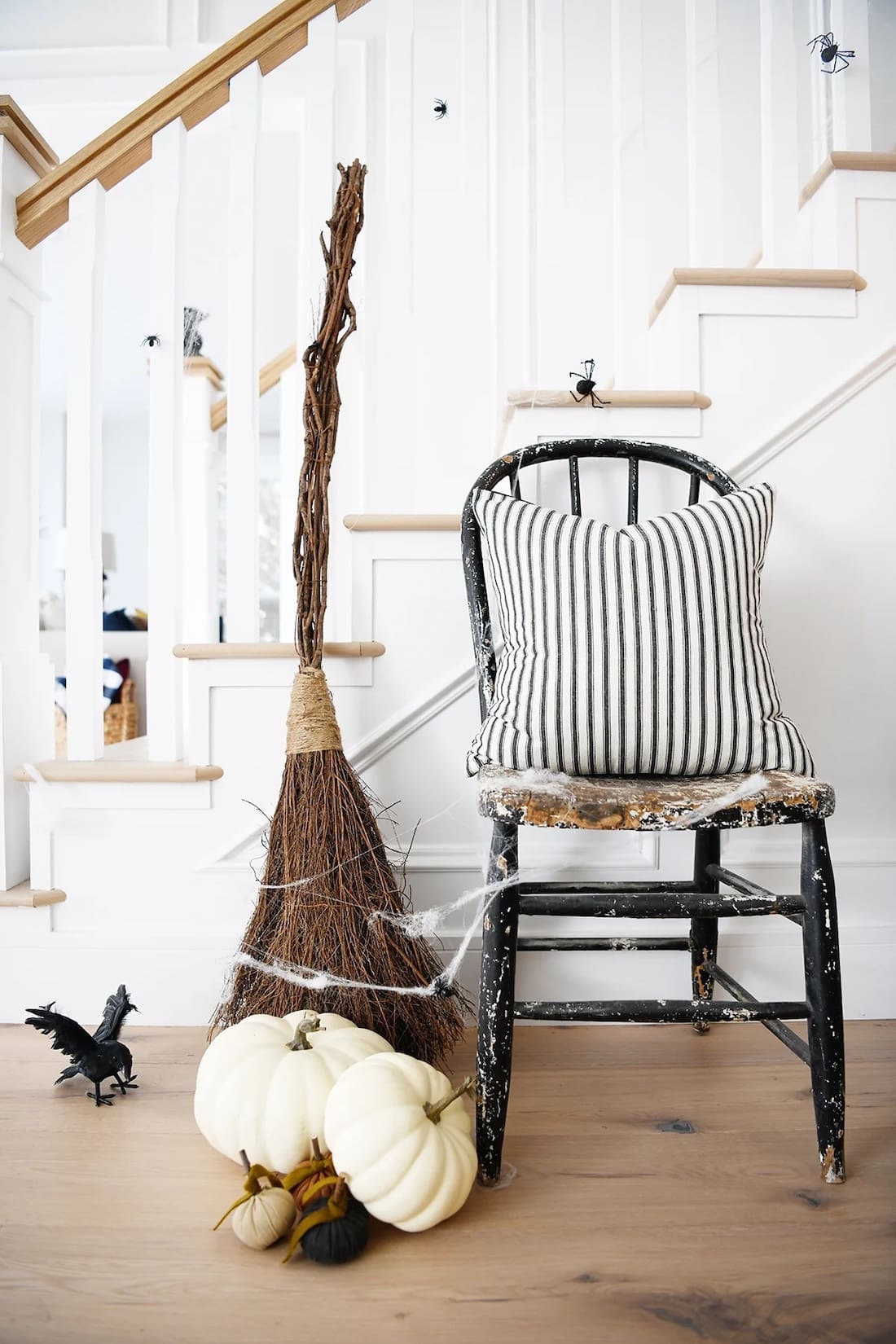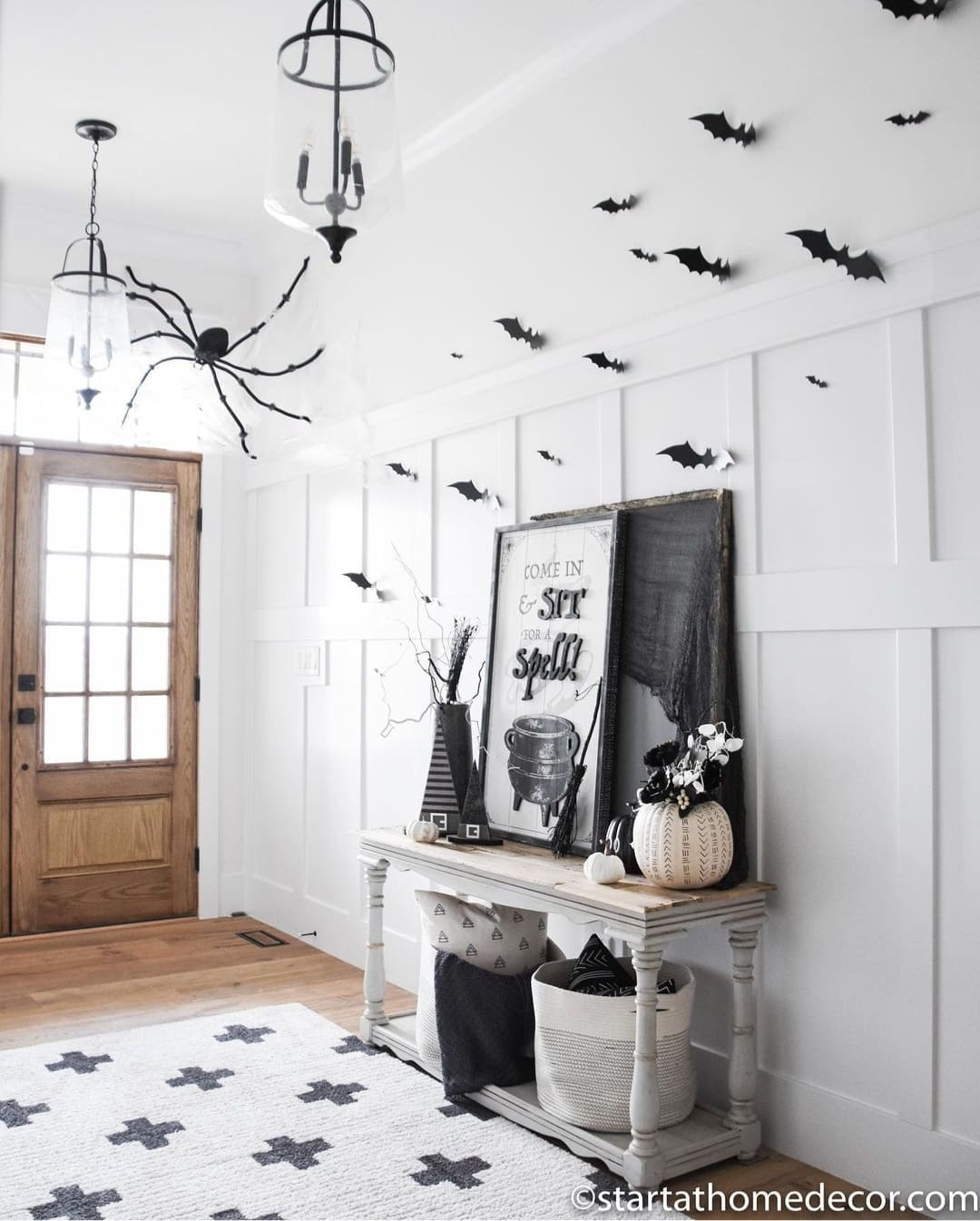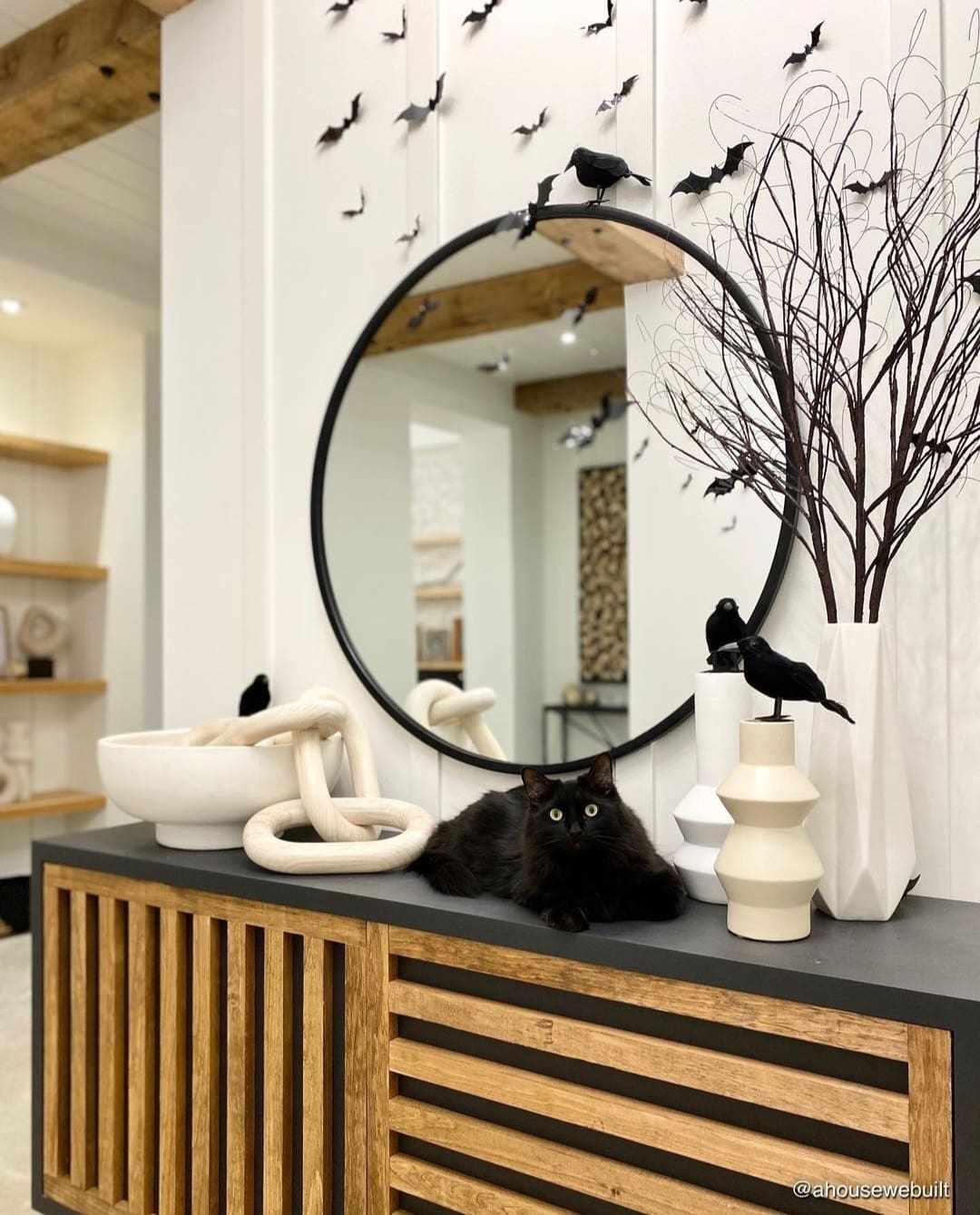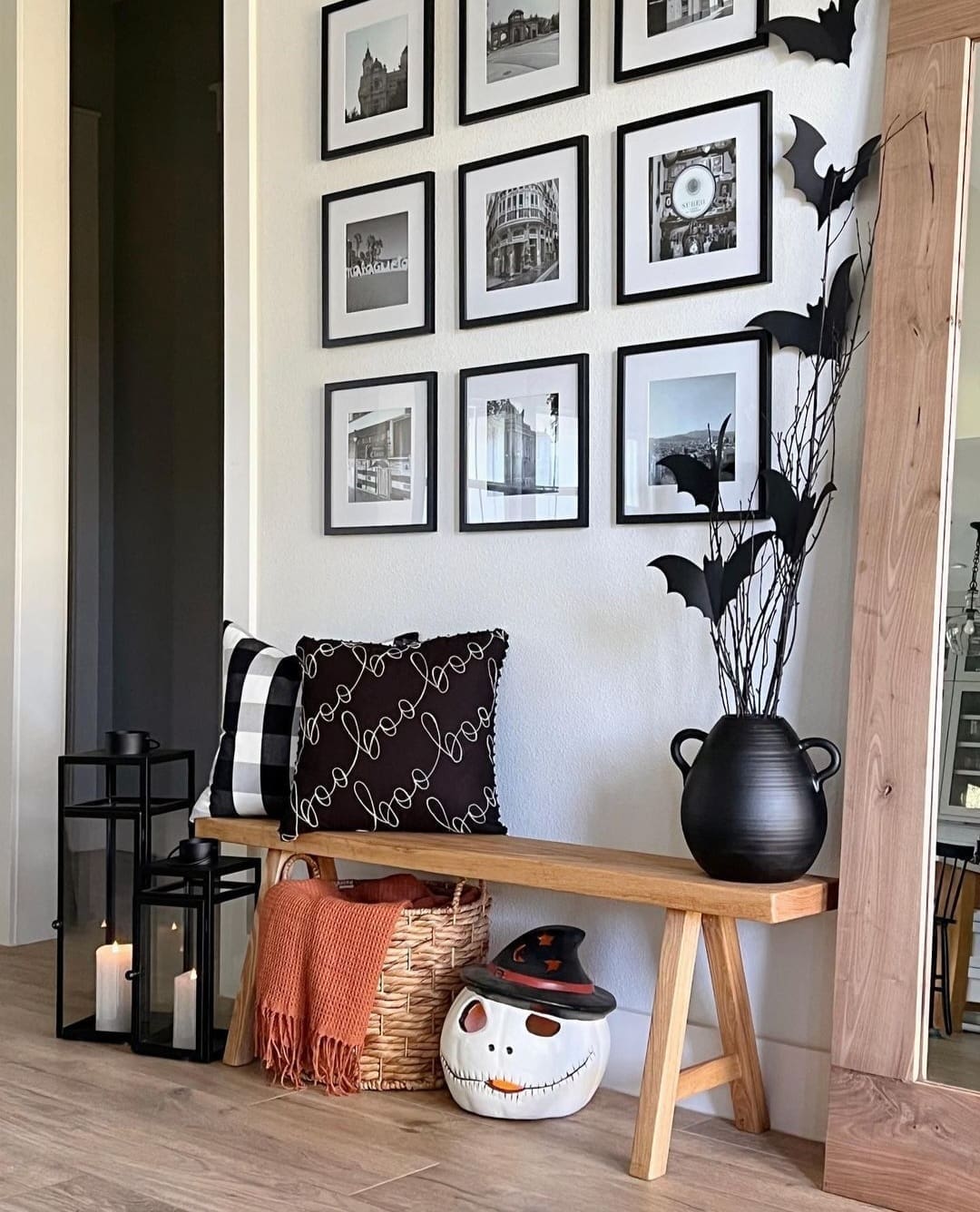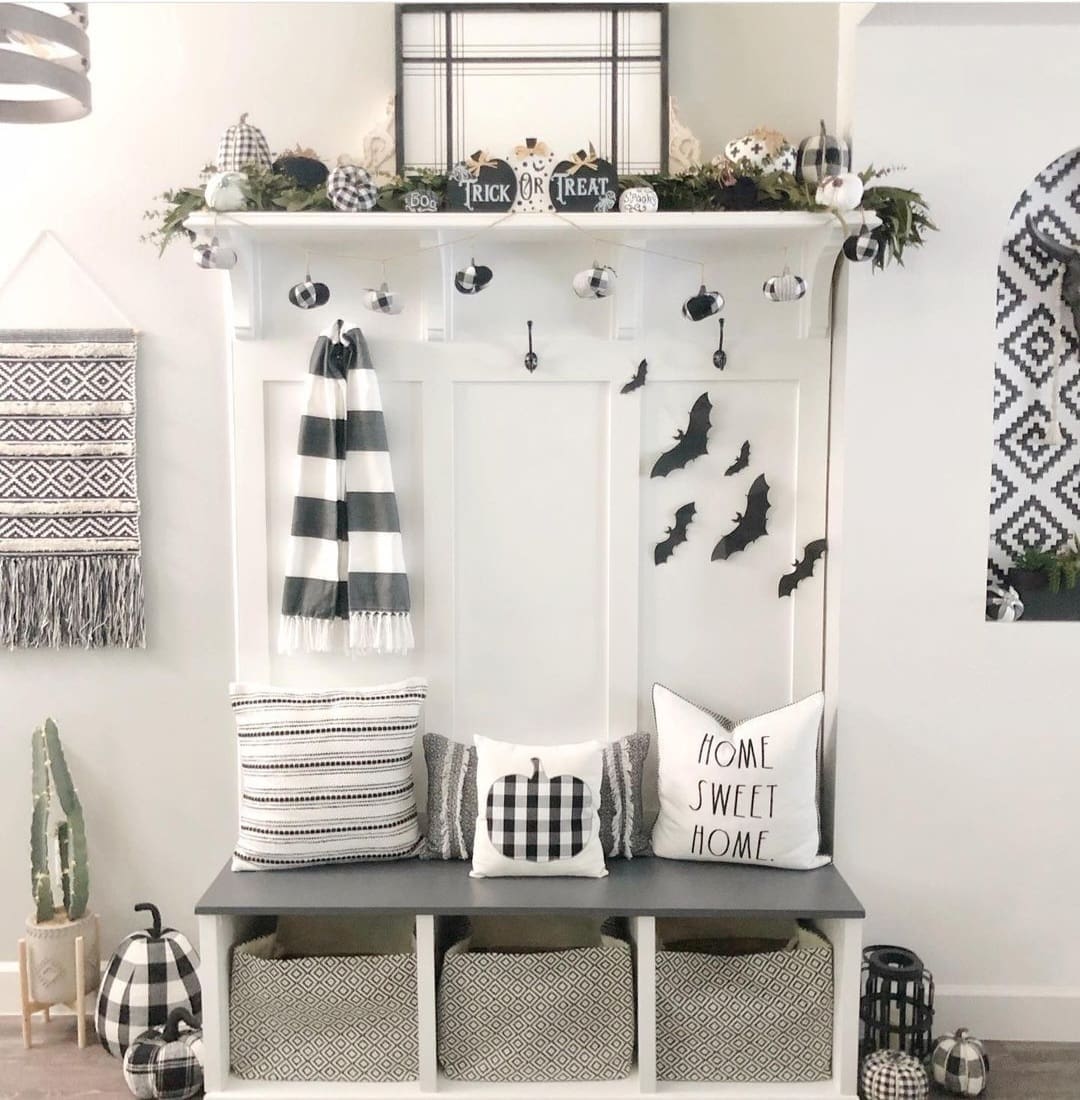 Gallery wall
Whether swapping out a few of your family portraits for Halloween prints, or simply decorating your gallery wall with spooky decorations, a gallery wall in an excellent place for some Halloween styling. Whatever you decide, make sure you stick to a theme to create a cohesive look. Find more tips to create the perfect gallery wall here.
BOO banner
Another idea to add a sprinkle of Halloween to your walls is this fun little DIY BOO banner from A Beautiful Mess. A simple Halloween decor idea that adds a festive touch without being over the top.
Cushion styling
We mentioned adding festive cushions to your entry but truth is, you can use these in just about any room of the home. Just take a look at that fun window bench seat below! Easily adaptable to your interior style, we're sure you'll be able to find some Halloween cushions that are the perfect match to the rest of your space.
Bat decor
Introducing bat decor is one of the simplest (and most cost effective!) ways to introduce Halloween to your interior styling. Just grab some black paper, bluetac and scissors, and you can easily replicate this look in your home.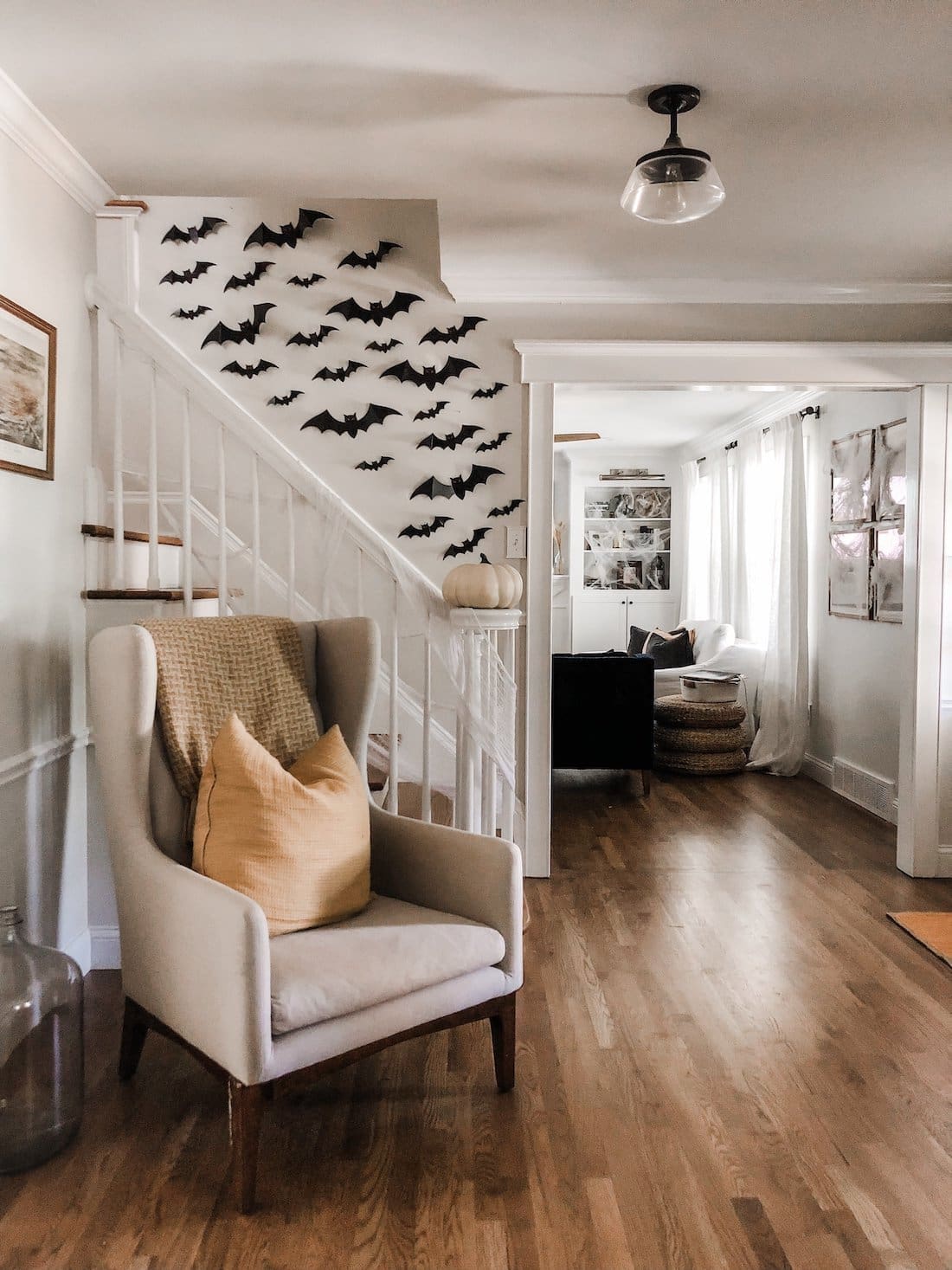 DIY book page ghost garland
If you're looking to upcycle an old book you have no more use for, this ghost garland DIY by Thistle Key Lane is for you. It only takes a few minutes to make but the outcome is a cute, contemporary garland that's easy to string up wherever you like.
Spiderwebs
Let's be real here — the thought of getting fake spiderwebs over every inch in our home sounds like a massive hassle. But the following example shows how just a little bit goes a long way! It's a fun idea to use in your powder room if you want to give guests a gourd-geous surprise.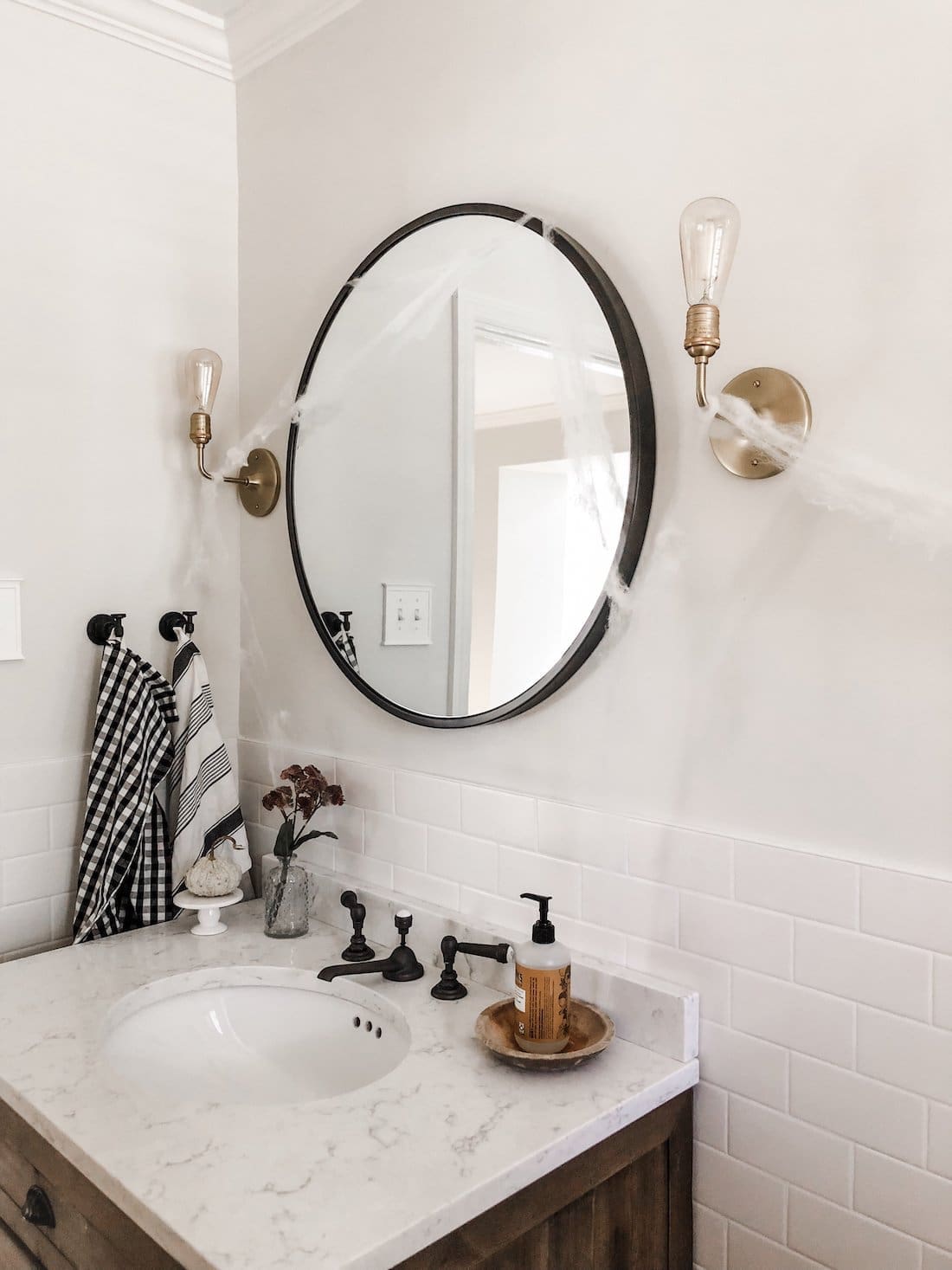 Hanging hats
This hanging hat idea from Happy Happy Nester is one you could do inside or outside! Just pick up some cheap witch hats and string, and you're good to go!
Create a vignette
Whether you want to go all out with your decorations, or just do something small, a vignette is always a winning idea! Vignettes are a great way to tell a story. So sprinkle your interior style and must-see items into a simple but effective Halloween display.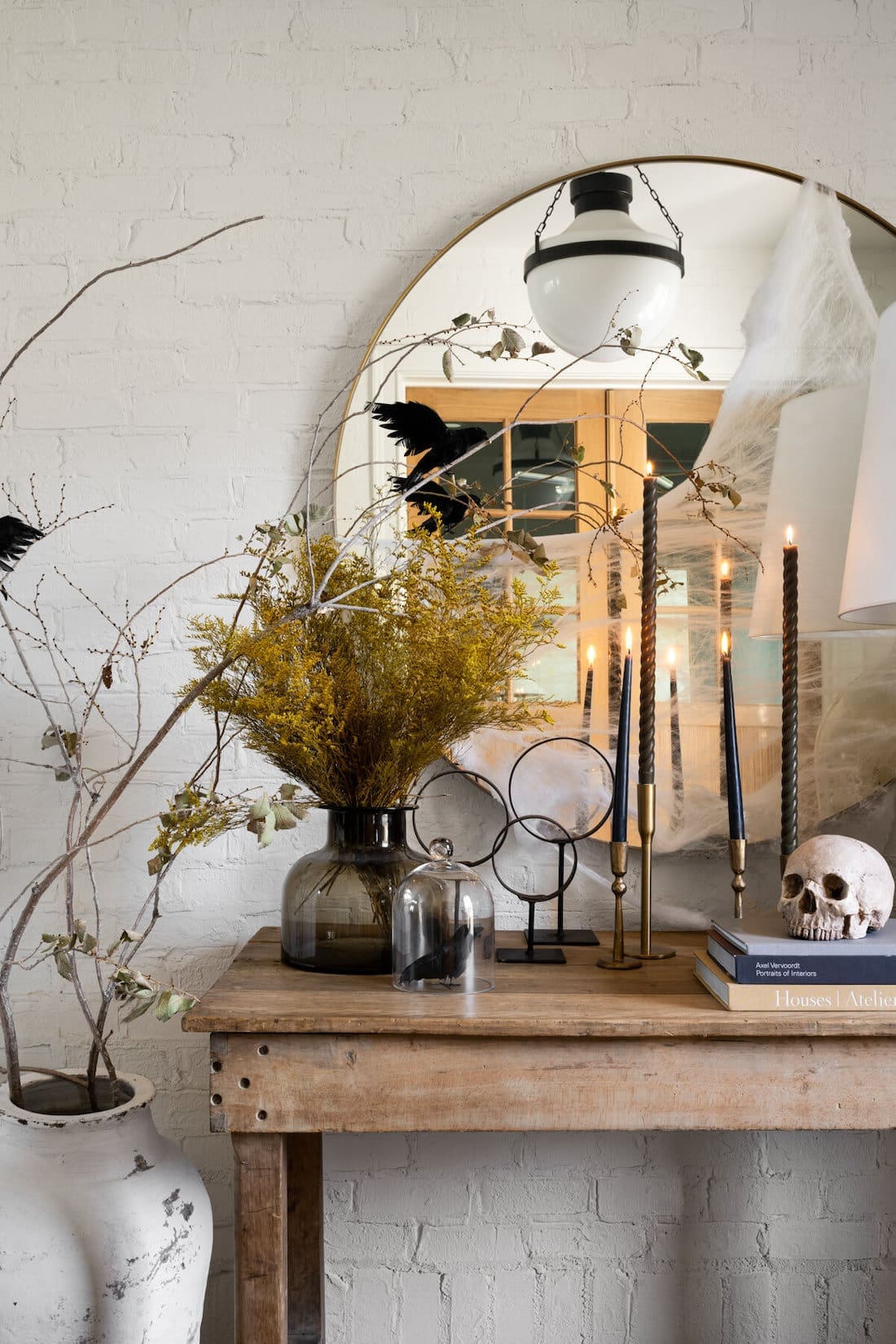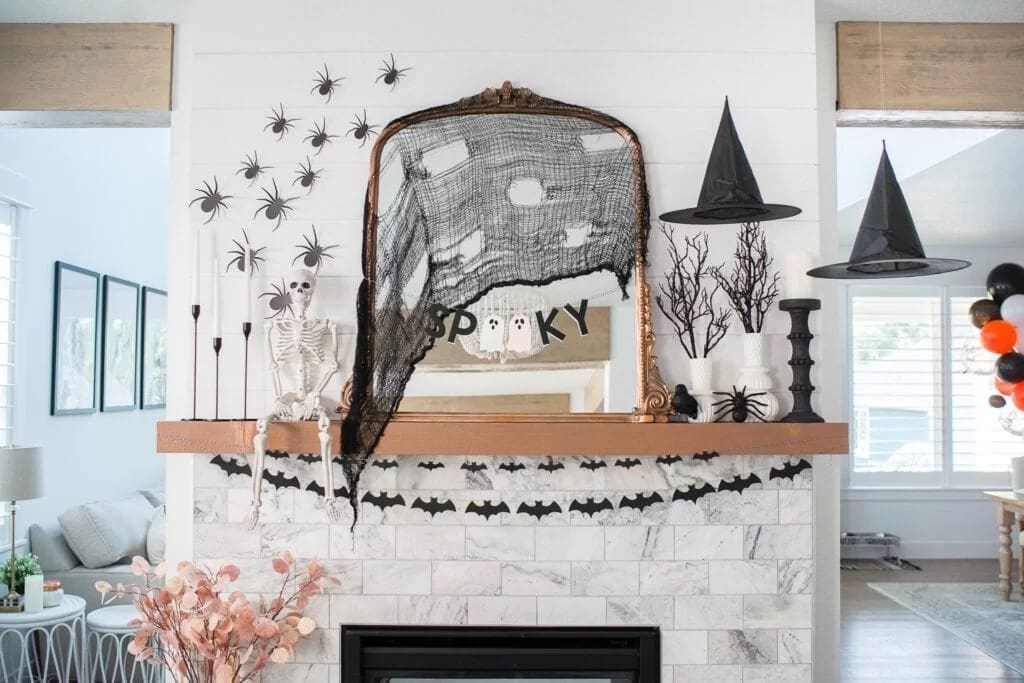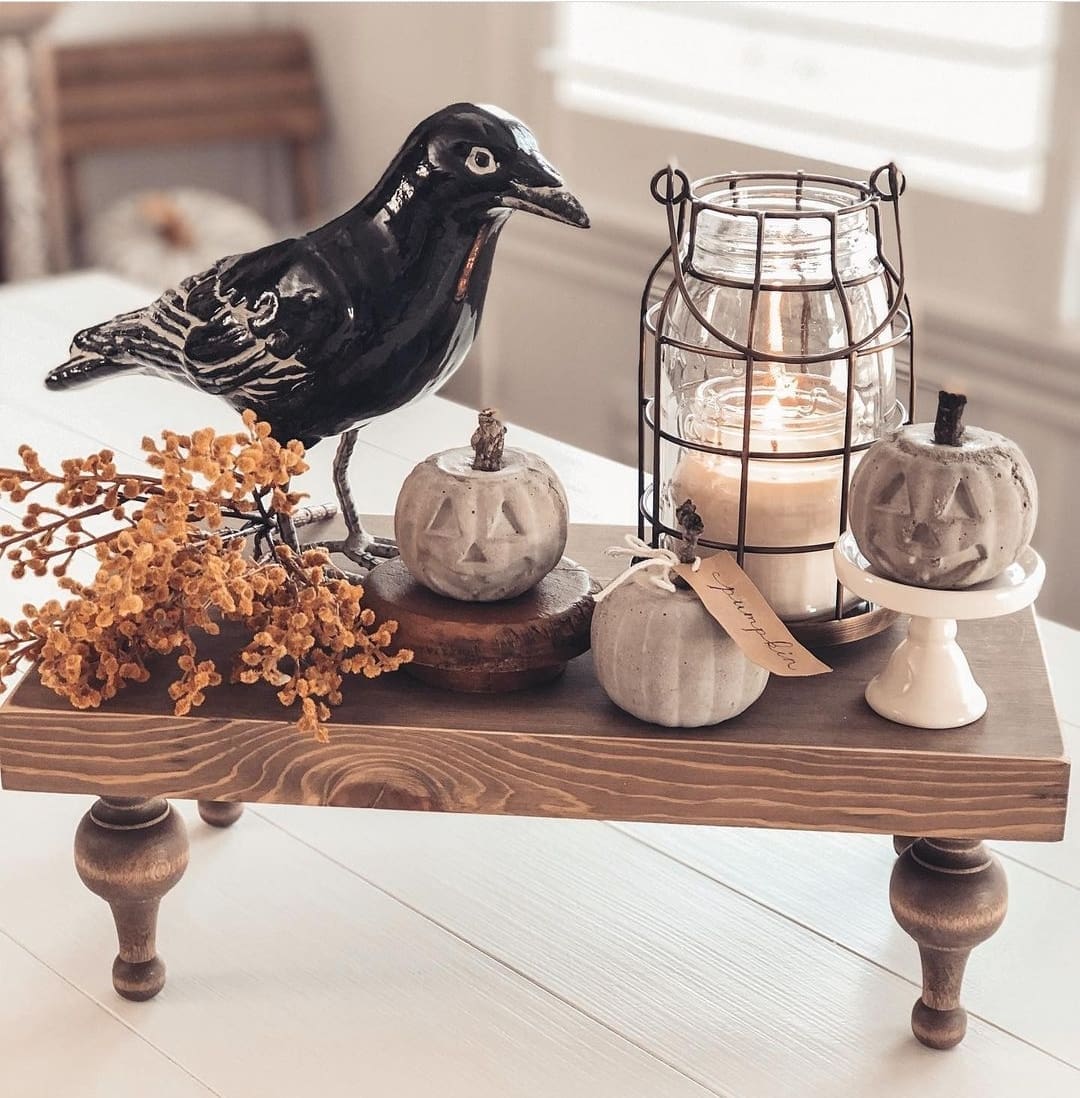 Spooky ghost lights
Imagine a whole row of these little ghosts along a mantel or window sill! This Mas & Pas spooky ghost light DIY is a cute clay DIY that the whole family can enjoy!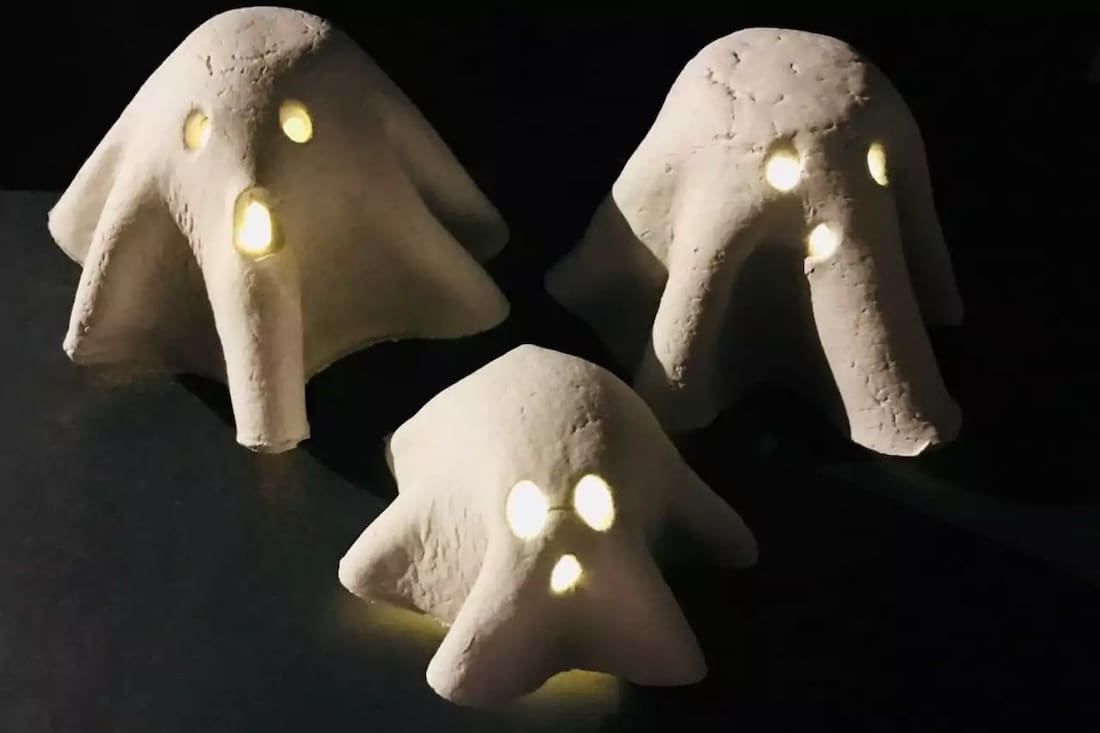 Pot plant in a cauldron
We can't get enough of this idea from Instagram user @psycho_but_cute. We'd never have thought to put a pot plant in a plastic cauldron! Two of these would look fab on either side of your front door too.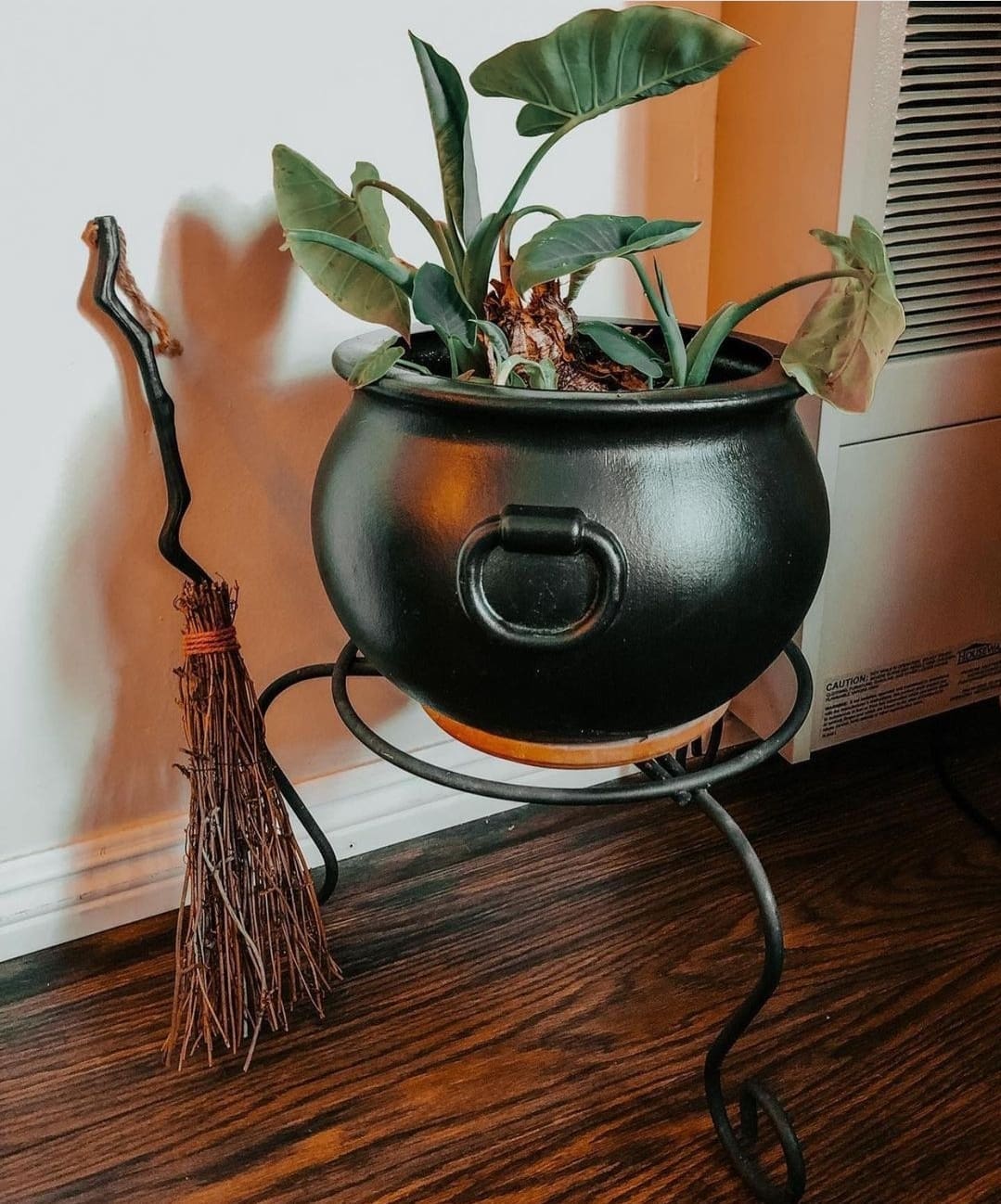 DIY spider web table cloth
Struggling to find the perfect table cloth in store? This affordable Halloween DIY table cloth may be the solution! With a spiderweb design, this tablecloth is the perfect backdrop for all your spooky snacks.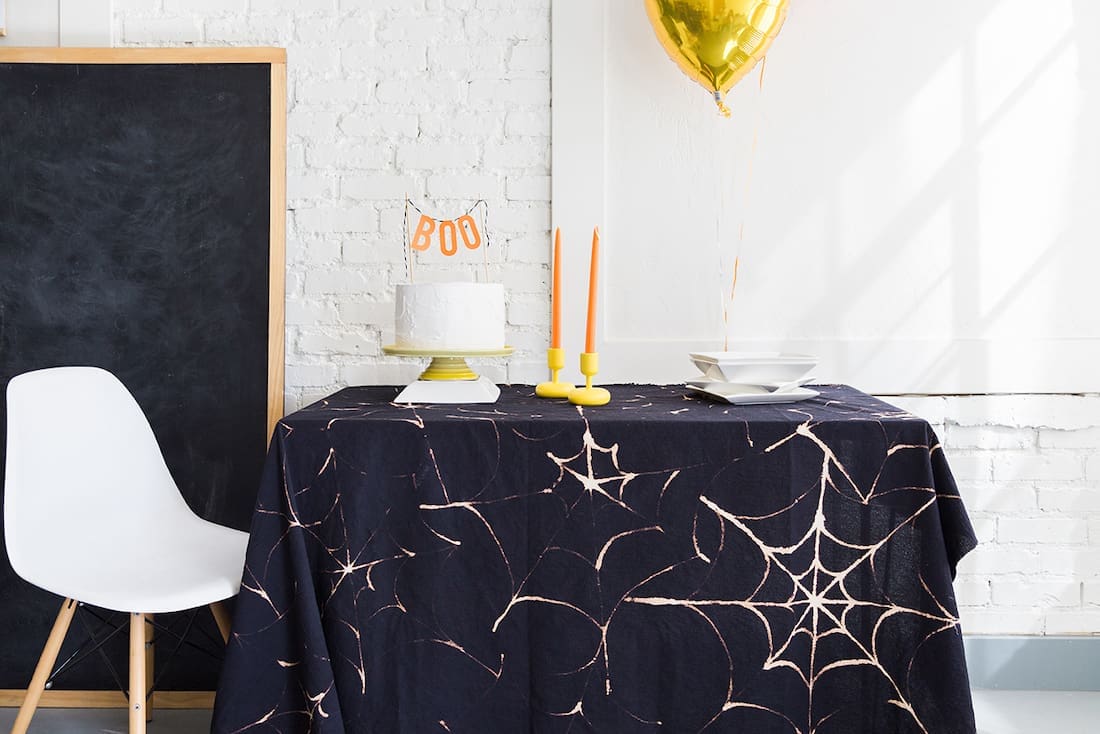 Halloween bar cart
If you're planning on hosting a Halloween party, your bar cart also provides the perfect styling opportunity. Sprinkle a few Halloween accents on the drinks trolley, as well as using the wall behind and floor area to set a spooky scene. Find all our bar cart styling tips and favourite Halloween cocktail recipes here.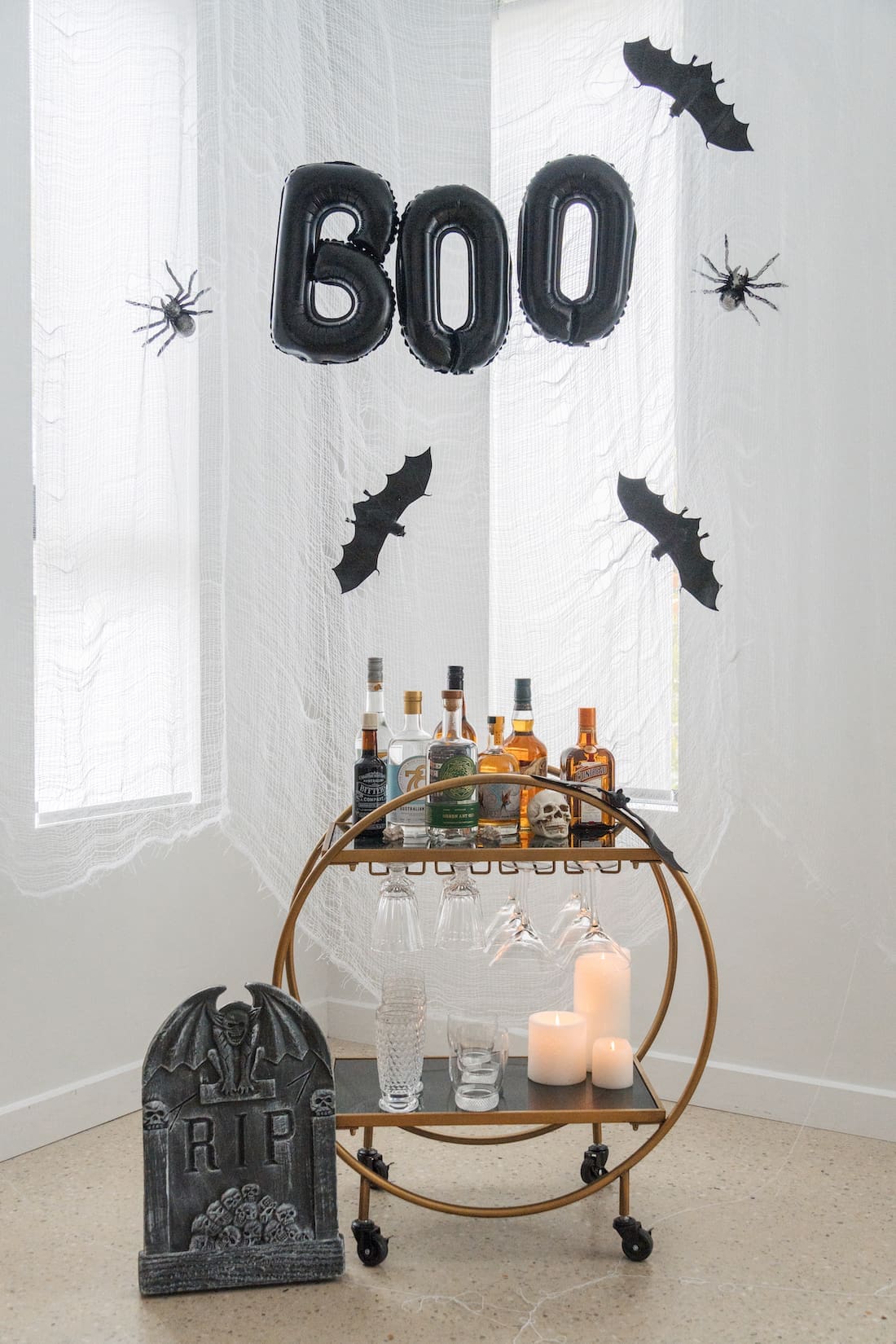 Bubbling cauldron
This fab bubbling cauldron idea came across our feed and we absolutely love it! Super easy and cheap, it's a great way to enhance your Halloween bookshelf styling. And it's by far one of the more elegant Halloween home styling ideas we've seen!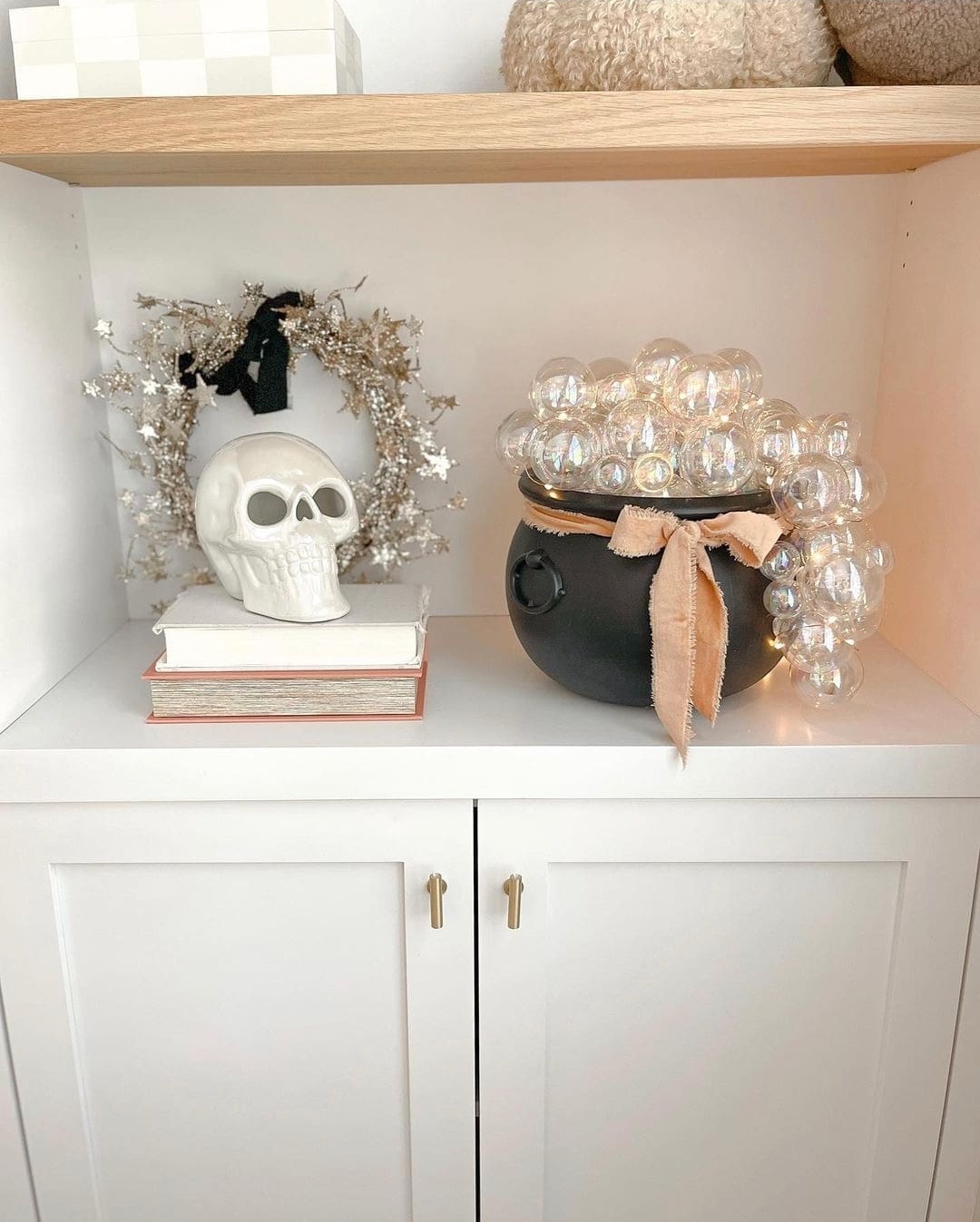 Halloween bookshelf
Speaking of bookshelf styling, your home bookshelf is the perfect place to display Halloween decorations. Weave in a few skulls, creepy decor and black accents for an effortlessly spooky look.
Spooky outdoor Halloween styling ideas
For the next part of this Halloween home styling guide, we're taking you outside. From a more subtle Halloween touch to downright scary, we've collected some of our favourite outdoor Halloween styling and DIY ideas to inspire you this October.
Outdoor bat decorations
American blogger Julie Planner made her entry look super spooky with some reusable bat stickers. It's a clever Halloween styling idea that can be used just about anywhere around the home, outdoors or indoors.
If you're unsure about where to find these sweet Halloween decorations, we founds some waterproof bat decor options on Etsy here.
Custom Halloween neon light
Sometimes less is more and one feature neon light can totally set the mood for Halloween! We also love that this one takes up minimal space and can be used to help people know where exactly your front door is, eliminating the issue of children navigating garden paths or knocking on side doors! Custom Neon is a brand that specialises in neon lights and signs, including a range of Halloween neon lights like the skull pictured below.
Floating spirit head DIY
Before you think 'too hard' or 'too expensive', this creepy Halloween DIY decor is made from affordable Styrofoam mannequin heads and cheesecloth fabric. It's a terrifying idea on a budget! Find the tutorial to make these cheesecloth ghosts on Martha Stewart. Hang them from a tree or stick them on a branch, the opportunities are endless!
DIY spooky planks
We love sustainable Halloween ideas, so this easy DIY was a must-add to our Halloween decor guide. Reuse old timber planks and dress them up with different spooky faces.
It's a simple and affordable DIY idea that you can definitely do with the kids. The best part, they are relatively small and will be easy to pack away for next year! It's a win-win!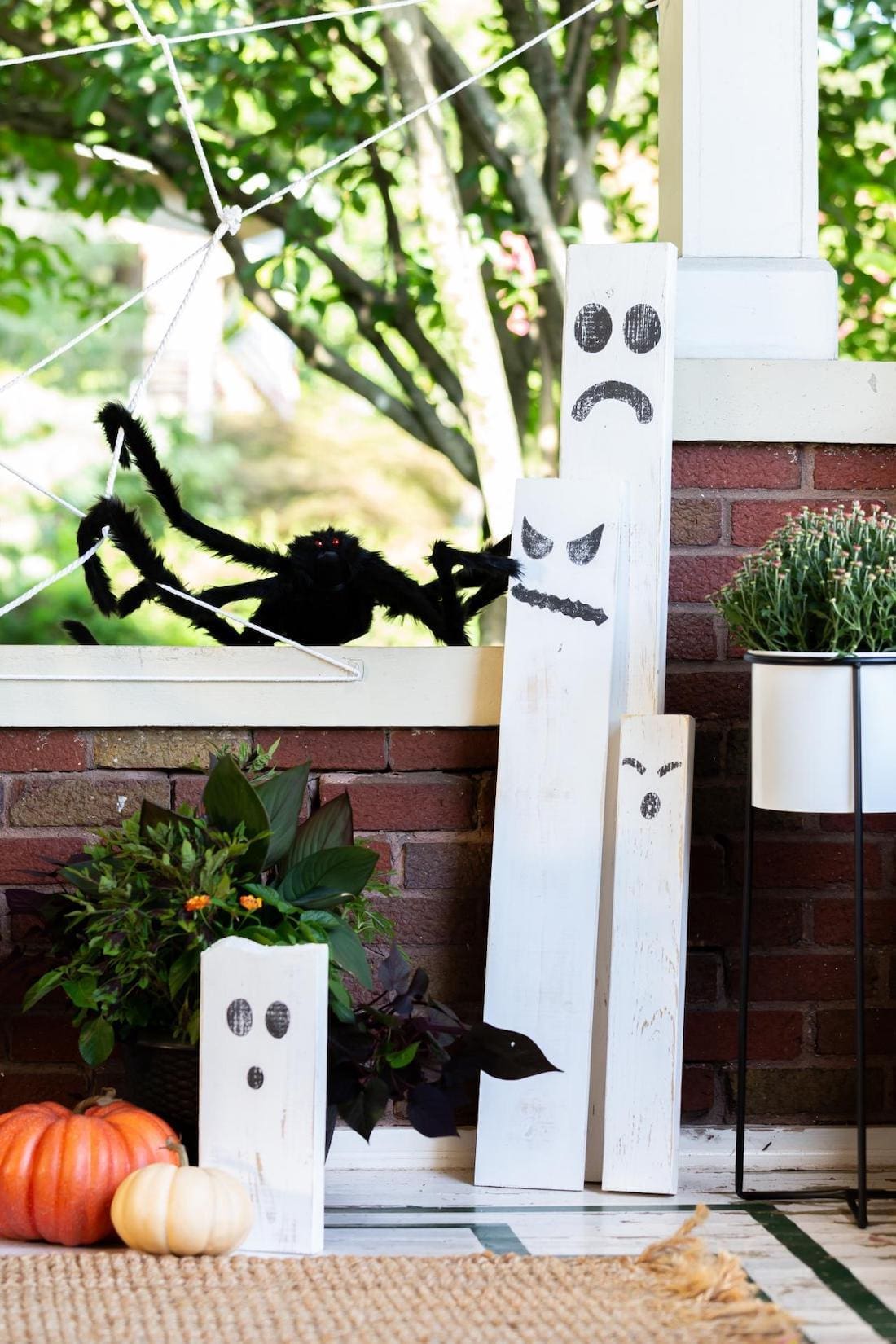 Outdoor floral arrangement
There are a variety of ways to include flowers in your outdoor Halloween styling, and we're loving this minimalist one from The Ginger Home. All they did was spray paint some branches black before placing them in pots and vessels.
This decoration proves how less is often more, and is a super easy DIY idea that we can all do!
Glowing ghost DIY
Instagram DIY-er Macy Blackwell (@macy.blackwell) shared this simple lit ghost DIY, perfect for enhancing your outdoor Halloween styling. Watch her Instagram reel below to see exactly how she made this simple DIY.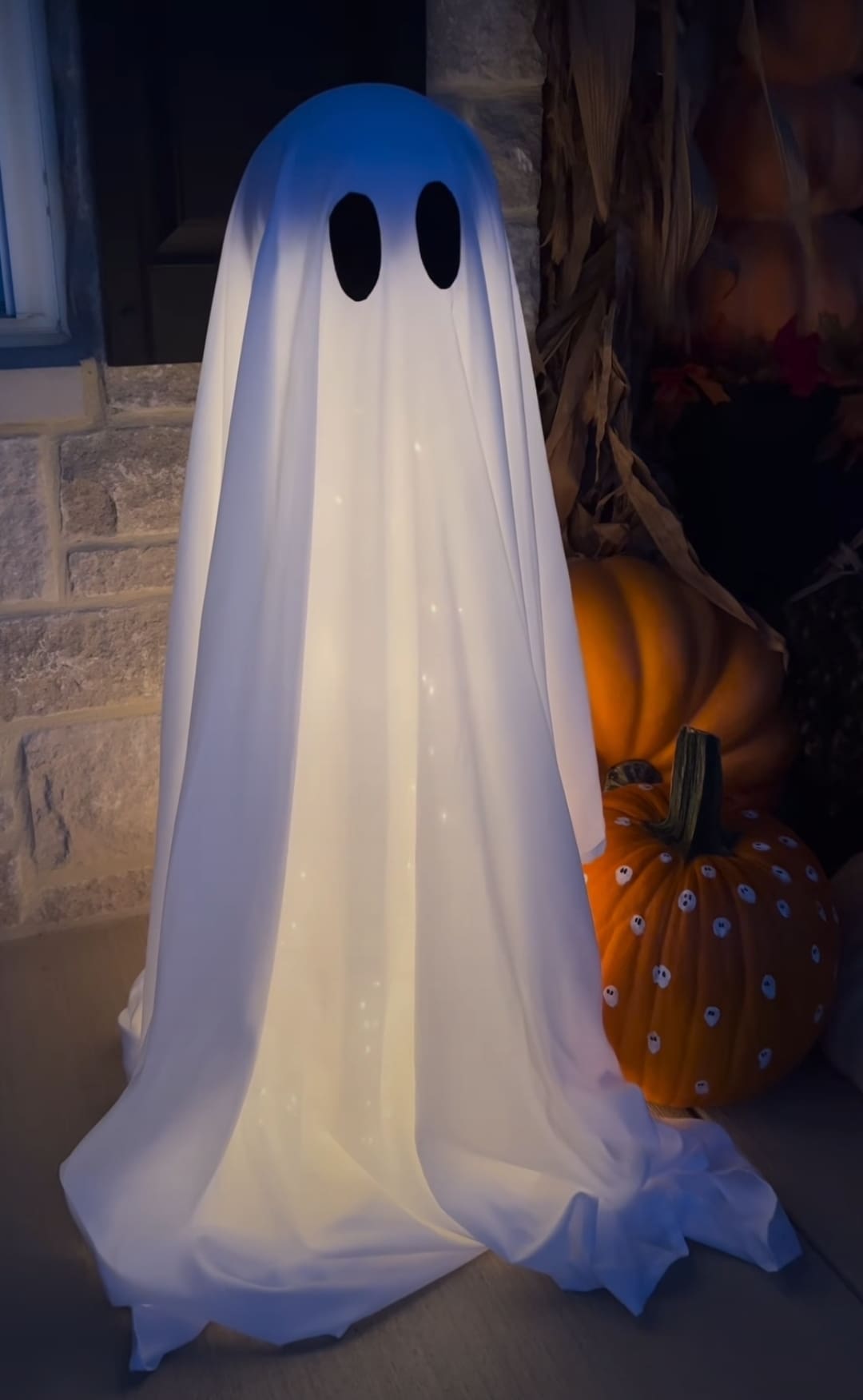 Painted pumpkins
Of course no Halloween styling would be complete without some pumpkins. This year we're seeing a change in pumpkin decorating too! Instead of chancing a serious injury with pumpkin carving, many Instagrammers are choosing to paint and decorate them instead. A great idea for both indoor and outdoor pumpkin decor, we share two creative ideas below!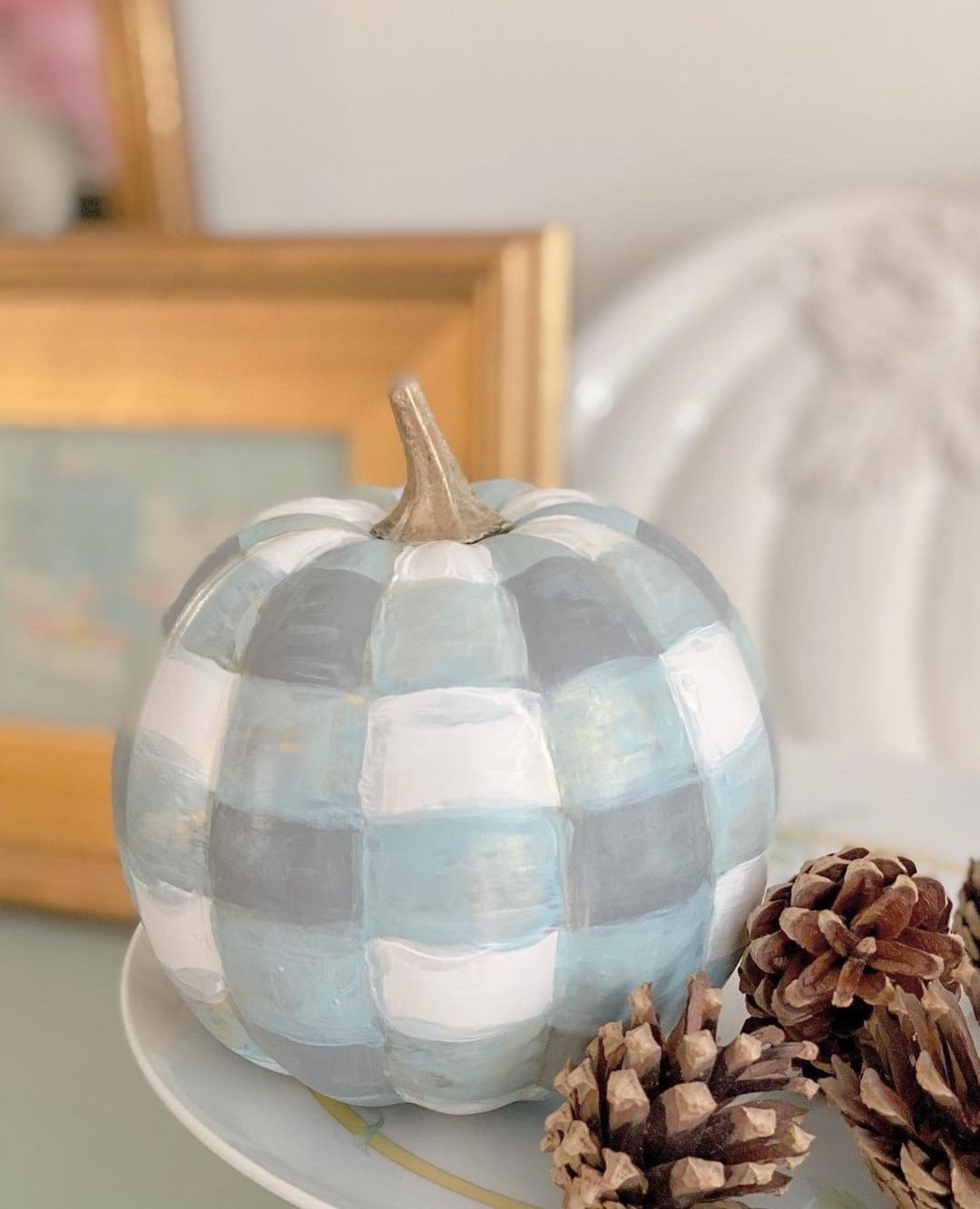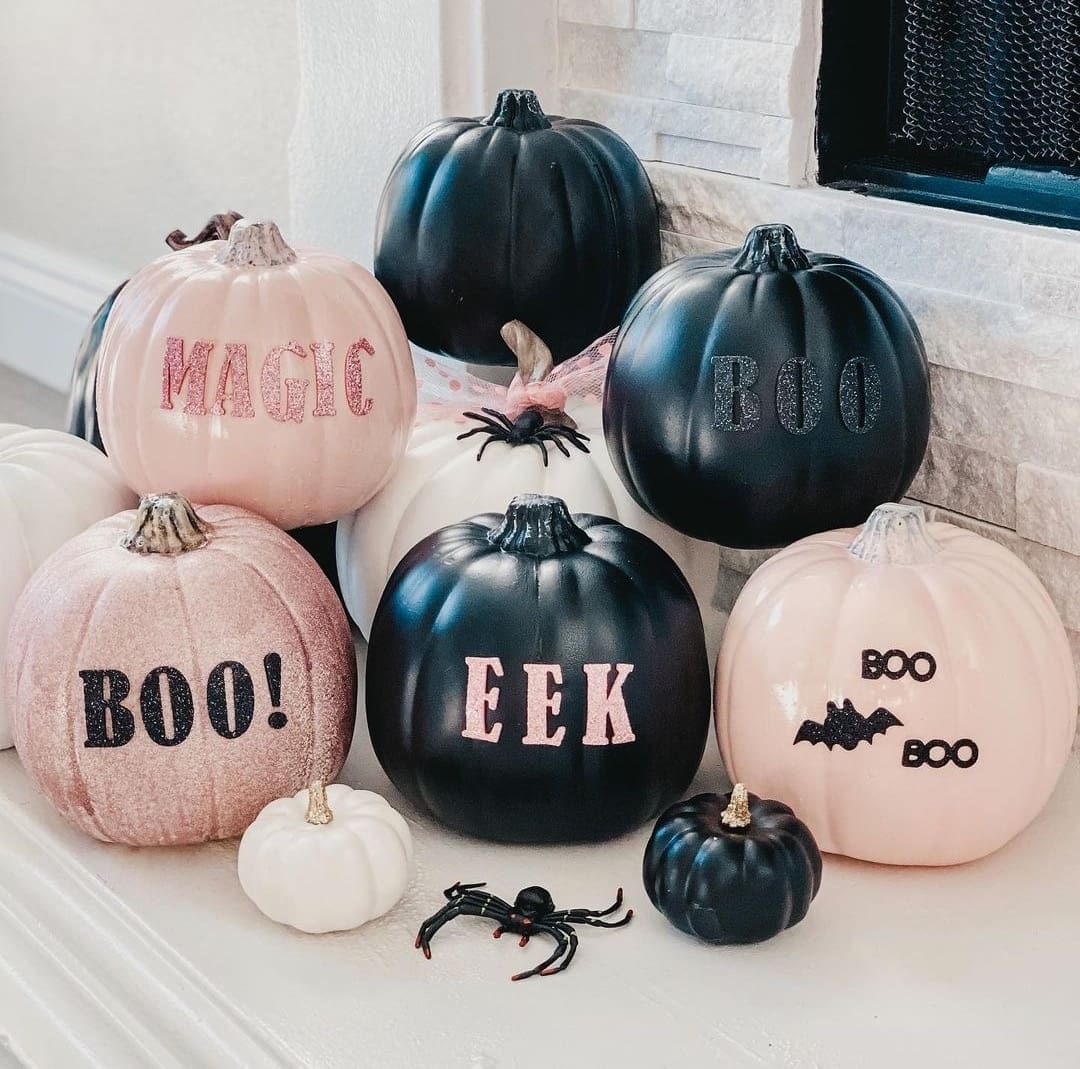 Lantern decor
We have to commend Instagrammer @incrediblyorganized for this clever and simple festive decor idea. You can easily swap out the small pumpkins for other seasonal events like hearts for Valentine's Day, or various Christmas decorations.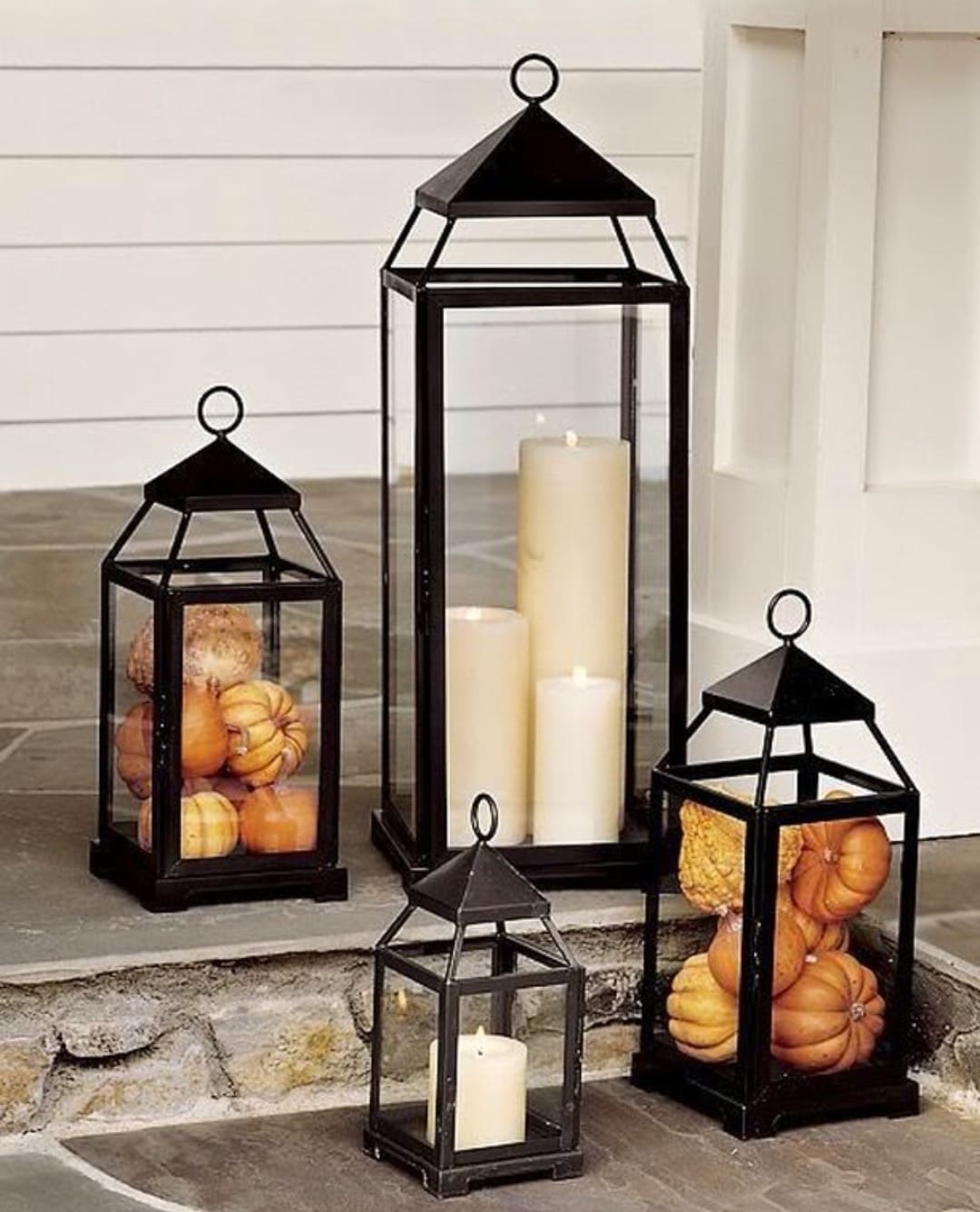 Spiderwebs
Spiderwebs are a Halloween classic, and we can't deny how much we love them! This home example proves it doesn't have to be perfect to be effective. Chuck a few pumpkins or broomsticks in there, and you have a winner.
DIY Halloween door mat
A favourite among many of the Style Curators is our DIY Halloween door mat. Costing just over $10 dollars, it's a budget-friendly option that has seen many versions over the years. Read more about Gina's DIY here.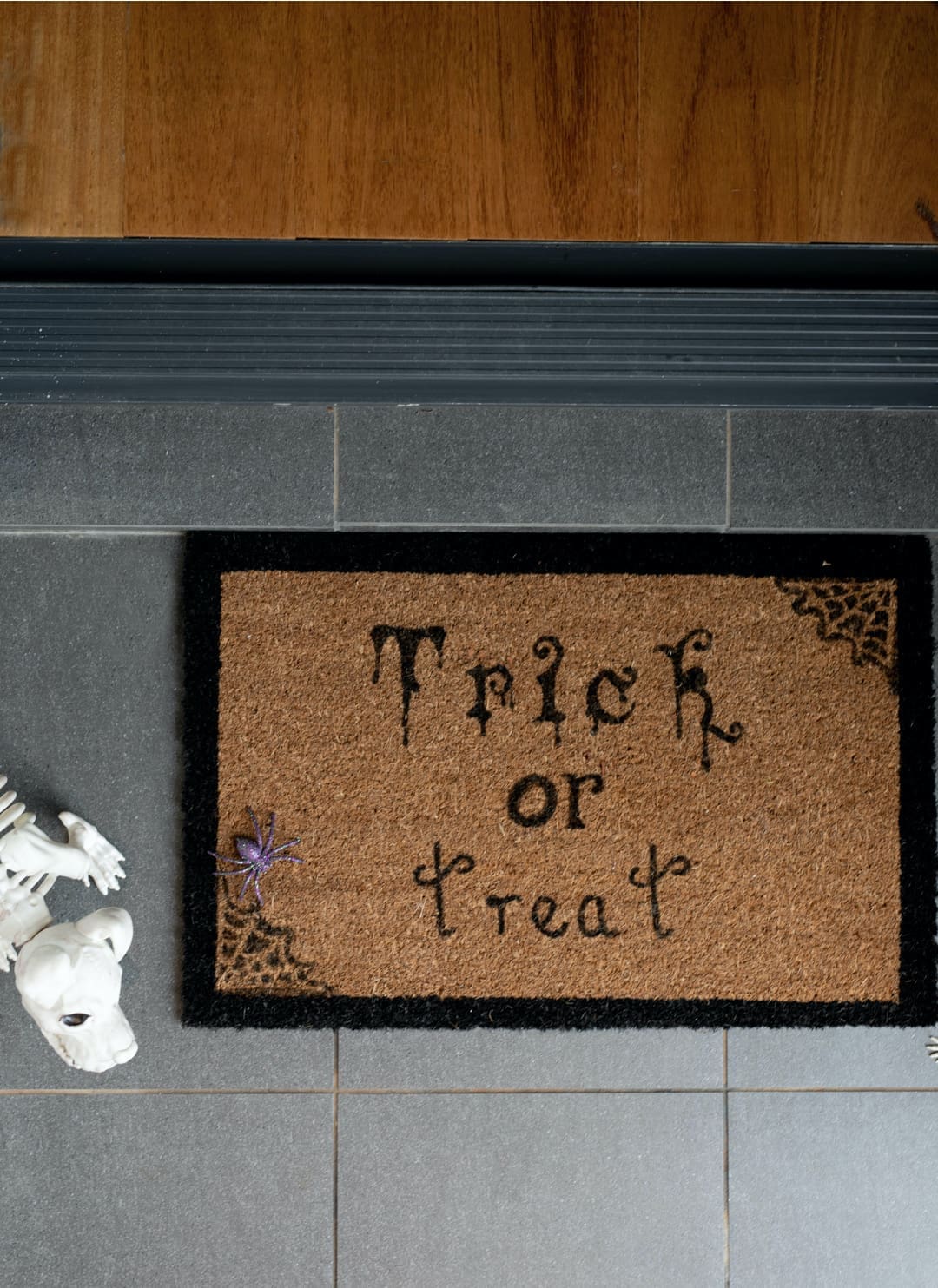 Halloween entertaining ideas
Ok, with your home now fabulously styled for Halloween inside and out, let's look at how you can be the ghostess with the mostest!
Table styling
If you're hosting a dinner or lunch this Halloween, why not spookify your dining table? This large surface in the home often gets left out when styling, but there are so many things you can do. Select a few statement Halloween pieces, or go all out! We've curated some gorgeous images to inspire your Halloween table.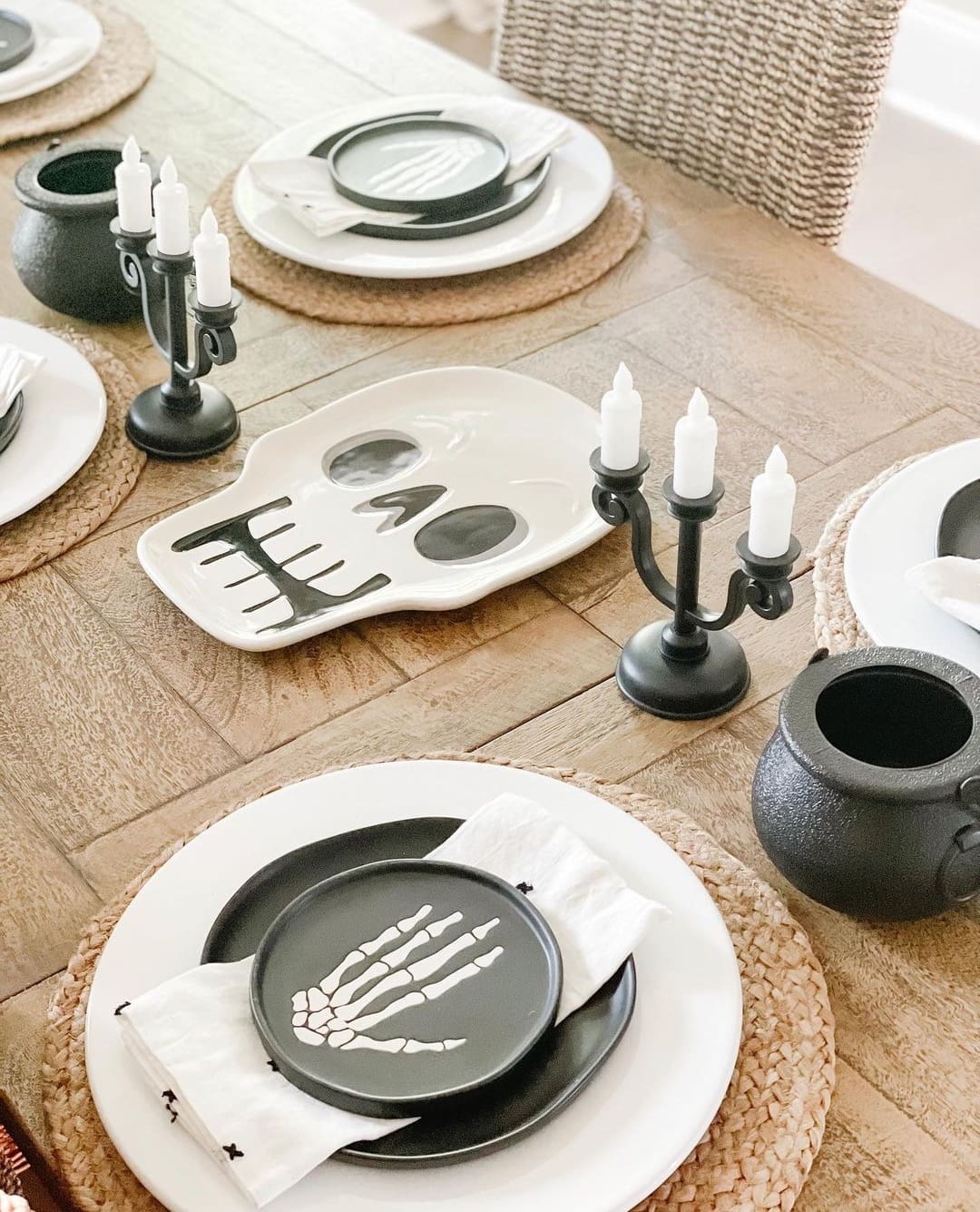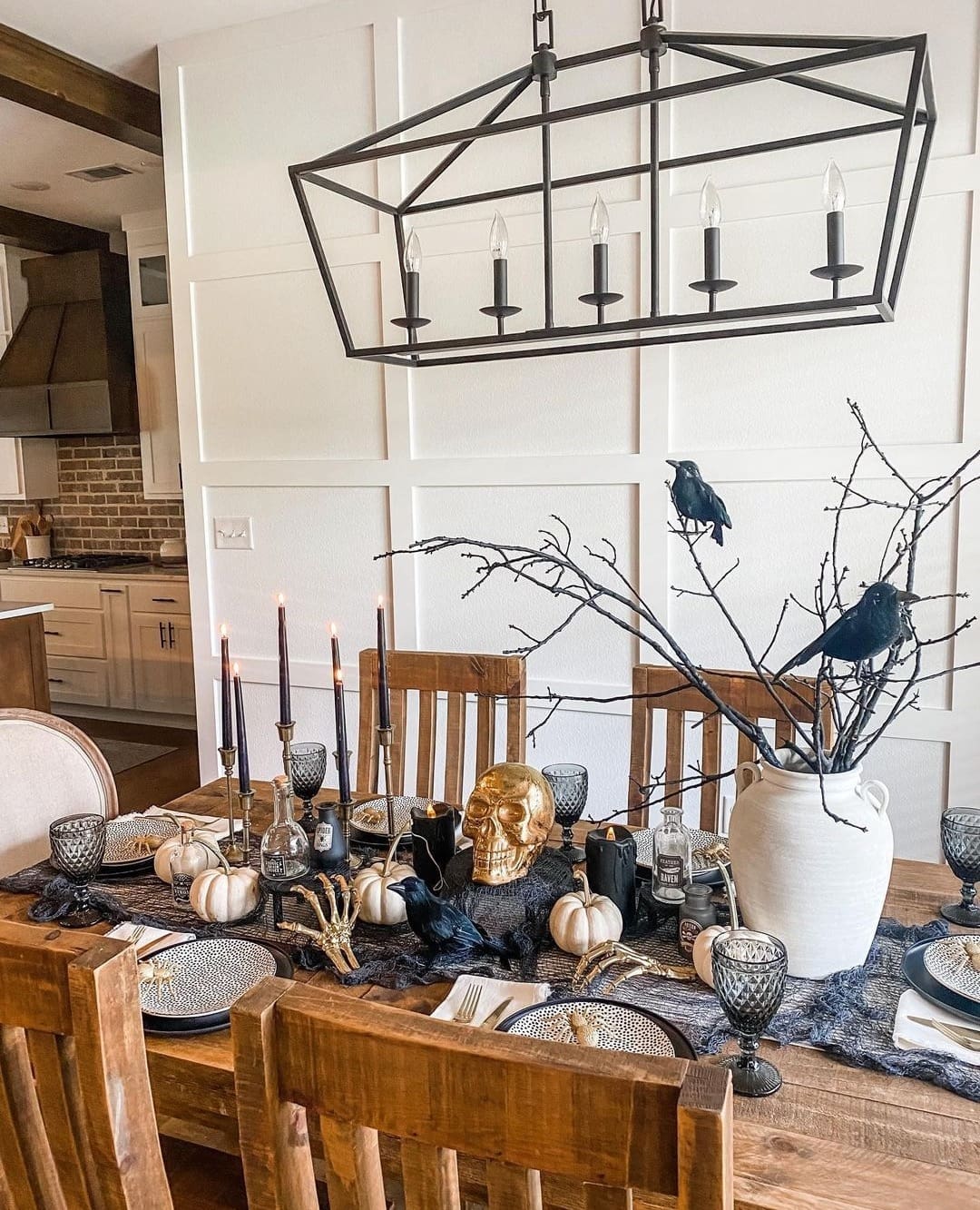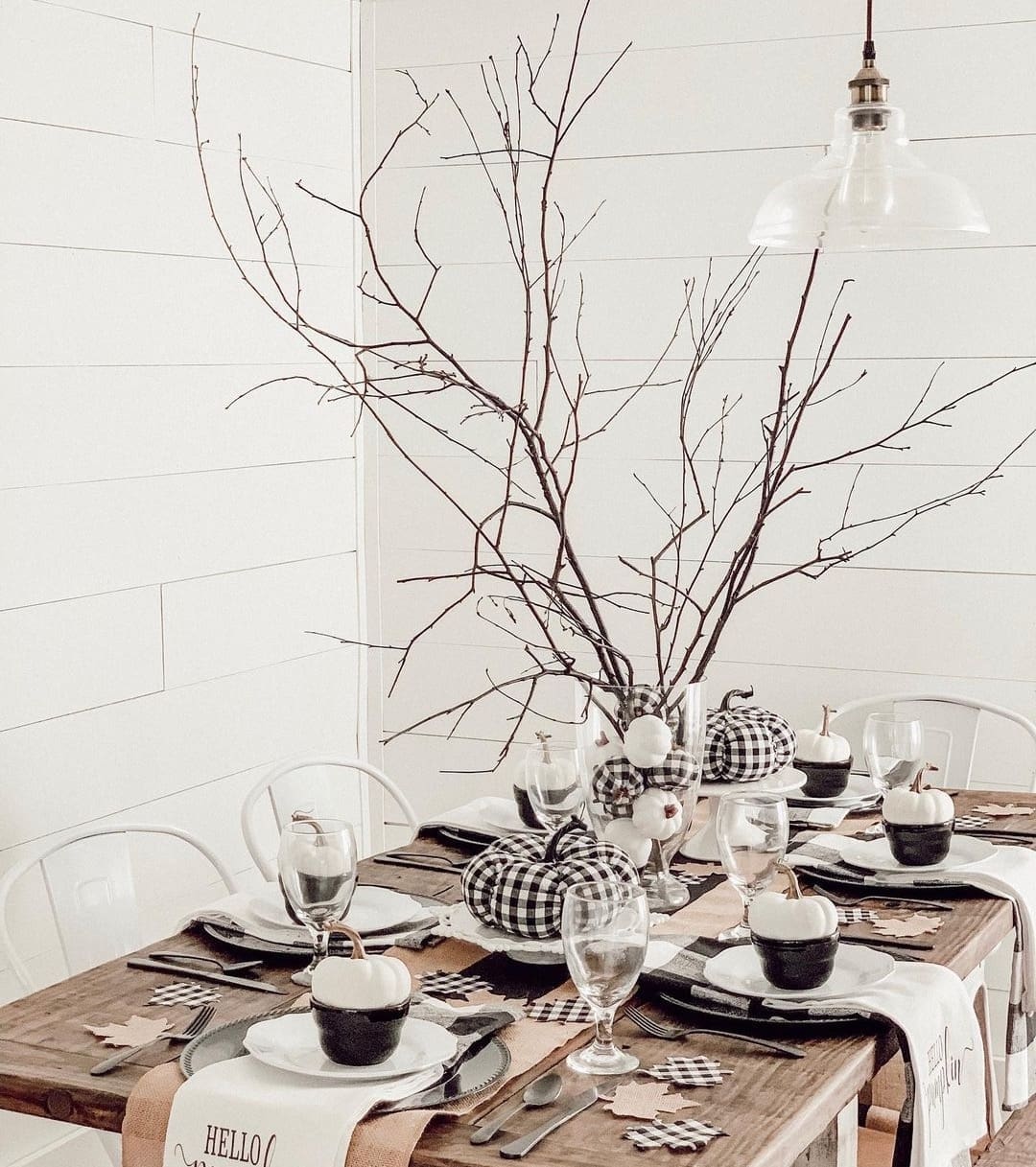 Halloween snack ideas
However you choose to entertain, Halloween snacks are always a good idea. These are some of our favourite Halloween food ideas!
Dressed up snacks
Why should we be the only ones dressing up this year? With a few simple ideas, you can easily dress up your snacks too. We're seeing more creative ideas each year, and here are some of our favourites!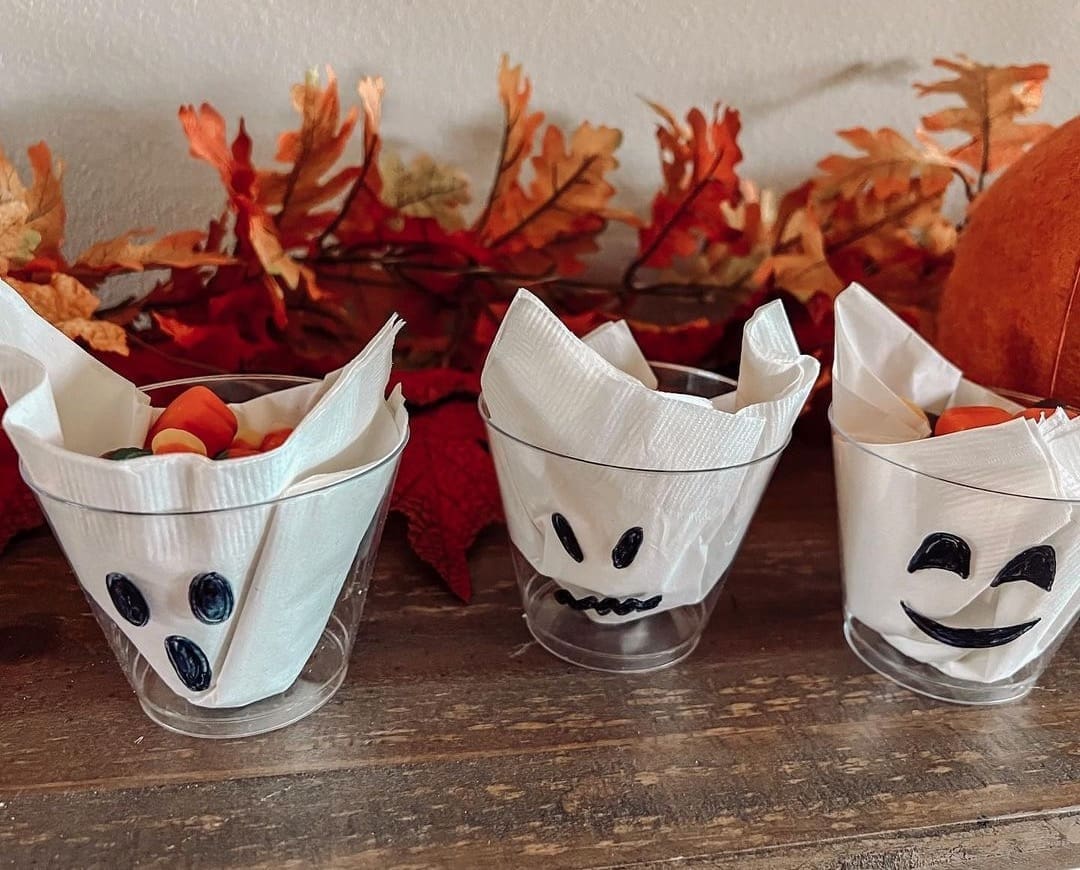 Charcuterie boards
We're also loving all these fab Halloween charcuterie boards! Whether you're using a shaped board or just a regular board with Halloween goodies, your Halloween charcuterie board will certainly be a fan favourite.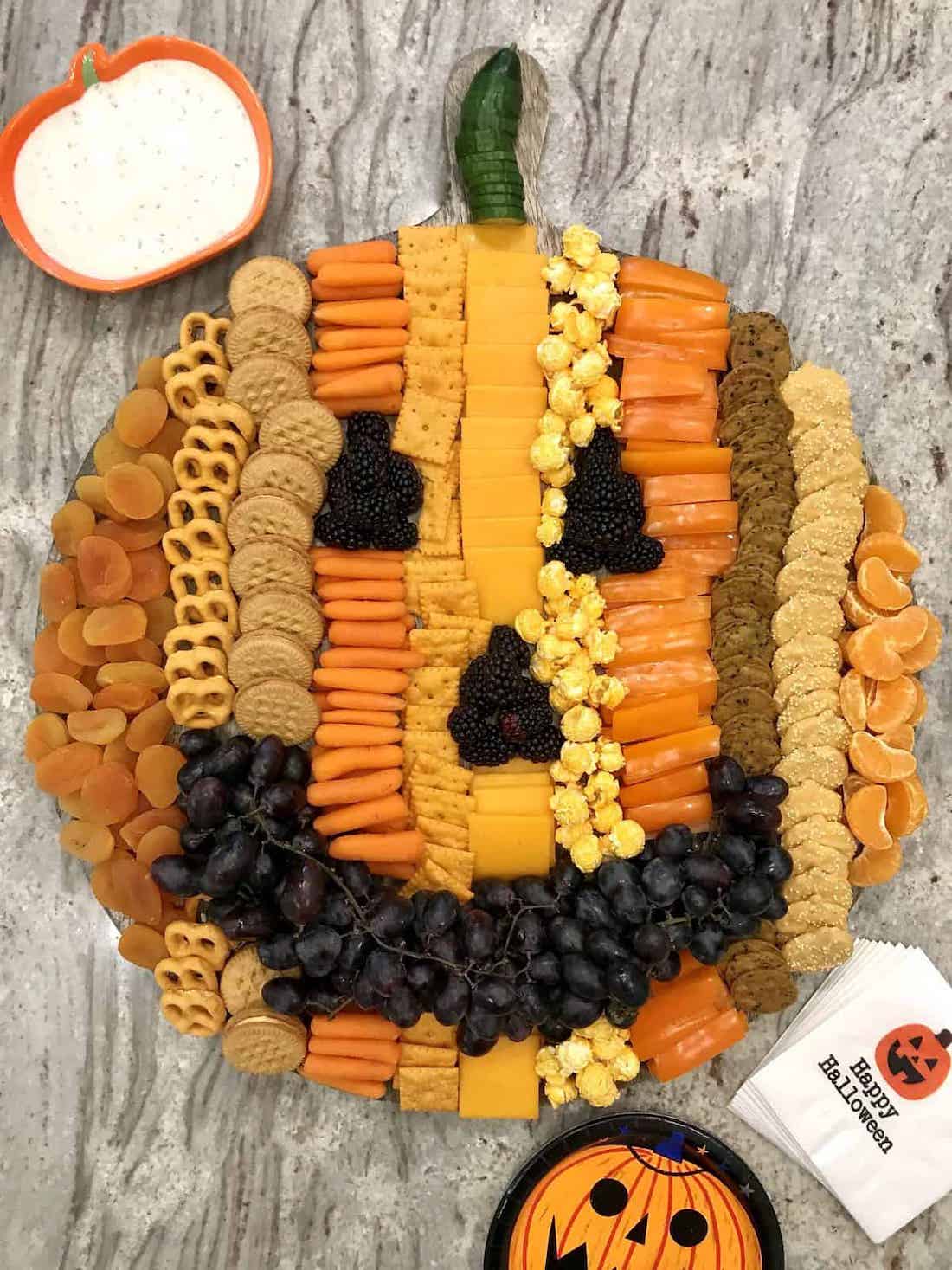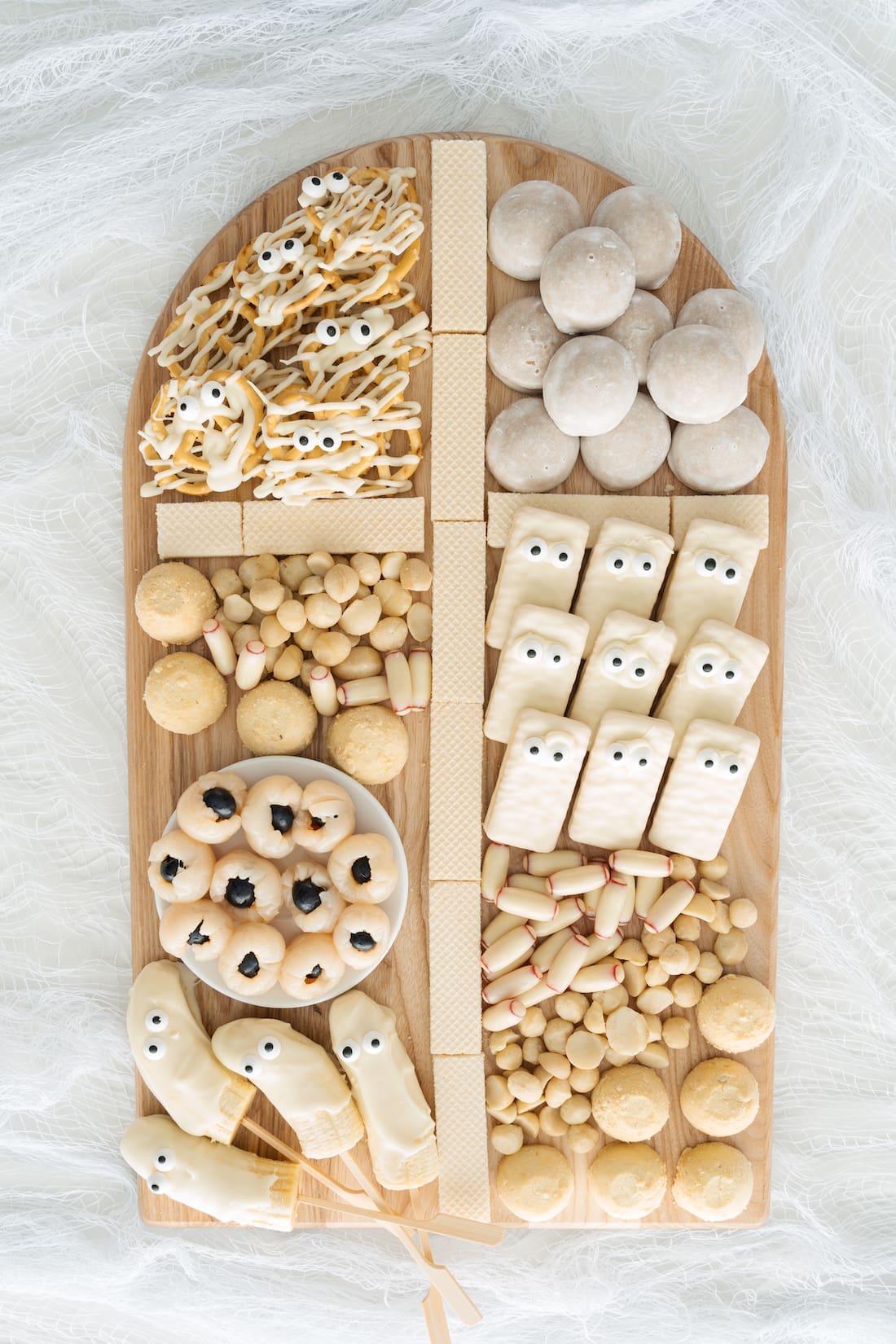 We hope you liked this Halloween home styling guide! What spooky inspo are you using for your Halloween styling? Are there any ideas you think we missed and should include in our Halloween home styling guide? We'd love to hear your thoughts in the comment section below!
This article was first published in October 2022 and continues to be updated with latest styling ideas.