We recently had a reader write in and ask us how to add colour to a Victorian style home? It's a great question, so we decided to call in the experts to make sure we offered the best possible advice and information.
Be sure to drop us an email or have a chat on Instagram or Facebook if you have any specific questions you need help with — they're our all-time fave articles to write!
Related article: Colour and emotion: How to select colour for the mood you want to achieve in your home
Related article: Erskineville main bathroom before and after: Modern take on a Victorian bathroom
What is a Victorian style home?
We love Victorian style homes. They feel so magical… so full of character and elegant in every way.
On the outside, it's all about classics. We're talking picket or cast iron fences, intricate lacework along the eaves, patterned brickwork, double hung windows and stained glass.
Inside, you're likely to find polished floorboards, gorgeous skirting joints, architraves and probably a ceiling rose or two. Perhaps some patterned tiles at the entrance and most likely, some oh-so-on-trend archways.
The Victorian design movement spanned from 1837-1901 and is often be broken up into 3 periods — Early Victorian (1840-1860), Mid Victorian (1860-1880) and Late Victorian (1880-1901). Early Victorian designs had more of a Neo-Classical influence while Late Victorian was lighter, less formal and often had an oriental influence.
Traditional Victorian homes were eclectic and mixed past influences, such as Gothic, with new — it was all about excess, plush fabrics, decoration, pattern, opulence and romance.
Nowadays, Victorian homes are being re-imagined. Preserving period features while giving the spaces fresh life in today's contemporary setting. Due to their historical significance, they can be subject to strict council guidelines so the beauty and history can be preserved.
Fun fact: It's said Victorian style homes have made the biggest impact on Australia's architectural landscape.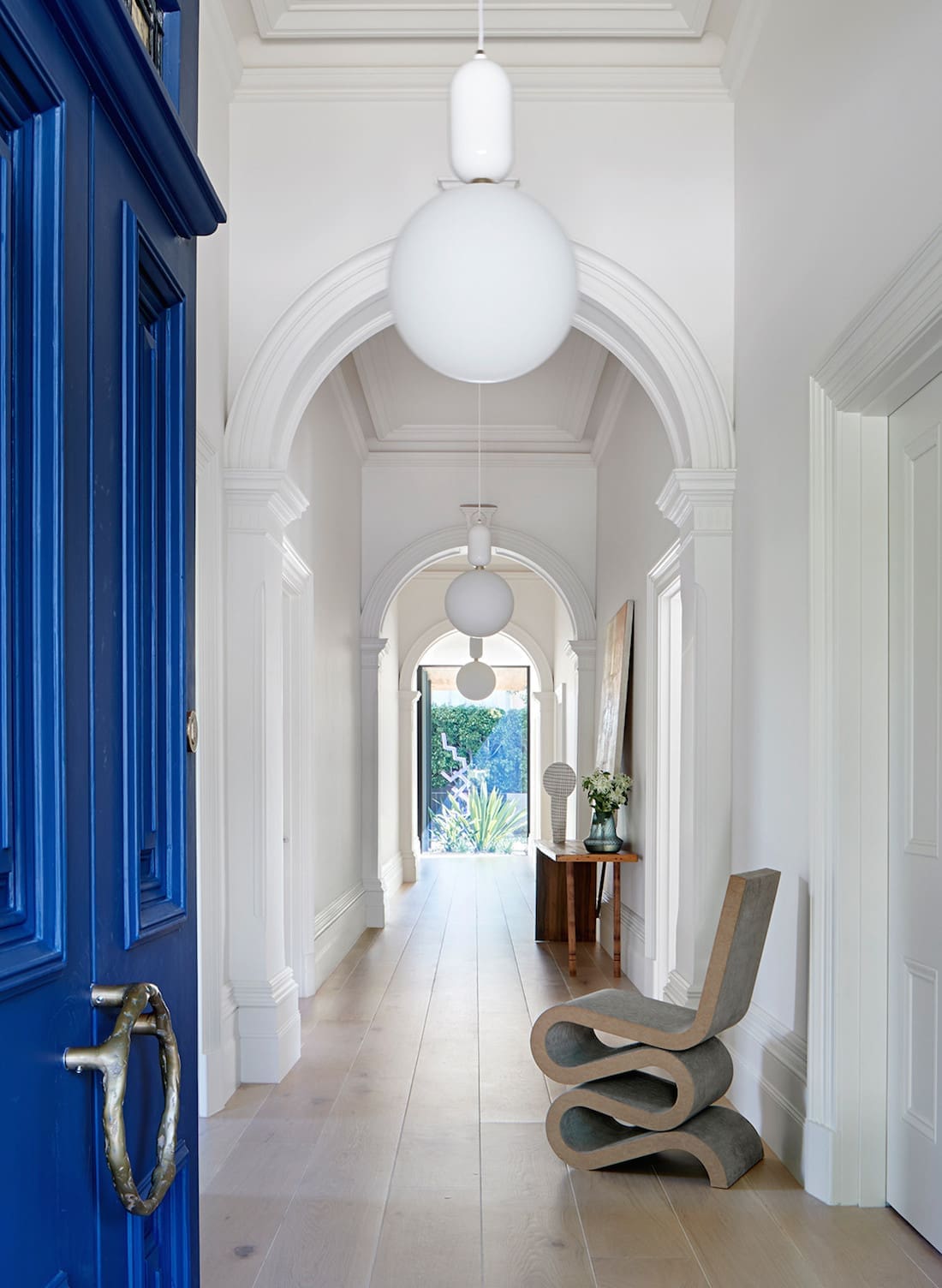 Best colours to use when adding colour to a Victorian style home
All our experts agree… start with neutrals and build up from there.
"As a general rule, we tend to start with a good base palette of contemporary neutrals," says Jasmine McClelland from Jasmine McClelland Design.
"Victorian homes are rich in character and charm but colour can be a bit daunting for some. You can be bold and emotive, but still easy on the eye!"
Royal colours are a popular traditional choice for Victorian homes. Nicole Rosenberg from Liberty Interiors loves to work with dark, bold colours to make a real statement.
"I do love painting an entire room in a feature colour — this does not mean it can only be grey, though!" laughs Nicole.
"Try a moody, deep green colour, then keep the rest of the room neutral and white. Or, dark navy is another favourite of mine. I love when a room features a bold colour but keeps the trimmings and woodwork traditional in the crisp white."
Gina Ciancio, editor of Style Curator and the designer behind the Erskineville Victorian terrace renovation, agrees deep, rich colours featured heavily in Victorian homes.
"Victorian colours are warm and can range from deep, rich reds, browns and blues, through to shades of teal, sage green and mustardy yellow. Soft colours with grey or cream bases are also popular.
"I'm a visual person and like to see colour before me so I created a palette of traditional Victorian colours that I hope will help people who are wanting to familiarise themselves more with this design style."
Key points: Deep, rich colours are our top picks. Then, stick warm neutrals.
How to create a colour palette for a Victorian home
Let your home's heritage guide you
Gabrielle Reinhardt from Berkeley Interiors says when choosing a colour palette for your Victorian style home, let the home itself guide you.
"It really depends on if you are renovating to be faithful to the traditional look of the house," says Gabrielle.
"Alternatively, you can create a contemporary look within an historical home. I really like going for a mix of the two. Chose a fresh colour palette, rather than feeling like you have to go traditional. This is a great way to add colour but still make the most of the architectural interiors.
"I would suggest going for warm neutrals rather than cool neutrals in a traditional setting as these will bring more warmth to the space.
"The ideal way to decide on a colour palette for your home is to use an interior designer. They will be able to come up with the overall look and feel and concept for your home. This includes paint colours, finishes, furniture and furnishings as well as artwork that tells a story throughout your home."
See what you've already got
Jasmine agrees that the heritage of the home is key to getting the colour palette right.
"With a Victorian home, you need to consider the heritage while trying to pull it into the contemporary content. There's a few things to think about when choosing the right colour palette.
"These include considering the size of the space you're working in, the amount of natural light it receives, the flooring, any existing furniture or artwork — these will determine what impact you're trying to create," she says wisely.
"Often we see a modern extension added to the back of the traditional Victorian style home. If this is the case in your home, we would suggest finding a linking colour that will carry through and work in both the old and the new spaces."
Nicole also suggests letting what's already in the home dictate the rest of your colour palette.
"I think a good place to start is considering your fixed elements first. For example, your cabinetry, any stone features or flooring. Then you can get adventurous with your colours," she says.
"Start with your neutrals — whites and greys — then choose one or two bolder colours to make a real statement within different rooms.
"Remember that paint isn't forever and can very easily be changed down the track so it's good to extend yourself a little with the statement colours and live a little!"
Take it one room at a time
Gina recommends breaking the project up to avoid become stuck or overwhelmed.
"I always feel that the most successful homes are the ones that avoid the safe route of being 'matchy matchy'. Yes, you want your home to have consistent elements so it doesn't become disjointed but not every room needs to match — or should! To make deciding on a colour scheme more manageable, I suggest taking it one room at a time," she says.
"As the other designers have mentioned, there may be some character features of the home in a particular colour that you need to respect, such as a tile around the fireplace or at the entry, and this can be a great starting point for developing a colour palette.
"If you don't have something old to work with, look for something new. Perhaps when looking for new materials, you stumble across a tile for your bathroom or wallpaper for your study that you just love, and this can be a great launching off point.
"Otherwise, I often bring it back to colour psychology and suggest clients think about how they want to feel in a space and pick out accent colours that will achieve that mood."
Key points: Let the existing features of your home be the guide. Choose your neutrals first, then get bold with one or two statement colours! Don't be afraid to have some fun!
Where are the best places to use colour in a Victorian style home?
Front door
A fun place to add colour to a Victorian style home, is painting your front door. Be it bold, bright, subtle or fun… it's a simple and easy way to add a pop of colour and really show off your personality.
Sitting room and bedrooms
"Sitting rooms and bedrooms can be great spaces to use colour, if you aren't bold enough to go throughout the entire home," says Jasmine.
"These are both cozy and comfortable spaces where you go to relax, which means you can also have a bit of fun with them!
"I also love adding colour to the hallway. Being a passageway, it means you don't spend a lot of time in there — unlike the kitchen or study — so it can make for a really impressive entrance into the home!"
Check out this article for an interior designer's step-by-step guide to styling a sitting room.
Nicole loves the idea of going big with colour on all the walls.
"I love using colour so I wouldn't be scared to use it in all the bedrooms and other areas such as lounge rooms, study or playrooms. If you don't feel as bold with colour then just do one room such as a lounge room or study to give it a different feel and vibe. I would suggest keeping open plan living areas neutral.
"I'm working on a few traditional Victorian homes at the moment and painting the front formal sitting room (historically called drawing rooms) a moody, deep green colour. The rest of the home we're keeping neutral and white.
"When painting the walls of a feature room a deep colour, it's always nice to give a nod to tradition and keep all the trimmings and woodwork a crisp white."
Wallpaper is another fun way to add colour, pattern and texture to a room. Plus there are plenty of removable wallpapers on the market, if you're not sure you can fully commit to the idea!
Study and powder room
Gabrielle agrees, saying the main living spaces are best kept in neutral tones.
"My favourite spaces to use colour in a Victorian home are in rooms like the study, bedrooms and powder rooms. I think it's best to keep the living areas more neutral but would certainly use some colour in a sitting room if you have one."
Cabinetry
While it goes against convention to suggest coloured cabinetry, Gina says it was one of the most successful aspects of the Erskineville renovation.
"If the client is feeling brave and open to it, I love the impact of coloured cabinetry in a home — it just sets it apart from every other home you see. While I wouldn't suggest lilac cabinets (one of the Victorian colours in the palette above), anything in a neutral or timeless shade, such as the dark blue, sage green, warm mushroom or even black, would be great options."
Key points: Add colour to sitting rooms, bedrooms, study and powder rooms. Stick to neutrals in open plan living spaces unless you're feeling particularly brave!
To feature wall… or not to feature wall…
To avoid your room feeling dated, our experts agree… it's a no to the feature wall!
"One thing about Victorian homes is that they didn't have feature walls! They had feature rooms! I'm a big advocate of painting all walls in a room rather than just one. Painting just one wall always makes the room feel smaller," Nicole explains.
"I would not use feature walls as this is dated and draws too much attention to the one wall. Instead, paint all four walls but keep the ceiling, architraves and skirting boards white," says Gabrielle,
"Another option is to go for white walls with darker trims."
"Definitely paint all four walls for your Victorian home. And for the ceiling, use a light neutral. This allows it to feel high and the space to feel bigger. This is particularly important if you've used a darker wall colour," Jasmine says.
Key points: Make it a feature room, not a feature wall. Keep the trims and ceiling white.
Thank you so much to all our experts!
Jasmine McClelland — Jasmine McClelland Design
Gabrielle Reinhardt — Berkeley Interiors
Nicole Rosenberg — Liberty Interiors
Gina Ciancio — Style Curator
Has this inspired you to add colour to your Victorian style home? Or maybe you have another topic you'd like our experts to tackle! Let's chat in the comment section below.
Disclaimer: This post contains an affiliate link. This means that when you click on a link and purchase something from that site, we may make a small commission at no extra cost to you.