Supported by Early Settler
With the festive season quickly approaching, many of us will be making plans for our traditional Christmas brunch, lunch or dinner.
We're lucky in Australia to have warm weather that makes outdoor entertaining an appealing option.
Today I'm sharing my tips to create a floral and festive outdoor entertaining area — hopefully to inspire you to dine outside and try a little non-traditional festive styling too.
Related article: 3 Christmas table settings to inspire you
Related article: Scandinavian inspired Christmas table styling — that's affordable!
Start with the essentials
Functional and stylish seating is a must and it's important to stick with outdoor furniture that's designed to withstand the elements. I just love these new season white 'Cate' chairs from Early Settler as they're stackable, durable and so on-trend, and I've paired these with my handmade timber and metal frame table. Together these make for a relaxed and stylish yet comfortable outdoor dining area.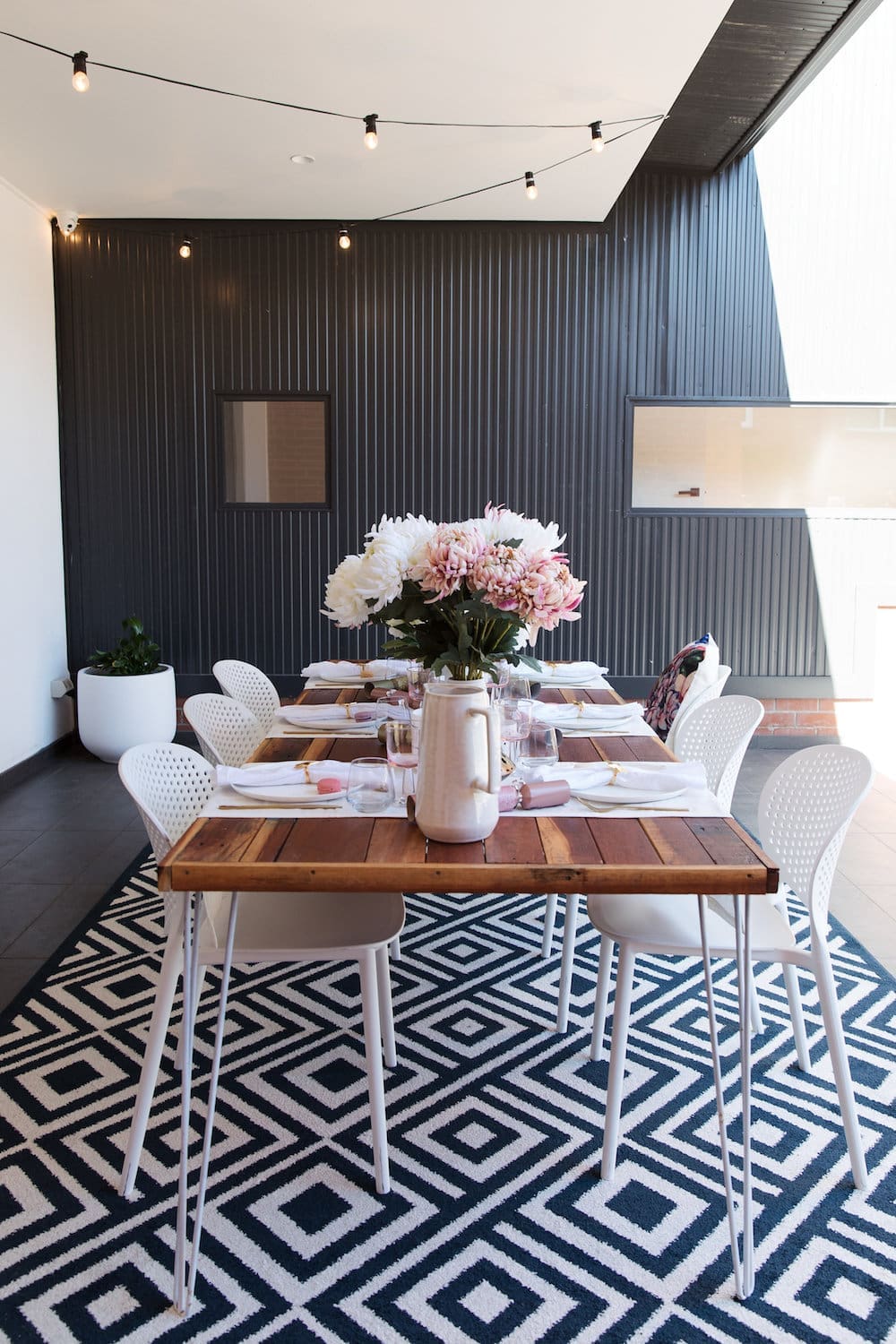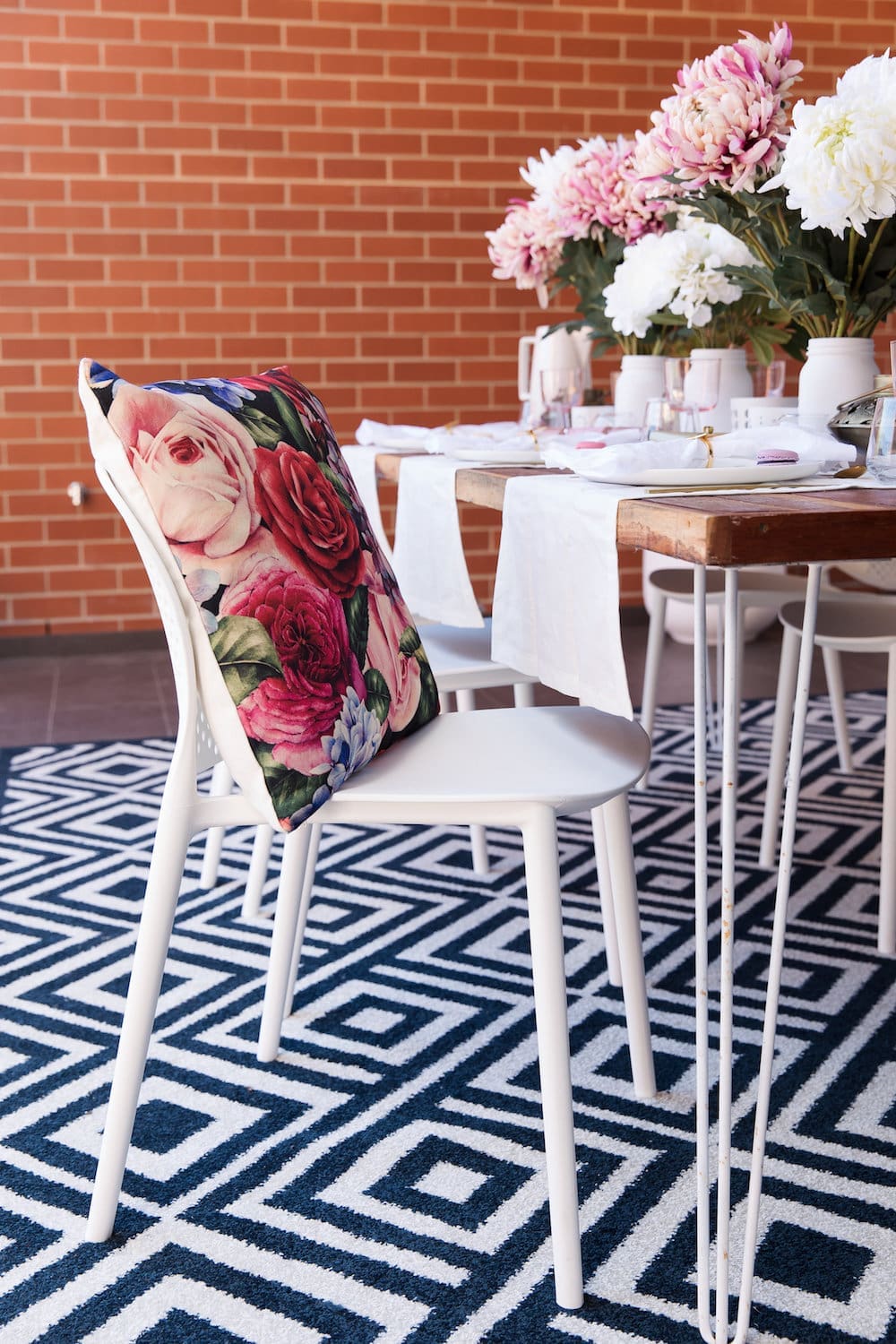 Zone the space
To anchor the seating area and create the sense of a zone, you can't beat the visual impact of a large rug. Rugs soften hard surfaces and frame spaces.
There's a huge range of affordable outdoor rugs on the market and this one is from Rugs of Beauty. A tip when buying rugs is to select one that's large enough for the table and all chairs to fit on. Also, if you have neutral furniture in the space (as I have), you can embrace a colourful print on the rug, which acts as art for the floor.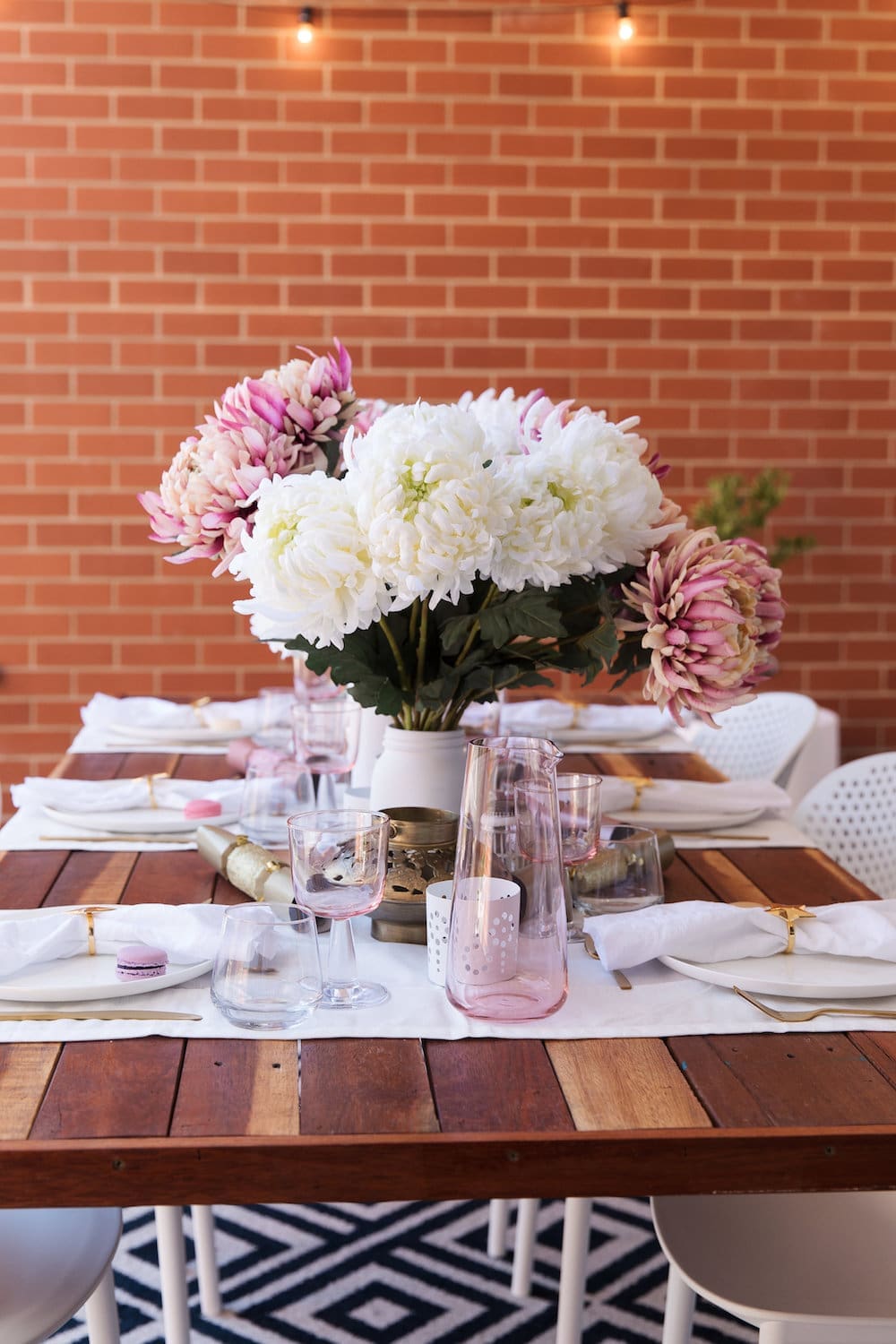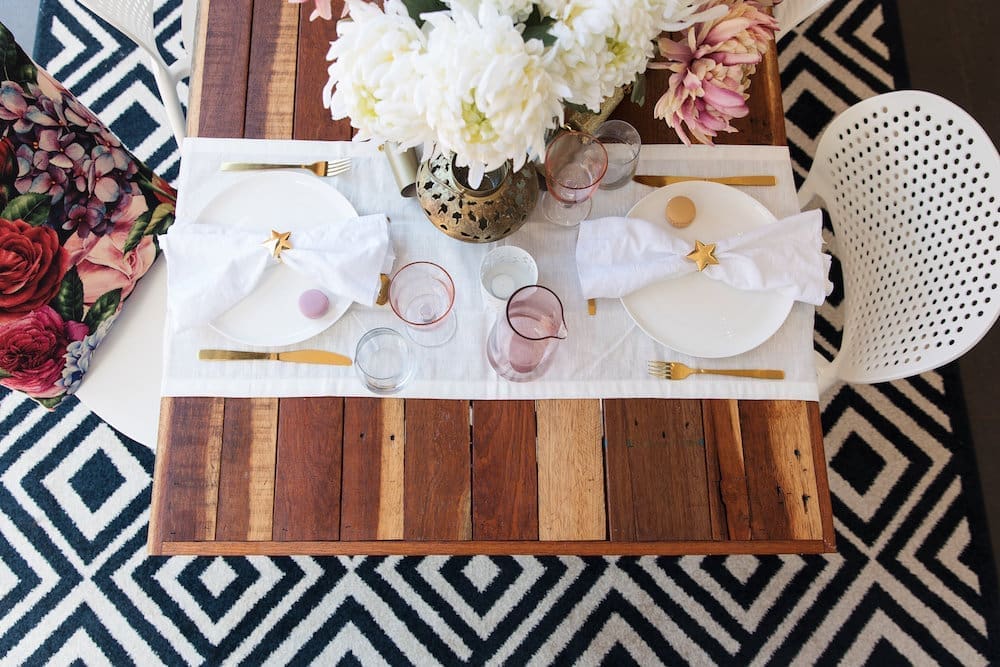 Style the table
Outdoor entertaining should feel relaxed so I haven't used a full tablecloth on the table — rather I used white table runners width wise as placemats. I also used more 'deconstructed' centerpiece styling.
Large floral arrangements look great and these ones are actually faux flowers from Early Settler, which I placed in inexpensive mason jars that I painted white. Several Moroccan style lanterns and candle holders (also from Early Settler) and other white and clear glass tealight candleholders fill in the rest of the centerpiece styling.
For the festive feel, I placed gold Christmas crackers on the table, which pick up on the metallic accents of the cutlery. Star napkin rings also add to the look.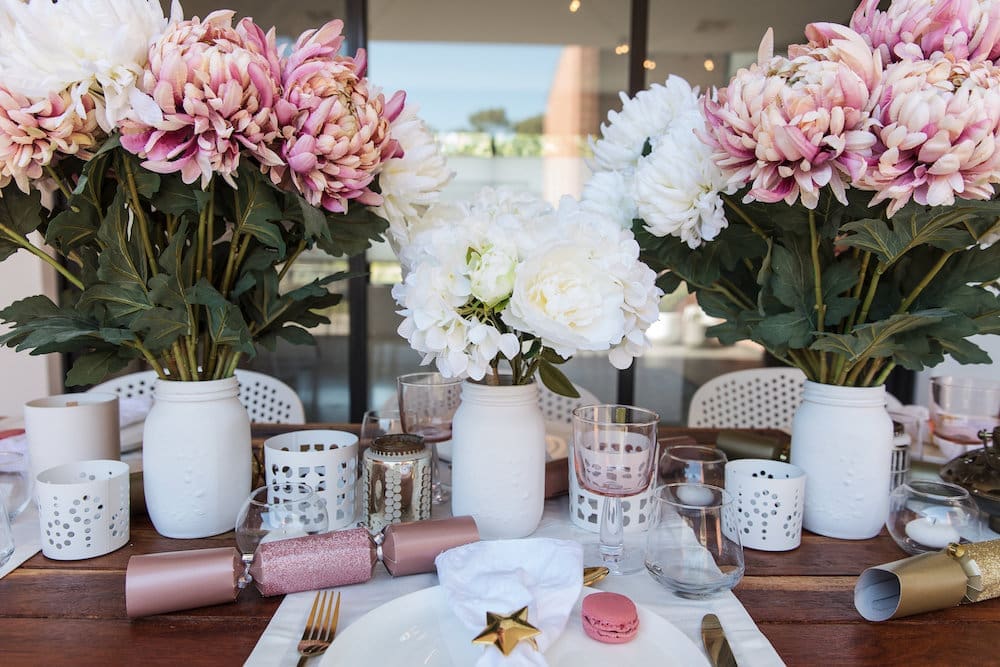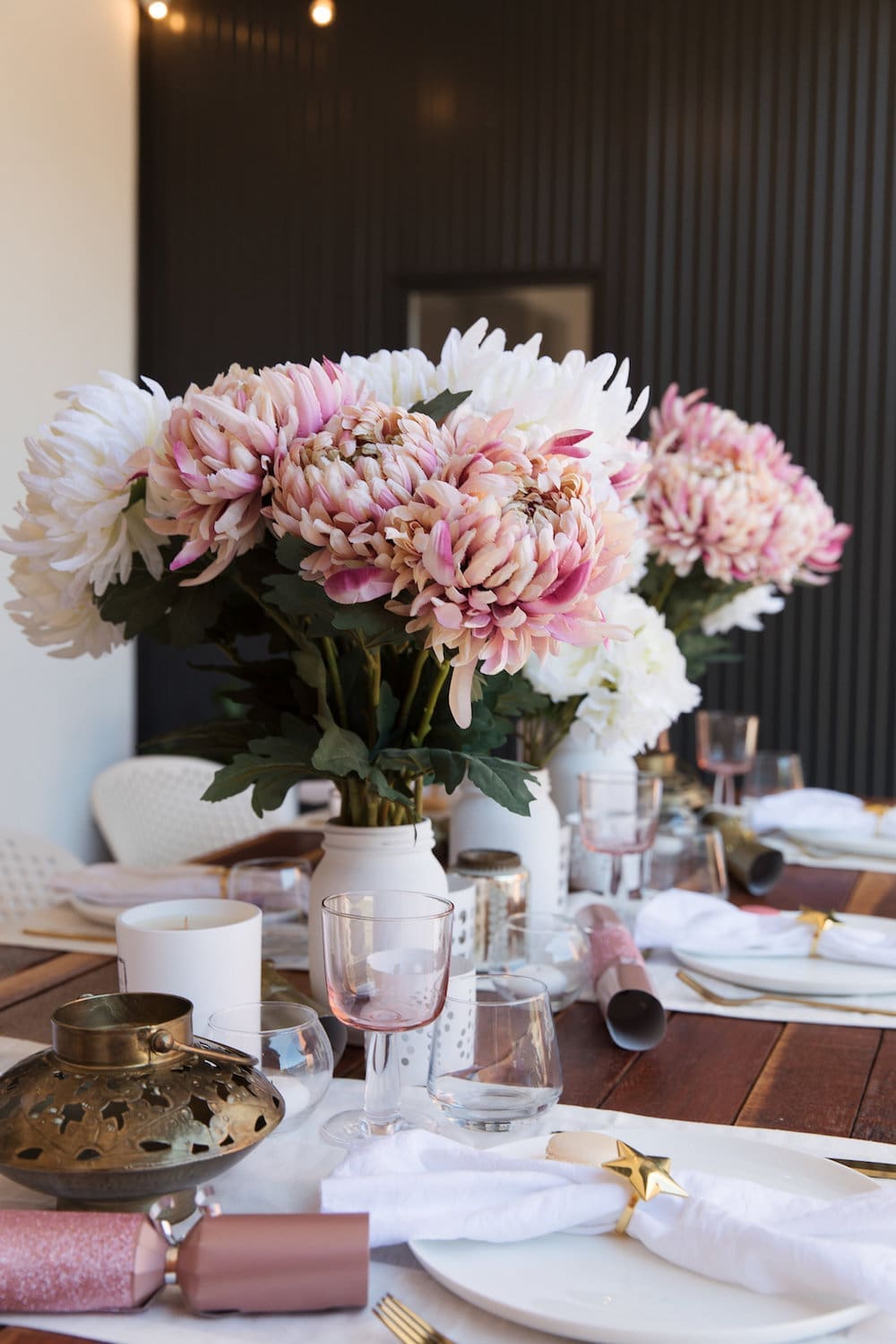 Use ambient lighting
Create some atmosphere by stringing up festoon lights and using lanterns or tealight candles on the table. It will create soft, festive lighting that will set the mood in your outdoor entertaining space.
If you love the look of this floral and festive outdoor entertaining setting, you can find most of the items used on the Early Settler website here.
Have you been inspired to celebrate Christmas outside? I'd love to hear what you have planned!
Photography credit: Thorson Photography