Supported by ITP Income Tax Professionals
It's tax time so we're turning our attention to the home office, looking at ways to make this space more functional and stylish!
Without a doubt, one of the most common ways our office can get out of control is with mounds of paperwork building up. Not only can this be an eyesore, it also makes us less productive, and at tax time, it can mean missing important receipts or paperwork that can cost you.
One group that knows plenty about maximising tax returns is the team at ITP Income Tax Professionals who helped us with these tips to streamline and style your home office!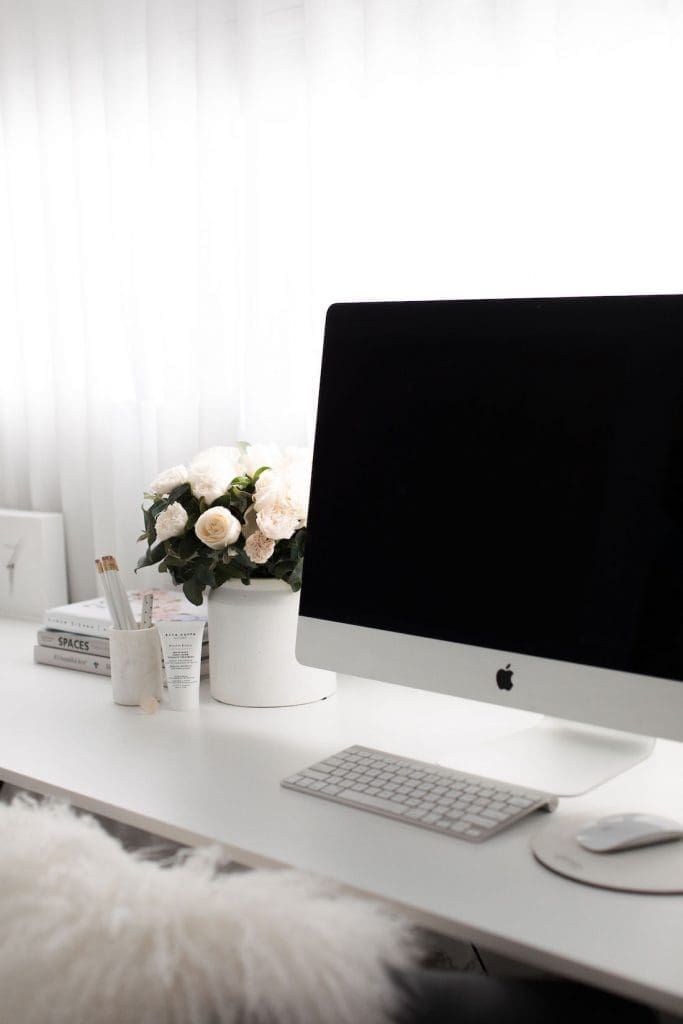 1. Set up workflows
We all do different tasks in our office – perhaps you run your own small business or it could be as simple as paying household bills. Whatever you do, it's likely there are common or repetitive tasks where setting up workflows could help you become more productive and efficient.
You can set up automated workflows, such as writing rules in software programs or using tools like If This Then That. It means each time there is a repetitive task, you've already mapped out the business process and automated it to save you time.
The idea of workflows doesn't just apply to computer tasks though. You can set up your workspace in a way that helps you do manual processes too. Keep important documents in known and easy-to-access locations, have in and out trays, ensure you have the right stationery and equipment to enable you to do your work, and have forms you print out regularly already at hand.
2. Go paperless where possible
There are plenty of reasons to go paperless in your office but reducing clutter and having information at your fingertips would be two of the main ones.
Maintaining paper records takes time and uses precious space – something many of us don't have the luxury of in our home office. Unless you diligently comb through your paper records regularly to dispose of ones you no longer need, they can quickly pile up and look unsightly.
More importantly, with paper records you cannot simply search or 'Control F' to immediately go through all documents to find the information you need.
While some people worry about making the switch to digital records, using cloud technology where your documents can be accessed any time from anywhere can offer peace of mind over backing up onto an external hard drive that could become corrupted. And remember, paper records aren't necessarily safer – floods, fire or simply sun damage can destroy records too.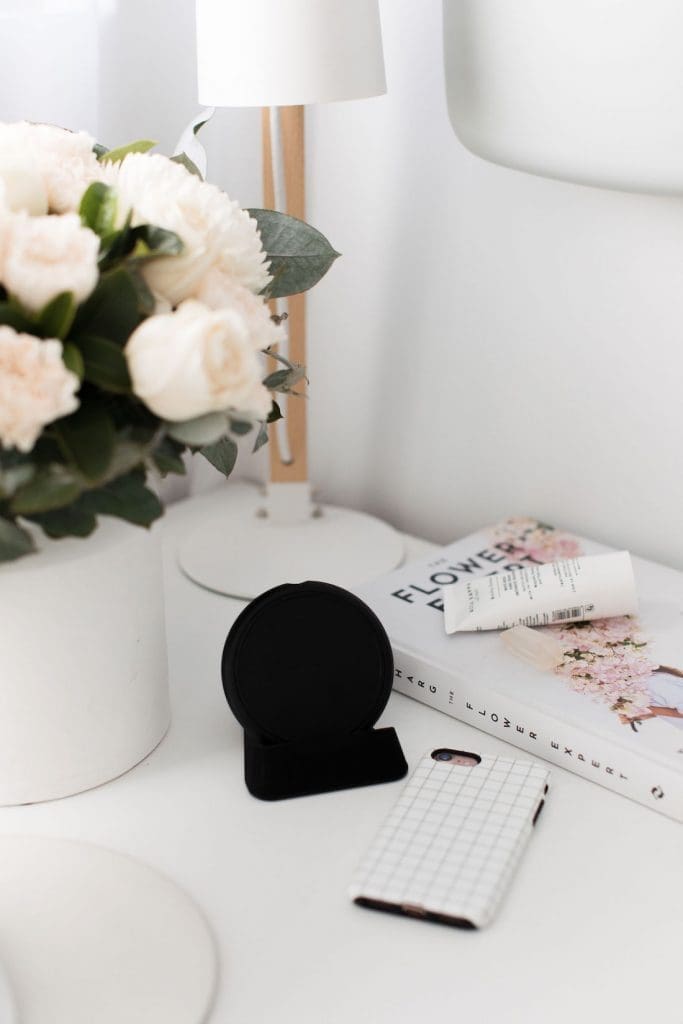 3. Introduce a colour palette that inspires you
Now that we've got those functional points out of the way, it's time to look at how we can style the space to increase our productivity.
All colours trigger an emotional connection so look at how you can tap into the power of colour to create a workspace that will inspire you. Perhaps you can introduce a few décor items or create a large mood board in the space that displays these colours.
Unsure what colours to use? There's no right or wrong answer but here are some popular ideas.
Blue is an intellectual colour, said to boost creativity. While red promotes attention to detail. Yellow also promotes creativity and confidence, while green provides balance and harmony – something many of us need in an office! Do a little research into colour and emotion, or trust your instincts and bring in pops of colour that make you feel good.
4. Streamline and organise your desk
An organised workspace is essential to productivity. The best way to organise your desk is to remove everything and then sort items before placing them back.
When you sort, look through everything and decide if you need it and it should be kept, or if it can be disposed of or donated. Non-essential items may be stored somewhere other than your desk to free up essential space, and those items that do need to be on your desk could be organised in magazine folders, drawers, or other storage containers.
On the idea of tax time, be sure to create a folder (digital or manual) where you can keep important receipts and paperwork. If you have an investment property, stray bills could cost you from making deductions you're entitled to. And for your personal tax return, having a spot where you can keep all your charity donations or work expenses can ensure you claim everything you're entitled to. If you'd like help to maximise your business or personal tax return, the team at ITP Income Tax Professionals can advise you.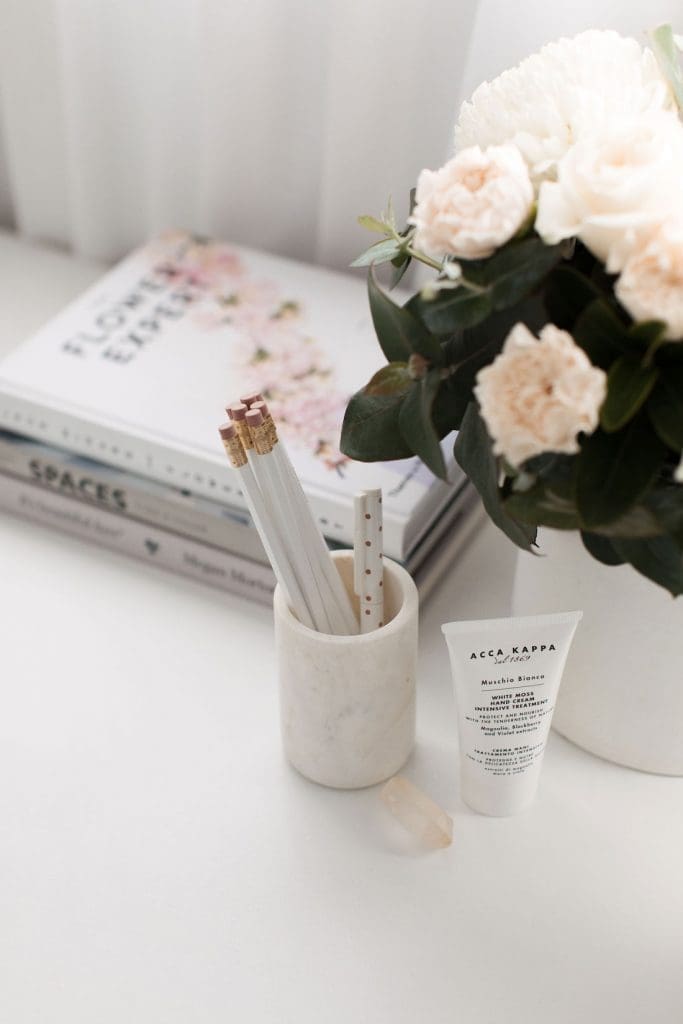 5. Planners, calendars and to-do lists are your friend
Coming back to the idea of workflows and processes, it's hard to beat the effectiveness of using planners, calendars and to-do lists – plus with stationery looking so darn stylish these days, they can be décor pieces too.
Whether you opt for digital or physical planners, using tools like these to keep on top of your work priorities can help to prevent your workspace from getting out of control.
6. Plants to boost productivity
Believe it or not, researchers consistently find that adding plants to the workspace can help decrease stress while increasing productivity – so why not add them to your home office?
We've got a list of trending plants here or if you lack a green thumb, you may be more interested in our list of hard to kill indoor plants. Plants generally thrive when they've got friends so don't stop at one!
7. Calming scent
Just like colour can trigger an emotion, so too can scent. Candles are one of our favourite ways to introduce a fragrance to a space and they're available in such stylish vessels, you'll be able to find one to fit your colour scheme or space.
If you often feel stressed, lavender is a great choice, or if you often find yourself distracted, a candle with a citrus note can help with clarity. Peppermint is said to help with headaches and bergamot can reduce anxiety.
Did you pick up some ideas of how you could streamline or style your home office? Or perhaps you have some ideas of your own you could share in the comments below?
Photography by Thorson Photography