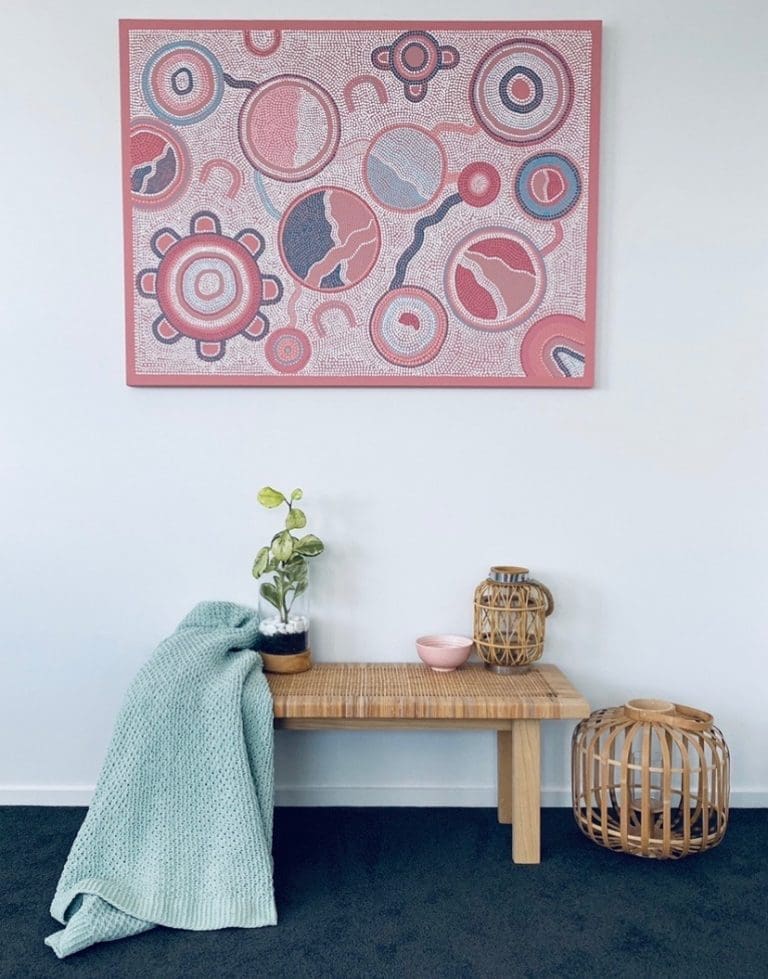 It's clear from just one glance that Indigenous artist, Lou Martin, paints with joy and spirit. Her pieces are filled with love, passion and connection to her Aboriginal culture.
We were honoured to sit down to chat with this incredibly talented artist to hear her story and the inspiration behind her works.
Related article: Artistic storyteller: A chat with Aboriginal artist, Goompi
Related article: Cotton candy colours and whimsical strokes from artist Britty Flynn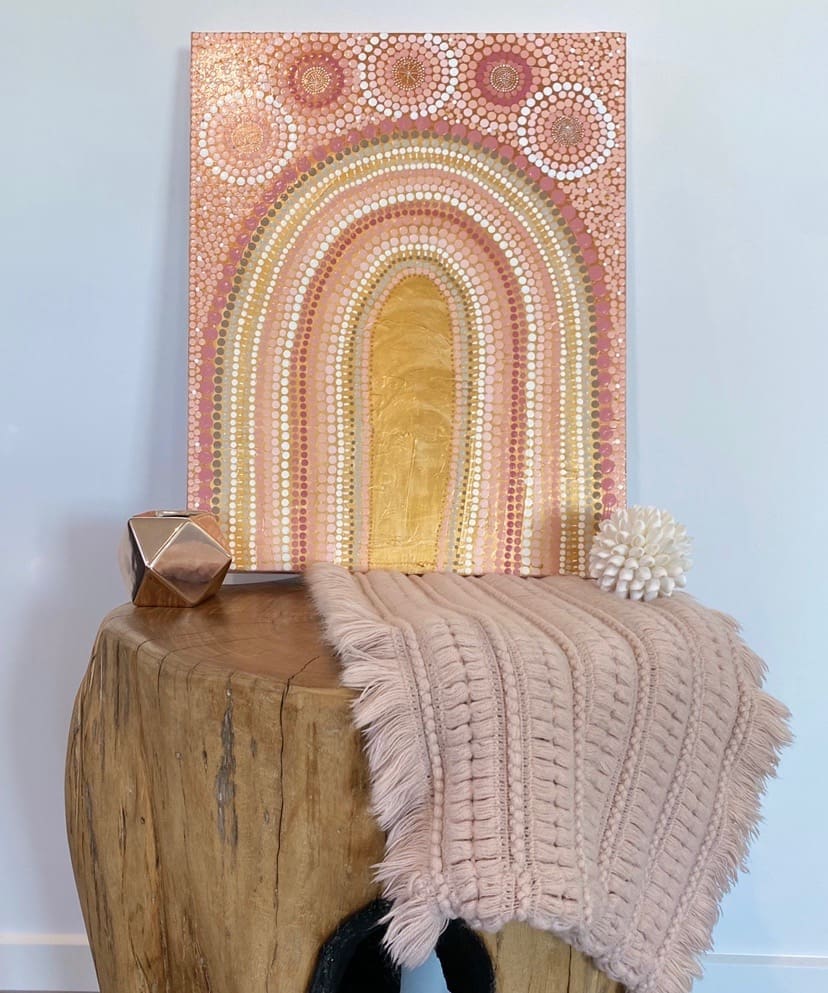 Hailing from regional New South Wales — Wiradjuri country — Lou Martin comes from a family of talented creatives.
"I am originally from Wiradjuri country but moved to Queensland when I was very young. I have called the Sunshine Coast home for almost 10 years now, and live on Gubbi Gubbi country with my husband, our 2 boys and Kelpie, Will," smiles Lou.
"It's a slower paced lifestyle and we absolutely love it. We're spoilt for choice between spending our time on the magnificent beaches and the stunning hinterlands.
"I have painted all my life in one form or another. I'm from a family of creatives. One of my sisters is an amazing photographer, another is a talent with words and my third sister is another brilliant artist.
"Her work is very different to mine, but I always felt as though those roles in our family had been taken, so it has only been very recently that I have shared my art outside my family.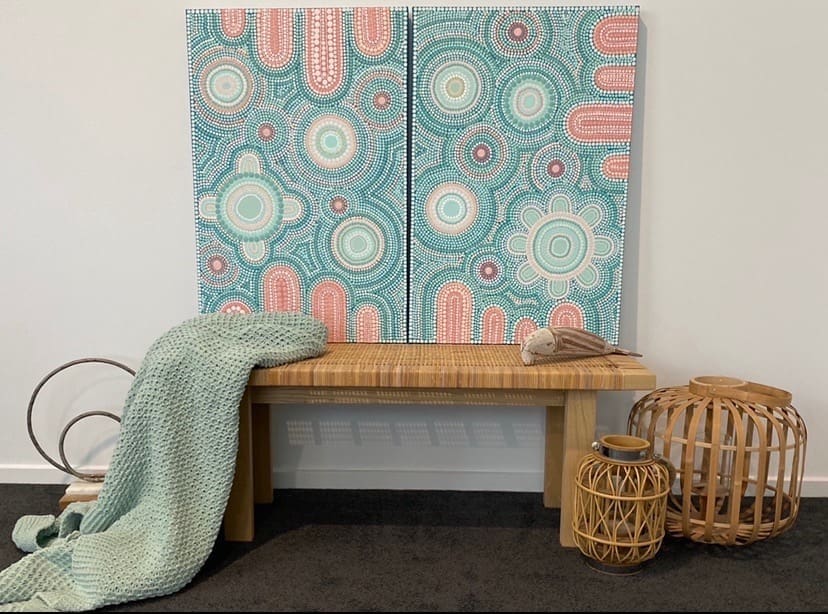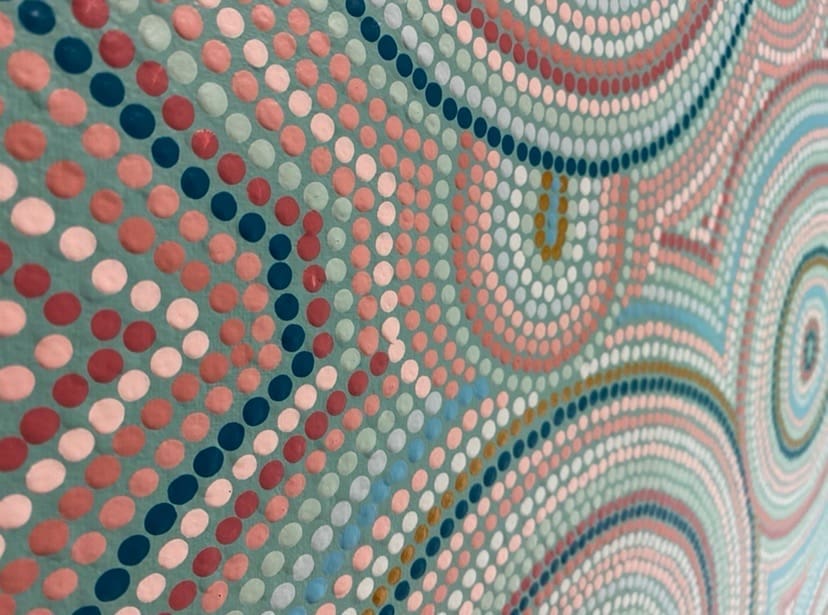 Lou is the first to admit her art is contemporary, using the soft, muted pastel tones in her works of art.
"Dot work and traditional symbols are elements from our culture used to tell stories and as a means of explanation. However I consider myself to be a contemporary Aboriginal artist," she says.
" I don't paint Dreaming stories but having art as my creative outlet has always been important to me. I absolutely love a pastel colour palette, there's no denying that! My paintings are ever-evolving, so I'm branching out into bolder colours and different styles.
"There's something calming and healing about the softer feel of muted tones. In Wiradjuri country, we're bush, red earth and river people.
"However, now that I live near the beaches of the Sunshine Coast, my colour palette is inspired by the earth, sunrise and sunset, and nature.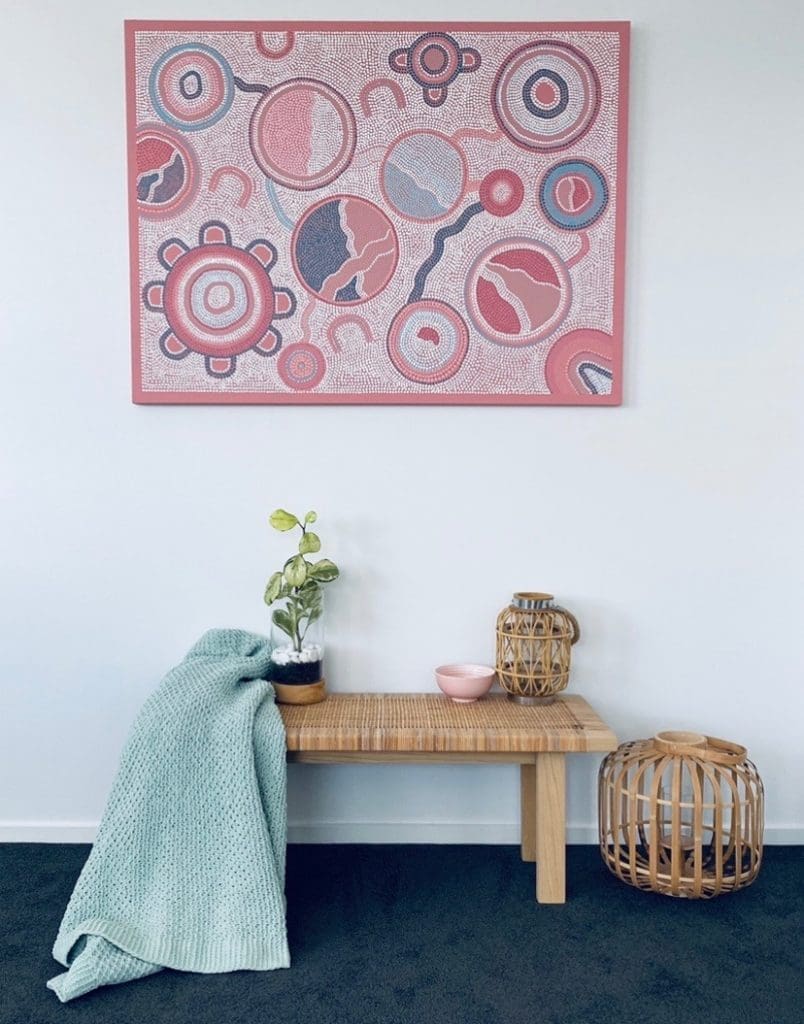 Finding inspiration in nature and her surrounds, Lou also paints to spark joy in herself and in others.
"My creative process always starts one of two ways — either by colour palette or subject matter. I might spy a bunch of flowers and will instantly know I have to incorporate their colours into a piece.
"My paintings are often inspired by my surroundings — the coast, bush and mountains. People are also inspirational to me. Whether it's family, culture or community, I will often combine all of these in my work," says Lou.
"Other times, feeling the subject matter is my driving force. I have a series of paintings called, Marrumbang which means love and kindness. I initially painted these when I felt like the world was falling apart.
"There were the Black Lives Matter riots and of course Covid and the Covid demonstrations. I felt as if there was so much ugliness happening outside my door. I needed to return love and kindness back into my home.
"Another of my pieces, In Our Footsteps, is a piece that is about earthing. This is a long practised way for many Aboriginal people to connect with the earth and feel grounded.
"Earthing is essentially walking barefoot in nature. Since we, as Aboriginal people, belong to the earth, it's a reconnection. There's nothing more calming to me than bare feet in warm soil. It's something I have always done to relieve anxiety and rebalance my mind."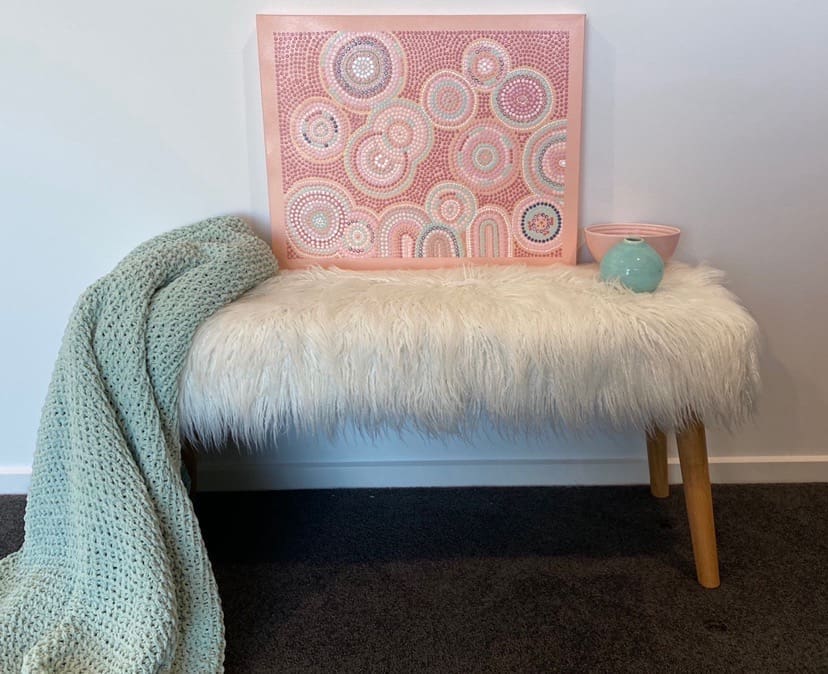 With such joy, passion and love radiating from her artworks, it's no wonder Lou Martin has recently caught the attention of Greenhouse Interiors.
"I recently signed with Greenhouse Interiors, which was both unexpected and incredibly humbling. The whole team have been so supportive and instrumental in getting my work onto the online space and into people's homes.
"When people connect with something I have created with my own hands, it gives me a sense of pride like nothing I've ever know. I was lucky enough to hand deliver a piece that was a surprise gift from a husband to his wife. She'd shown him a photo of it weeks before!
"She had a real emotional connection to the painting. Her response to receiving the painting still makes me teary to this day," smiles Lou.
We loved exploring the artist world of Lou Martin's work and hope you enjoyed it too. With some exciting collaborations coming up in the future, we can't wait to see what's next for this talented artist. Be sure to give Lou a follow on Instagram, or check out her work on Greenhouse Interiors.