With December fast approaching, many of us will be decorating our homes for the festive season… but what can we do when there isn't space for a traditional Christmas tree? Try one of these creative alternative Christmas tree ideas instead, of course!
Related article: The most beautiful Christmas wreaths you can actually DIY!
Related article: How to wrap a present: 9 easy ideas to elevate your Christmas gift wrapping
1. String light Christmas tree
You can ditch the tree when fairy lights and ornaments alone look this good! Using removable adhesive hooks and tape, this non-traditional Christmas tree is jaw droppingly good!
2. Dowel Christmas tree
So Scandi and so stylish, it's hard not to love this simple dowel Christmas tree by Jelanie Shop. The design of this tree is quite straight forward so it could make for a fun DIY project!
3. Plywood Christmas tree
Another minimal Christmas tree idea is to use two pieces of plywood cut into Christmas tree shapes and slot them together to make a 3D plywood Christmas tree. One of the best things about this Christmas tree is it can be disassembled and packed away flat until next year, taking up next to no storage space.
4. Honeycomb Christmas tree
For those of us who love a bit of colour, this DIY honeycomb Christmas tree idea by Studio DIY is so fun! These paper honeycomb balls (sold flat) can be found in most party stores and in the party section of large department stores like Kmart.
5. String Christmas tree
Similar to the fairy light Christmas tree above, this Christmas tree uses adhesive wall hooks to create the geometric string design. You could hang light ornaments from the string or the hidden clear hooks, or you could peg Christmas cards and other decorations to the string.
6. Banner Christmas tree
Ok so not technically a Christmas tree but it is very Christmas tree inspired! We included these banner Christmas tree ideas because they look fab AND are a great option for those of us who are seriously short on space. Find the DIY to make the colourful banner on Dream Green DIY blog here.
7. Christmas card tree
A simple and no-waste Christmas tree idea is to simply blu-tac Christmas cards in a tree shape onto your wall — a great option for those of us who still receive paper cards that is!
8. Washi tape Christmas tree
It doesn't get any quicker, easier or more affordable than this — a washi tape Christmas tree as Country Living has done!
You could use any colour tape you like or even mix in some gold or other metallic colour for added wow. And the types of tree shape you could make are endless.
9. Pallet Christmas tree
Upcycle your wood pallets this Christmas for an environmentally friendly alternative Christmas tree. With countless ways of creating your perfect look, including our pallet Christmas tree we designed — it's simple, stylish and so affordable to make!
10. Photo Christmas tree
Talk about a sweet and personalised Christmas tree idea! One of our favourite designers, Emily Henderson, made this modern Christmas tree by stacking acrylic blocks with family photos on the face. There are loads of printing services that offer digital prints in a flash which you could mod podge onto acrylic or timber blocks to make your own version of this tree.
If you're look for a most cost-effective version, don't shy away from photos and polaroids! They can look just as good on your wall, and can be cheap to print!
11. Branch Christmas tree
Another fun Christmas tree alternative is a DIY branch Christmas tree. It can be hung on a wall or over a door, and decorated with just some simple string lights or go wild with loads of decorations. There are a variety of styles you can follow when designing yours.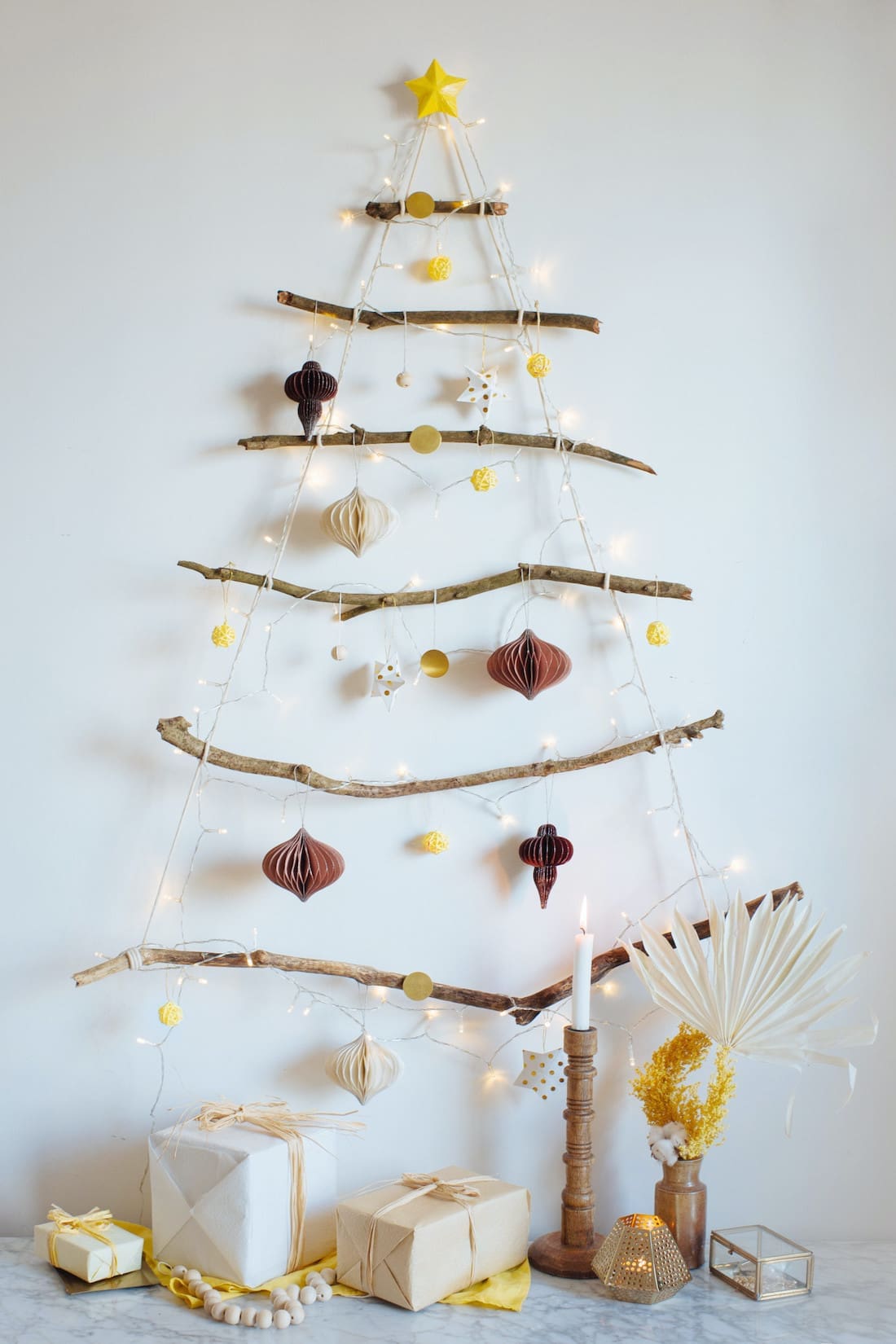 12. Vase Christmas tree
A different take on a branch Christmas tree is to place branches in a vase on your dining table or mantle and add decorations. This DIY Christmas tree idea generally takes up no floor space and makes for a stunning focal point in any room.
13. Cardboard Christmas tree
Using a similar principle as the plywood Christmas tree above, this cardboard Christmas tree is a more affordable. Perhaps you could say it's also a more 'beginner level' DIY Christmas tree 😉
14. Fringe Christmas tree
Another wall hanging idea is to simply use fringe and pom pom trimmings from your local craft store to make this chic Christmas tree. Also love the idea of positioning a table for gifts and cookies for Santa close by too.
15. Oversized Christmas tree banner
If the smaller banners above didn't cut it for you, perhaps this oversized wall hanging of a Christmas tree will?!
16. Ornament Christmas tree
This ultra minimal Christmas tree of ornaments tacked to the wall in a tree pattern is sooooo divine — proving less is often more! There are countless ways to use ornaments to create a tree on your wall!
17. Canvas Christmas tree
If putting adhesive hooks on your walls isn't an option, you could try using a large canvas instead. This canvas has pine branches and ornaments glued to it but you could create almost any of the Christmas tree ideas we've shown in this list, like the string Christmas tree or ornament Christmas tree.
18. Shelf Christmas tree
Maybe a more simplistic version to the other pallet Christmas trees, it's still a fun idea! This triangle shelf Christmas tree was done with pieces of wood, and the shelves provide an opportunity to display your favourite Christmas decorations!
19. Pompom Christmas tree
Kids love a Christmas tree! Add that festive touch to their bedrooms this Christmas with a colourful pompom tree that's just too fun!
20. Teepee Christmas tree
One of our favourite Christmas trees on this list, this green teepee Christmas tree follows the traditional look of a Christmas tree while keeping the room bright. Grabs some dowel from Bunnings and some fake (or fresh if you're feeling adventurous) vines to create your own.
21. Suspended Christmas tree
If you're short on floor space, or just want an interesting focal point in your room, why not give the traditional Christmas tree some lift? There are plenty of ways to suspend a Christmas tree. But these suspended ornament versions seem to be the most popular!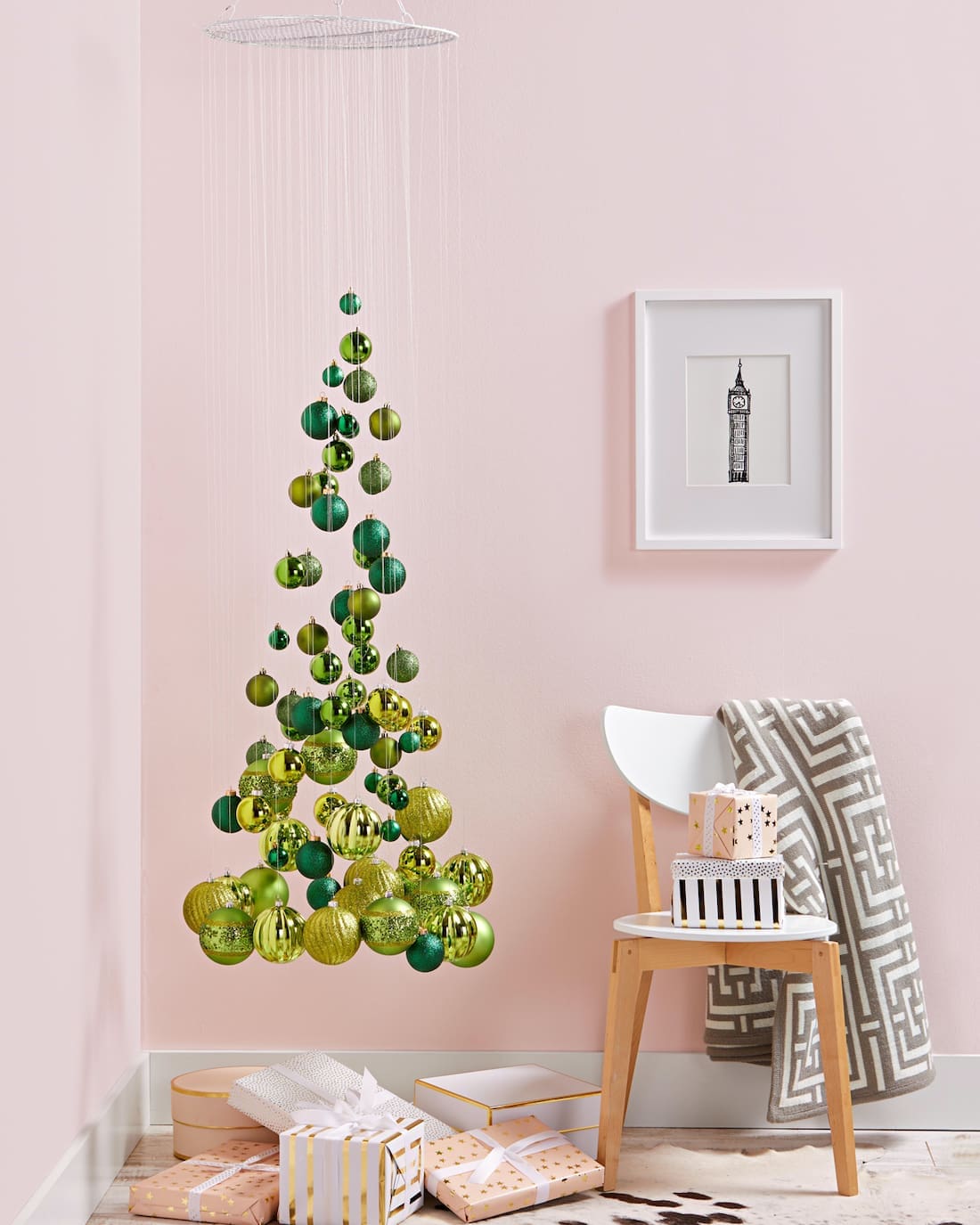 22. Minimalist Christmas tree
As mentioned earlier, less is more. These minimalist trees are quick and easy to set up and pack away. Who doesn't love that?! Plus, you can tailor the look to suit your interior colour scheme.
23. Driftwood alternative Christmas tree
Whether you want to channel coastal aesthetic this Christmas or just add an earthier element to your festive styling, this driftwood Christmas tree idea is for you! Just take a look at how fab it is in this rustic cottage in Geelong, Victoria!
Have you found an alternative Christmas tree idea on this list for your home? We'd love to know your fave by commenting below!
This article was first published in November 2017 and has been updated with new information and images