Styling a room for your child is fun, but it can get expensive, which is why Kmart is such a popular shopping spot. If, like many parents, you're sleep-deprived and short on ideas, fear not! We've searched high and low to get you inspired with the best-ever Kmart hacks for kids.
You don't need to spend a lot of money — all you need is imagination and elbow grease to create a gorgeous, personalised piece for your nursery, playroom or kid's bedroom.
Related article: 20 of the coolest Kmart hacks EVER!
Related article: Top 20 Kmart hacks of 2018
1. Glam doll mansion
Check out this mega doll mansion Renee created for her two-year old. She joined two Kmart dollhouses together and jazzed up the included furniture, plus added some extra bits and pieces. Add some Kmart contact paper to act as wall paper and tiles, and voila! A doll mansion fit for a queen. The best part? It cost her about $150 all up.
And don't think the doll house is just for girls — with a bit of creativity, it can be turned into just about anything! Take a look at this cool Dinosaur world Hayley created for dino-obsessed god son.
2. Boho kids stools
Chasing some unique kids chairs that didn't cost a small fortune, Mandy headed into Kmart and spied these rattan pot plant stands and inspiration struck. The perfect height for little kids stools and they even have a foot rest! Best used on carpet or a rug to avoid slipping, though. Super cute idea!
---
---
3. Floral bed canopy
It's every girl's dream to be surrounded by flowers (or maybe that's just us!) so we loved this sweet DIY project that Nicola did for her tween daughter's bedroom. Using Kmart flowers, she weaved them on to the ring and tied with wire to create a beautiful floral bed canopy.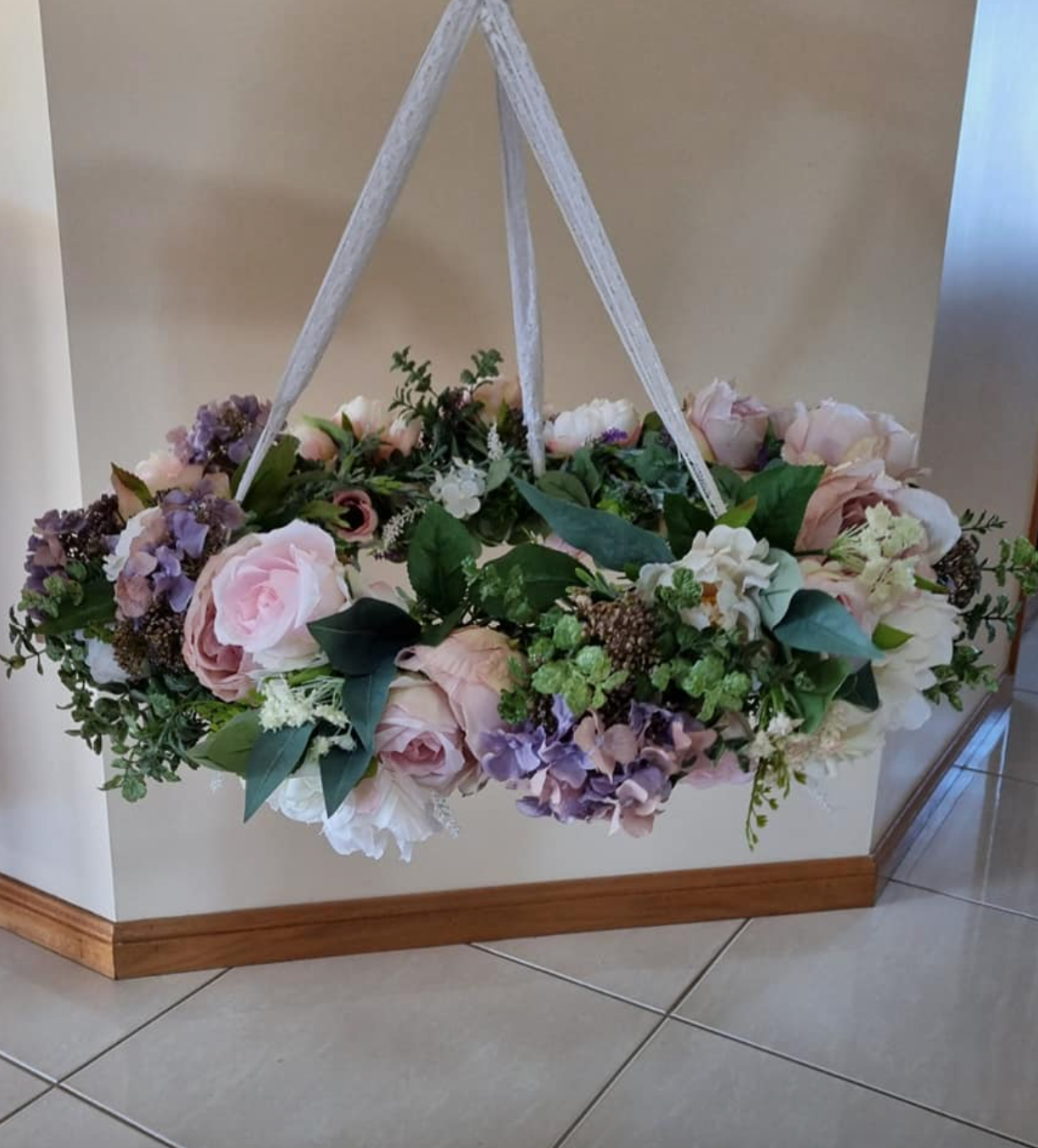 4. Kitchen made over to grey and gold
There are a few Kmart kitchen hacks floating around at the moment but this dreamy grey and gold version created by Alicia is just divine. Not to mention her gorgeous styling!
Just as the doll house can be given a more boyish makeover, so too can the kitchen. Taay recently transformed the Kmart kitchen into a construction station, featuring pressed metal door insert, tool hanging bar, LED lights and construction tape accents. What young boy wouldn't love this?!
5. Peg board turned play wall
We're all for space saving, and Sarah has come up with a brilliant way to turn the Kmart peg board into a vertical play board! With all those gorgeous natural, tactile elements, this one not only keeps clutter off the floor, it looks beautiful too.
6. Dinosaur draw pulls
Stylish door pulls can cost a fortune but Erin has found an affordable solution for her dino-mad child. Some simple spray paint, a packet of Kmart dinosaur figurines and you've officially won the best parent of the year award!
7. Round shelf upgrad
One of our all-time favourite Kmart hacks for kids is this moon shelf! By simply adding a ply timber moon cutout to the face of the shelf and a sleepy eye decal, this affordable Kmart shelf has been given a designer makeover. Such a simple way to create beautiful shelves for your little one!
More recently, we discovered this fabulous boho version by Lauren with a rattan backing. It totally elevates the look of this affordable hanging shelf… and is a bit of an easier hack to pull off for those of us who aren't a pro on the jigsaw!
8. Personalised instrument set
What young child doesn't love making as much noise on musical instruments as possible? While we may not be able to do much for their musical talents, we can certainly improve the look of the instruments without spending a fortune! Shan stripped brightly coloured instruments back and painted them to give them a totally new look — and yes, she hand painted the fauna and flora herself! For those of us who aren't quite so artsy, using decals or mod podge to adhere cut out images is another idea.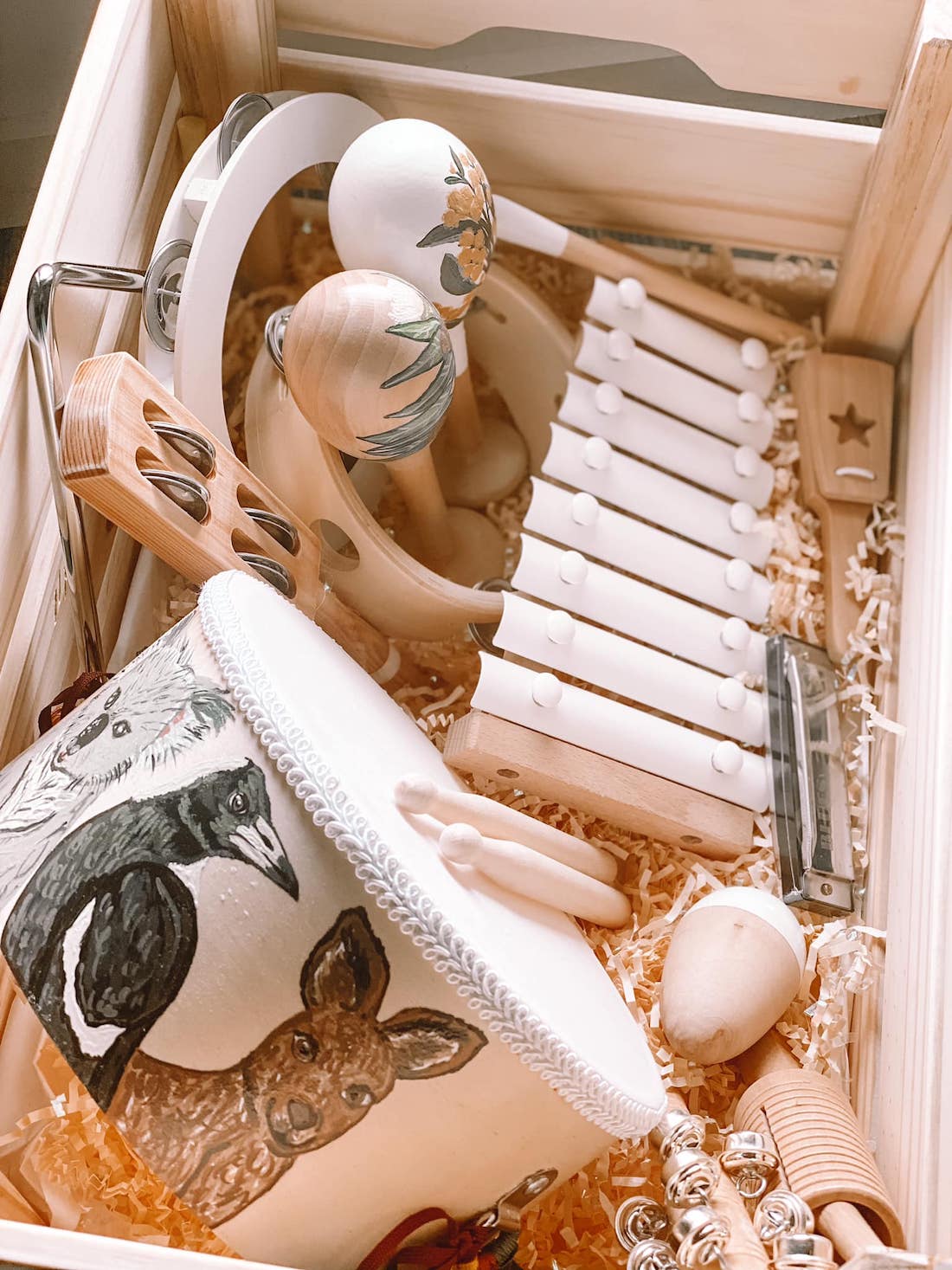 9. Funky stamped floor rug
Jess made this unique rug by taking a faux cowhide, flipping it over and hand stamping it with acrylic paint, using potatoes and cardboard. This zigzag and dot print is a little bit tribal, a little eclectic and a lot cool!
10. Circular photo frame as figurine display
Is there anything more painful than stepping on teeny tiny figurines? Ouch! Kathleen came up with a funky solution, repurposing a circular photo frame to host more than 70 teeny characters. The best part is she literally thought outside the box, by using lego tape around the edges! Genius.
11. T-Rex lamp
Sometimes the simplest solutions are the best. We love how Jessica and her partner improvised when they couldn't find the perfect lamp for their son. They turned a bland white lamp into a super cute T-Rex lamp, using a black texta and a dinosaur design from his favourite t-shirt.
12. Toned down rainbow
It's no secret that kid's toys can be jarringly bright. By repainting this wooden rainbow in gorgeous soft pastels, Brooke created a soft, sweet rainbow just perfect for a nursery.
We also love this sweet little baby keepsake made by Michelle. She painted the rainbow to suit the nursery colour palette and added bubs details using vinyl decals. She shows how she did it here.
13. Custom cubby house
We couldn't possibly leave out the most popular kid's hack of all — customised cubby houses! Kmart outdid themselves when they released this cubby house and although there have been a few design iterations (the latest is a bit more 'barn' like with a half door), they're all totally magical and an opportunity for parents to get a bit creative.
Gina shows you how she created a Kmart hack cubby for her son Patrick in a fresh pastel blue, grey and white colour scheme and included a kitchen inside. Then, in true Style Curator style, she revamped it again! This time using a gorgeous magnolia green and her two boys love it!
For those of us who have kids obsessed with firefighters, we love how Prue turned the cubby into a fire station — so cool! Another super stylish idea is the garden house cubby hack Chantel created for her two boys or that impressive horse stable Amanda hacked for her daughter.
14. Sand or water play table
Using the timber storage bench and underbed storage container, Tegan had this great idea to make a sand or water play table for her little person.
The perfect height for kids, this one is a terrific hack for loads of outdoor fun!
15. Bedside table with booksling
Repurposing the Kmart step stool into a bedside table with book sling, we think this hack is just awesome! Angela, the creative behind this hack, even used Kmart tea towels for the book sling! Such a clever idea.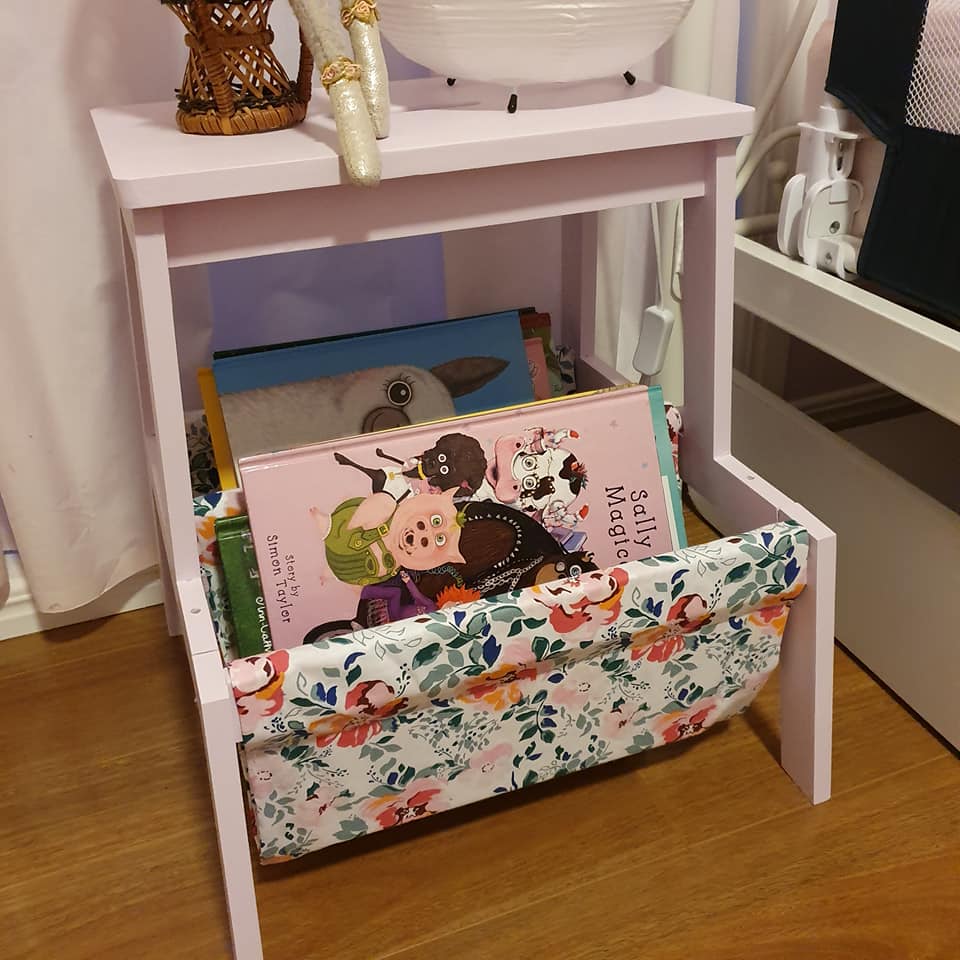 16. Shoe rack as kids grocery store
One of the most popular toys for young children is a play kitchen and/or grocery shop but with most store-bought play sets costing several hundred, it can be a large investment to make — plus the cost of all the play foods and accessories! Clever mum of five made an epic playroom for her children, including a DIY grocery store using the Kmart shoe rack!
17. Personalised name signs
This idea from Jessica saw her use everything Kmart to create a name sign for her son's bedroom. A wooden placemat, wooden alphabet letters and a hot glue gun were all she needed and we think it looks great.
Or, this one from Bec, who used the wooden collage frame and added fun, colourful contact for extra personalisation to her kids' name signs. So creative!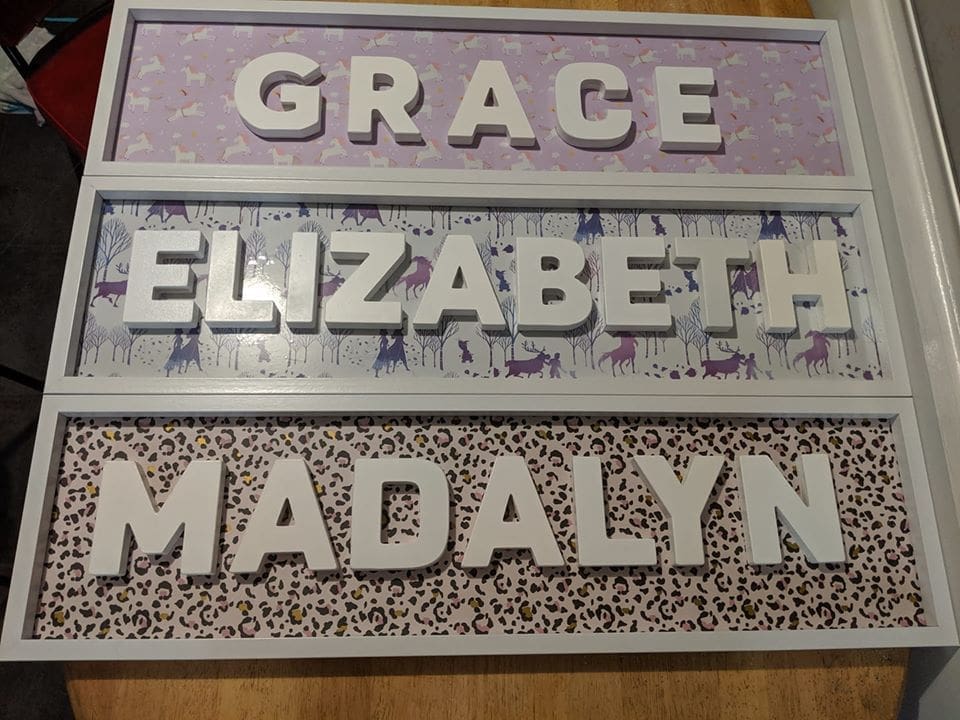 18. Rattan magazine rack turned wall pocket
If you're loving the rattan trend right now, take a look at how Sezen used the rattan-look magazine holders as wall pockets in her daughter's playroom! This is a great idea for kid's bedrooms too, especially for creating a stylish craft station or desk space.
19. School bag station
Back to school is in full swing, so this Kmart hack really got our attention. Maricar took the 8-cube storage shelf and made a few adjustments to create this brilliant school bag station.
Paired next to the Kmart book shelf to store all the other school bits and pieces, this makes a great storage system for keeping everything neat and tidy. Ahh, organised bliss and an absolute winner in our best-ever Kmart hacks for kids list!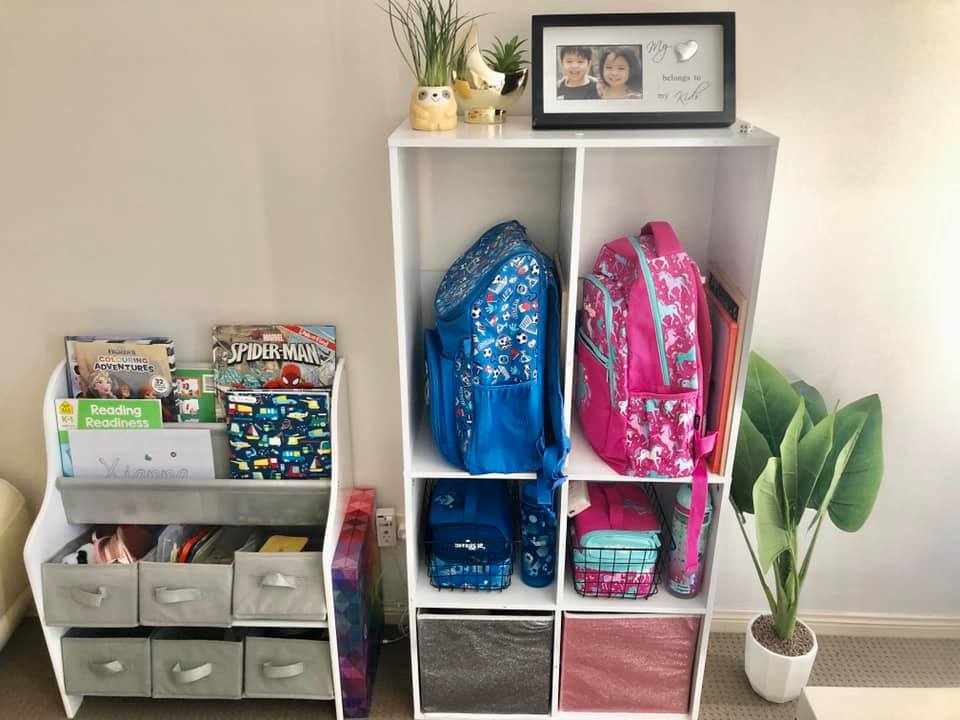 20. Mud kitchen
Nicole absolutely nailed her hack, showing yet another use for the timber storage bench. Using a roasting tray (from Kmart) kids kitchen sink (also Kmart) and lots of other fun accessories (you guessed it, all Kmart!) she created this fabulous outdoor mud kitchen.
She's also included helpful step-by-step build instructions here.
21. Kmart shelf also becomes hanging clothing rail
Using the Kmart hanging shelf, macrame string, timber beads and a piece of dowel, Tanja added a hanging rail for her daughter's favourite clothes. So sweet and stylish and definitely one of our fave ways to keep your home organised with clever Kmart hacks.
22. Lego storage table
Kids and Lego go hand-in-hand. It's something super fun to play with, encourages creativity and can be hours (or perhaps just minutes!) of entertainment. But it gets EVERYWHERE!
So, when we saw this clever hack by Laura who took 2 Kmart entertainment units and added Lego bases to the top — including baskets for storage underneath, because storage is life — we were super impressed.
The perfect way to round out our best-ever Kmart hacks for kids, don't you think?!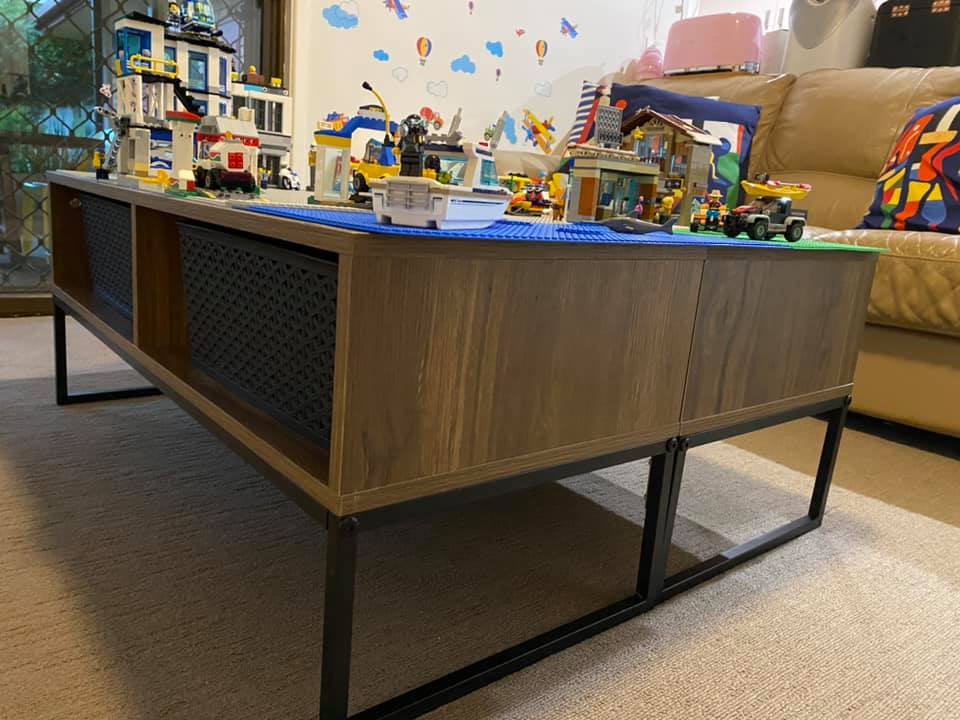 23. Toy wooden camera makeover
Not so much a hack as a makeover, but this is one we really loved. This toy wooden camera is cute already, but just look how great Lucia has made it for her little man, Luca?! We love the neutral boho tones!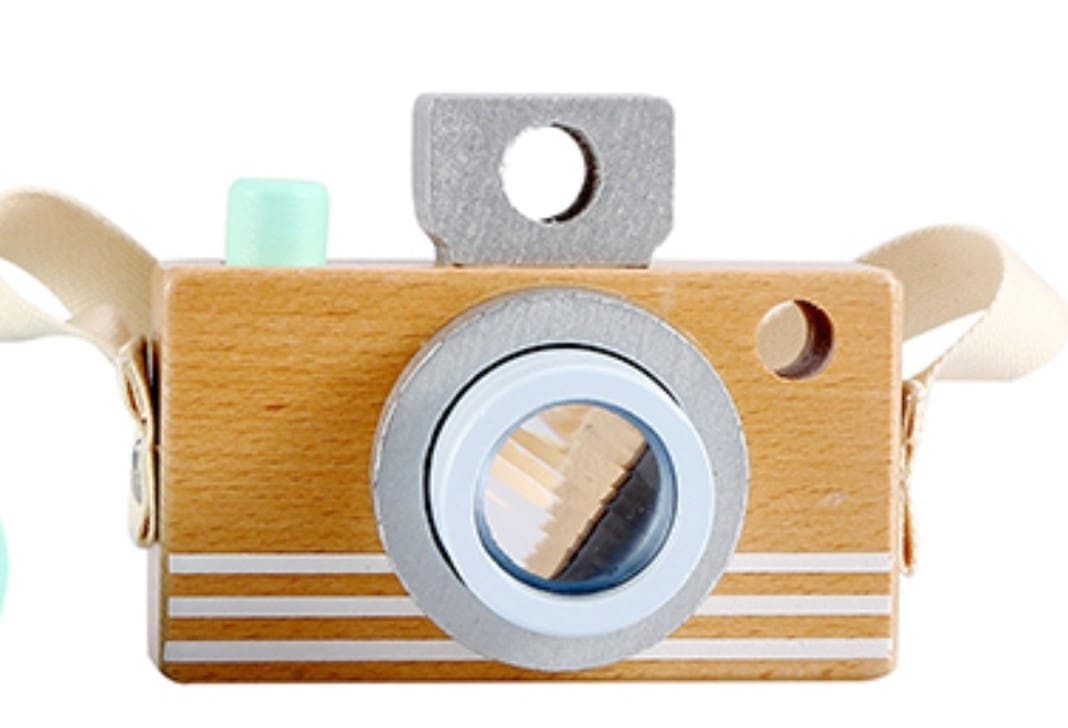 24. Toy box upgrade
Carlie took this simple Kmart toy box and made it loads more fun with a padded top and personalised name. She even used a Kmart single bed underlay to create the padding and the Kmart hot glue gun to fix it all in place!
25. Flower wall decor
Shon took the Kmart paper flowers from the party section and added them to her daughter's bedroom wall. We love this simple but sweet (and super cost effective!) wall art idea!
26. Rattan planter becomes a dolls bed
The boho style is more popular than ever — and this extends to children's bedrooms. Chantelle, the talent behind Olive and Miles, has created a sweet boho-inspired doll bed using the Kmart planter. Too cute (and she has an Etsy store, too!)
27. Hula hoop as dreamy bedroom canopy
Bedroom canopies are trending in nurseries, but the price tag can be off-putting! Clever Jemma picked up a super cheap hula hoop and some artificial flowers from her local Kmart, and combined the two, along with some netting to create this whimsical canopy for her daughter's bedroom at a bargain price.
28. Outdoor bench becomes ride-on fire truck
Talk about creative genius! This ride-on fire truck that Ellie made using the Kmart outdoor bench is one of the coolest Kmart hacks we've ever seen. Read all about it on Kidspot here.
29. Bench seat as kids toy box
Struggling to contain kids toys in your house? Here's another idea for using the outdoor bench from Alana. She gave it a stylish makeover by painting it a soft grey and applying timber letters to the face. "It fits so many toys in," she says.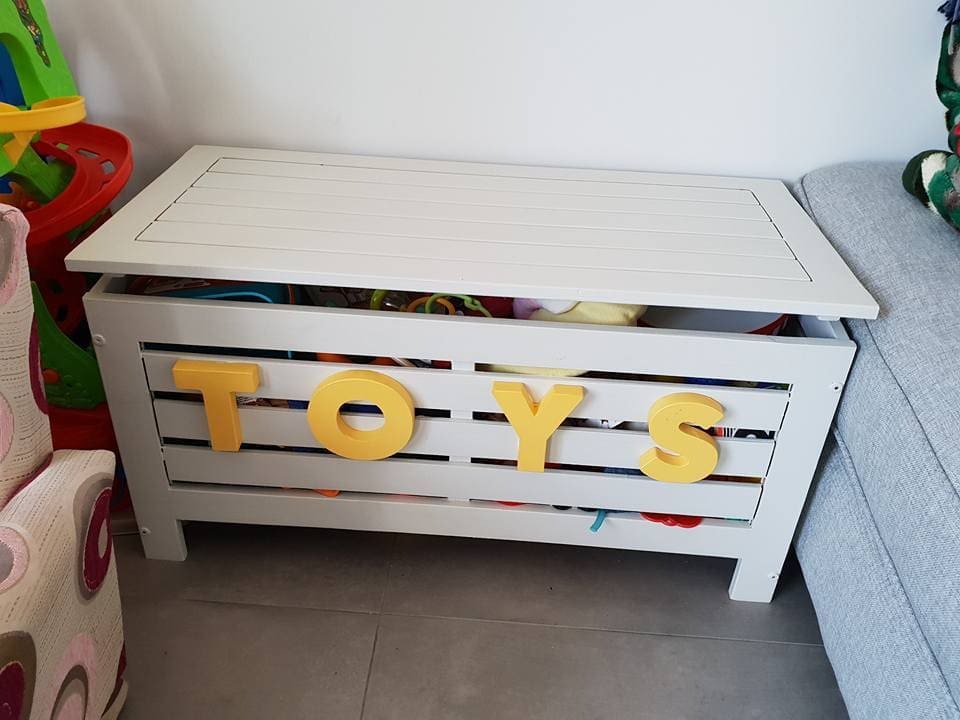 30. Kids kitchen hacks
Last year it was all about the Kmart cubby and this year parents are wowing us with how they've personalised the basic Kmart kitchen! One of our favourites has got to be this earthy and boho inspired kitchen by Sarah Grover.
31. Wall hanging unicorn head gets a stylish makeover
This one isn't a hack per se, rather a freakin' amazing makeover! The clever mama behind Emily Mae Maree Instagram says her daughter is unicorn obsessed and couldn't resist giving the Kmart unicorn head an upgrade wrapping darker wool around the horn, attaching a cluster of faux flowers and hand stitching darker fabric down the mane. "A fun little arvo craft project," says Samantha.
32. Bright baby play gym as stylish Nordic play gym
Another great makeover is this play baby play gym that went from glaring to gorgeous! Play gyms are a life saver in the early months but my goodness are most of them hideous, ha ha! That is unless you give it a makeover by painting the unsightly bright colours in muted tones and replace the cheap plastic toys with on-trend wooden beads.
33. Boho dolls house
This little dolls house was cute before, but after Jessica was done with it, it turned utterly beautiful. We're getting all the boho vibes, with those soft colours and pops of rattan.
34. Sweet art for a kid's room
This quilt cover is a firm fave of ours (team member Dan's daughter has it on her bed!) but we love how Angelina has turned it into matching artwork. Simple, sweet and definitely deserves being included as one of the best-ever kmart hacks for kids.
35. Planter turned book storage
Keeping books neat and tidy for little ones can be a challenge. We love this super simple idea of using the Kmart rattan planter as book storage. Stylish and organised — two of our favourite things, ever!
Have you spotted any other creative Kmart hacks for kids? Share a link to them in the comments below so we can take a look and add even MORE ideas to our best-ever Kmart hacks for kids!
Disclaimer: This article was first published in February 2018 and continues to be updated with the latest and best Kmart hacks for kids. It contains some affiliate links. This means that when you click on a link and purchase something from that site, we may make a small commission at no extra cost to you.