The tricks to styling your entry are much the same as styling any zone of the home but as this space can be a little tricky to get right, here is our step-by-step guide. Read on for advice on how to style an entry, considering functionality and aesthetics to create a space that is both beautiful and works!
Related article: Top 7 products to style your home
Related article: How to incorporate elements of Feng Shui into your home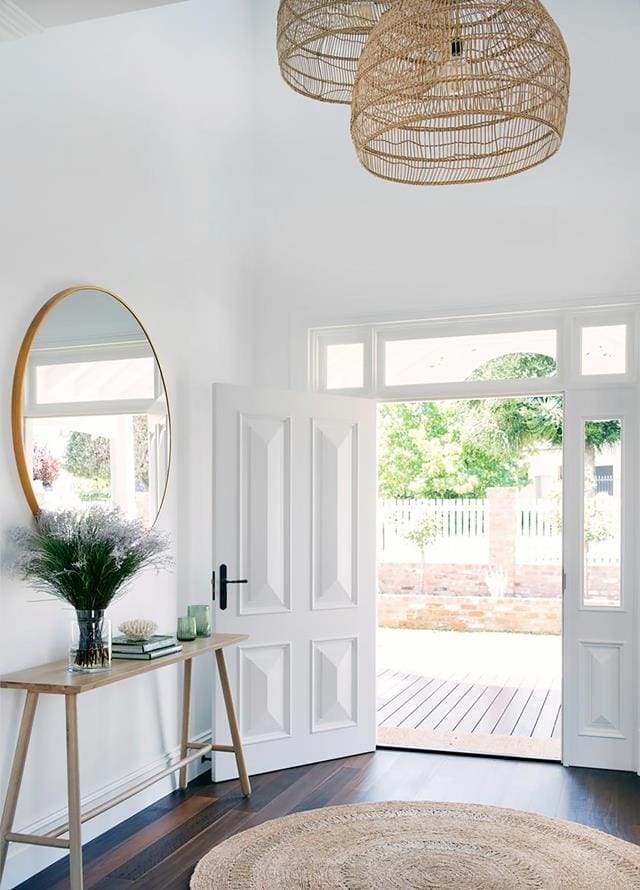 Consider function first
You would have heard this saying a hundred times and for good reason — it's one of the key principles of good design.
Every home has a slightly different entry footprint with its own unique challenges. Some are so small that it may not be possible to fit any furniture in the space at all, while others are an awkward point where three or more doorways may come off the space. Having an extra large entry can be just as challenging as finding the right furniture to suit the scale of the space and deciding where to position these is difficult.
Before going shopping or filling the space, we suggest taking a step back, measuring the space, considering your needs, and being realistic about what you can and cannot achieve in here.
Generally, having a console table is ideal as it offers storage and a focal point in your entry. Another popular option is to have an oversized mirror with bench seat below. However, if space is limited, perhaps a floating wall shelf or wall rack is your only option?
Source the right furniture
When styling any space, it's best to start with the largest objects and work your way down. If you'll be using furniture in your entry, sourcing the right piece(s) and putting it in position will be your first step.
Look for furniture to suit your needs and style (you can take our free style quiz here).
It's always a good idea to map out the placement of furniture with masking tape to make sure the piece you're selecting isn't too big or small (small furniture can make a tight space feel smaller!).
Shop some of our favourite furniture for your entry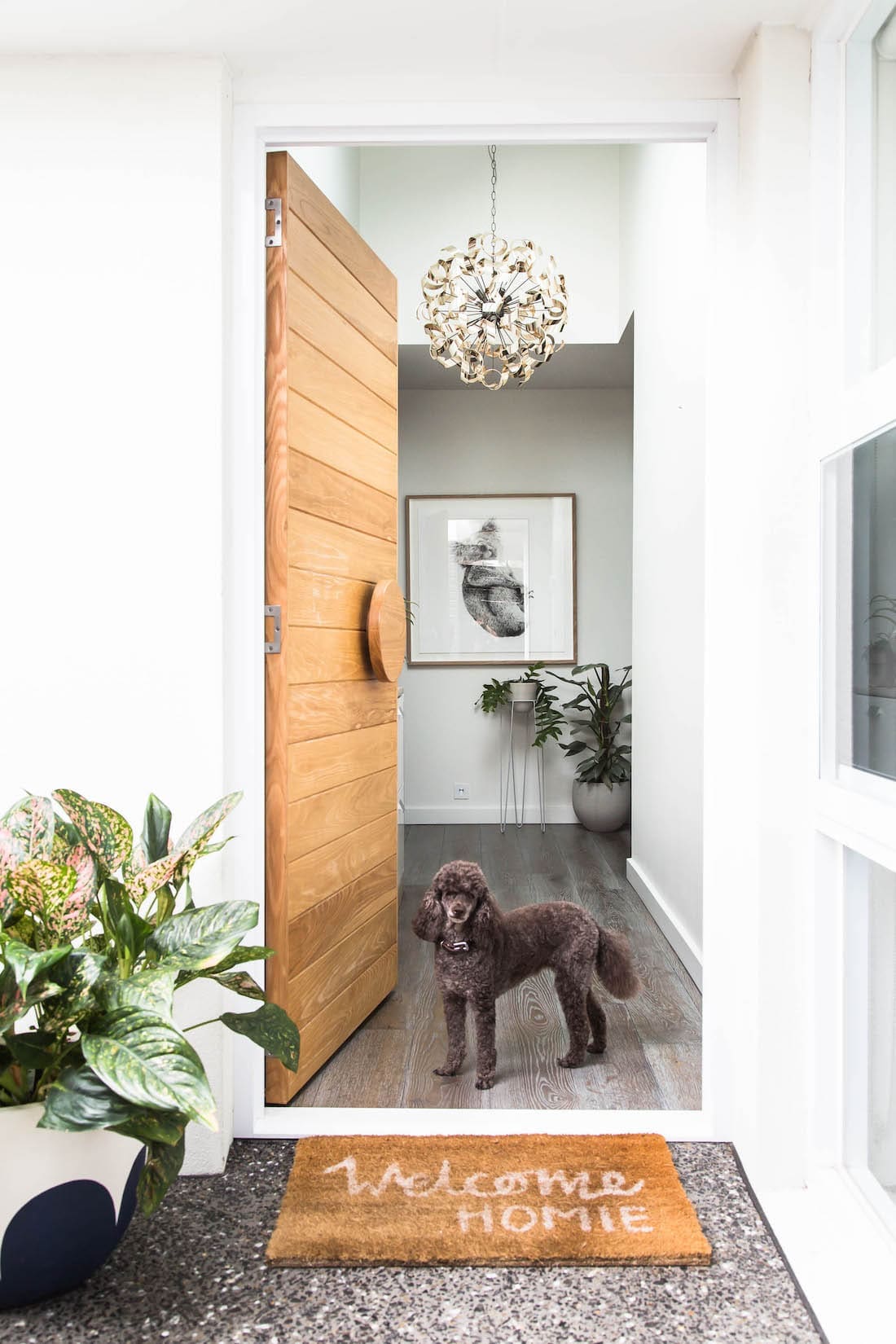 Light the space
Lighting is one of the most important yet under-considered elements of decorating.
Before installing a large pendant light in your entry just because you've always wanted one, it's important to again first consider the space you're working with. When we recently interviewed an electrician on the dos and don'ts of lighting your home, he recommending avoiding pendant lights in small entries and instead using a more appropriate wall light or table lamp. Of course, if you've got a large atrium style entry and you want to make a statement with lighting — go for it!
Personally, we love the ambience of a table lamp, and for a traditional look, you can't beat two table lamps balanced on either side of a console.
Use a tray or trivet
With the functional elements of the right furniture and good lighting in place, it's onto the fun part of styling!
A tray or trivet is the perfect way to contain all of your smaller items, such as your house keys and sunglasses, or to create a larger arrangement on top. Trays instantly make items appear as though they belong and are one of our must-have styling pieces.
Bring the outside in
Creating the connection between outside and in is a key styling trick for any zone of the home.
Whether it's a cluster of plants in pots, a smaller indoor plant on the console, or even some branches in a vase, using greenery is an affordable way to make your entry a stylish and welcoming space.
Those of you with a black thumb will appreciate this article on the top 20 hard to kill plants.
Balance the styling and layer up
Now it's time to add a few more beautiful styling elements. Some popular objects include artwork (either wall hung or resting against the wall), ceramic pieces or vessels, books, and other decorative objects like statues.
Look for ways to repeat colours to create a cohesive palette. If you're hanging artwork in your entry, you could draw out 3 of the colours to use in your decor.
Layering is the trick to sophisticated styling. This doesn't just mean layering items on top of each other, such as objects on a tray, but also using the depth of the surface area. For example, resting artwork behind and placing objects in front creates interest in your entry.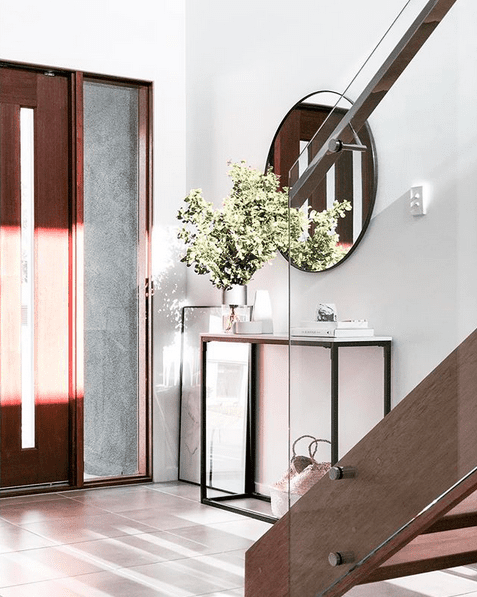 Don't neglect your walls
Statement artwork, a large mirror, wall hooks or even wall shelves are some of the ways you can utilise the wall space in your entry.
If your entry is small, a mirror can reflect light and make the space feel larger. If your entry is long and narrow, using several artworks from the same series can tell a story in the space and lead you into your home. Artwork doesn't have to cost a fortune. Online modern wall art print stores like printivart make it easy to add style and interest to your walls.
There are so many ways you can maximise the wall space in your entry and hopefully you find a few ideas from all the dreamy pics in this article.
Add a scent
We believe all homes should have a signature scent and adding a natural soy candle or a diffuser with essential oils in your entry will create a mood for your home.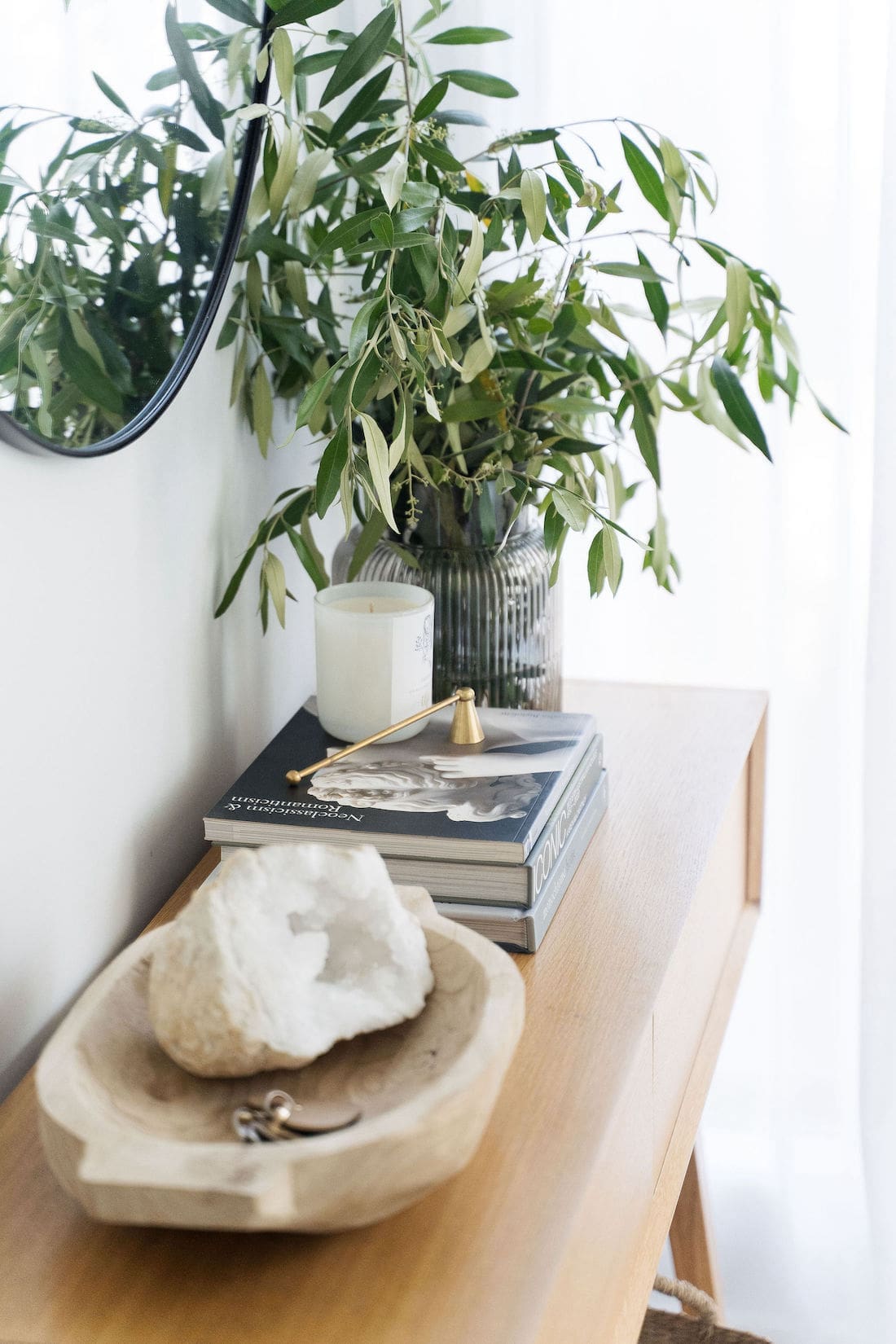 Enhance the positive energy
Finally, we love looking for ways to enhance the positive vibrations of a space. Whether you believe in the healing properties of crystals or not, there's no denying they make for beautiful decor. We share all the tips to styling your home with crystals here.
You may also like to check out this article on how to incorporate elements of Feng Shui into your home.
Did you pick up a few new ideas on how to style an entry? What other ways do you like to make your entrance stylish and functional?
Check out more styling tips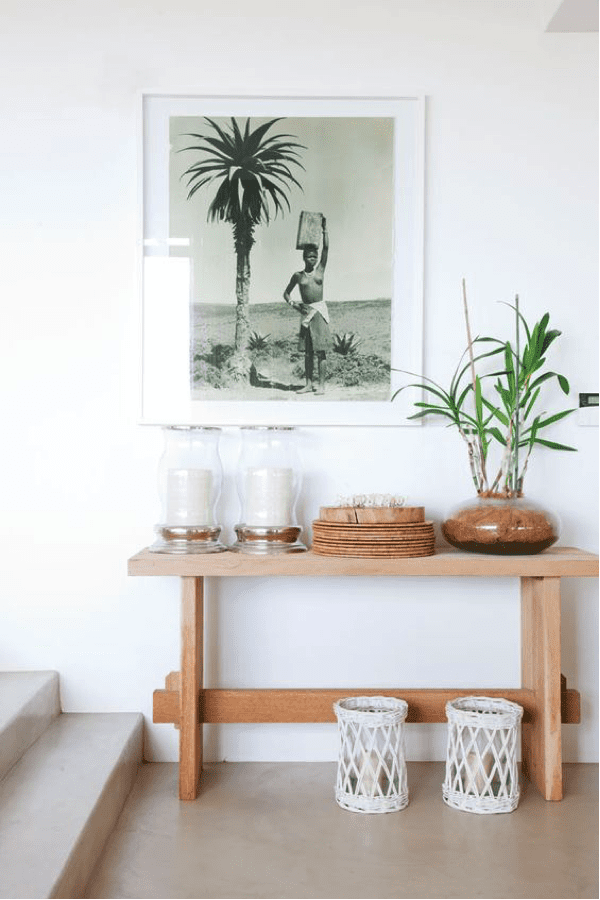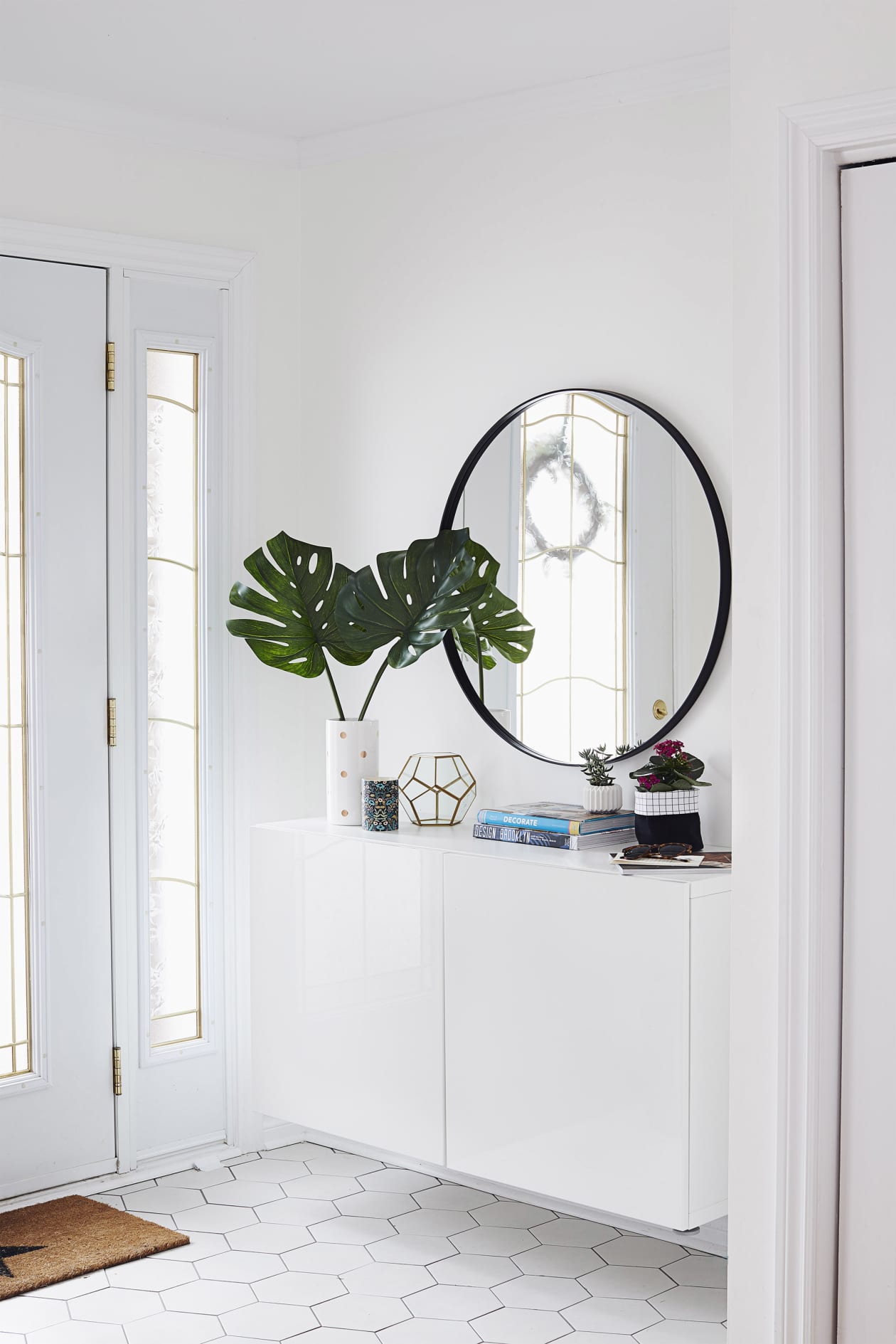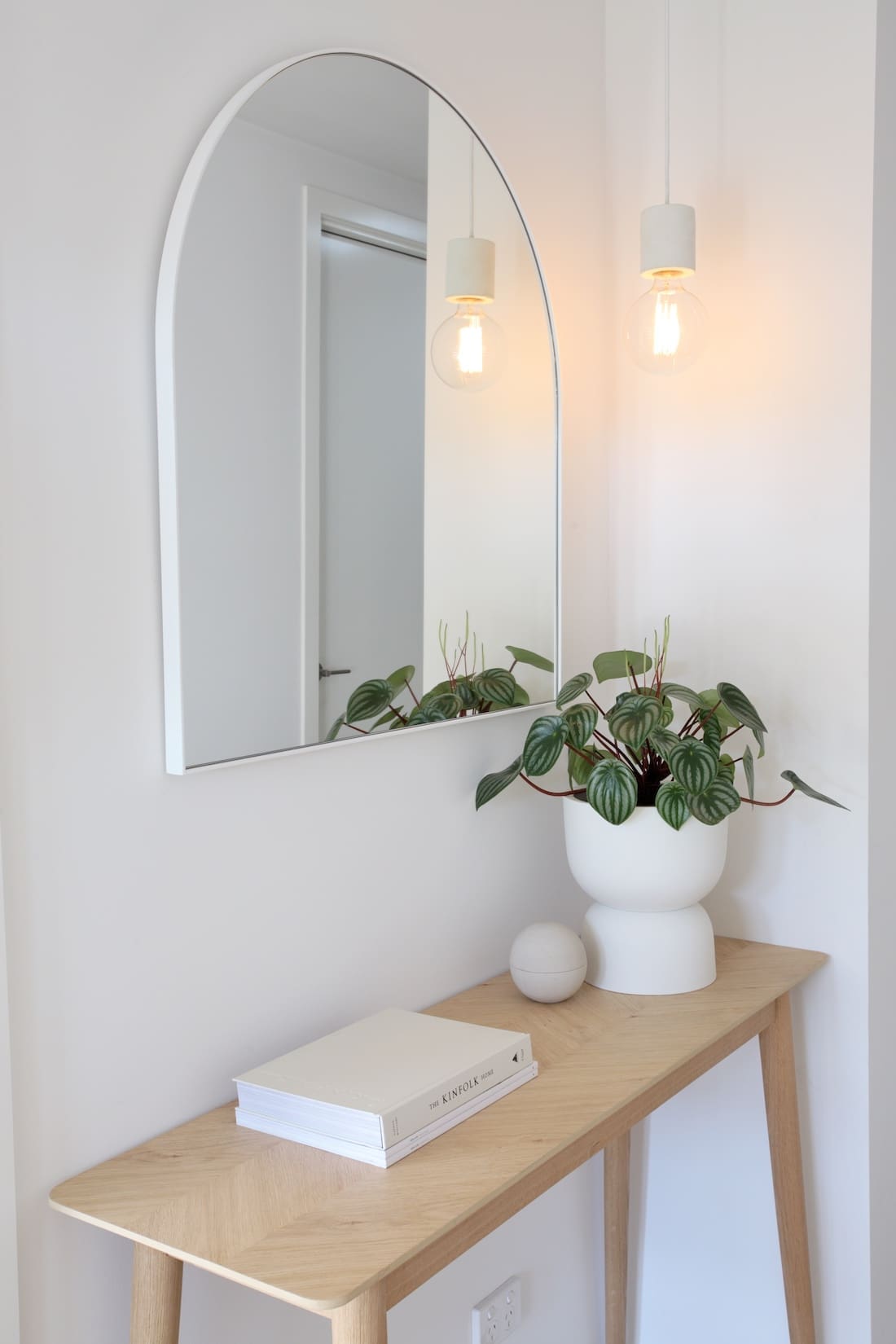 Disclaimer: This post was first published in April 2020 and has been updated with latest styling tips and images. It contains some affiliate links. This means that when you click on a link and purchase something from that site, we may make a small commission at no extra cost to you.