Ahh the tween years. No longer a little boy, not quite a teenager. So how do you style a tween boy bedroom? We're here to bring you a jam-packed inspiration gallery full of pre-teen boy bedroom ideas you'll both love.
Searching for tween girl bedroom inspo? You'll find all our faves right here.
Related article: Inspo alert: Ideas on how to decorate a boy's bedroom
Related article: How to style a shared kids bedroom: Inspo for shared room ideas
Gaming… but make it cool
Gaming themed bedrooms can be a little naff, but this one nails it! A few accessories and artwork to keep the tween-gamer happy and it's not too OTT to keep you happy!
The locker-style bedside table adds a pop of colour and an element of fun. Plus the wallpaper feature wall and neon name sign just finish the space off perfectly.
Beachy skater cool
There's so much to love about this space from Rhiannon Smyth. Our favourite feature is that VJ panel feature wall which adds pattern and interest without introducing a bold print that you may tire of. We've got plenty more VJ panel ideas in this article.
Overall, one of the best takeaways of this tween room is how you can achieve a theme with just a few subtle accessories. The base of this room is neutral and timeless… but add in a feature cushion and some wall art, and all of a sudden you have a beachy skater theme. And when your tween is onto the next thing, you can switch out these items to continually achieve a room that reflects his personality but with minimal effort 😉
History in the making
If your young lad is into history, geography and all things Old World, take inspiration from this sophisticated teen boy room. It's masculine elegance personified and will carry him through into his late teen years, and beyond!
Statement ceiling
We've showcased this blue ceiling boy's bedroom on the blog before… but had to include it in this round up too! So often when decorating a room, we think of what's happening on the floor and walls, and fail to consider what's happening above. But in this room, the ceiling is the feature!
Another idea is to wallpaper the ceiling as The Designory did in that fabulous teen room below with dot wallpaper ceiling feature.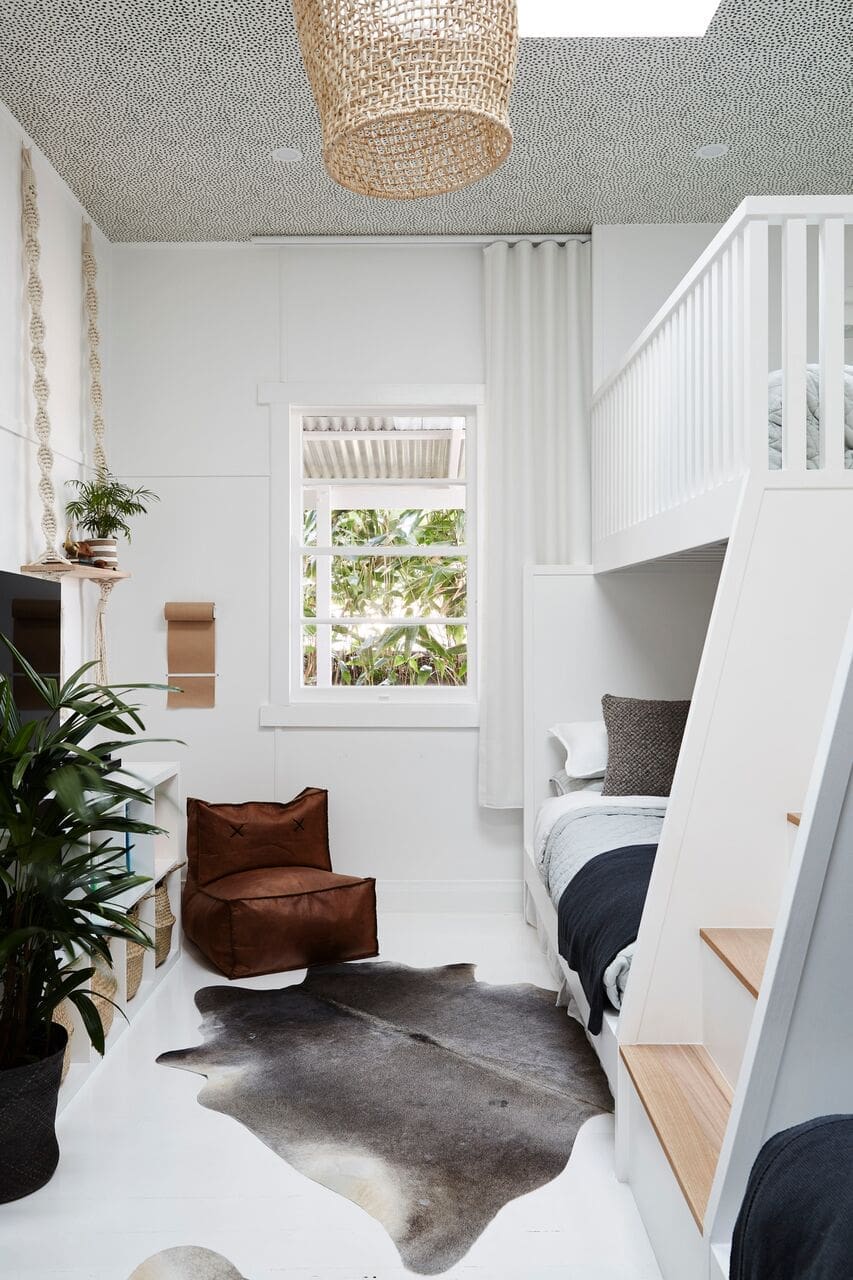 Striped wallpaper
It's a bold choice, but this striped wallpaper makes such a statement. And those special shelves are the coolest way to showcase his precious ball collection.
Statement panelling
If wallpaper isn't your thing (or his!) how about panelling? But not just your everyday panelling. A bit of a funky design makes for a seriously cool statement.
The sleek, dark walls ooze masculine vibes and pair perfectly with the dark timber bed and striped bedding.
For the outdoors-y tween
If your tween boy lives for the outdoors, he might love this outdoor / camping themed bedroom from Emily Norris Home. For tween boy bedroom ideas on a budget, the cute tree wall decal stickers are a great choice. They're a smart and affordable way to decorate without damaging the walls.
And the cool teepee bed is another element we love if he's outgrown the traditional house or teepee bed he had when he was little.
For the ultimate Star Wars fan
If Star Wars is his ultimate love in life, you might be wondering how to decorate his bedroom, without it feeling… um… well… ugly! Sorry to be blunt, but themed bedrooms can be less than pleasant, haha!
This room seriously showcases his love of Star Wars, but in a cool way. The blueprint style artworks and light saber wall rack are our faves!
If the wall decals is a little too much for you, there are other options! Look for novelty bedding (but a nice one!) to do a themed room on a budget. A few Star Wars toys and simple, classic illustrative-style artworks to finish it off.
It's what tween-Jedi dreams are made of.
Scandi study
This black and white themed bedroom has almost a scandi vibe going for it. And instead of the typical second bed underneath this bunk, we're loving this simple study nook set up. It's just the right size for your tween and even has space for a chill out bean bag after all his school work is done.
Loft chill space
A bunk bed is always a cool idea, even if it is nearly impossible to change the sheets! So why not steal this idea, where the tween boy sleeps down the bottom, and up the top is a cool as loft hangout space!
Plus the real deal basket ball hoop in his bedroom is sure to score you plenty of cool parenting points too!
Clashing prints
We know we often say less is more but if you like BOLD, why not take inspo from this room. Using a consistent colour palette achieves a sense of cohesion in a space that otherwise blends styles and themes like no tomorrow…
If you have the room for it, a couch in a shared tween boy bedroom is a great idea to give the boys some space for reading, games or just some chill out time.
The trendsetter
This mustard and rust toned tween boy bedroom is the dream. It's so gorgeous and so on-trend, we feel a little bit jealous it's not our room!
The mix of prints are divine, but what makes this space really great is that it can easily be switched and totally transformed simply with a change of bedding. Classic styling done brilliantly.
Edgy monochrome
Sleek black bed, moody grey walls. Black and white printed bedding with a subtle pop of colour. And then there's that cool skull wall art that makes this space a tween boys paradise.
Simple, edgy, yet seriously cool.
Dino lovers
We feel like every little boy goes through a phase of loving dinosaurs. But if you've got a budding palaeontologist on your hands, he might still want a dinosaur theme, just a bit more grown up.
This space nails the brief, with a simple colour palette and subtle pops of dino green. The artwork is a bit more tween and we spy those beloved dinosaur toys that he simply can't bare to part with. It's rawww-some!
Make a splash with bedding
This room is a whole lot of white on white. And yet, it's not the least bit boring! Layered rugs add texture and interest and the subtle pops of blue break up an otherwise monochromatic palette.
This is a great choice if your (not so) little one changes his mind often because you can simply switch out the bedding for a whole new look and theme.
One for the pattern lover
This tween boy bedroom makes a serious statement! The geometric print wallpaper is a bold choice but if he's a little on the wild side, it might just work!
The orange barn door adds a fun splash of colour against the white and blue walls. And that light — wow! Go bold or go home!
Lego lovers
Creating a nice, stylish 'themed' bedroom is no easy task. And when it's a shared bedroom, that makes it even harder! When Savannah was tasked with creating a Lego themed shared bedroom, she was up for the challenge.
Playing on the idea of the colourful Lego bricks, she added pops colour through bright bedding. The blueprint Lego posters are our absolute fave — fun for the kids, stylish for the adults!
And would you believe that city skyline is hand drawn! So epic!
Curves in all the right places
When your bed looks like a skate ramp, you know you're in for a heck of a cool bedroom. Add on-trend mustard walls, plenty of warm timber and wallpaper on the ceiling… yep, we're sold on this epic tween boy set up!
Industrial cool
The industrial pipe wall shelves really sell this tween boy bedroom. The ideal place to display his collection of prized trophies and trinkets, they pair perfectly with the moody feature wall colour.
Add in the rustic bedhead and vintage vibe Union Jack cushions and this is a bedroom ticks all the boxes of industrial design!
Music lover
If your tween loves music, keeping his favourite instruments out on display is a wise choice. This space keeps things pretty simple, with a gallery wall incorporating more than just artwork for added colour and interest.
The checked floor rug adds texture and pattern into the room and we think this space is a total winner.
Almost a teen
Lana from Three Birds Renovations renovated her dream home and gave her son this gorgeous space. It's ever so simply done, but has a few fun elements he's sure to love.
The clear perspex book shelf is always a winner, using books as wall art. And the fun rope ladder is sure to be his favourite feature!
Simple, elegant, neutral — a space he can love now, and will grow as he grows.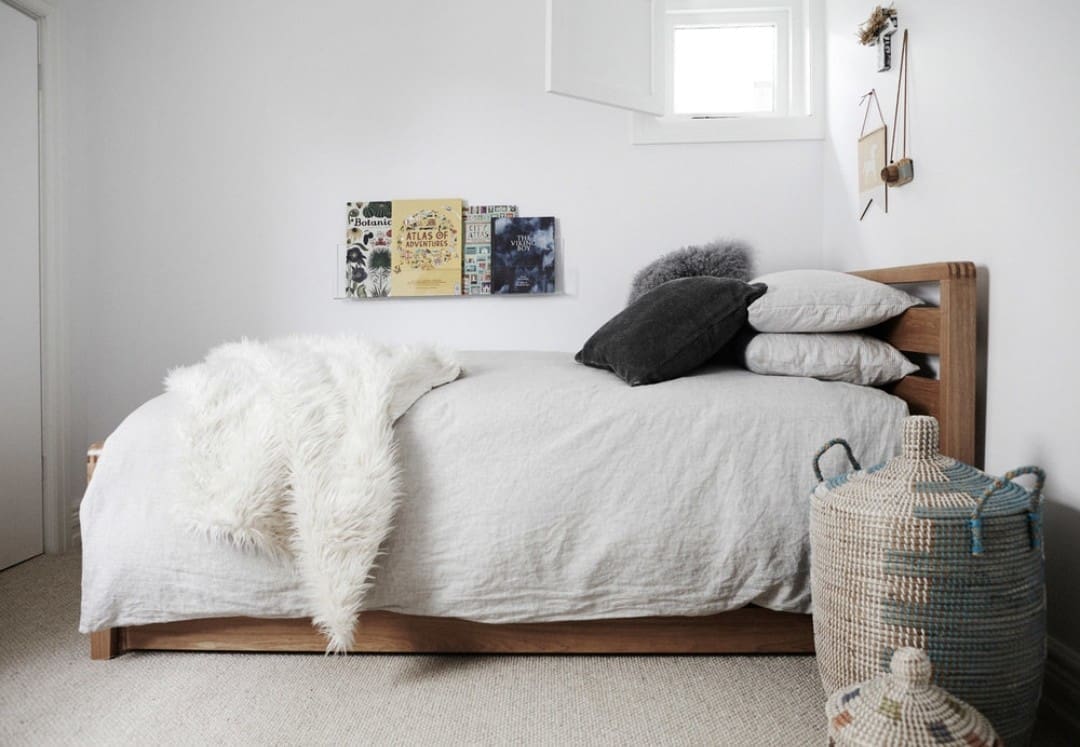 Neutral palette
While her youngest son is not yet a tween, Emily Norris from Emily Norris Home designed Jackson's bedroom to be a space he could grow into. The clean colour palette is something that can easily be pared with new bedding and home decor to suit him as he grows.
For now, we think the mustard play tent is a gorgeous touch and a space he would love to curl up to read in.
Did you find a tween boy bedroom for the mini man (or men) in your life?? Has it given you some ideas or inspiration to give your pre-teen's bedroom a makeover? Or perhaps tell us which is your fave space! Let's chat in the comment section below!