Supported by Lorraine Lea
I recently shared Patrick's nursery with you and a struggle I had when creating the space was getting practical 'how to' information to help me… my Google searches came up with things like 'make sure all the furniture matches' which wasn't all that helpful or something I necessarily agree with!
Having gotten Patrick's first nursery space so wrong, I've learnt that nurseries need to be — above all — practical.
So here are my top ideas to create a nursery that's just that — practical, stylish and baby-friendly.
1. Get the colour palette and theme right
This may seem like a tip that's just focused on aesthetics but guess again — the first room I created for my baby was far too busy, with many loud colours, and it was so distracting that he couldn't sleep in this space.
A sleeping baby is pretty much the number 1 goal of any new parent so listen up!
Avoid red as it's the first colour a baby sees. I had a stack of red books right at eye-level to the cot and my bub was so focused on looking at the books that he wouldn't sleep.
I suggest keeping to a fairly soft and muted colour palette with just one or two accent colours.
A ratio of 60-30-10 is always a winning formula, for example 60% white, 30% soft grey and 10% your accent colour.
I've used this formula with an accent colour of soft mint. I love this fresh colour and that it's gender neutral for those of you who are keeping the gender a surprise.
I also suggest deciding on your theme early as a nursery, much like any other room of the home, should start with a clear direction. It will avoid the problem of buying pieces you think are sweet and later seeing that they really don't work in the space at all.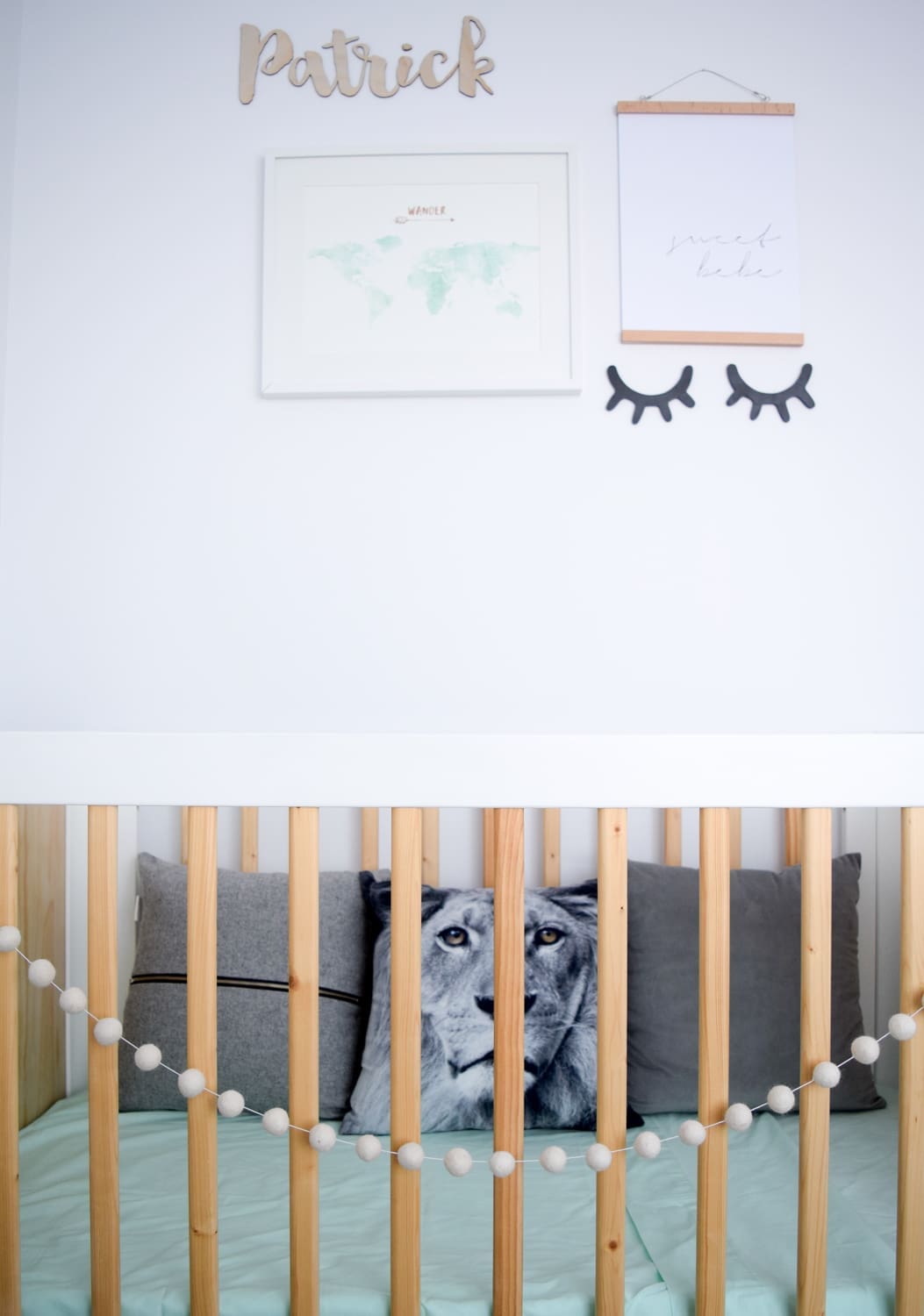 2. Create a space for a baby gym
Without a doubt, my bub's favourite activity for the first few weeks and months of life was playing in his baby gym — in the early days it helps to build their muscles and coordination, and later for keeping them interested in 'tummy time'.
Because this is something you'll most likely use at least twice daily, I suggest creating a dedicated space for it in your nursery. You can find loads of stylish baby gyms on the market now, or if you feel like getting crafty you can follow our DIY baby play gym tutorial here.
A cute bunny rug like this striped one from Lorraine Lea looks great underneath and washes well for any spit ups or accidents that could happen (read: will inevitably happen!).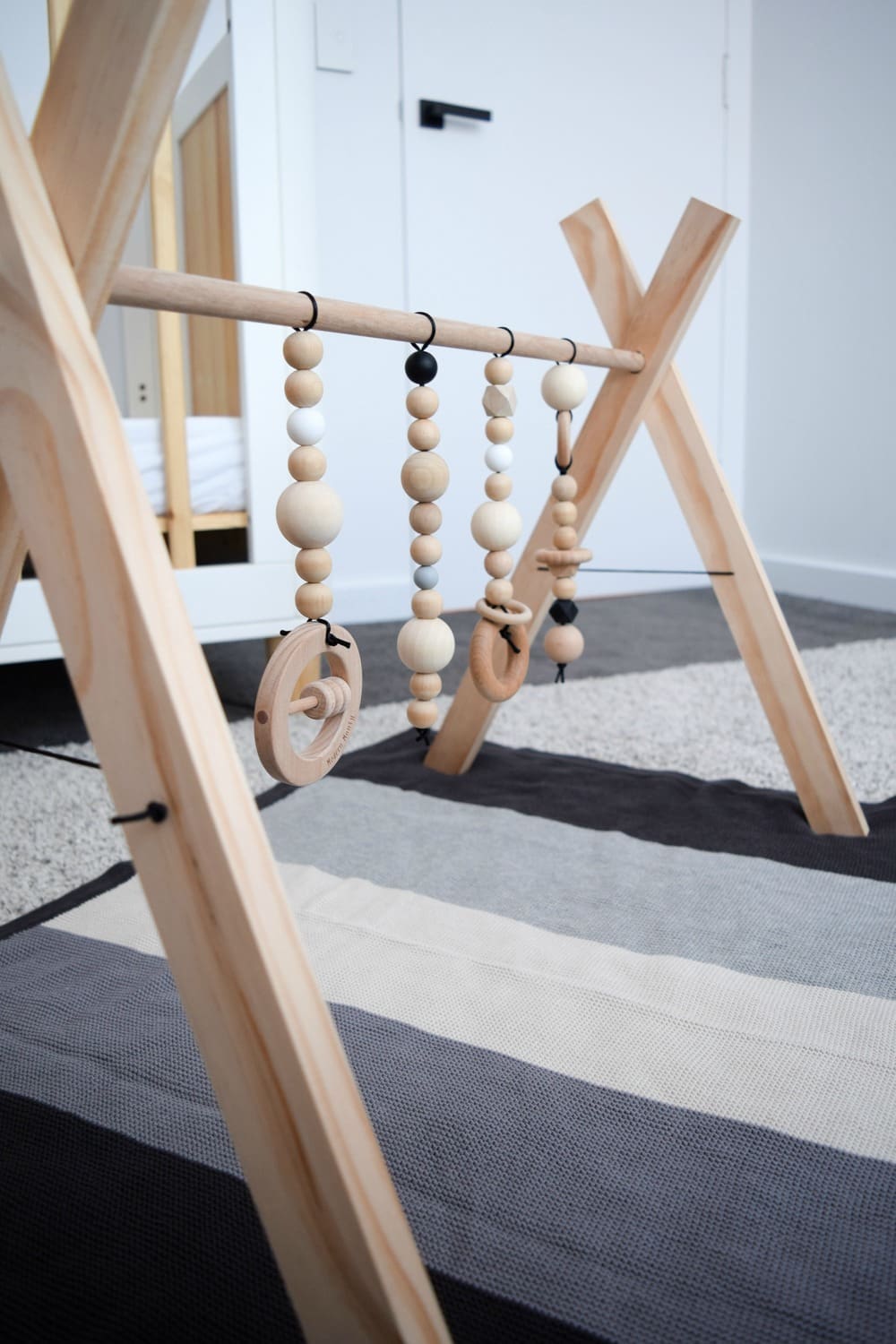 3. Keep cot bedding minimal
When it comes to bed styling I'm all about layers, layer, layers… but to create a safe sleeping area for your bub, you'll need to restrain yourself.
Most safe sleeping guidelines recommend avoiding doonas, pillows, sheepskins, bumpers or soft toys in the cot. A fitted sheet and then swaddling your baby or using a sleep suit is all that's needed.
That doesn't mean you can't have a bit of styling fun when your baby isn't sleeping in the cot though so stay tuned for my tips on that soon!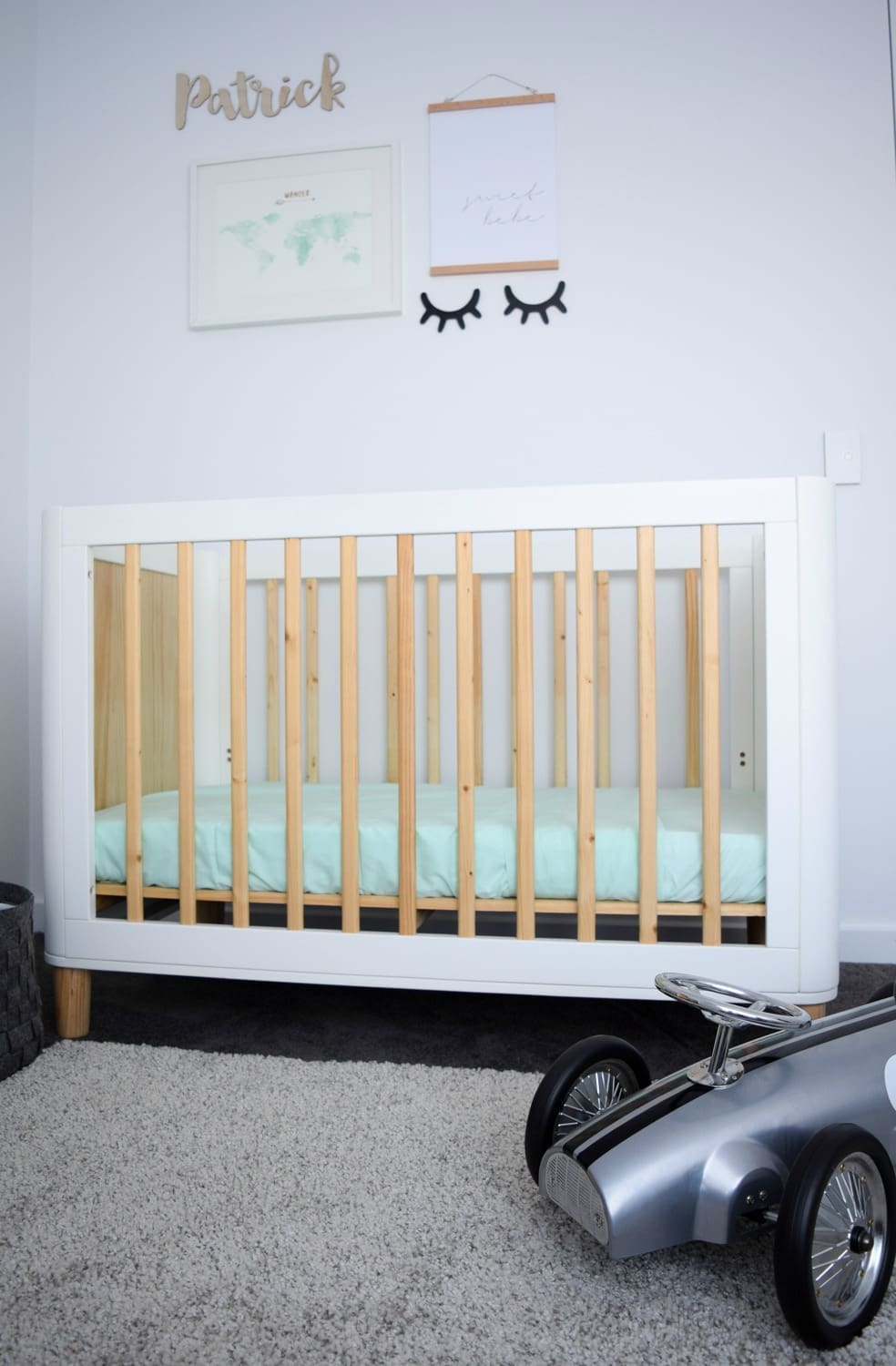 4. Embrace storage baskets
As soon as you have a baby, your home becomes filled with so much more 'stuff'.
And one of the best solutions I've found to keeping this stuff manageable (and preserving some level of order in your home) is with storage baskets.
Here I've got two different storage baskets that I use in Patrick's nursery for toys, teething pieces and goodness knows what else.
They don't just look stylish — they hide a mountain of things, allow me to tidy his room at night in 2 minutes flat, and are accessible to him during playtime.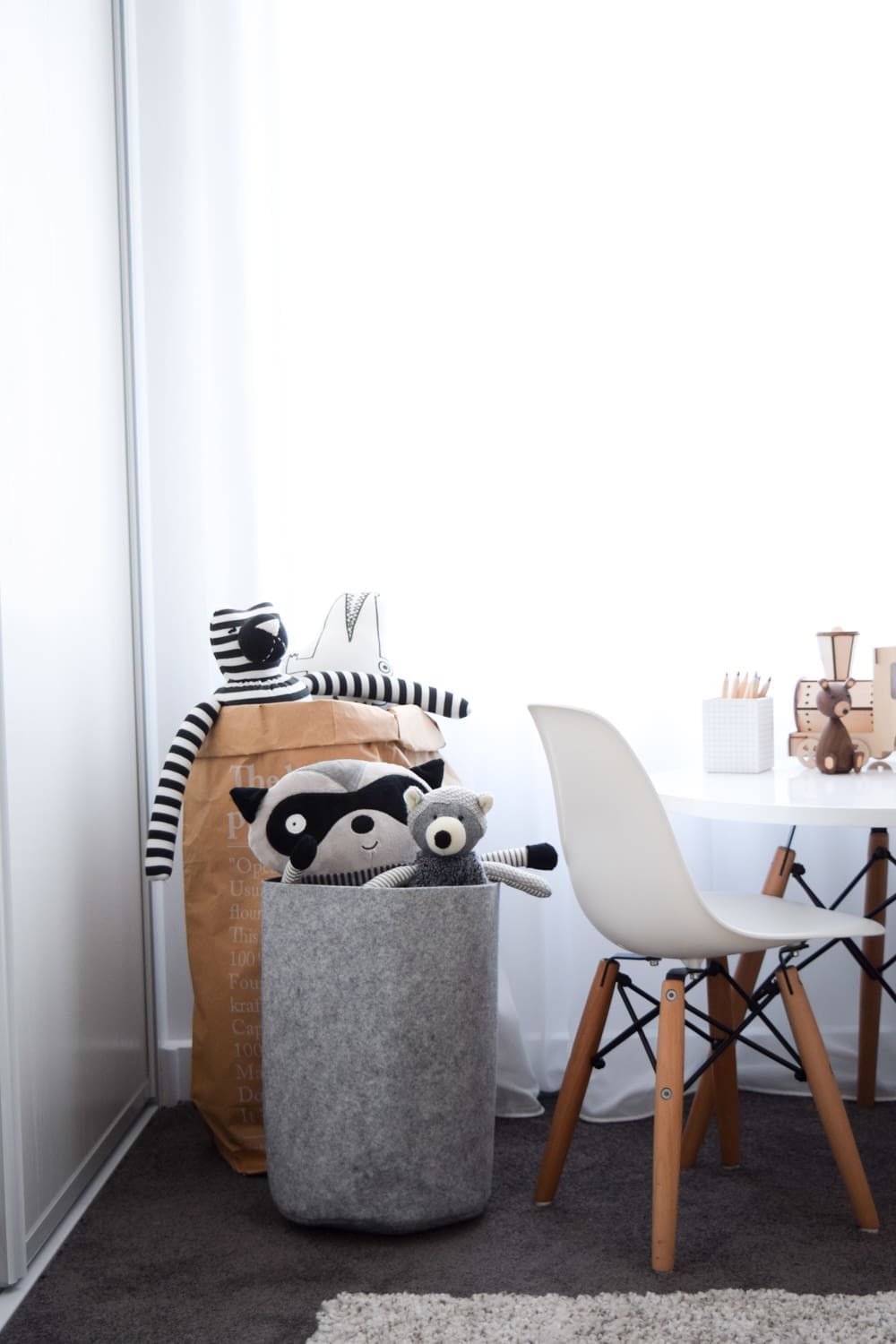 5. Create a comfortable seating area FOR YOU
Whether it's feeding your bub, burping or settling them to sleep — you'll spend hours each day sitting so you may as well make it comfortable.
You don't have to spend a fortune on a chair (in fact, mine is a bargain find) but you do need to have good quality cushions to support your back, and one for under your arm during feeding time.
Here I've used a soft grey velvety cushion which is part of an animal set from Lorraine Lea (you can see the beautiful lion cushion that comes with it at the top of this post).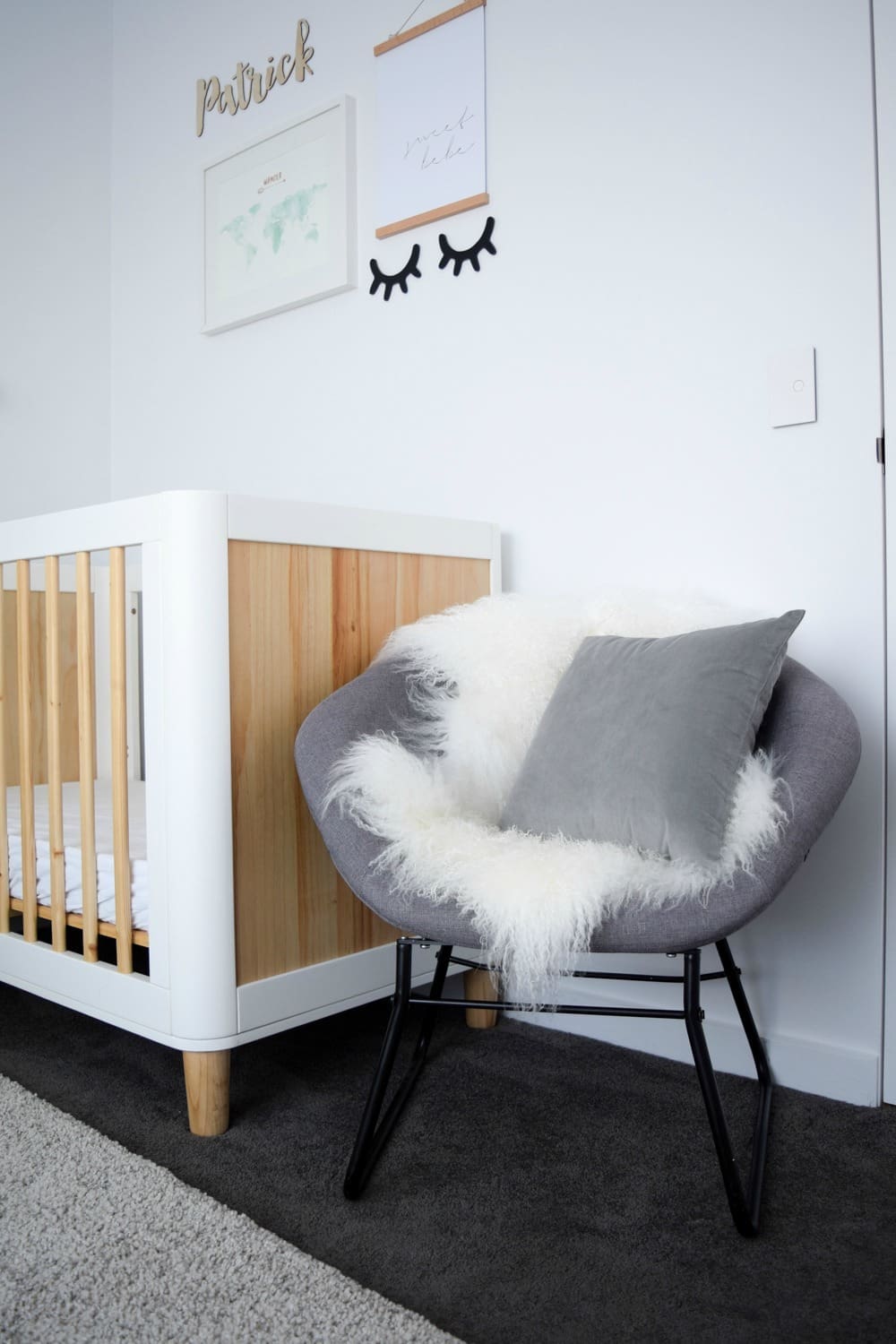 6. Make your change table accessible — the right way
Something first-time parents may not think of when setting out their nursery is that you need to stand at the end of your change table, not the front of it, when changing bub.
Make sure you leave enough clearance at one end so you can easily change baby, while still having access to the front to reach all your nappy changing essentials.
My other top tip here: put down a blanket over your change mat. Unless you have one of those rubber mats that just wipe clean, you will thank yourself if you have a small blanket on top of the change mat that you can easily throw in the wash if baby has an explosion. The size of this pram blanket from Lorraine Lea is just right.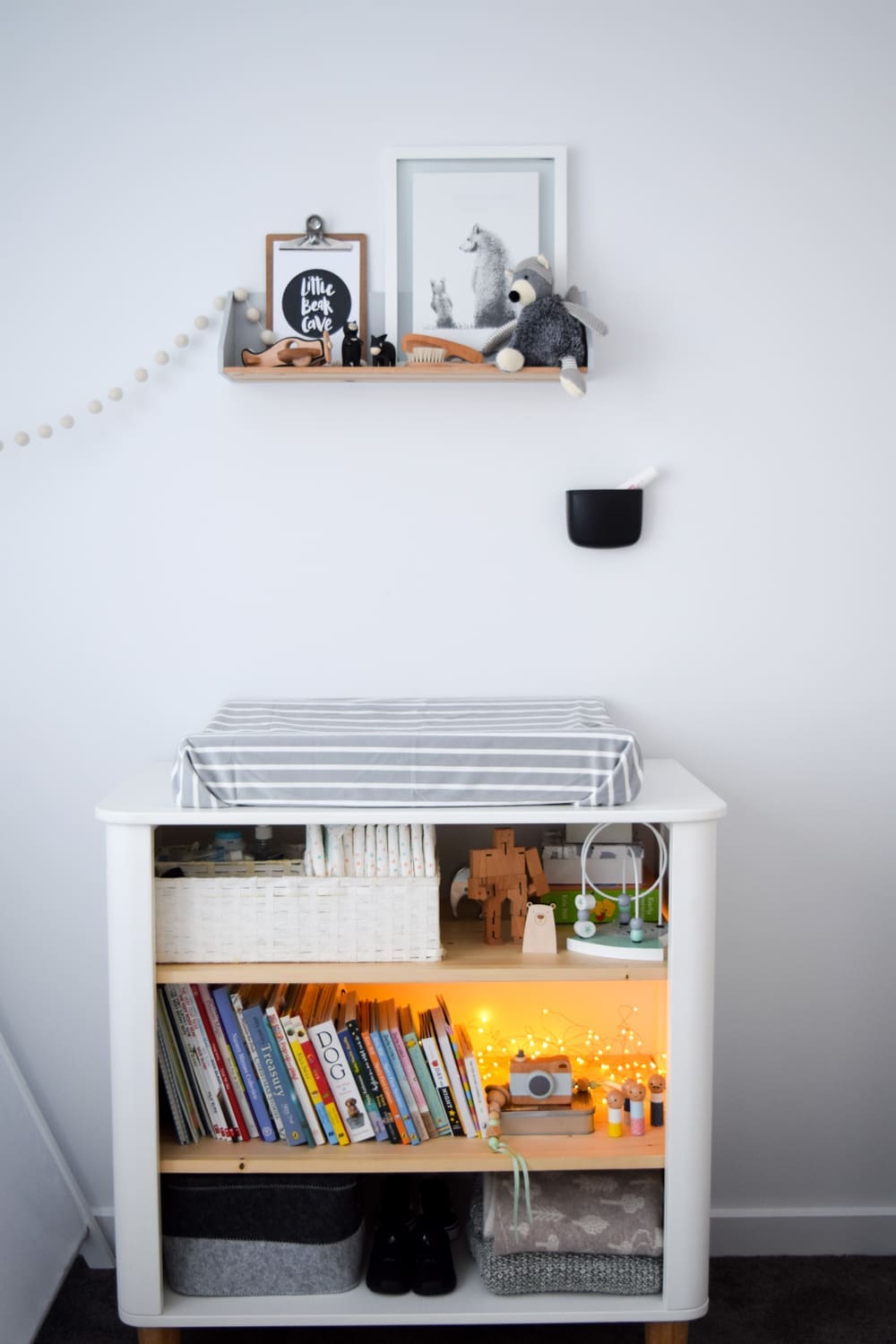 7. Don't forget wall hooks
And finally, my last tip to creating a practical, stylish and baby-friendly nursery is to put up some wall hooks.
Hooks are useful for hanging up towels after bath time, holding hats or scarves, and even hanging wall art.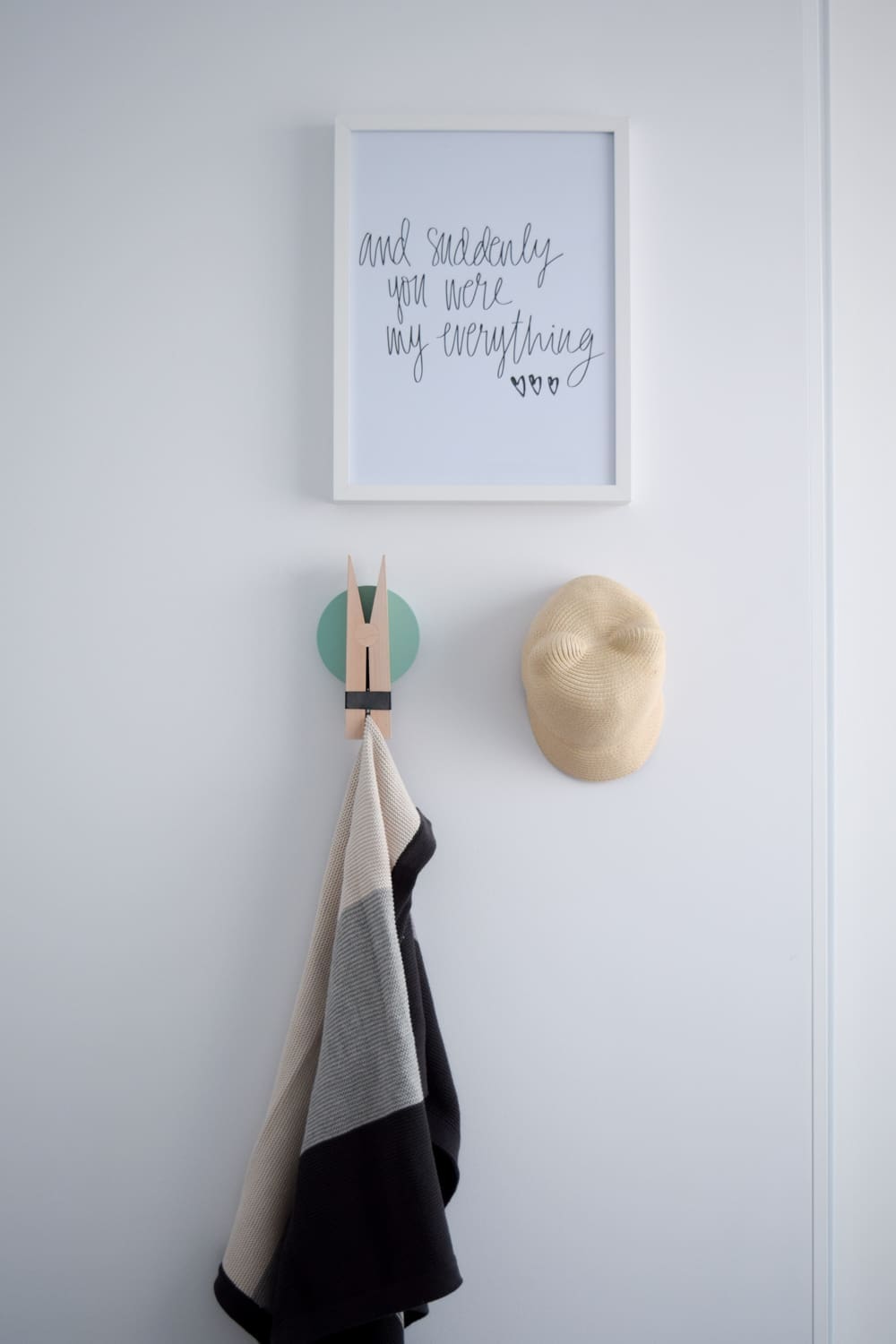 What do you think of these 7 ideas to style your baby's nursery? Do you have any other nursery styling tips? Or advice/hacks for new parents? Share them in the comments below!
Check out the Lorraine Lea website for their range of on-trend, quality products for your nursery — or any room in the home!