A DIY I've wanted to make for years now is a timber baby play gym! I got the idea to make one when we made Patrick's teepee clothing rack as I thought a miniature version would be ideal for hanging toys. Of course, I wasn't the only one to get this thought and there are now dozens of tutorials to make similar play gyms.
But a dear friend of mine is about to have her second bub, and I'm making this play gym for her so thought while I was at it, I'd take photos along the way.
You can personalise this piece to suit your baby's nursery, for example by adding some coloured silicone beads from your colour palette.
Related article: DIY nursery canopy with eucalyptus garland
Related article: Creating an epic outdoor play area for your child
Note:
This design was created using advice from Australian Toy Safety guidelines however it has not been tested for compliance. We recommend parents use their own judgement if this design is right for them and that babies are supervised at all times.
Items you will need:
2 pieces of 42mm wide x 19mm thick x 1.2m long standard grade dressed pine
1 piece of 70cm length dowel (I used 16mm diameter but you could use any thickness between 10mm-20mm depending on your preference)
Saw
Electric drill
Spade drill bit size of dowel width
Scissors
Ruler
Pencil
Twine (I used rat tail)
Optional paint and brush
Steps:
1. Cut the timber pieces in half and trim the ends on a 15 degree angle (this will make them sit flush against the floor and give the gym stability).
2. Stand two pieces of timber and cross them at the top, creating a teepee shape and use your pencil to mark where the timbers overlap.
3. Find the centre of the overlapped space and mark with a pencil. Pre-drill a hole with a regular drill bit and then use the spade drill bill to drill out your hole where the dowel will feed through.
4. Repeat this step on each piece of timber.
5. Optional: You could paint the timber pieces in white or a colour to tie into your nursery theme. Alternatively, you could use painters tape to create a clean edge and just paint the top tips of the planks. Or you could leave the gym completely natural.
6. Drill a small hole 25cm up from the base of each timber plank where you can feed your twine through to help give the gym extra stability (this will prevent it falling on baby!).
7. Construct your play gym by standing two pieces of timber at each end and feed your dowel through.
8. Feed twine between the two holes on the legs of each side of the play gym and tie a double knot to secure.
9. If your toys are on small timber hoops, you will need to add these before putting the end pieces on your gym. Alternatively, you could simply double twine over the dowel and feed beads on one by one. Finish with a double knot and leave 1cm excess twine to prevent it coming undone. Babies just love munching on the ribbon!
Shop our favourite nursery decor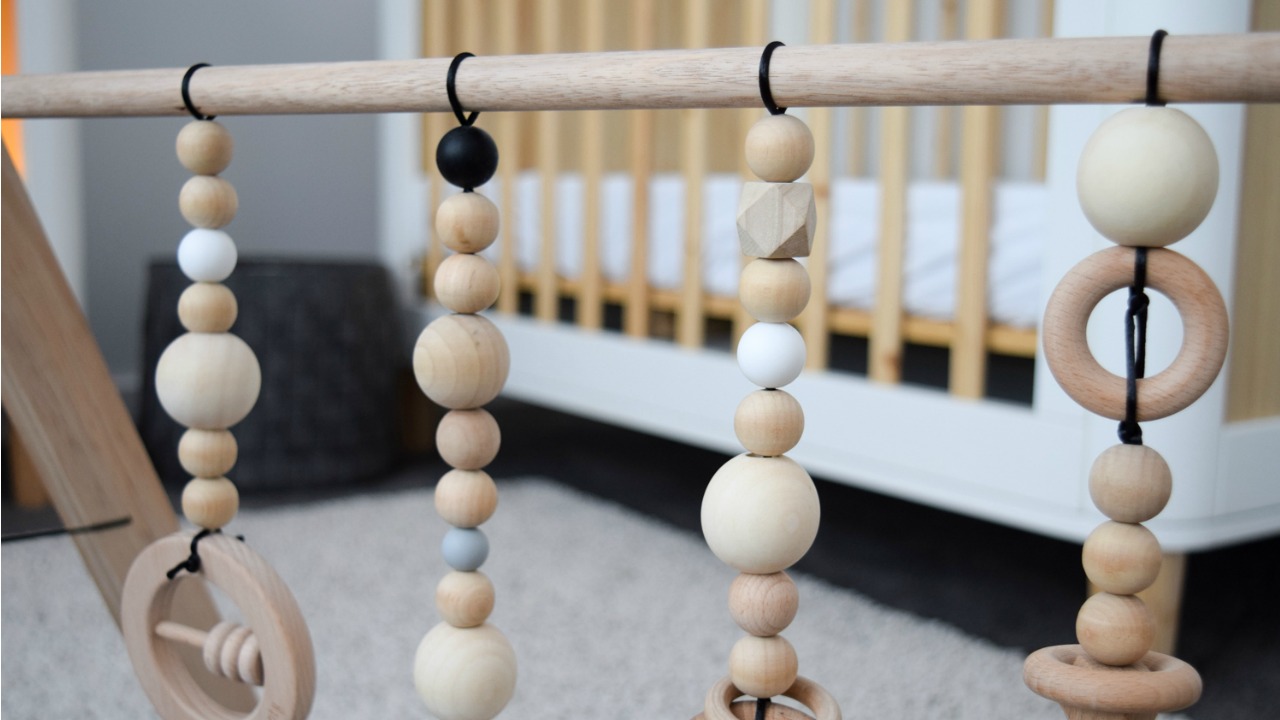 There you have my version of a stylish baby play gym. Will you attempt this DIY? Tell us how you've adapted it to suit your nursery!
Shop our favourite nursery decor
This post was first published in August 2017 but has been updated with new information and images.
Disclaimer: This post contains some affiliate links. This means, if you purchase an item we may receive a commission on that sale of the products at no extra cost to you.