Today's artist, Adele Naidoo, has always had a deep appreciation for colour and beauty. A self-taught artist, her signature style combines a soft pastel colour palette together with hand drawn florals and textured brushstrokes.
We recently had the pleasure of sitting down with Adele to learn more about her art and chasing her dreams.
Related article: Artist spotlight: The talented mother daughter duo behind Aurora Art
Related article: Discover Sarah Leslie's intricately layered Australian botanical art: Abstract art with a digital influence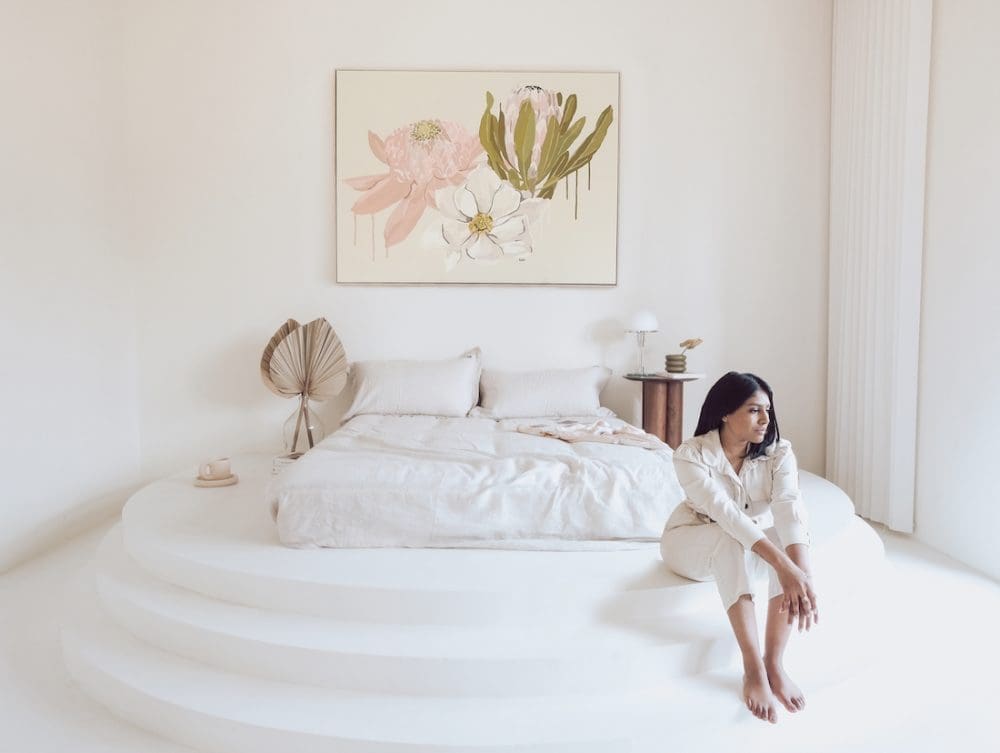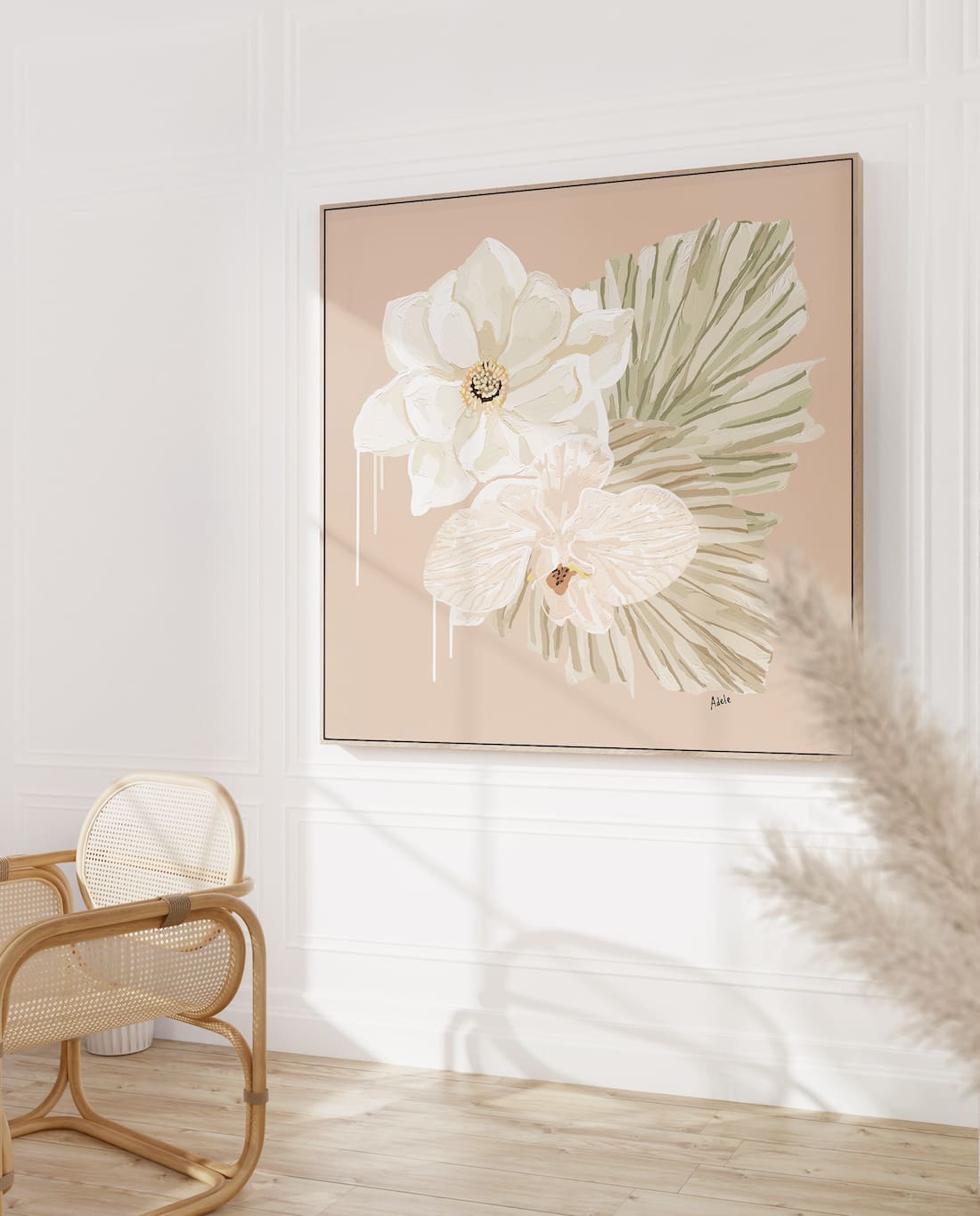 Born into an artistic family, Adele Nadioo has always had a passion for art and the beauty it creates.
"My father was an artist and my first art teacher," Adele explains.
"He encouraged me to appreciate and understand beauty and colour. From an early age, I was fortunate enough to have my creativity nurtured. Art became my passion.
"I am a teacher by trade, but my passion for art, design and interior styling lead me to complete a Diploma in Interior Design while working as an art teacher.
"When I had my first son, time at home allowed me to explore graphic design and I created my first collection in 2018. I was represented by Greenhouse Interiors which was an incredible achievement as an emerging artist. It's something I'm still really proud of.
"I continued to work as a teacher until mid-2021 when I took the leap into art full-time. It was scary at the time, but oh so rewarding.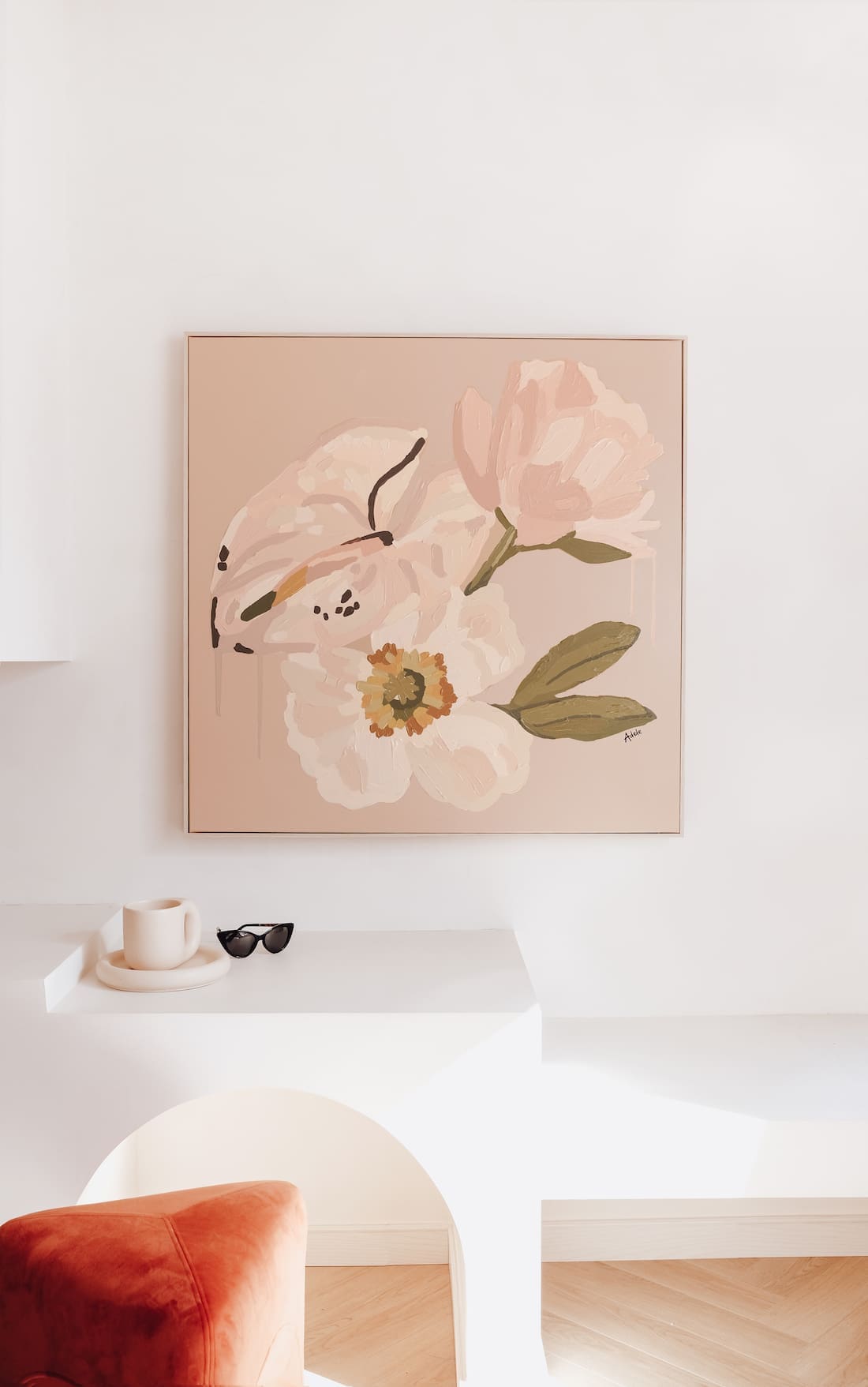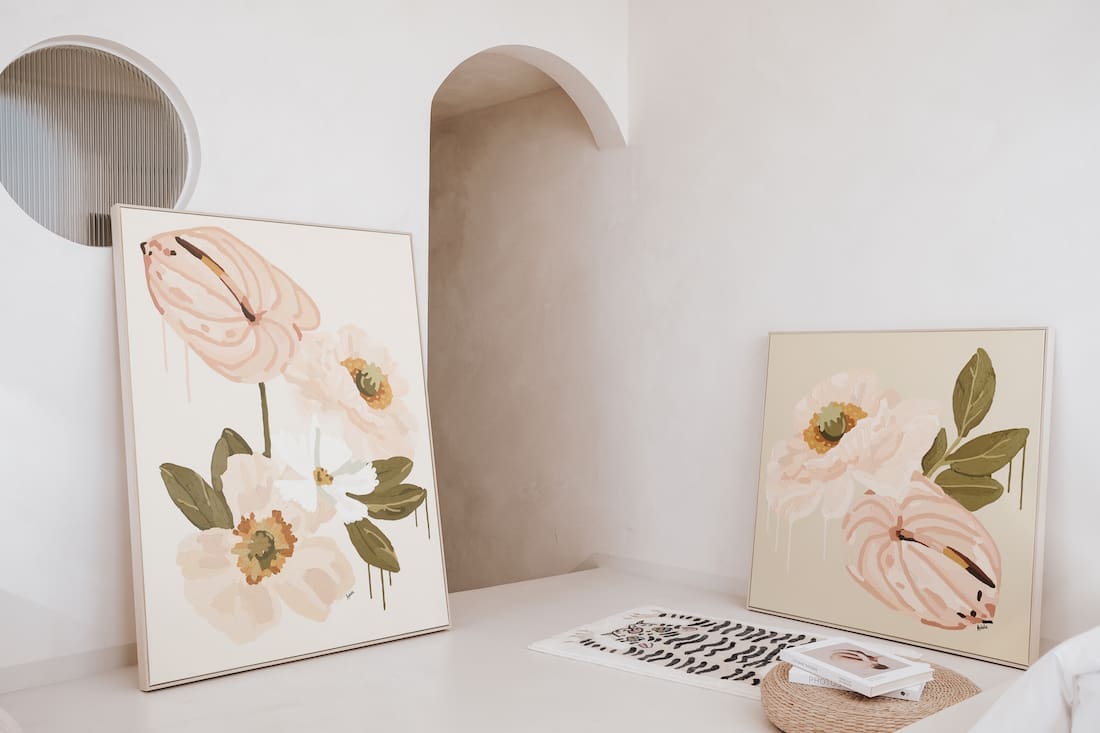 A lover of travel, Adele finds inspiration in her surrounds.
"I've lived in lots of different places over the years! I was born in Durban, South Africa and immigrated to New Zealand with my family when I was 10 years old. We then made the move to Perth. In 2019, my husband and I and our 2 boys relocated to Shanghai for 2 years. That was a real adventure!
"We're now back in beautiful Australia and plan to stay put for now! We love to travel and when it feels safe to travel again, I can't wait to plan our 2 month trip to Bali. It will be part work, part holiday. I plan on painting my new collection and shoot it in dreamy locations."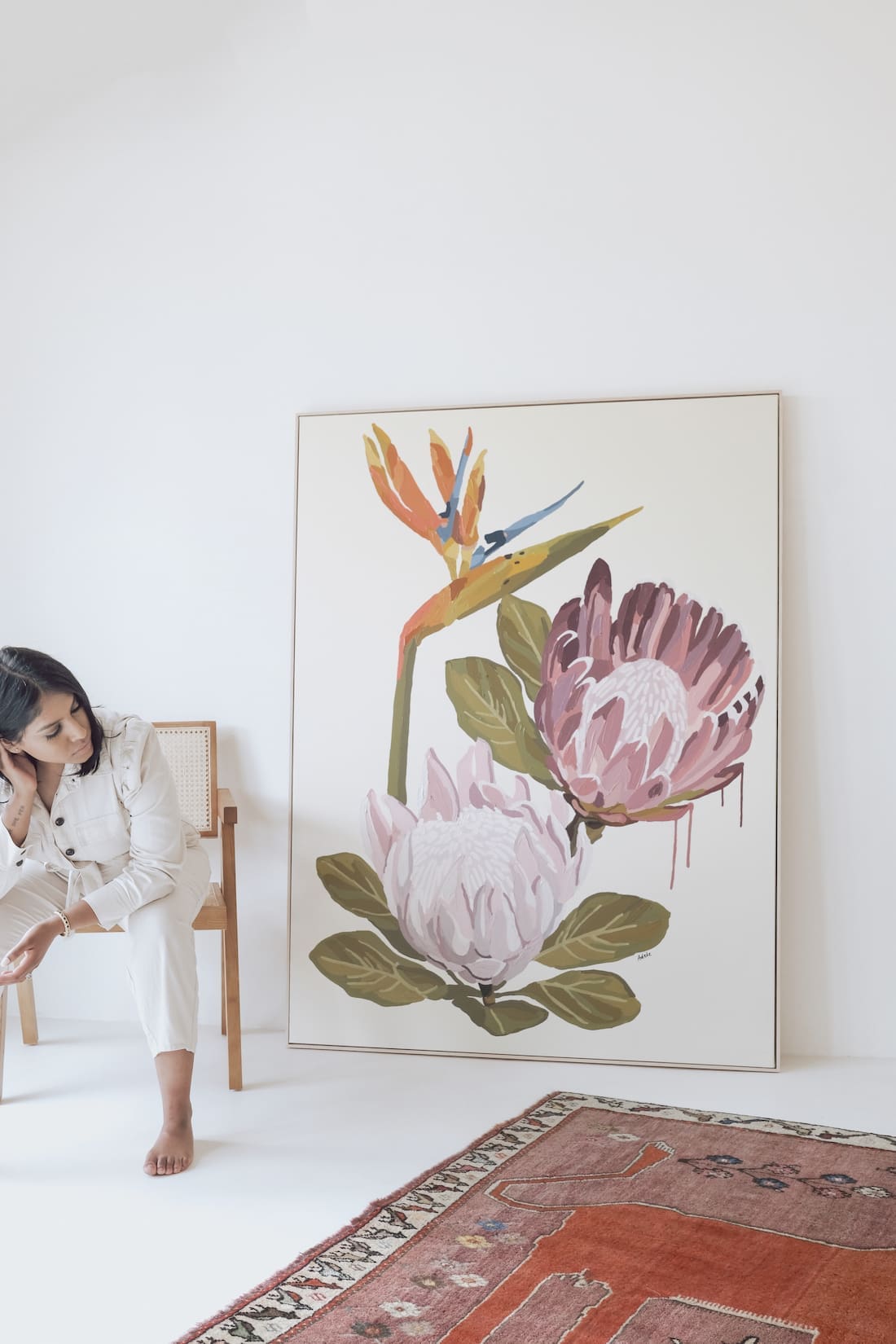 Adele uses a mix of digital and hand-drawn elements to create her beautiful works of art.
"I start my art using photoshop where I have created a digital collection of all my hand drawn florals. With new works, I add new floral elements and experiment with compositions and colour ways.
"My work has evolved from purely digital drawings to mixed media. I now combine both acrylic painting and digital art.
"Time spent in lockdown in Shanghai, pushed me creatively and I began experimenting with calmer palettes and designing new products."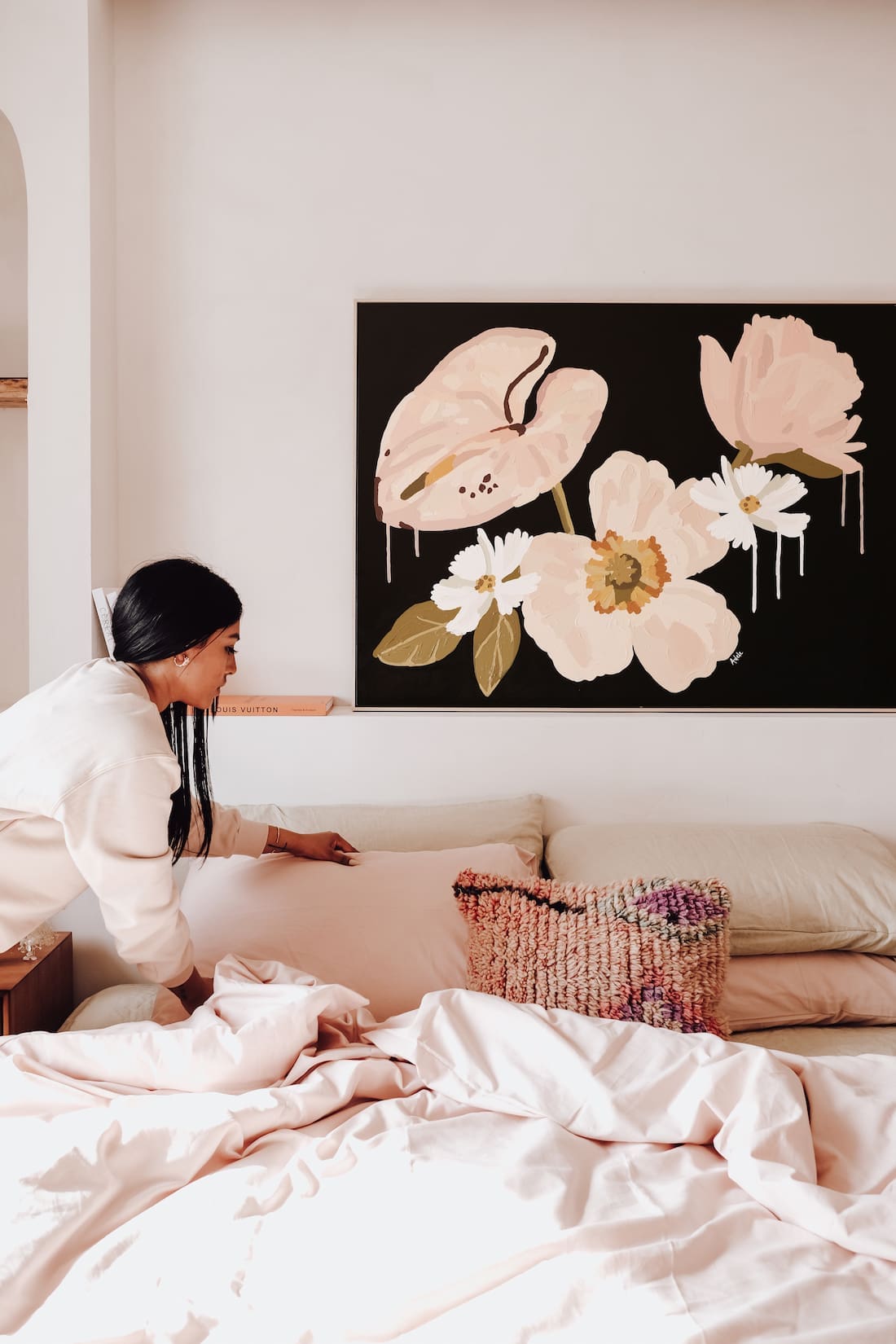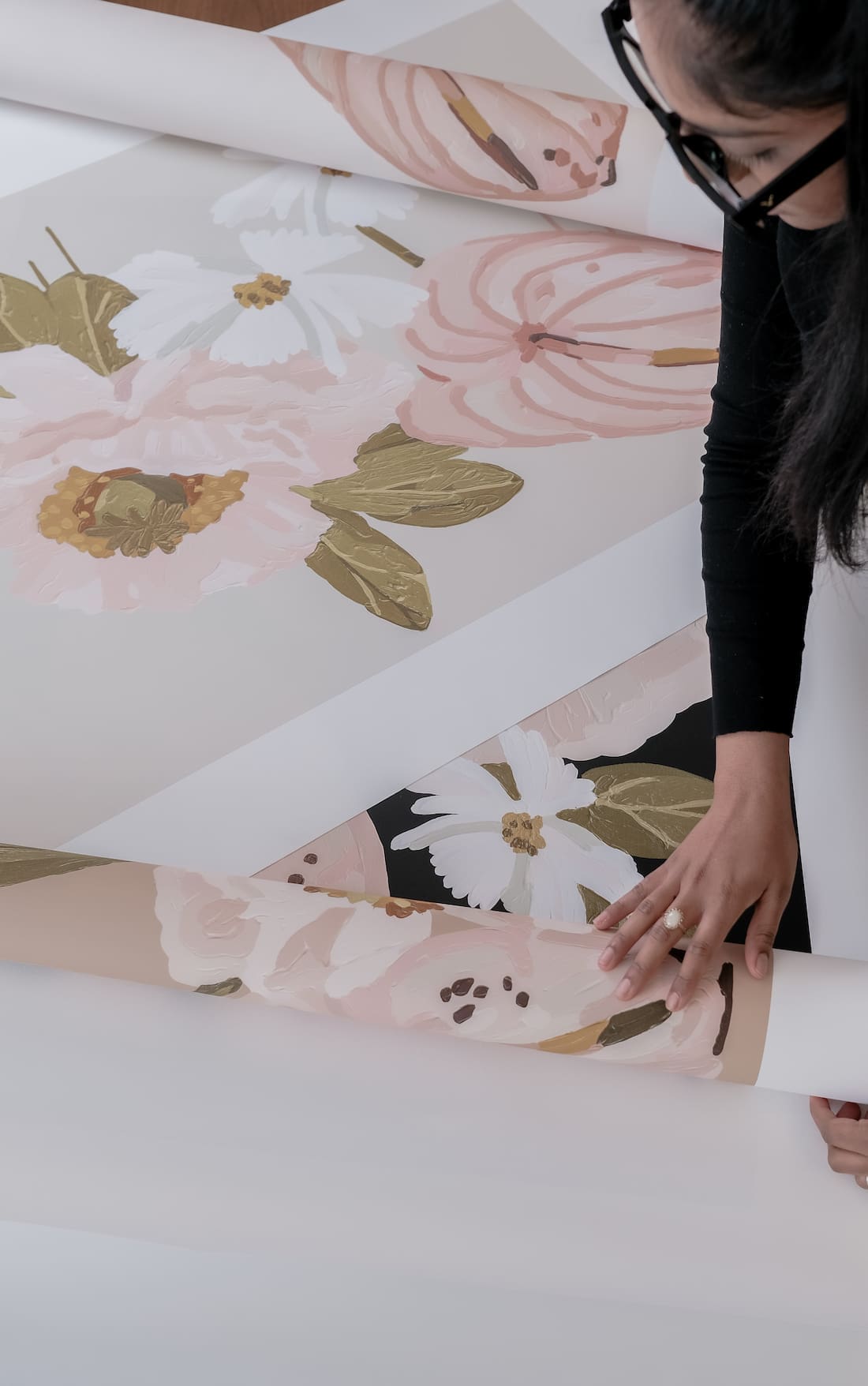 Describing her works as feminine, relaxed, boho-luxe and art with good vibes, Adele's painting have a strong floral influence.
"My inspiration comes from early memories of watching my father create and paint," recalls Adele fondly.
"Growing up in South Africa, I was surrounded by nature and always admired the landscapes. Flowers are of course a huge inspiration. I also find inspiration in vintage floral poster compositions, fashion, interiors, travel and culture.
"In terms of my art style, it is heavily inspired by one of my favourite artists, Henri Matisse. I love his use of colour blocking, and pastel hues with pops of colour.
"Since I was little I've been obsessed with colour palettes. I remember rearranging stationery, my wardrobe and toys into colour orders!"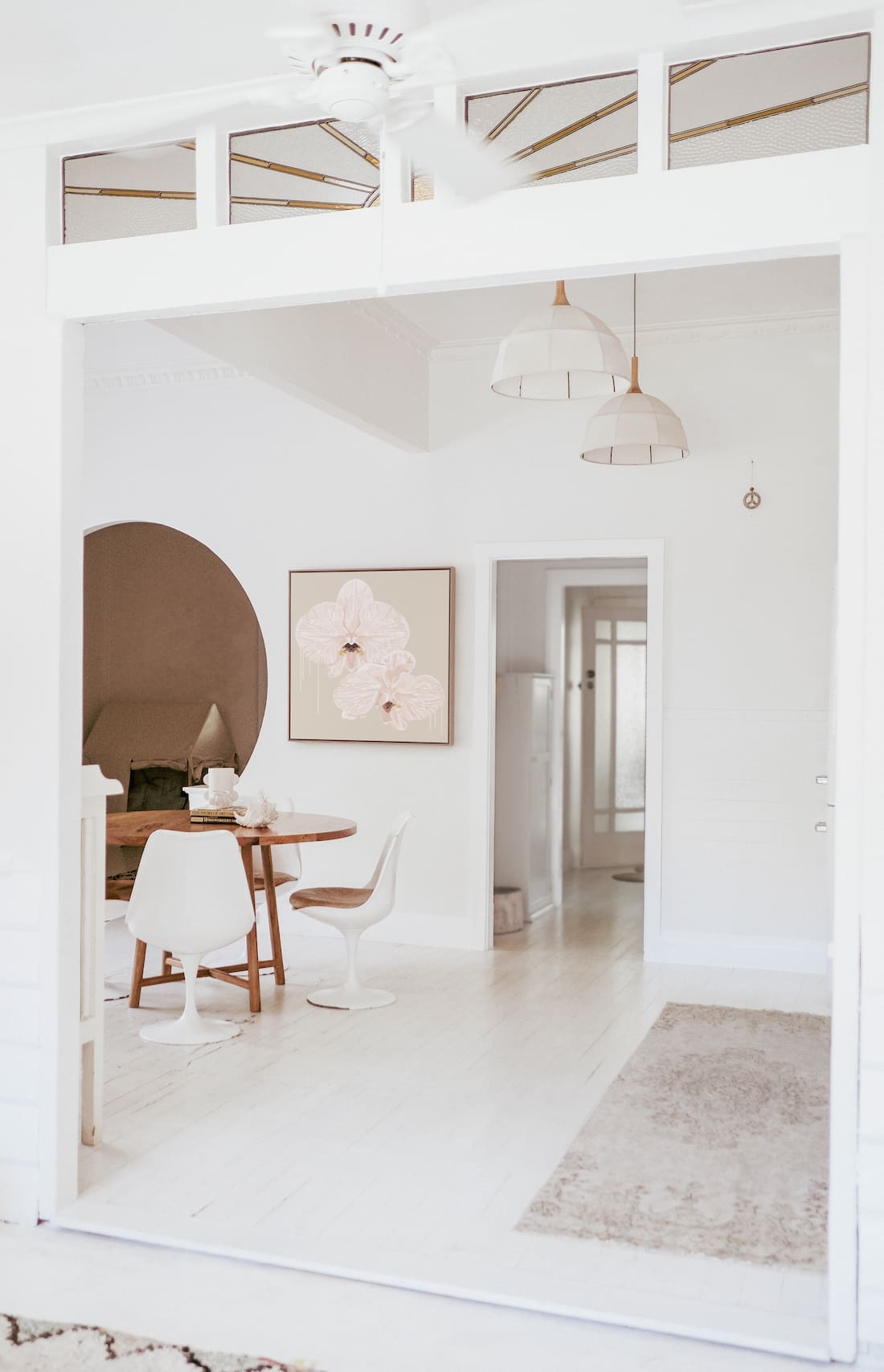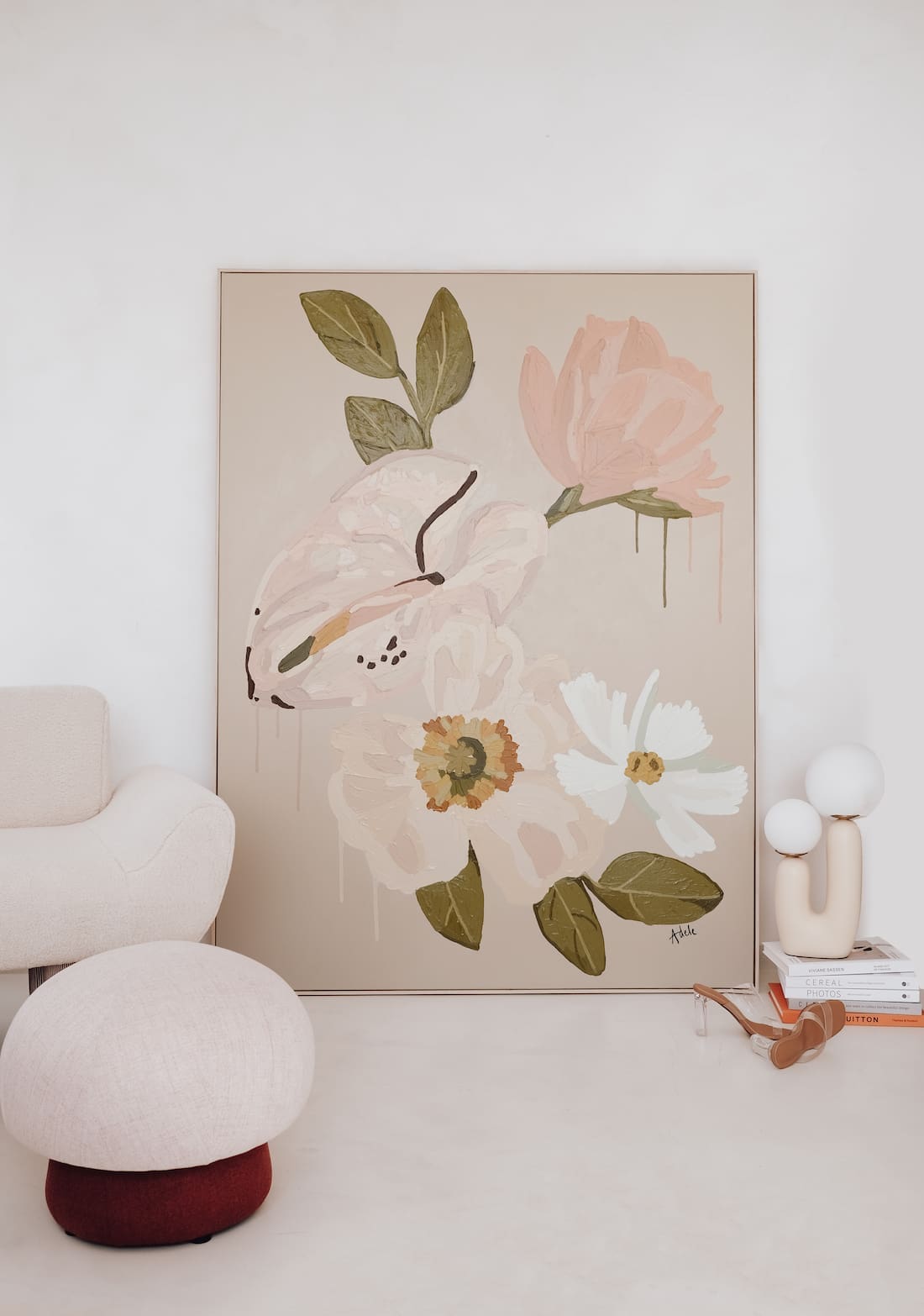 With a handful of collaborations under her belt and solo exhibitions on the horizon, the future is looking exciting for Adele Naidoo.
"I'm such a big dreamer and have always dreamt of seeing my art on lifestyle and fashion products. Seeing this come to life over the past few years is incredibly exciting.
"My latests collection is my first ever paper print collection, Wanderlust '22. This experimental collection allowed me to pare back my original artworks by digitally tracing existing compositions and extracting only the contour lines.
"This collection is minimal, relaxed with its tonal palette and allowed my mind to be consumed by wanderlust. Each piece evoked a feeling of travelling to my dream destinations.
"This month, I'm having my first ever solo exhibition with Jumbled in Orange, NSW. I'm also planning another collection release at the end of the year so I'm certainly keeping myself busy," Adele says with a laugh.
"My goal is to have my art in homes across Australia but also focussing on sharing my brand and passion internationally."
Thank you to Adele for sharing her beautiful artworks and collaboration ranges with us. To see more from Adele Naidoo, be sure to check out her Instagram page or website.