Dreaming of an overseas adventure? Yeah, us too! But if that's not on the cards for you, let Brigitte Grant from BG Studio take you there through her beautiful European summer inspired artworks.
A relative newcomer to the art world, Brigitte has grabbed the attention of Three Birds Renovations, so we were thrilled to sit down and chat to this talented artist.
Related article: Blakely Made — bringing us culture and beauty through art
Related article: The colourful botanical abstracts by artist Carley Bourne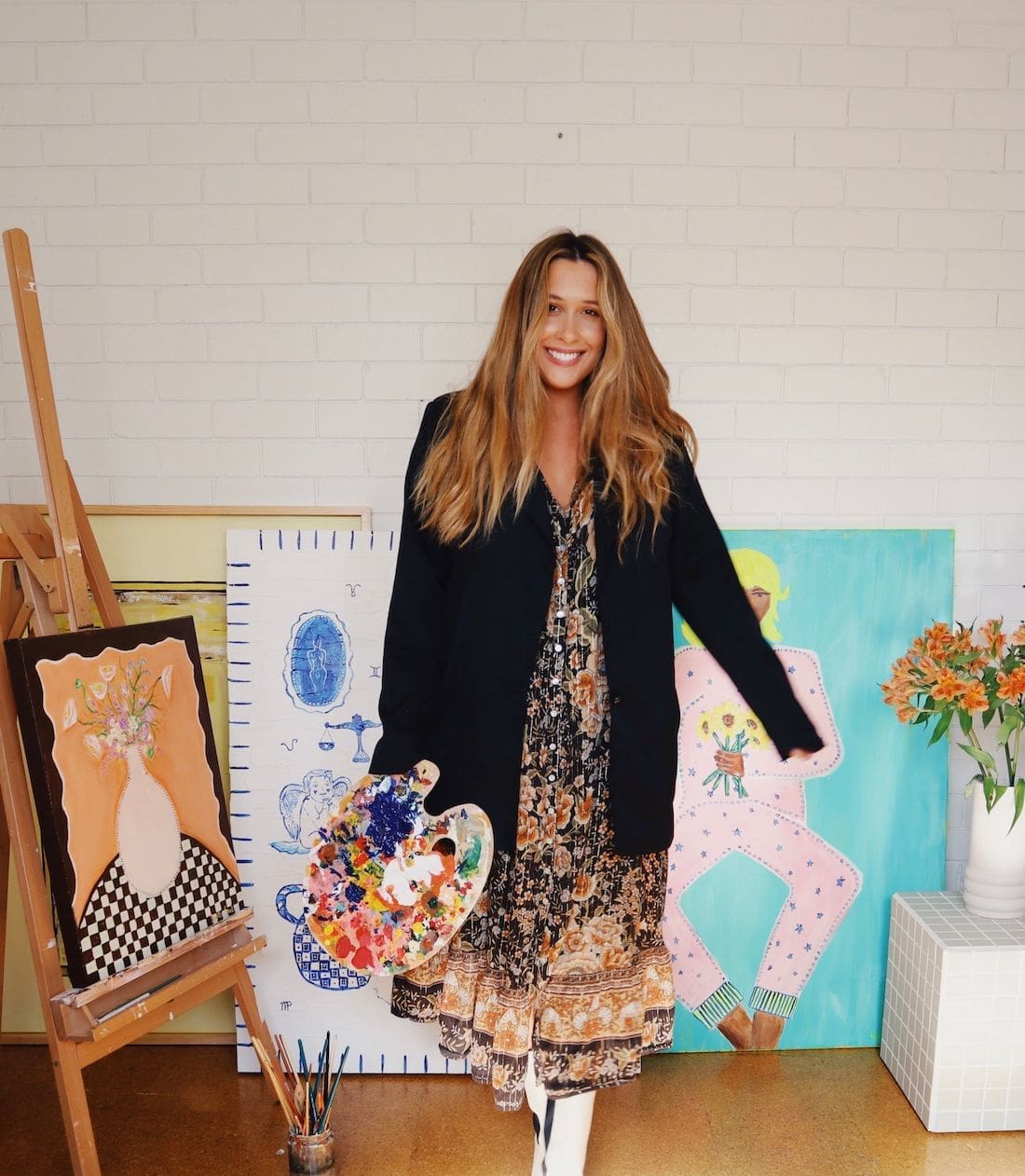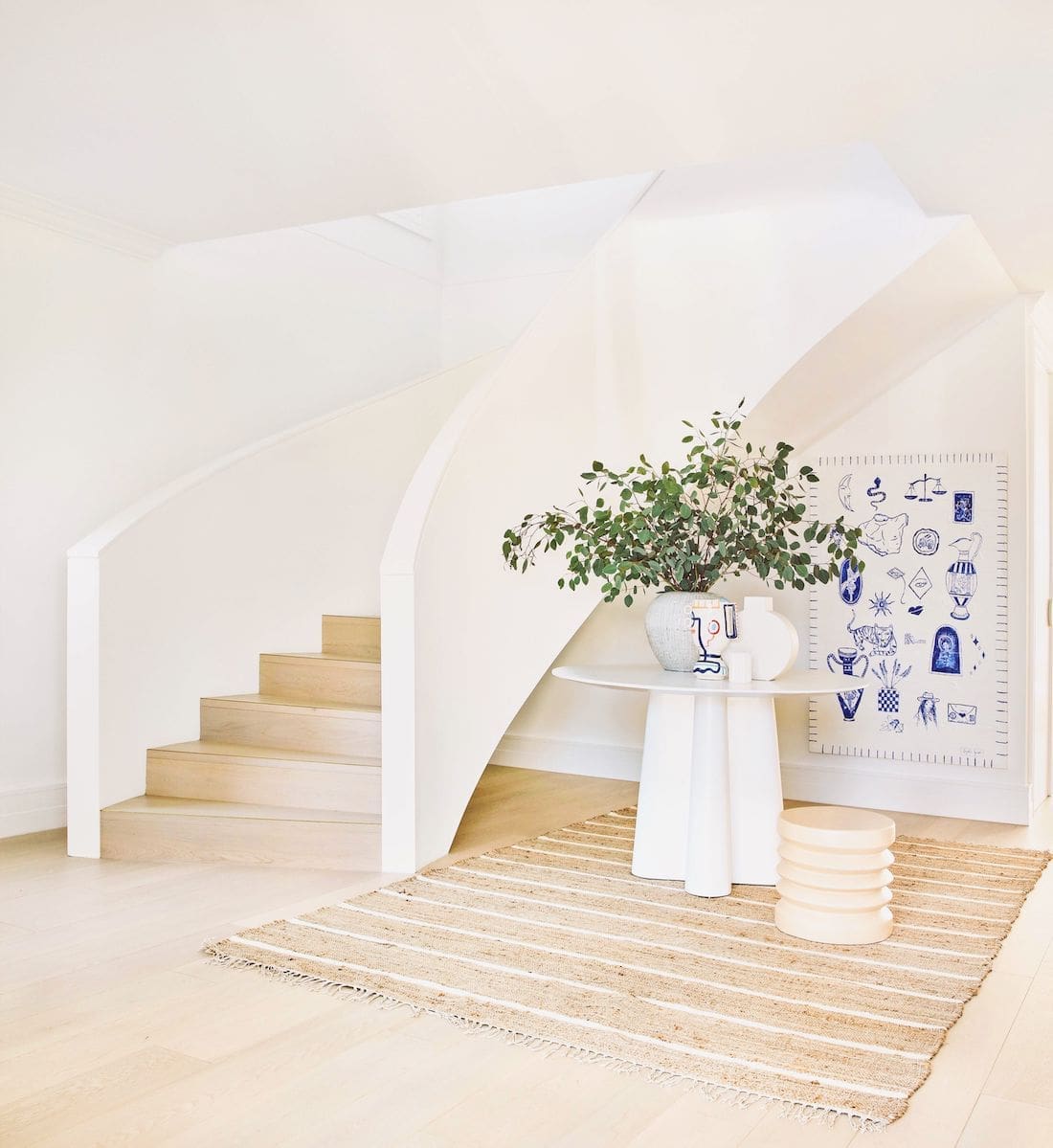 Out of work thanks to the Australia-wide lockdown in 2020, Brigitte picked up a paint brush to simply pass the time.
"When the first lockdown hit, I had a lot of spare time on my hands," Brigitte explains.
"My job was in the retail industry so I couldn't go to work. Fuelled by pure boredom, I sat down and started painting. Fast forward 3 months and I couldn't get enough of it. I would share my creations on my personal Instagram page.
"When I was getting my hair done, my hairdresser mentioned she wanted to buy one of my paintings! It was such a thrill so of course I said yes! After that, things really snowballed and more and more people were asking to purchase my artwork.
"And so BG Studio was born! I set up an Instagram page and here we are today! Selling paintings and prints all over Australia and the world!"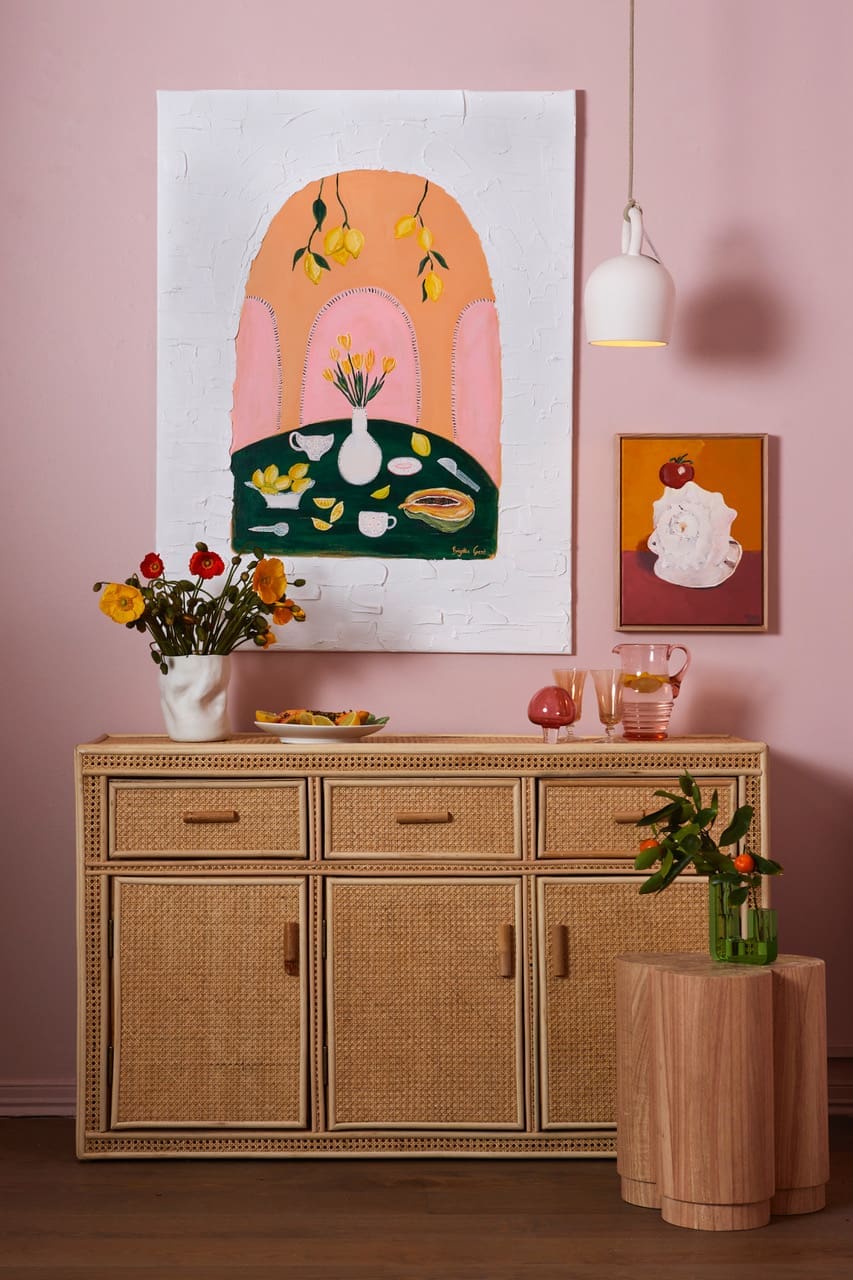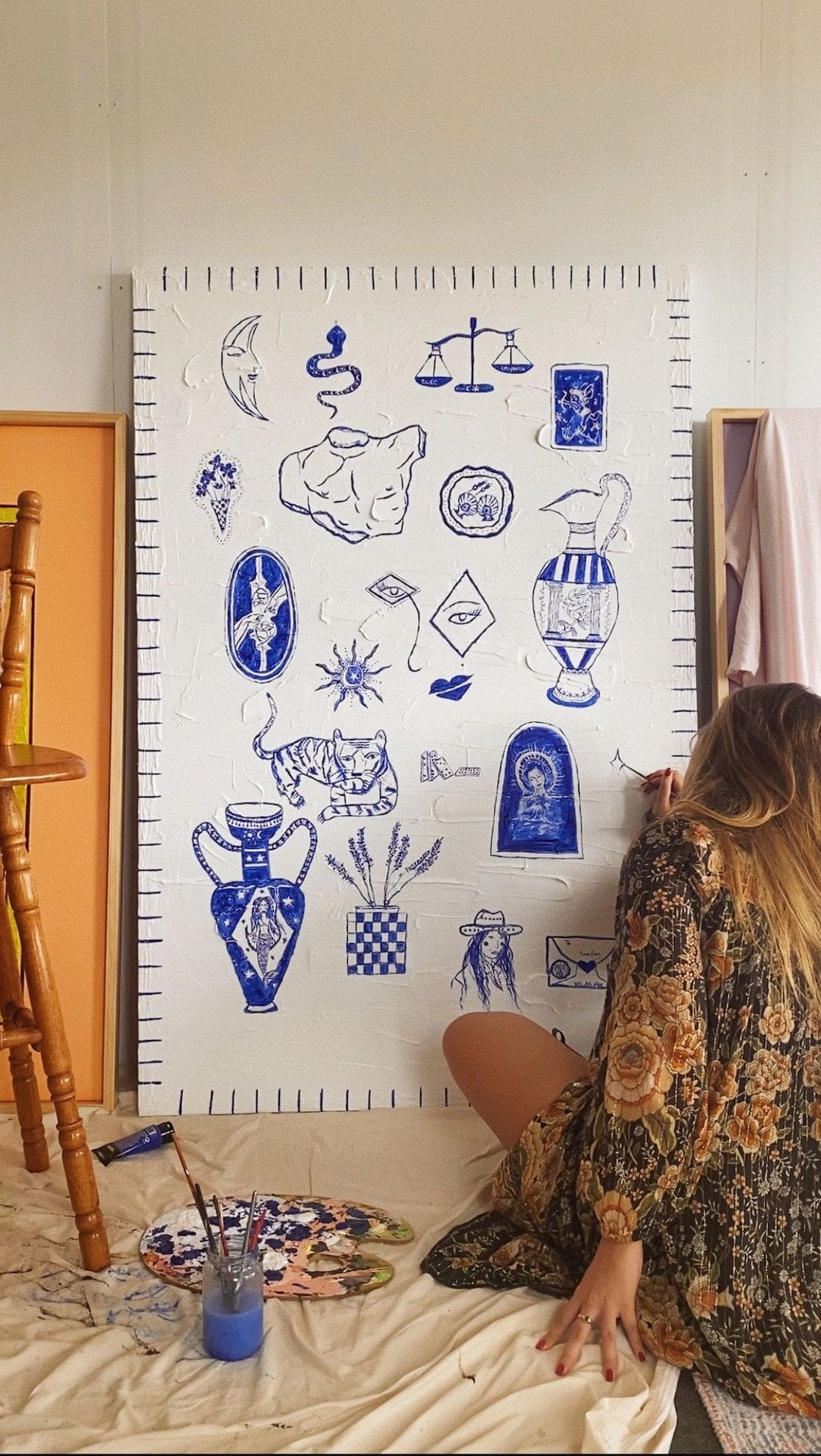 BG Studio has a distinct abstract style with her most popular pieces channelling those dreamy European summer vibes.
"I love everything to do with a European summer! The colours, lifestyle, food and objects… these are my main inspiration. I feel like Europe, particularly Italy and Greece, are very aesthetically pleasing which is why I try to portray the idyllic scenes, objects and figures of these places in my paintings," smiles Brigitte.
"I work with a lot of colour as I love how it brightens up any room and really illustrates the mood of a painting. My European textured blue and white paintings and window paintings are probably what I'm best known for at the moment.
"I don't think I have a distinct style when it comes to my paintings. I'm constantly trying new things. If I'm completely honest, I just love creating whatever comes to mind and whatever I feel like at the time!
"I would call my style 'groovy' if anything. All my pieces have a specific attention to detail. I like making sure that every aspect has a realistic element to it."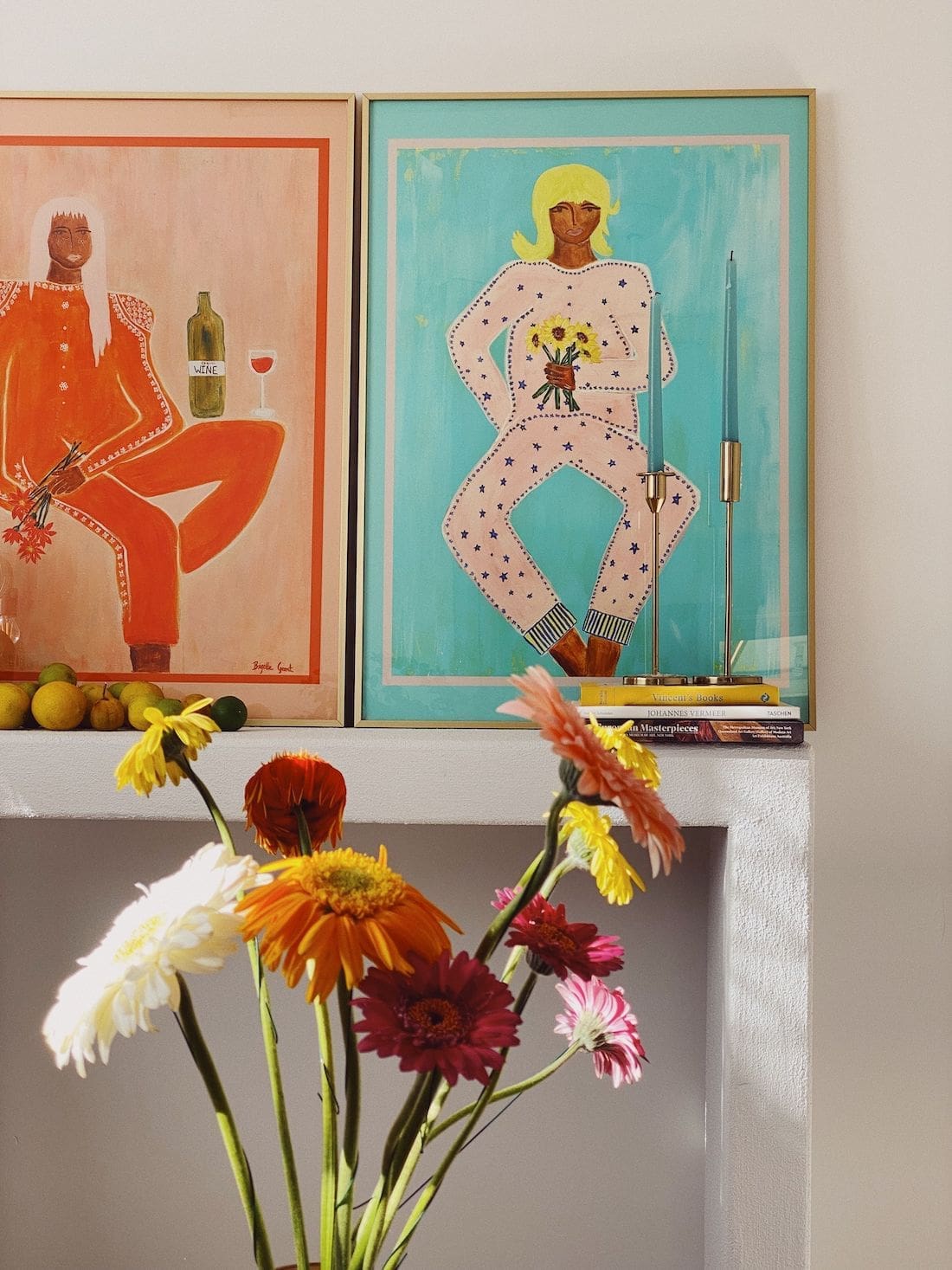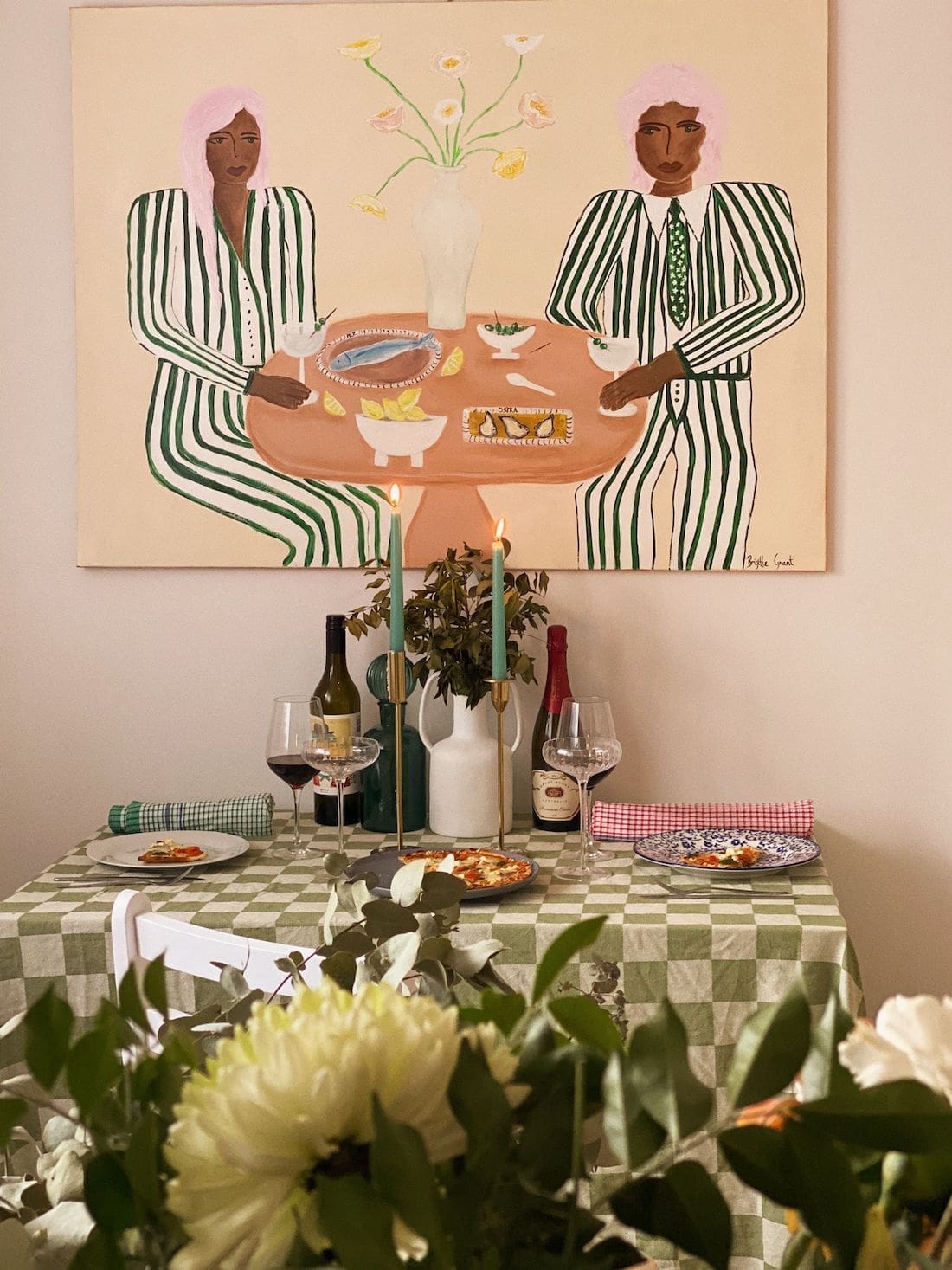 This insanely talented 24-year-old has been picked up by Fenton & Fenton and captured the attention of the Three Birds team who featured her work in their latest project, the Dream Home.
"Having only started my art career a year ago, I was over the moon when Fenton & Fenton approached me to sell my artwork through their gallery," Brigitte recalls excitedly.
"I have followed them for years and never believed I would feature there. I have also worked with Three Birds Renovations and featured in Real Living and Style Magazine. Each one was an incredible thrill and a real honour."
Big thank you to Brigitte for sharing her whirlwind art adventure story with us. To see more from Brigitte and BG Studio, check out her Instagram page or take a look through her online shop and website.