I've love a black and white colour palette. There's something effortlessly chic and stylish about this monochrome duo.
From the bathroom to the kitchen – you can work this scheme into any part of your home. This clean and classic look is difficult to get wrong but I'm going to share my tips to really nail it.
The trick to pulling off a black and white kitchen or bathroom is to inject some added personality and luxe features, and here are my top design tips to get you on the road to monochrome magic.
Related article: Design inspo: Beautiful black kitchens
Related article: Gina's home: Black and white bathroom reveal
Amp it up with patterned floor tiles
Bold geometric black and white floor tiles give bathrooms a modern edge and loads of personality. Encaustic cement tiles with a matte finish provide just enough drama when paired with crisp white and accents of timber. The floor is the star of the show in these bathrooms. Together with subtle detailing like joinery panelling and beautiful fixtures.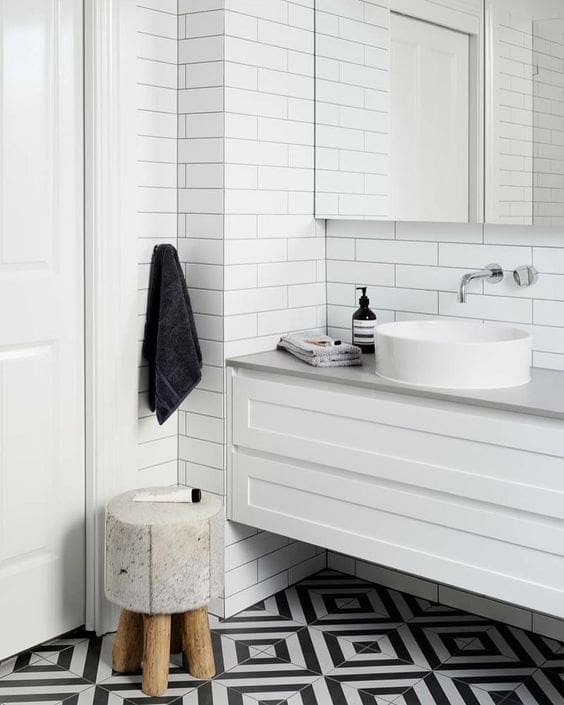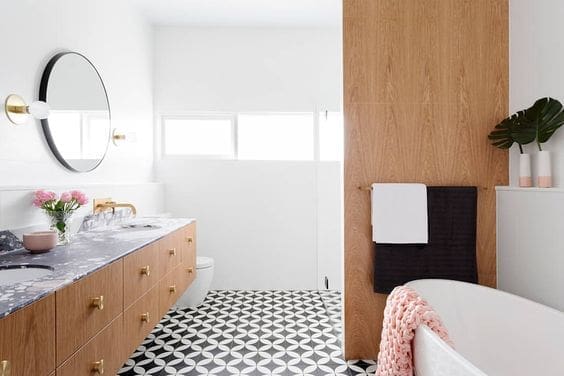 Pair with metallics
Warm metals such as brass, not only warm up a black and white colour scheme but add that sense of luxury. This kitchen's dark floor is offset by clean white joinery and aged brass edging that elevates this kitchen to a whole new level of sophistication. Add in some brushed gold accessories and a smoked bronze mirror to put a twist on the classic black and white theme.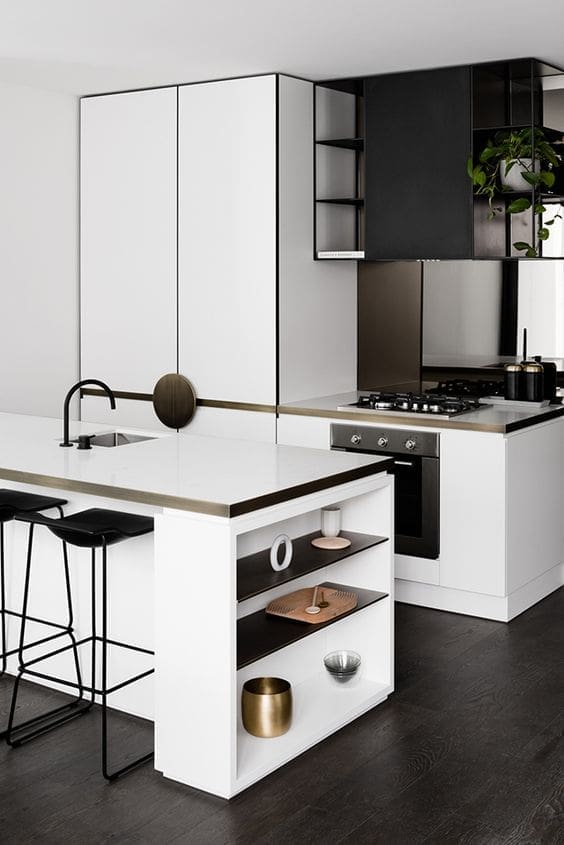 This striking black bathroom has also been paired with metallic finishes. With natural light pouring in from the skylight and just a hint of white in the mosaic hexagonal tiles and basin, this bathroom strikes the right balance of dramatic, moody and totally sexy. Combined with soft towels and a pop of greenery, this black bathroom is elegant and chic.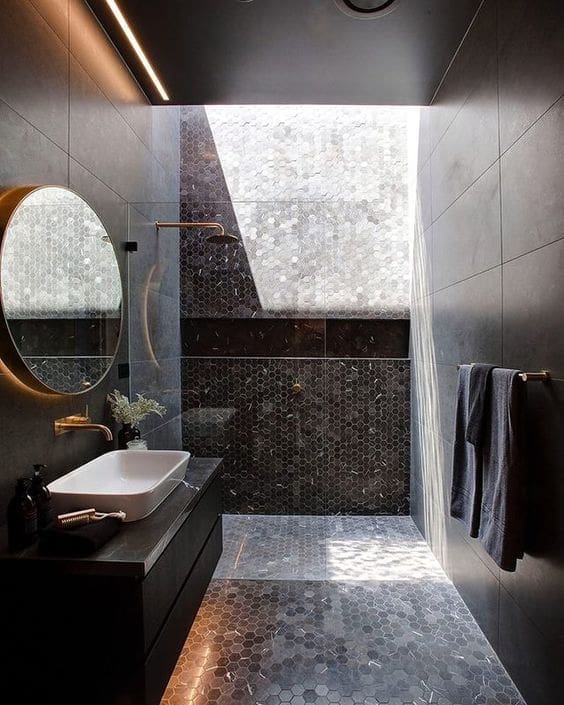 Play with texture
Texture is a key ingredient in making a room pop. It's what brings a perfectly fine design up to enviable levels. Texture is basically how things feel. Think about running your hand along this beautifully crafted, convex black mosaic tile. Its softened edges are designed to diffuse light and give off a soft sheen.
This black textural tile combined with the contrasting smooth white vanity top and the grain of the timber brings a sense of harmony to the space. The three elements work together to give this masculine looking bathroom a hotel luxe vibe.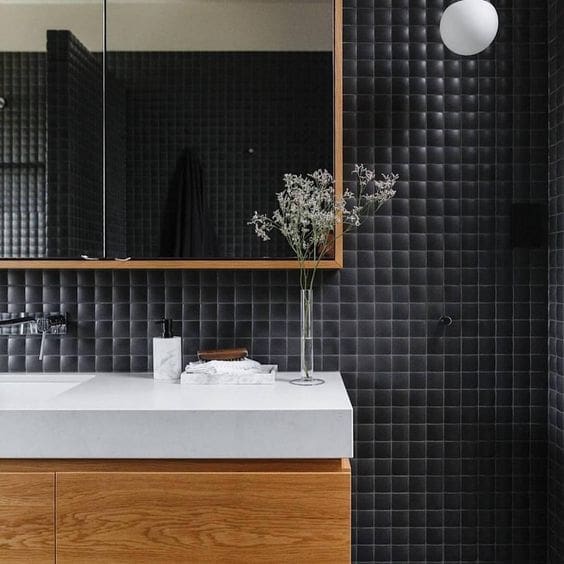 Texture has been added to this stunning monochrome bathroom through soft sheer curtains and beautiful marble packed with natural veining, rather than a stark, glossy white finish. The dark timber joinery is also adding texture and depth to the space.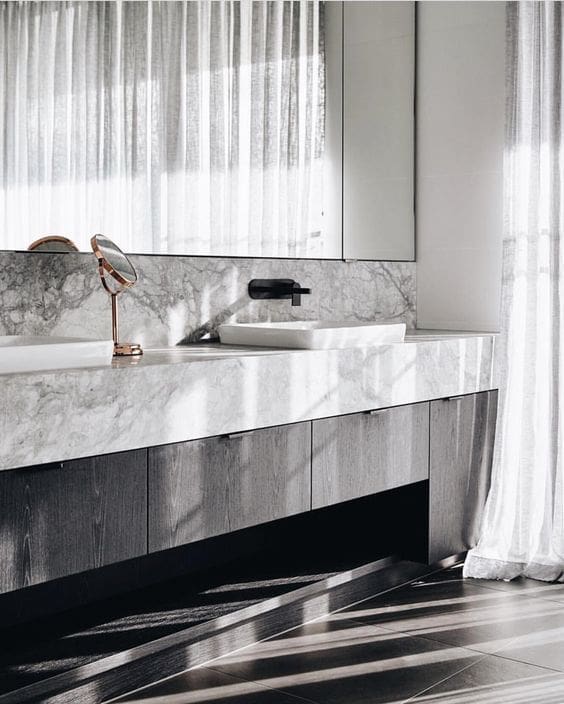 This minimalist bathroom strikes a good balance between hard and soft finishes. The cool, grey concrete vanity is softened by the warm grey sheer curtains and soft lighting. The grid-like white tiles with black grout is striking and elevates this simple palette to a whole new level of cool.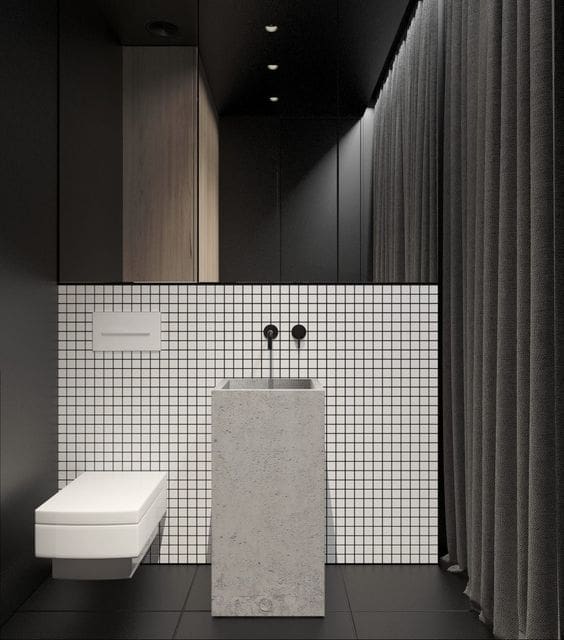 Balance light and dark
A fantastic way to bring movement and a bit of excitement to a space is to balance light and dark colours. If everything in your room is the same color, texture or style, it'll feel flat. Movement makes a room interesting and gives it personality. The tension of two opposing things next to each other gives vibrancy and excitement. This kitchen strikes the perfect balance of black and white and a dash of grey. Matte surfaces contrast with the movement in the marble splasback and concrete floor and branch like feel of the pendant light.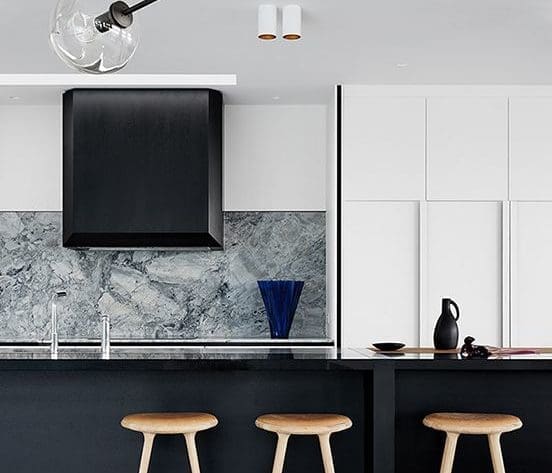 The contrast of dark and light and clean linear lines offset by all the movement in the marble surfaces, combine beautifully to give this kitchen a harmonious vibe.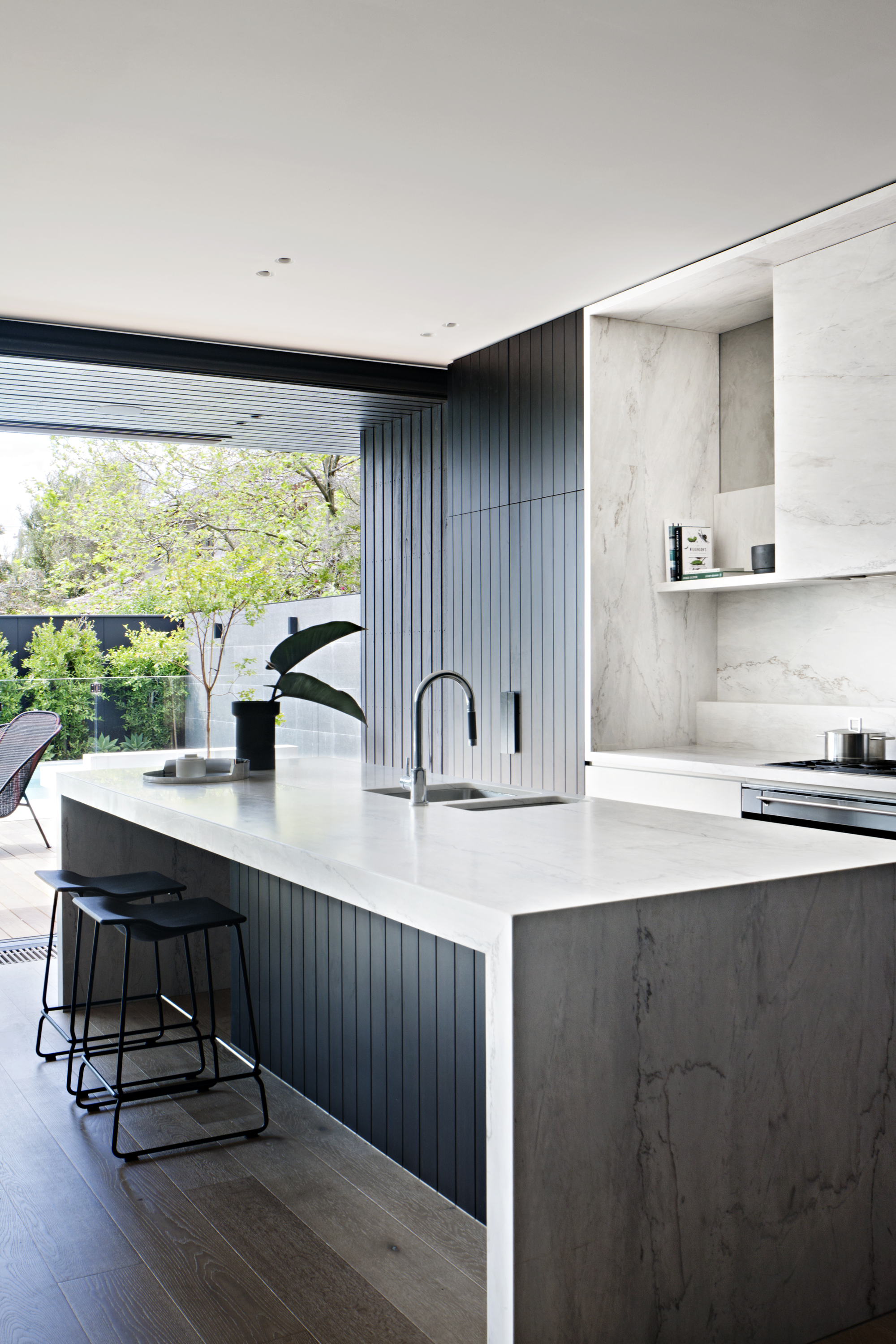 Clean, simple and inherently chic, nothing is quite as classic as black and white monochrome magic. How have you used black and white in your home? Tell us in the comments below!
You might also like to check out this round up of bathrooms that use round mirrors, or these dreamy bathrooms that don't feature white tiles (and yep, there are a stack of monochromatic bathrooms in there!).
What are you thoughts on these black and white kitchen and bathroom ideas? Anything you would do differently? Do you have any questions? Let us know your thoughts in the comment section below.
About the author
Maria is the Interior Designer behind Studio Black Interiors, a boutique residential design practice in Canberra. Known for her modern and paired back aesthetic, her design style is inspired by the balance between function, beauty and simplicity. Maria has a passion for architecture, design, styling and homewares, and loves keeping up to date with the latest design trends and products and sharing this with other interior enthusiasts. When not designing, she's a mum to two beautiful young girls and married to Michael, her sports obsessed husband.
Web: studioblack.com.au