Dreaming of a Byron Bay holiday? Yeah, same! And boy, have we found the perfect place to stay or what?! Come along as we show you this stunning rustic country meets luxe holiday home, hidden amongst lush tropical gardens.
Related article: A holiday in the country: A look through one of the best country escapes in New South Wales
Related article: From dated home to luxe holiday style: Before and after home transformation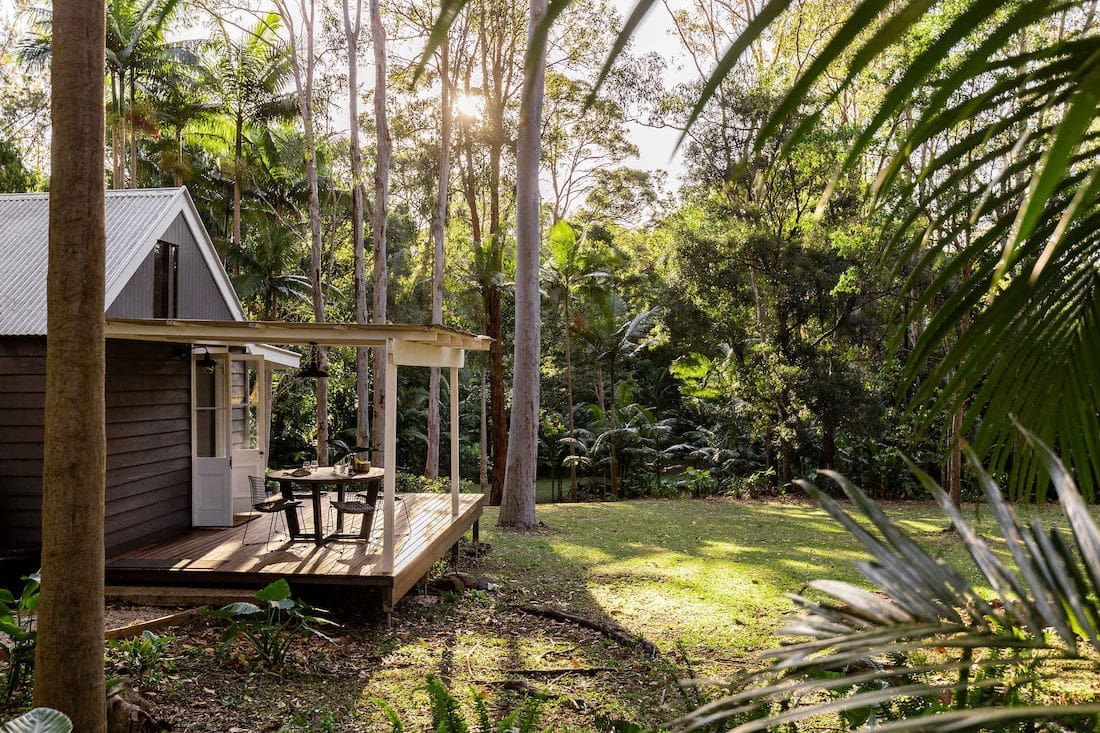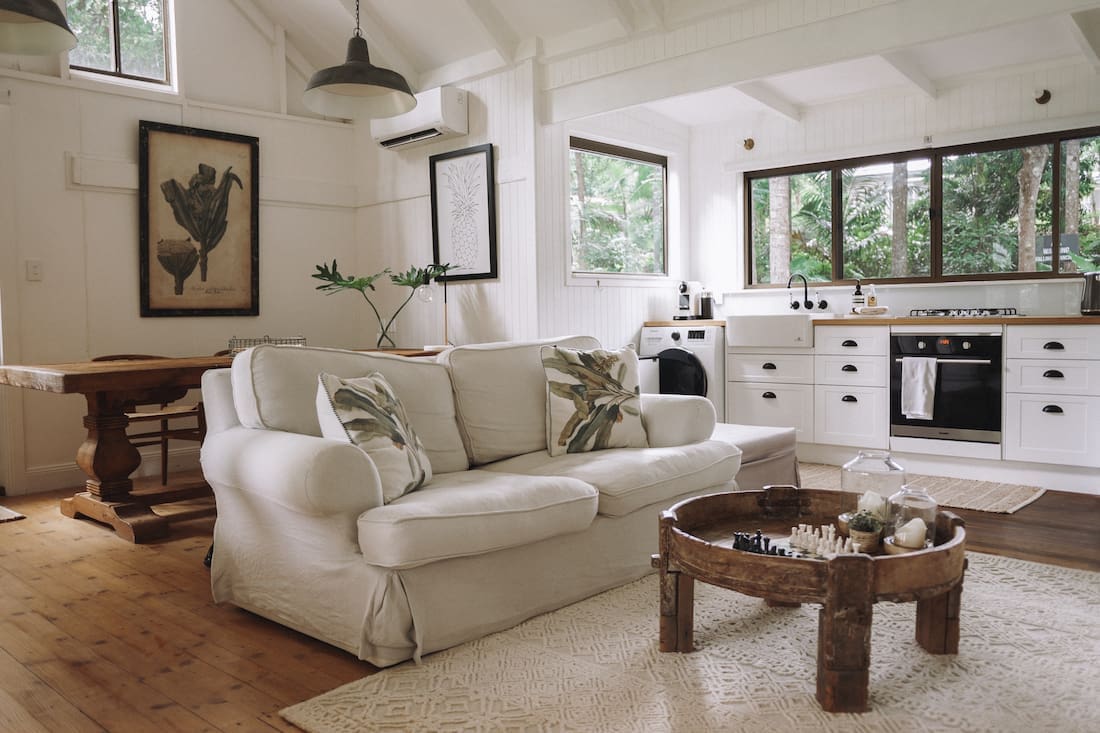 Originally built in the 1970s, Fig Tree Villa has been beautifully restored, renovated and given a luxury edge.
"Fig Tree Villa sits on a 5-acre property in Ewingsdale, just 5km from Byron Bay. Ewingsdale is now one of the most in-demand and exclusive areas of the Byron Shire," explains Amy Light, one of the family members who manage this family-run business.
"The villa was built by my father in 1979 and lovingly renovated in 2017. The grounds are so private and lush. It's an incredible place to visit with many beautiful native trees including a 500 year old Moreton Bay fig tree. Not to mention the diverse wildlife. It's pretty special."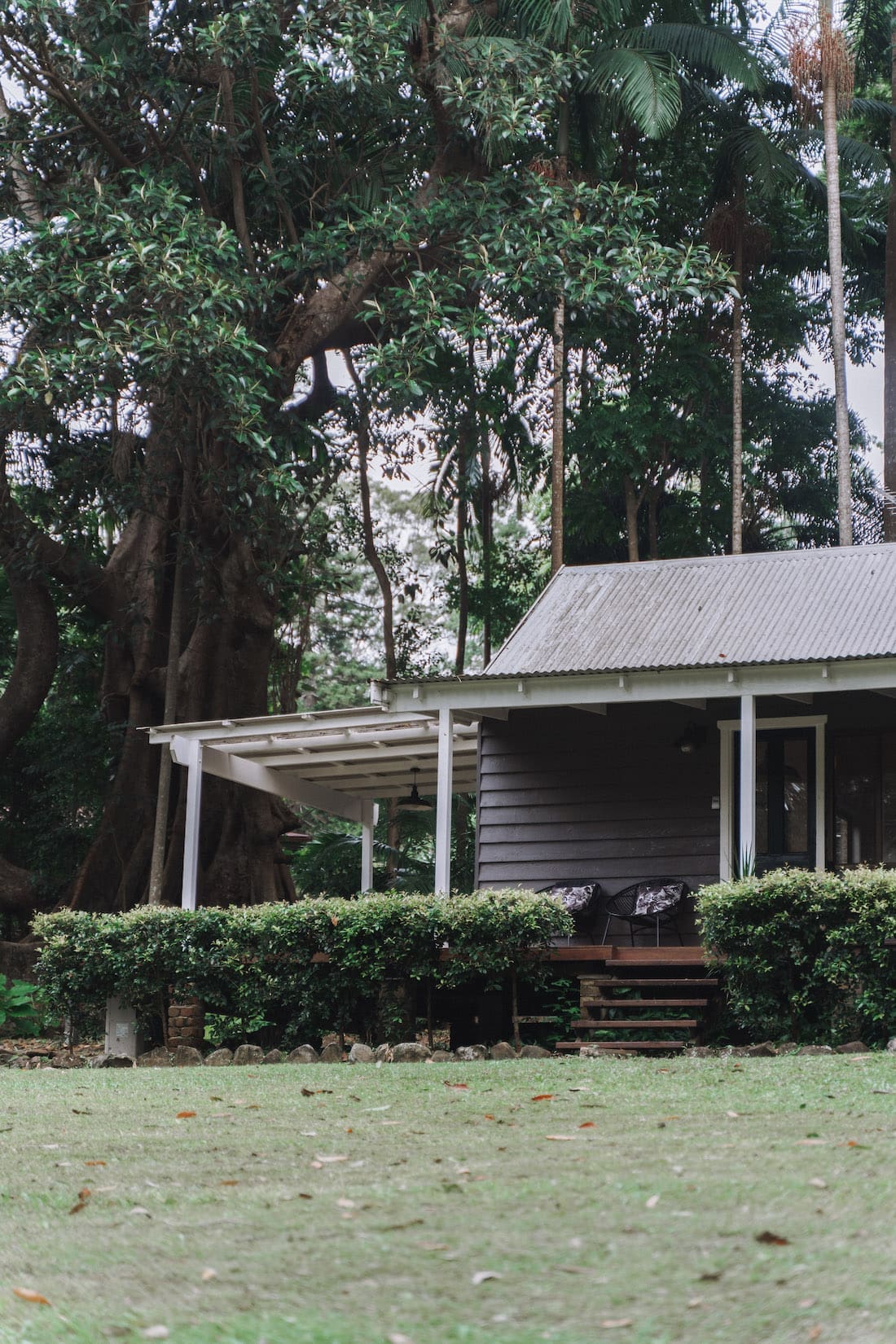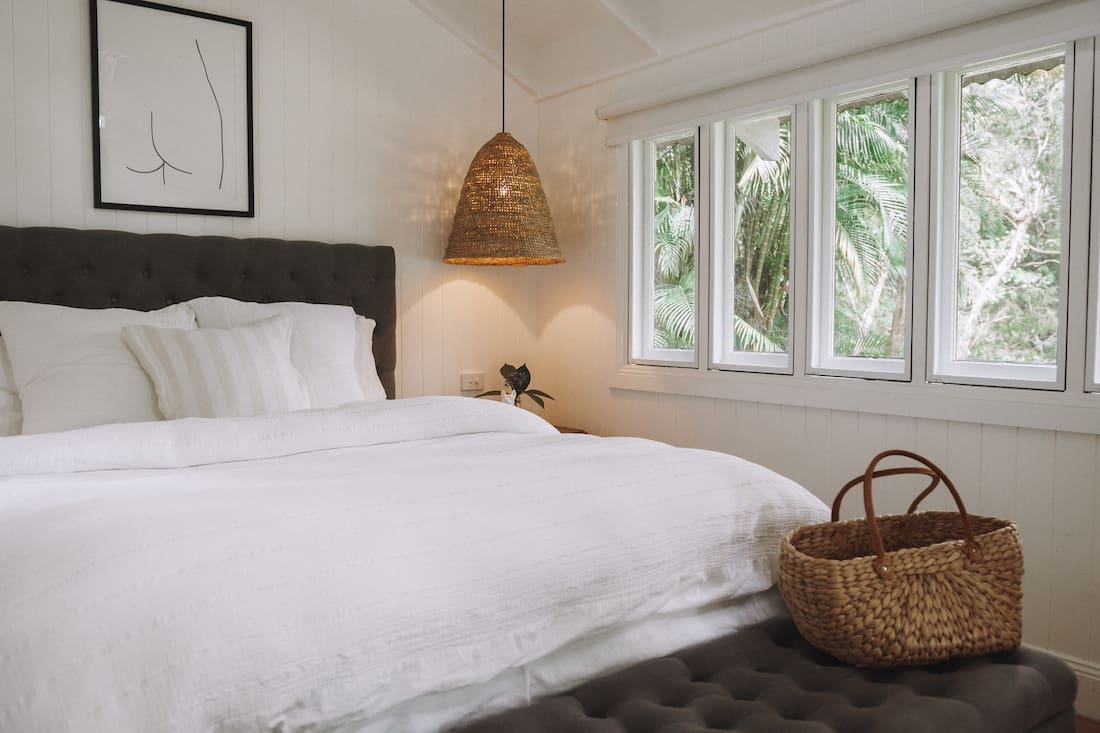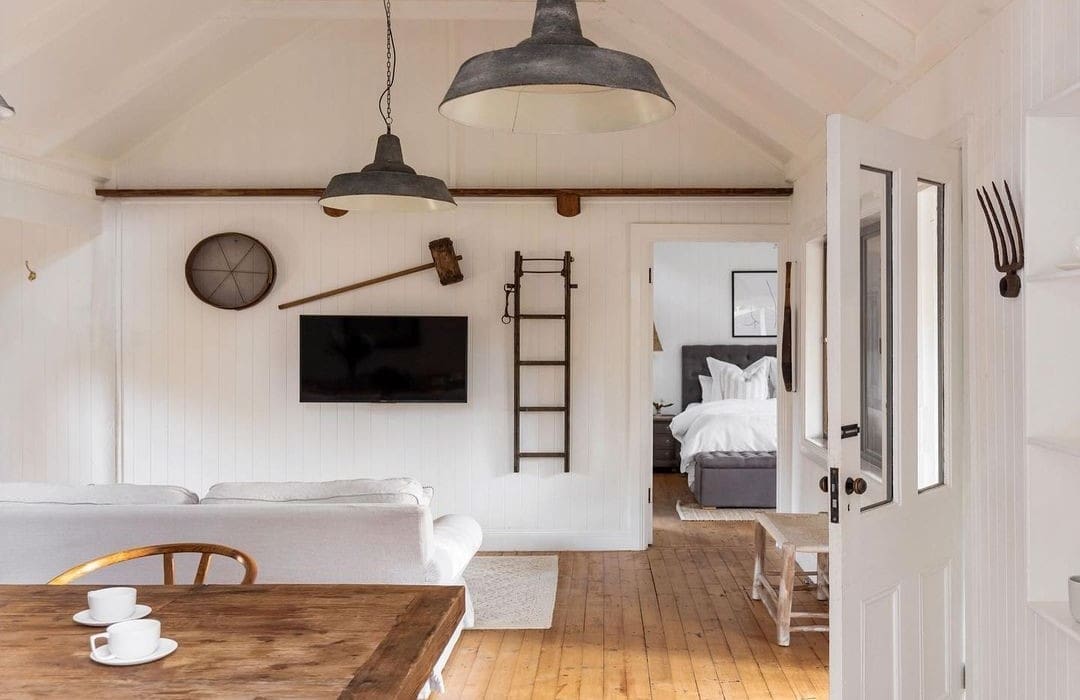 What's special about Fig Tree Villa is that it retains much of its original rustic, country charm.
"The original home was pretty rough and much like the hippy shacks out the back of Mullumbimby in the 1970s," says Amy with a smile.
"We did the major renovation, and then in 2020 we updated the kitchen. Interior Designer Kate Platt came on board to help us capture the rural history of the property and the area on which it sits.
"The style of the home was inspired by the property's links to the rural era 120 years ago. It still has its '70s roots, yet offers the comfort and convenience of a contemporary design.
"Its rustic, chic design features natural timbers and linen, polished concrete floors and beautiful furnishings. The villa is flooded with natural light, and the raked ceilings are pretty special too.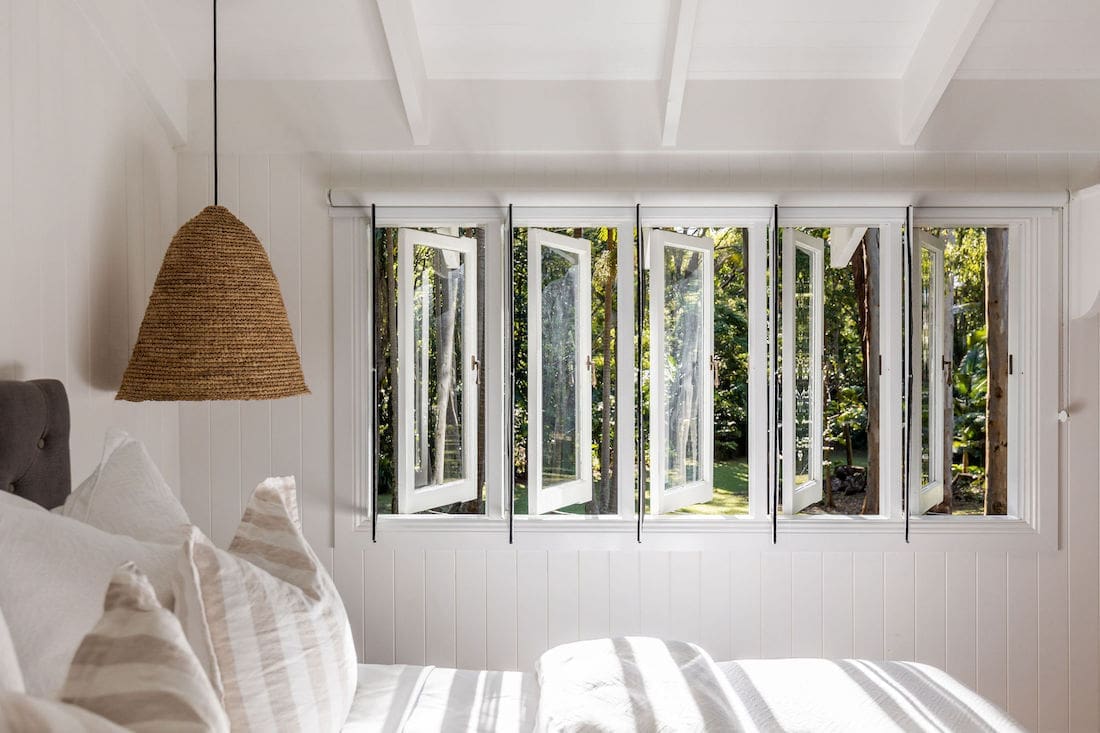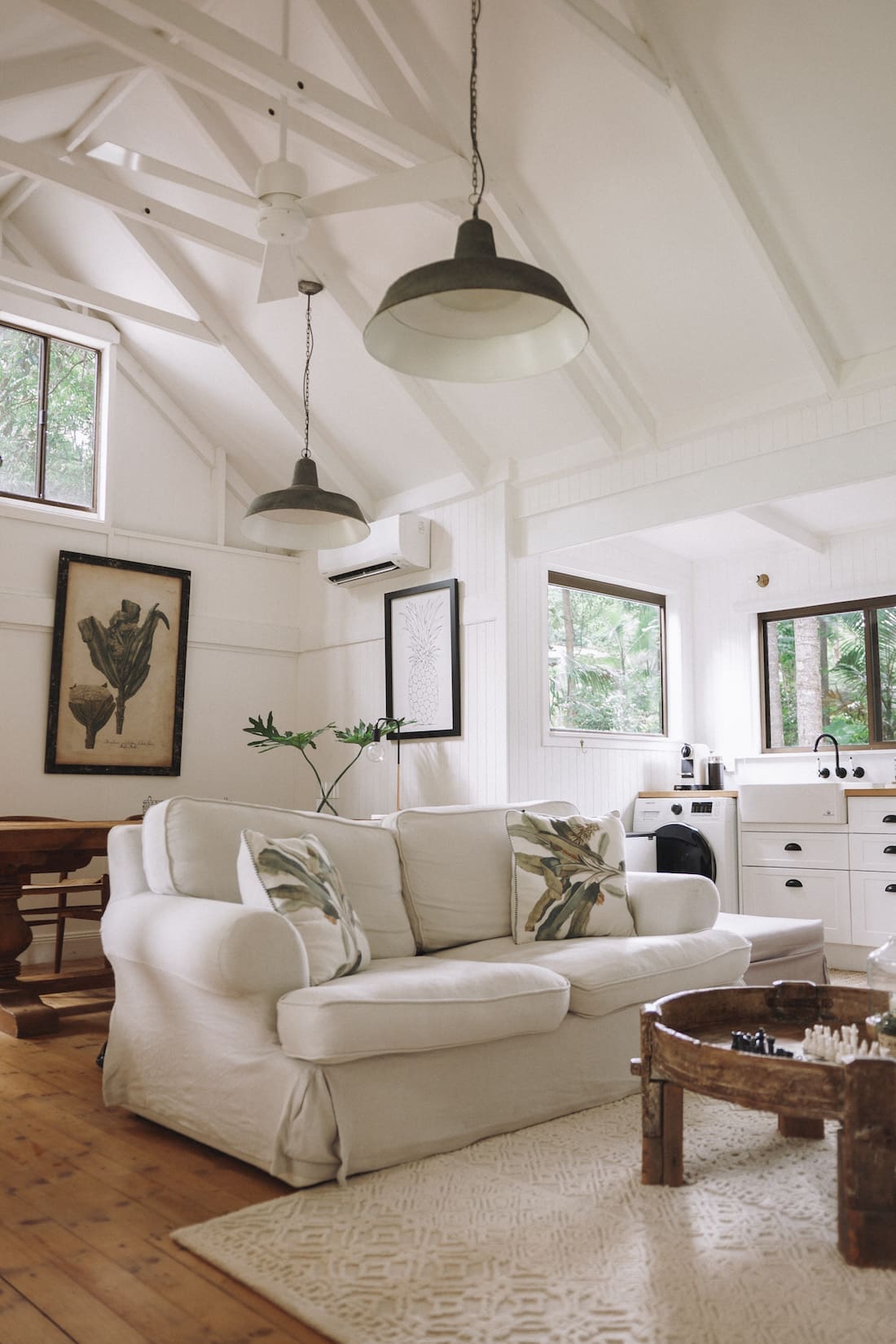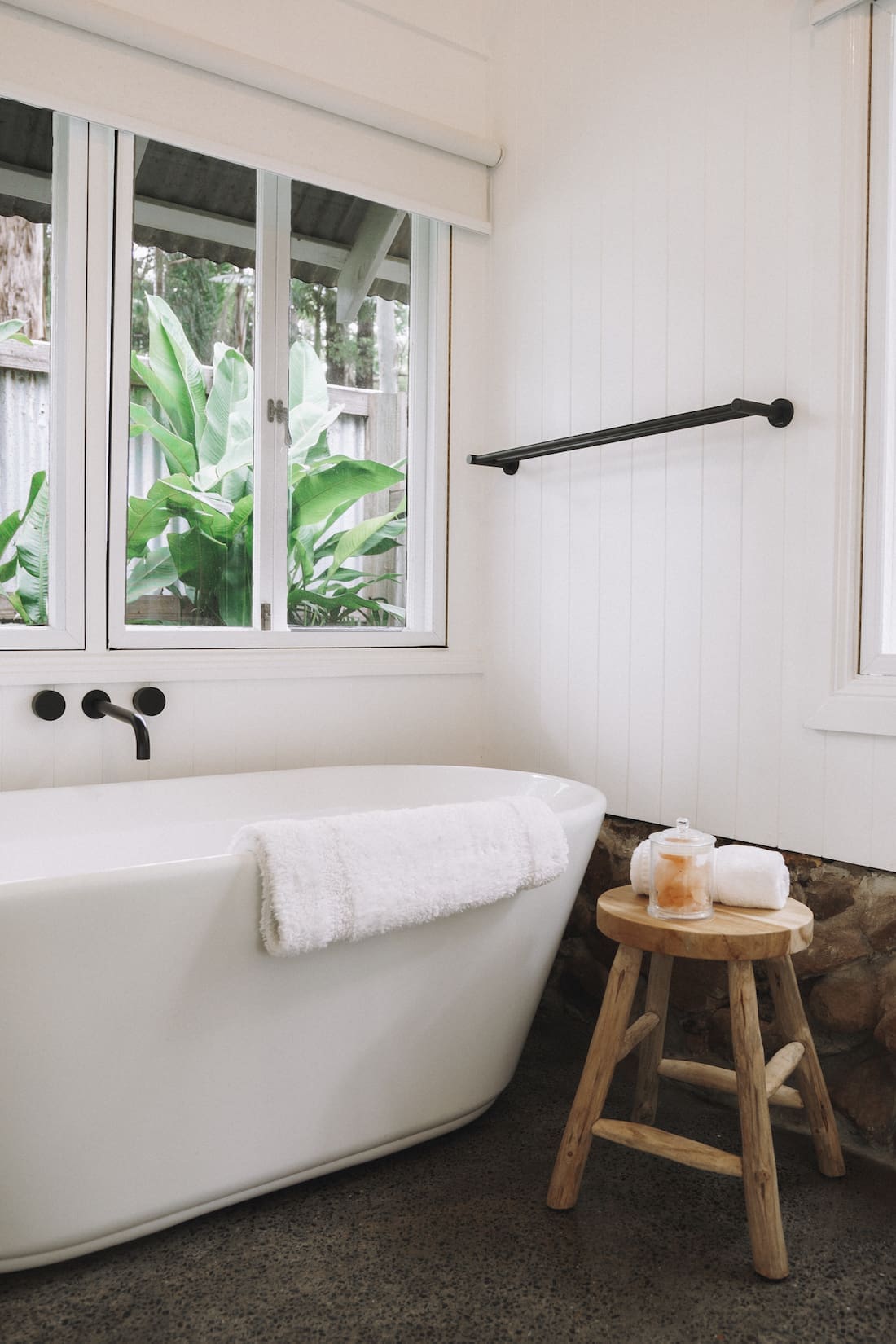 The villa makes for the perfect, romantic Byron holiday escape for 2.
"The view from the bed is incredible! It looks out over the trees and the Ewingsdale creek through vintage windows. That paired with the sounds of the birds is a pretty wonderful way to wake up!" says Amy.
"The villa is a 1 bedroom, 1 bathroom property with a fully equipped kitchen and all the amenities you could possibly need.
"The huge freestanding bath overlooks the lush gardens — it doesn't get much more romantic than that!
"It's the perfect secluded, exclusive escape. You have over 2-acres of land and a creek to yourself. It's incredibly private, yet just a 5-minute drive from the beaches, restaurants, and shopping of Byron Bay."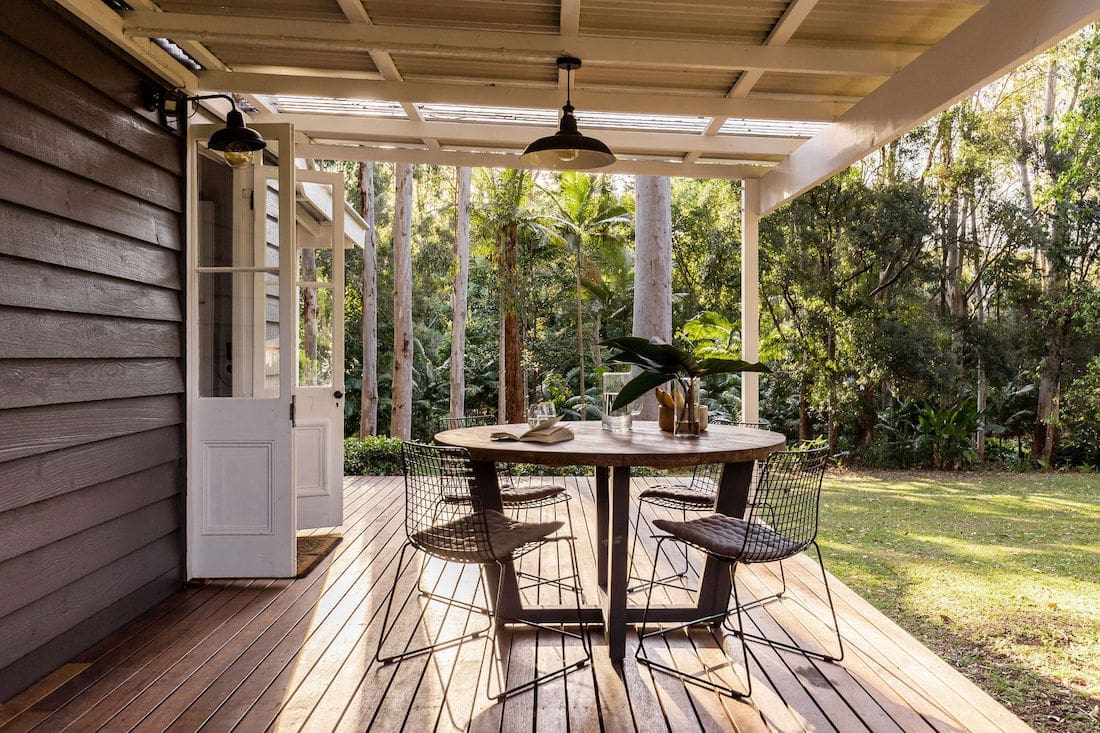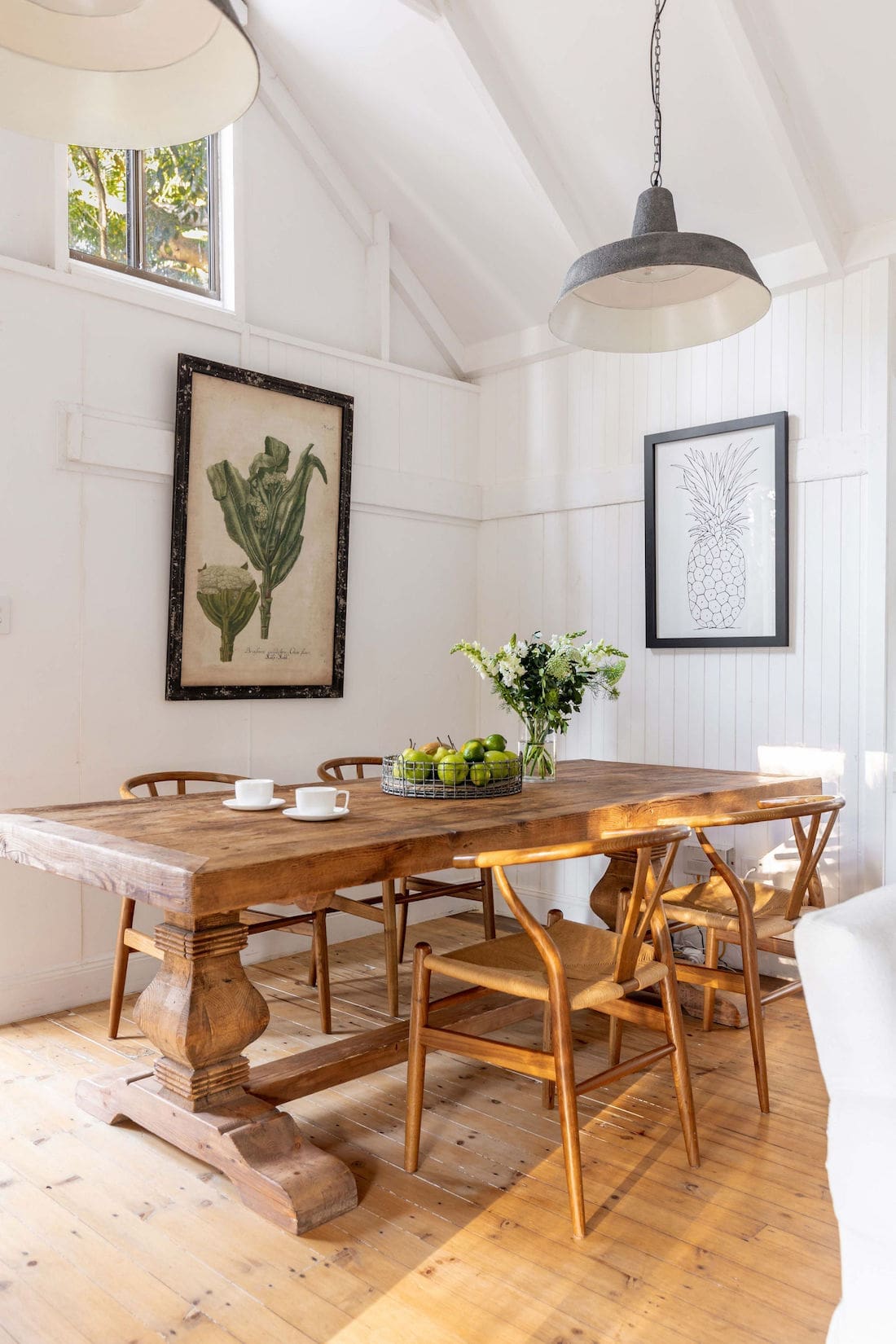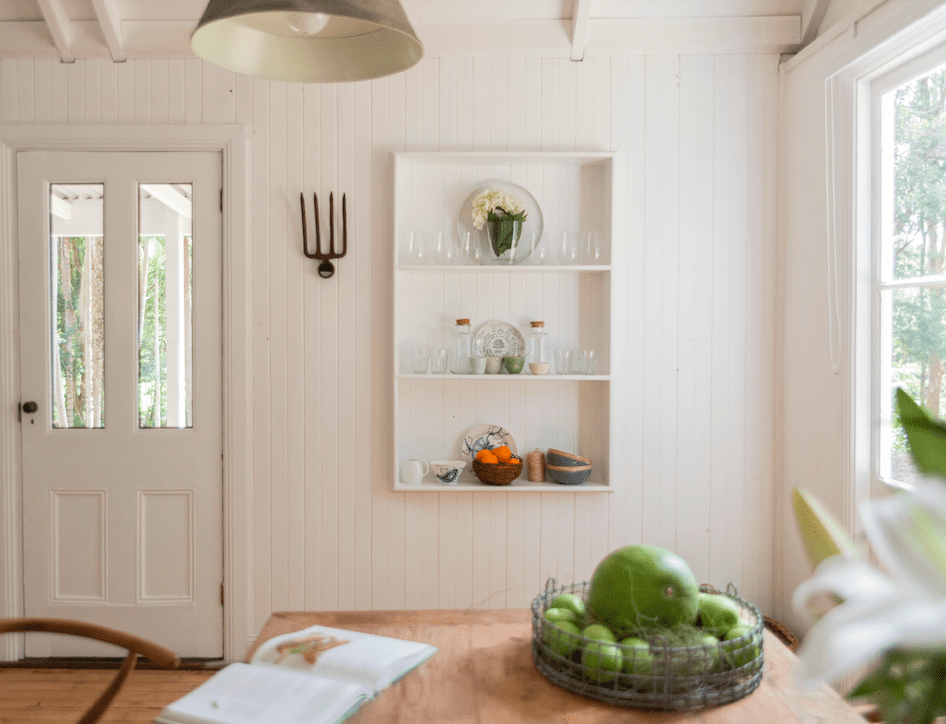 The simple, rustic charm of this property has been well considered in its styling.
"When styling a holiday home, it's important to have a style that guides your interior design and interior furnishings. Go for high quality furnishing, fittings, and appliances for an aesthetic look.
"For us, this provides our guests with comfort and practicality. Plus it helps convey how much we care about our guests and that we truly want them to enjoy their stay," says Amy.
"We think it's the small touches that make the biggest difference! Bath crystals, candles and rugs make it feel like a home. We really want to provide our guests with a sense of space, natural light and privacy.
"It was important to us to work with what we've got and what the property itself needed. We opted for rustic farmhouse touches combined with natural linens to create a timeless style. All while maintaining the history of the home… it's what helps tell the story.
"When we renovated, we bought pre-owned vintage items. Like the door frames — the one that separates the bedroom from the living room — and window sills. And our coffee table is an Indian antique."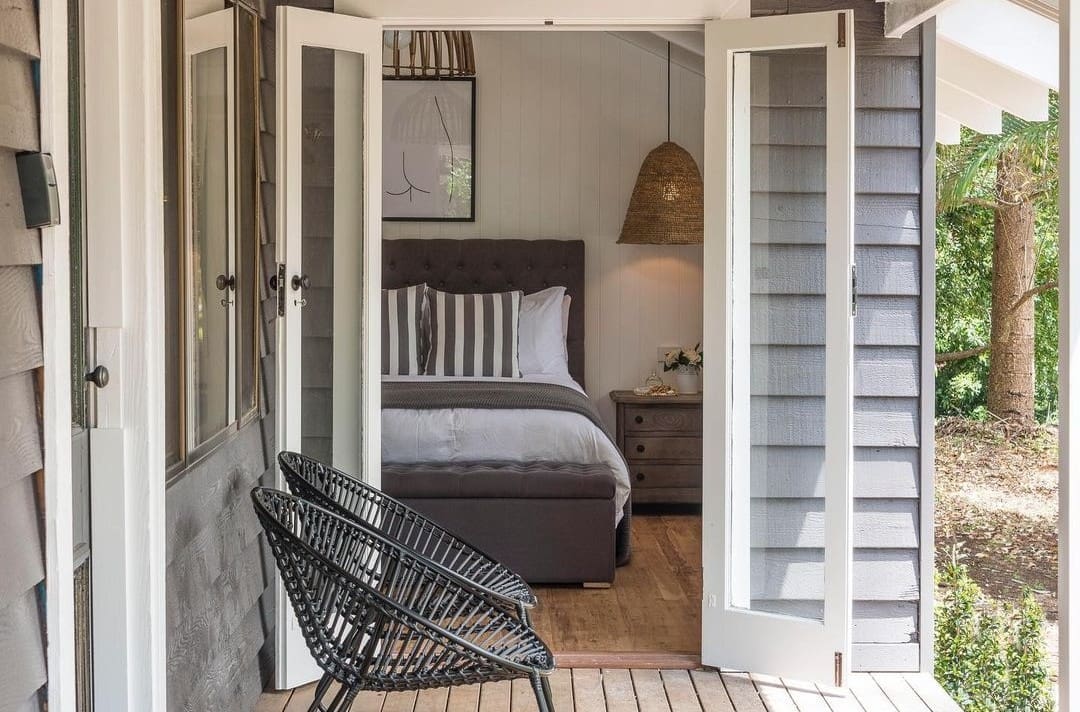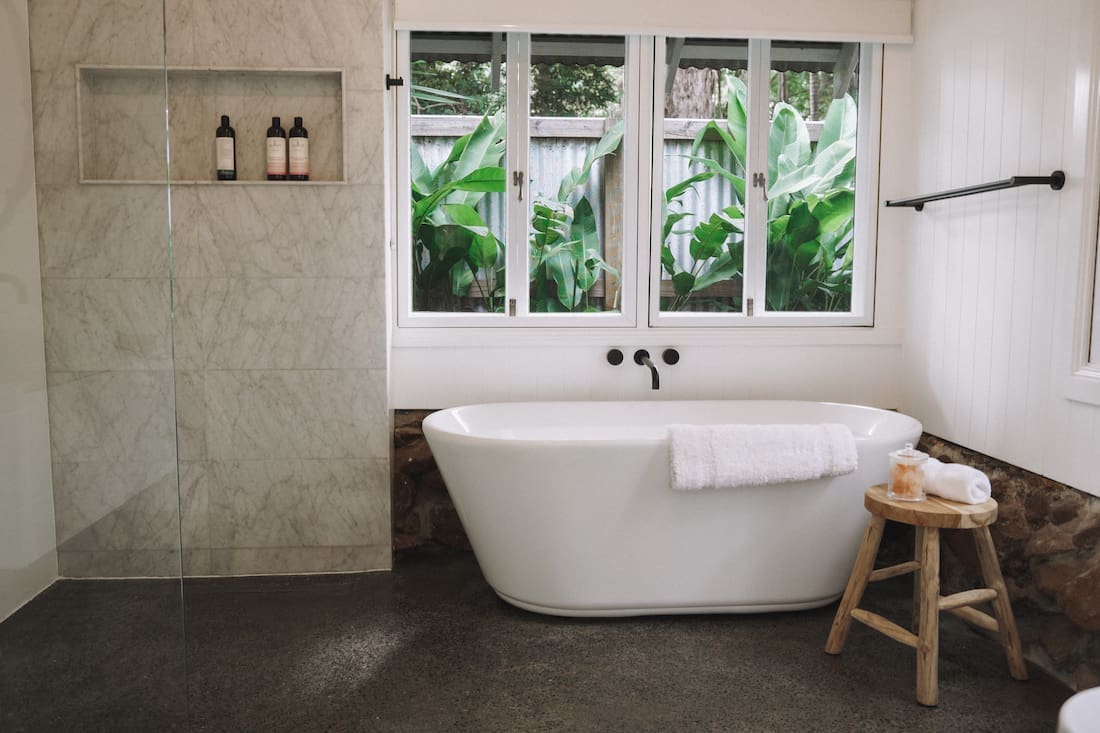 We wanted to know Amy's best tips for where to splurge when decorating a rental or holiday property. And where to save!
"When it comes to splurge items, I say a good quality coffee machine is a must. Add in some plants or fresh flowers — it's simple, but makes a real difference.
"Extra towels are always nice, so guests can be comfortable. And a pleasant smell when they first arrive. Something like candles or reed diffusers," suggests Amy.
"As for where to save, save on your mattress. Mattress toppers are a great way to make a less expensive mattress still feel like you're sleeping on a cloud.
"And another great tip is to save on small disposable shower products by having large shampoo, conditioner and body wash bottles that can be refilled. Good for your budget and saves on plastic too — bonus!"
Has Fig Tree Villa got you dreaming of a Byron Bay holiday escape? Take a look at their website for more information and to book your stay. They also have a beautiful Instagram account to check out for more Byron dreaming!