Jackie Anderson is a self-confessed colour addict. She brings this passion to life through paint, with her bold, bright and colour-block designs, creating canvases bursting with joy.
Describing herself as a spontaneous expressionist, we sat down with Jackie to hear her journey to becoming an artist and how the seasons influence and inspire her colourful creations.
Related article: Colour pop fun with newcomer artist Anna Egberts
Related article: A chat with contemporary artist Kiasmin whose works are all about nature and dreamy colour palettes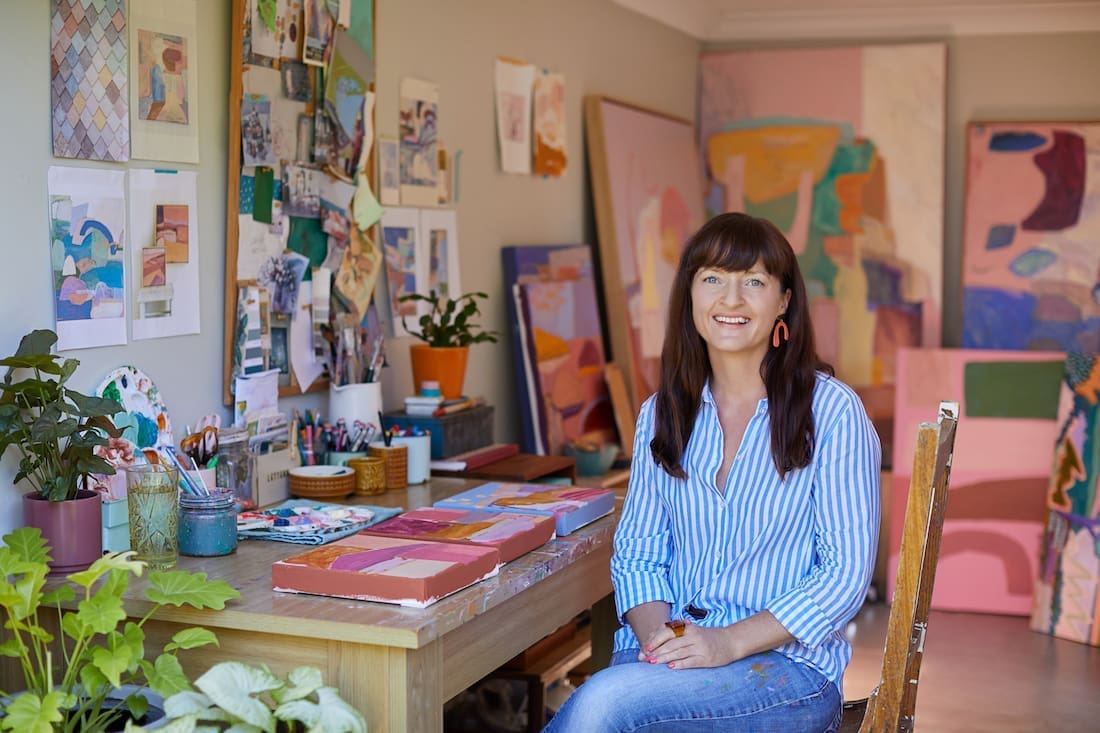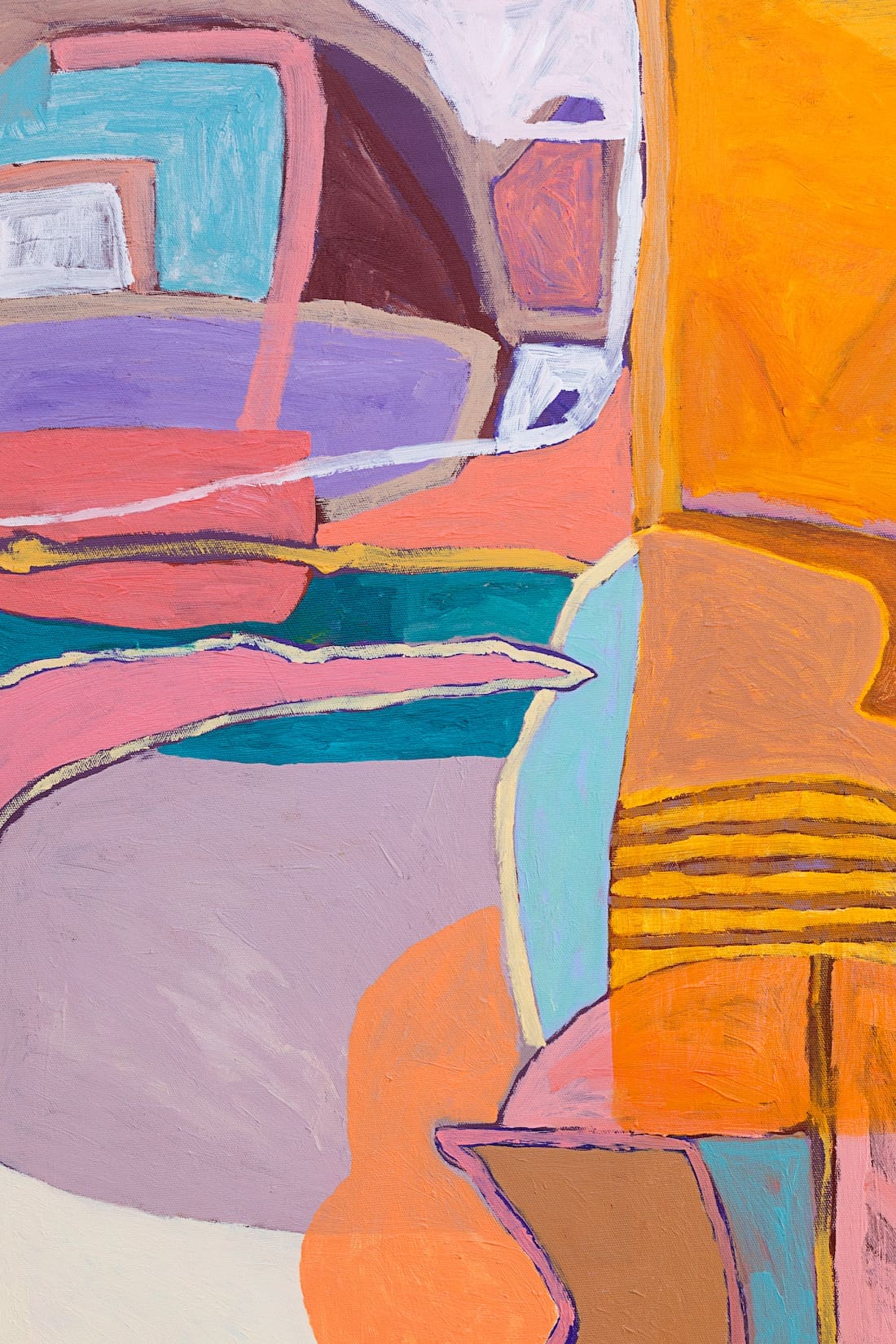 With her children all at school, Jackie Anderson finally found herself with some free time on her hands. It was time to let her creative side go wild.
"I've been painting seriously for 3 years now. We moved from New Zealand to Newcastle in 2018 and our house had the perfect space for a studio," says Jackie.
"My youngest had started preschool and I knew it was finally time to start chasing the dream of an art career. So I just threw myself in headfirst and never looked back.
"My style is still very much evolving and I swing back and fourth between representational work and abstracts.
"I love working with new colour palettes and pushing new ideas. When I paint, I not only want every work to be better than the last, but also different to the last. I hate the idea of settling on a style and then churning out paintings like a factory.
"Much like my paintings, family life is busy and colourful. There's never a dull moment! When you share your house with small humans, life is crazy and chaotic on the daily! Hence why I don't make calm, serene works of art!"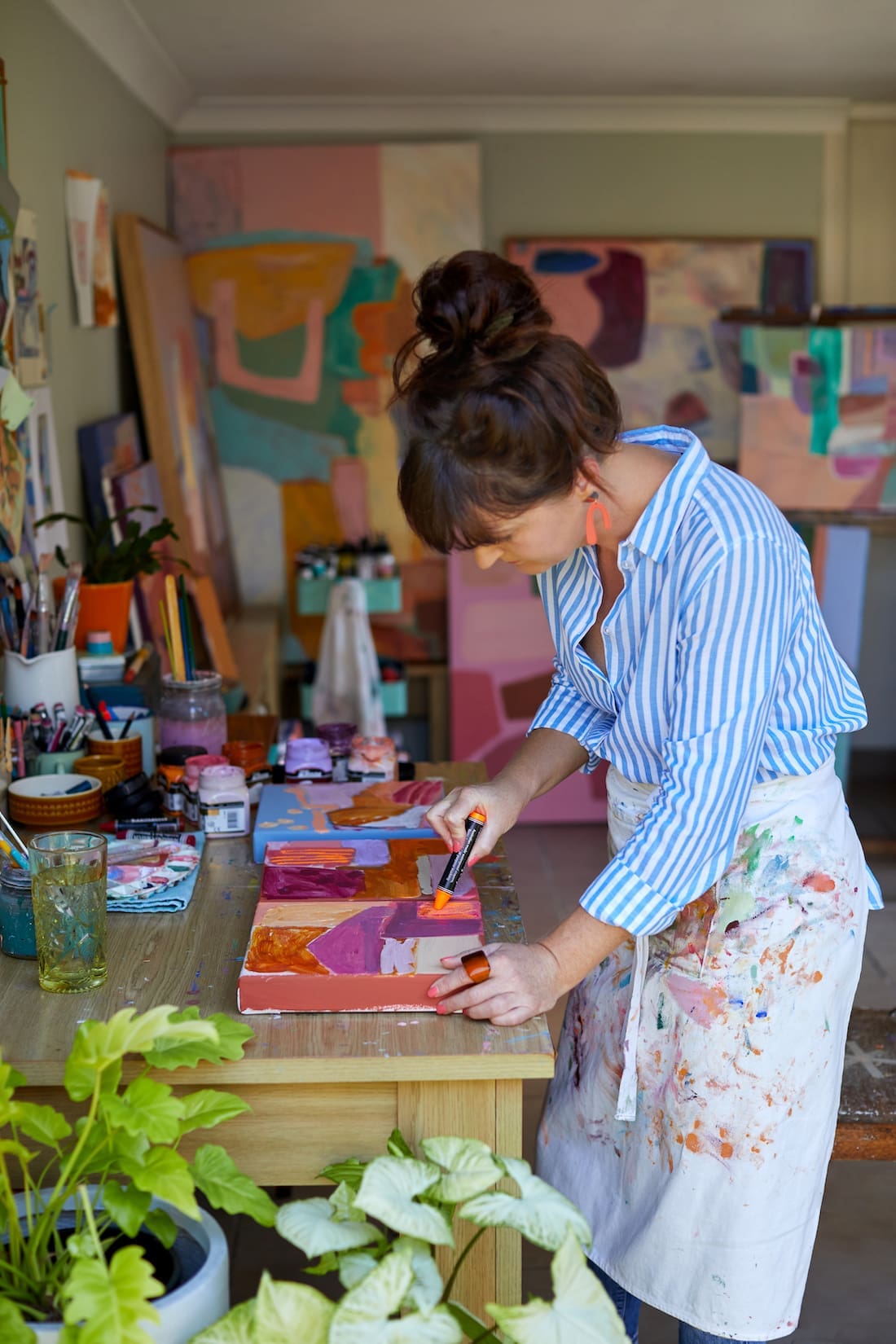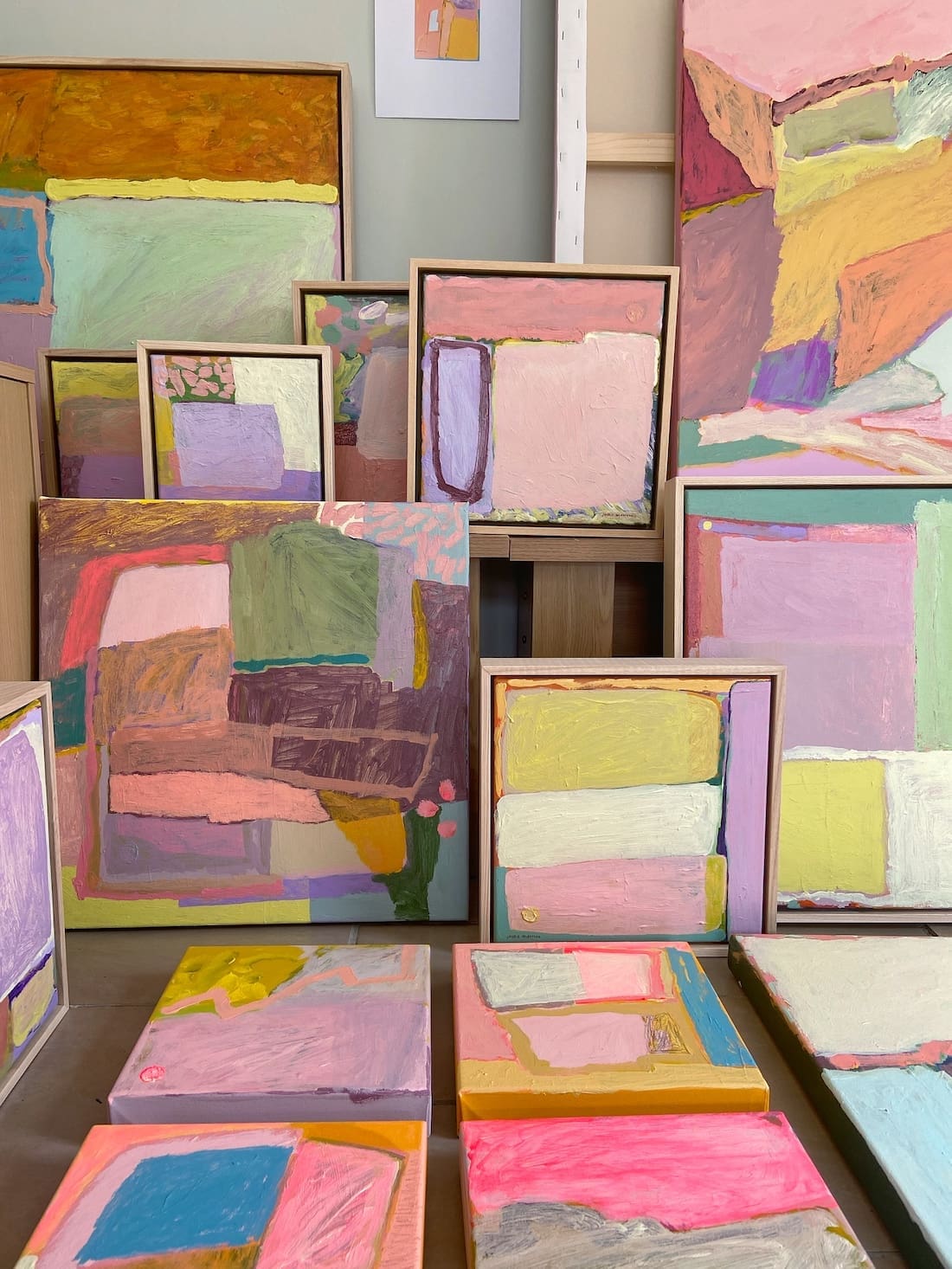 Always creative, it was her Mum and art teacher who sparked Jackie's creative side and encouraged her to explore it.
"I've always loved to paint and draw, even from a very young age. I never thought about a career as an artist though. My mum was very creative and always had craft projects on the go. She made sure I had plenty of paint supplies for birthdays and Christmases," Jackie recalls fondly.
"Then in primary school, I had a truly inspiring art teacher. I absolutely adored her and I think she really sparked my love of all things creative. I also won a national art prize when I was just 5 years old and my winning painting (a self portrait) was buried in a time capsule to be opened in 2085!"
"When I went off to art school, I thought about becoming a graphic designer but quickly learnt that sitting behind a desk and a computer was not for me! After graduating, I worked in a gallery for several years then travelled extensively while working as a visual merchandiser / stylist."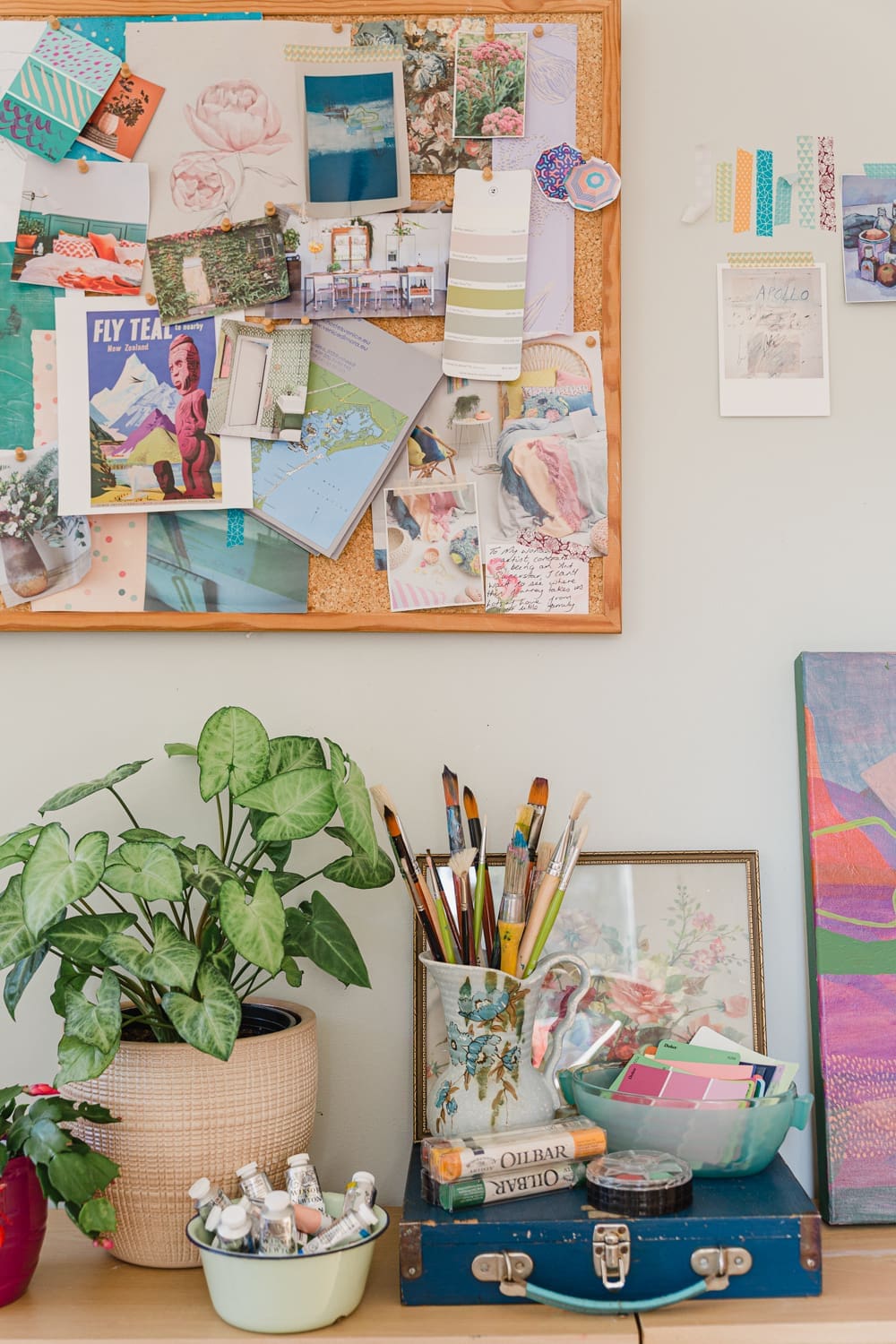 Creating mood boards and surrounding herself with visual inspiration helps Jackie's colourful creations come to life.
"I describe myself basically as a big sponge! I'm constantly absorbing visual snippets and colour combinations to translate into paintings.
"Mood boards and inspiration boards are one of my favourite things to have in my studio. I do this by taking a ridiculous amount of photos and making small sketches," says Jackie.
"I'll add other visual imagery such as postcards, paint and fabric swatches, magazine clipping… all sorts of miscellaneous paraphernalia that I'll play around with and edit constantly.
"Currently my boards have a lot of floral inspiration on them as I'm working towards an exhibition with a botanical theme."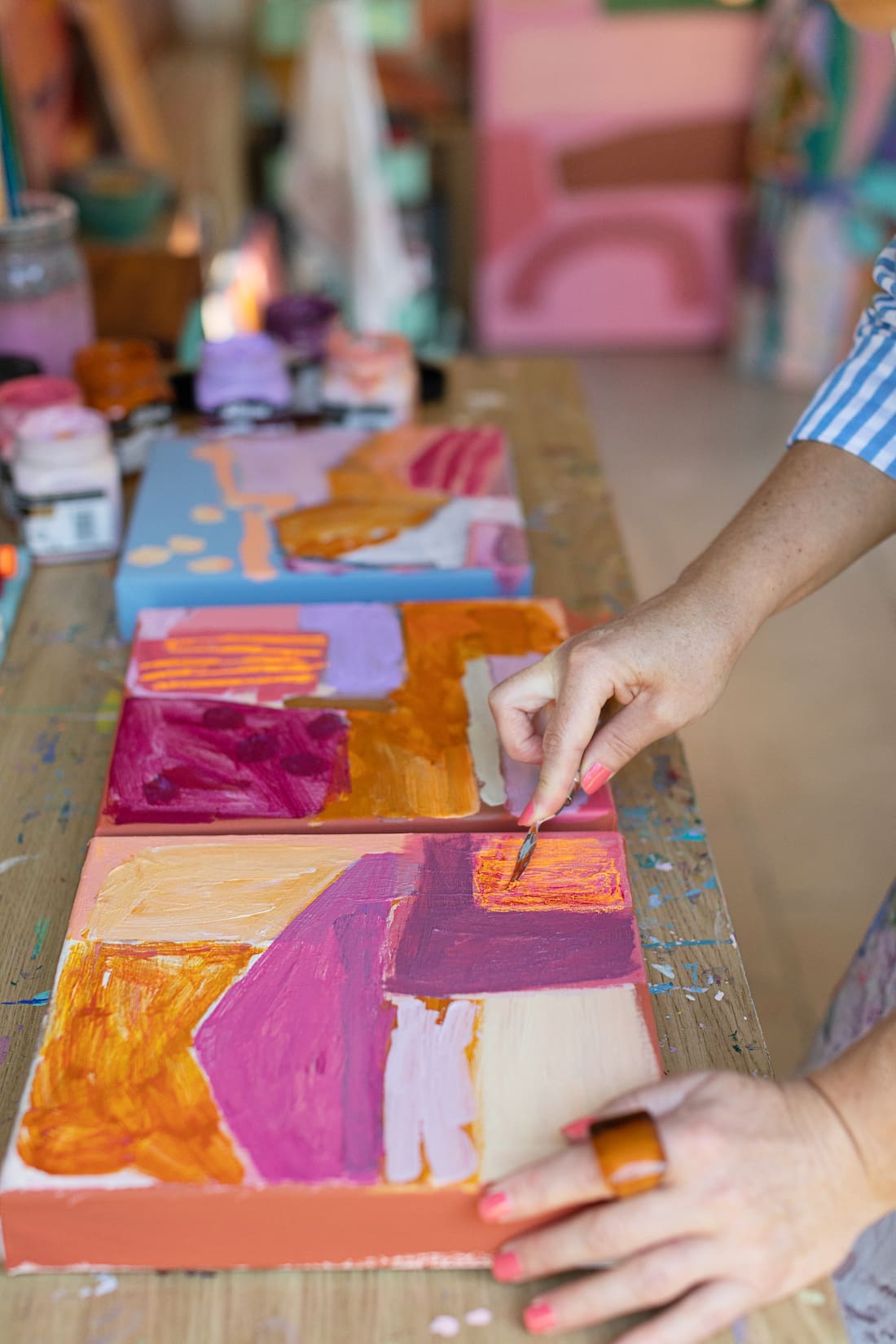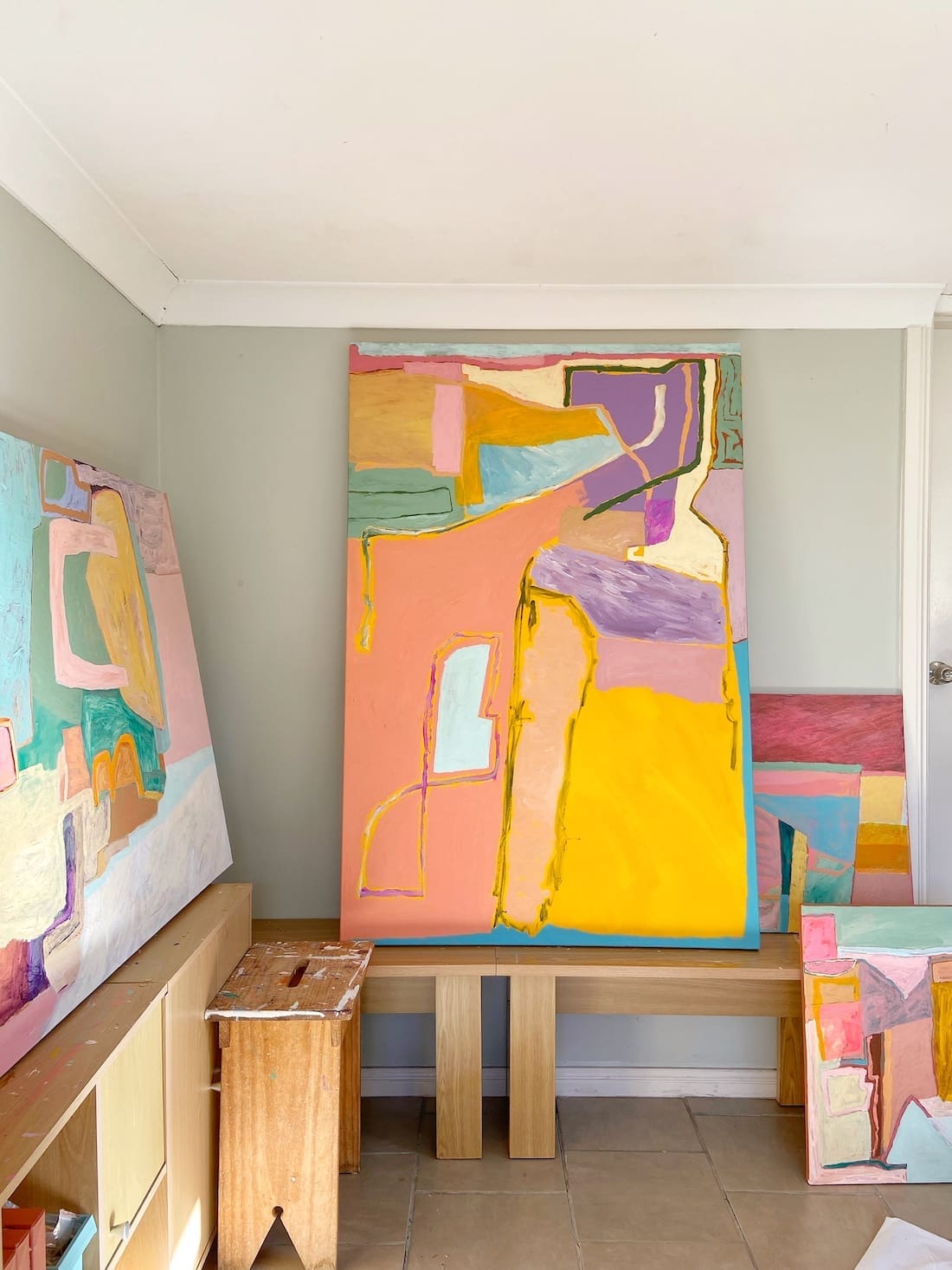 Colour is a steady constant in all of Jackie's works, often changing based on the seasons.
"It's no secret I'm obsessed with colour! ALL colours really, but there are some core shades that I seem to use all the time — pinks, lilacs and peach tones," smiles Jackie.
"My paintings start out as pure spontaneity and expressionist. The first couple of layers are laid down quickly and freely. I don't plan compositions or do any preliminary sketching.
"I like to start with a colour palette, then just see where the process takes me. All my works start out completely abstract but quite often representational elements emerge and when this happens, I start building a composition around them."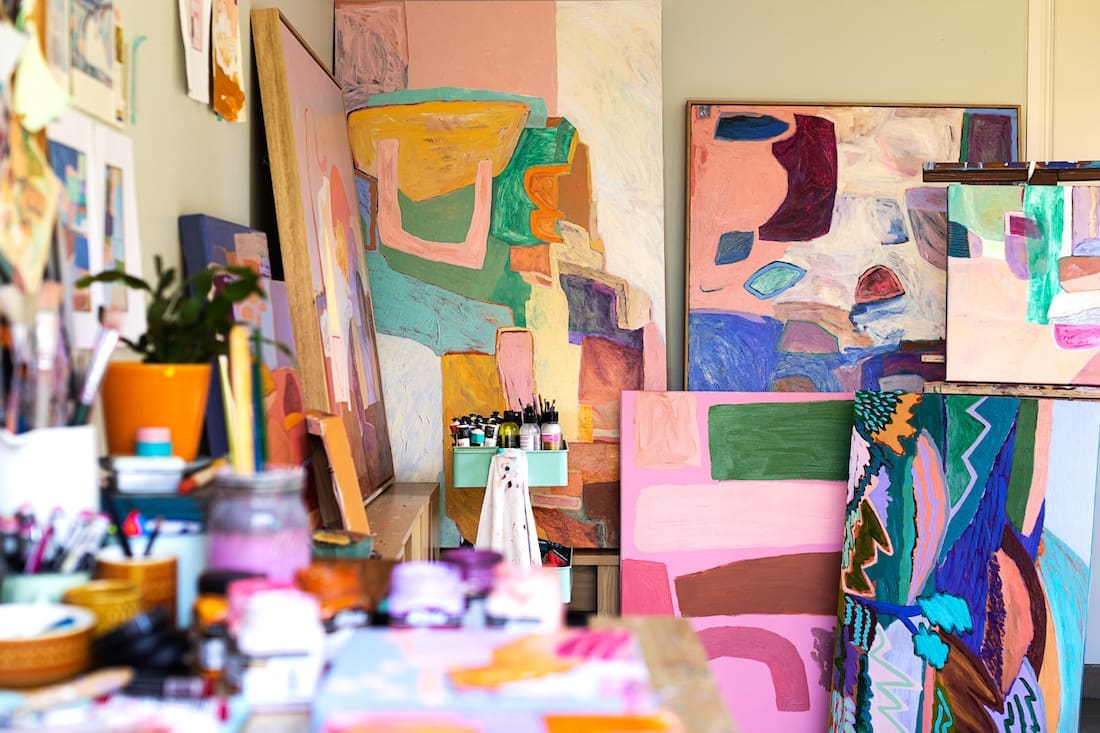 Now a full-time artist, Jackie has dreams of bringing more affordable and accessible art into our homes.
"My art has grown into a full-time gig now but it's a real struggle to balance the needs of my business and the needs of my family. I work a lot of late nights and weekends to try and fit everything in.
"I have big goals I'm working towards… it's an exciting time. A studio expansion is on the cards for 2022 so I can work on large pieces.
"Another goal of mine is to produce a collection of more affordable works on paper. It's important to me to make my art accessible to more people.
"I also want to start making plans for my first solo exhibition which is a really important milestone as an artist," says Jackie.
We absolutely love the idea of accessible, affordable art and can't wait to see what Jackie Anderson creates in the future. To follow along and keep in the colourful-loop, be sure to take a look at Jackie's website and follow her on Instagram.