So your favourite interior style is coastal (aren't sure what your style is? Take our free quiz here!). Or, maybe you're just longing for a summer holiday and want those relaxed, beachy vibes year round. Whatever the reason, we've got you covered with our guide to achieving that dreamy, coastal interior style.
There's so much to love about coastal interiors — soft whites, relaxed furniture, timber accents and natural fibers. So let's just dive straight in, shall we?!
Related article: The Jetty House: Beachy vibes and breathtaking views
Related article: Do you know what your interior style is? Take the quiz!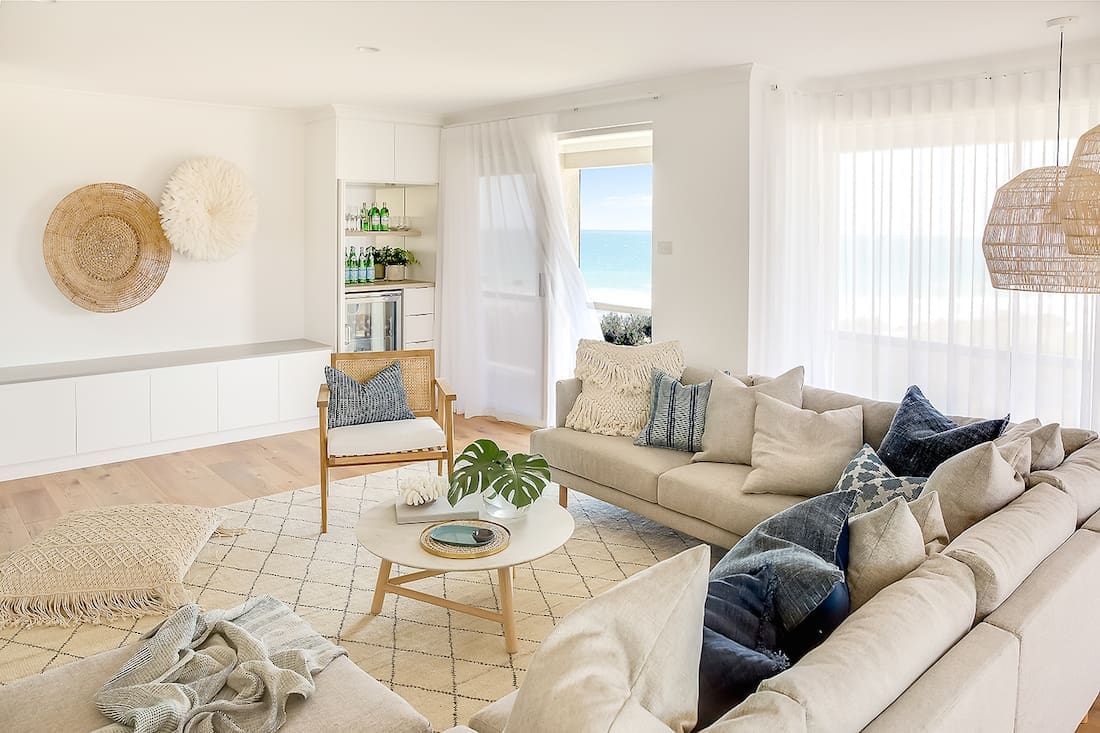 So… what IS coastal interior style?
The coastal interior style is, as the name suggests, heavily influenced by the beach and ocean.
Shades of blue and green inspired by the water, from washed-out 'Seafoam' to deep 'Ocean blue', appear against a crisp backdrop of whites and neutrals.
Furniture is usually always made from natural materials, such as light oak timbers, rattan and even driftwood.
Furnishings, such as curtains, are relaxed — white textured curtains in an S fold suit this style to a T. Carpets have a touch of rawness about them, such as loop pile wool carpet or even jute.
Oversized pendant lights (usually in rattan), pops of greenery and decor pieces like coral and raffia finish the look.
So to get that relaxed, summer vibe year-round at your place, here are our top tips for creating a coastal interior style.
Shop the look: Coastal furniture
Let there be light
Probably the most common theme across coastal interiors is light. To achieve a greater sense of light in your home, a simple fix is through white paint. White walls reflect light and immediately give the illusion of larger and brighter spaces, which is great if you're working with a smaller space.
Take a look at your window coverings — do they fit the coastal style? As we mentioned above, curtains in a light neutral colour or even plantation shutters look great in coastal interiors. Updating them can be a great way to bring in more light and further enhance your space. Need help deciding which is best? Have a read of this useful article.
Starting with a bright, crisp base like this will see you well on your way to creating the coastal look you're after.
Add in timber accents
Blonde timber flooring is the perfect addition to your home if you're after that coastal look. However, if new flooring isn't an option, there are other ways you can inject pops of timber in your home.
Go for light timber, bamboo or textured finishes on your furniture such as your dining table or chairs. Think bar stools to soften your kitchen space, or perhaps a timber bedhead in the bedroom to achieve that beachy look.
We love using timber for feature shelving in the kitchen, lounge or any room of the house, really.
Relax your furniture style
The great thing about coastal style is its versatility. There are no hard and fast rules so you really can mix things up. Literally!
A common theme in coastal homes is the relaxed and mismatched style of furniture. In the dining room, try a bench seat on one side, and timber chairs on the other. Upcycling furniture, such as with white chalk paint, can see a dated piece of furniture instantly fit your new coastal style.
Go for furniture pieces with a touch of rattan or the woven-look. We love sideboards with rattan doors or beautiful woven stools. Bench seats, console tables or side tables look great in distressed or weather timber and will enhance the coastal theme.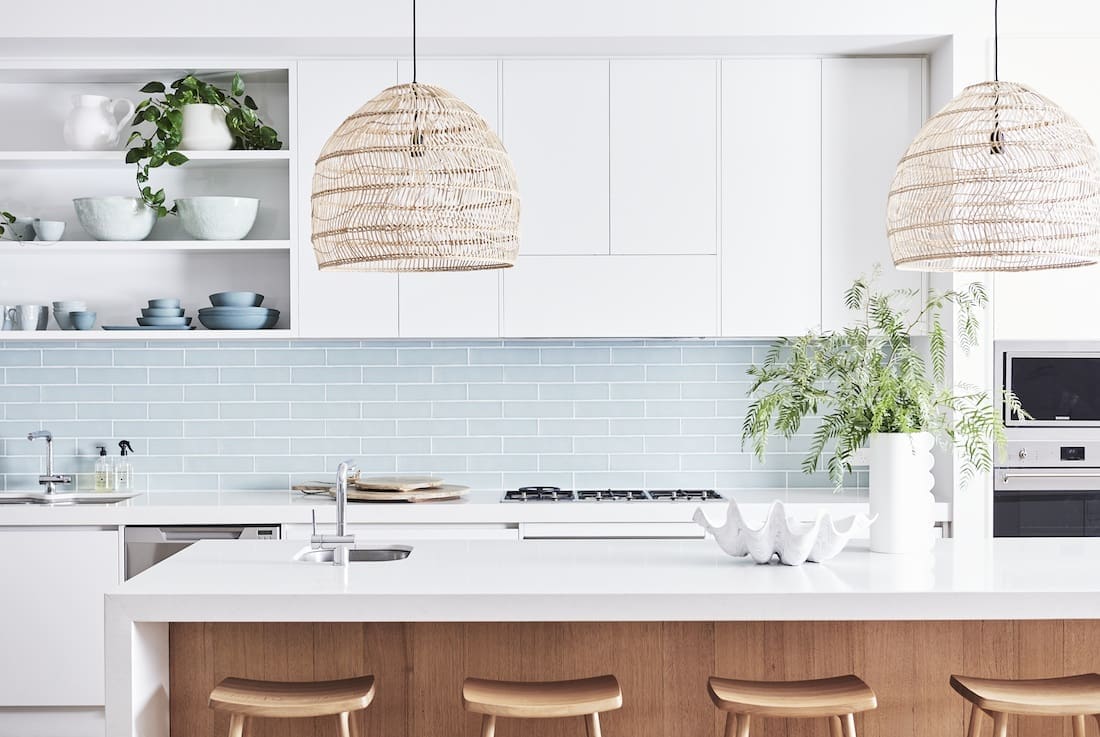 Pop in a pendant light
If we could only choose one item that screams coastal, it would have to be a basket pendant light. Perfect in any space, you can go big, or keep it subtle. We adore a basket pendant light in the kitchen or as a feature in the dining room.
Use a stand alone lamp if you're unable to swap out your main lights or you could even use them in the bedroom on your bedside table for a subtle (and significantly cheaper) nod to the coastal theme.
Shop the look: Coastal lighting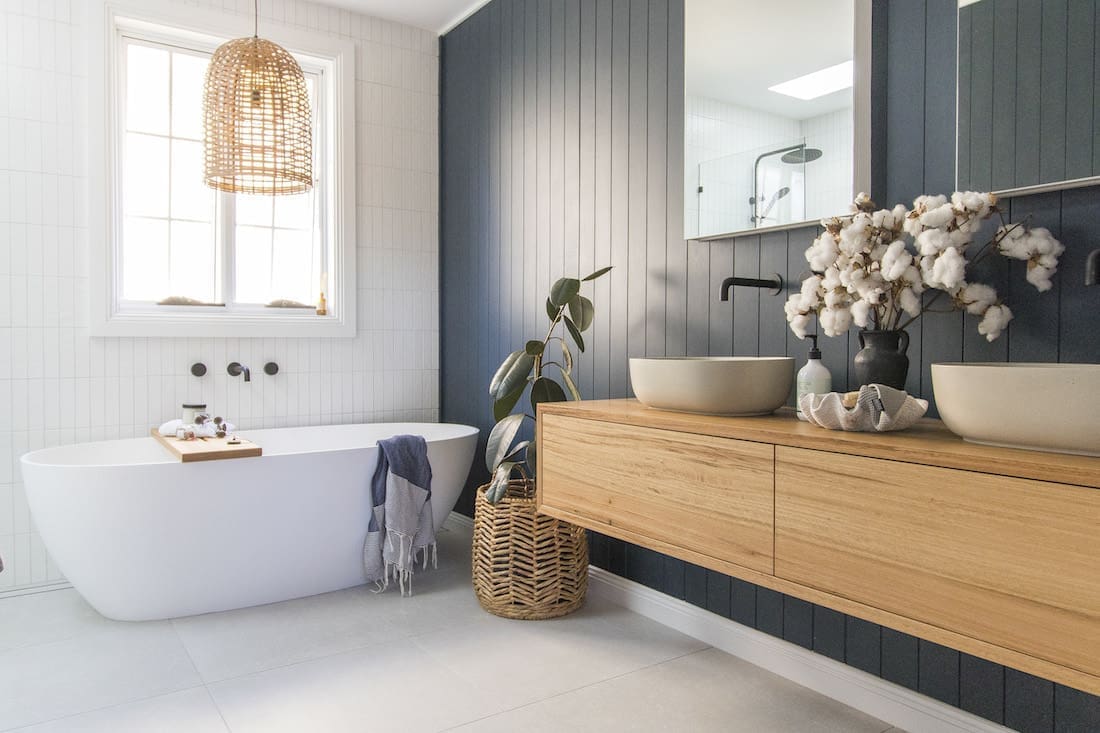 Keep it soft — or go bold!
Ok, so we know we said use white paint before but this doesn't mean everything has to be white! In one of of our fave ever bathroom reno stories, Anna from Moore Creative proves dark and coastal make the perfect pair.
By adding a deep blue accent wall and keeping the rest of the room restrained, she created the ultimate coastal bathroom pictured above.
Decor delights
If you can't commit to the big ticket items to get the coastal look at your place, do it through decor and furnishings. There's no doubt this is our favourite way to change up the style of a room and it's super easy to do.
Embrace natural materials
For that true coastal feel, we love decor made from natural materials. Jute, linen, cotton, bamboo, timber, concrete, leather, seagrass, rattan, straw… there are so many choices on the market now!
Shop the look: Coastal decor
Bedroom
Linen bedding in white, light greys or perhaps a subtle colour of your choice is an ideal way to add an element of soft luxe in the bedroom. We adore cool blues, minty greens, neutral wheat and of course, crisp white.
For a real showstopper, add a rattan or woven bedhead to create your own coastal haven.
Shop the look: Coastal bedroom
Cushions
Of course, we can't go past cushions as a simple and effective decor piece. Pick up cushions in natural fibres, such as raw linen or those with a textured detail, and keep to your colour palette for a more cohesive, clean aesthetic.
Accent cushions in brown leather or jute are also a great choice. And don't think that because you're going coastal you can't go for colour. Pops of your fave colour showcase your style better than anything!
Lounge
A white lounge is a fab way of keeping your space feeling bright and clean. If keeping it clean is an issue (kids… pets… life!) but you're totally set on white, opt for a lounge with washable cushion covers, or add a white slip you can easy pop in the wash when needed.
If you're chasing a feature chair, go for one with rattan detailing or a brown leather sling chair to add a touch of coastal chic to your space.
For your coffee table, add a woven tray alongside some faux coral, chunky beaded tassel, or shell decor pieces.
Drawers
You can completely transform an old piece of furniture simply by changing out the drawer pulls. We love natural wood, rattan (you can see a theme forming, no?!) or perhaps soft tan leather pulls. So many gorgeous options!
If you're keen for a bit more DIY, check out the ah-MAZING rattan chest of drawers makeover in our IKEA hacks article here.
Walls
For your walls, think beachy artworks or canvas prints. There are so many gorgeous places to buy artwork online, you're spoilt for choice no matter what your budget.
If you're after something a little different but still within the coastal theme, look out for woven wall hangings, tribal shell necklaces or simply use a hat or straw bag.
Shop the look: Coastal wall art
Floors
A rug is always a good idea. Jute or rugs with a similar colour and texture are a lovely way to bring interest into the room. Remember, if in doubt, go big! Check out our rug dos and don'ts article here.
Add greenery
Adding plants to any room doesn't make a room specifically 'coastal', but it's still essential in our minds! Plants are the perfect way to soften a space, add some colour and a point of interest.
You can never have enough plants, but if taking care of them is an issue, check out this helpful article here! Then, you can play around with pots and hangers to match your decor. For a more coastal touch, we love woven baskets, hanging planters and pots in simple white or concrete.
If plants just really aren't your thing, a touch of greenery through flowers or stems of foliage will do the trick just fine, too.
We hope you've found our guide to coastal interior style helpful and you've got a little inspo. Which was fave decor, furniture or lighting piece? Or, if coastal isn't your vibe and you'd like us to explore other styles, we'd love to hear from you! Tell us in the comment section below.
Shop the look: Coastal decor
Disclaimer: This post contains some affiliate links. This means when you click on a link and purchase something from that site, we may make a small commission at no extra cost to you.