Lately I've been spending way more time in my office than usual and it was starting to look like a bomb hit!
I was getting so distracted by the mess, productivity had gone out the window!
Rather than just declutter and tidy, I figured while I was at it I'd give my office a makeover too.
Steve Cordony's favourite trend this season is white on white and after having some gelato tones in my office for a little while now, I liked the idea of striping things back to a more monochromatic palette.
This fresh new white on white look is so crisp, you might just be inspired to give it a go too.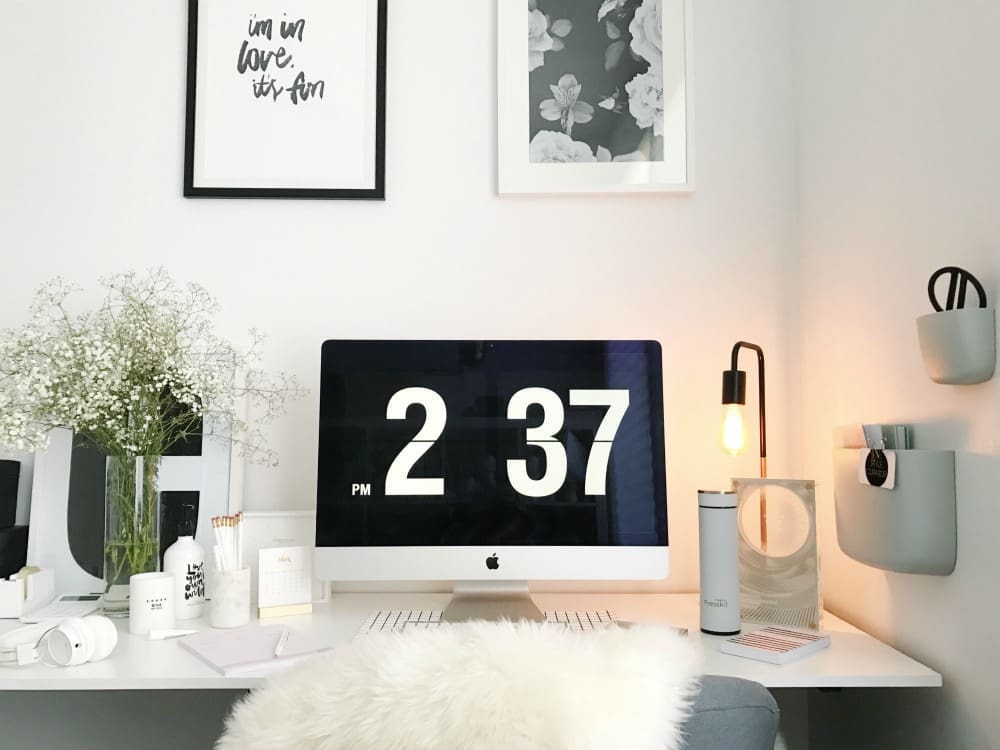 Less is more
Strip everything back to create a blank canvas to begin your styling.
A white desk is ideal but if you don't have one, you could place a white placemat on your desktop like the grid one I've used below the keyboard.
You can also upcycle an old desk. This desk was originally a chrome and glass corner desk that I did a little hack on to turn it into the long, more contemporary-looking desk it is now. Essentially I just removed the corner section of the desk to create two individual sets of legs, spray painted these matte black and then got a large piece of MDF from Bunnings cut to size to be the new desk surface. Easy, inexpensive and a great way of using what I already had.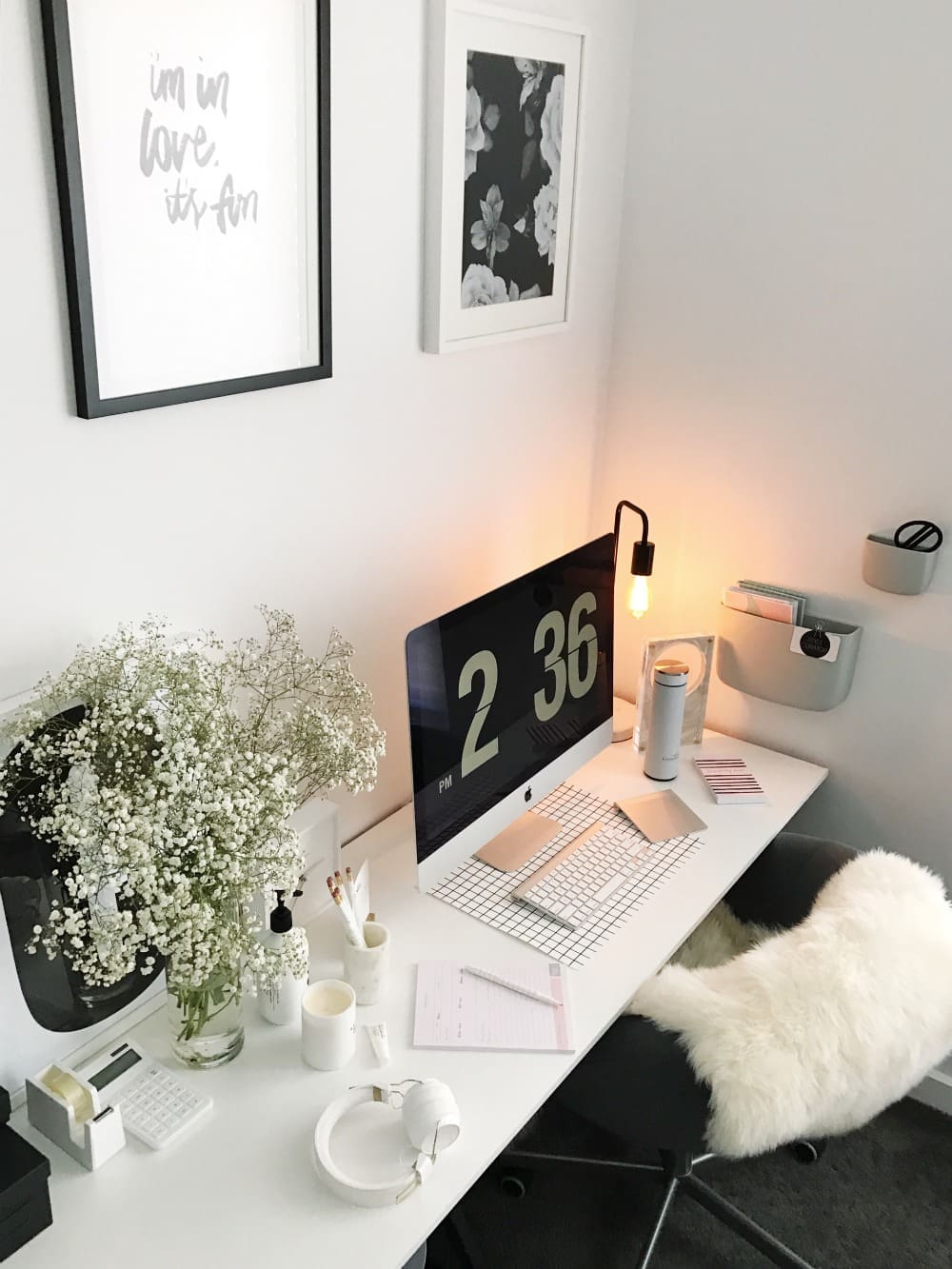 White stationery
As the name of this post suggests, white office styling involves a lot of white stationery and decor!
All of the notepads pictured are from Blushing Confetti, as is that cute desktop calendar with solid brass base.
The sweet gold foil pencils that are so me are from August & Co. They feature days of the week and as the week progresses, days become beverages like 'Coffee', 'Wine' and 'Champagne' ha ha.
I also found some beautiful white essentials from kikki.K including the calculator, tape dispenser and pens.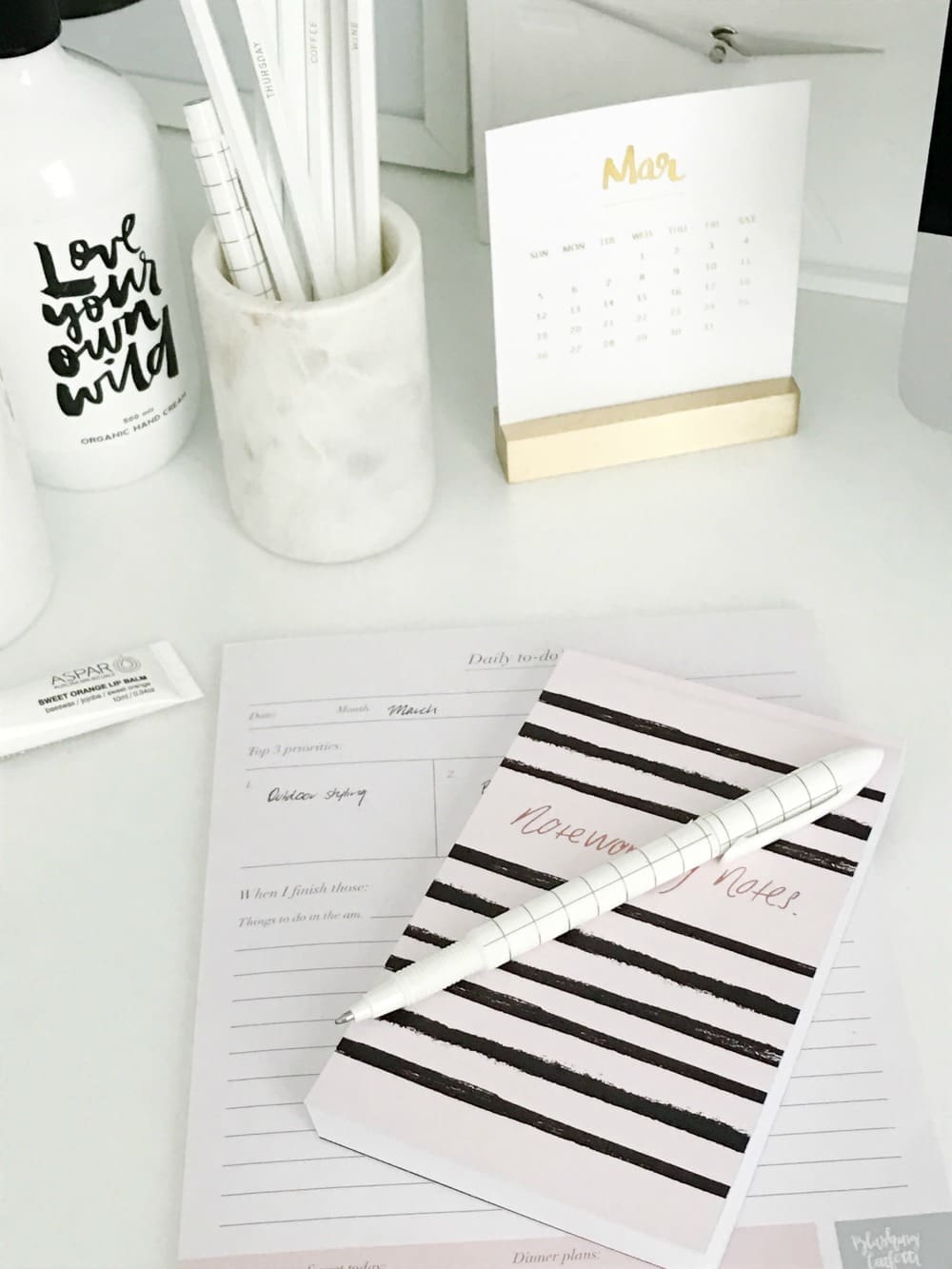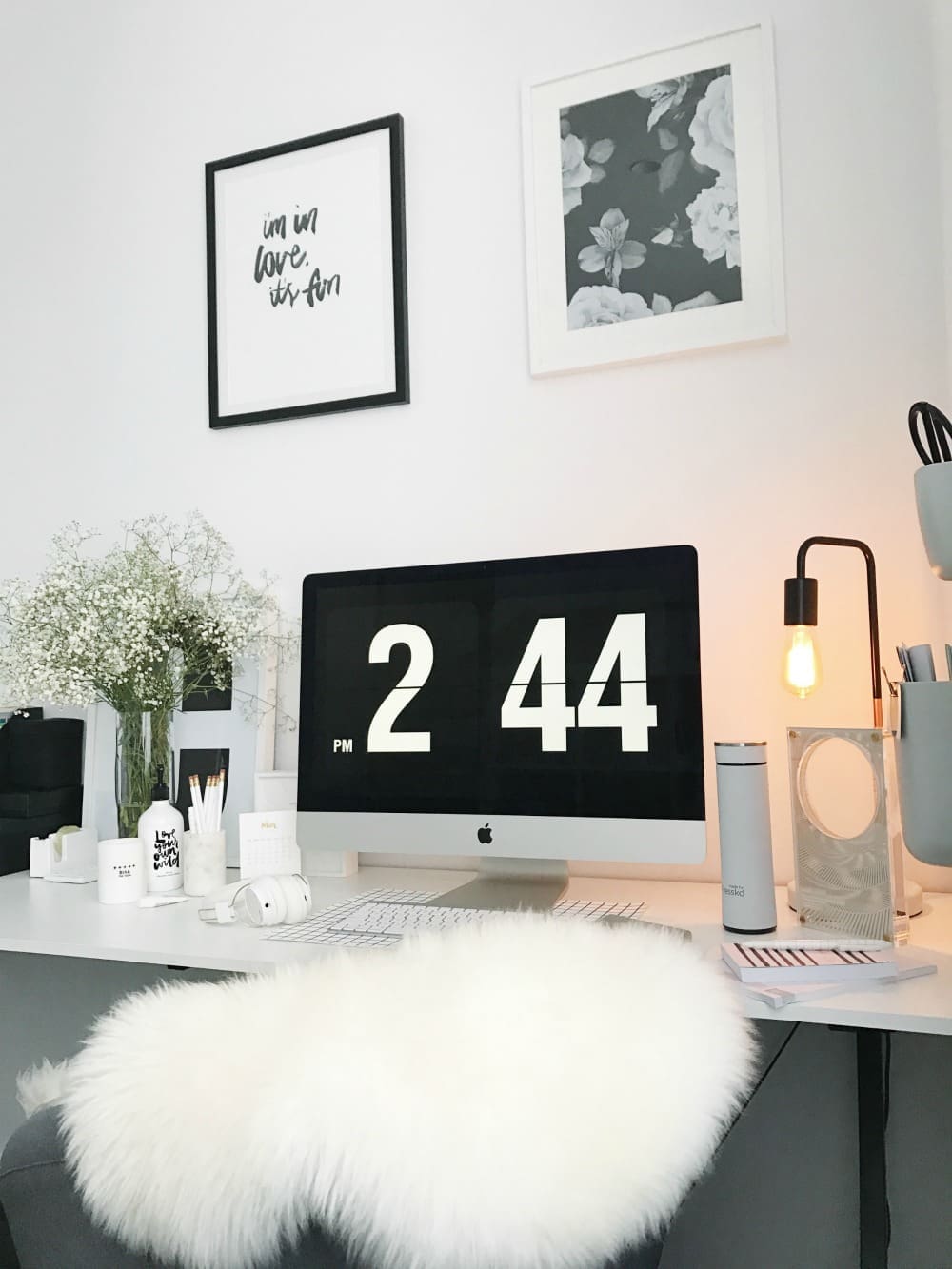 White decor
To complete the look I also treated myself to some white-hot decor including a white desk clock from Purely Wall Clocks.
I'm always listening to music when I work and with Patrick now sleeping in the room next to my office rather than the temporary nursery we made for him upstairs, I'll need to be a bit quieter at night. These new Regent headphones from Sudio Sweden are wireless and you can personalise them by changing the caps you put over the ears. Love them. (If you'd like to buy a pair of headphones from Sudio Sweden, use discount code 'STYLECURATORAU' for 15% off.)
I never drink enough water so hoping this stylish Fressko flask will remind me to stay hydrated. It's actually an infuser too so I can use it for tea or infused water.
I also have a bad tendency to procrastinate… particularly when I'm writing and get faced with writer's block — before I know it, I have 20 internet tabs open and I've lost an hour on random trains of thought. To try and stay focused on what I'm doing, I've got a large hand cream on my desk from Babe and now when I find myself searching for words, I moisturise my hands while I think and it's surprisingly very effective.
And of course, I've got to have a candle burning (just love this one from Anouk Gania) and fresh blooms from my faves Barton Flower Bar.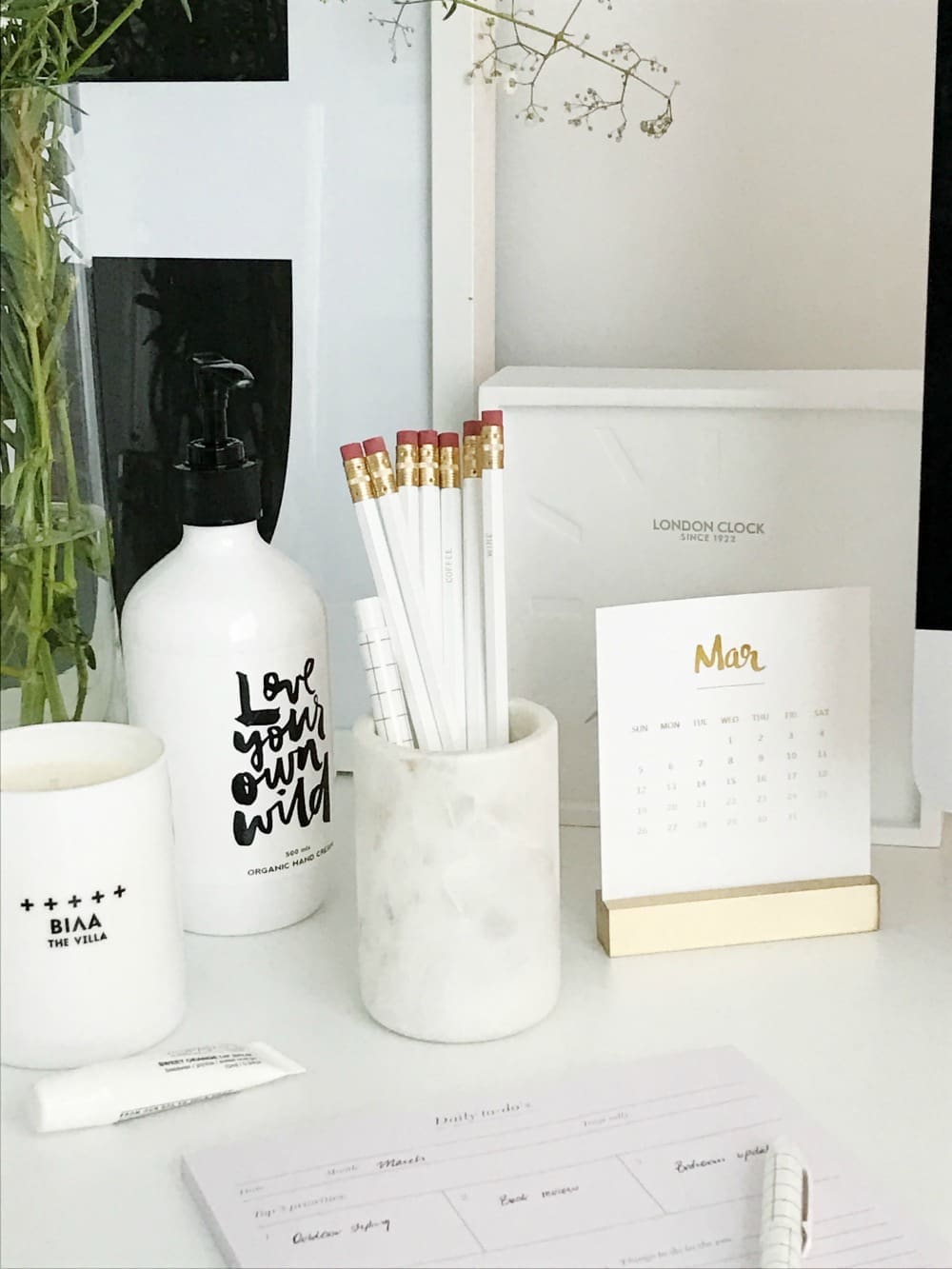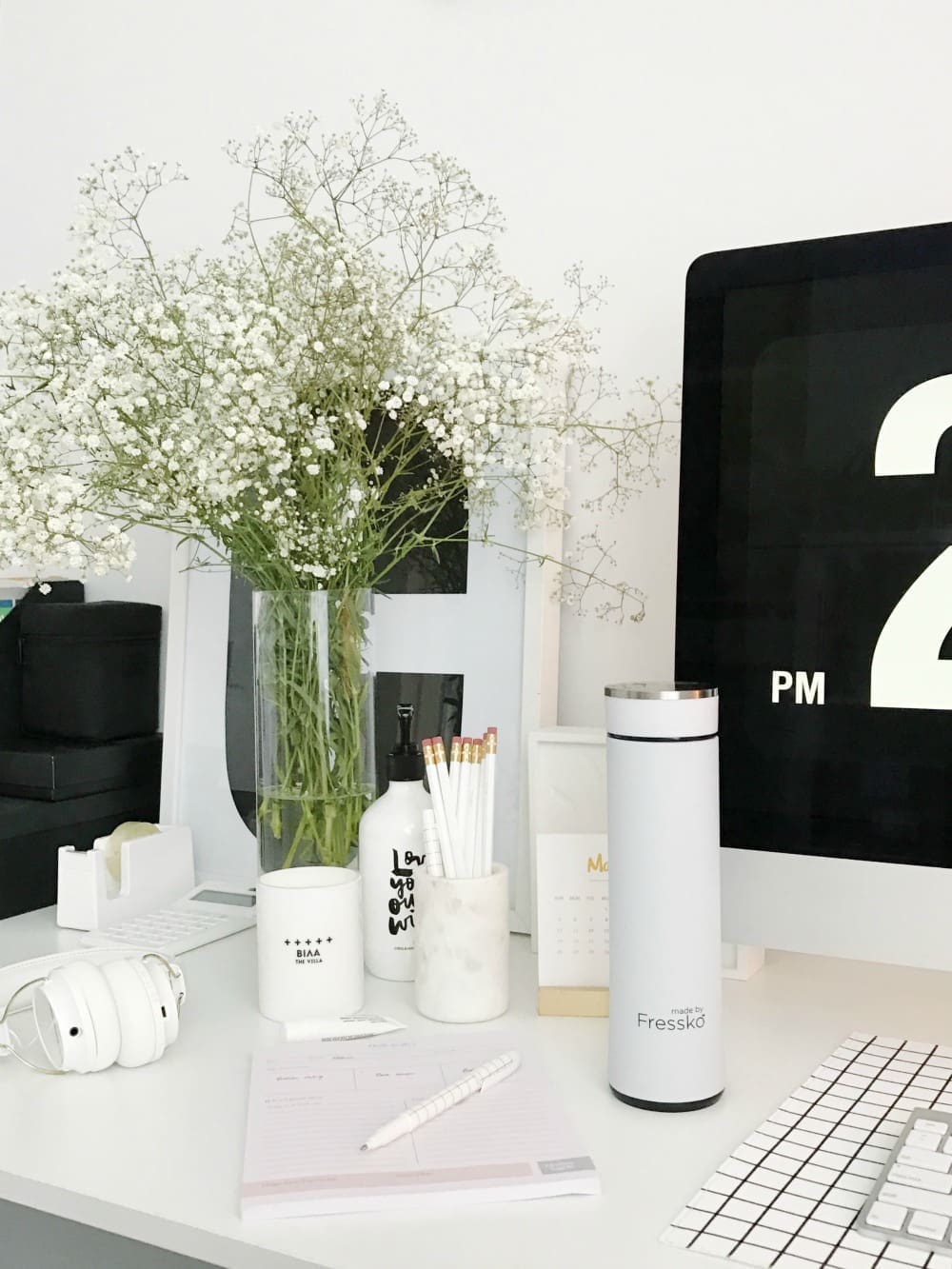 Styling products
Drink flask by FRESSKO / Desk clock by London Clock Co Dyp Mantel clock / Headphones by Sudio Sweden / Hand cream by Babe / Notepad, daily to dos and desk calendar by Blushing Confetti / Pencils by August & Co / Sticky tape, calculator and pens by kikki.K / Candle by Anouk Gania / Flowers by Barton Flower Bar / 'I'm in love it's fun' art print by Rachel Kennedy Designs / Black floral and 'C' art prints by Yorkelee Prints
*Disclaimer: some of the products featured were gifted.