Today we're continuing our tour of Katie and Mitch's new home and are taking you inside their bathroom, ensuite and laundry. We're also chatting with the couple to find out more about the decisions they made in these spaces.
For many people these 'wet areas' are the hardest spaces to design. How did you tackle the challenge of selecting finishes?
"I won't lie, it was a little overwhelming," laughs Katie.
"Because we didn't go with a builder's package, we could pick whatever internal finishes we wanted. One thing that made it easier was that we knew our colour scheme — grey, white, black and wood — and decided to carry it throughout these areas.
"Our builders, Brock and Dwayne from Vernal-Corner & Buchanan, were great. They made suggestions and took us to previous jobs so we could see how certain tile sizes, colours and finishes worked."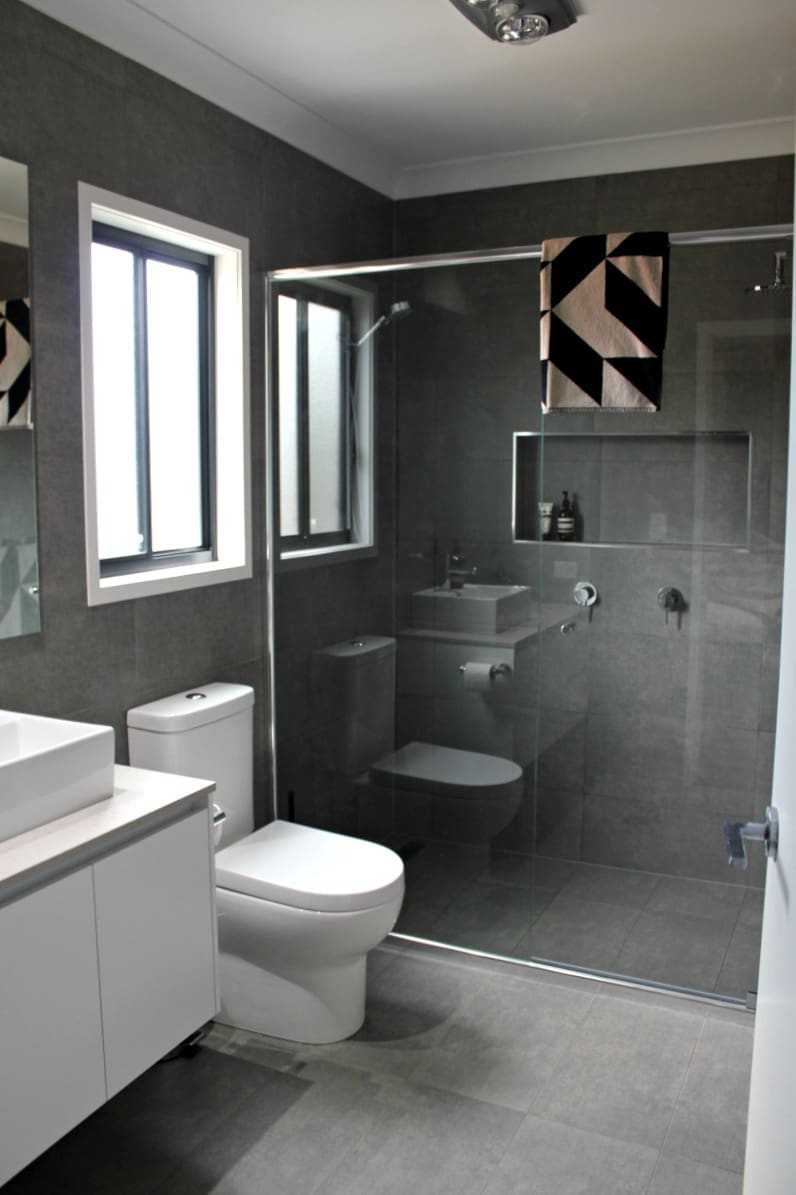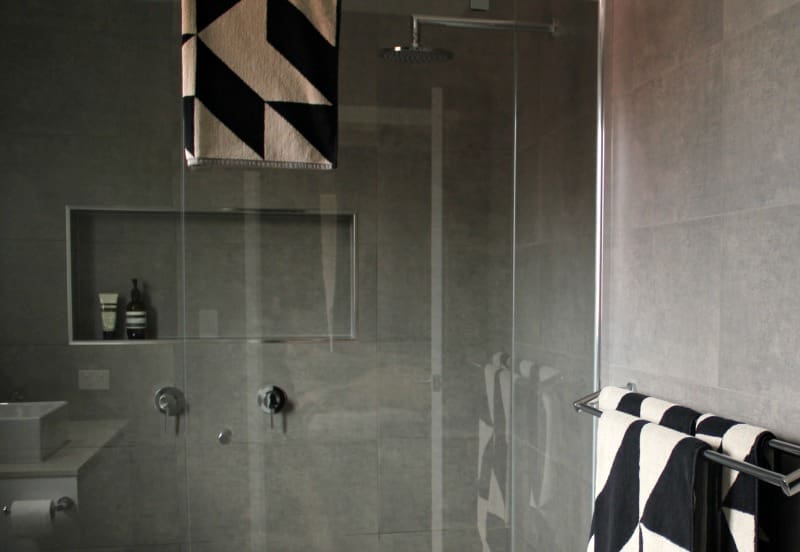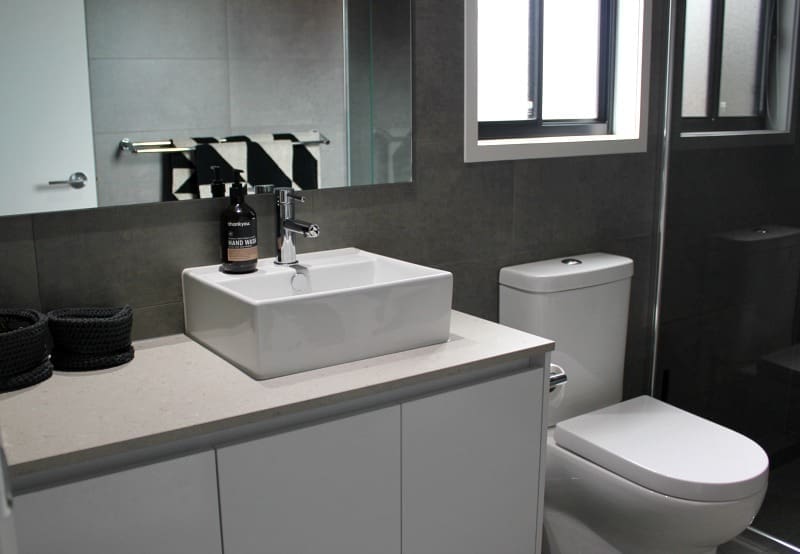 What finishes did you decide on?
"In the bathroom and ensuite we decided to use a grey porcelain tile on the wall and floors.
We wanted our ensuite to be a luxurious space so we carried the tiles from floor to ceiling. We also added a double shower with recessed wall niche and upgraded our tapware.
"The vanities in the bathroom and ensuite are both wall hung with white cabinetry and the same light grey Caesarstone benchtops as the kitchen.
"We wanted our laundry to feel light and airy so we opted for white cabinets and matt white subway tiles. We carried through the same grey Caeserstone bench tops and used the same grey porcelain tiles for the flooring."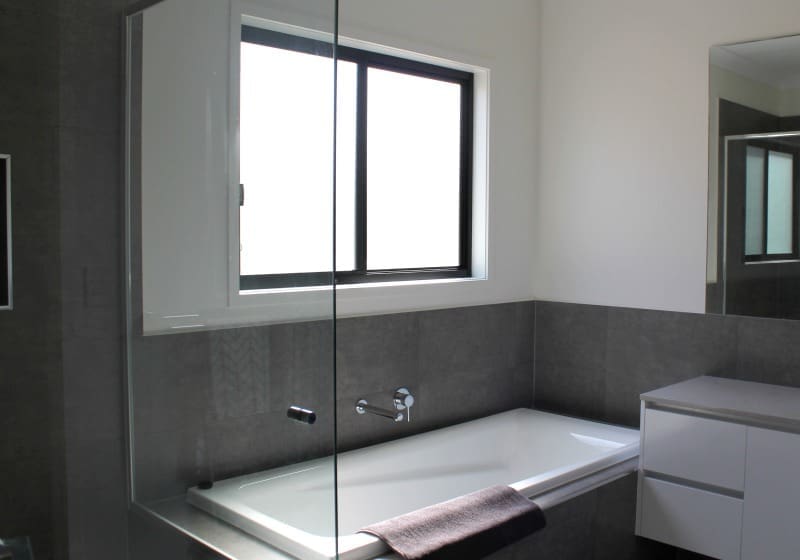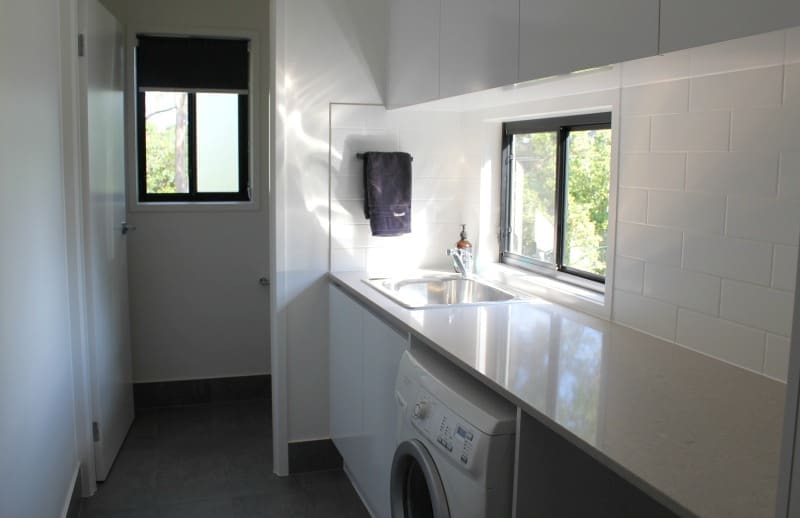 What about the basins and tapware?
"We selected small rectangular basins that sit on top of the vanities. These were sourced from Arto and we selected most of our tapware from Abey's range.
For these three spaces we wanted to select finishes that would be less likely to polarise future buyers. I'm happy with our decision to select neutral greys and whites — they feel contemporary and tie in well with the rest of the house.
Thanks Katie for showing us more of your stunning home. Have you recently designed a bathroom or laundry? Tell us about it in the comments below!