We have been sharing loads of renovation content lately and one area that we constantly get questions about it flooring!
From questions on how to select the right flooring for your home, to the exact flooring material we used at Bonnie's house, and even what flooring is used in some of our home tours – it seems flooring is definitely on the mind for many of you!
Whether you're building new or renovating, flooring can completely transform the overall look and feel of a property so here are our 10 things to consider when selecting flooring for your home, with tips from the team at Flooring Xtra.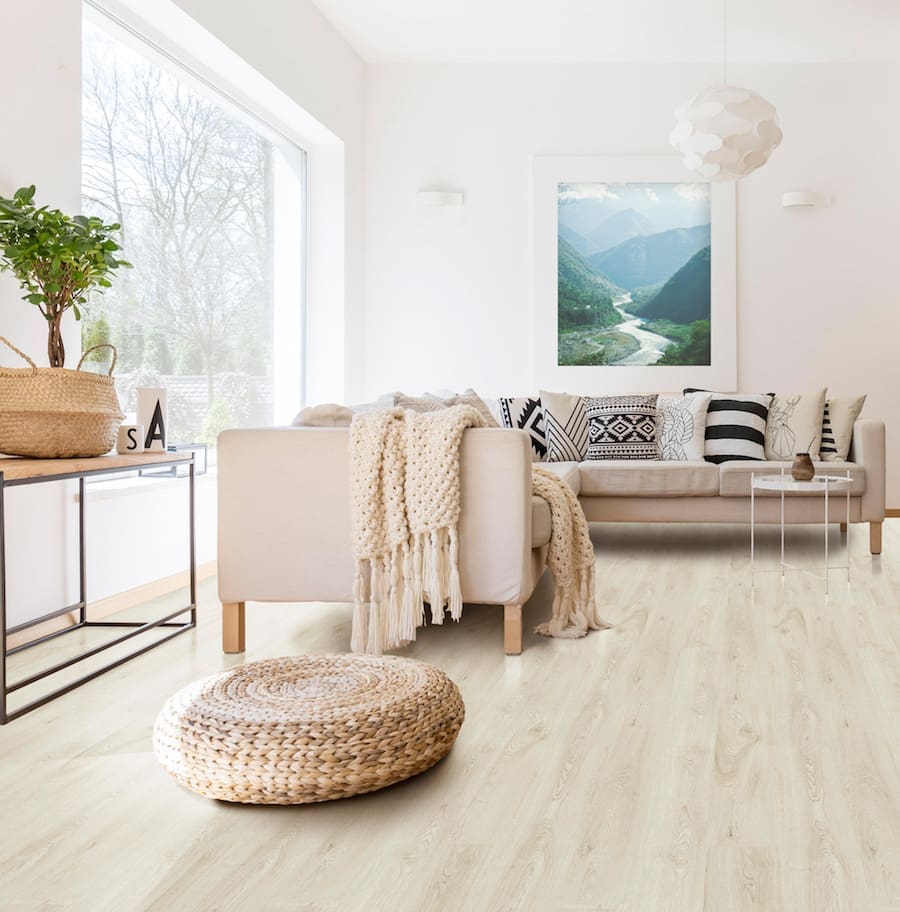 1. Working with existing flooring
The first thing to consider if you're renovating is what's already on the floor and how far you want to go with your reno – simply working over the top of flooring or removing existing flooring entirely?
Some existing flooring can be incredibly difficult to remove. At Bonnie's house, we had to use an elaborate technique to remove the old lino, which involved boiling water to soften it, chiselling away by hand and using chemicals, and then also using a hammer drill. Other types of flooring, such as tiles, can also be near impossible to remove, which is why some people add new flooring over the top of existing flooring.
However, the type of flooring you currently have will generally determine the next material you can install. There are installation guidelines and installation standards that apply to many floorcoverings, which cover how an existing floor needs to be prepared to take new floorcoverings. This varies depending on the type of existing floor and the new flooring material you want to lay. The advantage of using a specialist flooring retailer, such as Flooring Xtra, is that they can advise on the best way to replace flooring in a renovation.
It's also worth noting that the wear and tear of existing flooring can become more pronounced when new flooring is run up to it. This is something we were surprised to see at Bonnie's house where the original carpet in the bedrooms was in quite good condition – since installing new timber flooring down her hallway, all of the wear and tear of the carpet, particularly the discolouration from UV light exposure over time, has got us thinking about new carpet.
2. Floor levels
The other big factor to consider when renovating is floor levels. Ideally we want all the flooring on the same level to sit flush, however in older properties these can already be out or if you're planning on renovating one section of the home, you may find you will create an uneven floor level.
Short of replacing all the flooring and starting again, there are a few products on the market that can help such as a wide range of profiles and trims. These profiles won't magically make all your flooring level but they will create a smoother transition between rooms and eliminate trip hazards.
You can find a profile to suit your application – matching up two floors of the same height, matching up two floors of differing heights, matching up a hard floor to a carpet or simply finishing a floor to the skirting board. A professional flooring installer will be able to advise on the best trim or profile to use and provide a range of colours depending on the finish required.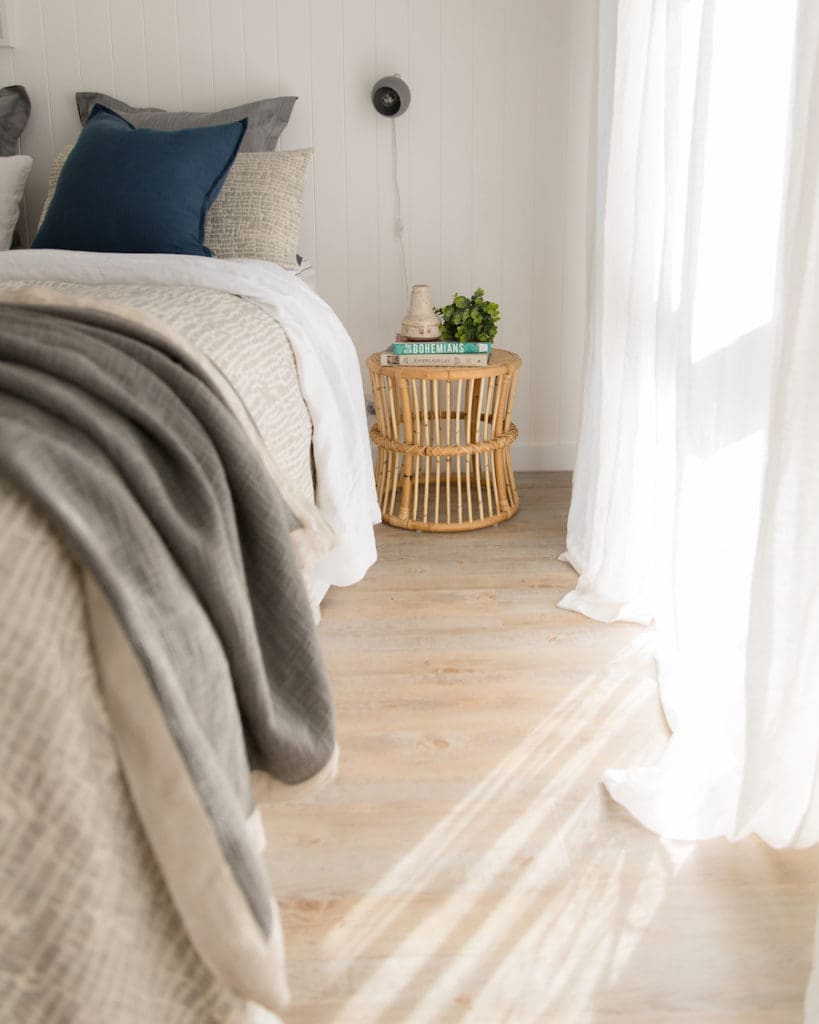 3. Mixing flooring solutions
Another question we've been getting is whether it's best to have the same flooring throughout the home or if a mix of flooring materials will look better. The answer is, it depends!
Having the same flooring material throughout main areas of the home creates a seamless and contemporary look, and is something we'd definitely recommend in smaller homes.
Where a mix of flooring solutions in living areas can work well is in split-level homes. Elevation changes are the perfect spot to change flooring seamlessly. At Gina's house, the lower ground floor is a polished concrete, and the other split-level areas are Blackbutt timber.
Of course, bedrooms and bathrooms (and other wet areas) also generally have different flooring. It's very popular to have carpet or a softer flooring material in bedrooms, and most bathrooms have a tiled floor.
The trick to achieving a great overall look is to have a clear idea of the style or feel you want to create in your home. This will help you narrow down a colour palette and materials list that you can use throughout all aspects of the renovation. To create visual connection in your home, look for ways you can reference these colours and materials in different rooms. For example, you may select timber flooring in the main living areas but have a tiled bathroom floor so perhaps incorporating some timber accents in the bathroom (like a timber vanity) is worth considering?
4. Consistent flooring
You just heard us say that bathrooms and other wet areas generally always use different flooring – well, that's beginning to change as flooring technology advances.
Many people desire the seamless look that can only be achieved by having the same flooring in all rooms of the home – including bathrooms and wet areas – which has led to some pretty innovative new flooring products.
Other than tiles, another option worth exploring is Luxury Vinyl Plank (LVP). These can be safely installed in all areas of the home provided a specific 'wet area' adhesive is used. LVP is waterproof and suitable for busy families with kids and pets.
Our favourite flooring option though would have to be Hybrid Flooring. Hybrid Flooring is the best of LVP and Laminate. Easy to install and resistant to scratching like laminate, but waterproof, quieter underfoot and easy to maintain like LVP. Installed correctly, this is also a great option for all areas of the home.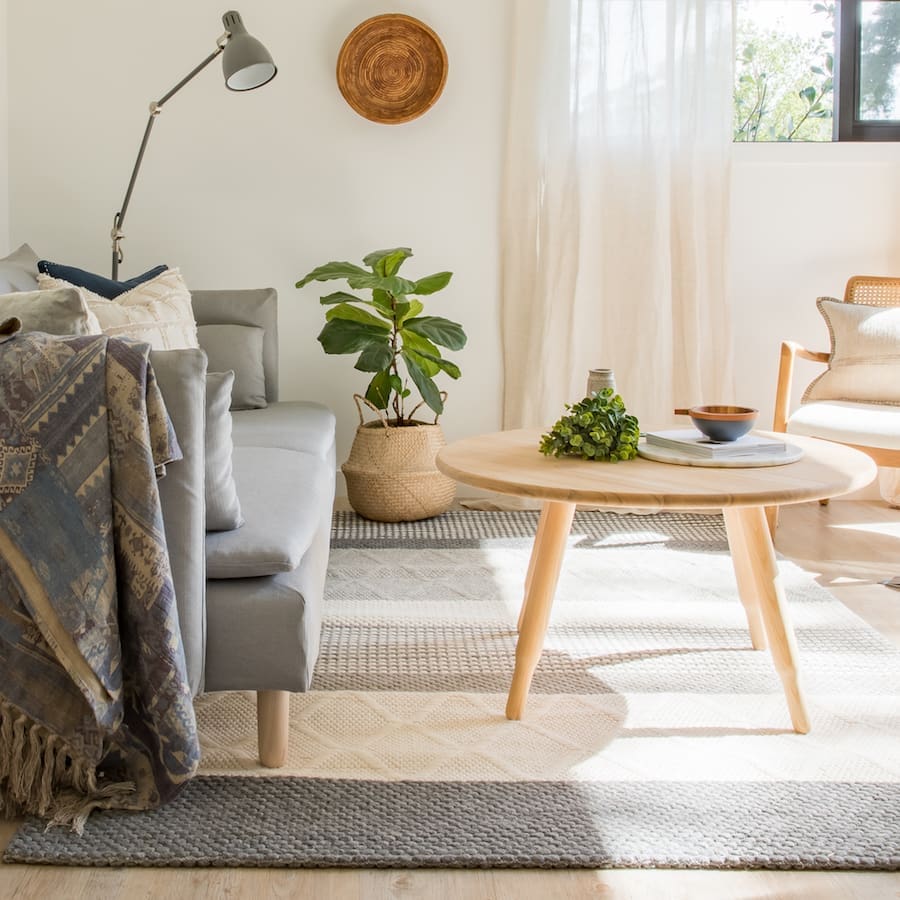 5. Underlay
We know how tempting it can be to find budget savings in the things you don't see but trust us when we say underlay is not one of those areas! A good quality underlay provides acoustic benefits by reducing noise transfer and under carpets, they can help absorb impact which extends the longevity of carpet. Flooring Xtra have Dunlop Envirotred Underlay, which is manufactured using 90% recycled materials and is 100% recyclable.
6. Allergies
Dust can be a real issue for those who suffer allergies, as it becomes airborne in the home it can cause asthma and hay fever symptoms, itchiness and irritability of the eyes and throat. While these allergies are difficult to eradicate, you can select materials for your home which can minimise these issues.
For an allergy sufferer looking at buying carpet, consider SDN (Solution Dyed Nylon) or BCF (Bulked Continuous Filament) carpets as these fibres minimise shedding. Also look at low pile carpets for ease of vacuuming. Rugs are a little more flexible as you can take these outside to be cleaned and aired thoroughly.
Hard flooring such as timbers, tiles and vinyls are also great options as they are easier to keep dust-free.
7. Future proofing
In thinking about your flooring, consider how you currently use the space, and how you might intend to use it in the future. Will there be a baby or pet entering your life in the coming years? Will you rent out your house to tenants or are you planning on selling?
Thinking about tomorrow may impact the decision you make today. Read more about selecting the right flooring for your home here.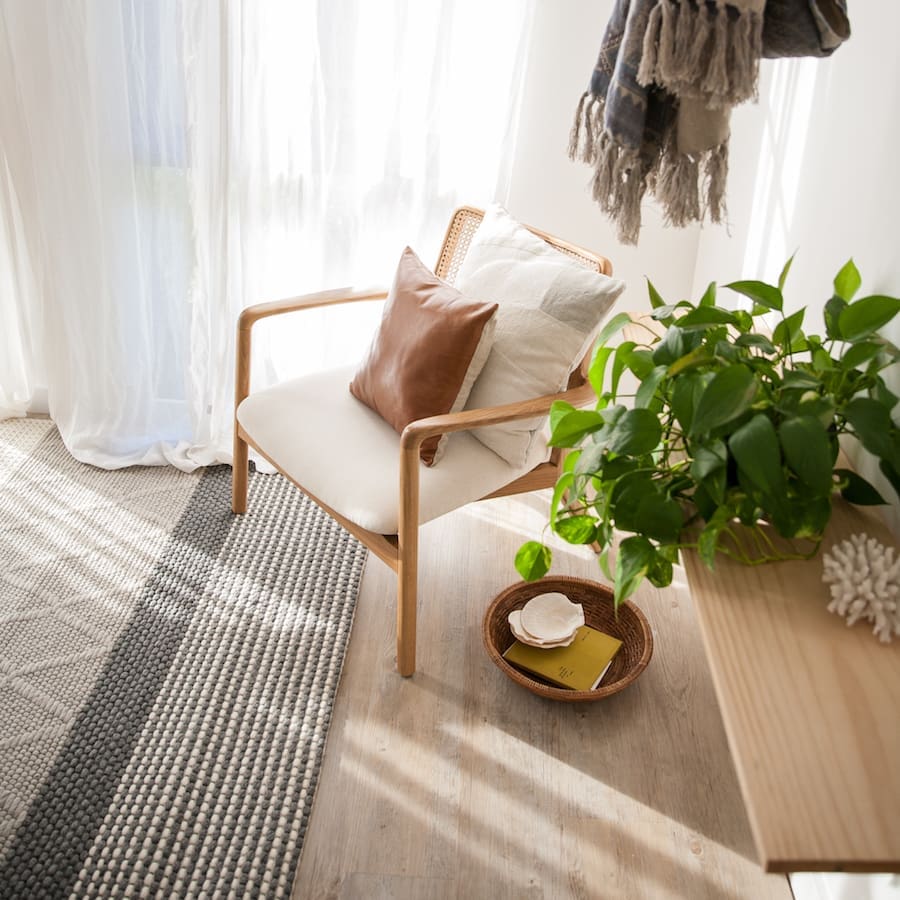 8. Aesthetic
With all major projects, we recommend creating a mood board so you can see how all the elements of a space – wall colour, lighting, furniture, décor, window dressings and of course flooring – work together on a smaller scale before you make the commitment to lock them in.
Flooring is one of the largest surface areas of any room so it's a decision you want to get right. In our guide here, we talk about the best flooring options to suit the style you want to achieve.
9. Space
As well as the style you want to achieve, the constraints of the space you're working with will also play a big role in what flooring will be best.
Consider the size and shape of the room. Is it bright or dark? Is it a high traffic area? What kind of flooring will best complement the layout of the room?
Light floors brighten darker spaces and can bring a feeling of spaciousness while adding warmth. Similarly to selecting the right paint colour, it can be worth getting flooring samples and testing them at different times of the day to see how they work in the room.
10. Set a budget
Of course there's no escaping one of the biggest constraints most of us have to work with and that's 'budget'. With any flooring material you select, there will be low and high cost options on the market.
A good starting point is to map out your floor plan and measure how many square metres you have. That way you can begin looking at options with a realistic indication of what they will cost you. If measuring up your home doesn't sound like fun, the team at Flooring Xtra can provide a free measure and quote (just contact your local store here).
If you do find a flooring material you absolutely love but it's out of your budget, you may be able to find other ways to save. For example, using a standard carpet in children's rooms but a luxury carpet in the master suite. Or talk to your local Flooring Xtra store about Interest Free Finance.
What other flooring questions do you have? Post them in the comments below and we'll reply asap!