The '70s are trending in design in a big way and there's a lot to love from the era — especially when it's reimagined in a modern way! A colour particularly popular in the '70s was terracotta so is it any surprise terracotta bathrooms are making a comeback? From subtle hints by the way of a coloured basin or feature tile to wall-to-wall terracotta bathrooms, there's no limit to how you could embrace terracotta tones in your bathroom design.
If you're looking to embrace this colour in your next bathroom scheme, you've come to the right place! Whether you're looking for accent terracotta ideas or full terracotta bathroom looks, we delve deep into the colour with tips and a tonne of inspo. So, let's get started!
Related article: 10 types of green bathroom tiles: Be inspired to use green tiles in your next bathroom project
Related article: A fresh take on subway tiles: 5 of the most popular ways to lay subway tiles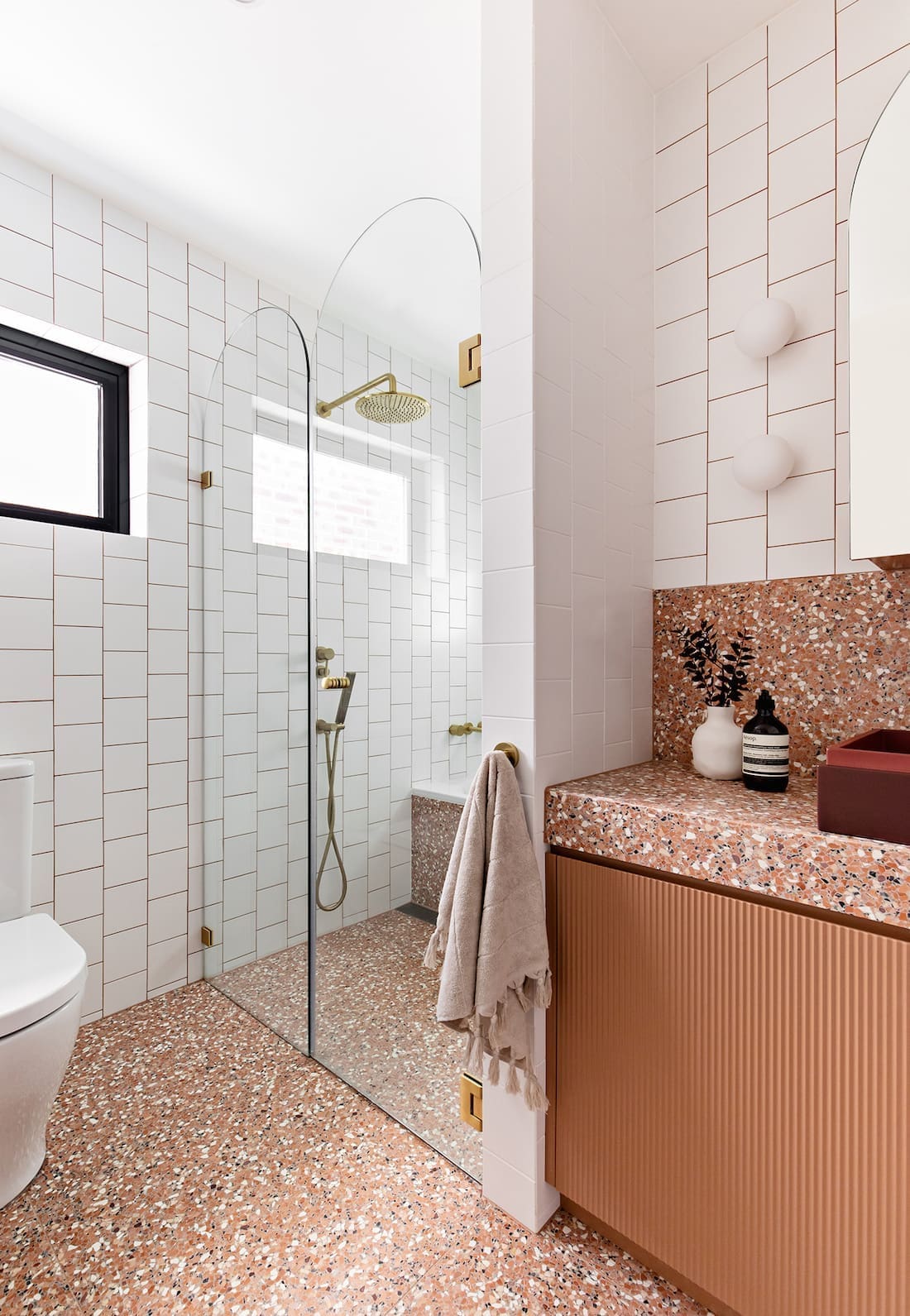 What is terracotta?
Terracotta is actually an unglazed clay-based material that's been used for centuries to make everything from art to pavers and large pots. Over time, terracotta has also taken on the name to describe certain shades of the colour orange. Because of the variation of natural terra clay, there's also a lot of range when describing the colour terracotta. We tend to think of it as a deep burnt orange with hints of brown but it can include lighter shades with more peachy or tan tones.
The terracotta material and colour are particularly popular in Mediterranean, contemporary and bohemian homes, but it isn't limited to these. As you'll see below, it's incredibly versatile and can be found in many other interior design styles.
If you're looking to give your bathroom a warm feel all-year round, terracotta may be the colour for you! Often paired with other neutrals, terracotta is commonly used as a warm statement element but you can embrace more of it to create a bolder space. Let's take a look through some ideas.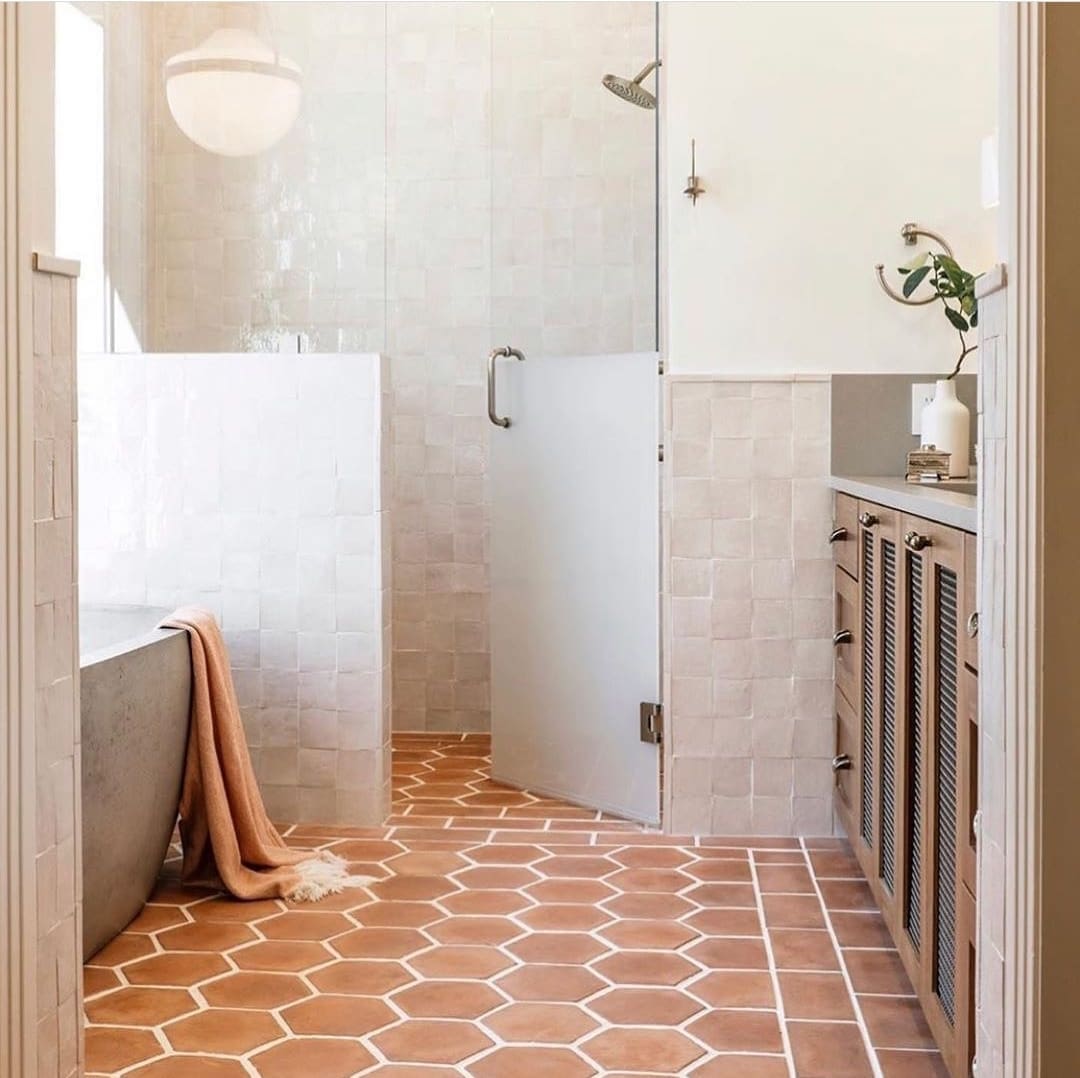 Terracotta as an accent colour
Increasingly we're seeing terracotta pop up in warm, earthy bathroom designs as an accent colour because a little goes a long way! In the bathroom below, you'll see how a square terracotta feature tile was used on the floor and shower walls, while the other walls are kept crisp white. This is a great way to incorporate terracotta as it creates balance — especially with that offset pendant that picks up on the tiles.
One of our top tips for introducing terracotta into your space is to use it as your hero element. Whether it be a floor tile, feature wall or even a basin — if you want to make the terracotta pop, make it the primary focus.
Tips for making terracotta the hero:
pare back other elements to complement the terracotta feature element
style the bathroom with similar terracotta hues, or even a contrasting colour to make it pop
use warm metallic tapware, such as brass, bronze or copper, to pick up on the undertones of the terracotta. It makes a fab design combo and by continuing the accent colour across your space, you'll achieve a sense of cohesion!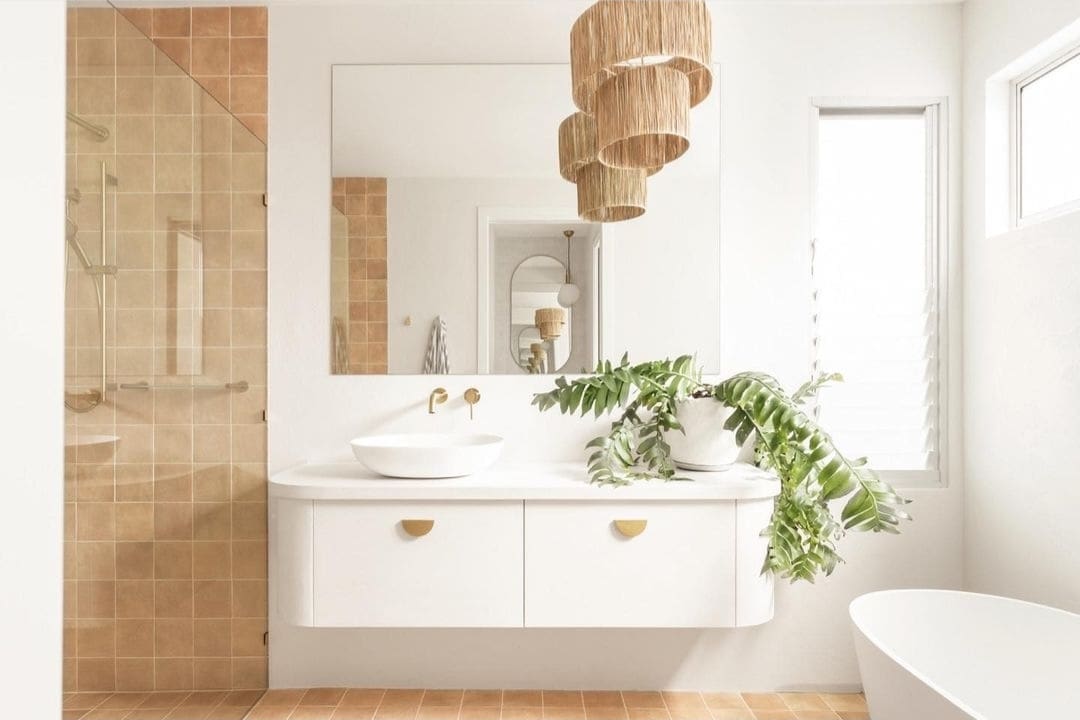 Terracotta floors
One of the most common ways to incorporate terracotta into your bathroom design is as a flooring material. Whether real terracotta tiles or simply coloured-tiles (made from porcelain or another material), here are some examples to show just how good terracotta flooring can look!
Herringbone pattern
Farmhouse and European design influences are making their way into Australian homes and using a terracotta tile in a herringbone pattern (like the example below) nails the look while creating a sense of understated, timeless luxury.
This is a terracotta brick tile laid in a herringbone pattern, however there are more than a dozen ways to lay subway tiles so you could put your own spin on this look. We cover the 5 most popular ways to lay subway tiles in this article.
If you love the bathroom below, be sure to check out the Black Beauty home tour here which oozes the European farmhouse aesthetic.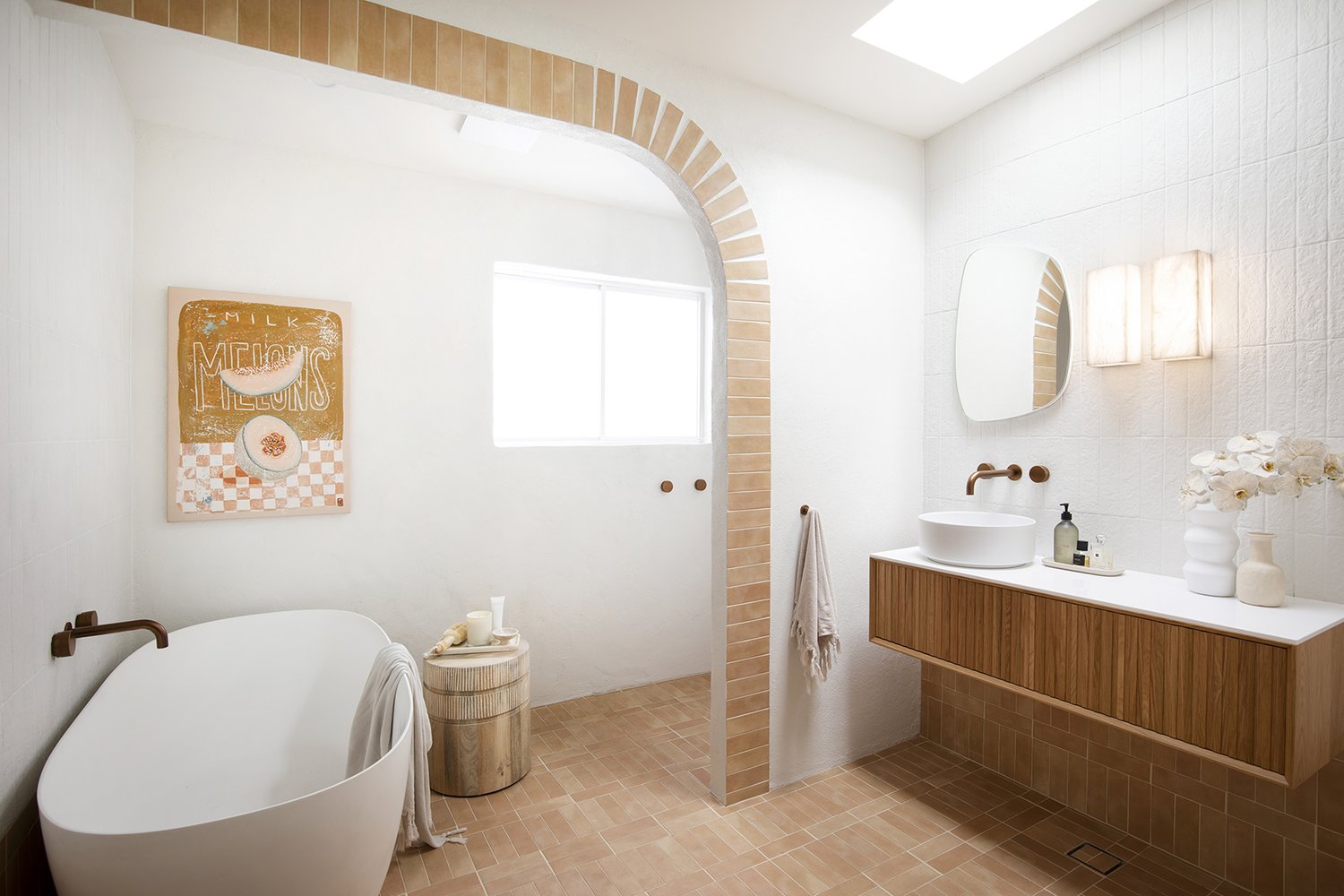 Square tiles
A classic and timeless tile shape, square tiles come in a variety of sizes and suit most interior design styles.
While many people spent the last few years ripping out square terracotta floor tiles in their bathrooms, if you still have the original 200×200 size that was popular in the '70s and '80s, our tips is to leave them be and ride them through this terracotta trend!
However, if you're looking to design a new bathroom with terracotta tiles, we recommend to size down. A smaller 100×100 size creates a more contemporary terracotta flooring look and it's just one of the ways we're seeing the material used in modern bathroom designs.
Hexagon tile
Another terracotta tile shape to consider is hexagon. The angular shapes adds a sense of pattern and rhythm to your design. Available in light or dark shades, in real terracotta or a terracotta-look tile, as well as a range of sizes, there's a lot of scope to create different looks.
While the images below show a darker tile that achieves a rustic feel, scroll back up to see how lighter peachy hexagon tiles create a modern Mediterranean bathroom.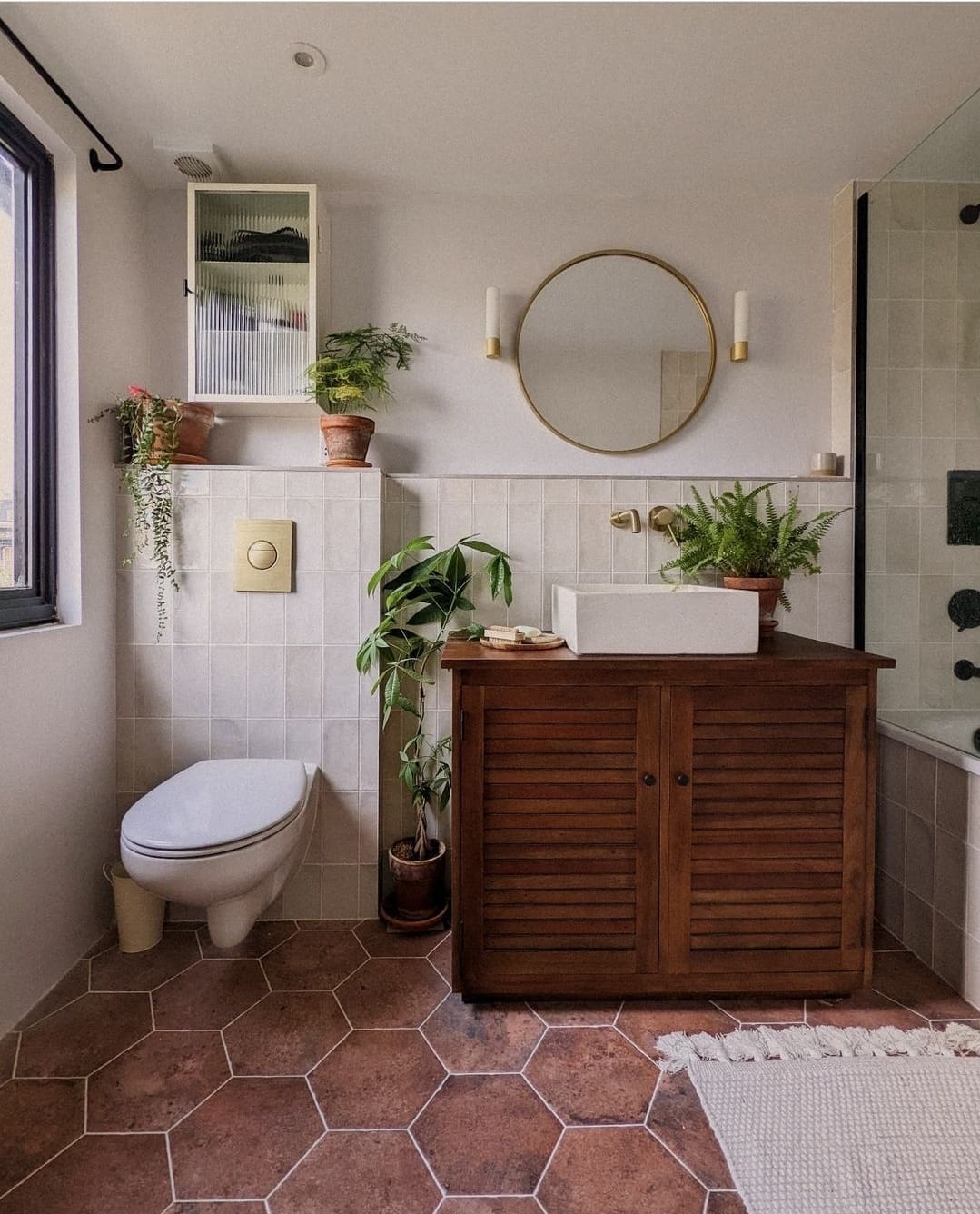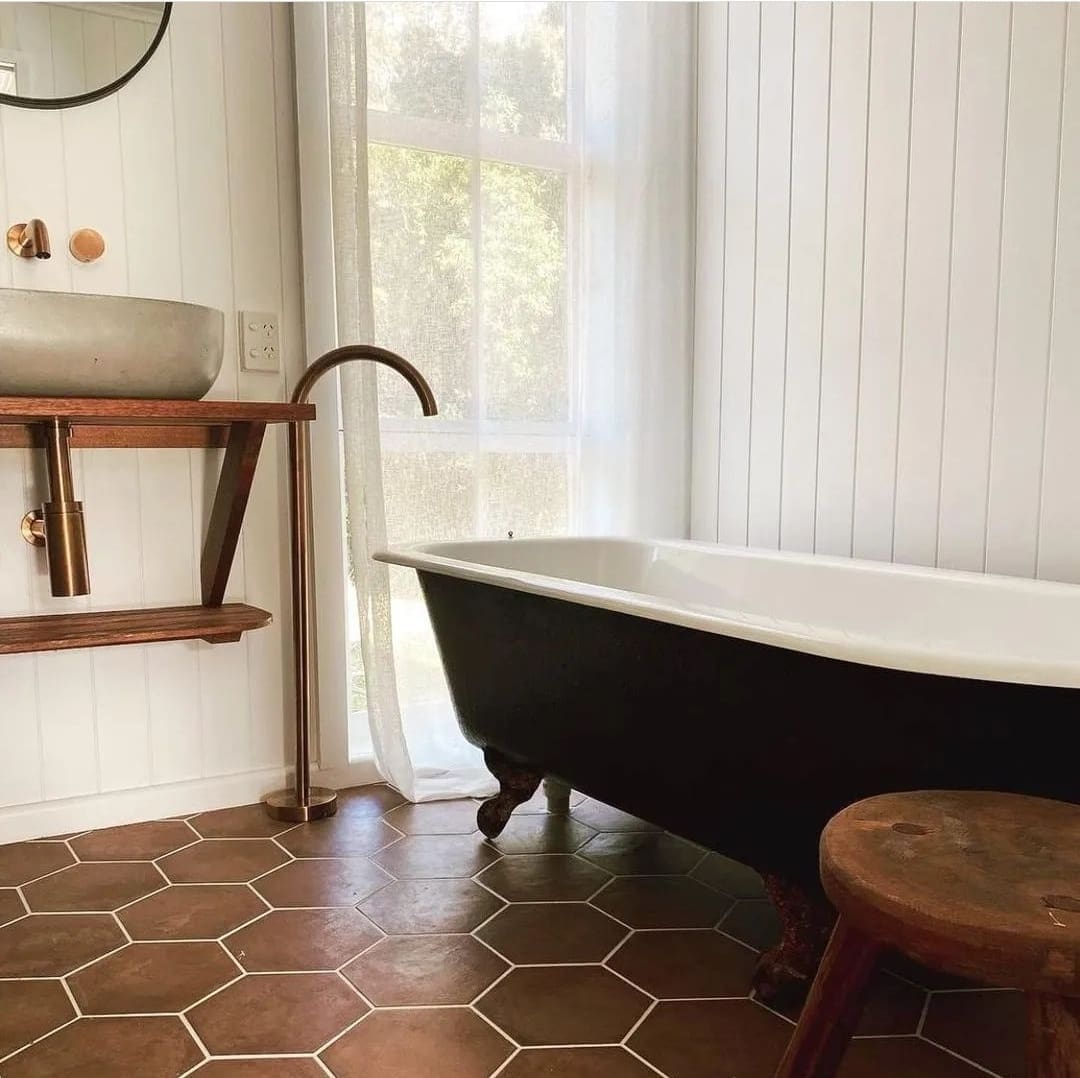 Patterned tile
Graphic or patterned tiles are another way to inject terracotta tones into your bathroom. From floral prints to geometric designs, there is a patterned tile for every home design style.
Three Birds Renovations used these terracotta patterned tiles in this minimalist white bathroom, complemented with brass and timber tones.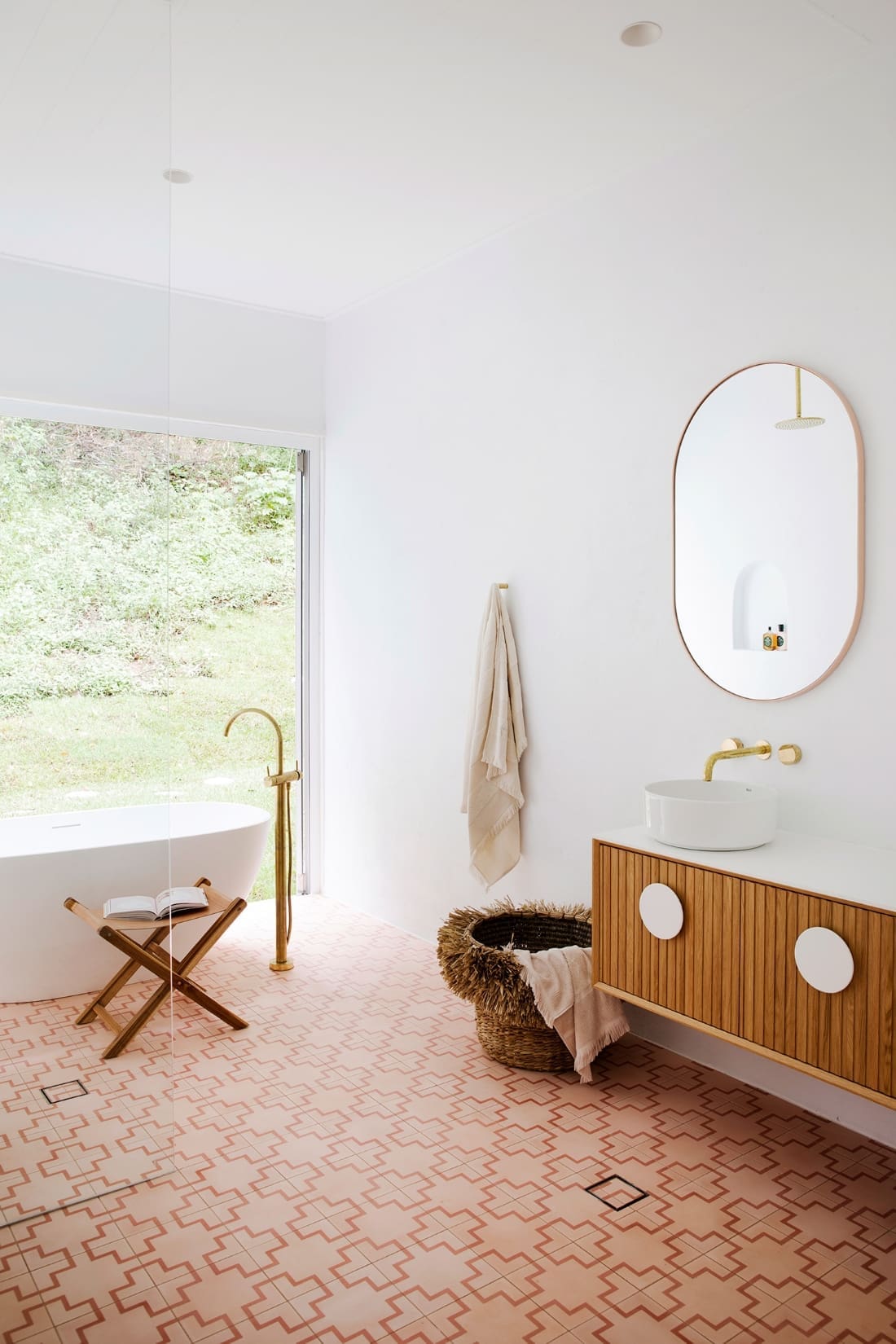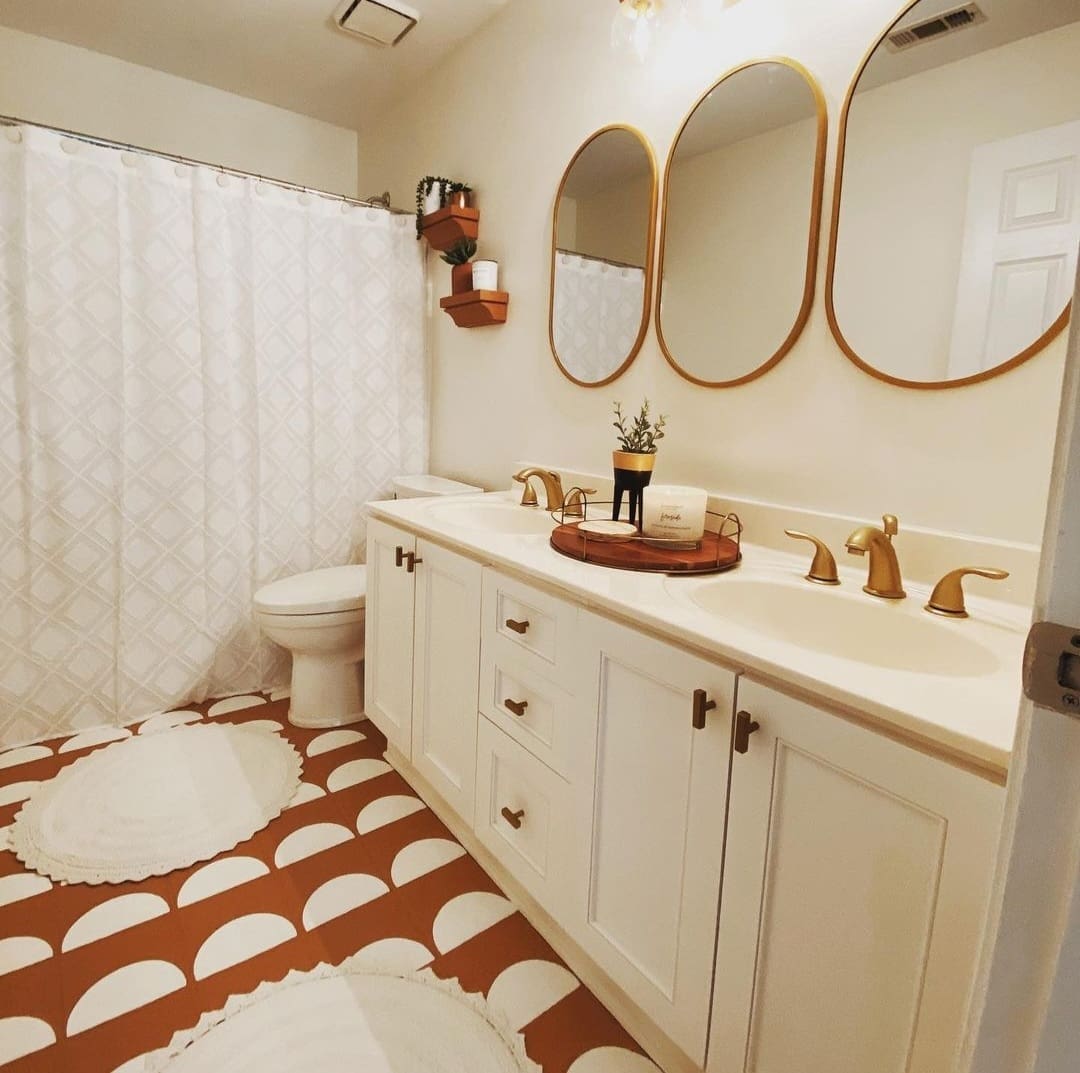 Feature wall
Another way to make a bold statement is with a terracotta tile feature wall. Just like with with flooring, there are plenty of ways you can add a splash of terracotta to your bathroom walls.
Generally the best place to position a feature wall is behind a vanity or bath, but if the tile is bold enough, it could be placed just about anywhere. However, we recommend positioning it where it can be seen as soon as you walk into the bathroom or in the reflection of your bathroom mirror.
From OTT luxury to budget-friendly (or even DIYable ideas), keep on scrolling as we cover all the ways you can add earthy accents to your bathroom walls.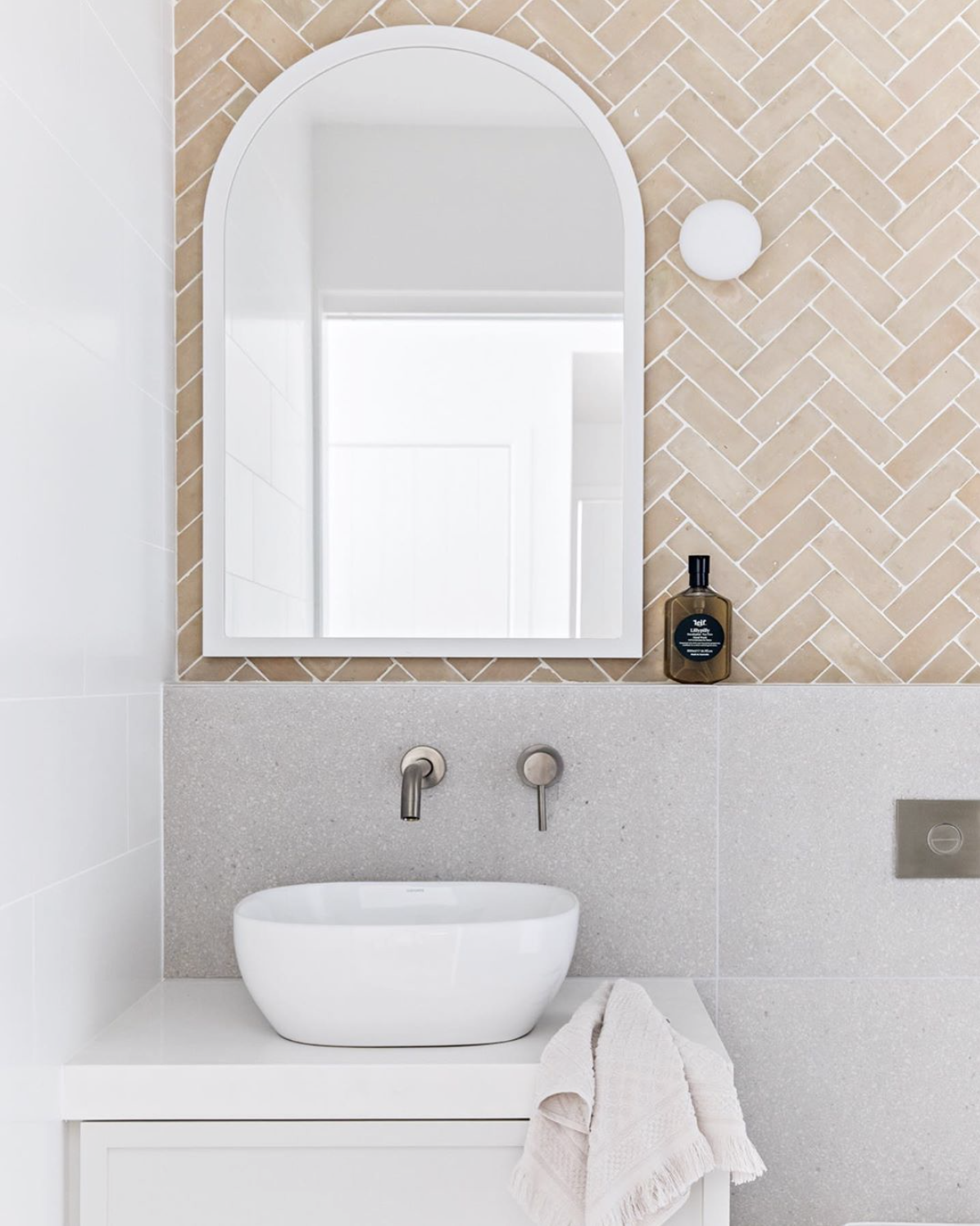 Painted accent wall
We promised you budget-friendly bathroom design ideas and it doesn't get much cheaper or simpler than paint!
You don't have to tile your bathroom wall-to-wall, floor-to-ceiling… in fact, it's becoming increasingly popular to incorporate one VJ panel wall or other material to add texture to your bathroom while reducing costs. Just take a look at this navy blue coastal bathroom or luxe Hamptons bathroom projects we've featured.
So if you're designing a new bathroom and want to embrace terracotta — but not commit to it permanently through tiles — why not consider adding splashes of colour with paint?
Need convincing? Keep scrolling for different painted bathroom wall inspiration.
Feature basin
Another low-risk way to use terracotta tones in your bathroom is with a coloured basin. It's a focal element that adds a pop of terracotta without going overboard. Whether complementing or contrasting the colour scheme, a feature basin is definitely worth considering.
The bathroom below even goes one step further by matching the grout to the terracotta basin. A subtle detail that looks so fab in this contemporary bathroom.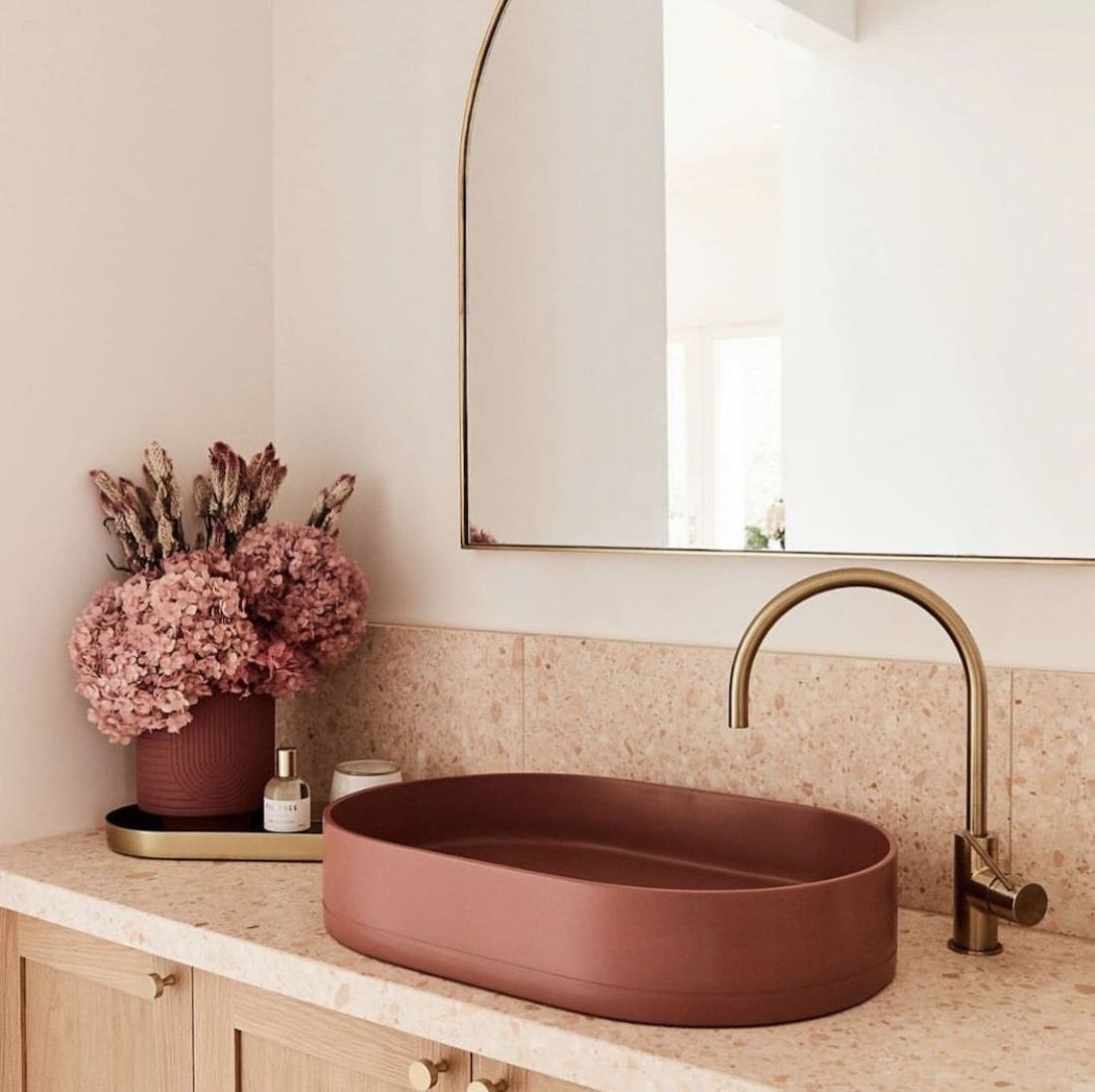 Or a feature vanity…
OK, this bathroom is clearly more out there but why not have some fun?! Using a deep terracotta tone on the custom vanity with grooved profile, it tricks the eye to create the illusion of a longer and larger space. This project is a mini masterclass on how you can play with shape (curved, linear, organic etc) and shade (light, mid and dark tones of terracotta) to create a space like no other.
Terracotta bathroom inspo
Don't feel limited to only add an accent though. If you're ready to go all in on a terracotta look, there are more ways to introduce terracotta into your bathroom design.
Our top tips to designing a terracotta bathroom:
if you're unsure about the longevity of terracotta, select a more modern or classic tile shape like subway tiles
if you're going for a full terracotta bathroom, layer different shades of terracotta to ensure the look is cohesive without being overpowering
use similar tones that are earthy or neutral
add modern elements through lighting and tapware to create a contemporary look
pair your terracotta tile with other, more pared back tiles.
Still not sure? We run through some of our favourite terracotta bathroom looks below to inspire you!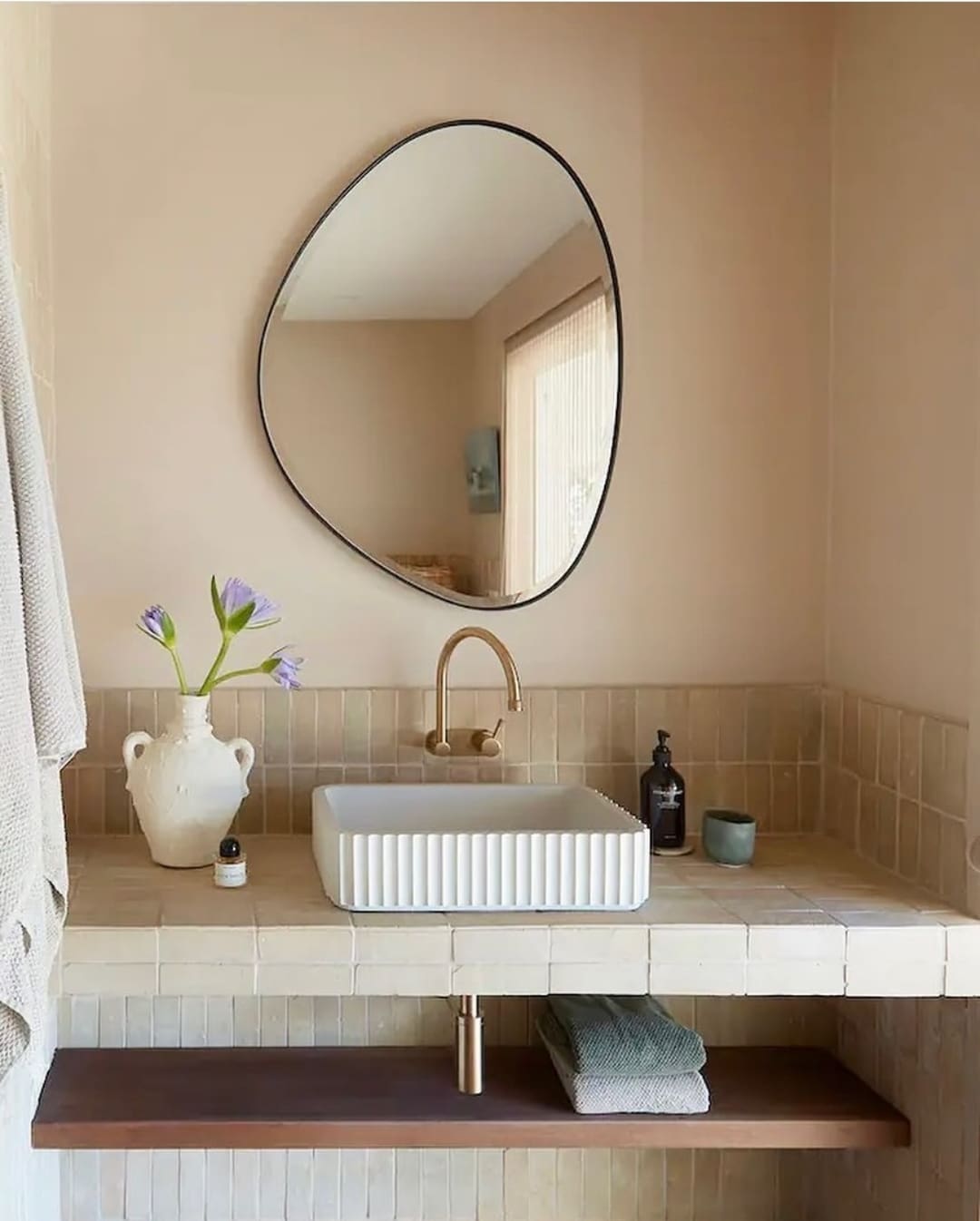 Half-height tiled wall and floor
Tiling only half the wall height not only looks fab, but it can super practical too! By tiling areas around the bath, shower and the toilet, you're only using tiles where they are needed — saving you money while creating a tempered bathroom design.
As we see in these two bathrooms, the half-tiled wall look matched with the floor tiles really enhances the feeling of a sanctuary. The handmade terracotta tiles add a luxe feel, paired perfectly with the other elements in these spaces.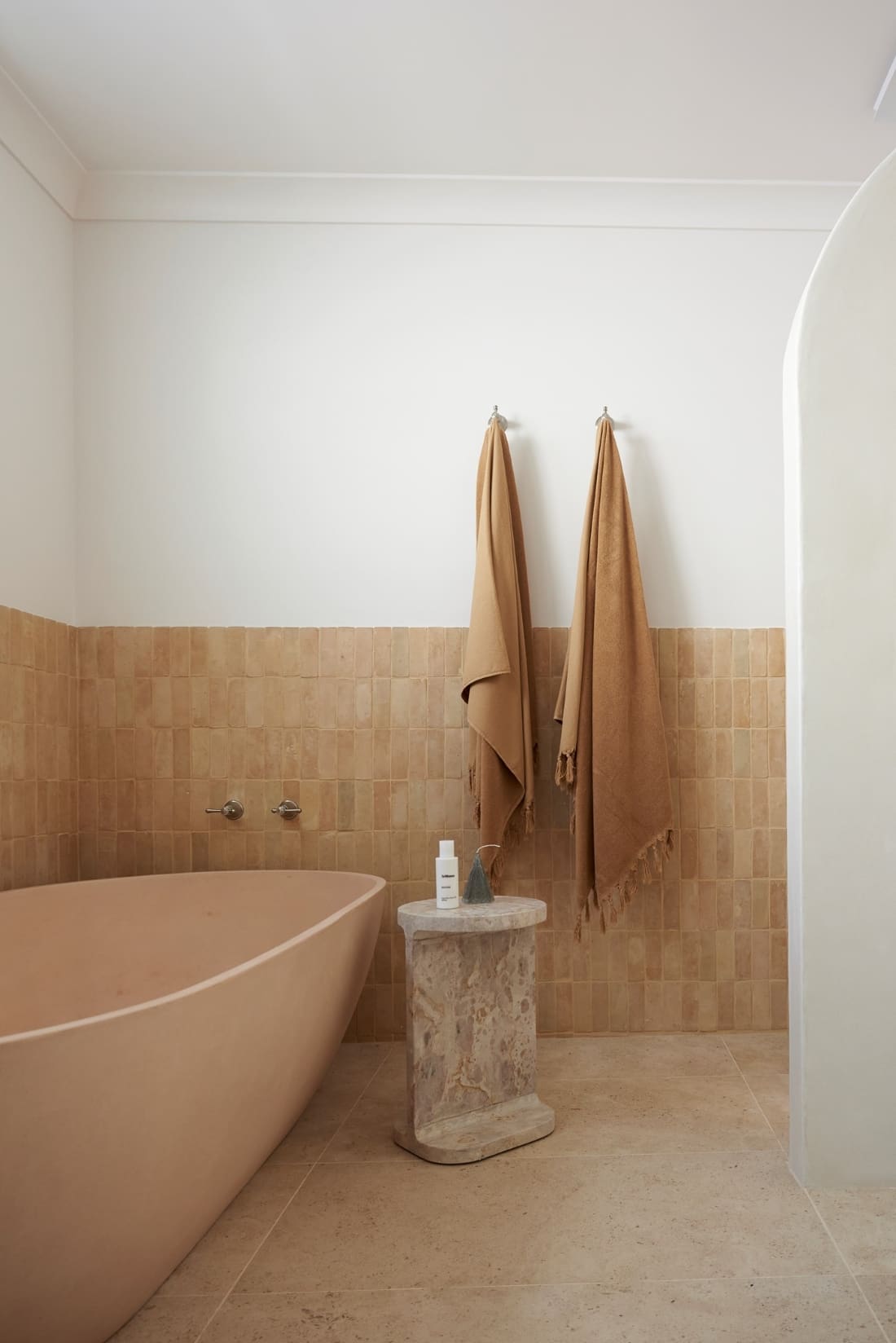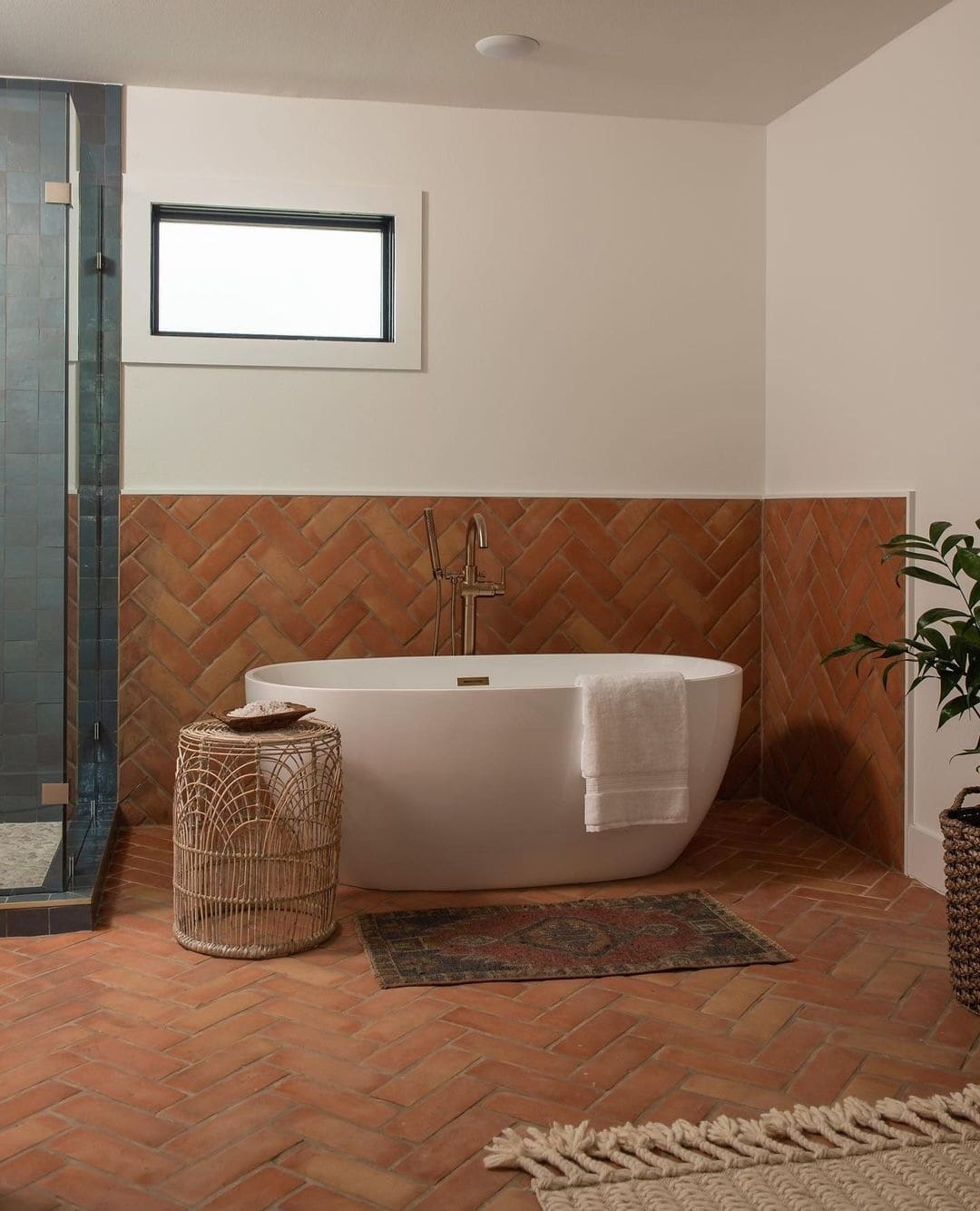 Floor to ceiling
Of course, if you know you love terracotta and want to go all-in, there's no reason you can't carry the terracotta feature from floor to ceiling.
This approach works particularly well in mid-century modern or architectural homes. Our biggest design tip is to dial down the other bathroom features. For example, in the bathroom below the minimalist tapware, shadow line lighting, and wall-hung toilet reduce visual noise to balance the bold subway floor and wall tiles.
Various terracotta elements
Remember this Moroccan-style guest ensuite contestants Tanya and Vito delivered on The Block? The terracotta feature tiles were a Style Curator favourite at the time, paired with the peachy tone basins.
The terrazzo floor tile and handmade square wall tiles were a fab choice, adding texture without being overbearing. The black and white wall lights add a modern touch, while the vanity adds a darker layer that balances well with the terracotta elements… Can you tell we believed this bathroom deserved a better score?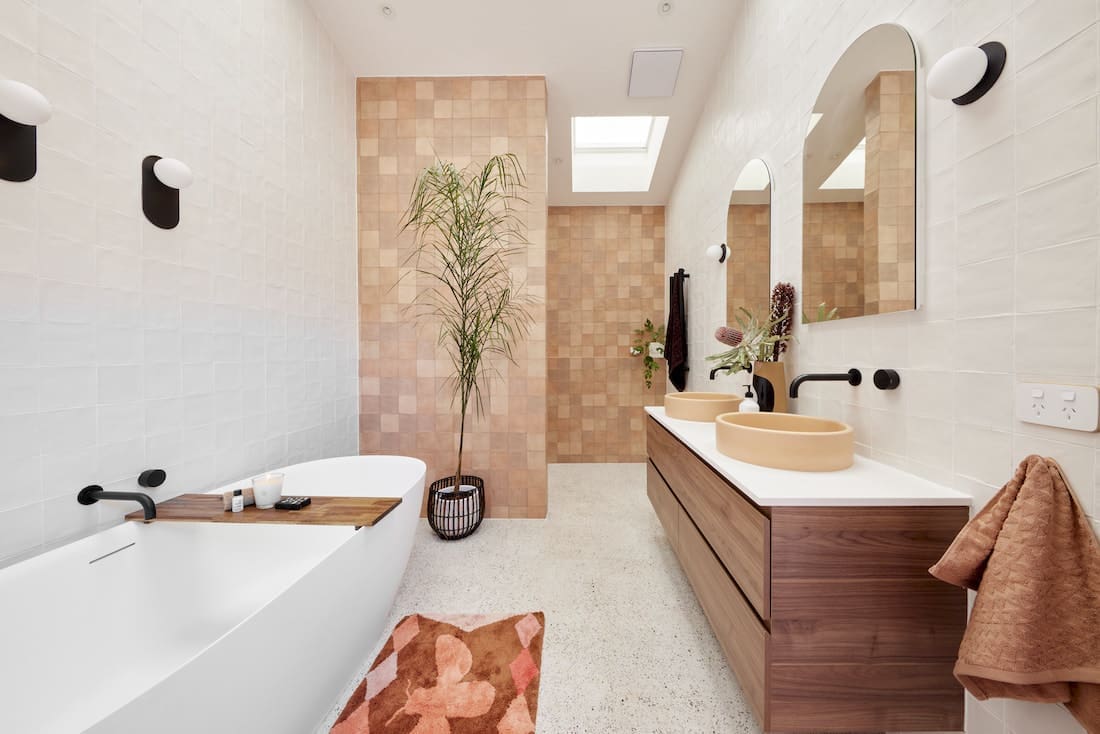 Checker bathroom designs
Checker has certainly been trending and this extends to terracotta checker bathroom designs! It's another way of being more playful with terracotta and could be an idea to use in a smaller space like a powder room.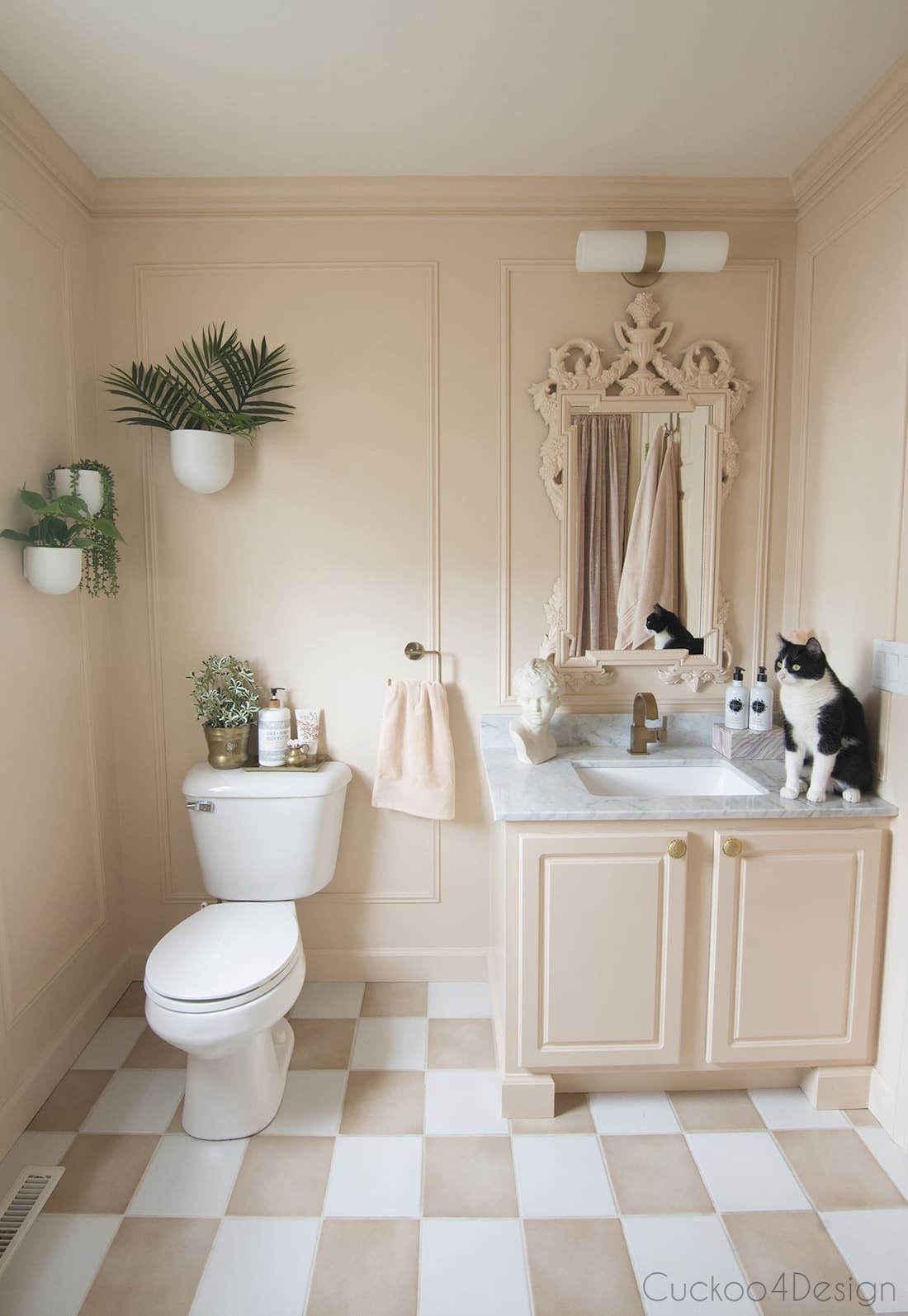 Terracotta terrazzo bathroom ideas
Another 70's design element that's made a comeback, terrazzo is without question on of the top design materials right now. Seen most often in bathroom design in tiles and vanity tops, it's the perfect companion to terracotta. These next few bathroom prove it while demonstrating the versatility of this materials palette.
Learn everything you need to know about terrazzo here.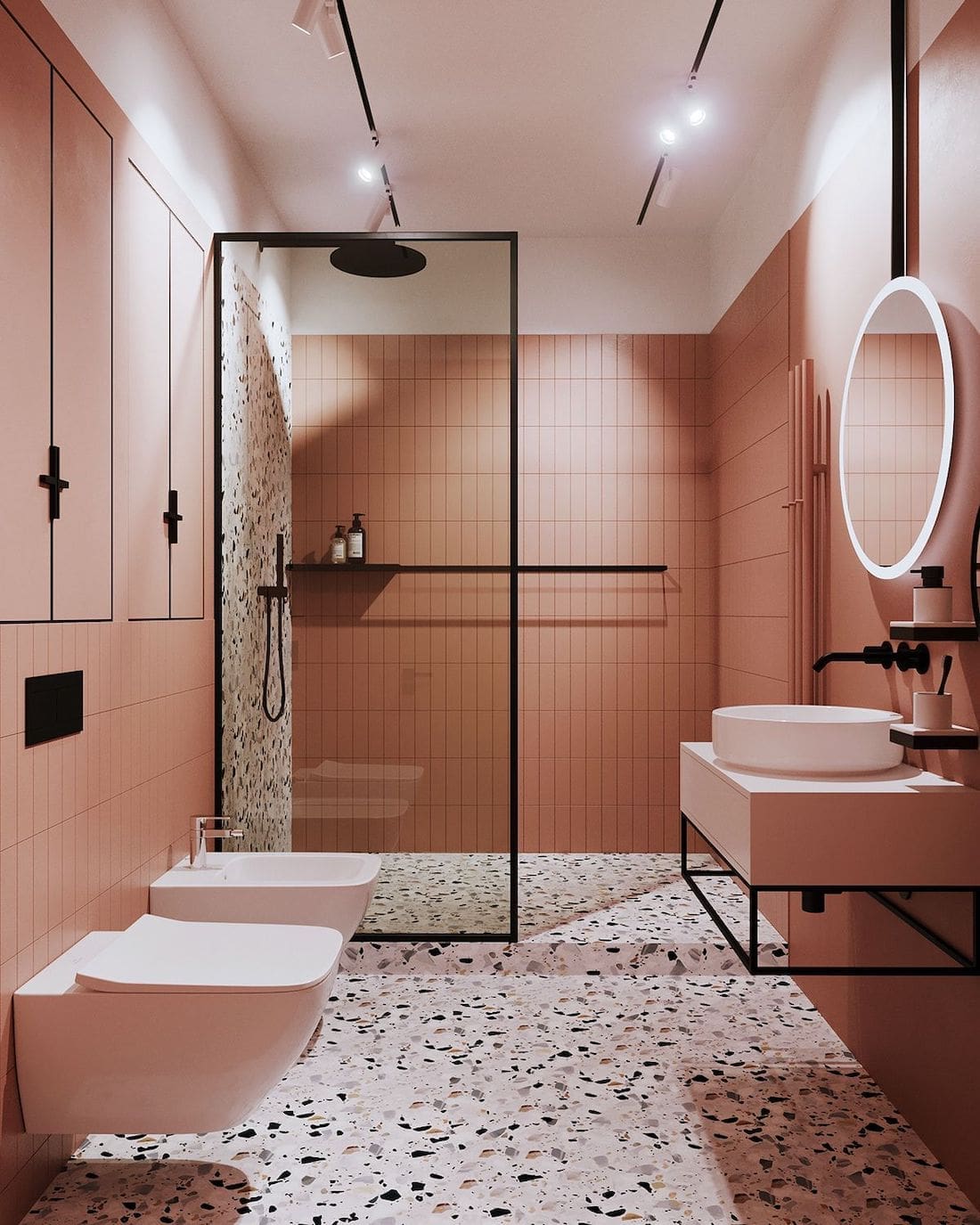 Organic and earthy bathroom designs
Terracotta colour schemes are especially great if you're looking to design an earthy, minimalist bathroom.
Here we see the importance of carefully considering all the design elements to achieve the desired design direction. To pull off this look, begin by creating a mood board where you can see how all your ideas work together. You'll be able to edit and refine your look — before you make any financial commitments — and it will give you confidence to stick to your design ideas.
Phew, that was a lot of terracotta bathroom inspo! We hope you enjoyed it and found plenty of ideas for your next project. Tell us what space or design feature was your favourite. Do you want more coloured bathroom inspo? We'd love to hear all your thoughts in the comment section below!