We LOVE gold foil art prints and admire how many artists are layering gold foil over their original artworks.
Today we are going to show you how you can create your own DIY gold foil prints (thanks to our friend Kristy who let us in on how!).
[ingredients title="Items you will need"]
A4 laminar (we bought a cheapy from Big W for around $20)
Gold foil
Print out of your image on a laser printer (NOT an ink-jet printer)
[/ingredients]
Where to buy gold foil
Since doing this DIY, it's become increasingly difficult to find the Jones Tones foil that we used. Several readers have said the iCraft foil and Heidi Swapp Minc Reactive foil (available at Spotlight) are great alternatives.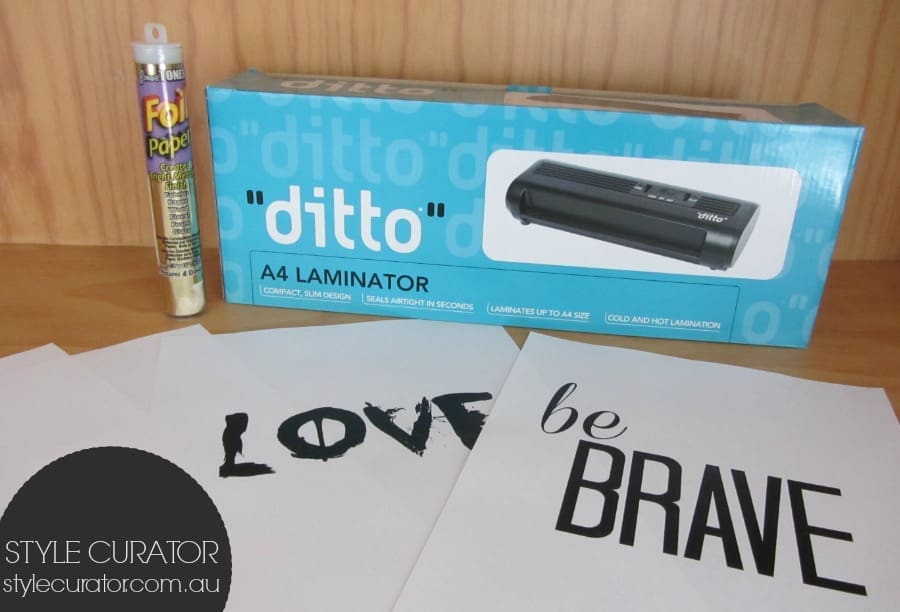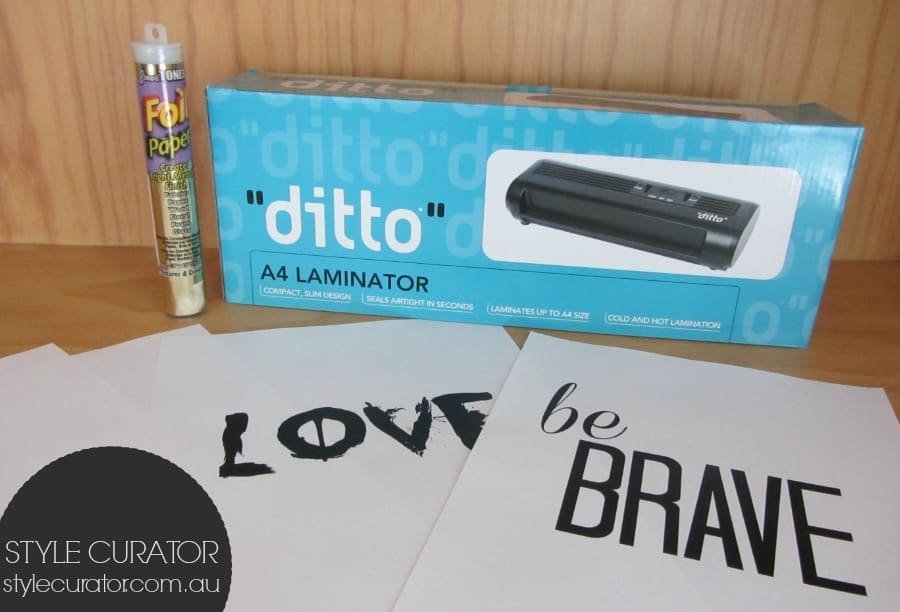 [directions title="Steps:"]
Let the laminator heat up for five minutes.
Cut enough gold foil to cover the image.
Create a sandwich of the print out, the sheet of gold foil FACING UP and then a sheet of blank paper. Important: we tried this with the gold foil facing the image and wondered why it wasn't working… the gold foil must face away from the image so you are looking at the pretty gold shiny side.

Make sure gold foil faces away from the printed image

Feed it through the laminator and keep your fingers crossed.

Run the print, gold foil and protective blank paper through the laminator

Gently peel back the gold foil to reveal your work of art!

Gently peel back gold foil

Voila, it's that easy!
[/directions]
Hot tips:
– Make sure your print out is from a laser printer and not an ink-jet printer or it will not work (the foil reacts with the toner)
– Make sure the piece of paper is completely clean – no dust or fluff – or you will get gaps/black spots where the foil doesn't stick
– Make sure the foil is facing up at you and you put a blank sheet of paper over the top before feeding it through the laminator
– You can use PicMonkey, a free online photo editing tool, to create your prints or download our three free printables
There you have it, the trick to creating your very own DIY gold foil art prints!
We'd love to see pics of what you create, tag us @stylecuratorau when you share them online.