Supported by The Reject Shop
As most of you know, this year I'm on a mission to finish my home — and that mainly includes our outdoor spaces.
Of course, budget is still tight since we completed the build and wherever possible I look for savvy ways to add style without breaking the bank.
This week I partnered with The Reject Shop to find ways to add ambience and style to your outdoors for under $100.
These small updates are so simple to do and have already been getting a lot of compliments from guests. Perhaps there are some DIY ideas you can use this weekend to spruce up your outdoors too!
Install outdoor lighting
Possibly the quickest and most effective way to enhance your outdoors is with lighting! You can illuminate the best bits of your outdoors and it instantly creates an inviting feel.
These solar stake lights are just $10 for a 10 pack from The Reject Shop, are super easy to assemble and are ideal for along a garden bed or path. Because they're solar powered, they automatically turn on at night and recharge during the day.
I used these along the new path we created and along a garden bed in our backyard… although I think I'll go back for more and use these out the front of our house too.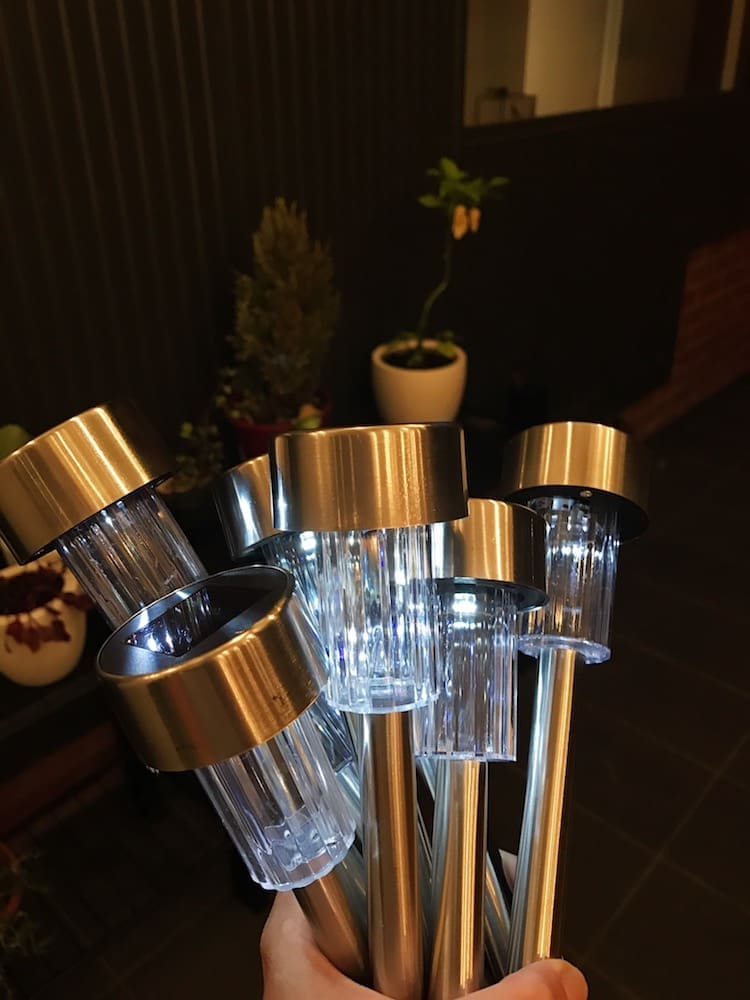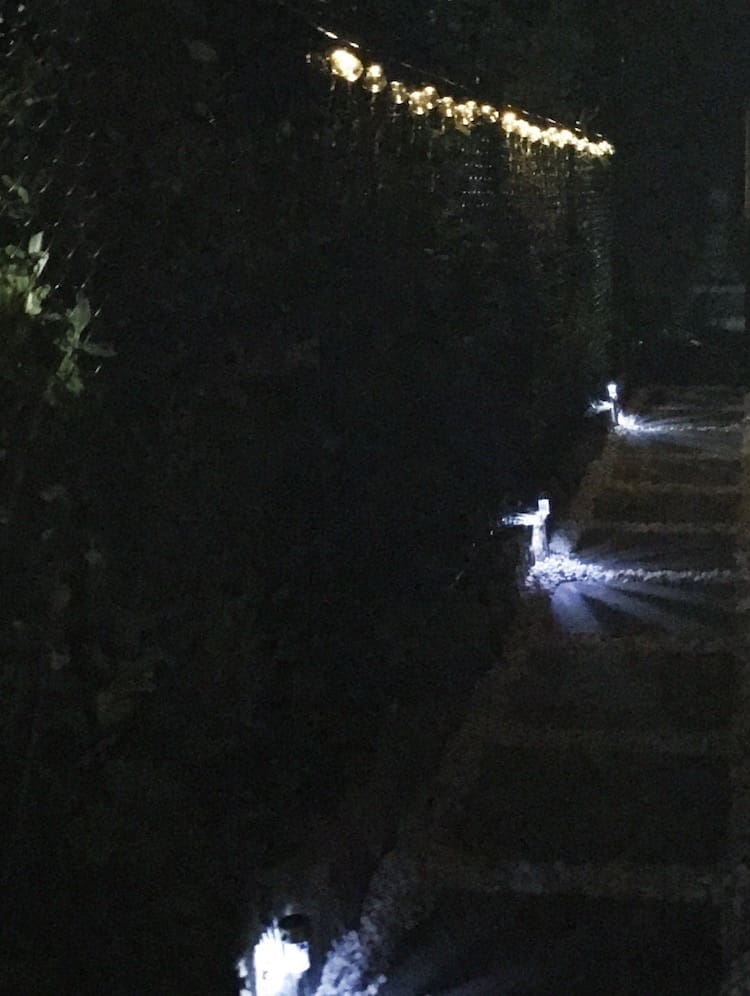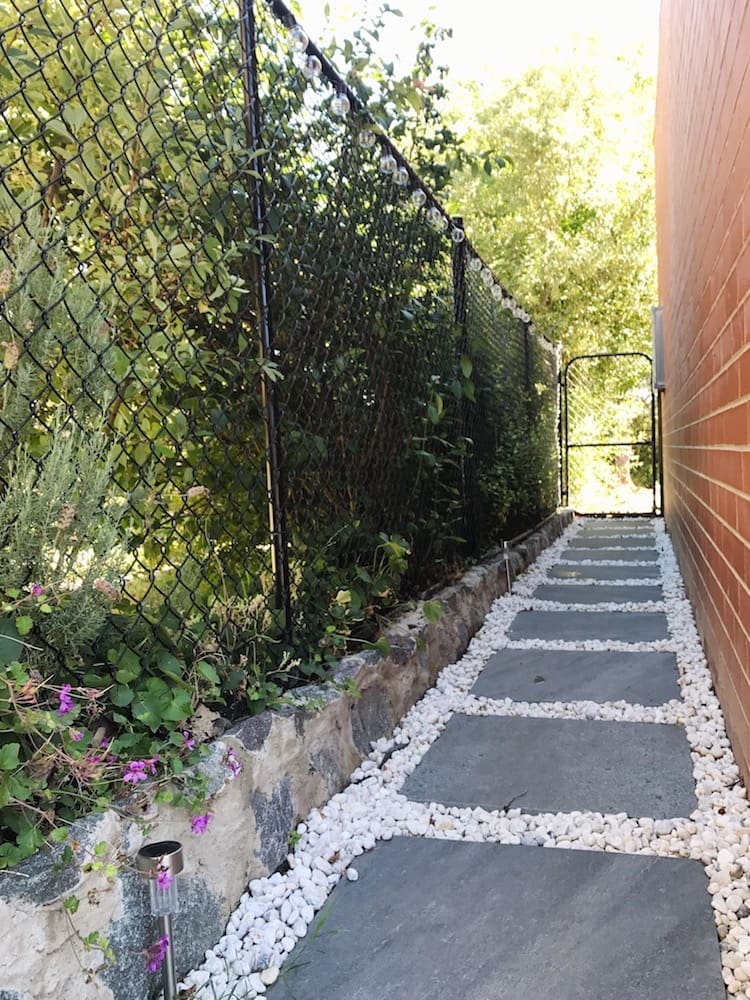 Style your tabletop
If you have an outdoor dining or coffee table why not create a small vignette? I love creating little styling arrangements around my home and just a few items on the outdoor dining table add interest. These jars filled with fairy lights are also solar powered and cost just $6! I teamed it with an artificial cactus and citronella candle in a rustic cement pot.
Other decorating ideas include candles in glass windbreakers, flowers in decorative pots or even small statues.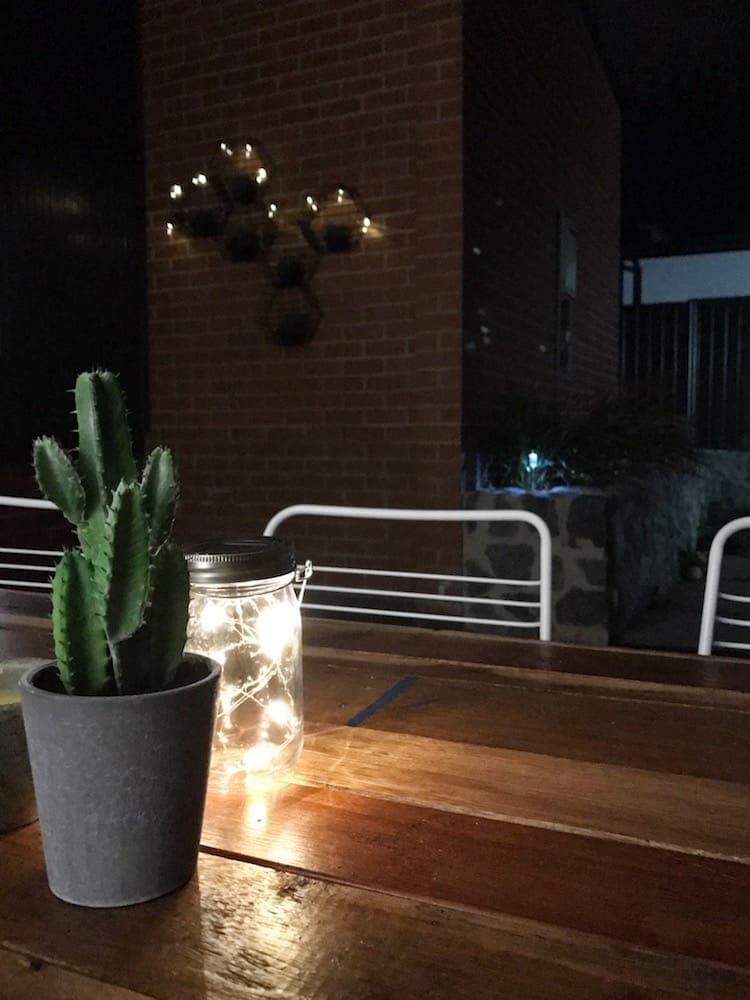 Pots, pots and more pots
Pot plants are a flexible way to style your outdoors.
I created a pot plant stand (DIY coming to the blog next week) that will be a fusion of a veggie garden and plant stand — it's a great idea for renters who may not have space to plant a veggie garden, for people with back issues that need plants at a more accessible height or for people with pets that make having an in-ground veggie garden difficult.
This stand features mainly pots from The Reject Shop including the white egg-shaped pots in various sizes and the green planter trough with saucer that I put seedlings in.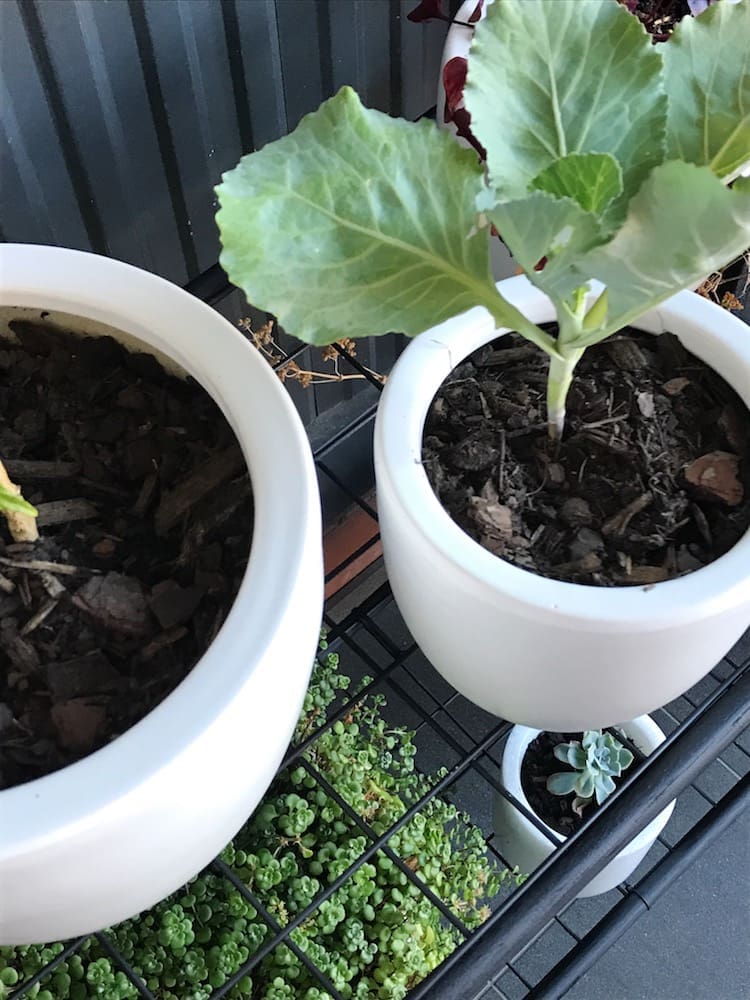 Decorative sculptures and figurines
Even though my style is quite minimalist, I do enjoy to have a bit of fun with my styling and these quirky garden figurines brought back memories of my childhood of being in my grandmother's garden. I want Patrick to have a love of gardening and these little figurines have definitely captured his curiosity.
This season there's a huge selection of decorative products including gumboot pot plants, animal sculptures, lace laser cut metal pots and watering cans and so much more.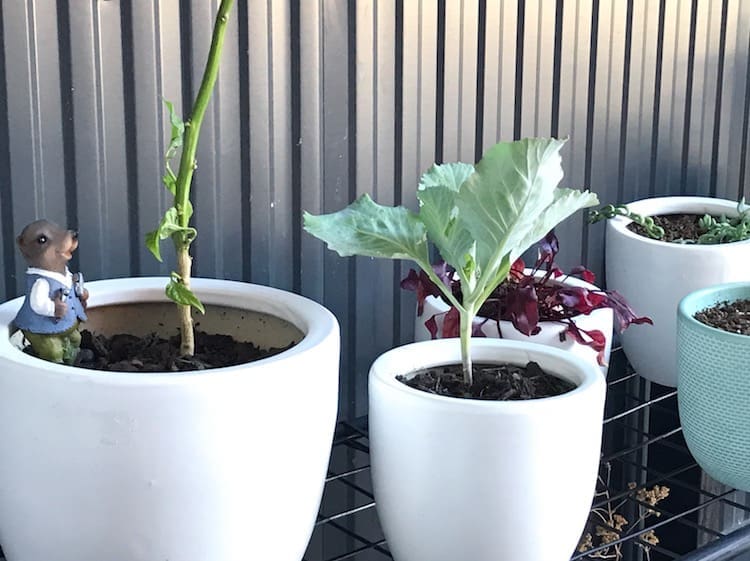 Outdoor cushions
Soft furnishing always bring an added layer of style to a space and this pastel cushion was a bargain at just $9! The soft mint colour ties in perfectly with the accent colours in my outdoor dining area.
There are plenty of outdoor cushions and seat pads to choose from so you can find one to suit your colour direction.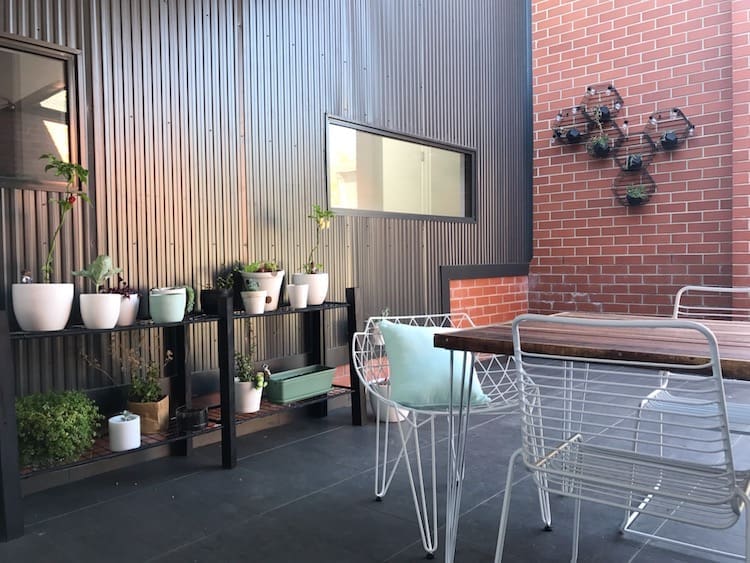 Plant bulbs for Spring now
As much as I love décor, few things are as gorgeous as the beauty of Mother Nature.
Get your garden ready to burst into bloom by planting bulbs now before winter sets in.
Buying plants from the nursery can quickly add up but you can keep costs down by planting bulbs ahead of time. There are all sorts of varieties to choose from but I just love the layers upon layers of petals of Ranunculus flowers.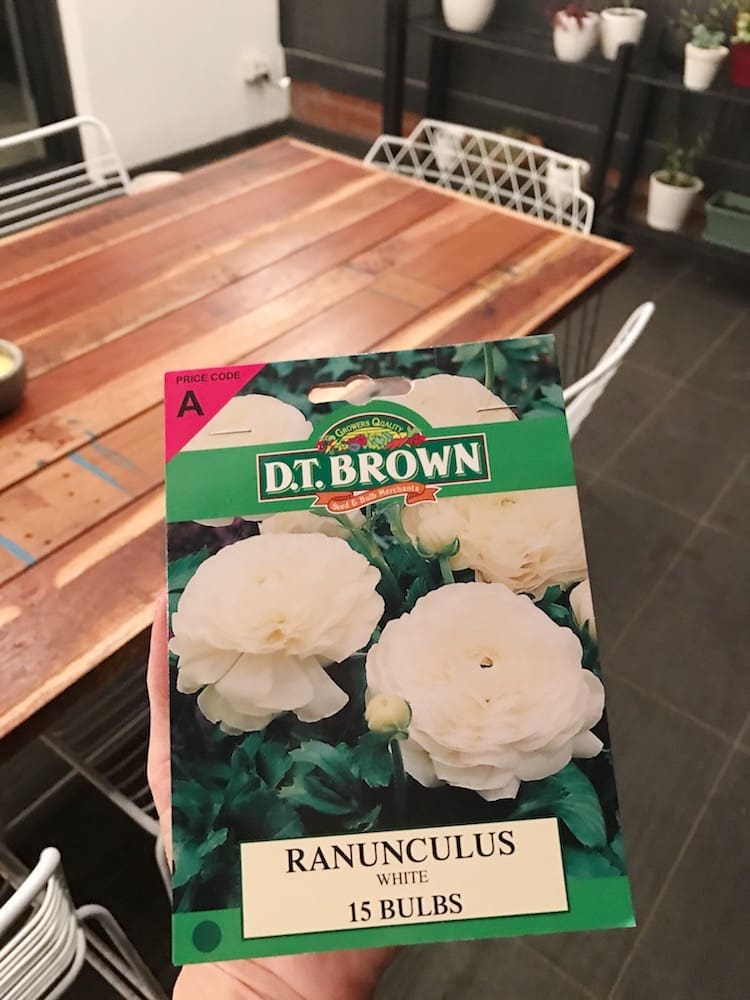 These are just a few of the affordable ways you can decorate your outdoor spaces. What other savvy outdoor decorating ideas do you have? Share them in the comments below so we can all give them a go!
Thanks to The Reject Shop who supported this post. You can find all the products we used in this post at your local Reject Shop store.