Ever looked at your kitchen and thought to yourself "I wish I had more bench space!" or "How can I fit a dishwasher in here?". Or maybe, after years of seeing the same tired kitchen day in day out, you've simply decided it's time for a new one. Whatever the situation, one thing is for certain — it's time to renovate!
Renovating your kitchen can bring a wealth of benefits to your home. It can offer better functionality, improve aesthetic appeal and — if and when the time comes — it can also increase the resale value for your property. However, renovating a kitchen is a significant investment and takes a lot of hard work. So, it pays to plan and prepare to avoid renovation regret. Planning also minimises complications and allows you to see opportunities for improvement (or issues to avoid!) ahead of time.
Without a doubt, these are the top kitchen renovation mistakes to avoid!
Related article: 10 tips for successful kitchen planning
Related article: Darren Palmer's tips for finding your kitchen style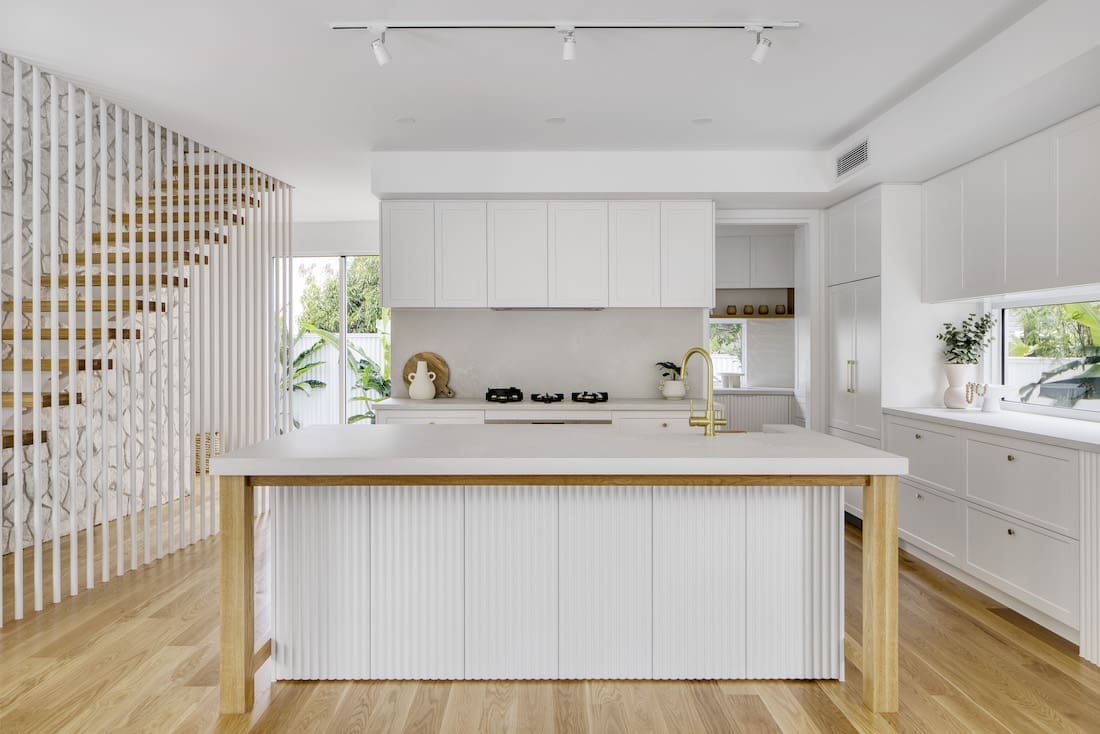 1. Overlooking your functional requirements
It can be tempting to jump straight into picking beautiful fixtures and finishes for your new kitchen but before you do that, you need to get the functionality right. Failing to properly consider your requirements is the biggest kitchen renovation mistake you can make. Even if you call in a kitchen designer, no one knows your and your family's needs as well as you do. So start by doing a thorough assessment.
Before starting a new kitchen design, ask yourself:
what is it about your current kitchen that you most want to change? For example, do you need better lighting or more bench space to prep? Get specific
what appliances do you need and what appliances do you desire. Because as you'll find out later in the list, it isn't always possible to fit everything in
is there anything in your current kitchen that you do not use that is obsolete? For example, a warming drawer that you thought was cool but actually takes up precious storage space
what is your objective for the kitchen renovation? Is it your forever kitchen or just a short-term solution until you sell?
what is your budget?
You'll notice there are no questions in that list about design style or aesthetics. And that's because it's essential to get the functionality of your kitchen right FIRST.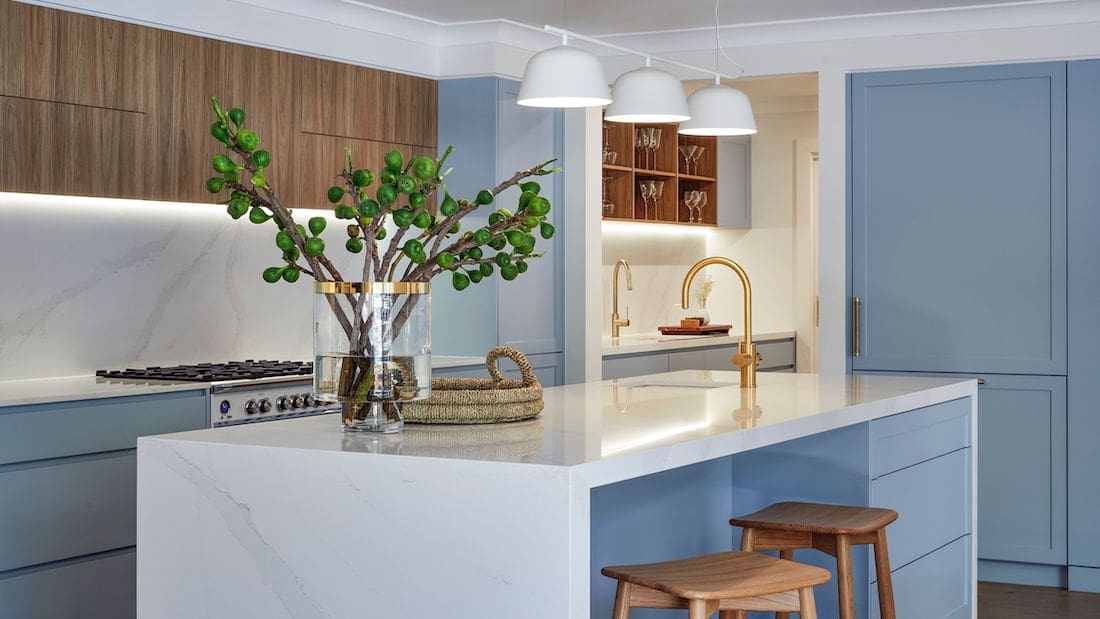 2. Forgetting to take into account the 'working triangle'
One of the most important features to plan for your kitchen is an effective working triangle. This is where the cooktop, fridge and sink all within close proximity to each other. It's an ergonomic design rule that makes your kitchen as efficient as possible. Ideally you want these set out in a triangle design with no more than two strides between each. However, it isn't always possible to achieve a triangle layout — what's most important is that they are closely linked. Read more about ergonomic kitchen design here.
3. Installing insufficient ventilation
Ventilation is crucial in a kitchen, particularly around the stove and oven. Cooking can produce smoke, steam and all kinds of smells. If they are not extracted effectively from the kitchen air, they create issues like lingering odours and greasy build up on your joinery. Also, cooking in a hot, steamy and humid kitchen isn't ideal!
The best ventilation solution in a kitchen is a suitably sized rangehood over the cooktop. The exhaust fan will extract hot and humid air from the kitchen, which increases airflow by allowing fresh air to enter from elsewhere. You'll want something that spans the dimensions of the stovetop for optimal performance.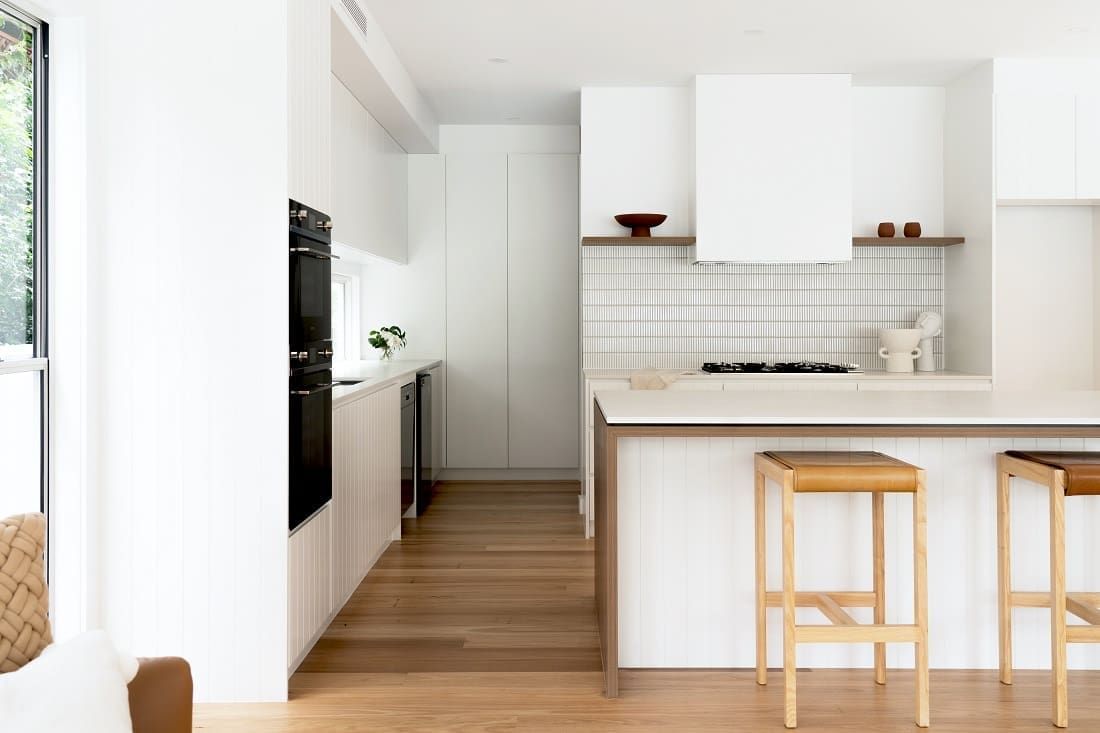 4. Not enough lighting
One of the most overlooked aspects of design is lighting. And in the kitchen, which is such a work area of your home, it's especially important to get it right. There is nothing more annoying than trying to prepare food on your kitchen bench and casting your shadow over it! That's why as well as having general lighting in your kitchen, such as downlights, it's a good idea to install task lighting above your kitchen bench. Popular options include a track light with spotlights or hanging several pendants.
You can also create mood in your kitchen with lighting. For example, having an LED strip above your kitchen splashback that washes light downwards or simply installing dimmers on your pendant lights. Mood lighting gives you the flexibility to still illuminate your kitchen but avoid it being overly lit — ideal when entertaining.
5. Sorting out your cabinets and cupboards BEFORE your appliances
Generally it is much easier to build cupboards and cabinets around the measurements of appliances, rather than trying to find appliances to fit in the cabinets. Many kitchen renovators make the mistake of having the cupboards and cabinets built and then trying to buy the necessary appliances to fit in the allocated spaces. This rarely if ever works out well.
As explained in an Architectural Digest interview, even a slight discrepancy in the measurements of your kitchen cupboards and cabinets can mean the difference between a successful installation and one that needs to be revised. Most kitchen designers will love you if you come to them with accurate measurements of your appliances first. This will allow them to account for those appliances when finalising the design specs for your kitchen cabinetry.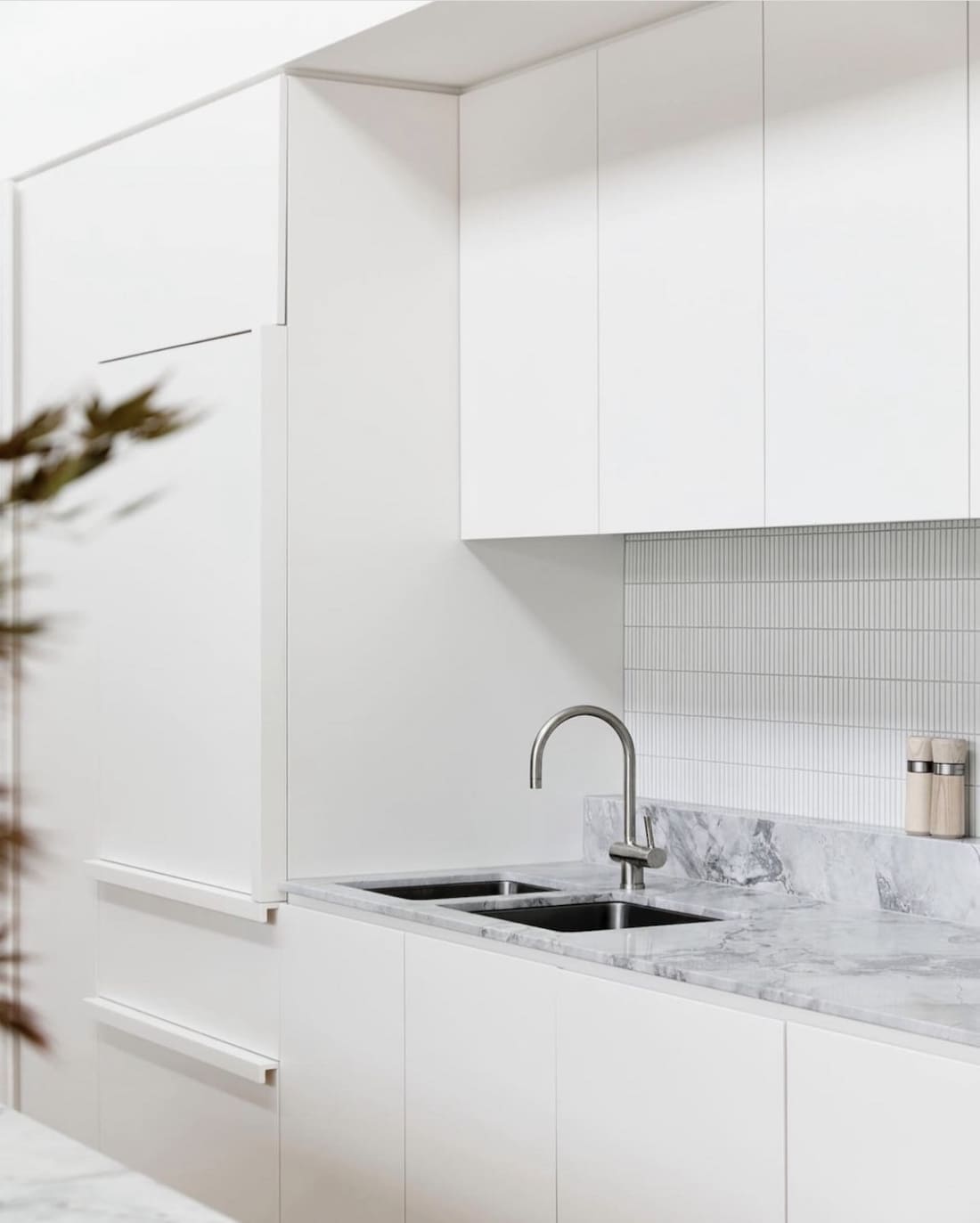 6. Poor placement of appliances
When it comes to positioning the appliances in your kitchen, planning — once again — is crucial. After all, you don't want to place the refrigerator in the corner of the room only to find you cannot open the door, or install the oven in a position that gets in everyone's way. Similarly, you want to think about convenience. For example, the best position for your dishwasher is directly next to your sink so you can rinse and stack without spilling water across your kitchen.
You may also need to take into consideration existing plumbing and power points, especially if you are wanting to keep the cost of your kitchen renovation within a tight budget.
7. Not planning for optimal safety
A safe kitchen includes obvious things like following plumbing regulations and using licensed electricians. But there are other things that should be considered to make your kitchen design as safe as possible. We've already touched on a few, such as having good ventilation, a well-considered floorplan and sufficient lighting. You could also include temperature regulators for your hot water, ensure your flooring material is slip-resistant and put the microwave at a convenient height.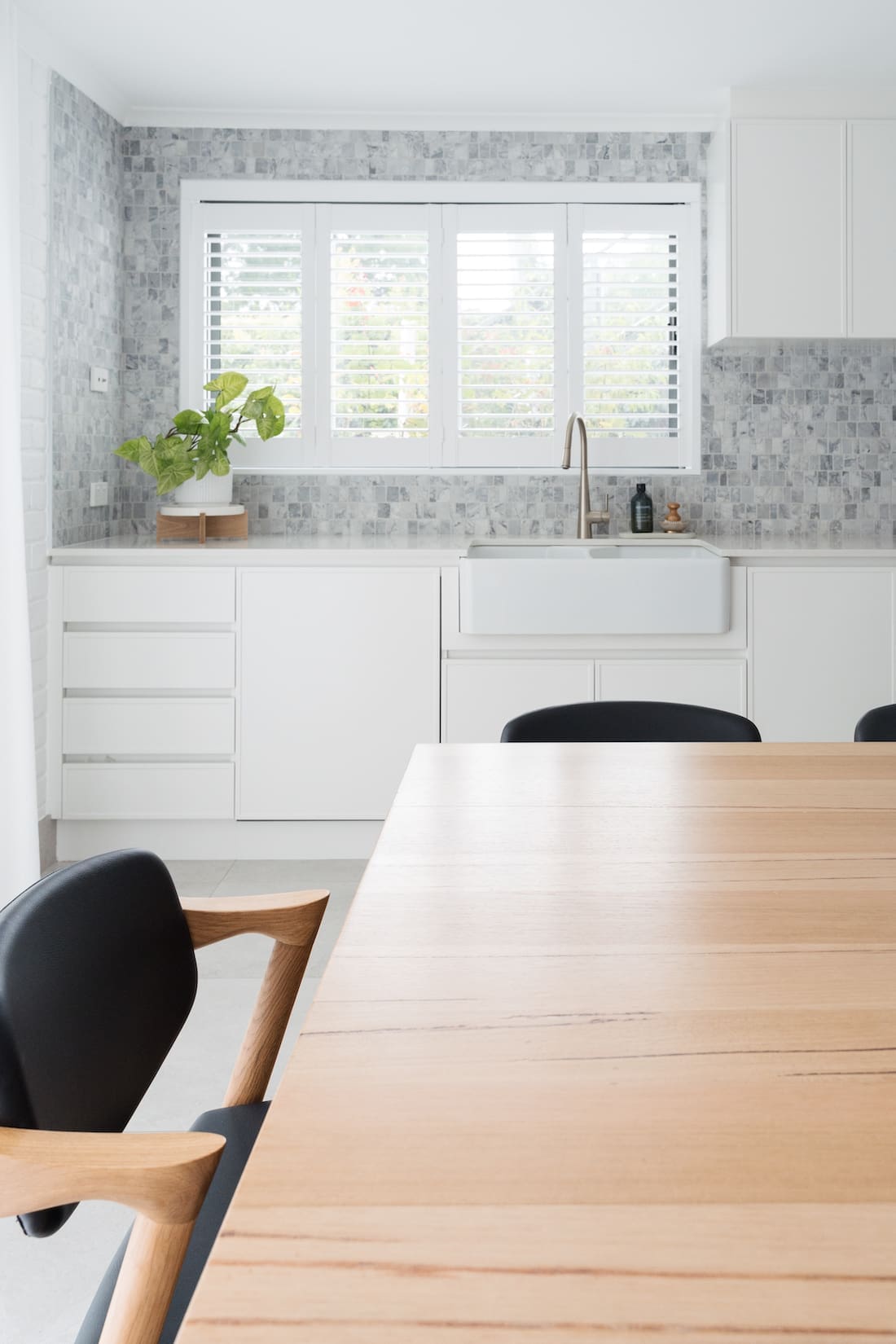 8. Misjudging storage space
An easy kitchen design mistake to avoid is underestimating how much storage space you'll need. Think about all the cutlery and crockery, pots and pans, electrical appliances and other dinnerware you might have. It all quickly adds up so be sure to include plenty of storage space.
Plus, think about the type of storage you include. While drawers are more expensive than cupboards, they generally offer better storage as they open to reveal the full contents — rather than having to crouch down and rearrange items to get something from the back of a cupboard. There are also plenty of clever kitchen storage inclusions and accessories you can use to better utilise the space you have and Darren Palmer runs through a few of his favourite kitchen organisation products in this article.
9. Undervaluing the cost
Many renovators fall into the trap of underestimating just how much they need to spend on their kitchen reno. General rule of thumb according to Architectural Digest is to allow about 15 to 20 per cent wiggle room on your budget, because you'll almost certainly spend more than you originally planned. They suggest doing as much research as you can on everything from countertops and cabinetry to appliances and accessories, to avoid rushing into purchase decisions that might impact your budget. And in our post COVID world, costs have increased significantly with product shortages and greater demand for trades.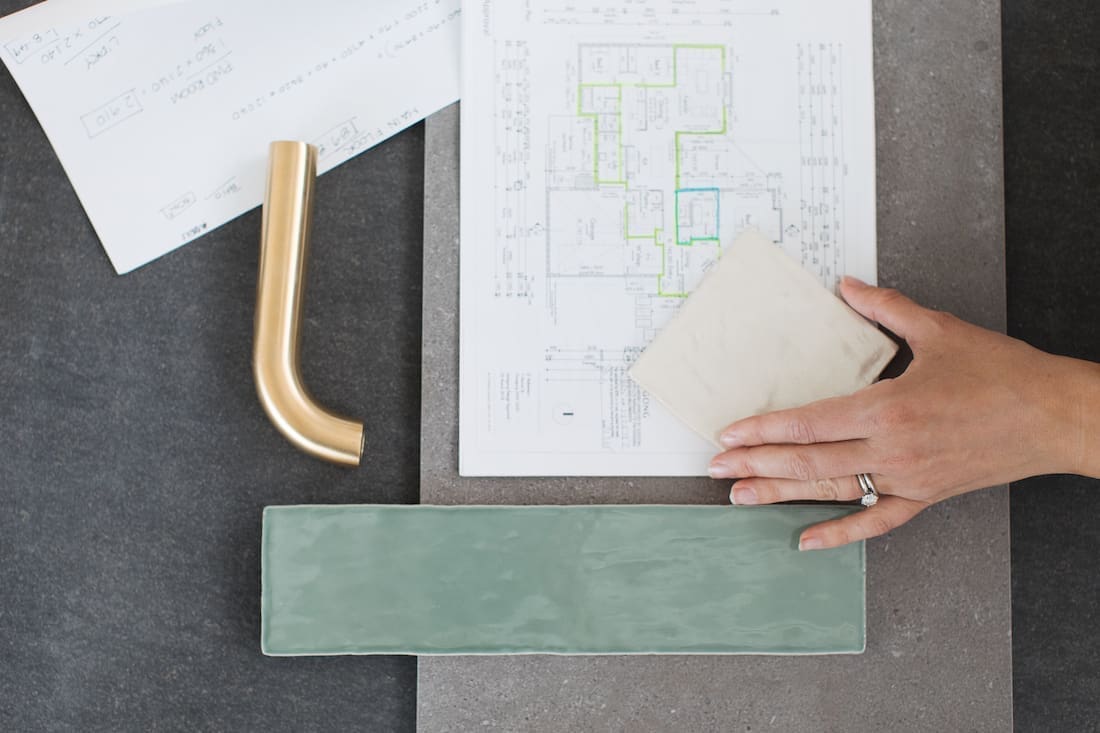 10. Thinking you can do it all
Though you may well be looking forward to going full DIY with your kitchen renovation, knowing what is within your scope and when you should call in a professional tradesperson will do you the world of good. A licensed plumber will ensure any gas fitting and plumbing complies with Australian Government standards. A qualified electrical contractor will complete any necessary home rewiring to guarantee optimal safety. Also an experienced kitchen designer can help you to realise your kitchen vision, and avoid costly mistakes. Sure, there are things you can DIY, such as helping to demolish old cabinetry (but not touch electrical or plumbing), possibly installing DIY kitchen cabinets and painting the kitchen walls once it's complete.
BONUS. Overcrowding the kitchen
As tempting as it may be to use as much of the kitchen space as possible, don't! As our style icon Neale Whitaker says "Luxury shouldn't feel cramped." And this certainly rings true in a kitchen where less is more. Just because you could squeeze in another slim cupboard on an adjacent wall or wrap overhead cupboard the whole way around your kitchen doesn't mean you should. Scroll back up and look at the kitchen images in this article and you'll see each one has 'breathing room' in the form of generous walkways, abundant natural light and open shelving. Sometimes the best thing you can do is pare back your kitchen design so that it feels spacious and luxurious.
We hope this list of kitchen renovation mistakes to avoid helps you achieve your dream kitchen with maximum ease and minimal stress. And isn't that what we all want in a home renovation? Do you have more kitchen tips to add? Post them in the comments below.