You may have spotted in my laundry renovation that I received a new washing machine, which was the catalyst to finally do something about my laundry. Not just any washing machine though — it's the LG TWIN Wash® which combines a front loader with a uniquely designed Mini Washer — a first of its kind in Australia.
Since sharing photos of my laundry, I have been getting loads of questions (pun intended!) about the washing machine, and given it's new to the Australian market I thought a product review would be helpful.
Related article: Best essential oils for cleaning and our top cleaning HACKS
Related article: 50 quick cleaning tasks and decorating updates to get your home ready for spring!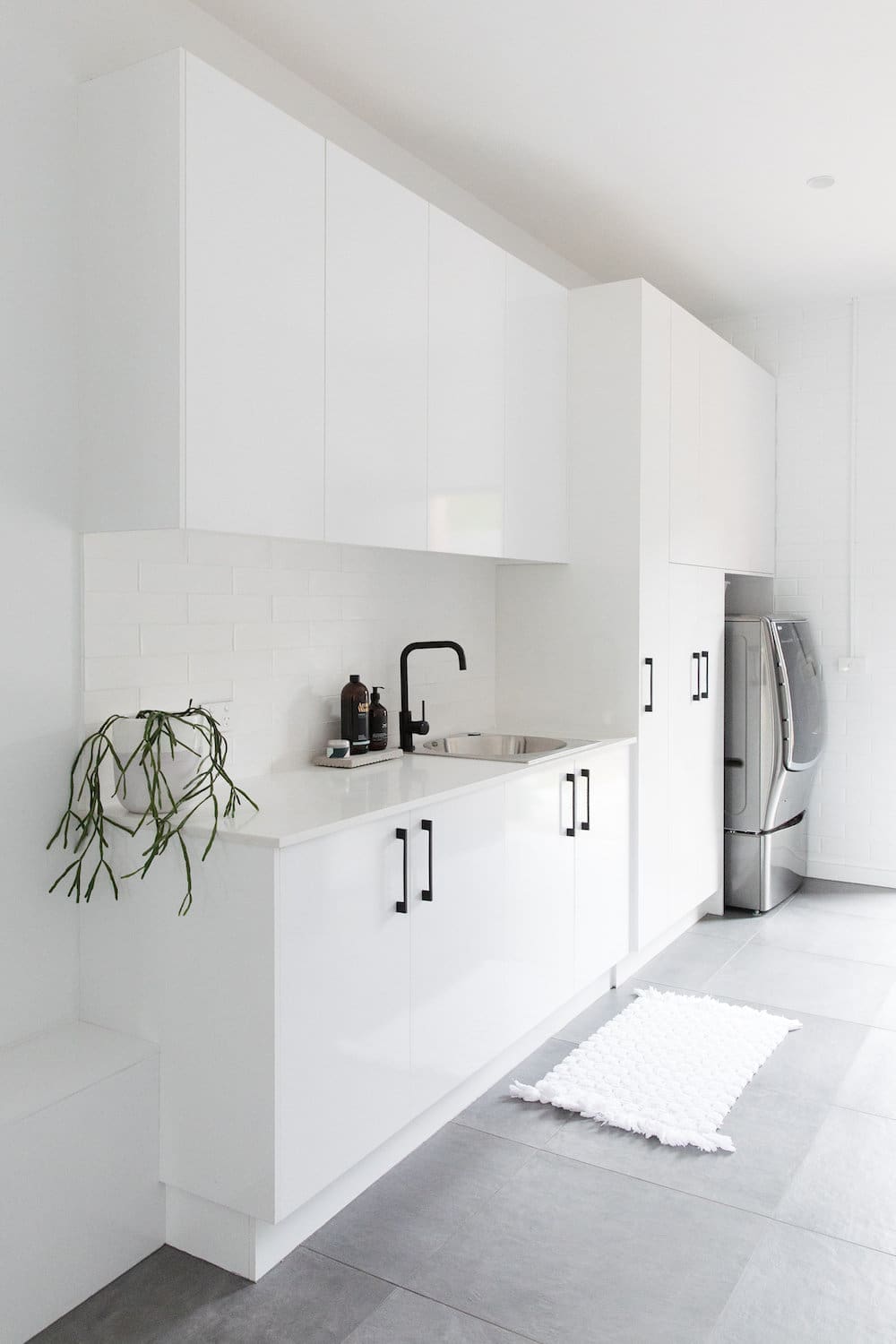 Key features
This washing machine is packed with features and functionality, which is why I wanted to use it for a couple of months before doing a review.
I'll talk about my favourite features in more detail below, but here's a snapshot of what sets the LG Twin Wash apart from other washing machines:
huge 16kg front loader washer capacity
additional 2.5kg Mini Washer capacity
ability to wash two loads at once
9kg dryer combo
ability to pause the cycles and add missed clothing
deep steam cleaning
mobile app capability that allows you to monitor and control your washing on the go.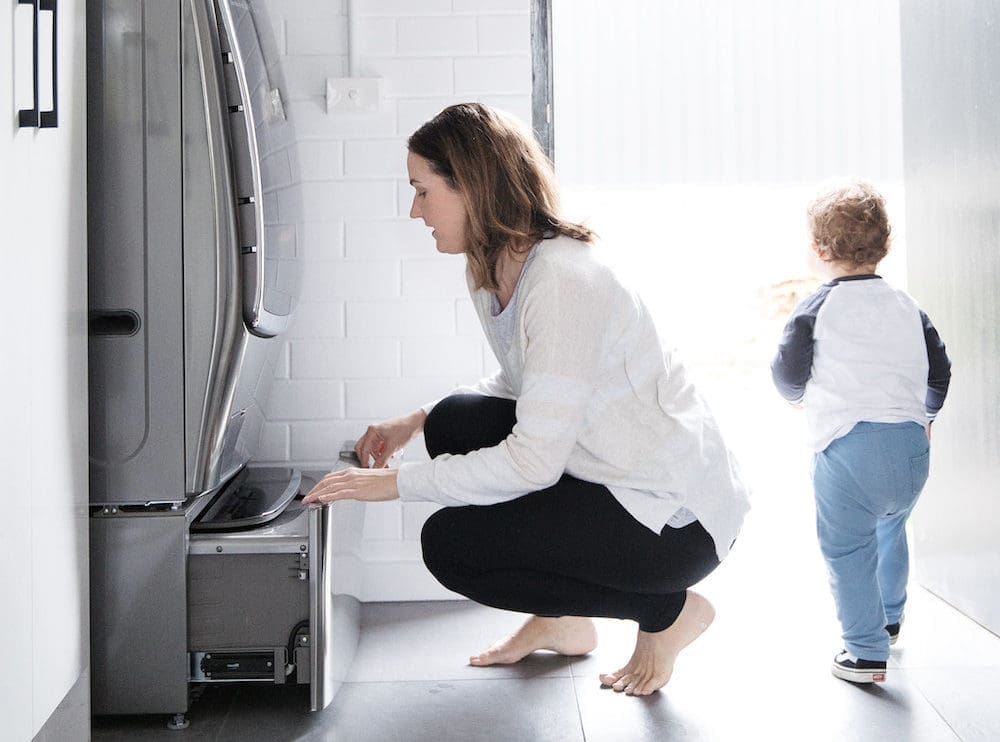 Washing capacity
Without a doubt, the biggest change I've noticed since switching from a basic model 5.5kg top load washing machine to the LG Twin Wash is its sheer capacity.
My old washing machine struggled to wash a full load of bedding, so on sheet changing day, I would often do 3 or more loads of washing — taking up hours of time.
The LG Twin Wash has over 3 times the capacity of my old washing machine! I can wash a whopping 16kgs in the front loader AND an additional 2.5kgs in the Mini Washer at the same time. That means I can now wash all my sheets at once while also running a second smaller load in the Mini Washer.
Mini Washer
My favourite feature of the washing machine has to be the Mini Washer. As the name suggests, it's a small washing machine that's perfect for delicates or smaller loads. It has 6 wash programs — light soil, active wear, speed wash, rinse and spin, hand wash, and tub clean (helping to keep the washer in top condition).
I use the wash drawer daily and love it for Patrick's dirty clothes — anyone else with a toddler can relate to the 3 times a day outfit changes, I'm sure! It means I don't have to soak his dirty clothes in the laundry tub until I have enough to do a small load. It's also great for individual items I many need in a hurry (like a top for a last minute event), delicate items, or other smaller loads like tea towels or gym gear.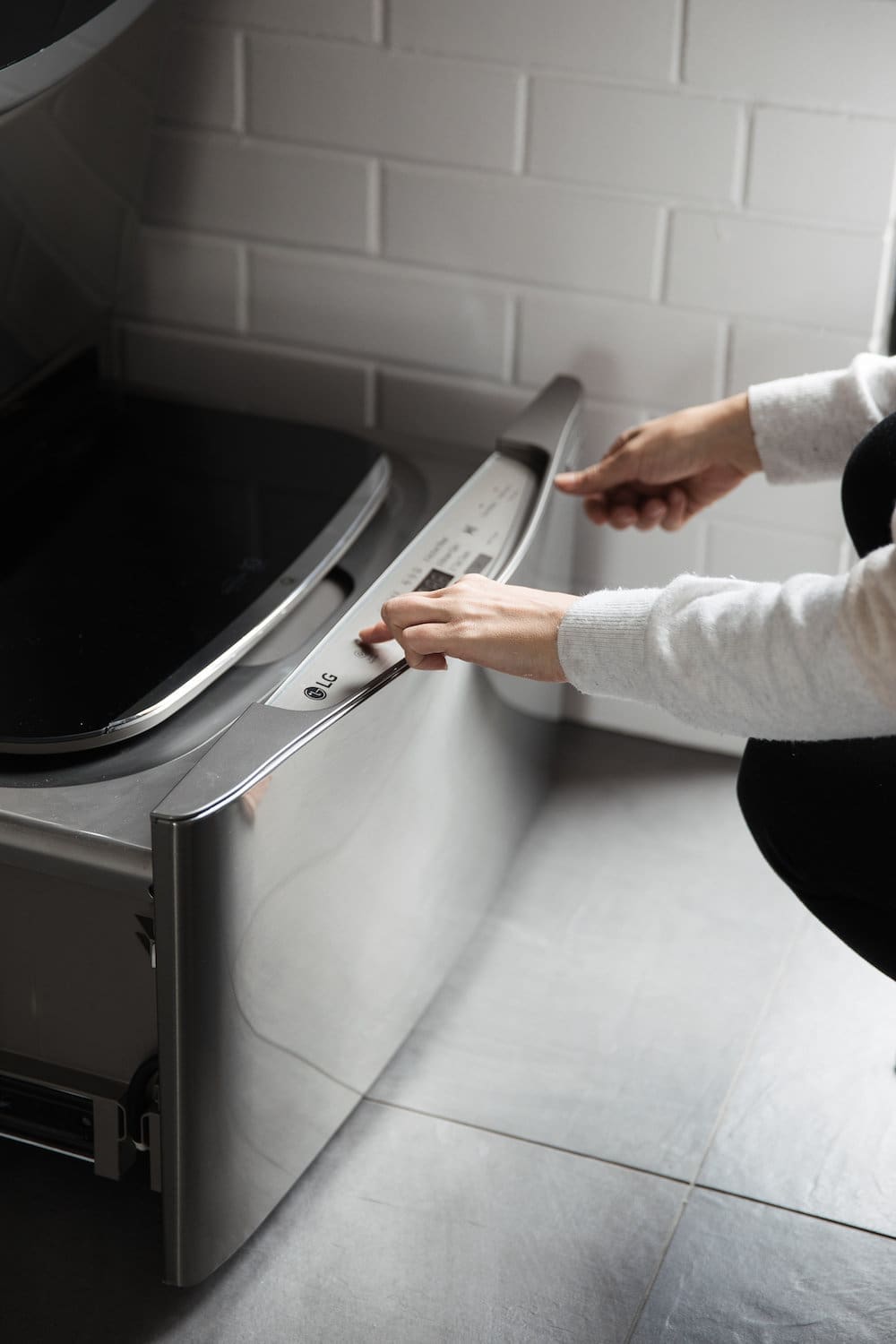 Dryer capability
The other feature I love is the combo dryer. I've never owned a dryer and during winter in Canberra, my house usually resembles a laundromat with clothes hung up throughout all the living areas.
The main washer has a combined 9kg dryer so you can select to add a Turbo Dry, Air Dry or Time Dry to the end of your wash cycle.
I've used the dryer several times and have been really impressed with it, and I'm sure this is a feature that will get loads of use as we head into winter.
TruSteam
Another feature I wanted to quickly touch on is the steam wash. It's a function that can achieve an intensely deep yet gentle clean, which works to remove stains on a microscopic level while also leaving your loads fluffier. It's a great feature for people with allergies and I find the steam wash also minimises ironing time.
Mobile app capability
I'm also excited by the mobile app capability. The washing machine can sync to your home's Wi-Fi network using the SmartThinQ app which lets you remotely start or monitor your wash cycle from your smartphone. It also has a smart diagnosis feature so should you ever have any issues with the machine, the app can help identify and trouble shoot with you.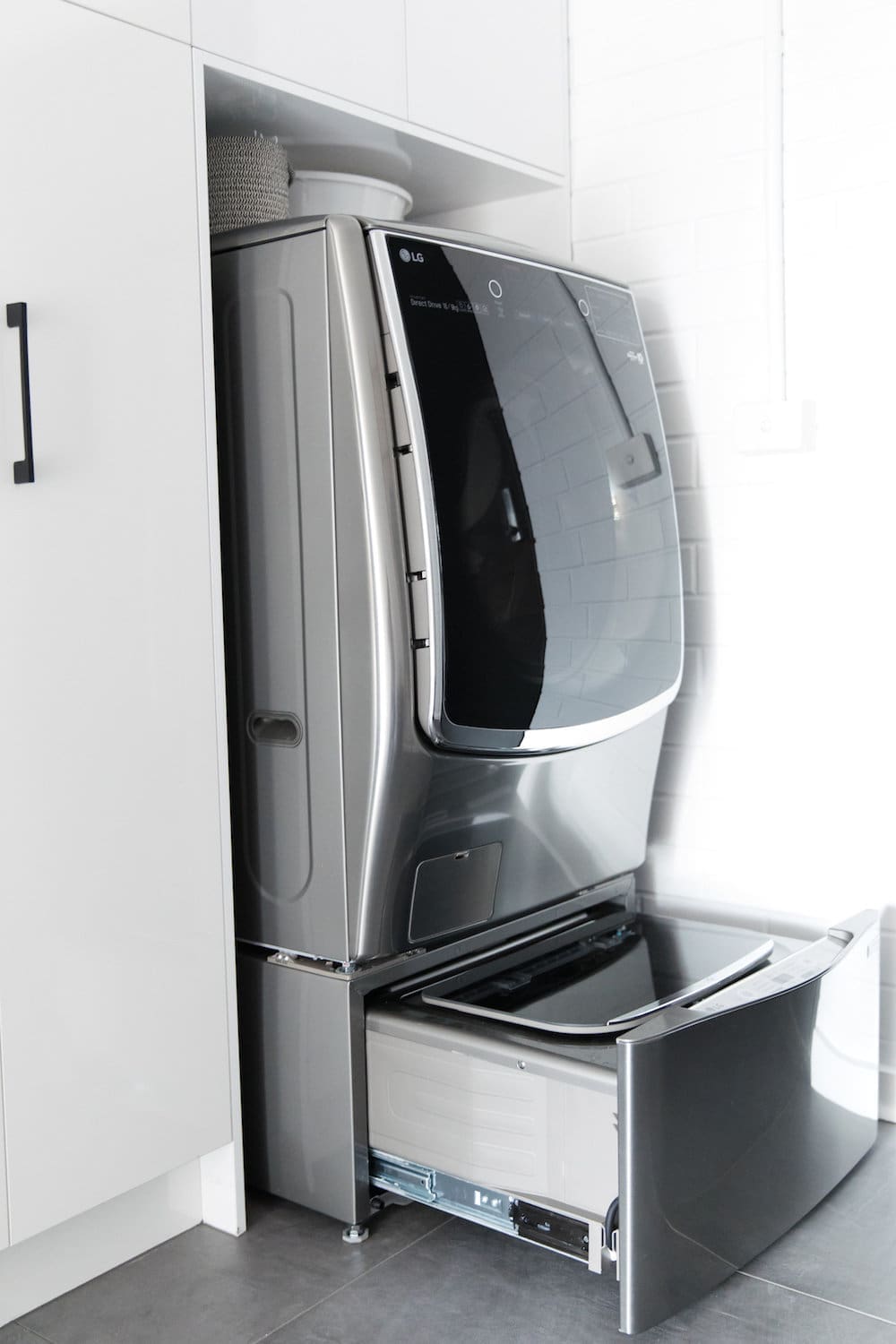 Design
Other than all the features I've just talked about, another obvious difference between the Twin Wash and other washing machines on the market is its appearance.
LG is disrupting the home appliances market and the Twin Wash is certainly evidence to that — it breaks away from how a washing machine should look or act.
The sleek, futuristic design may take a little getting used to but I love its space-ship-like appearance, which doesn't feature any knobs or dials. I think the modern design of the washer is one of my favourite upgrades in my stylish new laundry.
The anti-fingerprint stainless finish is another clever design feature, particularly if you've got a little one who likes to put their dirty hands on everything. Oh, that reminds me that I should mention there is a handy child lock feature on the wash drawer, which I've had to use more than once, haha.
Cost
The LG Twin Wash retails for $3999, which may sound high but when comparing it to other top-feature washing machines, it actually offers great value for money.
Many premium washing machines are priced $4,000-$5,500 and don't combine all of the features that are found in the Twin Wash. For example, those with a steam function do not have a combo dryer or vice versa.
I think this washing machine is a great investment, particularly for people with larger families, as it saves so much time on laundry.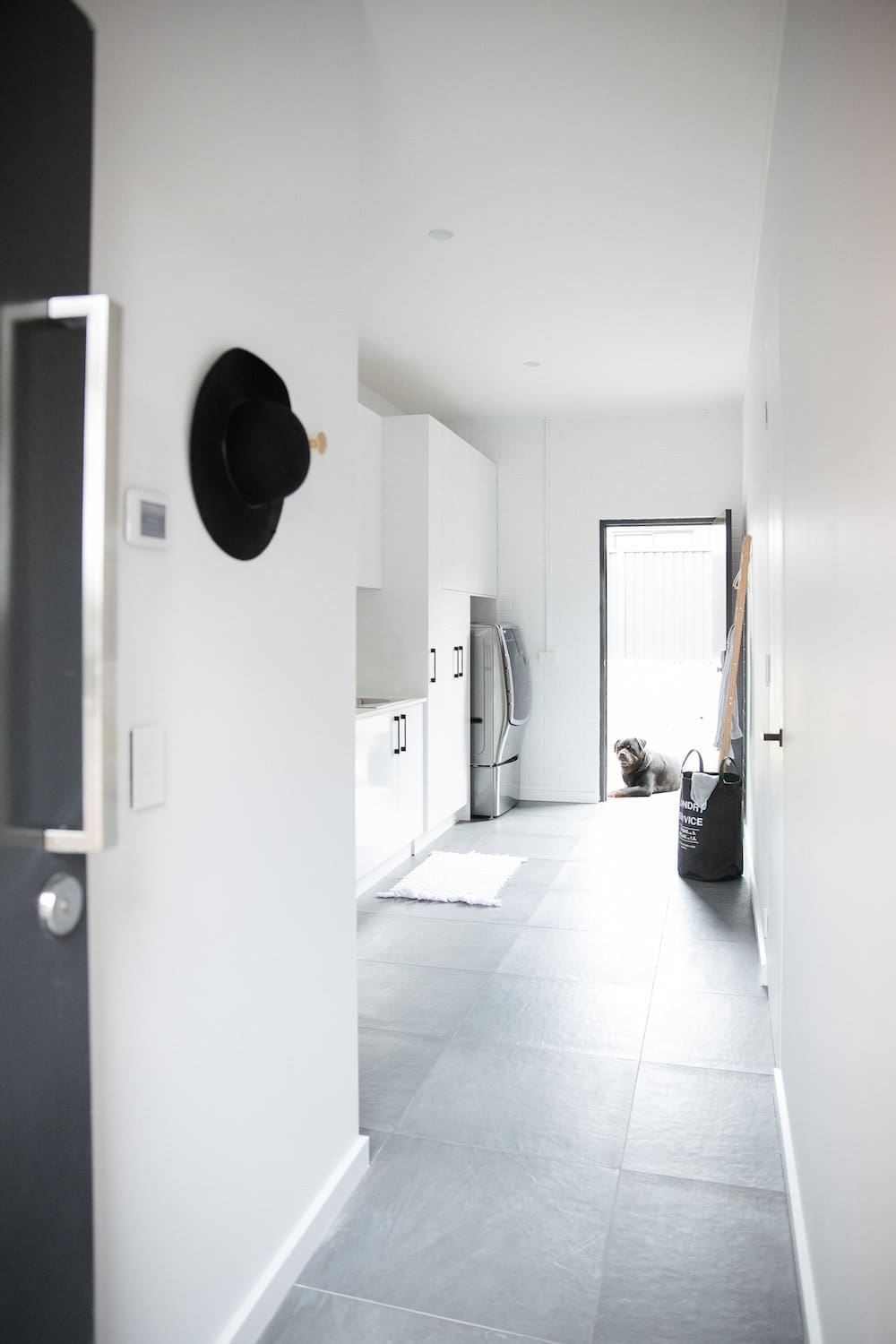 Overall impression
The LG Twin Wash has exceeded all my expectations of the machine and saves me hours of time each week that I would have otherwise spent been doing laundry.
With more than 3 times the capacity of my old washing machine, and the ability to run two separate loads at once, I've never been more on top of my laundry.
It did take a little while for me to navigate all of the features, as there are so many wash programs available, but now that I'm familiar with the machine, I couldn't be happier.
If you have any questions about the washing machine that I didn't cover, pop them in the comments below and I'll answer them right away. You can also find more information about the LG Twin Wash here.
*Disclaimer: this washing machine was gifted but all opinions expressed in this review are my own.