OK people, seriously, tell us what went on with the judging on The Block last night! Were we living in some kind of alternate universe?
For those of you who missed it, master bedrooms and walk-in robes were revealed on The Block Triple Threat last night and it's safe to say we were talking (yelling) at our TV "really… Really… REALLY?!!" the entire episode! Tell us we're not mad and share what you thought of the rooms in the comments section below!
Related article: The Block Triple Threat: Week 8 kitchen reveals
Related article: The Block Triple Threat: Week 9 entry and staircase
Josh and Charlotte
These guys scored straight 10 out of 10s for their super minimalist (so-minimalist-we-felt-underwhelmed) and airy bedroom. But on this occasion winners aren't grinners as the couple got disqualified for failing to use their bed from that Jimmy Possum challenge a few weeks ago. Ouch but hey, rules are rules. Or are they? We can't recall any past couples getting disqualified from judging and this decision by the show has got people fired up on social media — do you agree?
Would you have scored this room 10/10? We felt it was crying out for more. On Twitter people were saying it desperately needed colour but we would have been happy with a small area rug (like this one from Armadillo & Co) and a piece of art. Seriously, how did this room score straight 10s with bare walls?
Don't get us wrong, it's 'nice' but the grey, grey and more grey isn't exactly what we would call a perfect room. Yes, the ceiling is super impressive but so were the ceilings in many of Chris and Jenna's rooms and that was never enough to save them.
All we can say on this one is we disagree. What about you?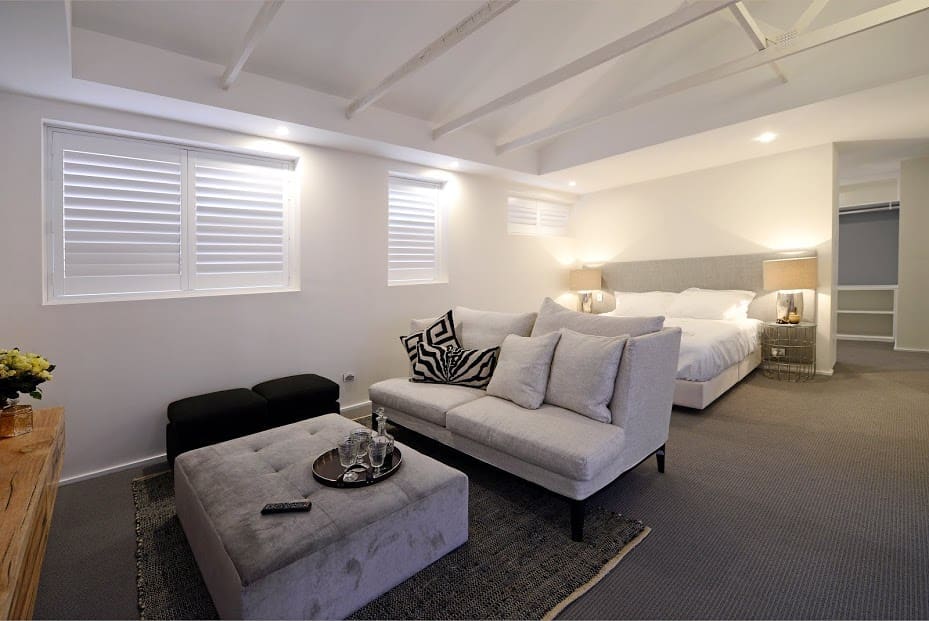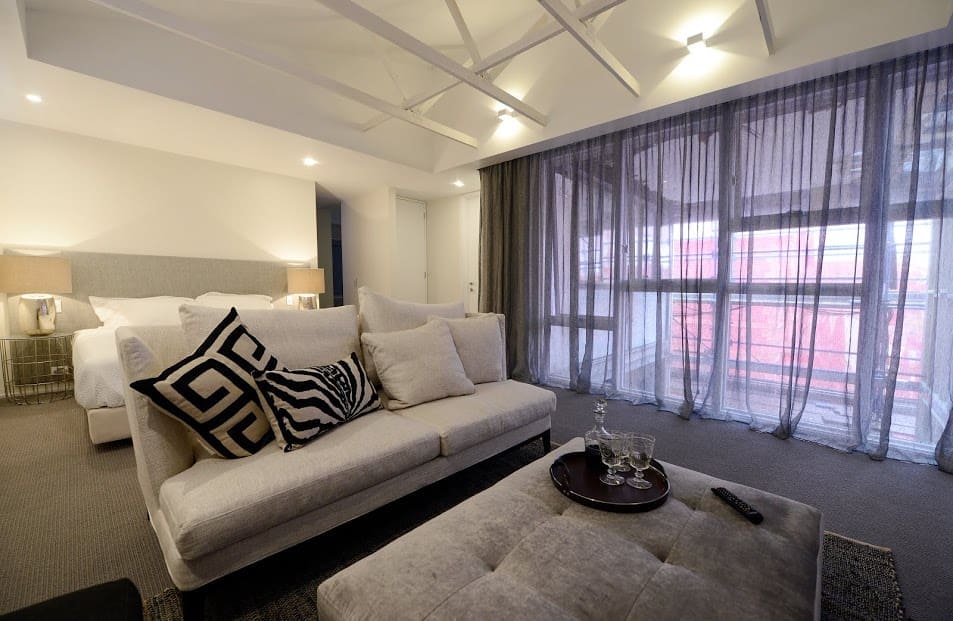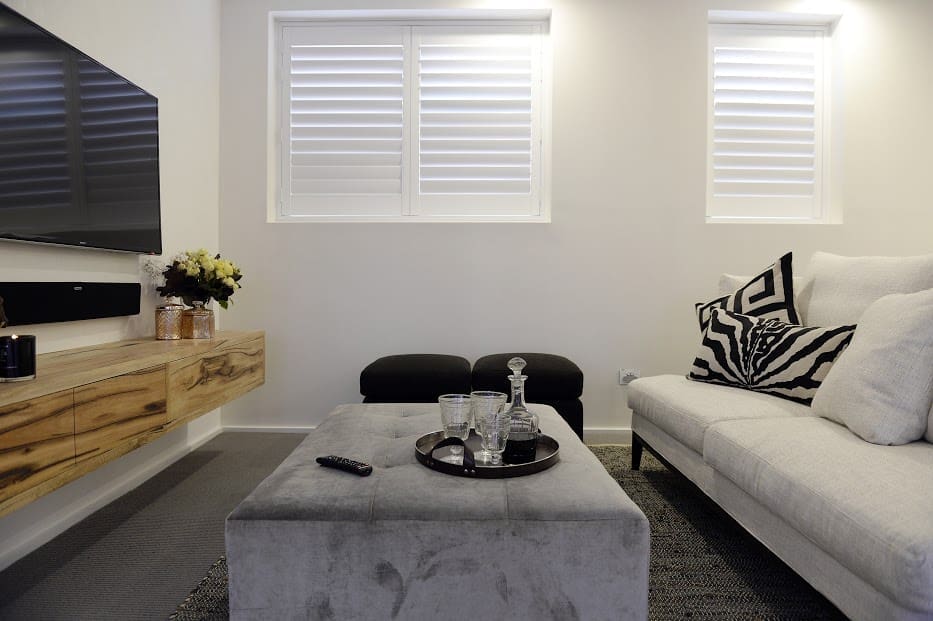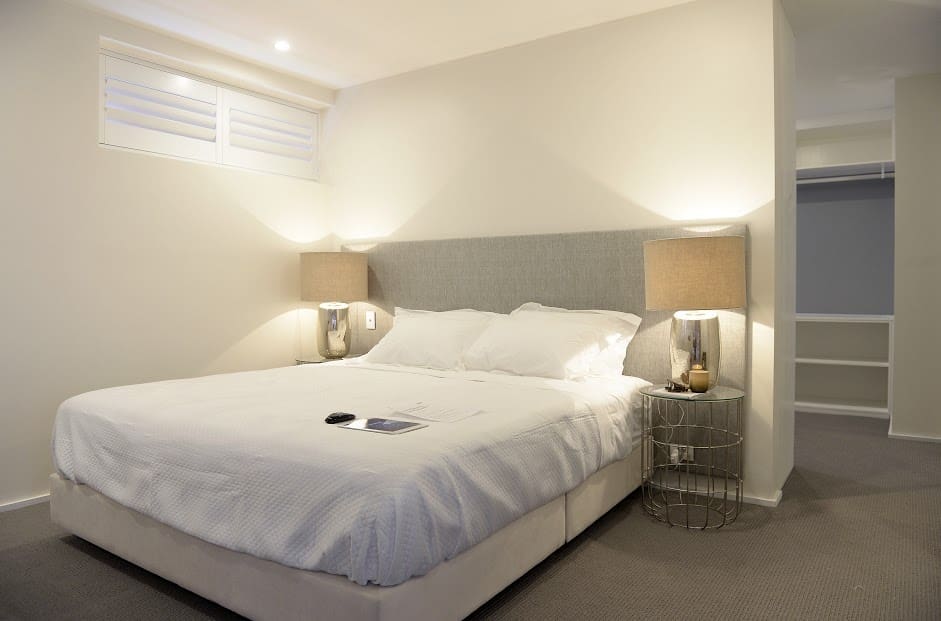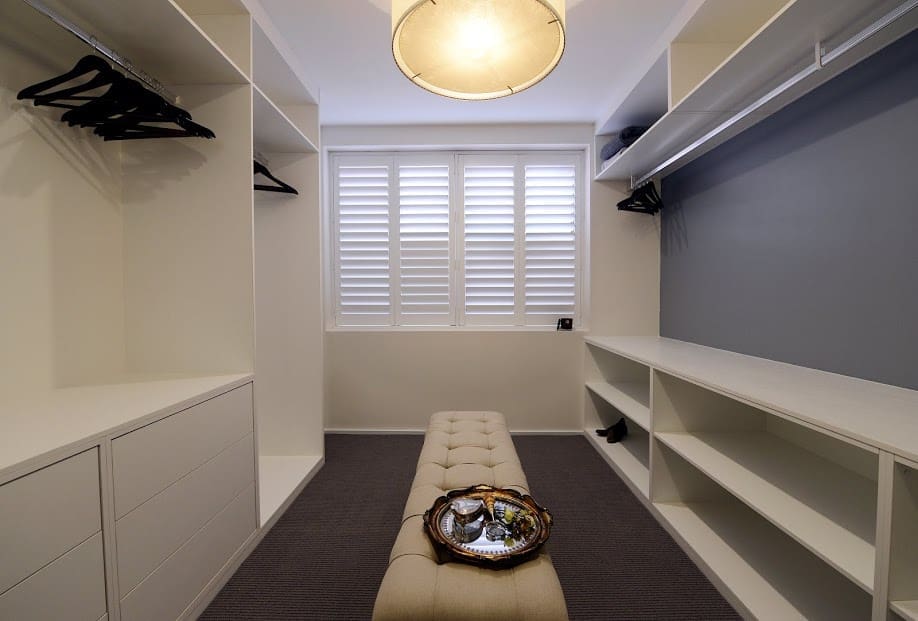 Darren and Dea
Don't hate us for saying it but this is a room we can appreciate! As Neale says "Nailed it!".
Winners by default this week, the double Ds' room is warm, inviting and has personality. The deep blue grasscloth wallpaper on all walls envelops you and creates the feeling of a beautiful and luxe sanctuary. Dea can style like nobody's business and every corner of the room is masterful. Seriously, ah-mahzing!
Standouts for us in this room are the custom-made timber bedside tables by Christian Cole, House of Orange four post bed, and Sophia Szilagi "No Less Than Skies" artwork from James Makin Gallery.
Their walk-in robe is also heaven and despite less than perfect finishes, we'd still love to have it in our home.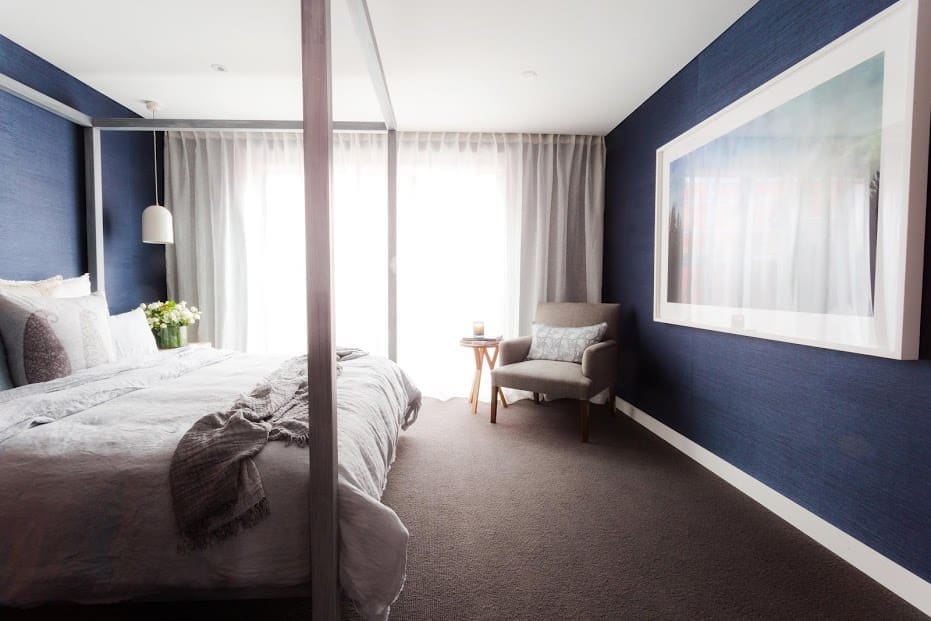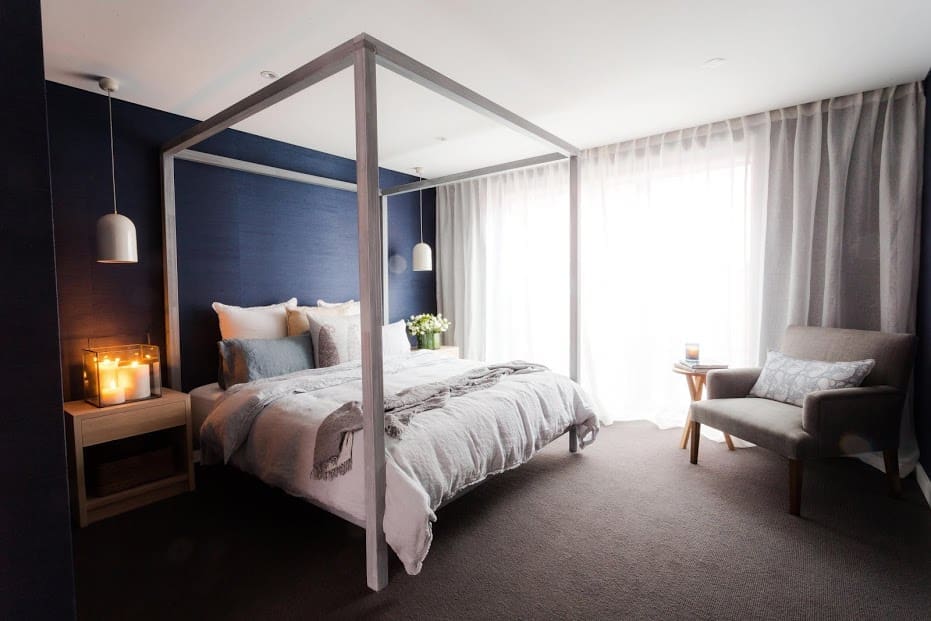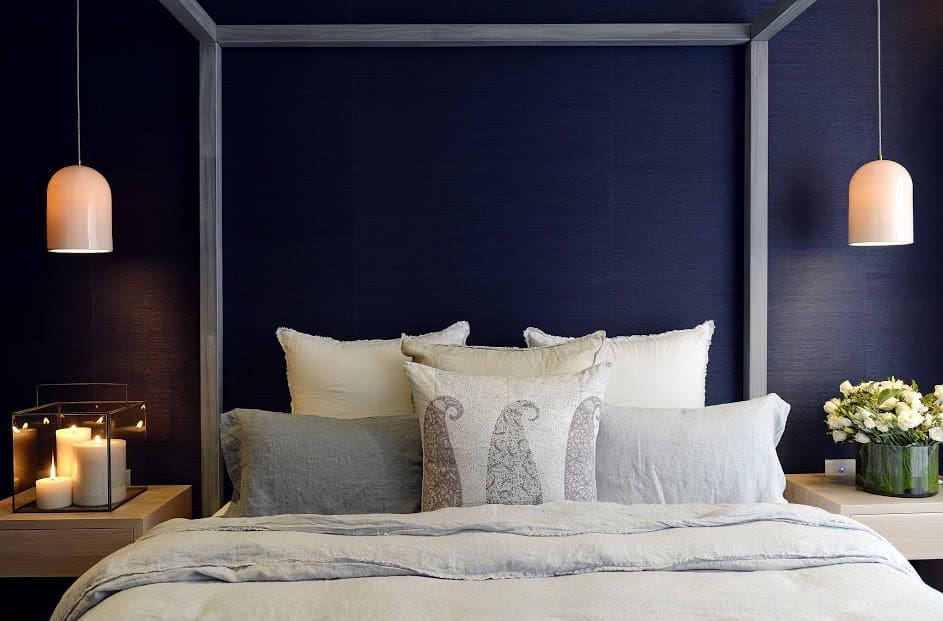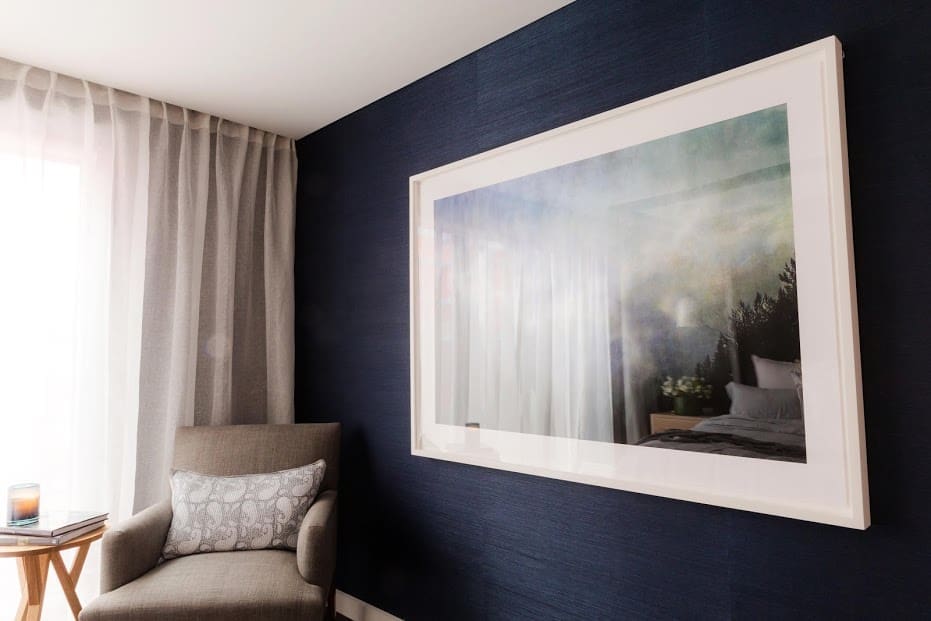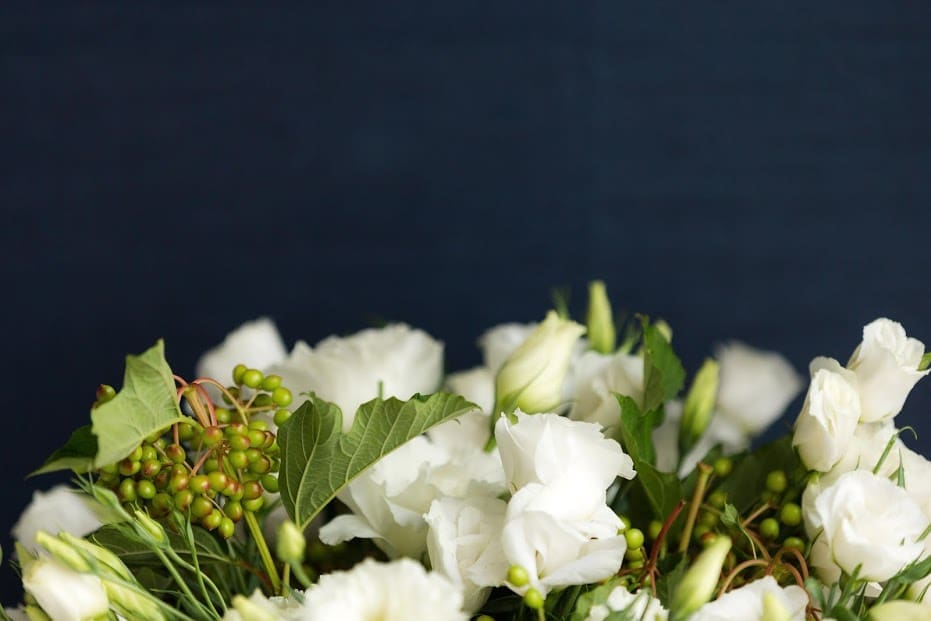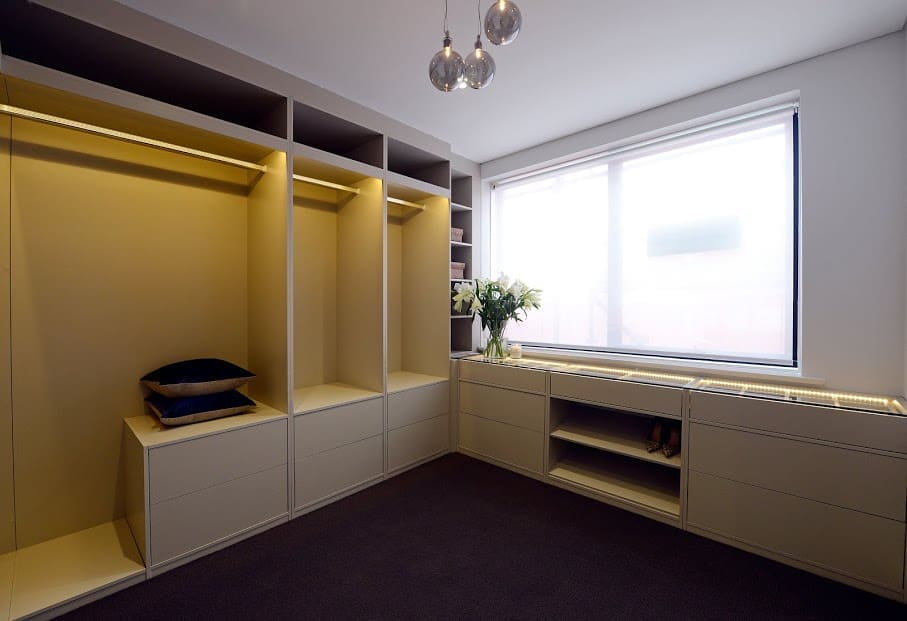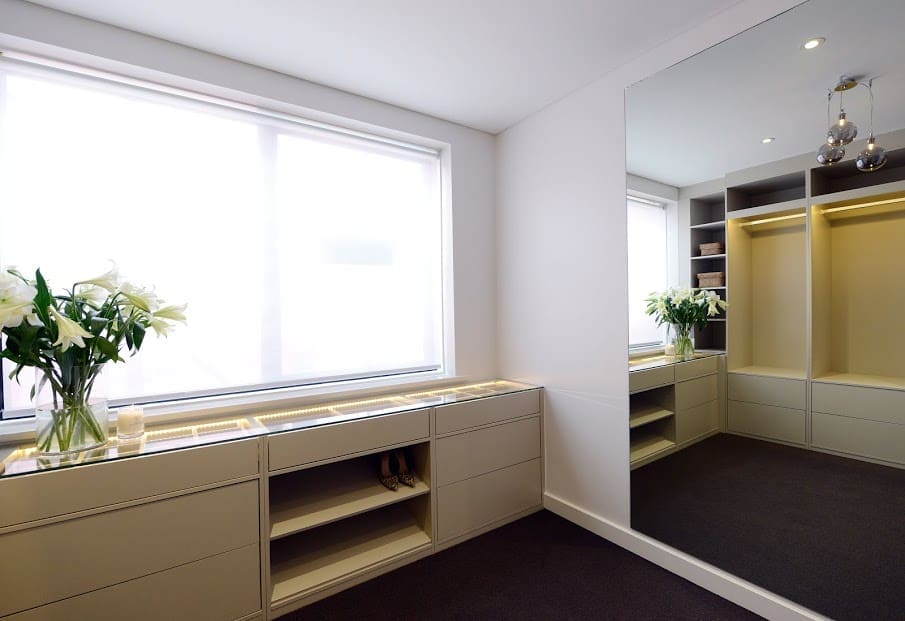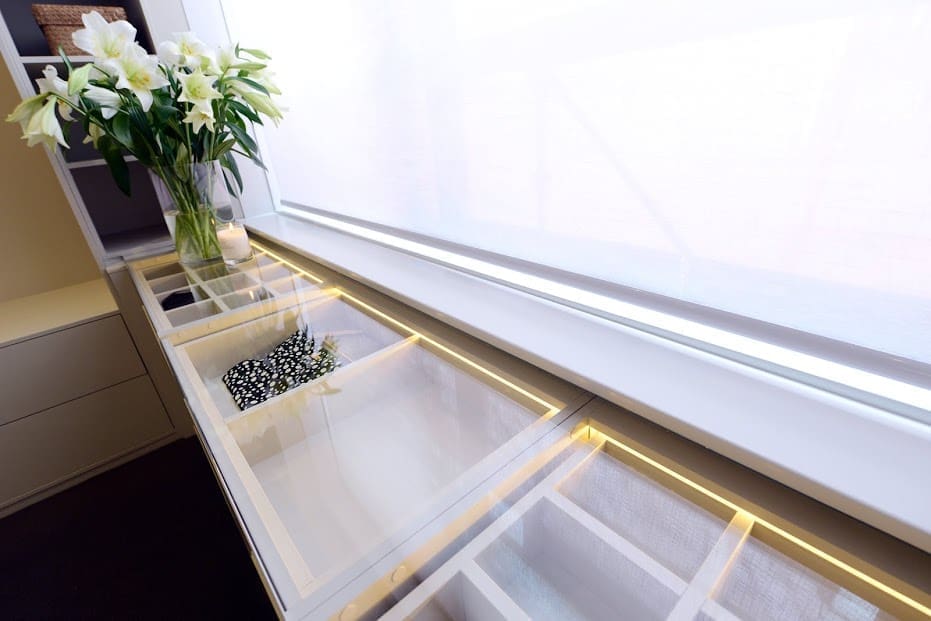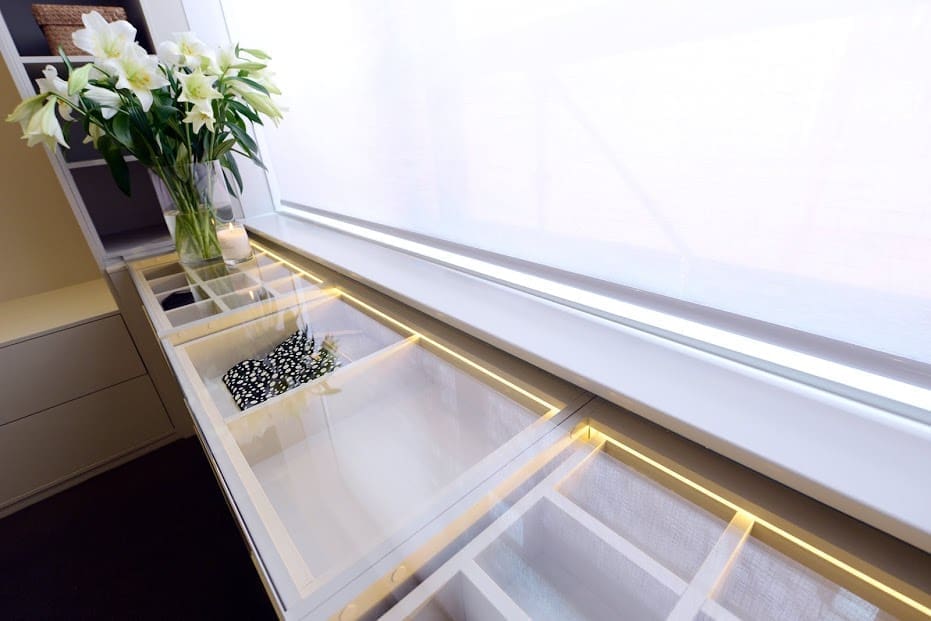 Jess and Ayden
Oh man, these guys try so hard and just can't seem to break through… Tied in third place (or is that second place with the disqualification?), they took some risks to create a space that's more youthful and earthy.
Unfortunately, Darren felt that was the wrong move to make for this kind of apartment, in this area and at this price point. He's right. One of the biggest tips he shared at his recent Q&A was how important it is to know the market you're selling to — do your research, look at what's selling, understand what buyers want — otherwise you won't be able to get the premium price.
While this room does have a lovely warm feel about it and there is a good mix of textures, sadly we don't feel many of them fit together or are the best choice for the space. As Darren pointed out, the bedside tables have zero storage and many of the choices need to be more sophisticated. And don't get him started on that artwork.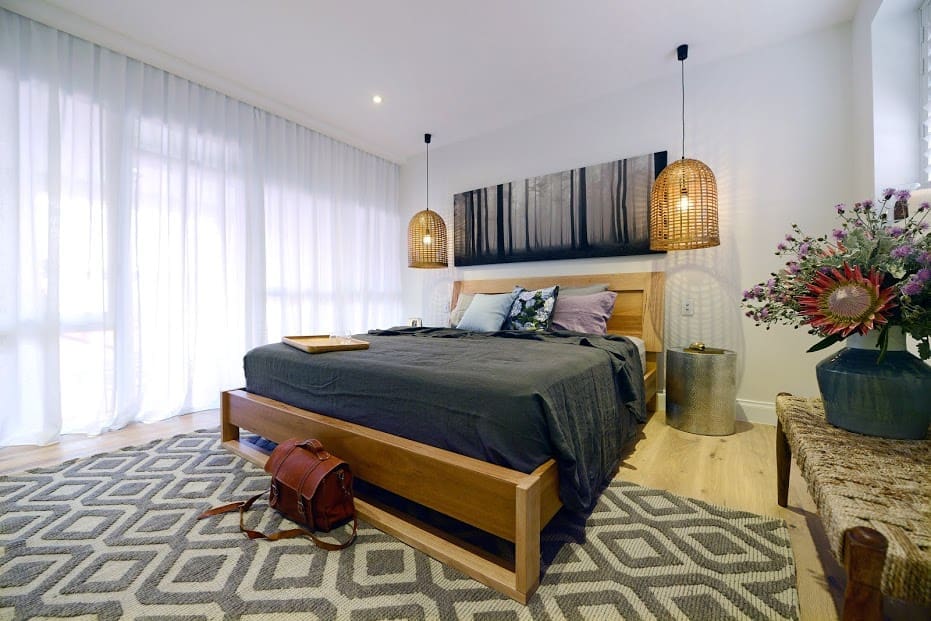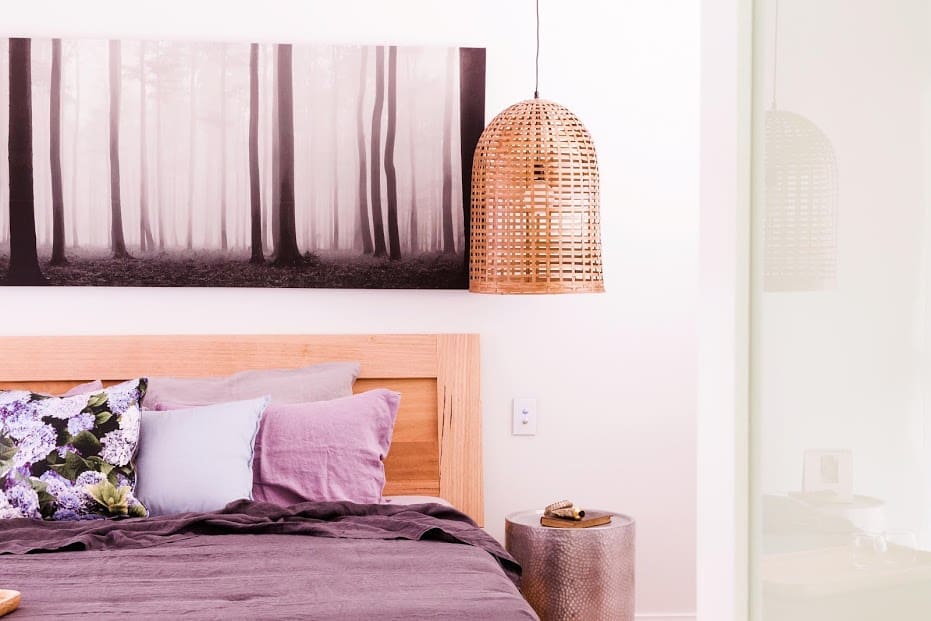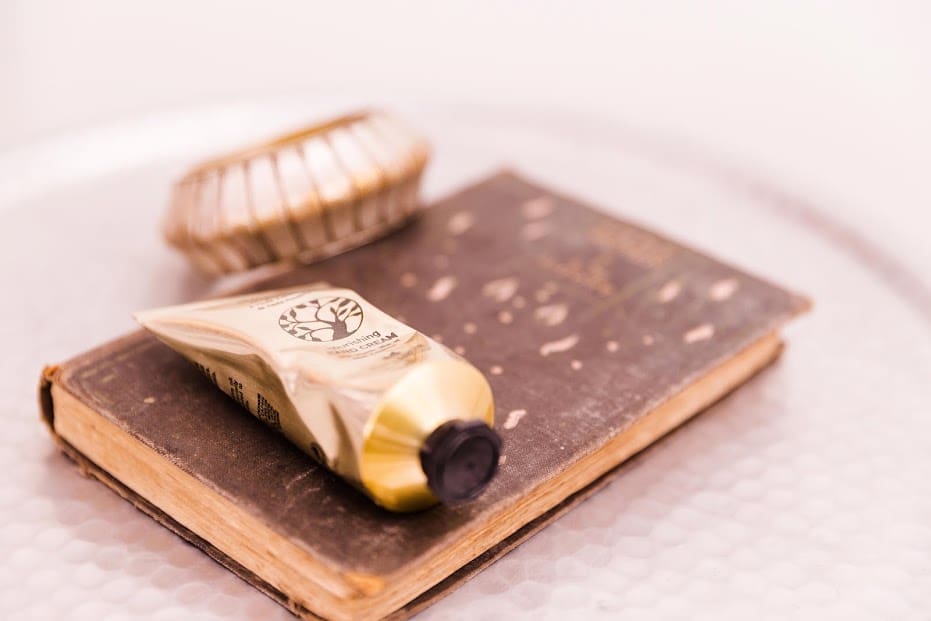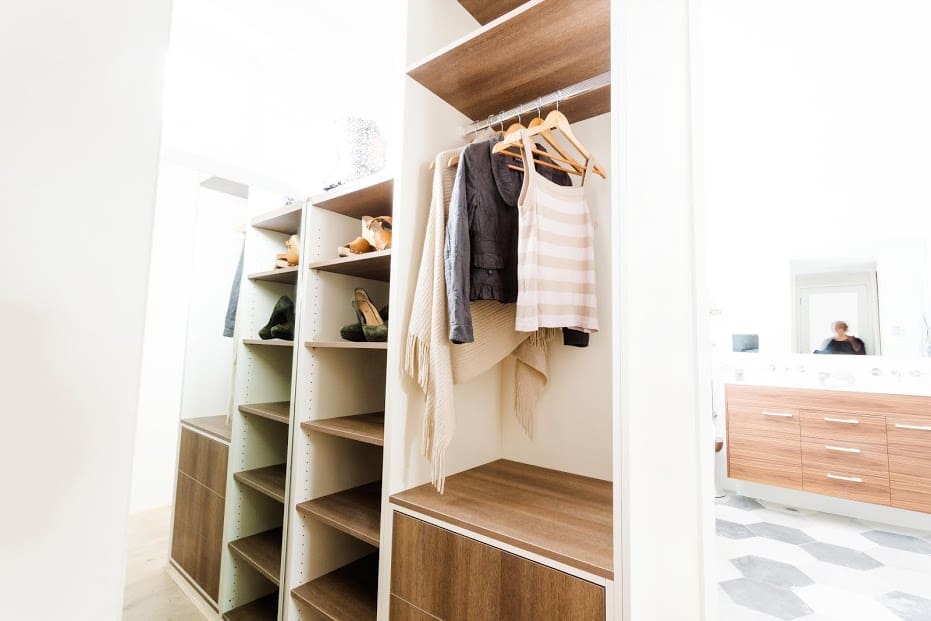 Tim and Anastasia
Now this is where we really lost it at the TV. This room is an EXACT copy of the last bedroom they delivered!!
We couldn't believe it when the judging was just rolling on as usual and none of them pointed out this massive elephant in the room. Eventually Darren did say this room feels very similar to the last bedroom and a master bedroom should feel special.
The double door to the walk-in robe was pretty nifty but not enough to sway us into liking this space. Neale took it one step further and said the grey laminex doesn't make him feel good — ha ha, he always knows how to make us laugh!
We're not even sure why we're bothering to publish photos of this room when you can just look at their last bedroom…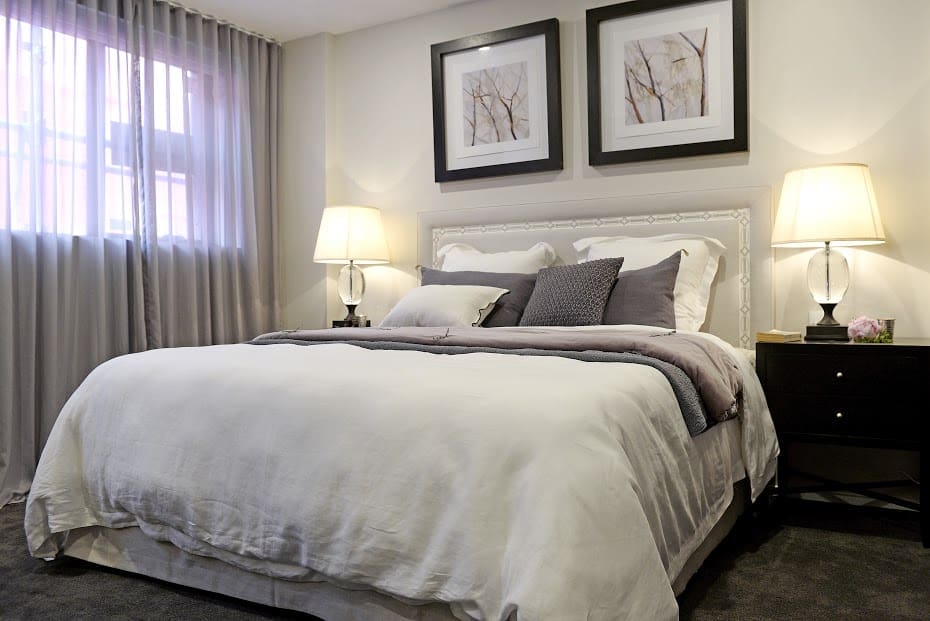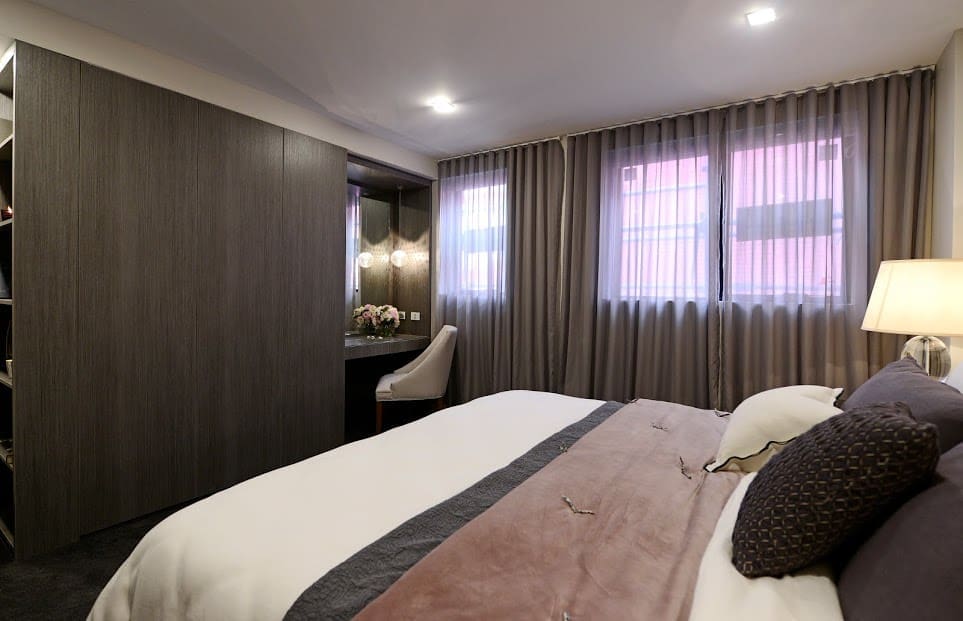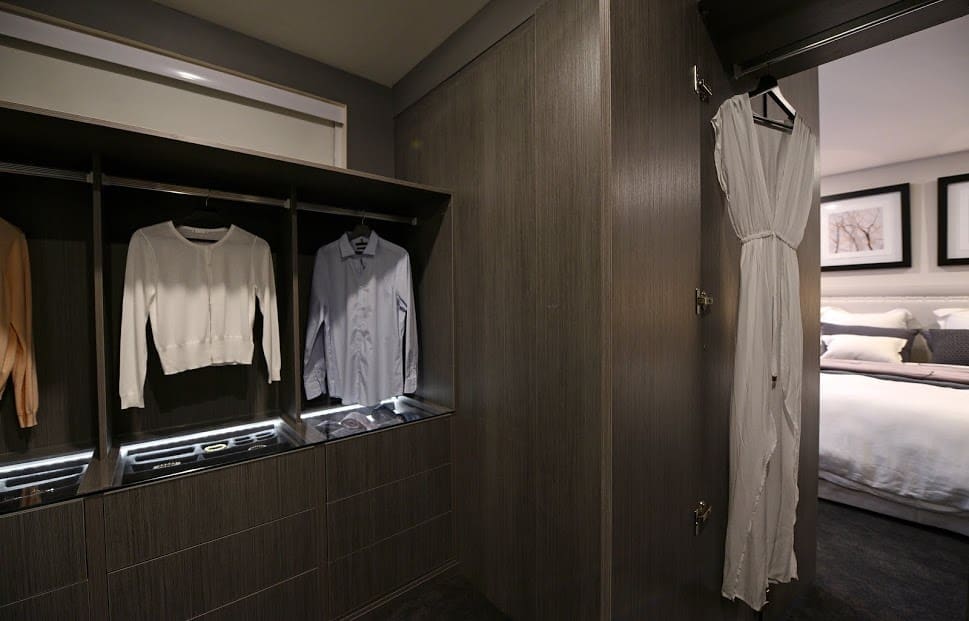 What did you think of the master bedroom and WIR room reveals this week? Do you have a favourite space or pick up any ideas you might use?