The other week my little man made the big step of moving into his own nursery so I thought it was about time to share the space with you.
I wasn't quite ready to move him into his own bedroom downstairs so instead, I converted the small landing space outside our bedroom (designed as a study nook) into a nursery.
It's a teeny tiny space that only just fits a cot, chair and clothing rack but I love how we've injected personality into the space with sweet buys from local makers and our own DIYs.
Here are photos of the space and my tips for setting up a tiny nursery.
Related article: 10 ways to create a stylish and functional nursery
Related article: Creating a kids learning from home space: Patrick's room reshuffle
Decide what's essential and what's desirable in the space
When you are working with a tiny space, it's likely (no matter how hard you try!) you won't fit all the pieces you want/need in there.
Cot, change table, chair and clothing drawers/rack were all on my essentials list but given the awkward doorway I needed to keep clear at the back of the room, there was no way they were going to all fit.
Now that Patrick is a bit bigger and sleeping (sort of) through the night, I decided to keep his change table in our bedroom so the other items would fit in here.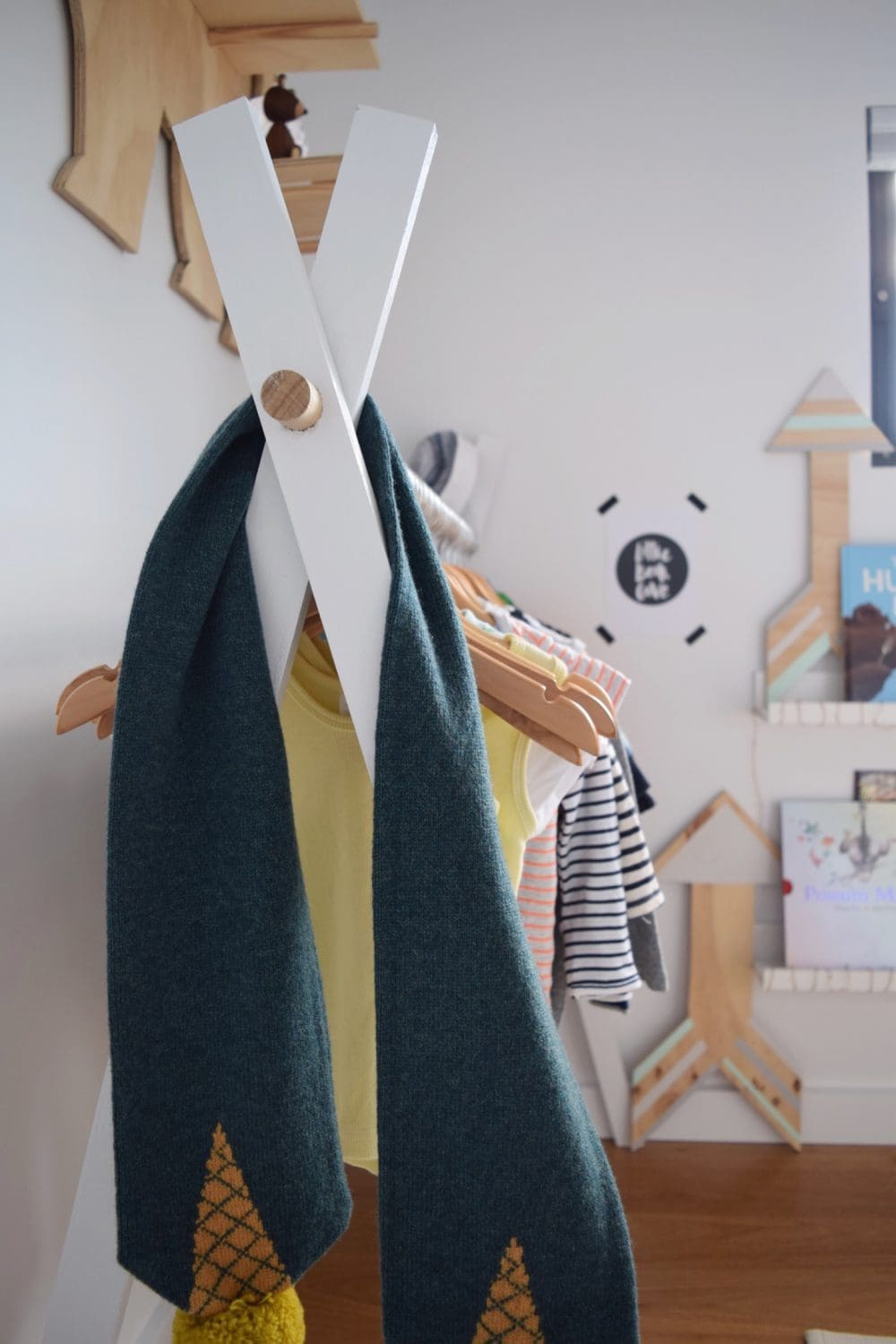 Experiment with furniture configurations
Although there are only a few large pieces in this space, I tried many different configurations (such as cot where the chair is, cot where the clothing rack is, and finally cot where it's pictured) before deciding on this layout.
Sometimes the best configuration isn't what you would expect so experiment and move the furniture about before you fill the space with smaller pieces and decor. And sometimes furniture can look best when it's pulled away from the walls (if you have space to afford it) or on an angle.
Look for light furniture or with legs
When you don't have much space, the last thing you want to do is fill it with dark heavy furniture. Create the illusion of space by selecting lighter pieces or furniture with legs. When the furniture is raised off the ground, it allows your eye to see more of the floor which creates the illusion of space.
I opted for light timber and white furniture in this space, it keeps it feeling light and airy.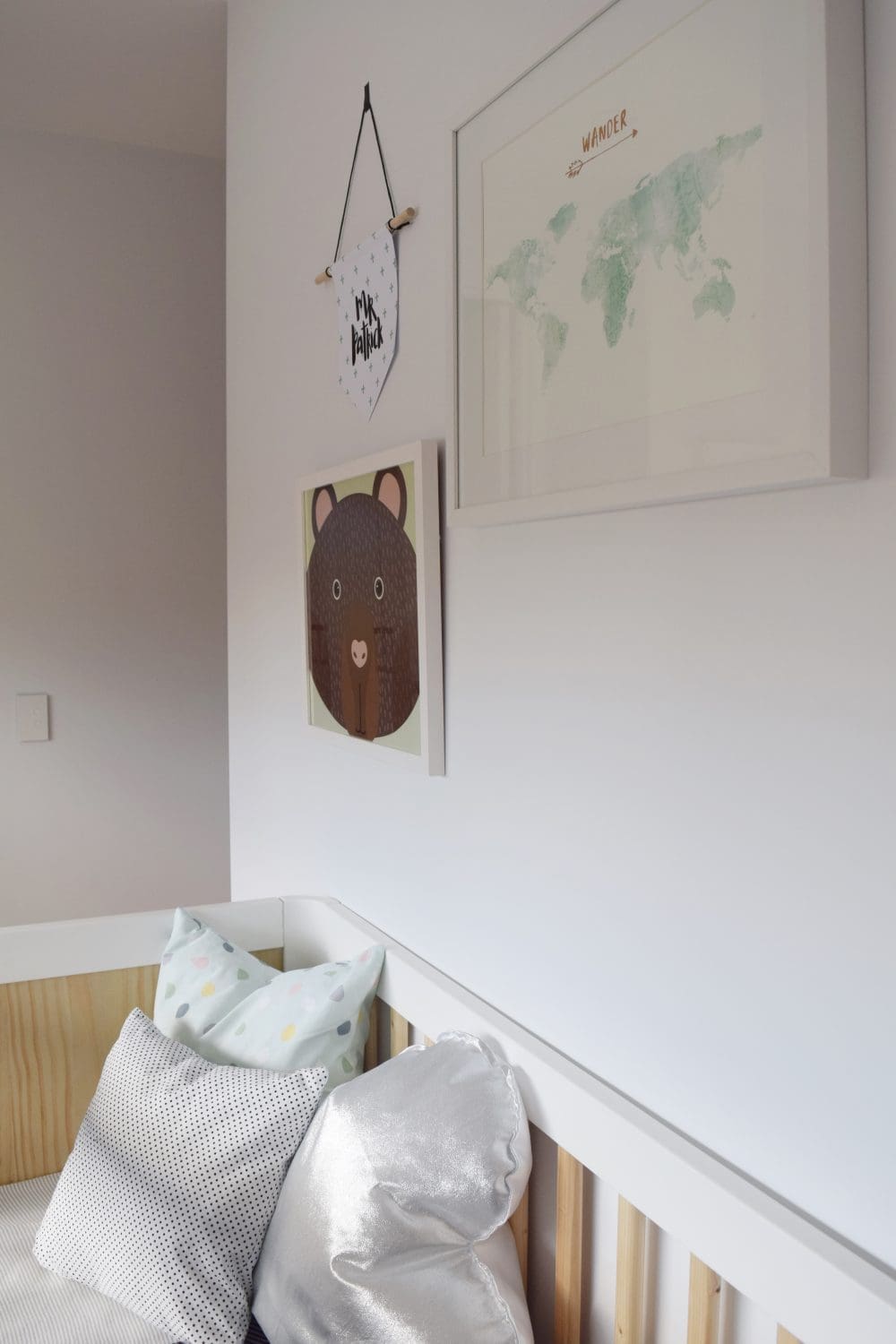 Maximise wall space
Too often we forget to maximise the vertical space in a room!
The bear shelf we made holds many of Patrick's favourite toys and the two white book shelves display all of his books. Over by the chair are also some wall hooks, which are ideal for hats and other small pieces.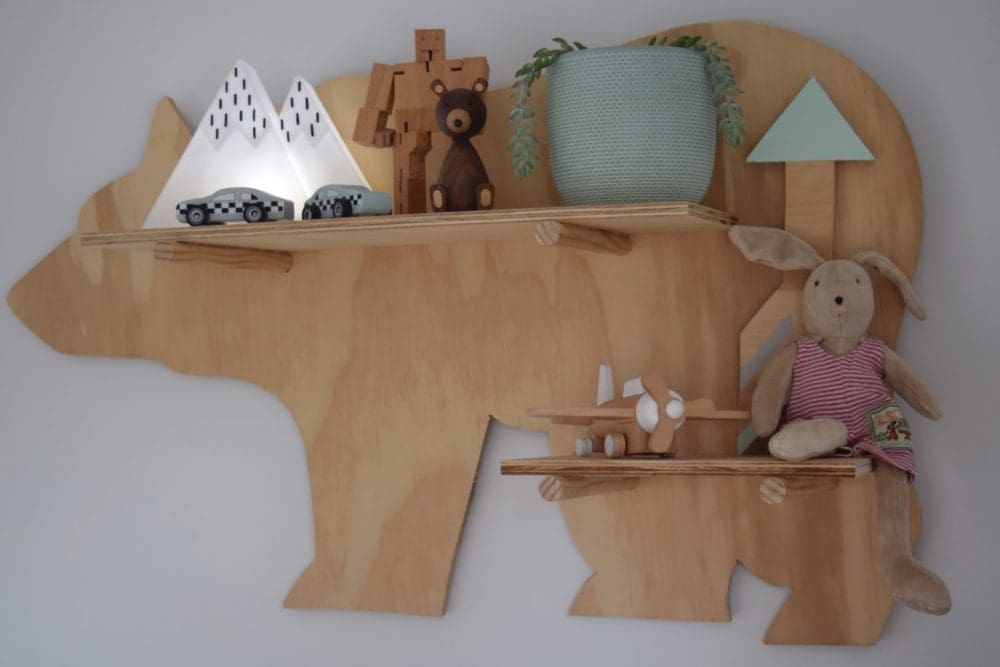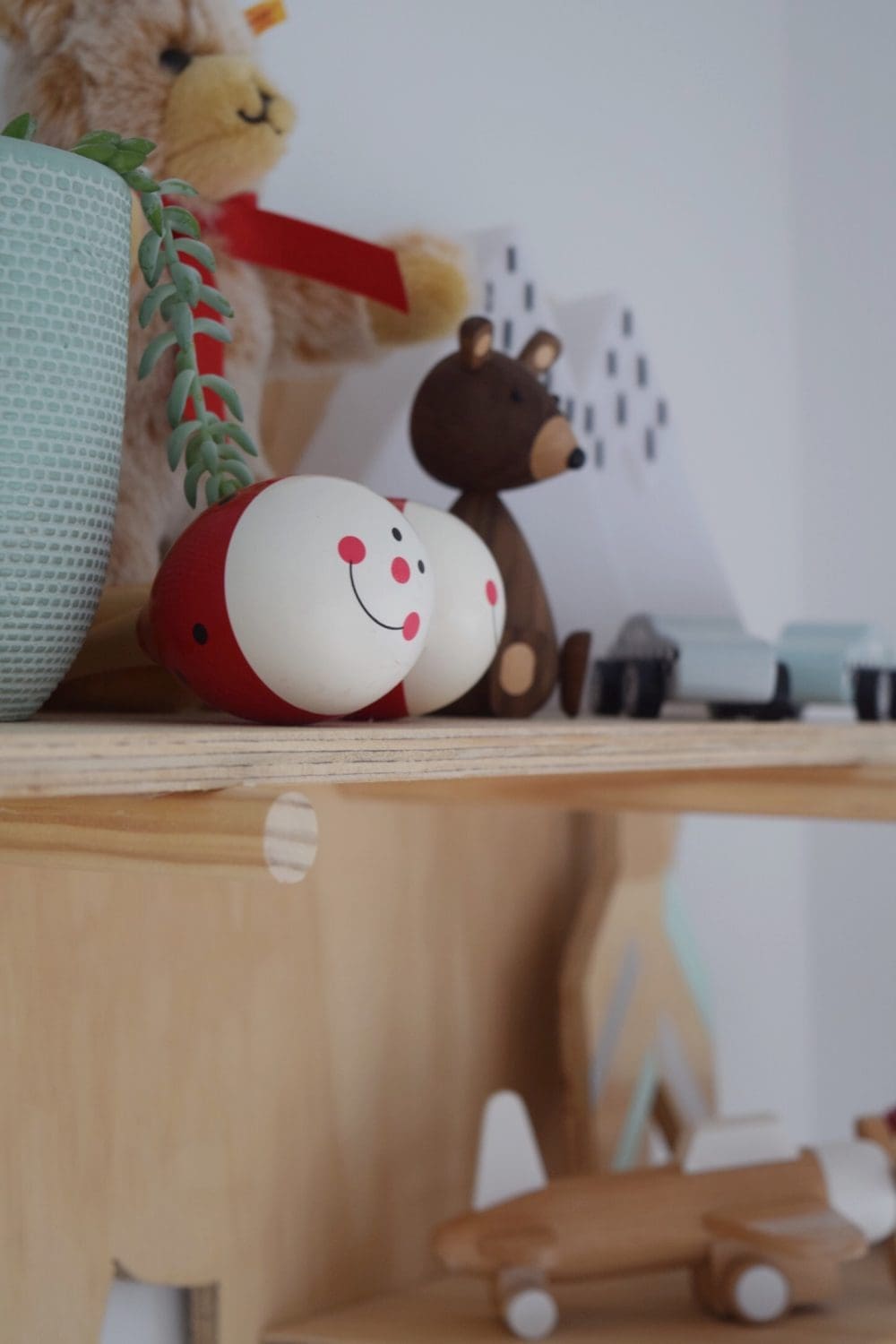 Use rugs to create zones
Just like in any other room of the house, rugs are a great way to anchor the space or create the sense of zones.
In Patrick's nursery, I wanted to create a 'play zone' below the half-height door at the back of the room. I used a small round rug to achieve this with several baskets of toys.
The rectangular race track rug emphasises the length of the room, helping the space to feel larger.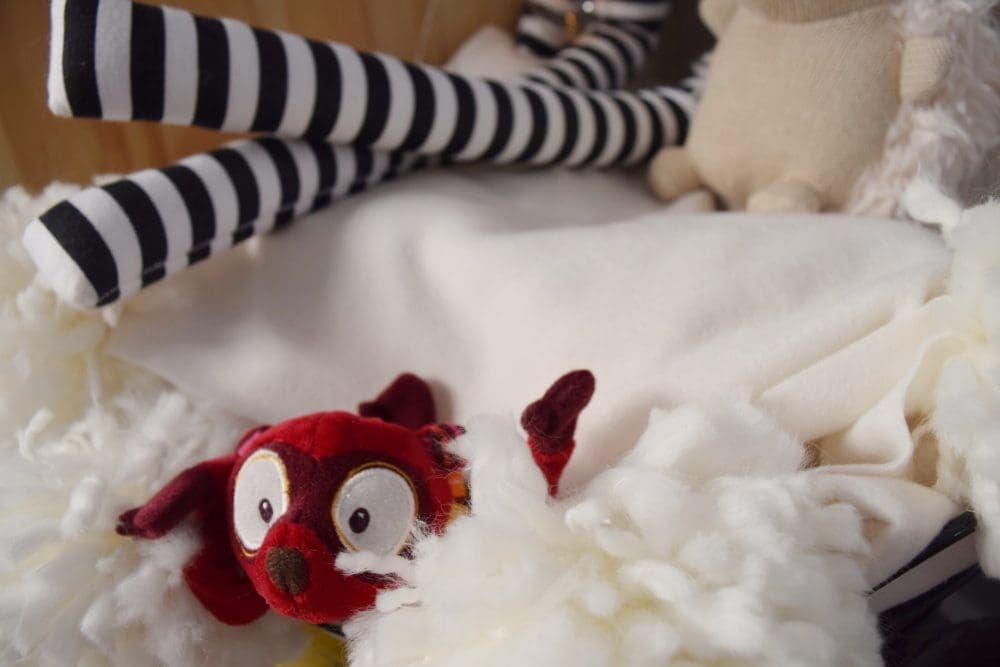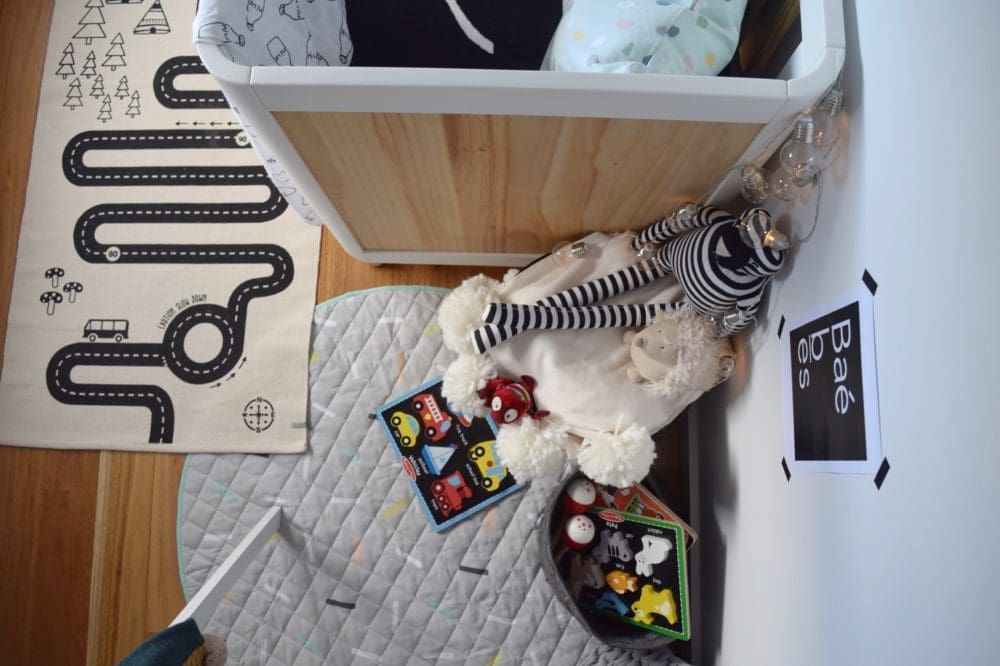 Display wall art
Wall art draws the eye upwards and around the room.
I created a cluster of pieces above his cot — Shenton & Thrello 'Mr Patrick' name banner, bear illustration and Emma Kate & Co 'Wander' map — as well as above the chair and near the clothing rack.
There is such a wide range of nursery wall art options available now and I find Instagram is a great place to search for independent artists and designers. Also, don't feel that wall art always needs to be in a frame or behind glass. The name banner I've used, those 'Sleepy Eyes', wire words, bunting, or even stuffed animal heads are just some examples of different types of wall art you could use.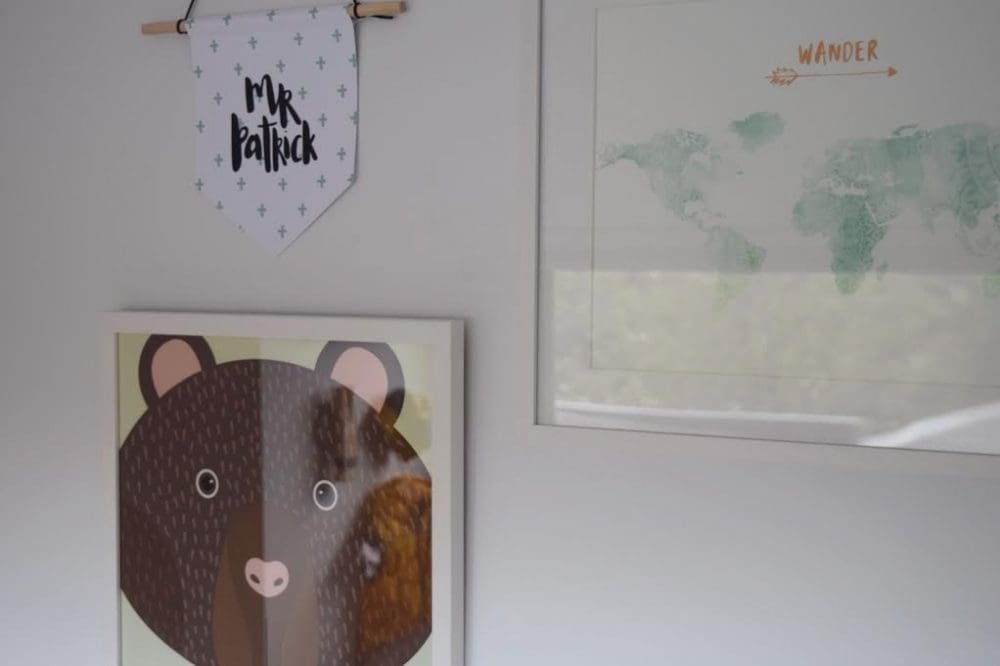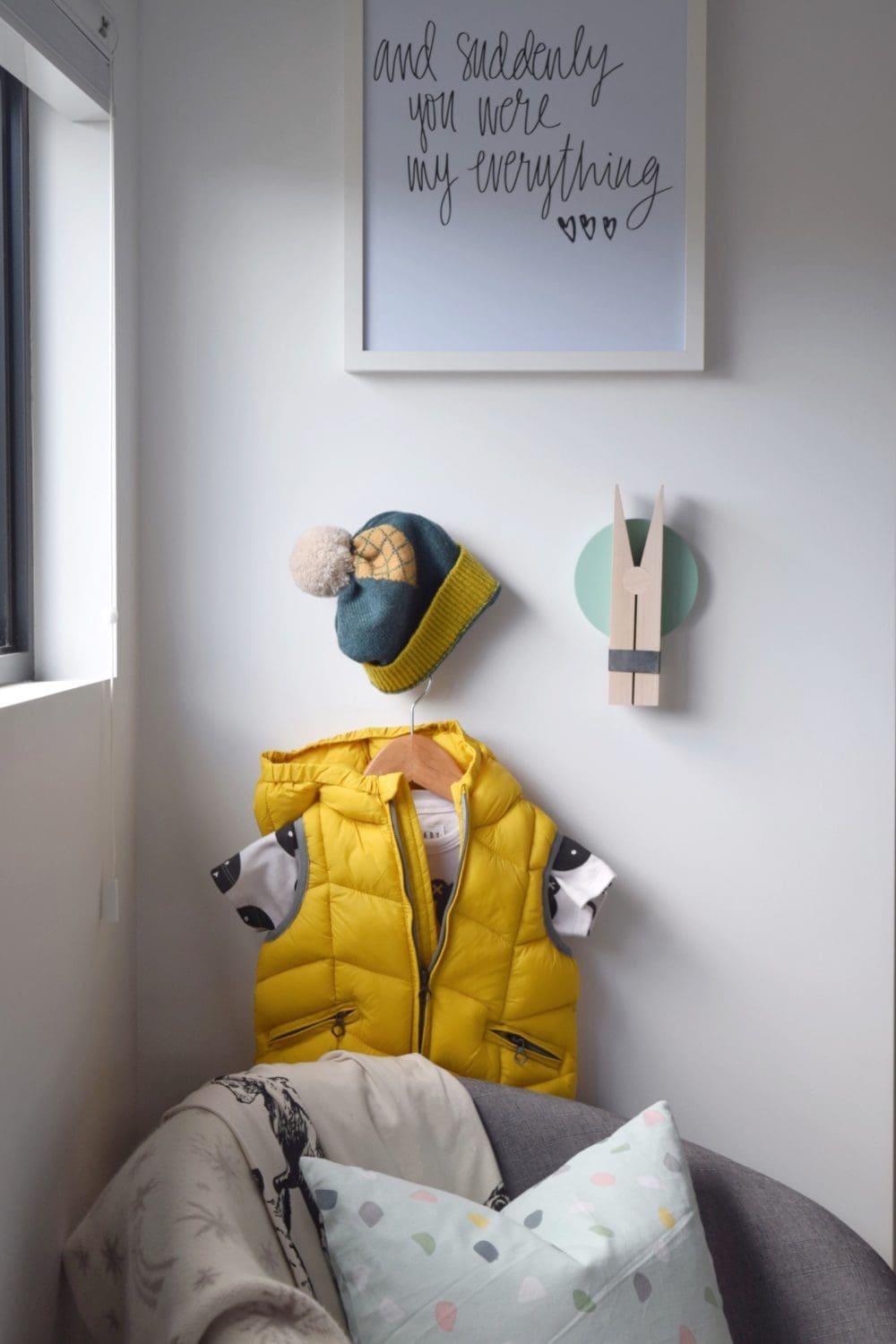 Supplier list
Cot: Teeny cot by Incy Interiors
Chair: Kmart
Teepee rack: DIY tutorial here
Fur ottoman: DIY tutorial here
Bear shelf: DIY tutorial here
Book shelves: IKEA
Race car mat: OYOY adventure rug mat
Confetti mat: Kmart
'Mr Patrick' banner and 'Bear cave' print: Shenton & Thrello
'Wander' map wall art: Emma Kate & Co
Baebes print: Yorkelee Prints
Ply arrows: DIY tutorial here
Mint speckle cushion: Milk and Sugar
Koala cushion: Miann & Co
Silver heart cushion and black polka dot cushion: Self made
Monochrome baby book: Blueberry & Co
I hope you enjoyed this peek around Patrick's temporary nursery space and if you're shopping for some new kid's decor, check out our curated list of top buys here.