Our latest interior obsession is a white ribbon staircase!
From being a statement feature in new modern architectural homes, to reinventing existing properties in drastic renovations, we're seeing all sorts of white ribbon staircases flood the internet.
Keep scrolling for our favourite jaw-dropping white ribbon staircases… you might just be inspired to consider adding one in your home!
Related article: Make a serious statement with black floors — think hardwood, concrete, tile or carpet
Related article: Design inspo: Beautiful black kitchens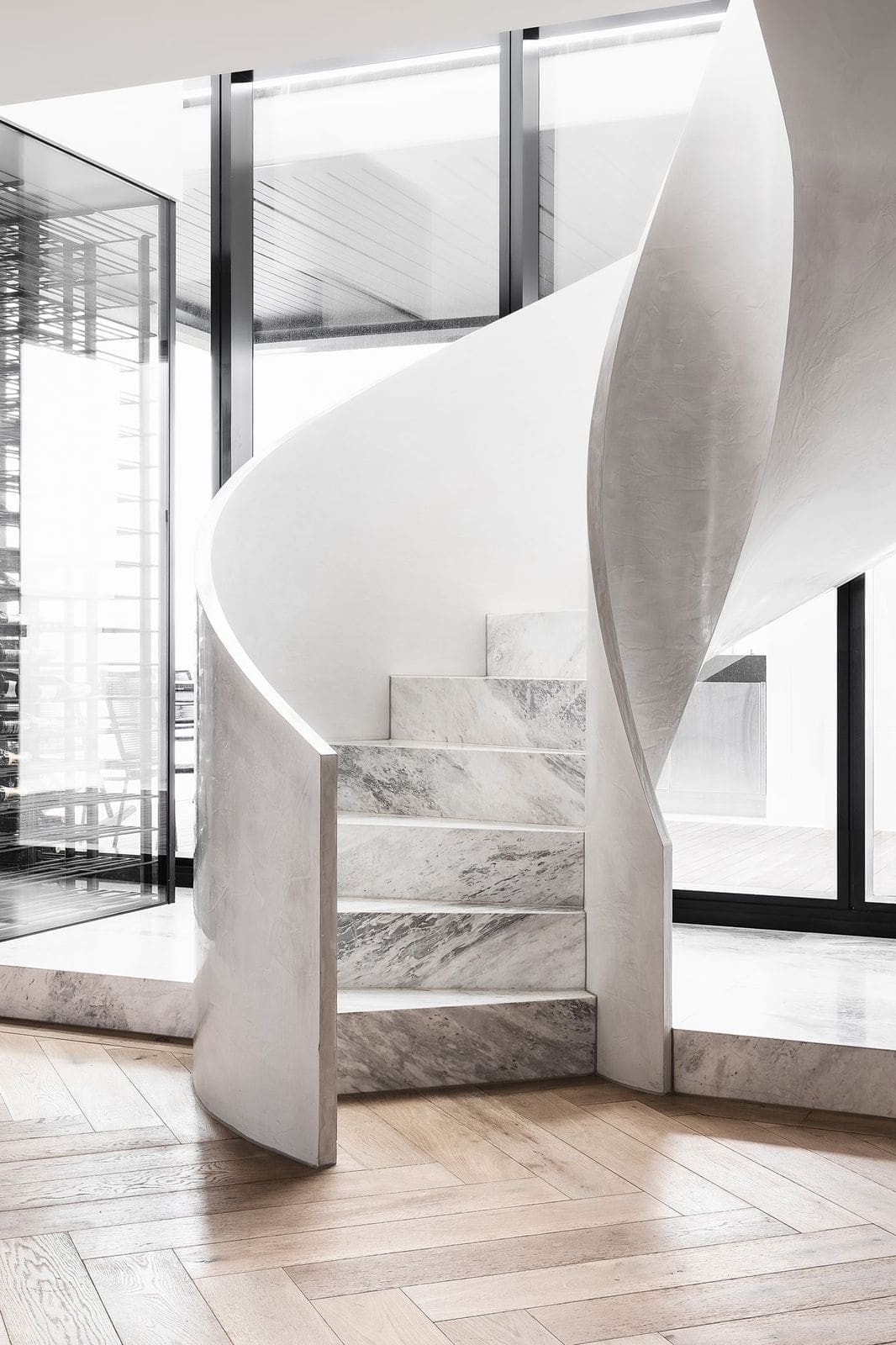 Sleek and compact
Don't think you need to have a massive space for a ribbon staircase. This Melbourne home is sleek and contained. It focuses on "delivering a glamorous and sensuous experience that is visual and tactile and also links meaningfully to the outdoors," says architect Rob Mills.
See more of how they achieved this vision by taking the home tour here.
Light wood
"Craftsmanship is essential in creating timeless design — authentic materials and immaculate detailing are as important as spatial relationships. A space is only complete when it feels as good as it looks," says Darryl Amos, one of the architects behind this high-end residential project.
We just love those light wood stairs and metal inlay on the treads — you certainly cannot fault the detailing here!
You can see more of this stunning penthouse on AMOS AMOS here.
Sculptural form
Set in a pine forest in Utrecht, The Netherlands, this contemporary house by Hilberinkbosch Architects isn't shy of spectacular features!
The standout to us though has to be this sculptural spiral staircase that greets you at the double-height main entrance. See more here.
Open treads
This elegant home was tailor-made for the family of six by Ong&Ong in Singapore.
With a timber panel facade, indoor-outdoor pool, leafy backdrop and of course this dreamy white ribbon staircase, you'll find loads of interior inspo to steal from this project.
Grand glamour
For those who like things more moody and luxe, perhaps this three-story staircase is the sculptural centrepiece you've been looking for?!
Floor-to-ceiling glass and statement pendant light add opulence to this space. See more of this inner-city home designed by Rob Mills here.
Metal handrail
One photo doesn't do justice to this spiral staircase that seamlessly connects this multi-storey home. And as if it weren't enough of a statement feature in its own right, it's been carefully positioned above a water feature!
This house has been knick-named 'Floating Box' because of it's seamless fluidity and the way it appears to be floating on a glass box. You can see more photos of the house here.
Slim handrails
This house defies the rules! Twig House was conceived as a sculpture — melding architecture, interior and landscape into one. "Curved monumental concrete forms, devoid of architectural embellishment, rise gently out of the landscape — exploring the fluidity of form and light, enclosure and expansiveness."
Light void
From the dark clad exterior of this Singapore home, you wouldn't anticipate such a light and bright interior. Yet that's just what architect Ong&Ong wanted to achieve — a stark contrast between these two main elements of the house.
As soon as you enter the property, the eye is immediately drawn to this sculptural, organic-form staircase. See more photos of this house here.
External staircase
Who says ribbon staircases are just for inside? Not us! And not Jorge Marsino Prado who designed this three-level staircase for a house in Peru!
It's hard not to lose your mind when you see this house that totally raises the bar in every way. We might just love that rooftop terrace even more than the staircase so be sure to see more of the house here.
Black marble
Ok so this one is perhaps more grey than white but it's so divine, we're sure you'll let us get away with it!
Also designed by Rob Mills Architects, this contemporary home oozes with luxe finishes — just check out that brass kitchen beyond the stairs!
Because we know you'll want to see more of this home, you can click the link here to take the tour including a video which shows just how spectacular these stairs are (there's a glass ceiling above!).
Which staircase impressed you the most? Have we inspired you to consider a white ribbon staircase? Tell us in the comments below.
This post was first published in April 2018 and continues to be updated with latest information.