It isn't' until you build a new home or undertake a major renovation that you realise just how much goes into construction! And an area that I was clueless on when we built our home was electrical and lighting planning. It was a major learning curve and I'm glad I called in the experts to get their advice. Not everyone has a Lighting Designer on speed dial so I'm sharing the main takeaways in this article. Oh, and I've added in a few new tips I learnt while studying to become an Interior Designer.
The decisions you make during a build will have an impact on how you live and enjoy your home. So it's worth taking the time to create a considered electrical and lighting plan! It will set the mood in your home and either make life more convenient (such as having power points where you need them) or could become cause for every day frustration.
Keep reading for 10 electrical and lighting things to consider when building.
Related article: What height to hang pendant lights?
Related article: Everything you need to know about lighting your bathroom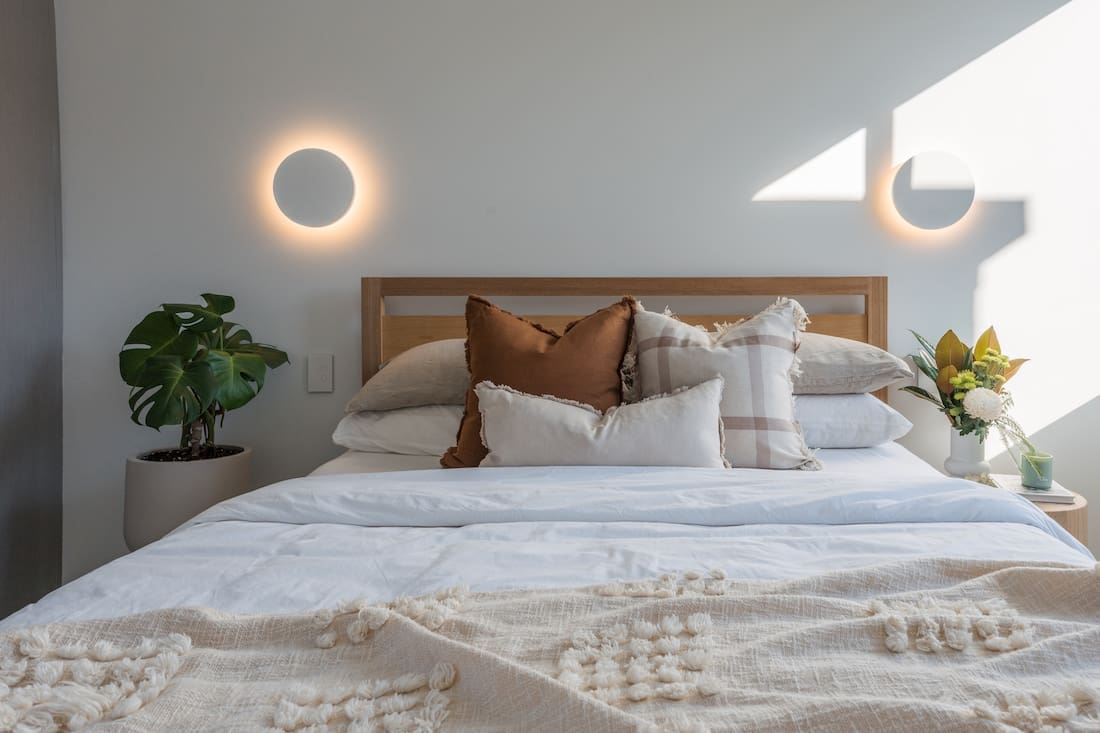 1. Do not over-light your interiors
It might sound strange but one of the most common lighting mistakes people make is to over-illuminate rooms. If you leave your lighting plan up to your electrician, they will commonly look at your ceiling and suggest a number of downlights for the space. It usually leads to overly bright rooms with all of the light source coming from the ceiling.
Instead, start by thinking of the function of each room. By that I mean, what will you be doing in the room? Once you understand how you use the space, you can work backwards to select lighting that will support those tasks. For example, hallways are generally passageways to link you from one room to another. This means, the task you are typically doing in a hallway is walking. To translate this into lighting requirements, you only need light to guide your path. So rather than filling your hallway with downlights, a more interesting and ambient solution could be to run low wall lights down your hallway. And then just having one or two ceiling or wall lights where they may be required, such as near heating and cooling control panels.
If you can, go to the next step of also considering how you will layout furniture in a room. This will help you to know where you want to create focal points or hang artwork that you can highlight with accent lighting.
Find more tips on creating a lighting plan for your home here.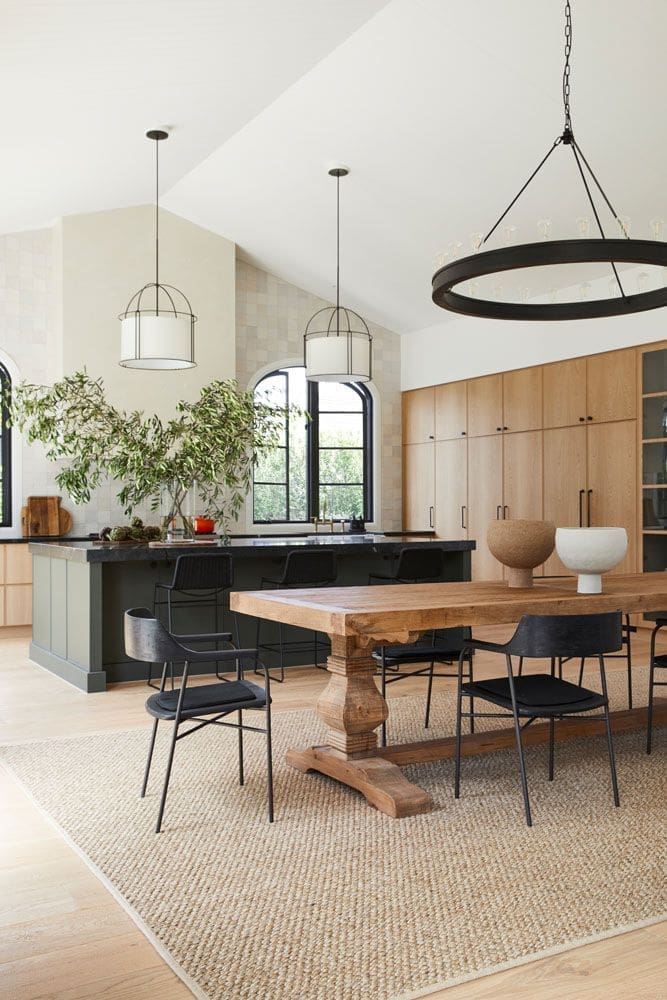 2. Consider mixing lighting solutions
I mentioned in the point above how we should think beyond downlights when creating a lighting plan. And there's a big world of choice out there!
Some lighting solutions you may like to use, include:
pendant lights
chandeliers
wall sconces
wall washes
track ceiling lights
spotlights
linear strip lights
step lights
floor lamps.
My lighting designer encouraged me to use as few downlights as possible. Mainly because they cast downward shadows and you can create a much more ambient home — and more interesting home — by using a mix of lighting solutions.
I suggest taking the time to research all the lighting options out there before meeting with your electrician. That way, you can develop a plan that works and will add interest to your home.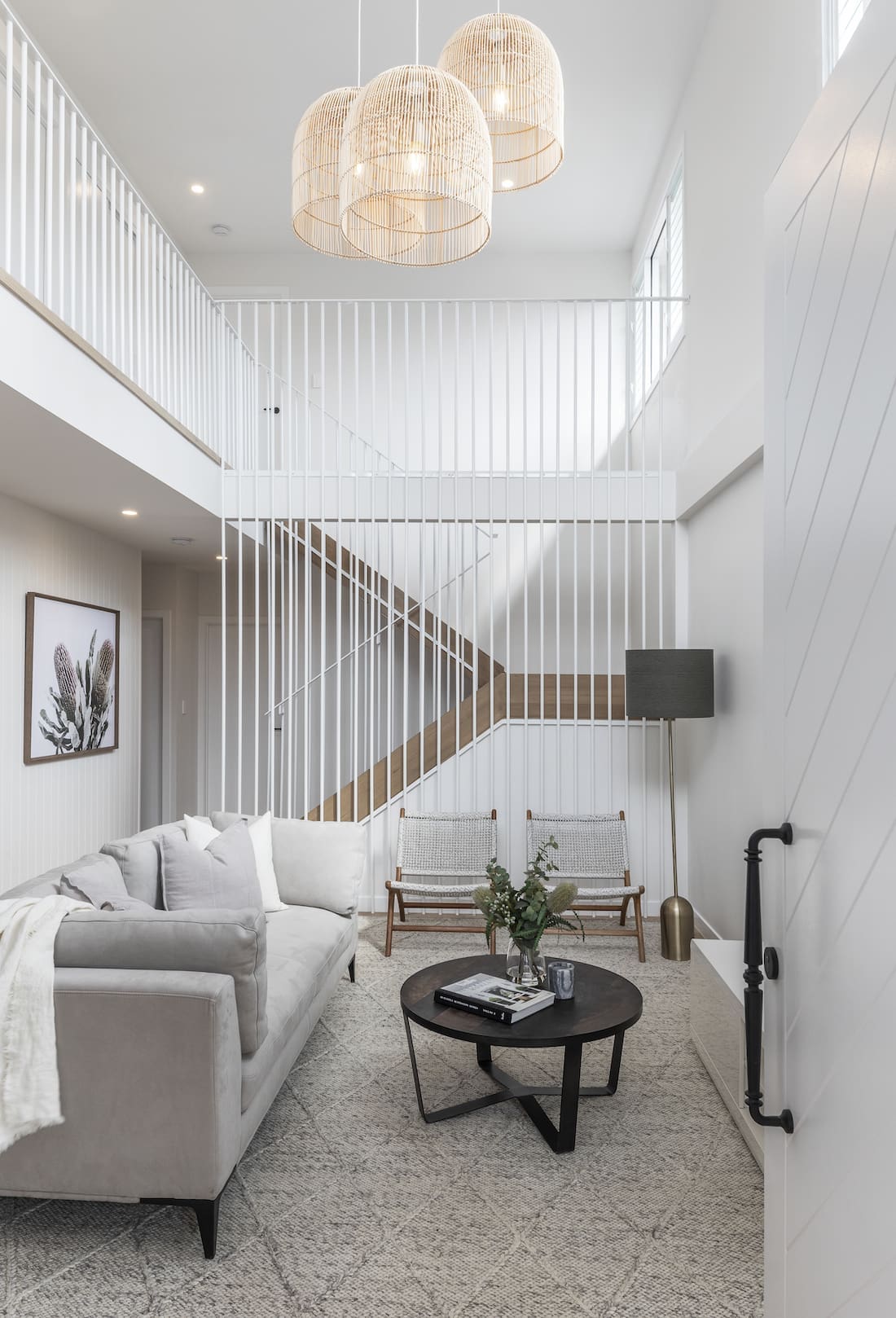 3. Be careful not to date your house
A common design idea we see on The Block has to be strip lighting. But you don't want to go overboard! During my lighting consultation, I asked whether or not it would be a good idea to run strip lighting along the kick of the kitchen. The response? A really strained look from my lighting designer. It was pretty clear the answer was no — haha! He said we could do whatever we wanted — it's our house after all. Although, he wouldn't recommend falling into lighting 'trends' or putting lighting in areas where it serves no real purpose. Essentially, running lighting under your island kick can look cool on TV but in everyday life, it will just illuminate how dirty your floors are. Sure enough, all these years later, we're not seeing strip lighting used along the kick of the kitchen on The Block anymore.
When it comes to strip lighting, less is often more. Use it where you want to create an ambient mood or draw the eye to a feature. For example, I love how it has been used to highlight the decorative wall panelling in the image below. If you use it everywhere, it can make your home feel like a spaceship!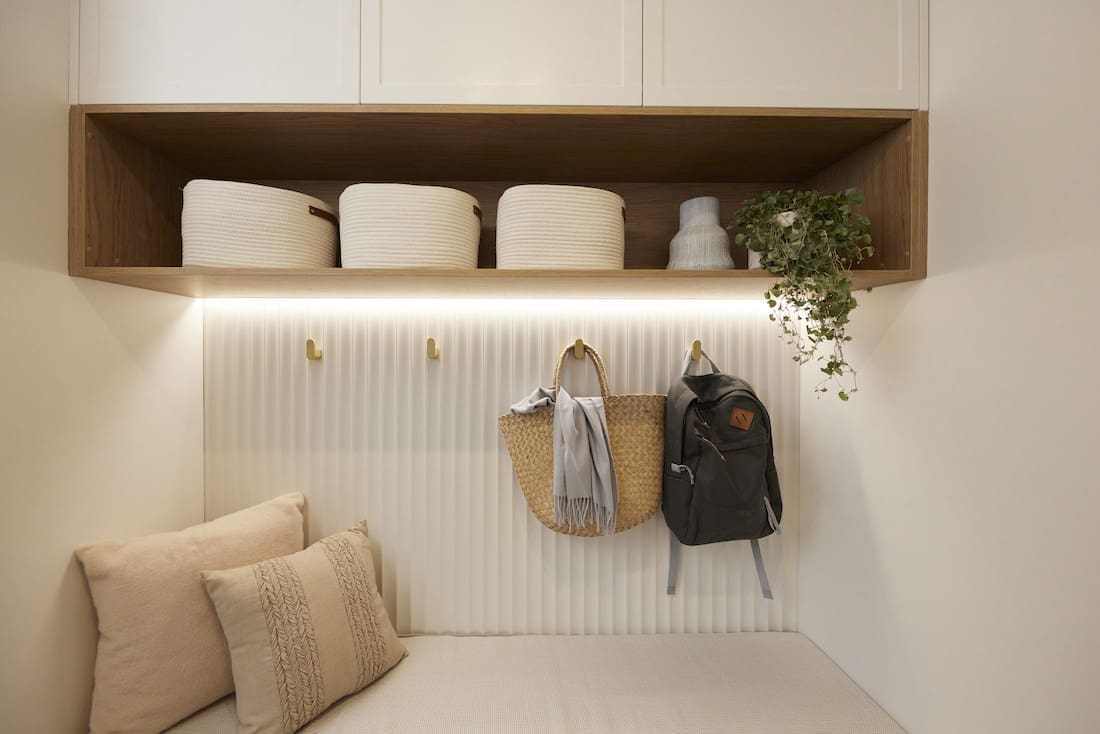 4. Automate lighting
Our lighting expert also suggested adding some automatic lights. For example, having a sensor when you open the butler's pantry and in the garage so you don't need to fumble in the dark. Small thoughtful details like this can make living in your home more comfortable.
Areas you may want to have lights on a sensor include:
entry — for safety and convenience
laundry — as your hands will often be full holding baskets of clothes
pantry — for similar reasons but with shopping bags
toilet night light — to avoid the need to turn on bathroom lights in the middle of the night
garage — to make getting out of your car more comfortable
driveway — this can be a real design feature and is a lovely way to be welcomed home each day.
There's no limit to where you can use sensor lights — essentially anywhere you want additional safety or convenience. However, be mindful to only use these where it will not create issues. For example, I wouldn't recommend having your hallway lights on a sensor as this could wake people during the night if someone has to duck to the loo.
5. Power point placement matters
We often see The Block judges giving the contestants flak for positioning power points in sight but truth is, sometimes they need to be. For example, in the dining area I asked for a power point behind the sideboard (out of sight and perfect for a table lamp). Luckily, our electrician was thinking practically — 'What if you want to work on a laptop or charge a phone?,' he asked. So we ended up adding some additional power points that were close to the dining table and wouldn't be a trip hazard.
Similarly, I didn't want to ruin the look of our kitchen island so I chose not to install power points on the side of the stone. Instead, I went with a low powerpoint on the wall next to the island. However, in hindsight this is something I would do differently. It is annoying using appliances on the kitchen island with cords running across the walkway — especially with young children who love to 'help' me cook. Next time, I will use either those pop up powerpoints that are concealed in the stone or use discreet switches on the side of the island.
My advice is to place the power points where it's most practical and to make them discreet by choosing nice switch plates which takes me to the next tip…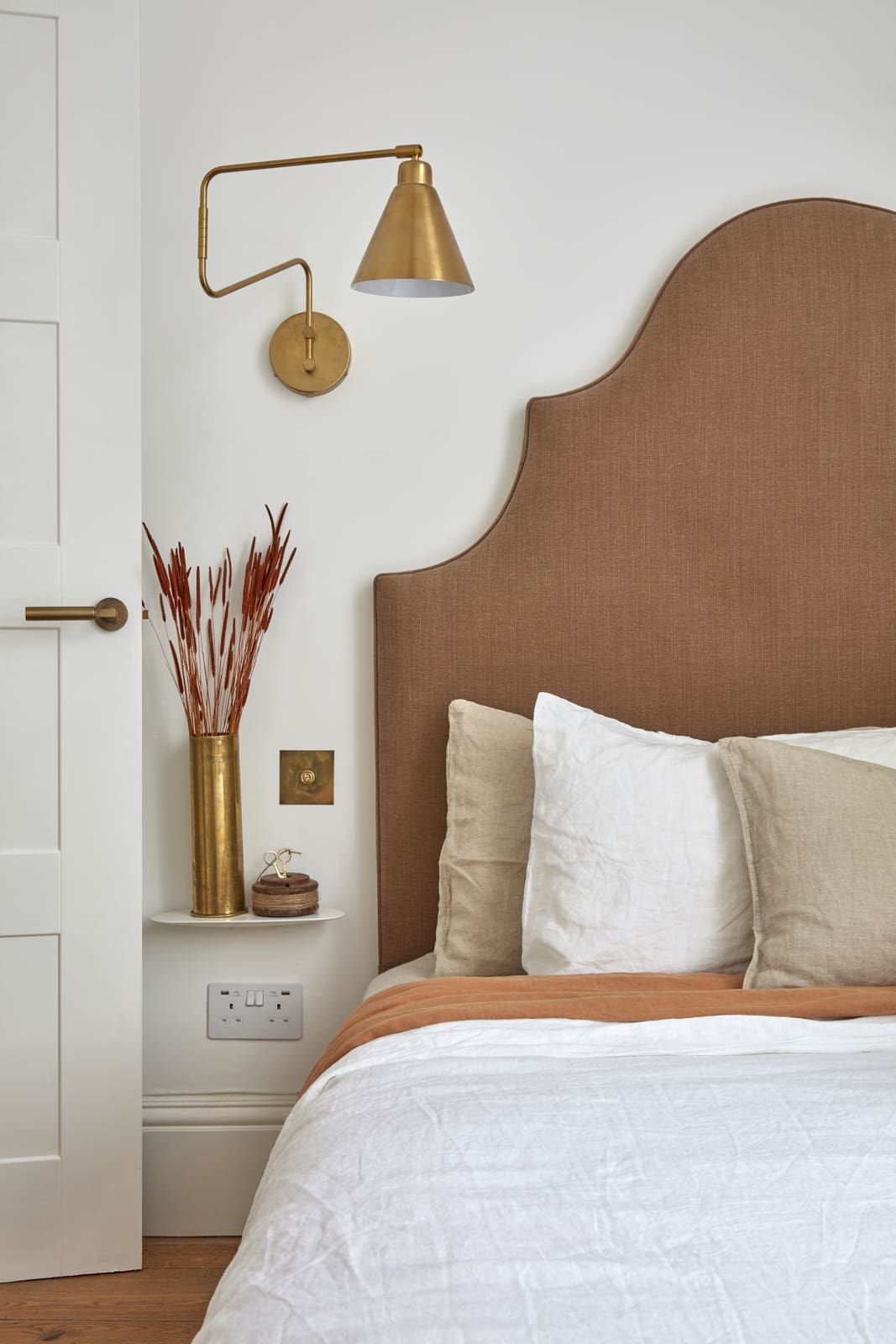 6. Consider the switches
Lighting switches have come a long way and there are some truly stylish options on the market now. In our home, we chose the Clipsal Saturn Zen range (pictured below). I love the clean-line design of these and how I can replace the buttons with personalised images.
Recently, switches with bluetooth capability have hit the market. This makes it possible to automate all of your lighting from your phone without the need for a centralised electronic unit. And there are also plenty of new colour options available too. So you can find switch plates that will complement your interior scheme.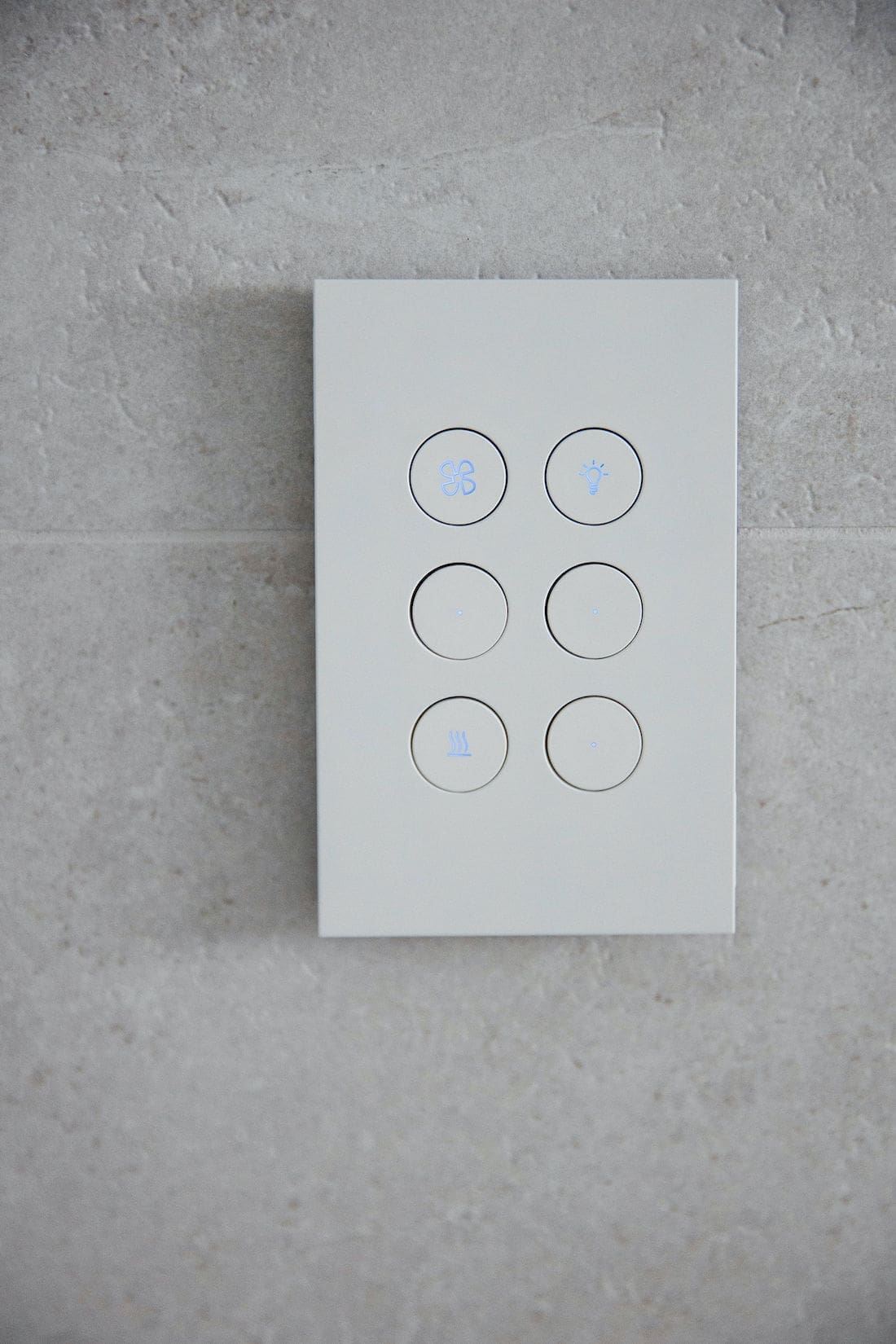 7. In-wall vacuum systems need to be planned early
When we were building our home we had our beautiful Rottweiler Arnie and to be honest, I made a lot of house decisions based on him — including moving our house over by a metre so he would have a path to view the street during the day! A practical decision I made was to install an in-wall vacuum system. And if you want to install one in your home, it needs to be considered early. This is because the system needs to be installed before the walls are plastered. Be sure to map out where you will have the hose outlets while considering furniture placement etc. so you can reach in and around everything. Oh, and also measure the distance between all of the outlets to ensure your hose is long enough to vacuum your entire home.
However, I should mention I don't use our in-wall vacuum system any more. I didn't find it to be very convenient… it's actually quite clunky to drag the long hose from room to room. Instead I use our Vorwerk vacuum cleaner which is more powerful and easier to manoeuvre.
Alternatively, a stick vacuum may be more your style. It's still a good idea to plan for this by ensuring you have a dedicated spot to store/charge it, such as a cabinet in your laundry or walk-in pantry. Make sure you have a powerpoint (or two) installed in this cupboard so you can keep all of devices charged.
8. Decide where to place control panels
Another of the electrical and lighting things to consider when building is where to position control panels — heating and cooling, lighting, home security etc. It's a good idea to decide early what kind of technology you intend to use in your home so you know exactly what control panels you will have, and can decide on the most practical and least obtrusive place to position them. The last thing you want is a panel right next gorgeous artwork!
9. Make provisions if you're unsure or budget restricts
Building is so darn expensive and unfortunately by the time it comes to lighting and electrical, the budget can be blown and those ideas of an integrated sound system, theatre room or statement pendant light might be in the air. My advice is to make provision for these things by running the cabling you need to those areas — that way you can add them when the timing is right.
For example, when we built our home, I knew I wanted some kind of lighting solution above our kitchen island but I could afford to spend any more on light fixtures. So I asked our electrician to leave a provision for another light source and years later, I got this track light installed. Similarly, in our outdoor spaces, I asked our electrician to allow for outdoor heating to be installed down the track.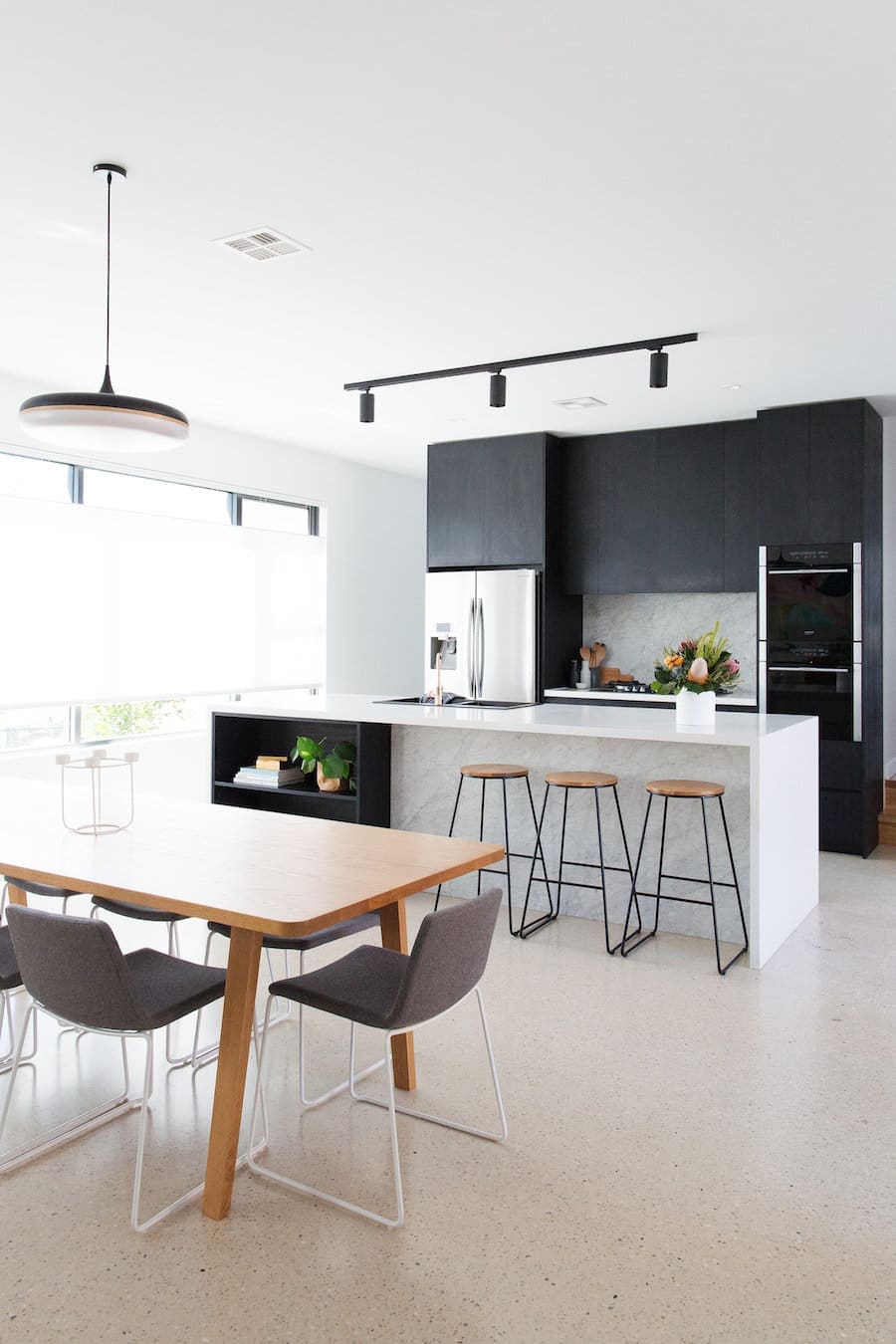 10. Walk through your decisions if you can
If you can wait until your house is framed to lock in your electrical and lighting plan, do it! It's one of the best decisions we made. By walking through the home, we could see exactly where light switches, power points and lights would be positioned. It meant we could spot potential issues early. For example, there is a beam running straight down the centre of the ceiling at our entry. So if we would have locked in downlights at the planning stage, we would have had to position them off centre. To avoid this issue, we decided to go with low wall lights instead.
Doing a walk through can also allow you to see new opportunities that you just can't visualise from a plan.
Do you have other top electrical and lighting things to consider when building? Have you had some lighting fails? Did you try anything new and love the result? Let us know in the comments, we'd love to hear all about your electrical and lighting things to consider when building!
This article was first published in May 2015 and has been updated with latest information and images