Last weekend we went on a trip to Melbourne and our first destination? Visiting the new Jardan store!
My gosh, we had an out-of-body experience walking through the store. No word of a lie.
While we were there, we weren't ashamed to be those people taking photos of everything so we can share it with you all.
They just celebrated their opening party last night so what better time to share 5 tips for styling your living room inspired by Jardan.
Related article: The tips and tricks to styling your coffee table with ease
Related article: 50 top items in home decor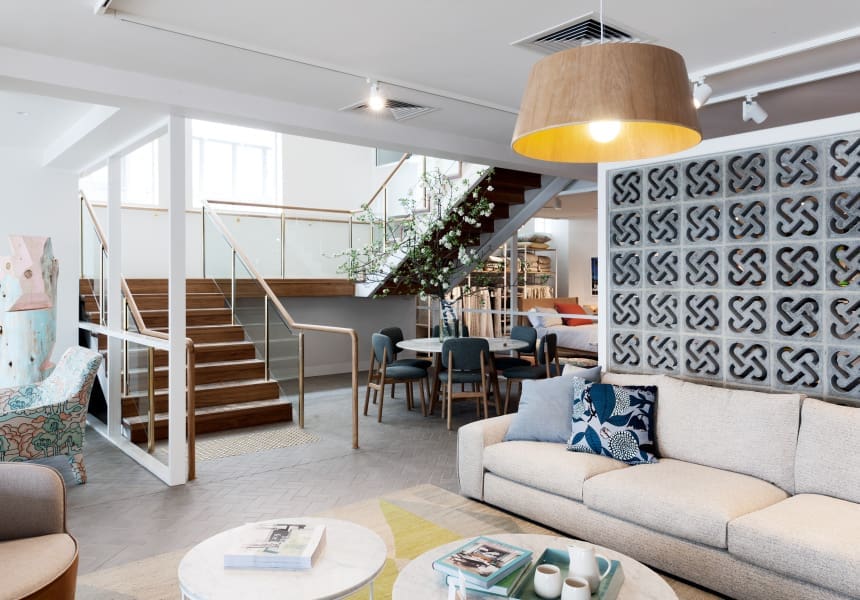 1. Sculptural art
We love how they converted tree trunks into works of art (as seen on the left in the image above). Trunks in various sizes were throughout the store and their surprising pops of colour, hints of gold and unusual carvings made them appear like treasures from a far away land.
Sculptural or 3D art isn't just for the garden. If you have the space (and budget), a stunning piece like this will transform your living room.
2. Cluster
We're all for restraint when it comes to styling but sometimes more is more.
Here Jardan have grouped cushions that complement the artwork, clustered three low hanging matte black pendants, and even paired two sister coffee tables.
It works because all the placement is asymmetrical and there's contrast between the pieces (cushions are made of different materials and even the two tables are different types of marble).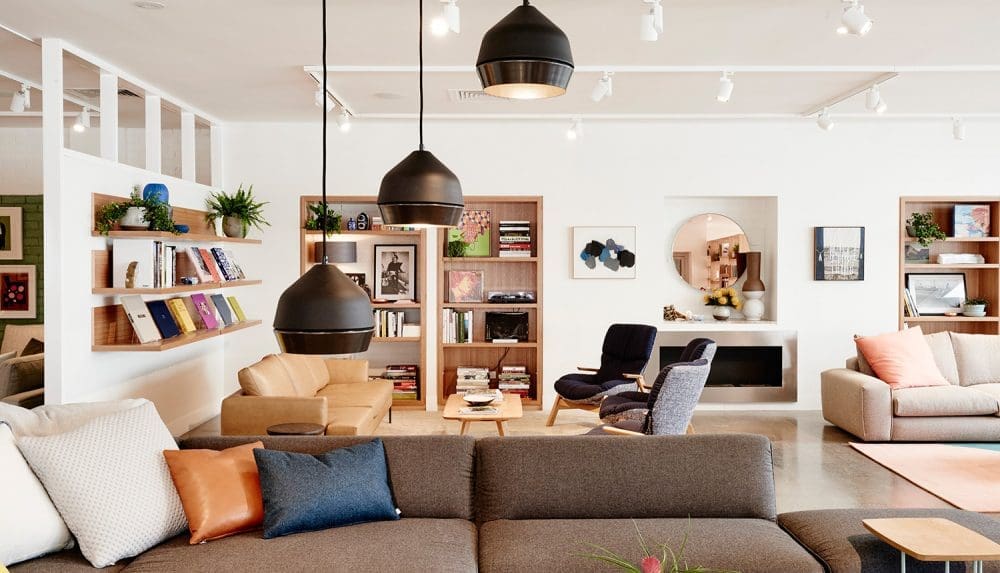 3. Add some bling
A bit of bling using glass pendant lights (the cluster of pendants in this photo is divine) and bronzed mirrored surfaces is a smart way to add stylish design touches to your living room that won't date or be OTT.
Bronzed mirrors are making a comeback in a big way. We saw Darren Palmer give Max and Karstan a big thumbs up for using it in their master bedroom on The Block Glasshouse and it's making its way into all sorts of furniture pieces (including a +$30,000 sideboard we spotted at another store in Melbourne — it certainly was beautiful though!).
We love how Jardan softened this space with the textured seaters and rug with burnt orange and dusty pink tones.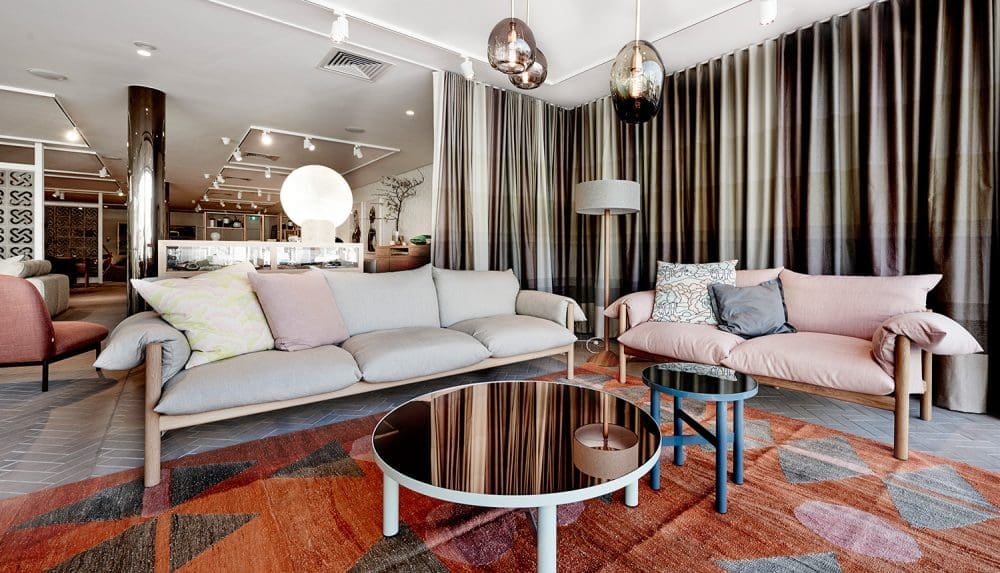 4. Mad for marble
We said it last week in our kitchen decorating tips and we'll say it again — marble is THE hottest material in home decor and furniture right now.
These marble coffee tables with fine wire frame strike the perfect balance of proportions. The soft grey and subtle veins in this marble is one of our favourites but there is an extensive selection of marble out there (we spotted a green marble coffee table with copper legs at another store but that is one of the most sensitive marbles out there and not all that practical for a coffee table).
5. Get shelf happy
Do you have an open bookcase or wall shelf? Then it's time to get shelf happy!
So often people don't maximise the styling potential that a bookcase or wall shelf presents (even we have been guilty of it!). It often becomes one of those jobs we'll get around to later or perhaps random objects have just filled the space over time and you're left wondering what to do.
In the pic below you can see how Jardan styled a bookshelf indoors and created a dreamy plant shelfie in the sun room! We share our top shelf styling tips below to inspire you to refresh your shelves.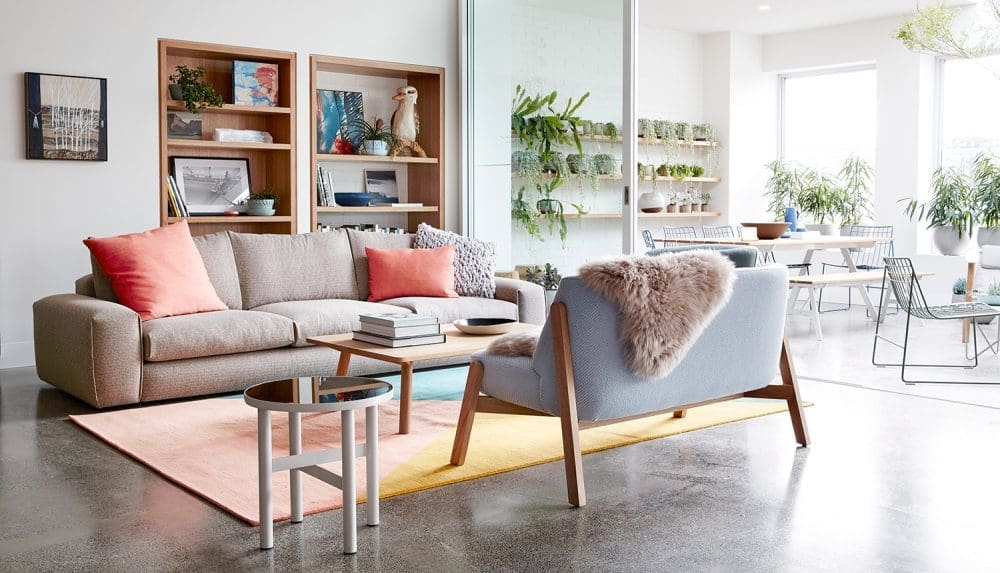 Top tips for styling your bookcase:
Don't just fill it with books, you want to create balance and interest with other objects such as finds from your travels
Stack books horizontally and vertically
Create layers, such as placing an interesting object on top of two stacked books
Show your personality by adding photos or small art pieces
Create depth, such as in the photo above where there is a black and white photograph leaning against the back of the bookcase and a plant and copper stone in front
Add some greenery, ferns, succulents and cactus are some of the more popular choices right now
Find even more shelf styling tips, including a video, in this article and if you want to shop some new decor, check out this list of the 50 top items in home decor.
What do you think of the new Jardan store? Will you try any of these 5 tips for styling your living room? Tell us your top tip for creating a stylish living room!