Flower-lovers brace yourself for our next artist spotlight — Freya Powell.
Her extraordinary works feature a vibrant display of oversized blooms in incredible detail. From Dahlias to David Austin roses, Parrot Tulips to Amaryllis, she's able to capture the beauty of them all (and she's available for commission too).
She's the latest artist in our series with bluethumb, Australia's largest online art gallery, but her career started in a slightly different direction…
"I'm from the UK and have been living in Australia for about 4 years now. I studied Fashion Design at Nottingham Trent University in England, which was great — I learnt a lot about form and composition and the technical side of things.
"I was always drawing a lot, and eventually I picked up a paint brush and it just kind of clicked," explains Freya of the 'aha moment' she decided to make the switch to becoming a full-time artist.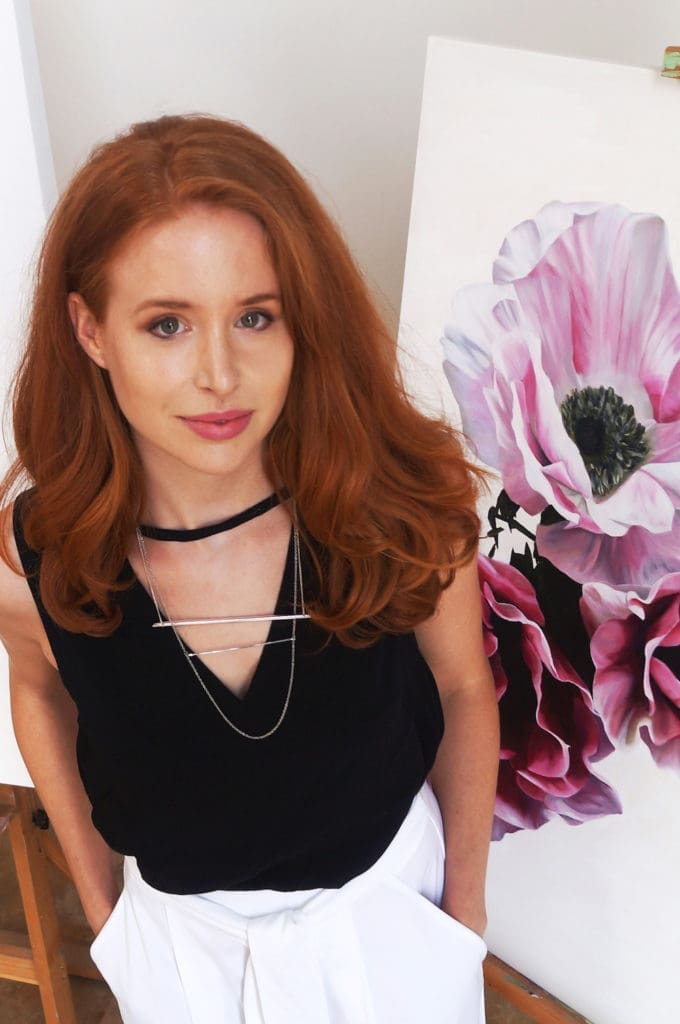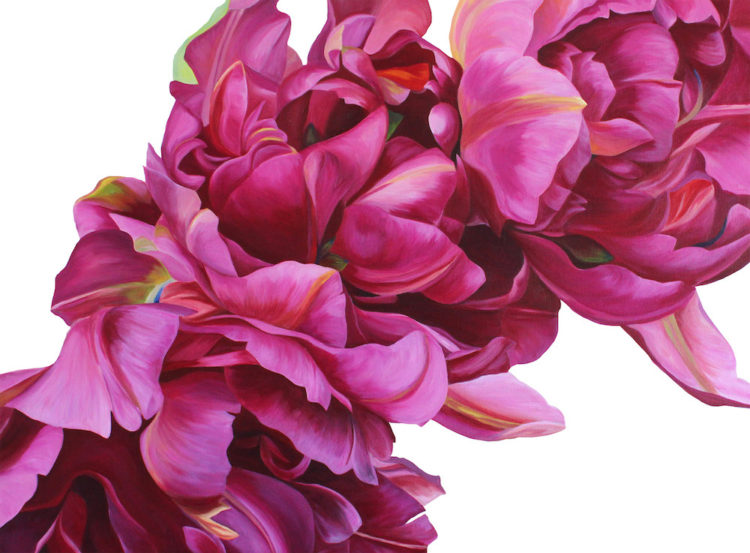 Take just one look at Freya's works and it not hard to guess her inspiration — flowers!
"I've nearly always used flowers as a source of inspiration for my work, there's such never ending beauty in them.
I grew up in a pretty idyllic cottage with a beautiful garden and was outside most of the time, so I suppose that's influenced my love of nature.
"On a daily basis, I source flowers from the markets where there's massive choice and you can get the season's best selection. When choosing flowers, I'm quite picky and think about the possible compositions I could get out of them. I photograph them in different lighting and angles then sift through the images to find the perfect one.
"I find the more you look at a flower the more you see — there's so much detail, I'm always amazed."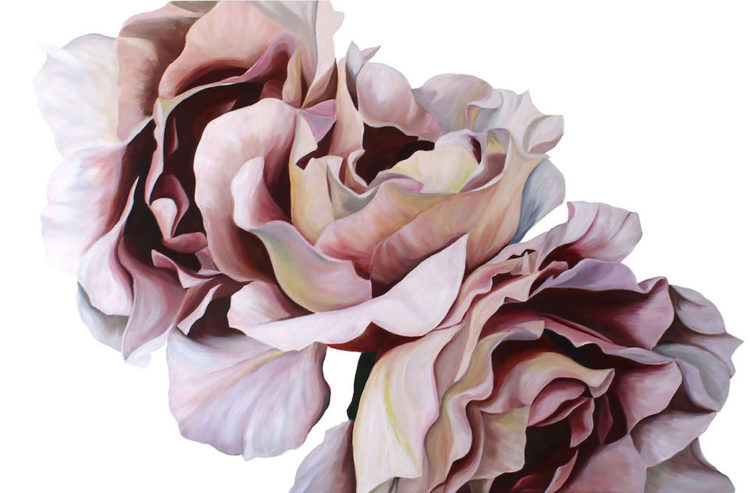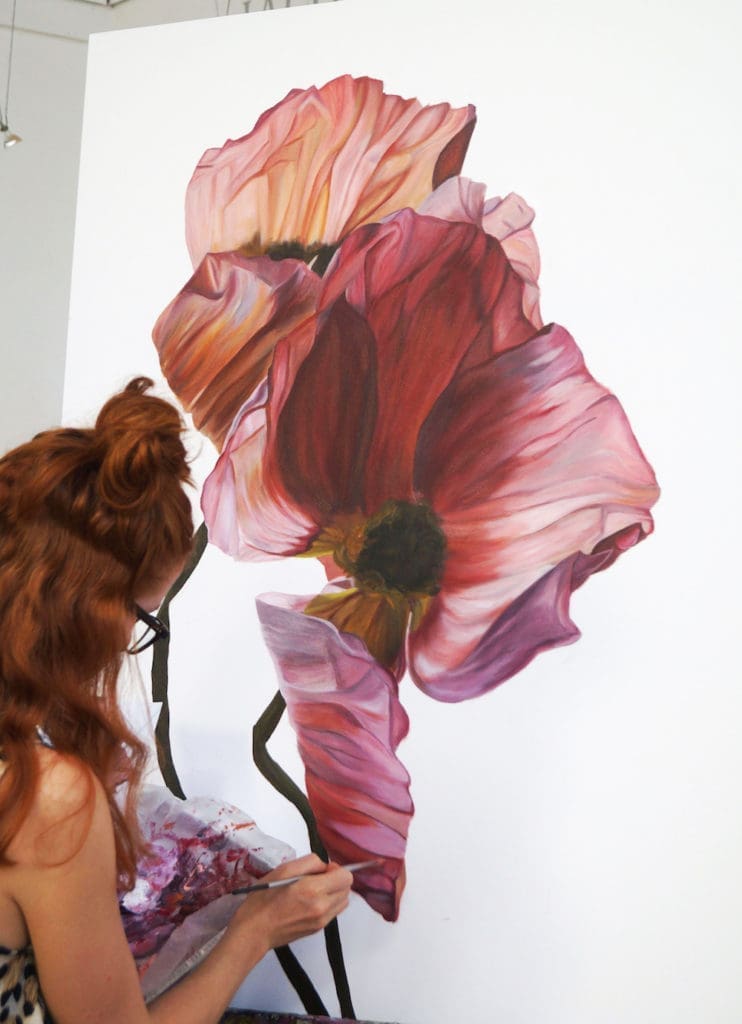 "Since I've been painting my style has been pretty consistent in that I've always been painting flowers. I paint realistically most of the time, but sometimes I create abstract floral paintings where I overlay different flowers so they're merging together and have quite a translucent quality.
"I'm still in the early stages of my career and I'm happy to see how my style evolves from this point. At the moment I paint with acrylics (they have great pigment quality and I like them because of the short drying time) but when I have more space I'd like to get the oils out and this might see me experiment more with my style."
On her favourite thing about being an artist?
"Being able to wake up and do something I love is pretty special. Creating a painting that someone will have as part of their lives for a long time is a nice part of being an artist too.
"I also enjoy commission work where I can help a person decide on a piece that will work well in their space and with existing pieces. I feel genuinely lucky that I get to explore my creative ideas on a daily basis."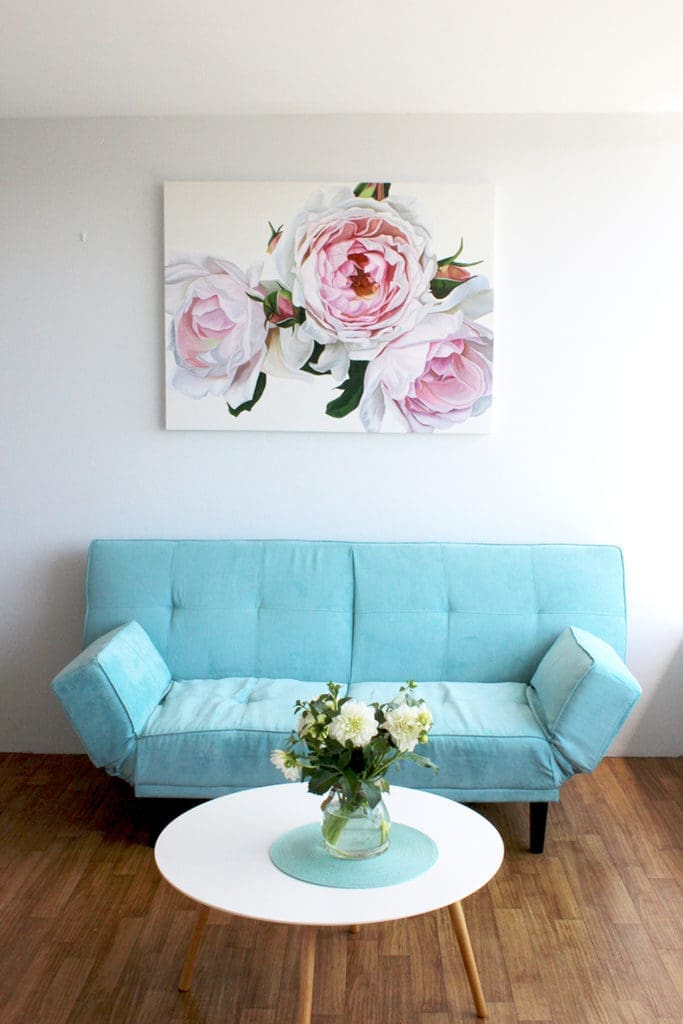 Freya joined bluethumb to help get her work out to a wider audience and not only has she sold her works through the platform, she's also working on several commissions too.
This year, she's already got several exhibitions lined up and hopes to participate in some group shows too.
"I'm exhibiting at the Melbourne International Flower and Garden show from 29th March-2nd April, which I'm really looking forward to as I'll be in good company with flower lovers there, and I'll also be exhibiting at the Design and Décor Trade Fair, in Melbourne from 20th-23rd July.
"Other goals for this year would be to promote my work more, I'd love to get my work into some magazines, and to allow more time for me to experiment with my style so I think after exhibiting at the Melbourne Flower Show in March I'll put a bit of time aside for that."
We're definitely tipping Freya as one of the hottest new artists to watch! You can see more of her stunning pieces on bluethumb here.