The toughest kitchen design decision for many people is deciding on the splashback! You wouldn't believe how often we see people agonise over this decision. Although it's understandable as the splashback is generally where people will be a bit bolder with colour, shape or texture.
To help you with this decision, or just inspire you with some dreamy kitchen inspo, here is our round up of the hottest kitchen splashback trends!
Related article: Everything you need to know about picking the right grout
Related article: 14 types of blue kitchen splashback tiles
Luxury marble mosaics
Marble mosaic splashbacks have been popular since the beginning of time, especially classic shapes like subway and fish scale. And this year, things are getting taken up a notch with more decorative, luxury marble mosaics.
Some newer marble mosaic shapes include the Arch, Olivetti and Tic-Tax. These are available in a range of natural stones, such as luxe green marble and earthy travertine. And there are even ultra-decorative patterns, like the daisy marble mosaic (see our flatlay below). But it's important to balance aesthetics with practicality. The floral pattern of this mosaic means it has a lot more grout and wouldn't be our first choice for behind a cooktop 😉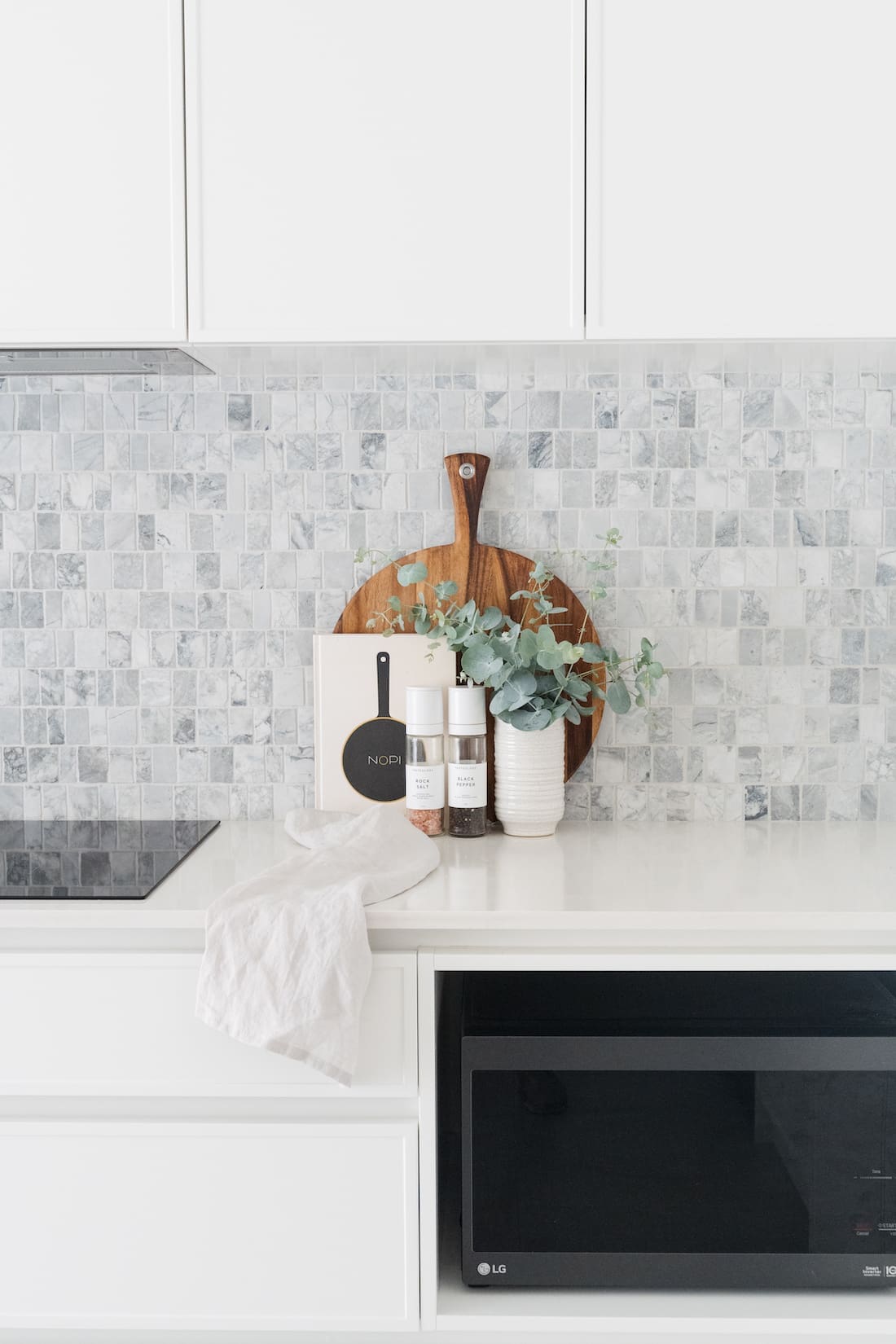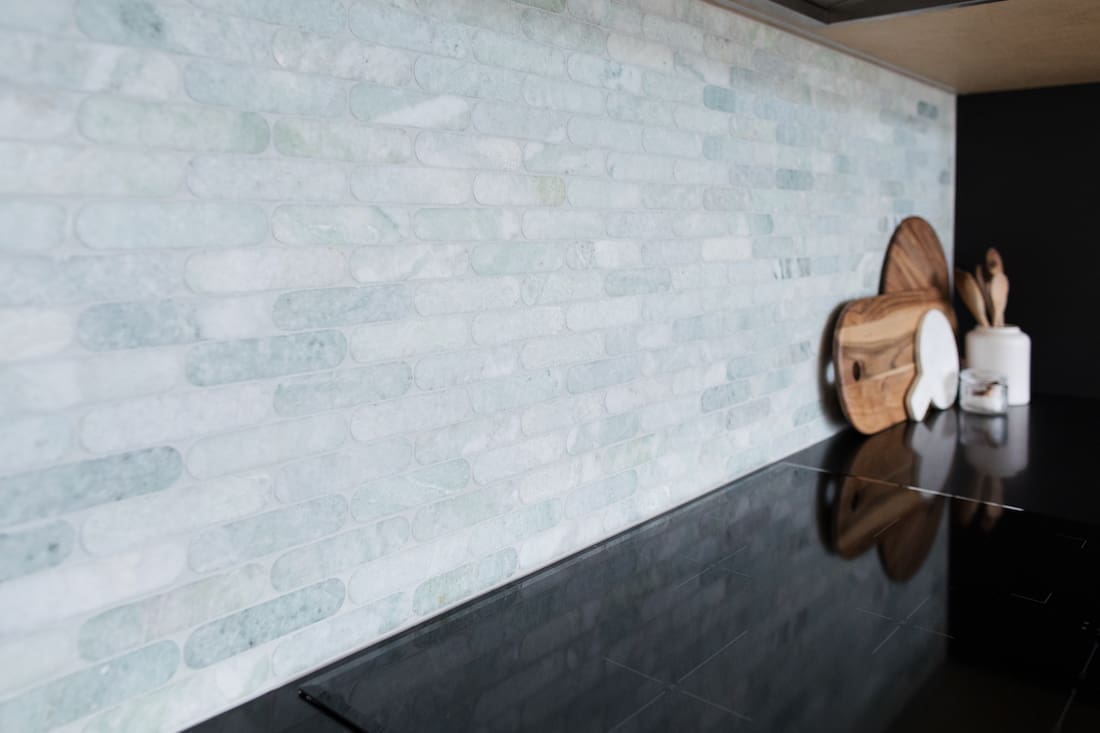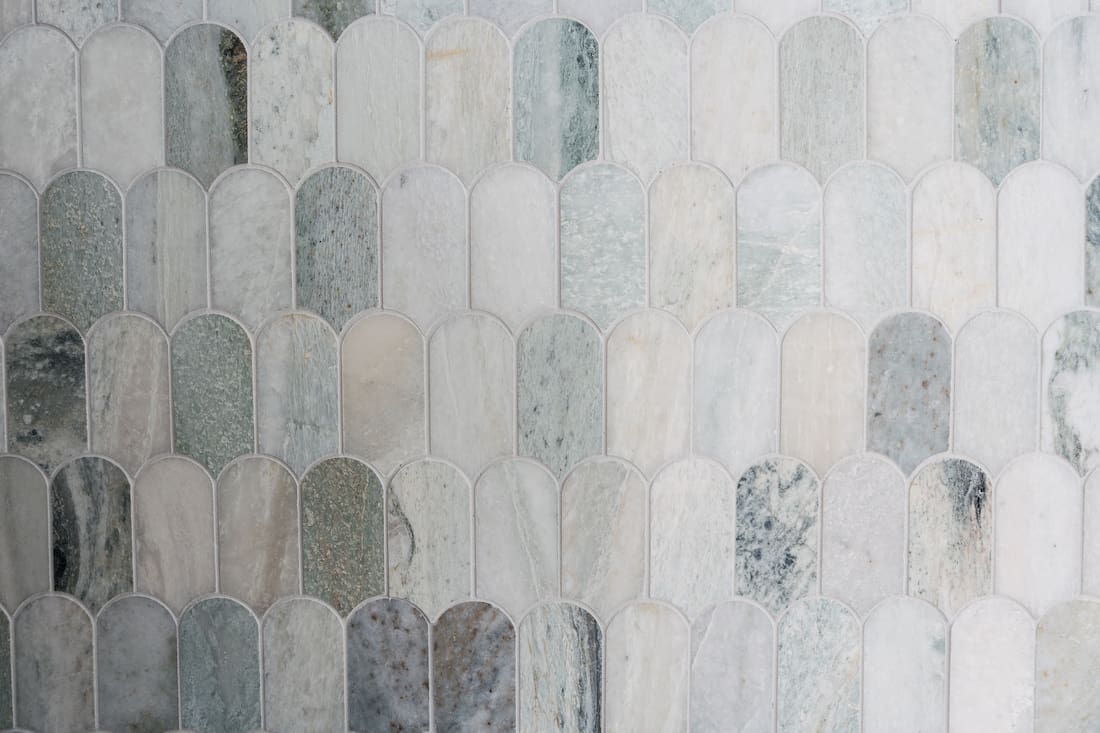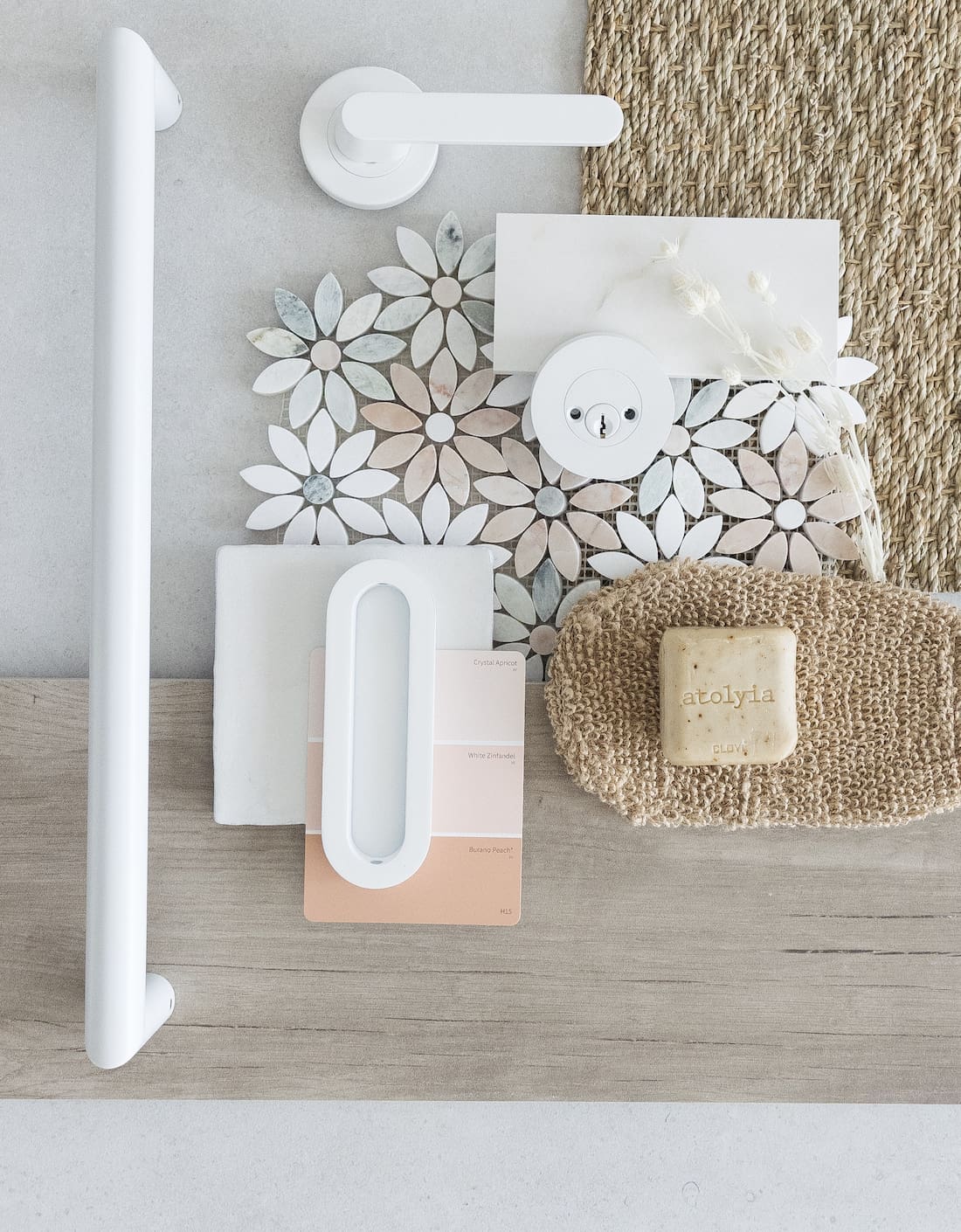 Kitkat
Gaining popularity in the last year or two, Kitkat-shaped mosaics have cemented themselves as one of the top kitchen splashback trends of 2022! And you're not limited to just solid colours! Designer finish crackle glaze options have come onto the market as well as truly heavenly natural marble tiles too. (And yes, marble is a good idea for a kitchen splashback so long as you follow this advice.)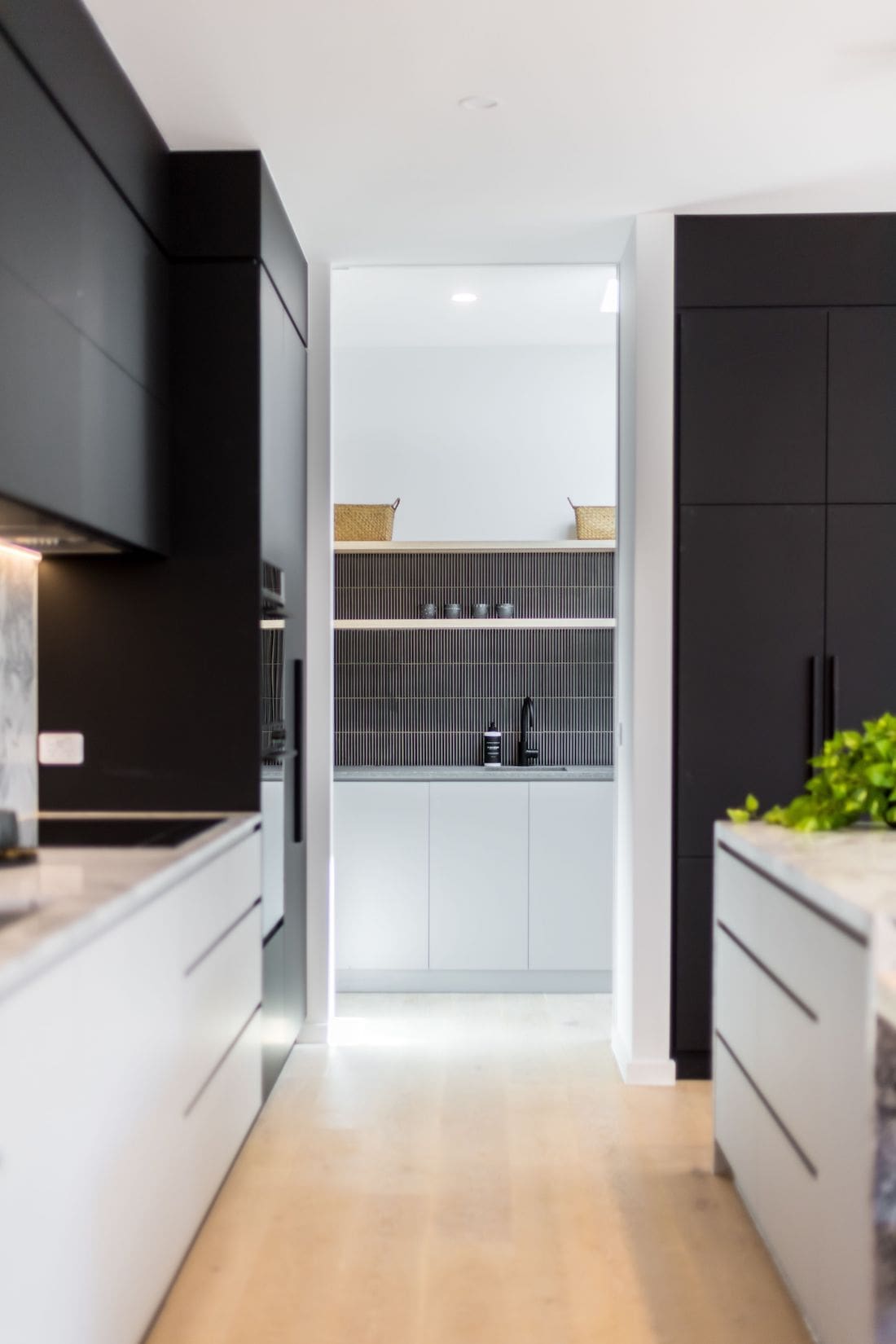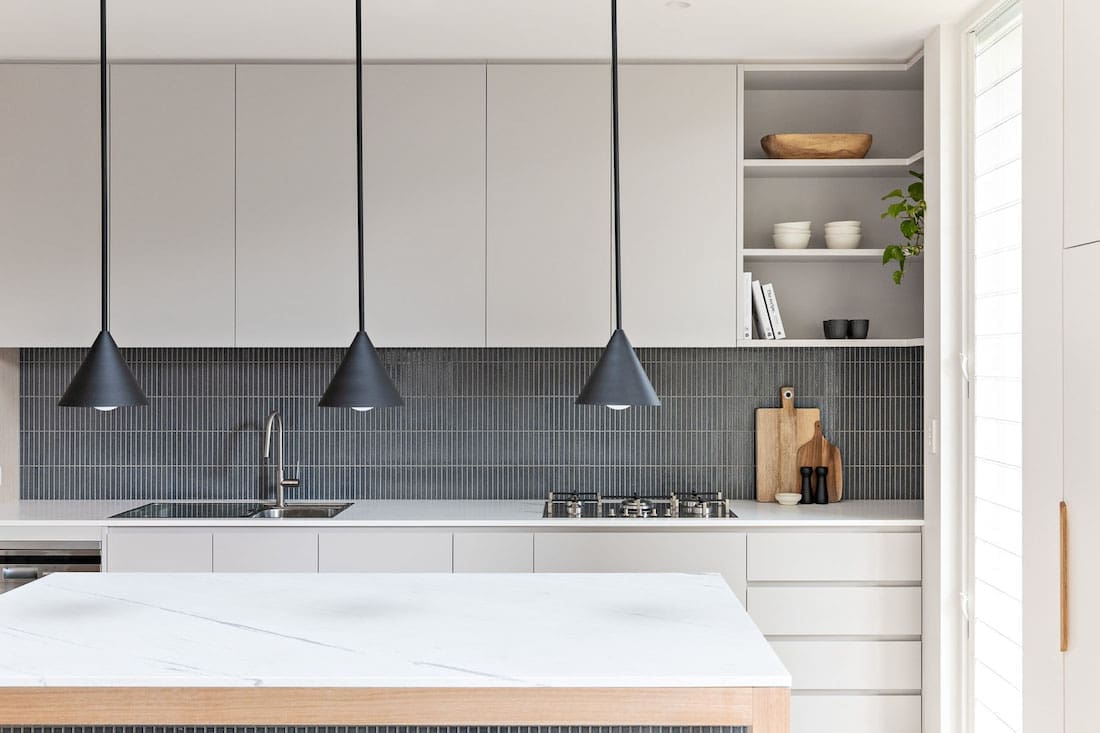 Zellige square shape (hand-chiseled Moroccan tiles)
With earthy materials and organic finishes being one of the top interior trends, it's easy to see why these dreamy hand-chiseled Moroccan tiles, called Zellige, have made our list! Available in a wide range of muted tones, including sage and wheat, each tile is unique with irregular pits and cracks. Brace yourself though, they cost a small fortune.
Thankfully some lookalike versions have also come onto the market at a friendlier price point. So if you want the look of Zellige tiles but can't quite justify the $300-$400 per square metre cost, you can find similar versions for half the price. These are generally made of porcelain rather than clay, but still have beautiful undulated surfaces and tonal variation between pieces.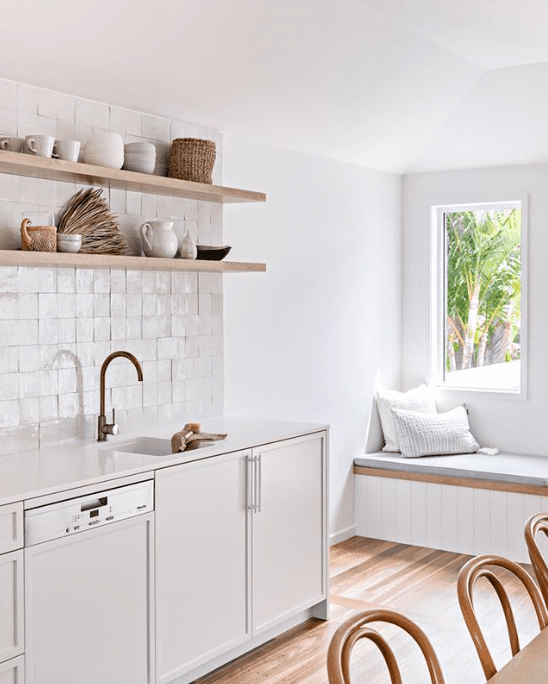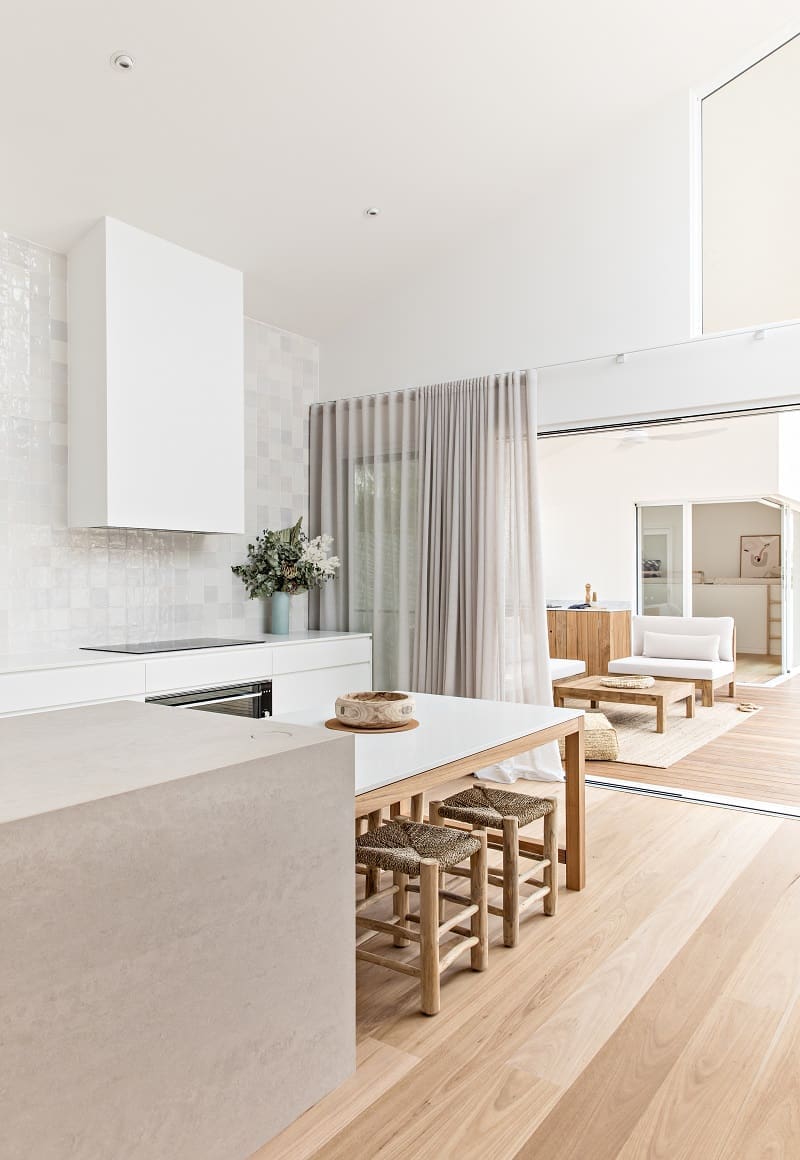 Extra large porcelain panels
For modern or luxe homes, a popular kitchen splashback option is extra large porcelain panels! These panels are actually extra large slab tiles that come in various lengths (some are over 3m long!). Available in a wide range of colour options and patterns, including concrete look, natural marble and sliced stone, they are more affordable than comparable products such as Caesarstone. Best of all, they are zero maintenance and you'll never have to worry about grout again!
Find more information about extra large porcelain panels on the Tile Republic website here.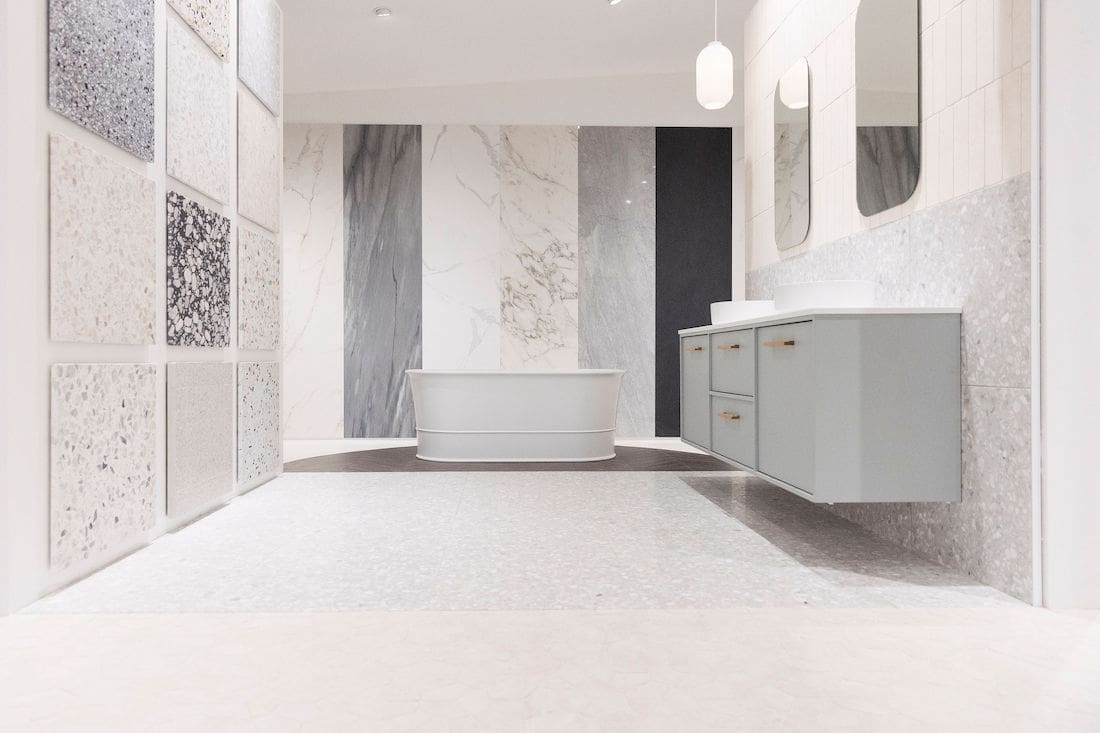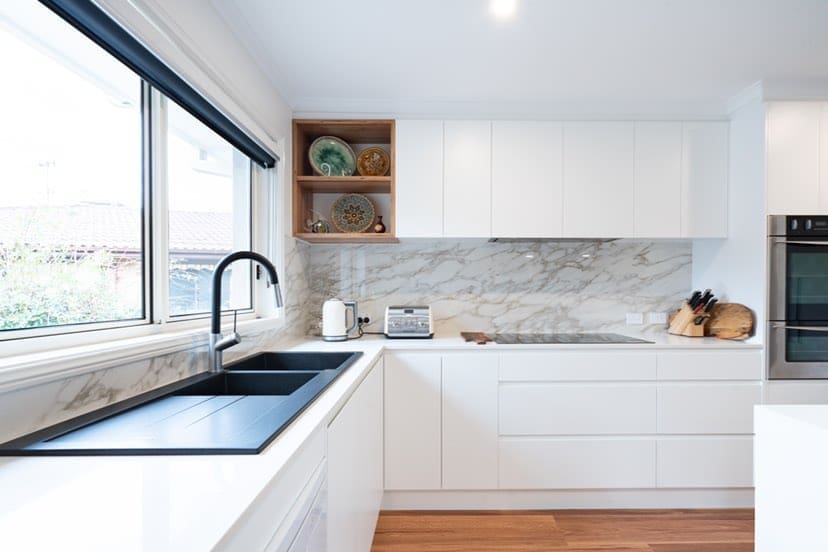 Solid stone
An option that's not so much a trend as a firm favourite is solid stone. You can find hundreds of different types of stone on the market now. This year, we're seeing bolder colours and stronger veining gain popularity.
It's important to note, all types of stone have different levels of density, making some more or less porous (read: likely to stain or discolour) than others. It's worth doing your research to make sure you pick a stone that's relatively hard-wearing and always seal it with a natural stone sealer.
If large stone slabs like those used in the pics below aren't within budget, you can also find natural stone tiles in a range of shapes (like subway) available at a more accessible price point.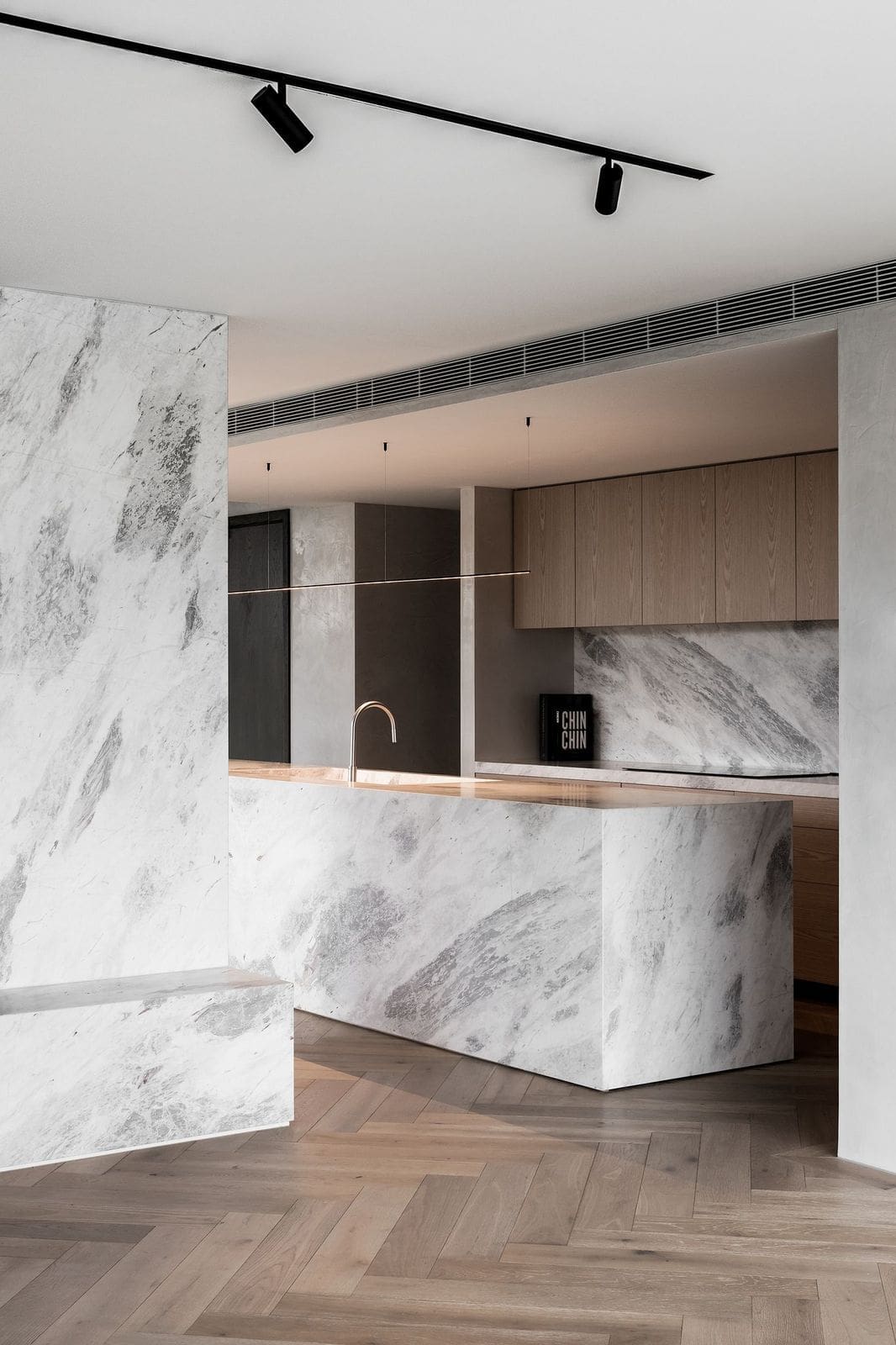 New take on subway
The ever-popular subway tile had to make our round up, no?! Before you dismiss this option as one that's been done to death, there are so many new colours, finishes and textures that keep putting a fresh spin on this classic shape. Plus, it's one of the most affordable feature tiles on the market.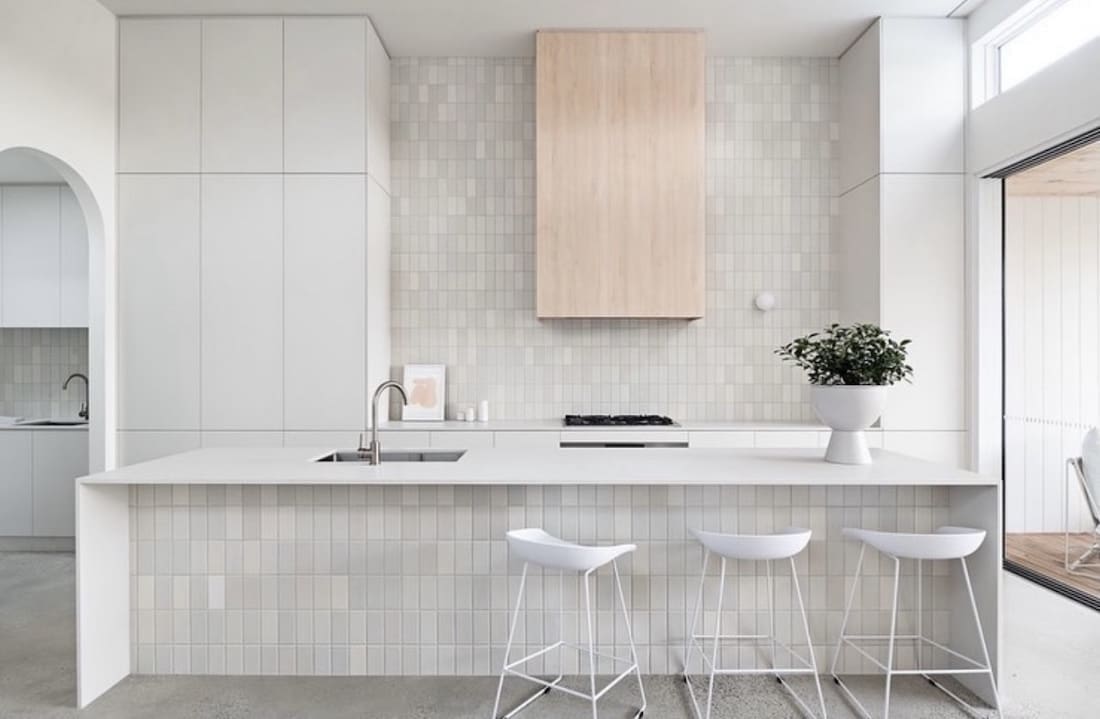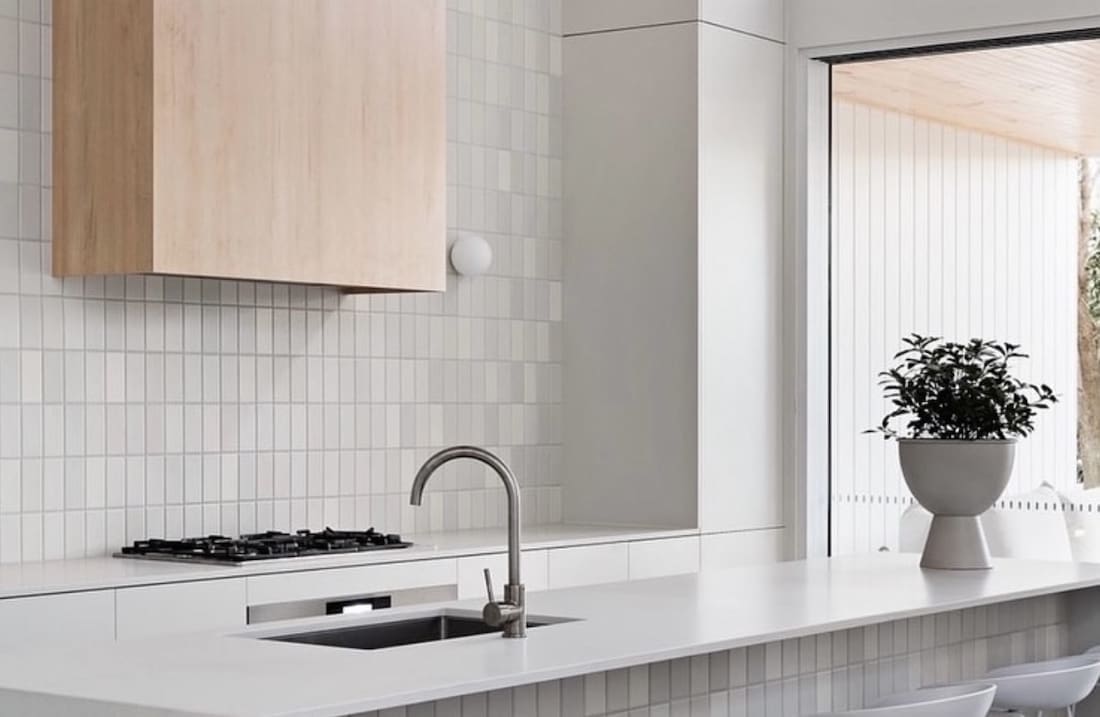 Window splashback
If your design allows for it — and you've got a beautiful outlook — sometimes the simplest yet most beautiful option is a window kitchen splashback. They are a fabulous way of bringing the outdoors in and flooding your kitchen with natural light. And window splashbacks work equally well in light or dark kitchens.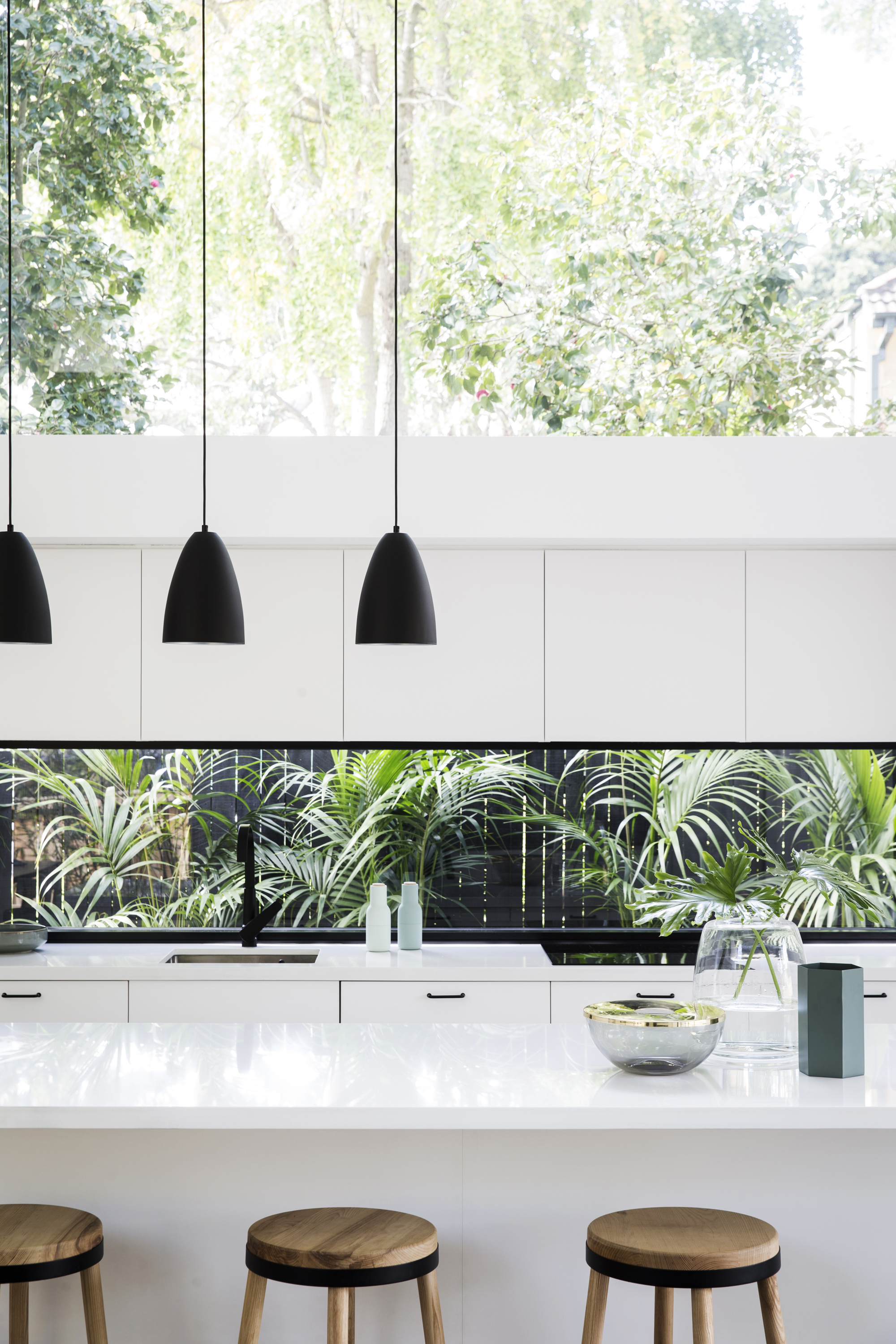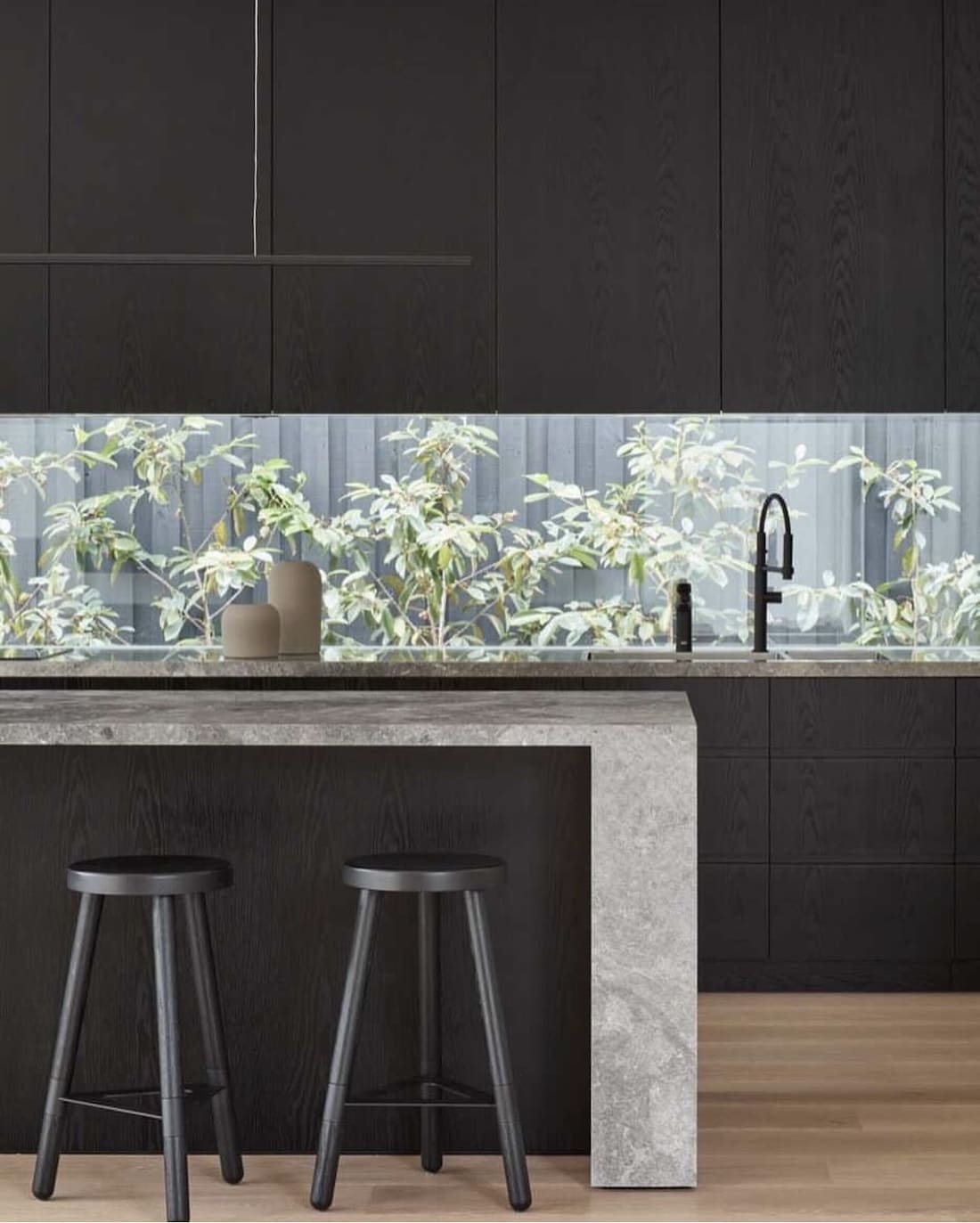 Enamel glass mosaics (micro mosaics)
Available in a range of shapes, including chevron, herringbone and penny round, enamel glass mosaics can bring texture and pattern to your kitchen. Oh, and if you're brave enough to pick a coloured option, they can also add a pop of colour to your space. Just check out how beautiful a micro penny round can look below!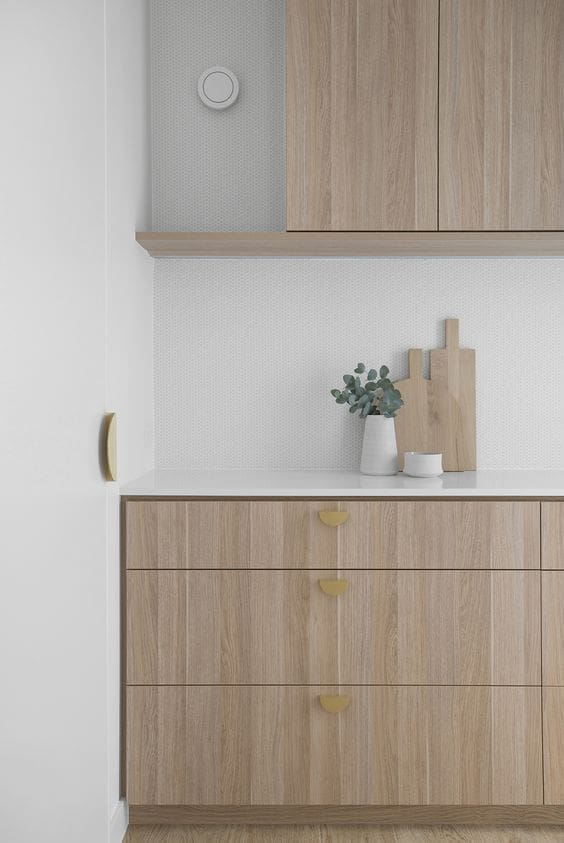 Combination kitchen splashback
When you can't decide on just one material for your kitchen splashback, pick two! Generally, the formula for a combination kitchen splashback is to carry the kitchen benchtop up and add a feature tile on top. But there are always new ways of using materials. So why not push the design boundaries and create something truly unique?!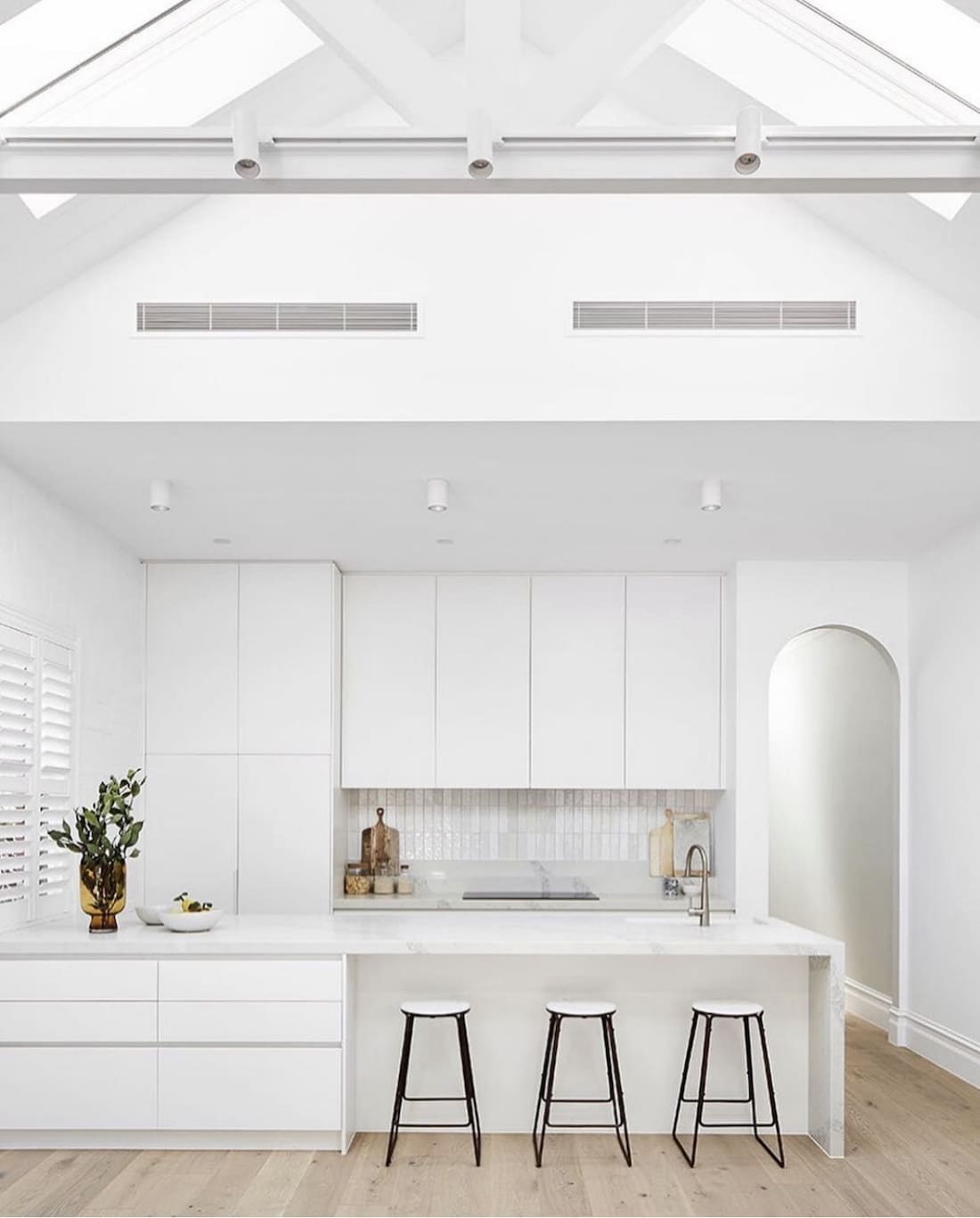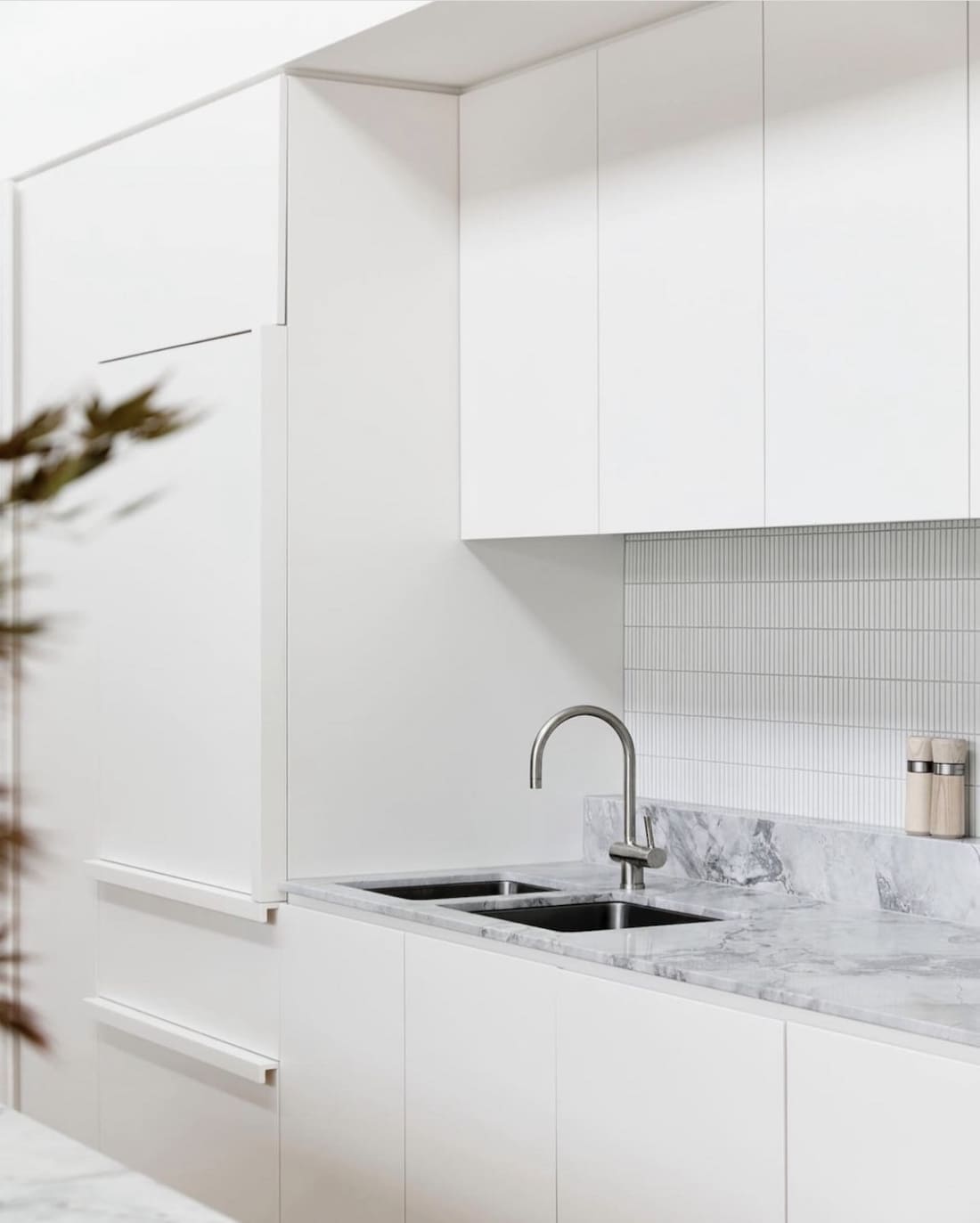 Did you find an option to love from our list of kitchen splashback trends? If you're crushing on another type of kitchen splashback, we'd love you to share it in the comments below!
This article was first published in April 2021 and has been updated with the latest kitchen splashback trends and images