For the past 8 months I've been slowly working away behind the scenes to turn our new house into the home I've always wanted and a big aspect of this was introducing a new interior style, I suppose you could call it 'Contemporary Australian'.
You see, most of the furniture and decor I owned was purchased back around 2008ish when we first bought our home (the one we knocked down to build the new house) and back then the trend was very much white and glass furniture or dark timber furniture, and red decor — judge me not!
And as much I love interiors and continually pour every penny I own into the home, I didn't evolve this style for 8 years even though I was dying to!
Why? Well, shortly after furnishing our home we decided to pack up our bags and move to the UK which saw us rent out our house for 1 1/2 years.
When we returned, Bruno popped the question and our focus turned to saving for the wedding. During this savings stint, we also made the decision to knock down our house and build two new houses (one for us and one to rent)… so there wasn't a dime to spare on updating my old interiors and I wasn't too bothered by it knowing there was a light at the end of the tunnel.
So as soon as our new house was ready, I began the epic task of redoing our interiors.
This is a challenge many readers have said they are facing so I thought it might be helpful to share my advice for completely overhauling your interior style.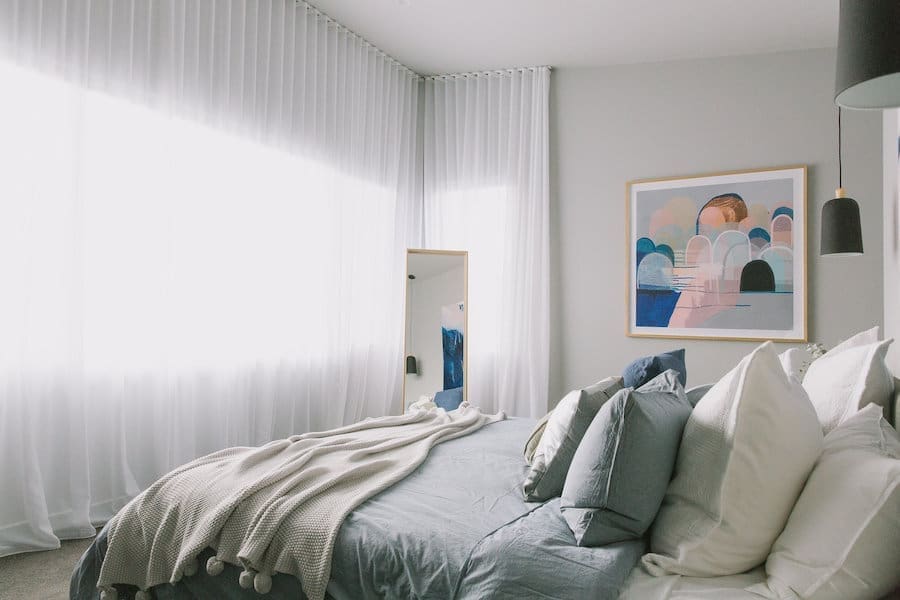 1. Have a plan
I think the saying 'Failing to plan is planning to fail' also rings true for interior styling. Few people can blindly shop for furniture and decor and simply make it work. I certainly can't!
Often this approach sees you create an OK interior but who wants to settle for just OK?!
So how to create a plan? The top tip styling experts gave when we asked them 'How to find your interior style' was to create a mood board and we have help on how to create a mood board here.
Often when we talk about mood boards, people just think 'yeah yeah' but don't do it.
Here's why I think it's so important:
– many of us like various interior styles so simply buying things you like and hoping they will work together can lead to interiors that are a hodge podge of styles and not in a good way
– a mood board lets you experiment with looks before making the commitment to buy and you can edit and refine the board as your ideas develop
– it's an excuse the trawl through magazines and spend time looking for inspiration on Instagram or Pinterest, all in the name of research of course!
2. Look for a hero piece to set the tone
Once I knew the interior style I wanted to achieve, I invested in a hero piece that sets the tone for the home — my original Annie Everingham artwork.
This artwork has become my reference point when introducing new colours, furniture or decor into the home.
Your hero piece could be a lamp, occasional chair or even a statement cushion you just love.
Whatever it is, I think having a piece that represents your new interior style and that you can refer to when buying new pieces is a must!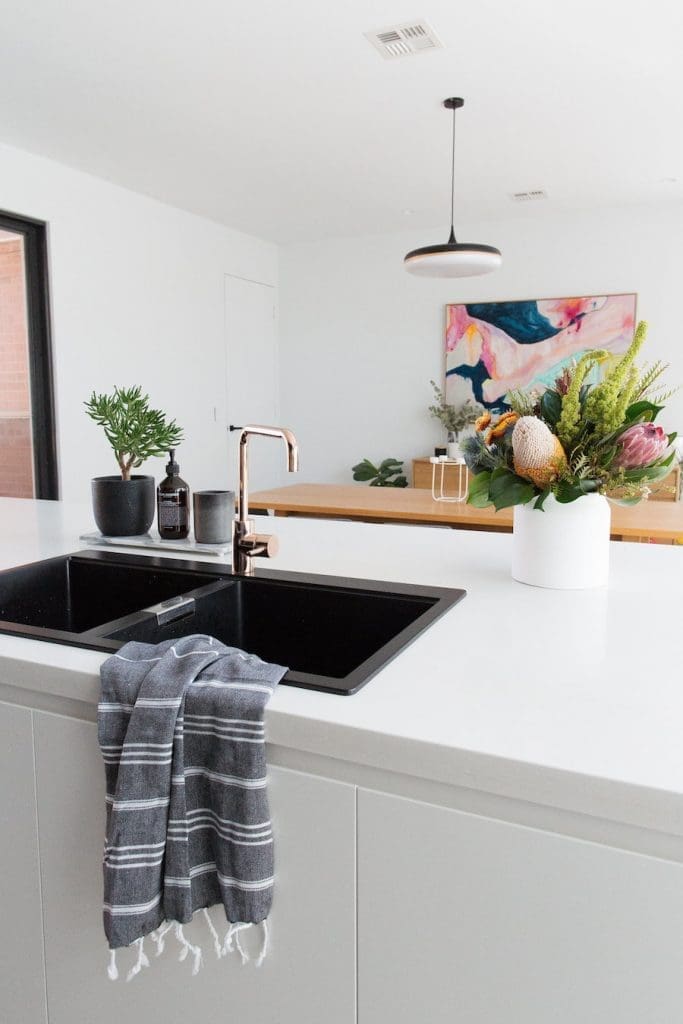 3. Prioritise
Now that you know the vision you want to create, it will become pretty clear what pieces of furniture must go and which ones you can live with (if only for a short while).
For me, this meant getting rid of or updating almost every piece of furniture I owned (except for our guest bed)!
Now if you've just finished building or renovating chances are there isn't much left in the kitty to go out on a shopping spree to buy all new furniture so I suggest creating a list that's prioritised.
I didn't want to cringe every time I walked through the door so top of the list for me was getting rid of our faux dark timber dining table set *CRINGE* (our dining room is the first room if you enter our house from the garage).
And one by one, I sold or donated my old furniture to make way for new pieces that fit my new style.
4. Upcycle, buy second hand or DIY
If like me your list of new items to buy includes almost every piece of furniture in the home, it could take you a long time to work through it if you buy everything new.
I'm all for upcycling, buying second hand or DIYing it!
For example, the desk in my study is an upcycle number that only cost me a few cans of spray paint and a piece of MDF board.
There are also many gems to be found when op shopping and we've got tips on op shopping here too!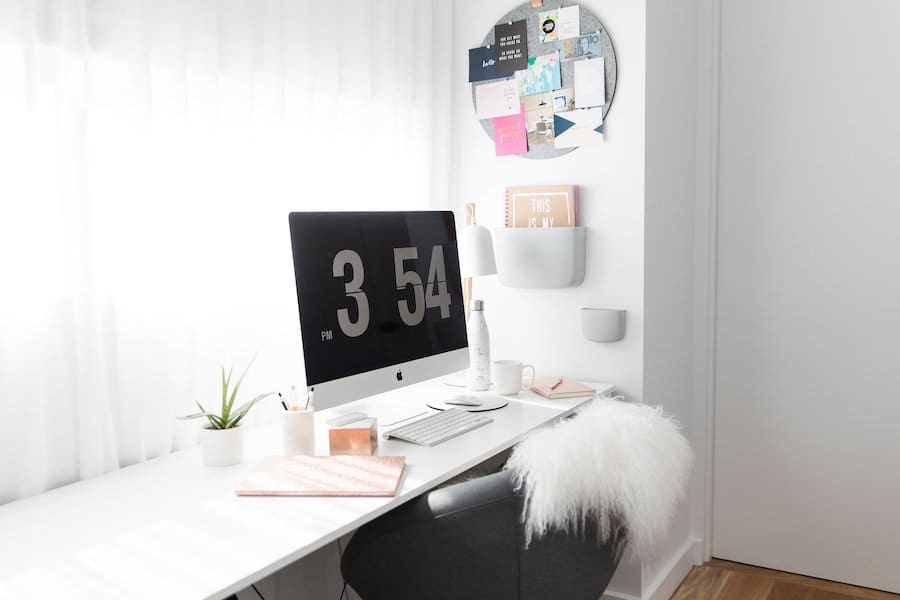 5. Consider 'transitional' pieces
Shay from The Block says "Don't settle. Don't buy something because it sort of matches. Don't compromise for the sake of buying something cheap. Wait until you can afford the 'right' piece." And while I love the idea of this, my bank account doesn't!
I think it's OK to buy transitional pieces… ones that more closely match the direction you're going without being the dream piece.
For example, I would LOVE a BoConcept sofa (the Caromo range is so divine) but it's out of my financial reach right now and will be for many years. Also, with a young family, I didn't want to spend that kind of cash on a sofa that would get ruined but the heavy, dark leather sofas I had were just so unworkable in my new style, they had to go.
So I did settle, on a simple grey sofa that suits my new style, even if it's not the 'right' piece.
6. Declutter and get rid of anything you don't need/love
Introducing a new interior style is the perfect time to consider what you need.
If you have things in your home that don't serve a purpose or that you don't love, I suggest getting rid of them.
I gifted and donated all my red decor and boy does it feel good! In fact, anything I had that didn't fit my new vision and that I didn't critically need has been gifted or donated.
Personally, I prefer a stripped back interior with only a few pieces that are 'on brief'.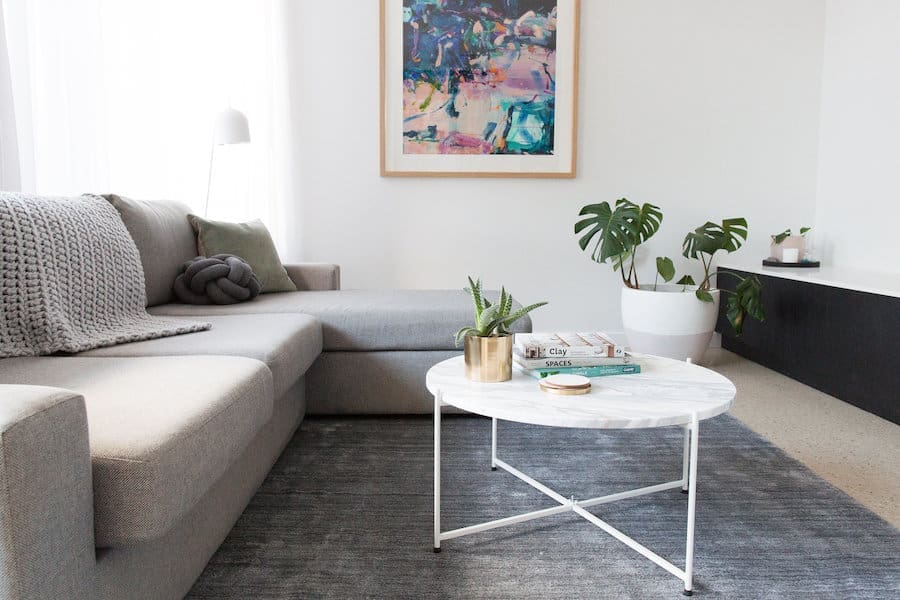 7. You've got to be in it to win it
Since finishing the build of our home, I've also entered a few competitions and giveaways when prizes that suit my new style have come up and guess what? I've won some fab pieces that I just love!
We regularly give away stunning products for the home and someone has to win, why not you?! You can subscribe to our e-newsletter to make sure you never miss a giveaway.
8. Deflect with wall art and decor
While you're waiting to update some larger items, you can deflect attention away from them with wall art and decor.
Not a fan of your sofa but are still saving for the one you love? Why not hang a beautiful artwork above it and inject some of your new colour palette with a stylish throw and new cushions?
This is the approach I took to take my interiors from mid-2000 to now. Depending on your home, you may also look at changing wall colours, lighting fixtures or areas like your kitchen and we'll be sharing tips on these soon!
Are you currently going through an interiors transition? What tips can you share??
Photography by Thorson Photography