You may have read in my 2017 New Year's resolutions that I'm on a mission to finish our house this year!
One space that has serious potential but I've done nothing with is our outdoor dining space — a large undercover area that our kitchen opens out to via oversized stacking doors.
Up until now, it's just been Arnie's bedroom (our gorgeous Rottie you can see here) and a space where I do many of our larger DIYs. Although I did make a small improvement in the back corner with this vertical garden Kmart hack.
My eventual goal for this space is to be an outdoor kitchen / outdoor dining area / bar area.
The space
The outdoor area is 6.1m wide by 5.5m deep and there is a 2m nib wall in the back left corner where I intend to create an outdoor bar (the vertical garden mentioned above sits on this wall). The stacking doors that open out to this space are 3.6m wide.
One wall is red brick (where the outdoor kitchen will run), one wall is white render (with the stacking doors), and the other wall black metal cladding. The flooring is a large grey tile, similar to Bluestone.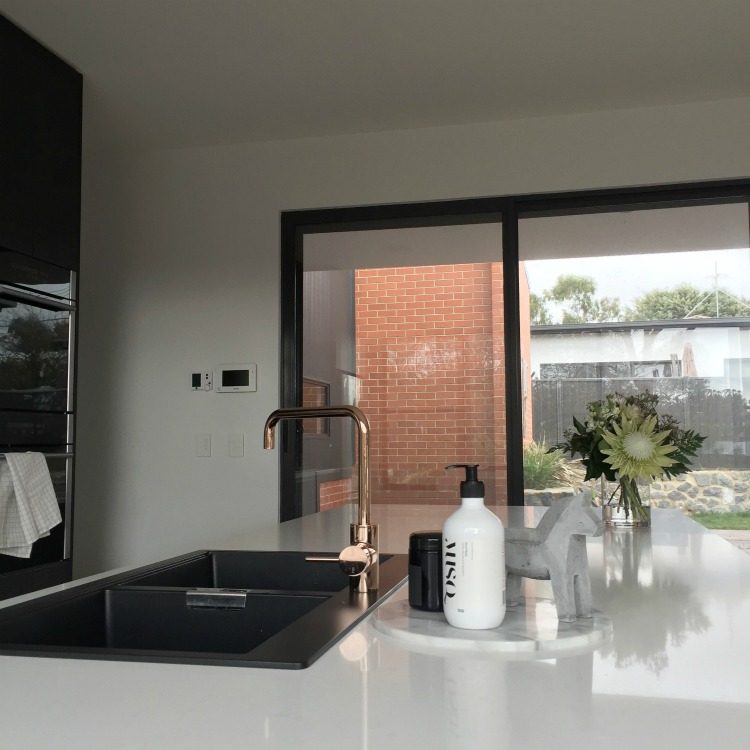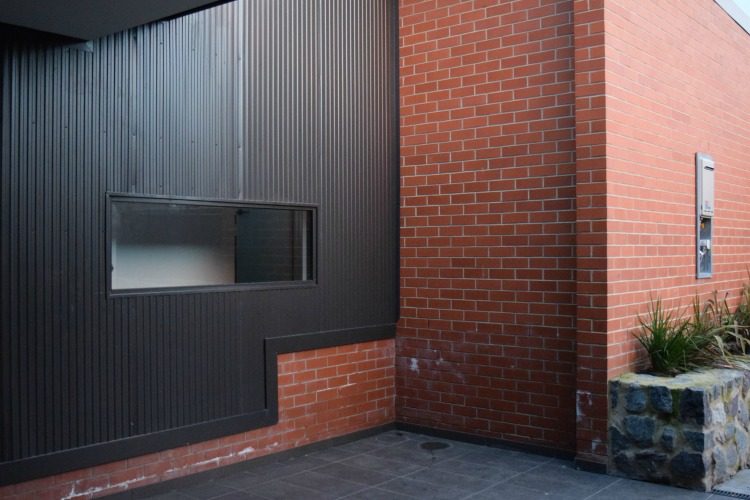 I don't have any great pics of the space looking in from the back yard but here is one during the build, before it was tiled (imagine grass where the swamp is and a little bit of planting behind the rock wall).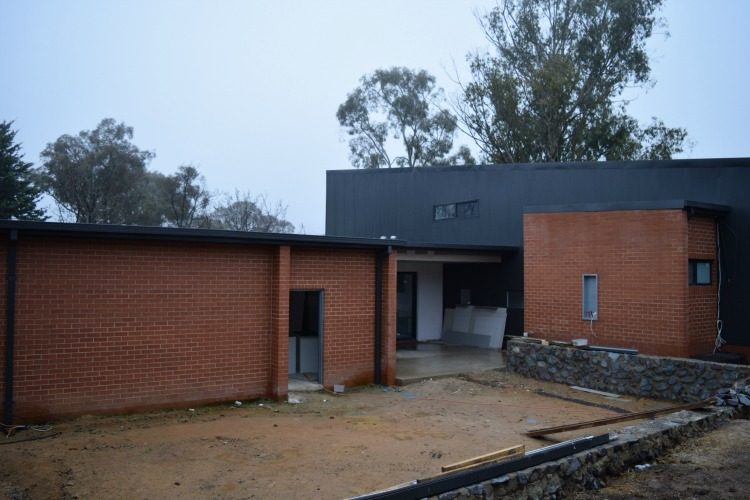 Outdoor area design
At the moment, this space is pretty much a blank canvas but there is provision for gas and water along the wall where the outdoor kitchen is marked so there's isn't much option to move this.
Here is a sketch of how I was thinking of using the space…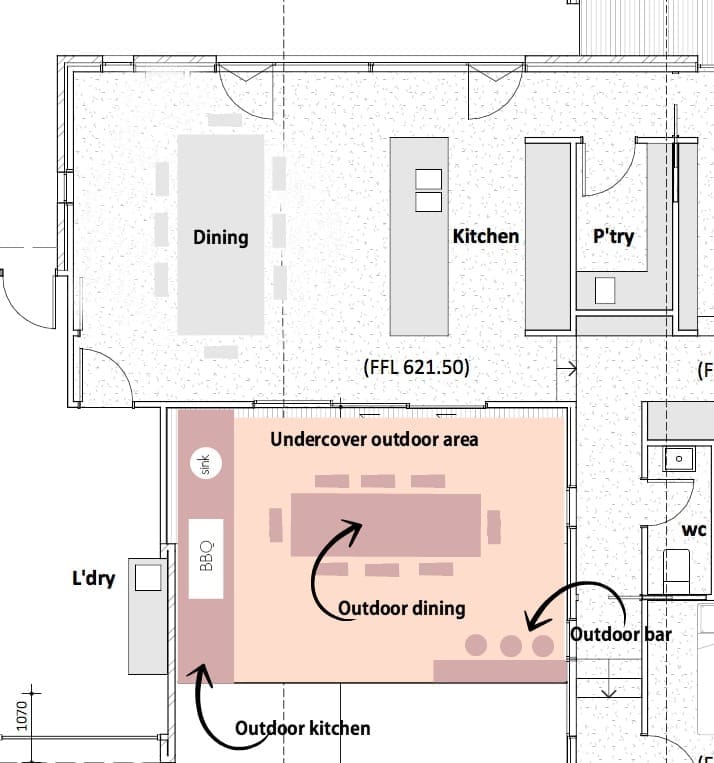 A large outdoor dining setting would take up most of the area, encouraging outdoor dining during the warmer months and we left provision for ceiling mounted outdoor heaters so it will be great when they eventually go in.
The back corner that you can see from the kitchen has the vertical garden and underneath I was planning on making a bar with three bar stools — a spot where you can enjoy a cold bevy while keeping an eye on the kids playing in the back yard.
I love the idea of a fancy pants outdoor kitchen like ones on The Block with in-built fridges and grills so this is what I'm hoping will happen along that side wall.
What do you think of this use of space and layout? Anything you would change or add?
I should say I have another outdoor area that will be an outdoor living room which is why I haven't created a relaxed seating area here.
Outdoor dining inspiration
Like the rest of my home, I'd like this space to have a contemporary Australian vibe. Here is some inspo I've found…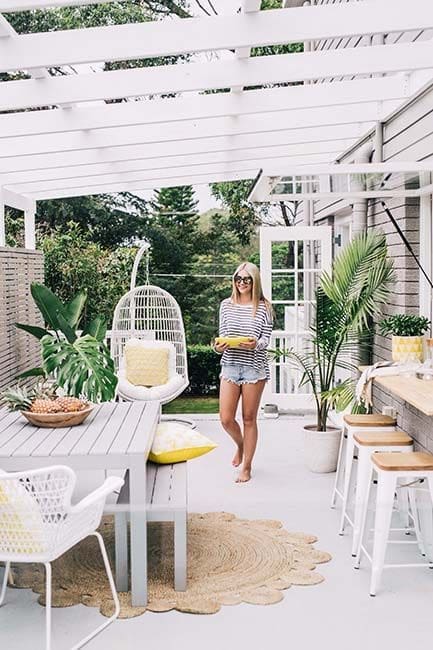 Love the minimalist cool of this outdoor dining space but with the black metal cladding wall, I feel an all-black setting would get lost. Perhaps I'll steal the pot plant idea on the table though 🙂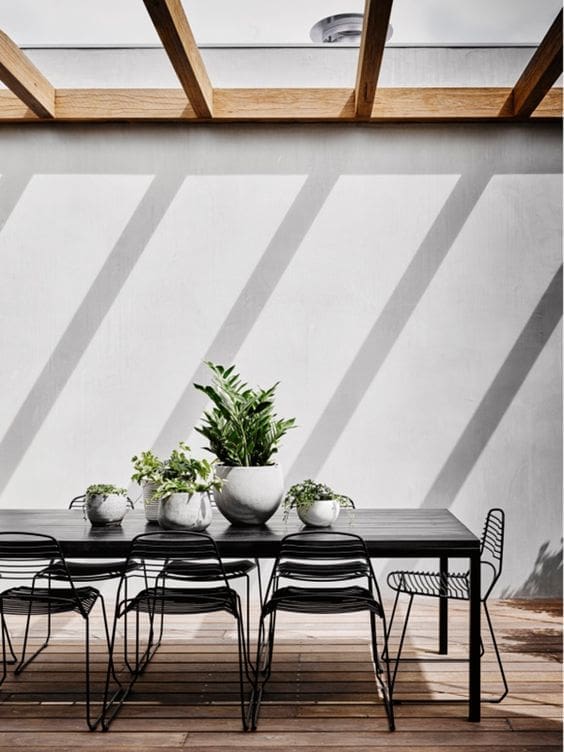 And here is another black furniture outdoor dining space that caught my eye (I think this table is like 5m long though!).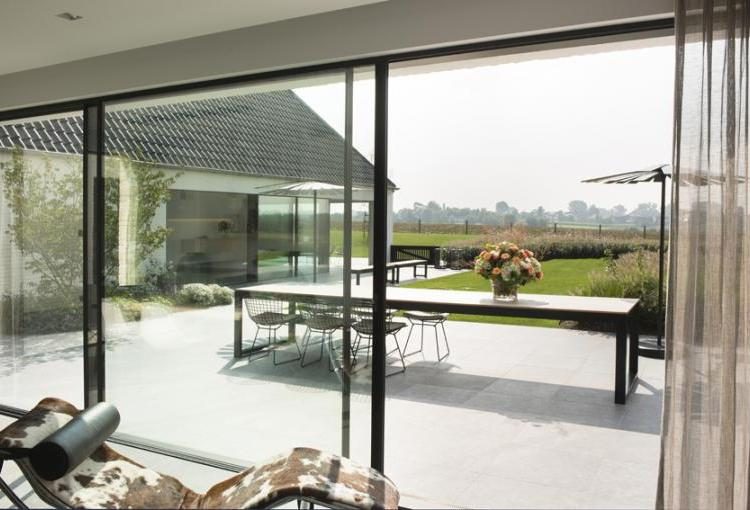 This outdoor dining space feels a lot more liveable and more in line with the contemporary Australian vibe I'm going for.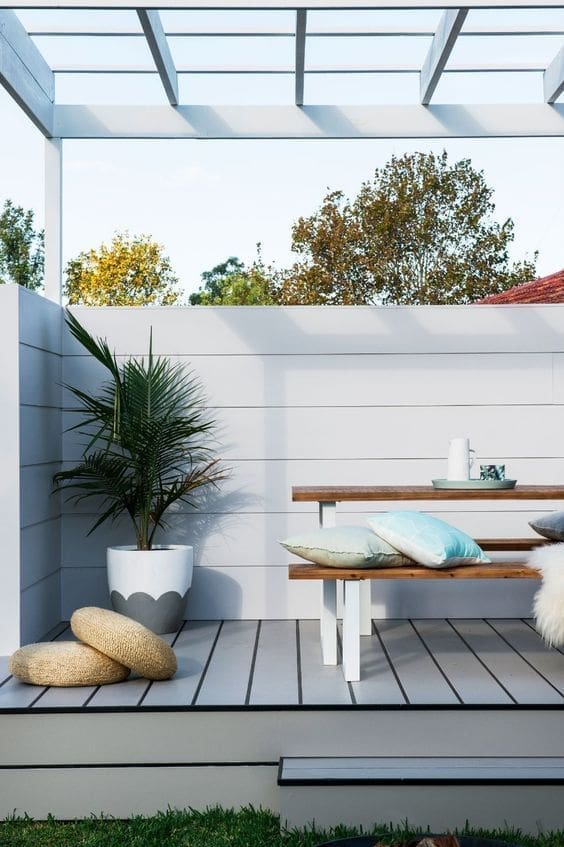 In terms of decorating, there's a lot I like in this photo although much of it is more bohemian than I would go. I love the festoon lights (I've already bought two boxes and am unsure if I'll use both in the outdoor living room or one in each outdoor space).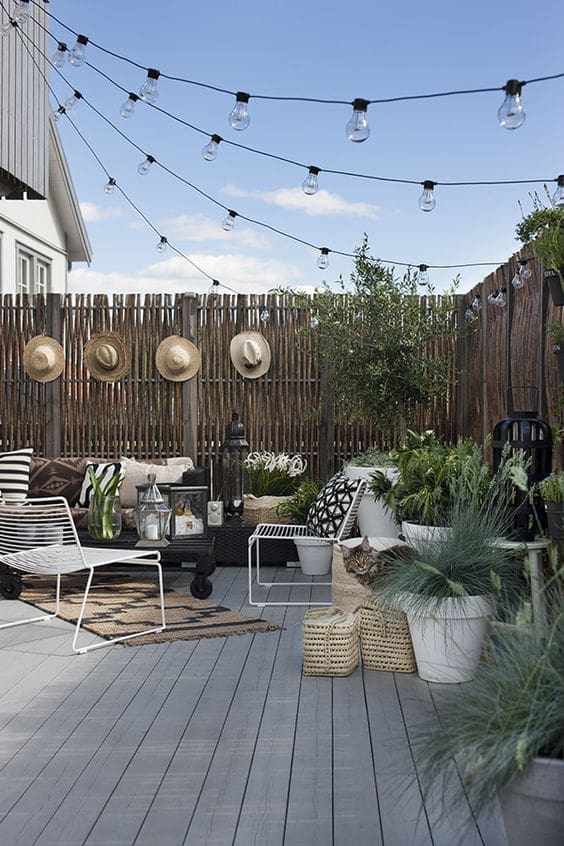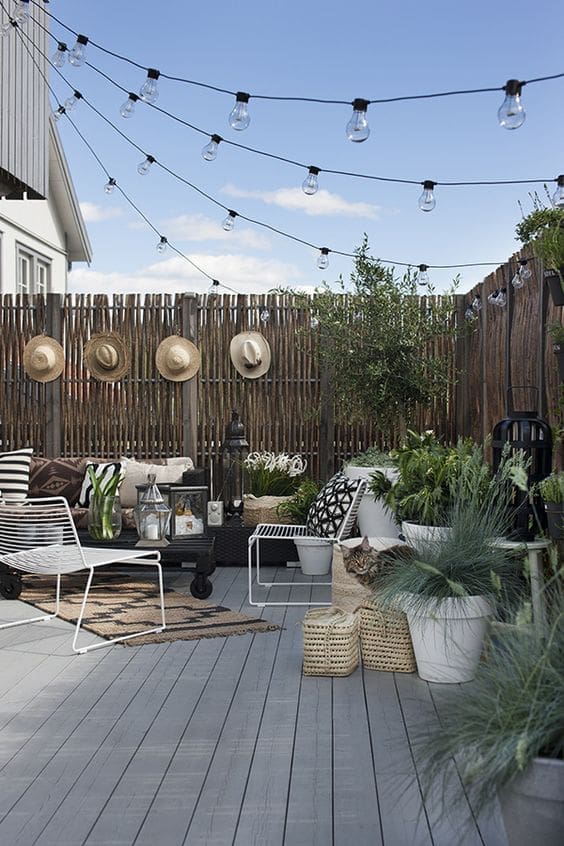 Have you spotted any gorgeous outdoor dining spaces? I'd love you to drop a link to them in the comments below!
Furniture selections
At the moment, I have a rather bulky dark wood outdoor dining setting which is fine but not really fitting with the rest of my home.
Having hunted around the shops for months looking for outdoor dining settings, I've come to realise that there isn't a great selection of affordable mainstream pieces.
Of course, if budget wasn't an issue, Jardan has a gorgeous series called Yogi but having been to their showroom and falling in love with an ottoman that was nearly $1000, I can bet this is way out of my price range.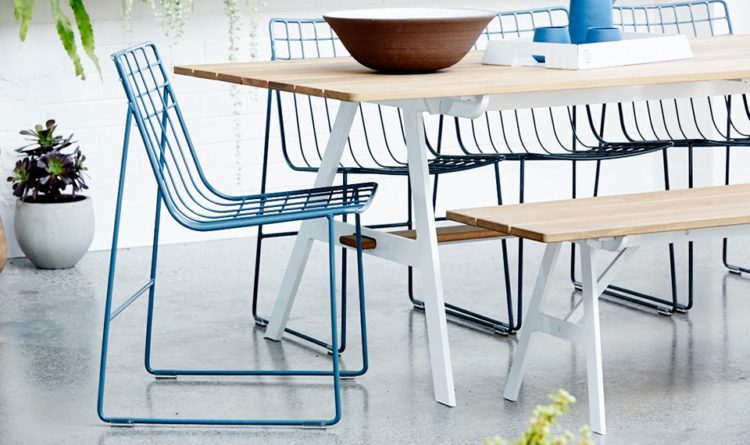 In terms of more affordable mainstream options, Freedom have a similar feel outdoor table but the rounded edges aren't quite me. Also, having enquired about many of their outdoor furniture pieces and finding out they wouldn't arrive until the end of Summer I was a little put off from ordering.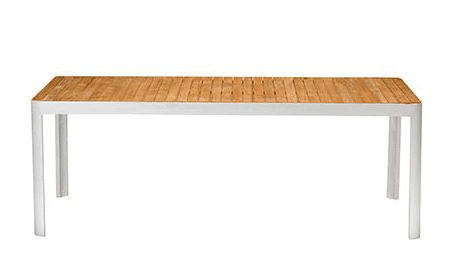 Then it occurred to me to look at pieces from the incredible furniture makers we feature on the blog and boyandgirlco have an outdoor setting that I'm seriously loving. I was thinking of only getting a table made and pairing this with simple white wire chairs like the ones from Kmart and possibly having two feature wire chairs like these ones from Zanui at the head and tail of the table.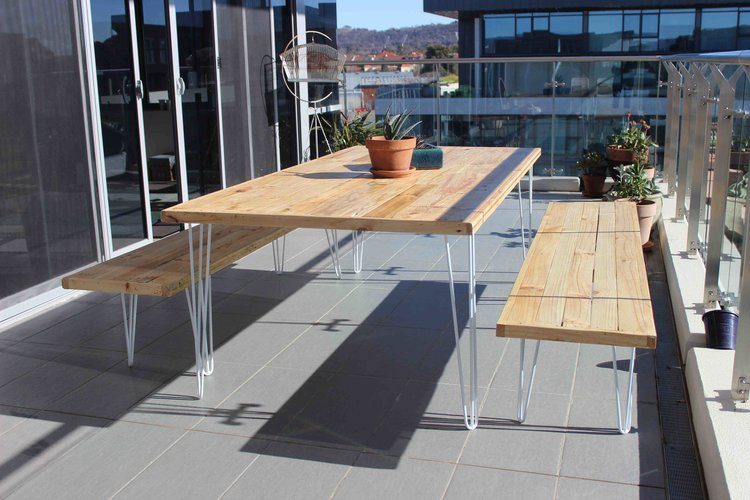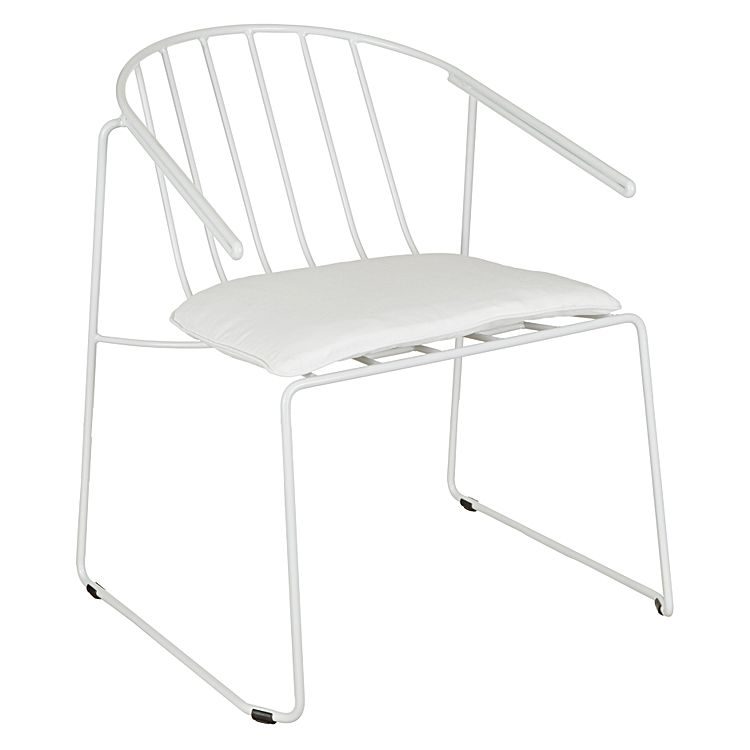 What do you think about these furniture choices? Have you spotted any outdoor dining settings that have a contemporary feel?
I'd love to hear any thoughts or suggestions you have for our outdoor dining space!