As you might have seen, this month's #stylecuratorchallenge is to style a pocket of your outdoors.
Each month, we complete the challenges along with you and develop tips and tricks to help you nail the challenge yourself at home.
This month, things are a little different though because my outdoor space is looking far from inspirational!
While the thought of loaning designer outdoor furniture to pull together gorgeous imagery did cross my mind, I've decided to keep things real and instead give you styling tips for when you're working with next to nothing.
A reality for most of us is our outdoor spaces are last on the list to be completed. Having just finished the build of our new home, my focus has definitely been on finishing and styling the interiors so that's why my front yard still resembles a construction site and the back patio that I have big plans for has barely moved.
Despite this, there are a few simple things you can do to elevate your outdoor space without spending huge!
Embrace plants
Plants are a relatively inexpensive way to transform outdoor spaces. Not only do they bring life, you can select a variety of plants to introduce different textures, heights and colours for interest too. Depending on your space you could plant these or play around with different pots.
If you really want to get stuck into it, you might want to consider creating a green wall by running wires vertically that plants can grow up or a simpler way to create some green screening is to use a cluster of pot plants.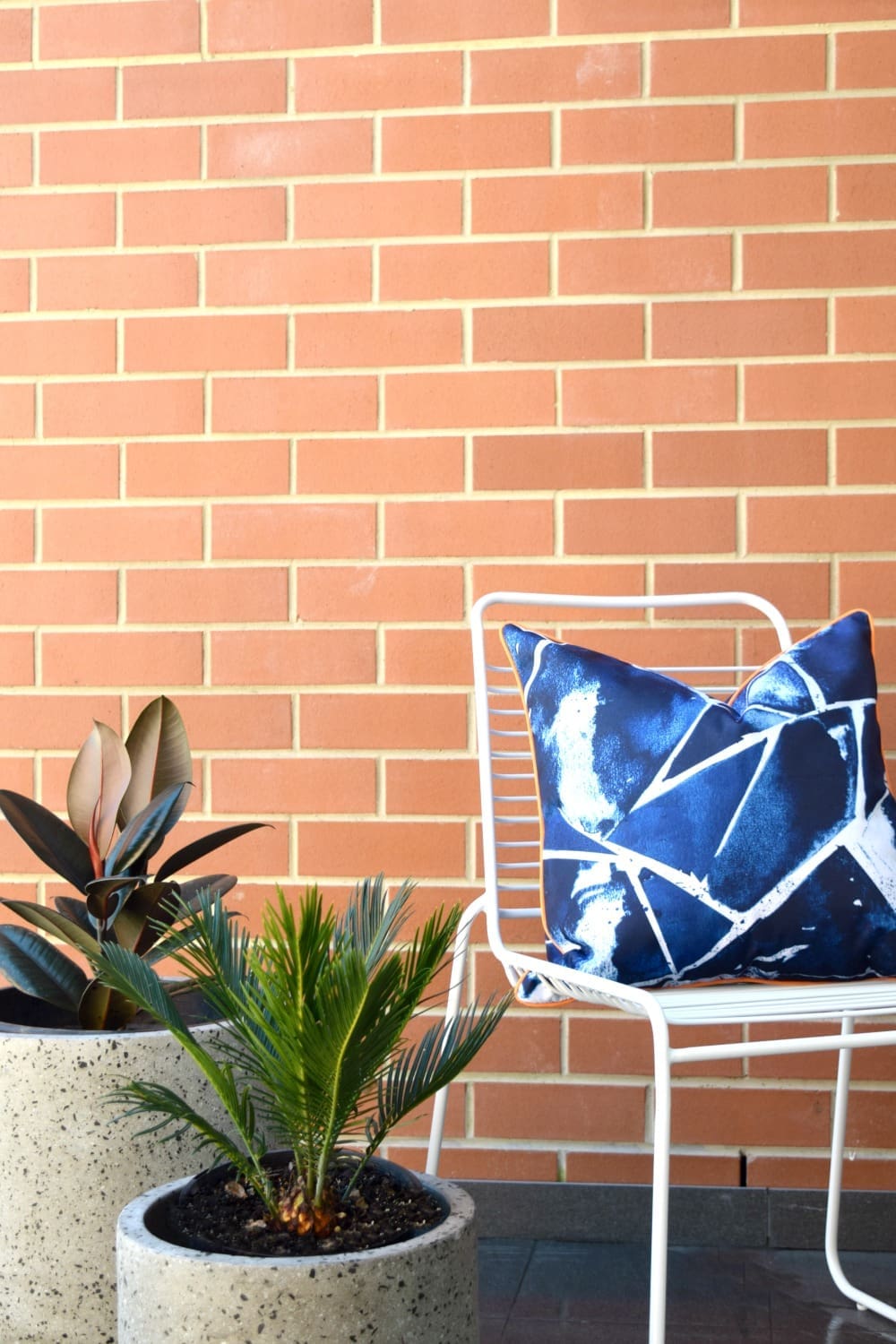 Scatter cushions are your friend
Got ugly as furniture? Yep, I hear you! The solution, put a throw cushion on it!
He he, sounds like I'm joking but I'm not. There is a range of great outdoor cushions on the market and our favourites (hence why we invited them to partner on this month's challenge) is Basil Bangs. Not only are they bright, fun and great quality, they're also at a great price point of $75 each so you can afford to buy a few and inject some colour and style to your outdoor space.
The minimalist in me goes straight to their black and white designs but ocean blues are one of the hottest colours this season and pops of colour look great in outdoor spaces.
Don't be shy to mix prints or colours, just look for some common thread. All the cushions I've used have a geometric element and a blue or black colour.
And the best thing about scatter cushions? You don't need a green thumb to keep them alive 🙂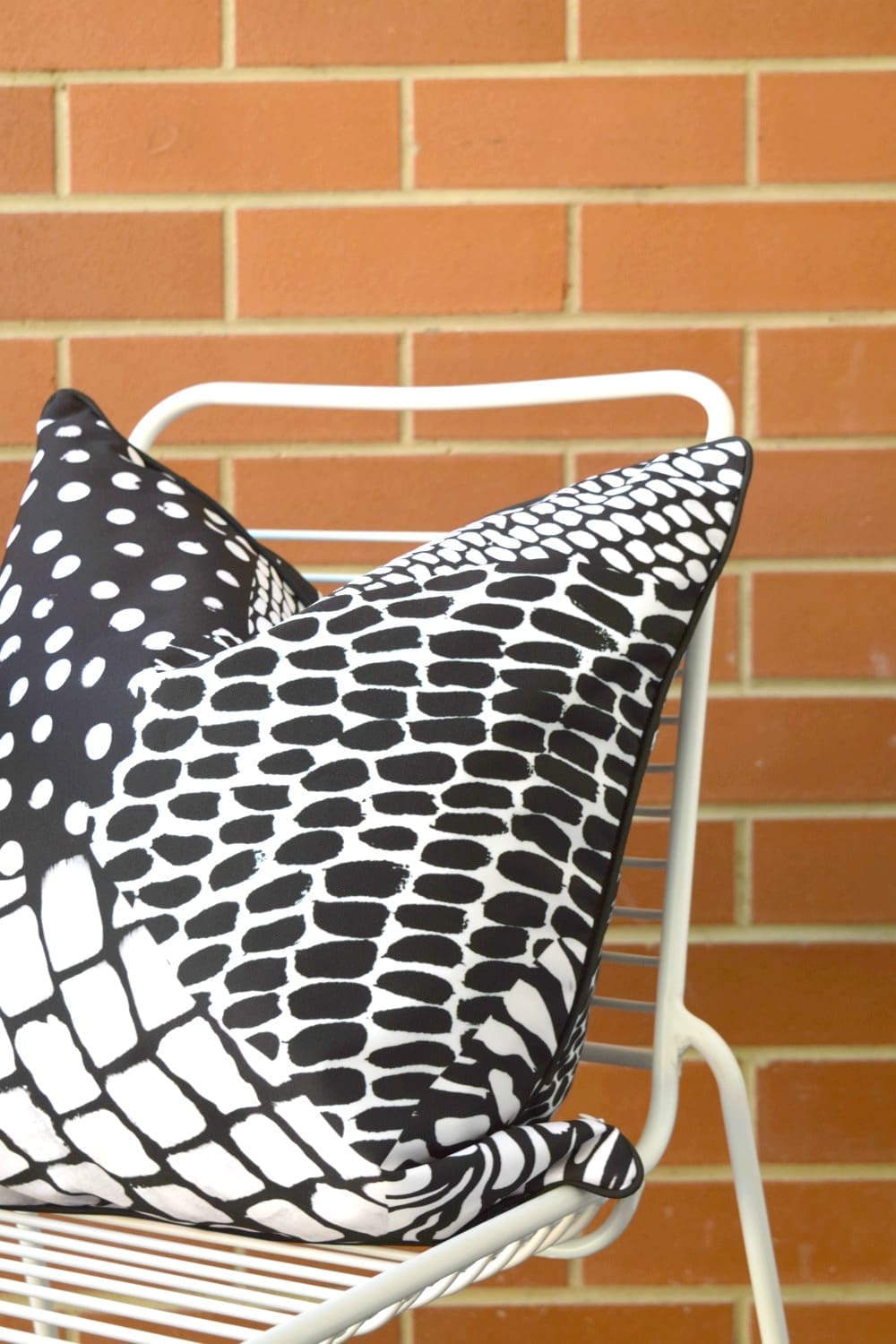 DIY it
It's not until you start looking for outdoor things that you realise just how expensive they are! Perhaps it's the higher quality of materials that's needed to withstand the weather but even basic furniture is super pricey and don't even get me started on designer vertical gardens that run into the thousands…

So my solution when I can't afford something? DIY it of course!
Furniture wise, I've designed an L shaped in-built bench seat to flow from the kitchen sliding door into the alfresco space and I have an idea for a cool outdoor coffee table that I can't wait to bring you.
For now, I'm sporting my oh-so-unattractive round table that I purchased from the tip for our Spring styling shoot that I've hastily painted with white paint. If it stays out here, I'll fix up the paint job but this table was only ever intended to be under a table cloth in styling shoots.
The crazy expensive vertical garden that I want will never be within financial reach so I recently did a little Kmart hack for an inexpensive wall planter feature that's actually been getting lots of compliments from guests.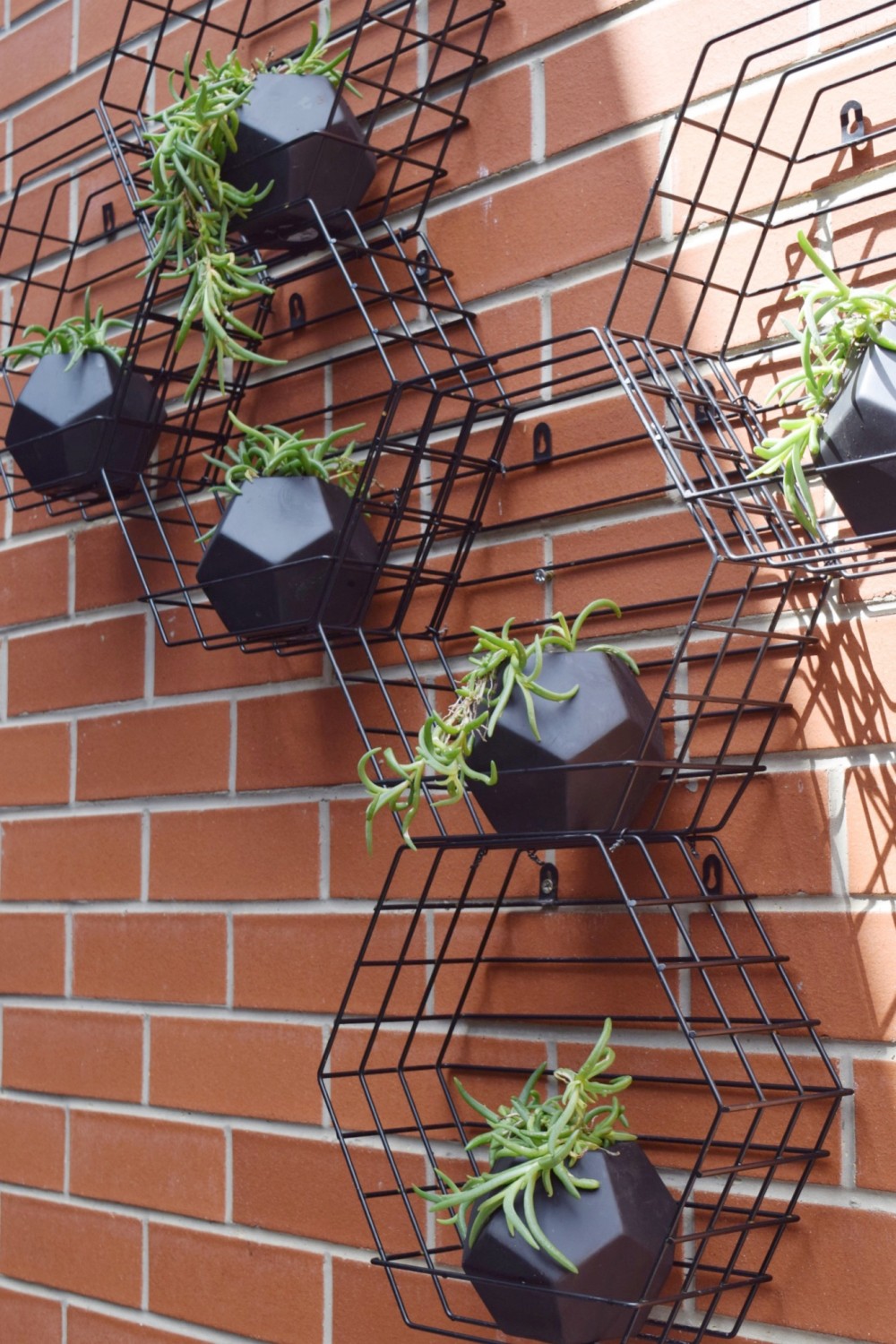 Create ambience with lighting
Still on my 'to do' list is stringing up festoon lights, fairy lights or lanterns. I want to get the furniture layout right out here before I begin adding these decorative items though as they may require me to drill into the ceiling or walls. If the layout I have planned doesn't work and needs to be redesigned, I don't want to have to remove the lighting and repatch.
If you check out some of the outdoor spaces in our '5 ideas to maximise your outdoors' article, you'll see just how effective ambient lighting is. For now, a candle in a hurricane vase will need to do 😉
So there you have some simple and achievable ideas for lifting your outdoor space, if only a little bit, which is what these challenges are all about — working with what we've got to make small improvements around the home, month after month, until we've created the stylish homes we've dreamed of.
I hope you'll join in the challenge by sharing your outdoor space (on Instagram, Facebook, Twitter or Google+) using the #stylecuratorchallenge hashtag, tagging us @stylecuratorau and Basil Bangs @basilbangs.
Hopefully as this month progresses, I can get stuck into the big plans I have for this space including a DIY bench seat, festive lighting and an outdoor bar. An outdoor kitchen is also on the list but I think that one will need to wait for a little while 🙂
Can't wait to see what you do with your outdoor space!