As summer fast approaches (yay!) we'll likely be spending a lot more time outdoors. And if you're lucky enough to have a pool or live by the beach, you may be thinking about adding in an outdoor shower. So if you're searching for design ideas, best tiles for an outdoor shower, outdoor shower screen options, or just want to some general inspo, keep scrolling!
No matter what style home you have or what design you're looking for, we've got it covered with this epic round up of outdoor shower inspiration. Bring on summer, we say!
Related article: Make a splash with our round up of the best pool designs
Related article: Outdoor kitchens: Round up of the best!
Masculine vibes
There's just something about black Colorbond that is so sleek, don't you think? We're loving this black on black outdoor shower setup. With aged timber fencing, rusted metal garden beds and natural stone floor, it's a rustic outdoor shower… only, elevated!
Let the tiles do the talking
Not much needs to be said about these outdoor showers. The tiles speak for themselves. We love the variety in colours, styles and even the tile placement — it makes each space unique and effortlessly beautiful.
White wonder
We simply can't get enough of these wonderfully white outdoor showers. Stylish, pared back and simplistic in design, but both utterly dreamy.
DIY mosaic floor
This tumbled brass shower with mosaic crazy pave floor from Three Birds Renovations House 13 is divine. The gold hardware really pops against the crisp white wall.
And that floor… it's just so cool! Designed by the home owner herself, it's the perfect way to add a subtle splash of colour without going OTT.
Timber charm
From sleek and sophisticated, to rustic and rural. This aged copper shower, surrounded by weathered and worn timber is what hinterland hideaway heaven is made of.
And if you love timber but aren't quite sold on the full-blown rustic look, try this one on for size.
Floor to ceiling timber backdrop, aged tapware… this space is the epitome of Byron Bay living.
Sophisticated sleek
For a modern take on the outdoor shower, how about this little beauty? Charcoal cladding, timber deck and a copper shower with those cool petal-style tap handles… love it.
Luxe Bali villa
This outdoor shower immediately has us wishing for an overseas Bali getaway. The statement fish scale tiles add a luxe edge to this outdoor pool and daybed set up.
We can already picture ourselves relaxing here for a nice 2 week getaway!
Country charm
It doesn't get more country than this. The aged copper shower head with exposed pipes. The timber wall hooks, milking stool and garden fork. And then to top it all off… a chicken! We know the chicken isn't part of the outdoor shower set up, but it was too cute not to mention!
This outdoor shower has some serious country charm.
Mediterranean feels
The understated tiles in this outdoor shower set up are just gorgeous. Enough to bring a touch of interest to define the space, we love that they're a neutral, simple pattern.
And they don't compete with the gorgeous Mediterranean feels we're getting from the rest of the garden space.
Hamptons style
A touch of corrugated iron, an industrial style light fixture… these don't sound like the types of materials that would make up a Hamptons style outdoor shower!
But it's definitely the vibe we're getting from this space. It just goes to show that you can get creative and use materials in unexpected ways. Plus a little styling goes a long way!
Pared back elegance
This space from the Barefoot Villa is simplistic in design yet gives off major #outdoorshowergoals! With a little DIY-knowhow you could attempt to recreate this yourself. Or at the very least, it's a great inexpensive outdoor shower idea.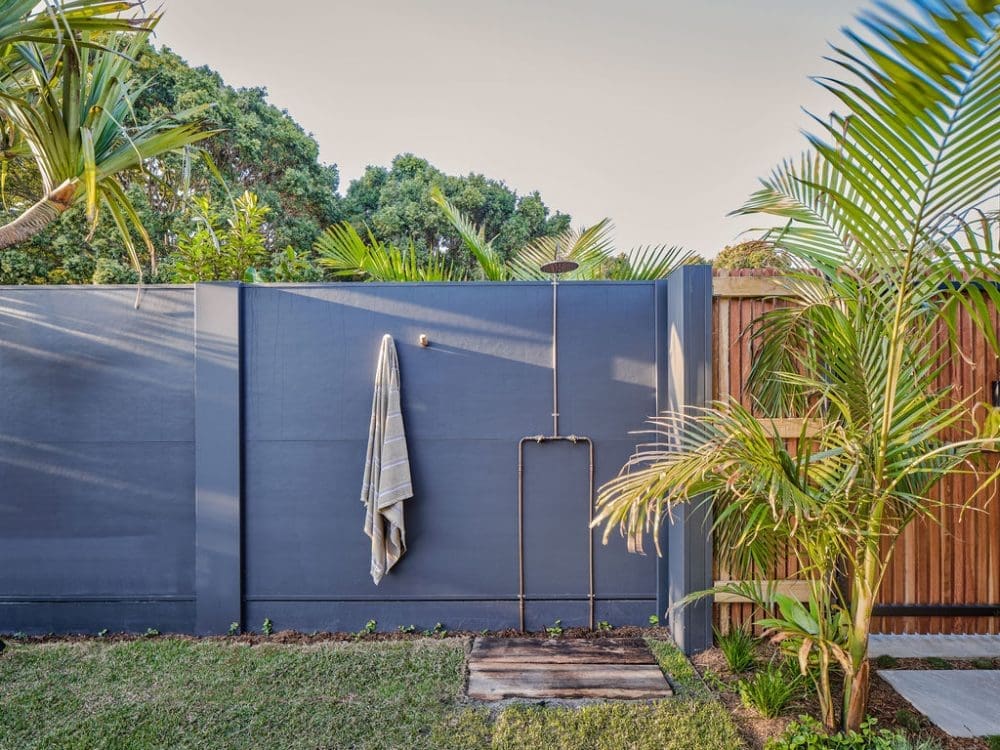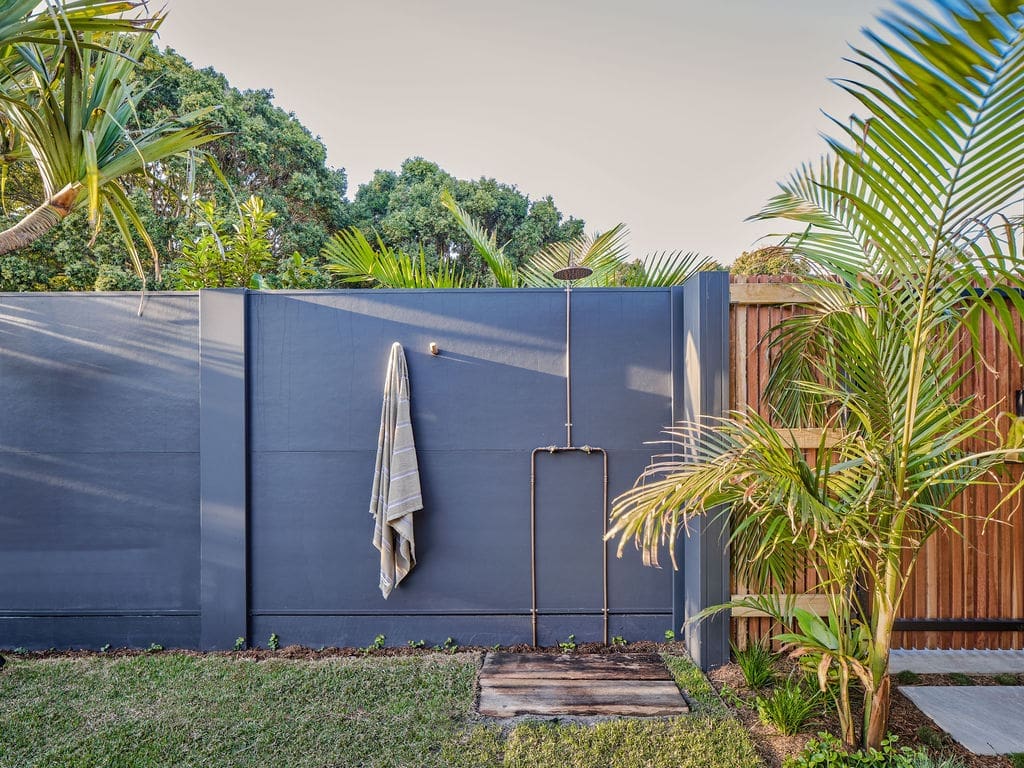 Tropical getaway (at home)
With the timber batten fence and white render backdrop, this is the perfect setup for an at home tropical getaway.
The lush banana leaf plants really make the space what it is and the woven baskets just add to that holiday feel.
Nordic vibes
This Nordic seashell design really stood out to us, because… well, how could it not?! Shaped like a seashell when viewed from above, it's incredibly unique!
Described as an outdoor shower cabin, it's also one of the few freestanding outdoor showers we came across in our search to bring you this round up.
Rough cut rock wall
Be still beating heart! Seriously, this natural stone rock wall is next level gorgeous and makes the perfect backdrop for a luxe outdoor shower. Add in a curved outdoor bench seat, a spot of crazy pave flooring and you've got yourself the ultimate outdoor space.
You can take a look around their family home here.
Minimalist monochrome
This minimalist monochrome outdoor shower set up has contemporary zen vibes. Matte black rectangular mosaic tiles with chrome tapware and a bed of river rocks around, this outdoor shower will stand the test of time.
Timber curves
It's hard to find a timber curved wall we don't love, and this outdoor shower space is no exception. The timber is the clear hero of the space and we love that it adds a touch of privacy without cutting the space off to the rest of the beautiful outdoor area.
Green goddess
When your tropical surrounds are this good, why overcomplicate things? There's definitely no need and this homeowner totally nailed it, letting the giant tropical plants be all the styling this outdoor shower space needs.
Pared back cool
As far as outdoor showers go, this one is pretty simple. But in a good way! An aged brass gooseneck shower head, round concrete pad and a rock for your towel. Yep… it'll do just nicely.
Breeze block beauty
Shunned for so long for being old-fashioned and outdated, breeze blocks are back in a big way. They're the perfect way to achieve a touch of privacy, while still allowing the light and breeze to filter through.
Has our round up of outdoor shower inspiration given you any inspiration or got you excited for summer? Which style is your favourite? Let's chat in the comment section below!
This article was first published in September 2022 and continues to be updated with latest inspiration.