Ok guys, it's been a while since I've done any major projects around our house but recent water damage in our main bathroom means we'll soon need to pull up flooring and wall tiles. I made no secret that our bathroom is one of my biggest building regrets and even created this video on my bathroom mistakes to avoid. So we figured we'd take the opportunity to redo the space and create a bathroom that's more functional and easier to maintain.
Over the years I've helped dozens of clients with bathroom designs and selections but when it's your own home, it seems so much harder to lock decisions in. In many ways it doesn't help that my husband and sister-in-law own Tile Republic as I'm spoilt for choice with tiles, tapware and bathware, and forever changing my mind!
I'm determined to lock in all my selections this week though so I wanted to share what I'm planning and am asking for you input — please comment at the bottom of this post to tell me what you think and vote in the polls to help me finalise my choices.
Related article: Everything you need to know about lighting your bathroom
Related article: Hamptons luxe bathroom reno that's loaded with #bathroominspo
Layout
Without a doubt, the thing I regret most about our bathroom is the layout. It's not a huge space and at the moment there is a free-standing bath, 1100mm vanity, toilet and ridiculously oversized shower. The first thing you see as you enter is the toilet — which I knew I didn't want when we were building our house but by that stage decision fatigue and endless delays got the better of me and I just went with it — and the swinging door takes up all of the floor space so it's awkward if there's more than one person in the bathroom at a time.
I've also come to realise that freestanding baths aren't ideal in small bathrooms as you need free space around them… we don't have this so there's a build up of dust that's impossible to clean behind the bath. I'm certain I'll choose a back-to-wall bath instead which offers the illusion of a freestanding bath without the cleaning headaches.
This is our current bathroom layout
This is a 2D drawing of our current bathroom. As you can see, the view as you enter is of our toilet and when the door is open, there's almost no space to move. Our shower could easily be half the size and the layout doesn't make good use of the space.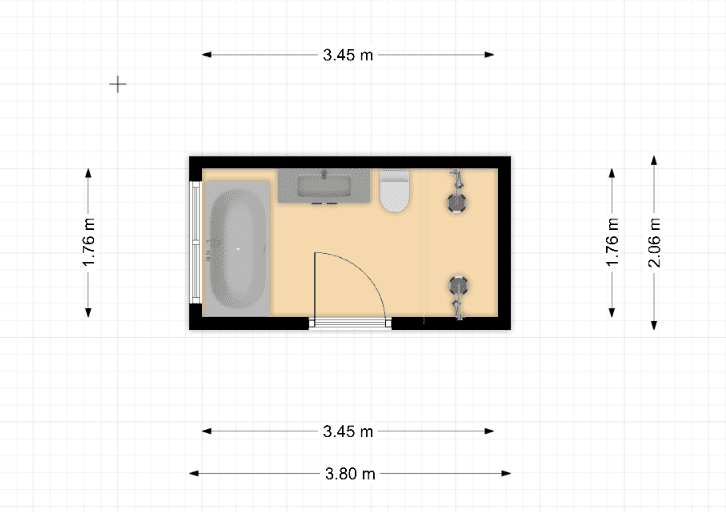 And this is the new layout I'm planning…
You'll see I'm planning on creating a wet area with the shower and bath, and have a single panel of glass that will run up into the ceiling. To create a bit of a feature, I'll build out the wall of the bath to create a shelf where I can style some indoor plants, candles and that sort of thing (this will also replace the need for a shower shelf/niche).
I like that the first thing you'll see as you enter will be the vanity and mirror, and that these will be closer to the window for more natural light.
The door will also be moved slightly to the left and replaced with a slider to avoid losing valuable floor space.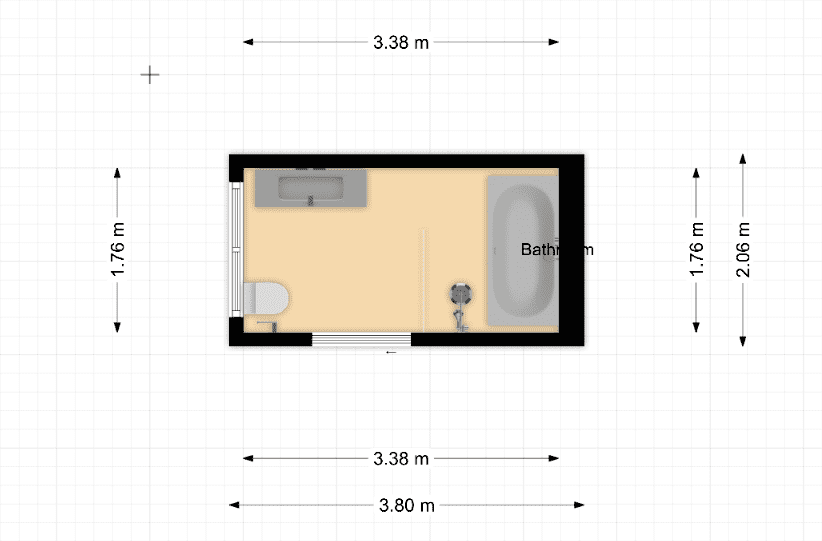 To help visualise the new layout, I've also created a 3D rendering (ignore the mismatched tapware, it's just to show positioning and size of bathware).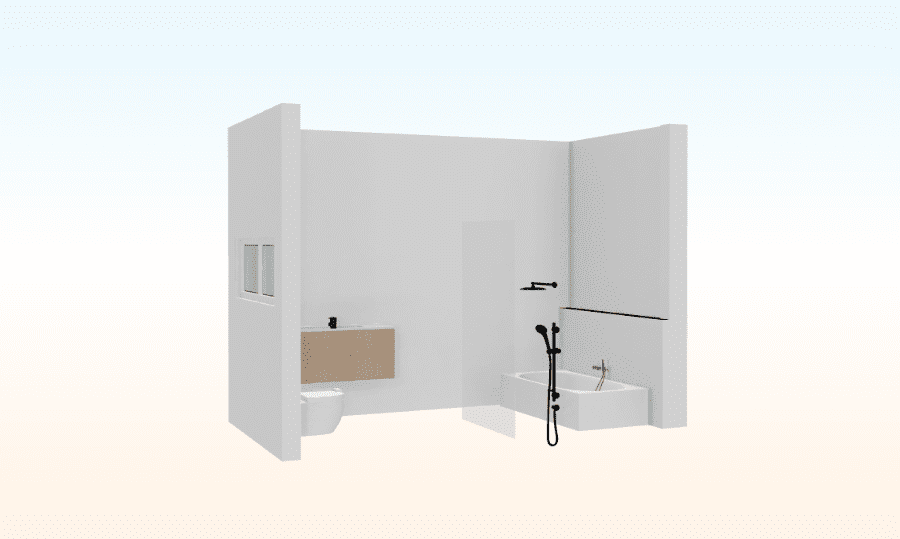 Tell me, what do you think of the new layout? Is there anything you'd change or do differently? I'd love you to comment below!
Tile choices
The next big decision I need to make is around tile choices and this is where I'm finding it really hard to commit to a decision! Tiles make up the largest surface area in a bathroom so it's important to get it right.
Our current bathroom has encaustic floor tiles and it was one of the things I loved most about our bathroom when we first finished it. Encaustic or cement tiles are softer underfoot but they are also slightly porous which means you cannot use regular bathroom cleaners or they will stain and discolour. Four and a bit years later, these tiles are one of the things I most dislike about our bathroom because the floor constantly looks dirty and now I'm the first to warn people against using an encaustic tile on bathroom floors (these are a great option for vertical applications such as behind a kitchen island kick or as a feature wall in a bathroom).
Tile selections option 1
The safer option which I'm leaning towards is to use a large slab grey tile in 1200mm x 600mm size with subtle vein (pictured below) on the floor and walls except for the wall above the shelf by the bath where I would use a marble mosaic tile (also pictured below).
I've taken both these tile samples home and love how they look in the space. The tones work really well together and to highlight the marble mosaic, I would run a recessed LED strip along the ceiling on that wall.
This tile combination ties in well with the rest of our house as we've also used real marble in our powder room and kitchen. I also love that the extra large tile would require minimal grout and being a porcelain tile, there's no risk of staining/discolouration as I have now.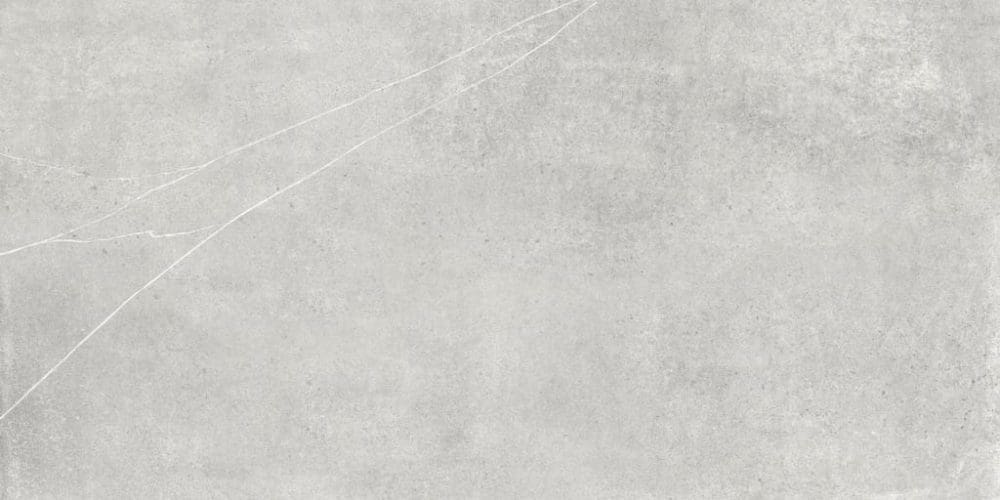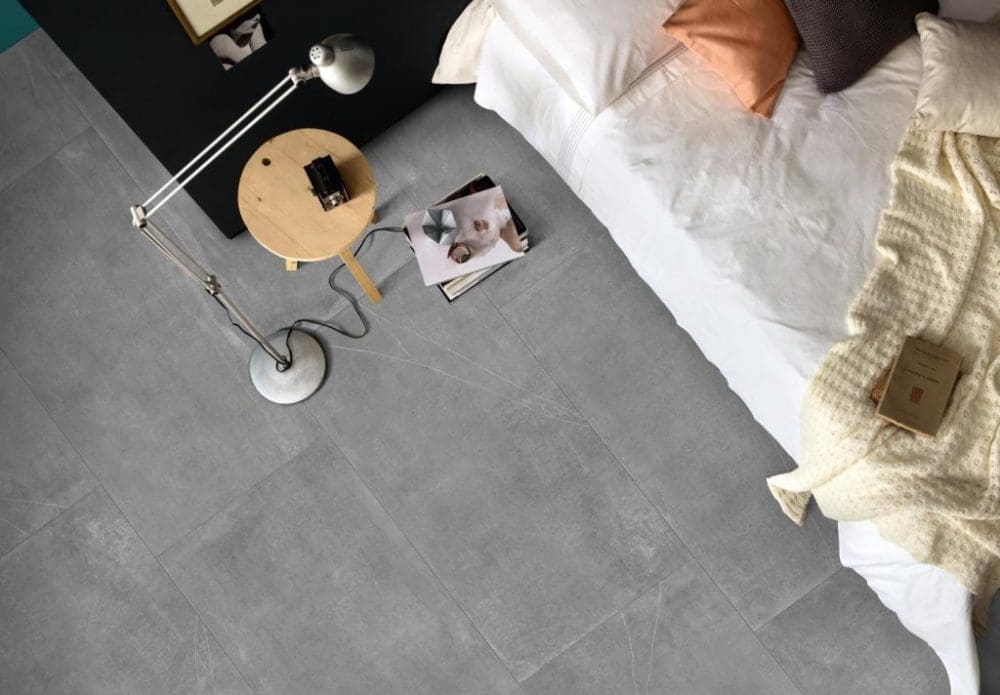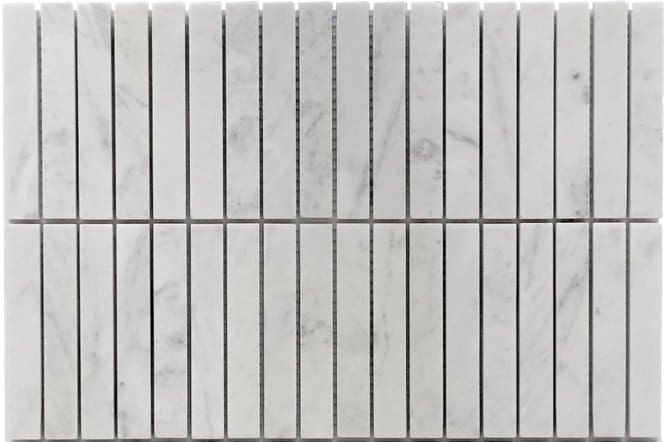 Tile selections option 2
The other combination I'm drawn to is a lot more daring (well, I think so anyway!) — a combination of real terrazzo tile on the floor and 300mm up the walls, and a white square handmade tile on the rest of the walls.
In some ways this combination would tie in with the rest of our house as we have handmade subway tiles in our laundry and butler's pantry but I do worry that the terrazzo is a bit out of place and that it requires sealing… I want a zero maintenance bathroom or as close to one as possible.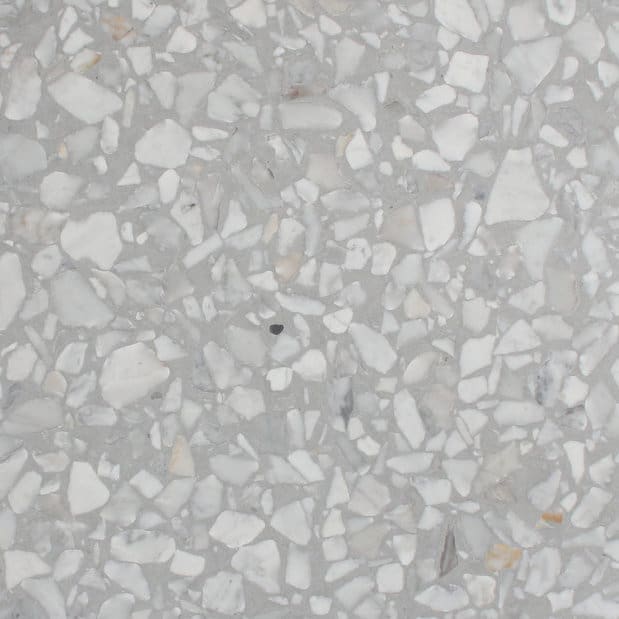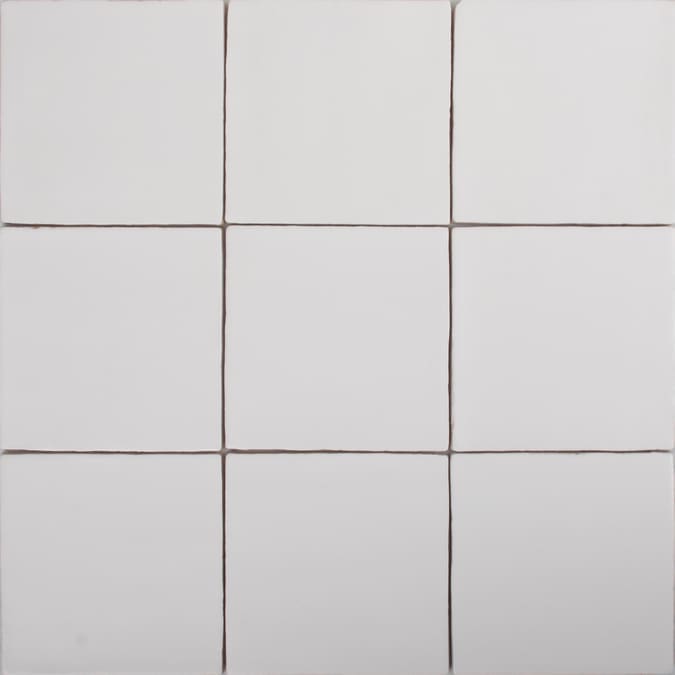 Vote to help me lock in a tile choice!
Loading ...
Bathware and bathroom furniture
Vanity
Our current vanity was custom made but it looks just like every other vanity out there — timber veneer with a caesarstone top.
With our new vanity, I would prefer to have all drawers as we never use the cupboards below the sink… you literally have to squat down to see what's in there and it isn't a practical use of space. I also would prefer to have a basin that's integrated as part of the vanity top as grime gets caught around the edge of the basin.
While part of me is tempted to design a vanity out of solid stone with a hidden drawer, the other part of me is saying 'be practical, be practical, be practical!'. I don't want to spend a fortune on our bathroom renovation as there are quite a few other projects I'd also like to do around our house and this isn't our forever home.
The vanity I'm leaning towards is called 'Capri' by ADP Australia in a 'Prime Oak Woodmatt' finish. It has a solid ceramic top which means cleaning will be a breeze and is all drawer so it also ticks the storage box. But my husband would prefer a vanity with a thinner top, such as 'Drift' which has a solid surface top, and is mainly drawers (including a smaller concealed drawer) and a cupboard below the sink.
You can see what the Capri vanity is like better in this bathroom I recently styled for Tile Republic.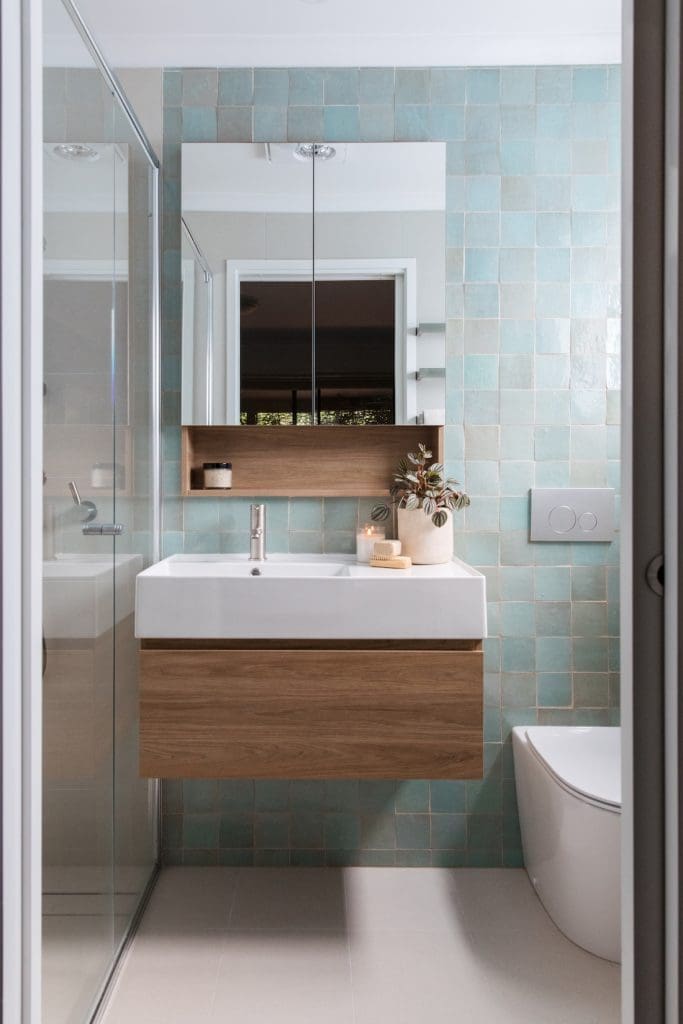 And this is the 'Drift' vanity my husband prefers (although we'd go with the same finish as pictured above).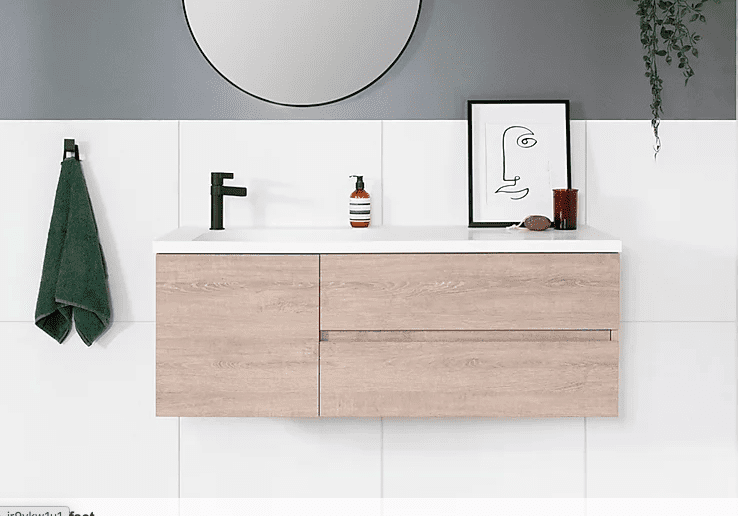 Vote to help me decide on a vanity!
Loading ...
Shaving cabinet
We currently don't have a shaving cabinet in our bathroom, instead I opted for a large 1m round mirror which I absolutely LOVED at first but over time it has begun to bubble and rust. There was a warning that this mirror isn't suitable for wet areas but I overlooked it at the time… now I understand why. Unless you use a copper-free mirror, you'll find it will erode and discolour.
This time I'll actually use a bathroom mirror 😉 and while I'm at it, I'm planning on using one with a hidden shaving cabinet so we can keep all our toothbrushes and creams off the vanity.
The one I'm leaning towards is called 'Pill' and is an elongated oval shape. It's one I've loved for a while now and I like the idea of using some curved shapes to soften all of the angular lines of a bathroom.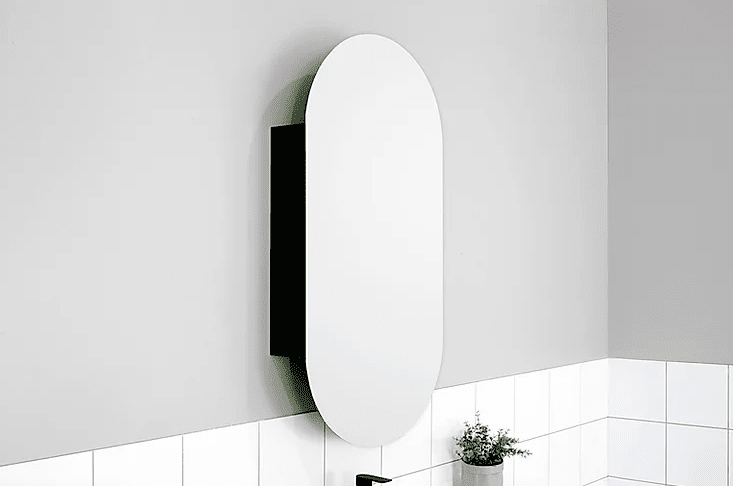 Bath
Something I'm certain I want is a back-to-wall bath rather than a freestanding one. I love stone baths as they feel nicer and retain heat longer so I'm fairly certain I've found the one. It's called 'Fogo' and is a comfortable size at 1600mm long but it isn't too high or bulky so it won't look out of scale in our bathroom.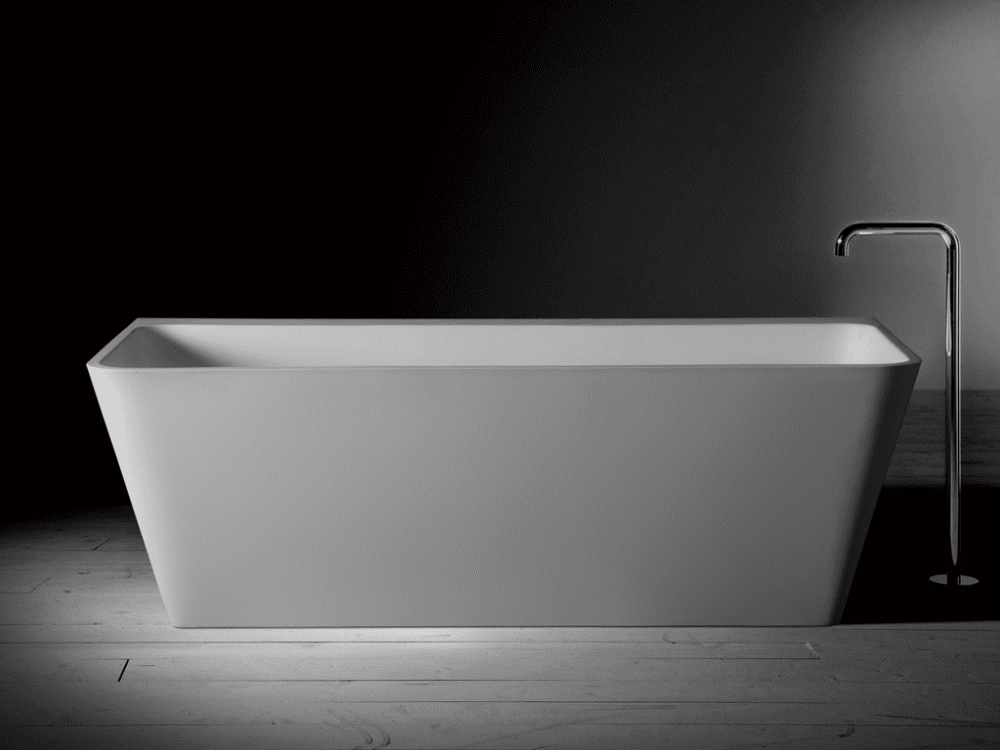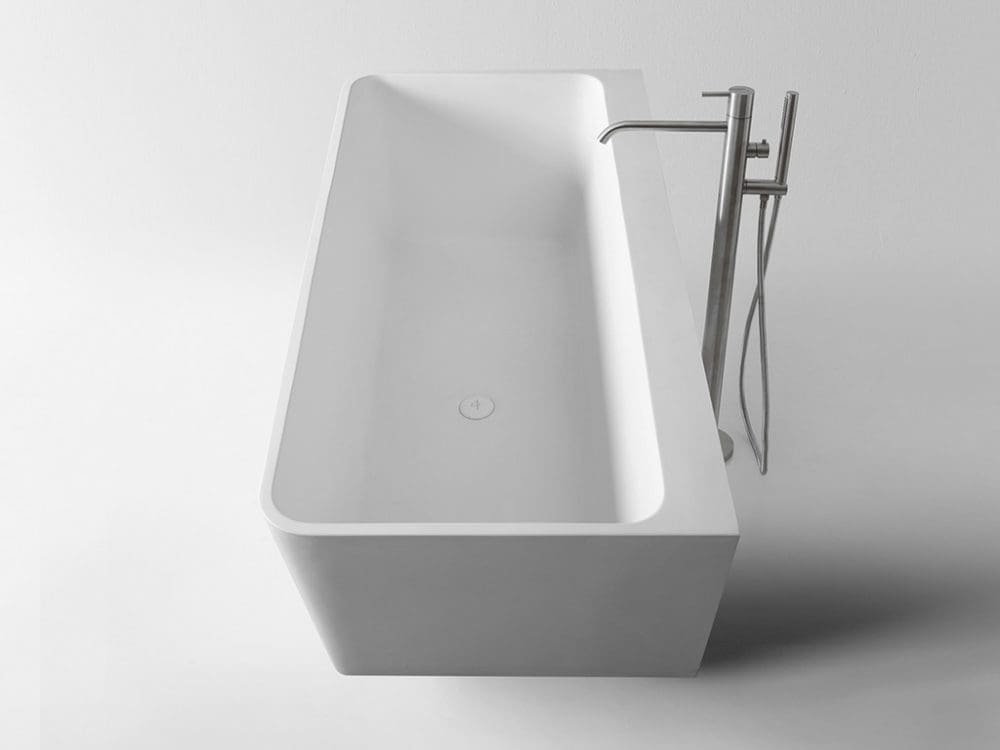 Toilet
It's hard to get excited about a toilet but toilet technology has come a long way and there are plenty of 'nice to have' features too, such as easy button release of toilet seats to make cleaning a breeze.
Because I'm thinking of using brushed platinum tapware, I'd like for the flush plate of the toilet to match. One brand that can do this is Astra Walker so here's the toilet and flush plate I'm considering.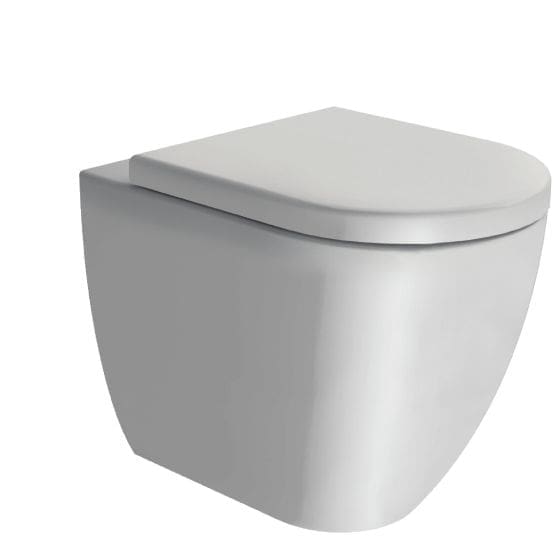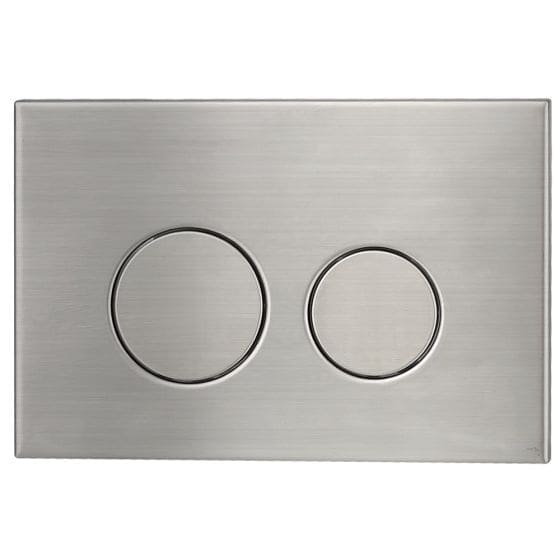 Tapware
Although most of the tapware in our house is currently black, we went with a pretty cheap tapware brand when we built and most of the taps are now broken (handles are popping off or they've become scratched and damaged). I've become more of a fan of brushed nickel/brushed platinum recently and I'm fairly certain I'll go with this finish in the timeless 'Icon' shape by Astra Walker. You can see the range of shapes on their website here and I've included a brushed platinum mixer below to show you the finish.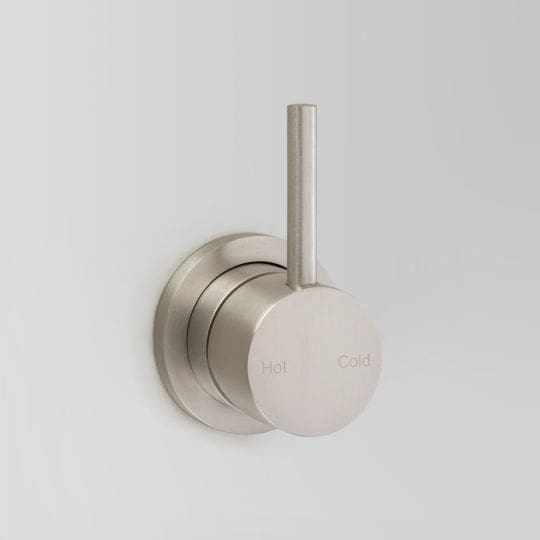 Lighting
The final decision is around lighting. We had a lighting expert help us create a lighting plan for our house when we were building and it's one of my favourite aspects of our home. As I was undecided about what mirror we'd use in our bathroom (we added the round mirror after we moved in), we allowed a provision for a wall light or pendant near the vanity but never put one in.
Since building, I interviewed our lighting expert again to ask him to share his top tips for lighting a bathroom and I loved the ideas he had around using recessed LED lighting, such as down a wall or along one side of the ceiling. The bathroom that I recently featured from ACT Renovations was a great example of this and I'm basically planning to do the same thing above the wall our bath will sit along so it will wash light down over our marble mosaics (if that's the tile choice we end up going with!).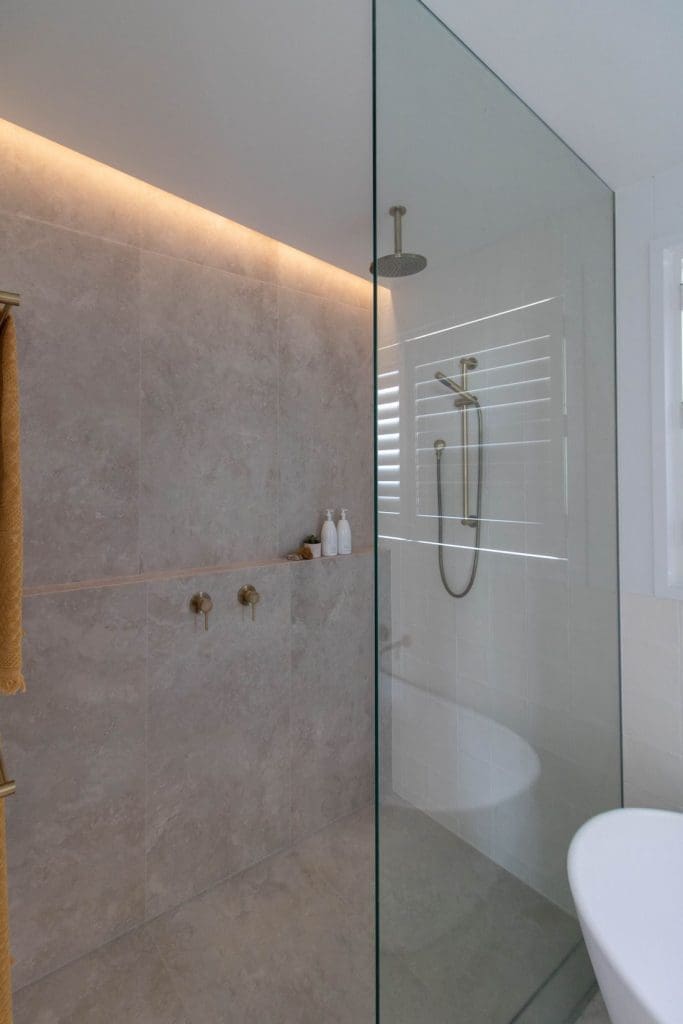 As well as this feature lighting strip, this time I'll also include lighting next to our mirror/shaving cabinet. I've always loved the minimal bubble lights or recently I've also seen some beautiful glass versions from Soktas… This is a decision I still have a bit of time with so I'll continue my search but here's an example of the bubble light I'm referring to.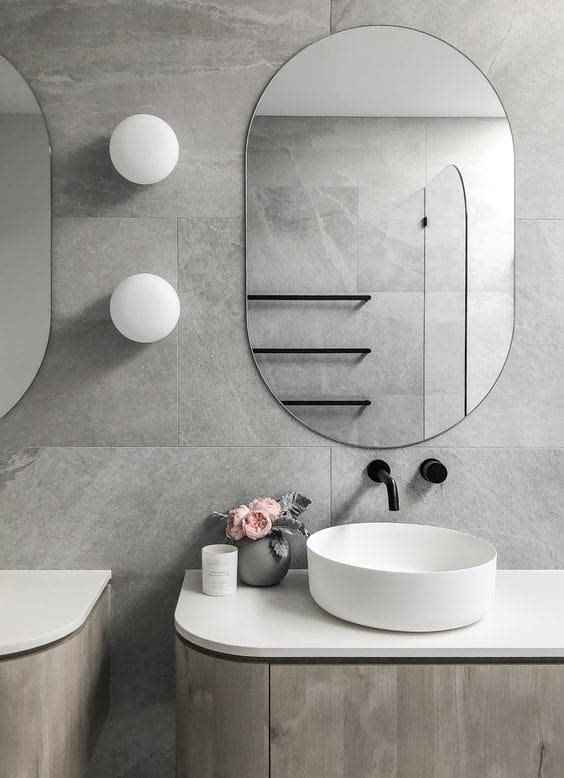 Materials palette
I always suggest making a mood board to see how things work together so I've created one with all the materials I'm planning on using in the space. It's a soft, tonal palette of warm grey tones, subtle natural veining, and timber accents for added warmth.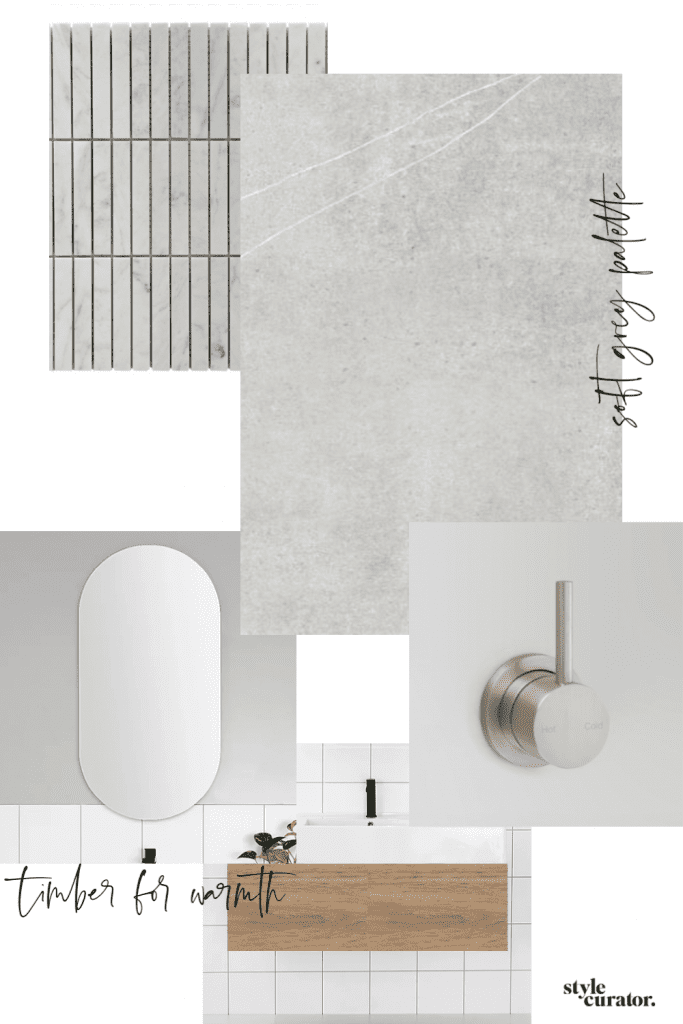 There you have my ideas around our bathroom renovation. I'd love you to comment below to tell me what you think — anything you love, hate or would do differently? If you've discovered any fabulous products that you think I should know about, I'd also appreciate it if you could drop a link to them below. Thanks in advance, I really appreciate all your input!