For many, the weekend is the perfect time take on a home improvement project. From creating a veggie garden to refreshing tired rooms, there's a lot you can do in a weekend and it doesn't have to cost you the world either! With plenty of long weekends coming up, you may be thinking of ticking a few home renos off your list.
From budget friendly DIYs to simple home improvement projects, we've found the best weekend renovation ideas to share with you. Keep scrolling for plenty of inspo to transform your home.
Related article: How to go from mood board to making selections for your reno or new build
Related article: 5 ways to better insulate your new home (and save money in the long run!)
1. Do that paint project
We often say there's no better bang for buck when renovating than with paint. It instantly transforms a space and most of us have at least one paint project on our to-do list. What better time than a free weekend to tackle the project?!
Whether you want to add a pop of colour to your front door or transform your living room, we've got plenty of renovation projects to inspire you. And if you're a painting newbie, our how to paint like a pro article has you covered, along with Gina's #1 painting tip.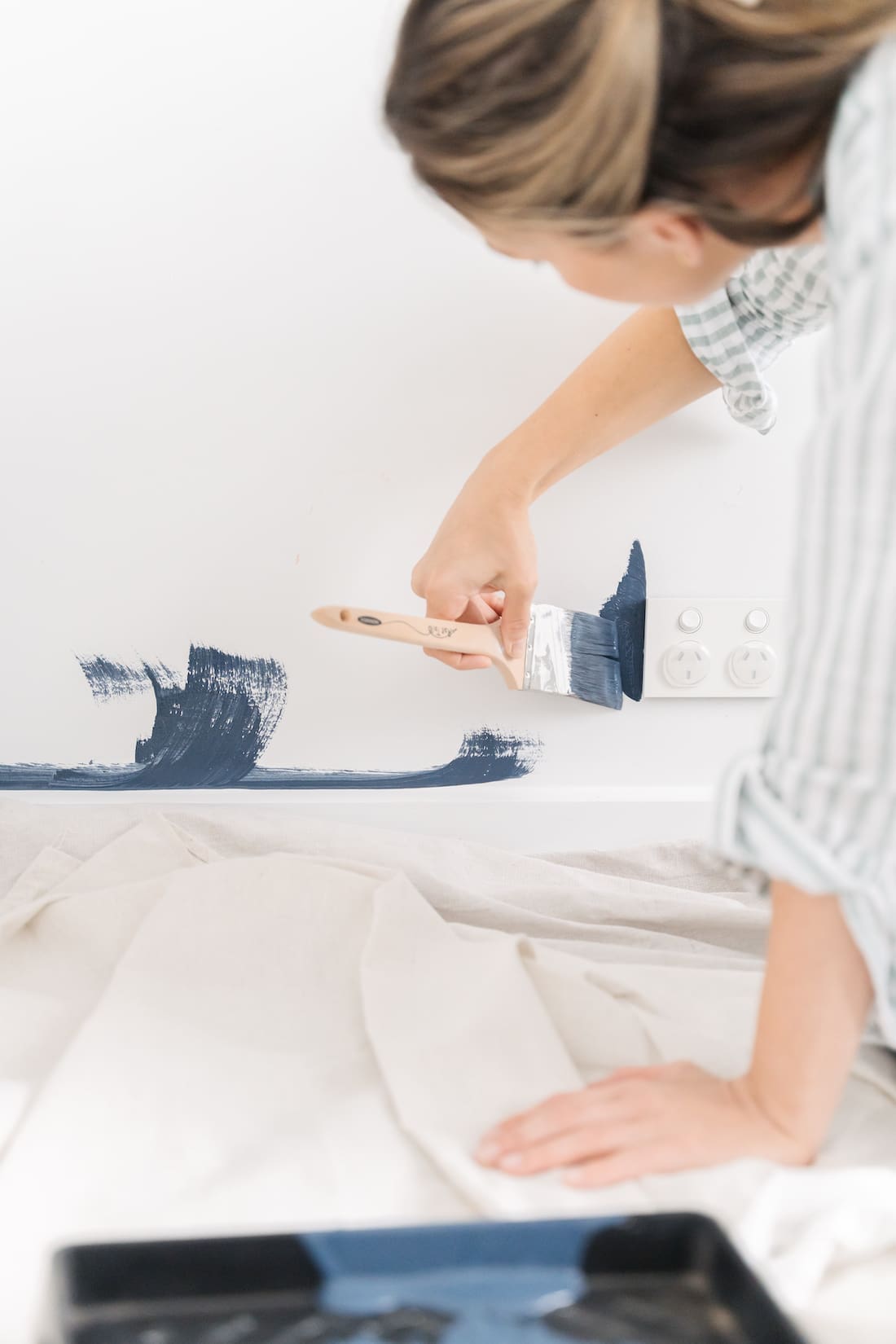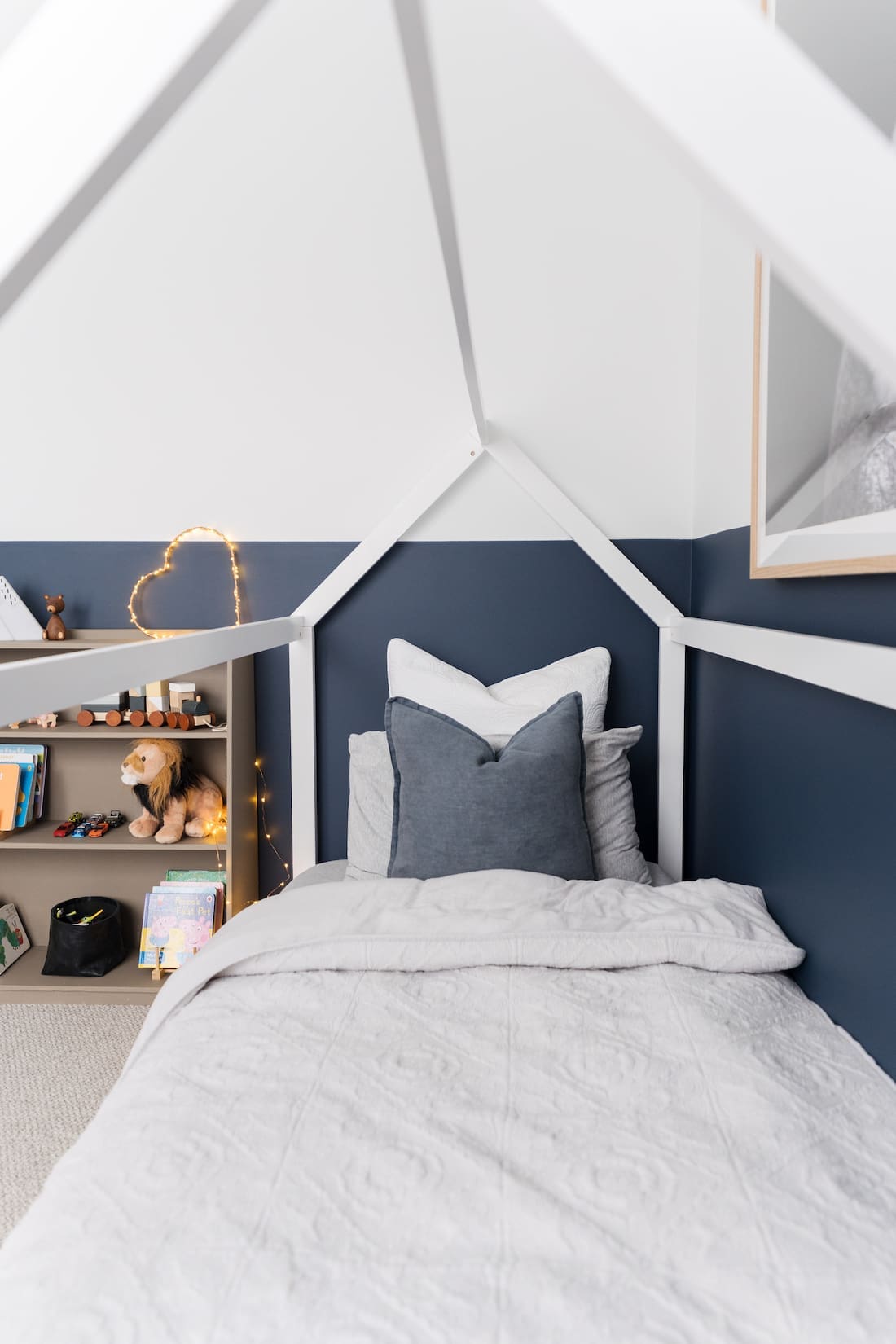 2. Mudroom bench hack
Been dreaming of creating a mudroom at your home? It could be easier than you think! This clever hack by Taralee uses two Kmart rattan sideboards to create a gorgeous boho bench seat.
Another popular place to shop for furniture and cabinetry that you can hack is IKEA. Check out this article with our favourite IKEA hacks to inspire a project of your own.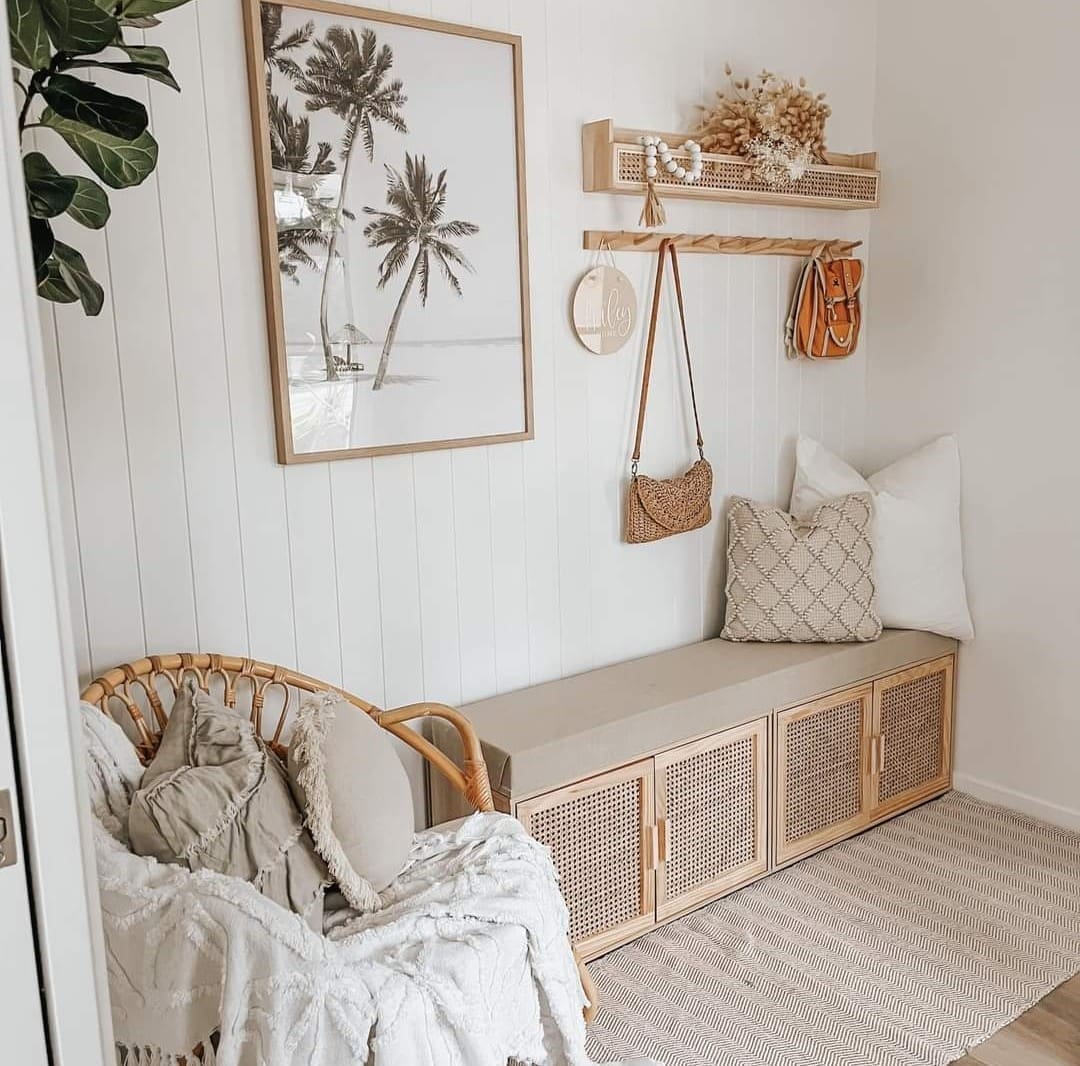 3. Temporary wall transformation
Dulux Trend Forecaster and Stylist, Bree Leech, filled in a cut-out wall between two adjoining rooms in her rental property using only a fluted Laminex wall panel and some paint. This clever idea adds texture and a big pop of (temporary) colour to her space, making it an ideal home improvement project for renters.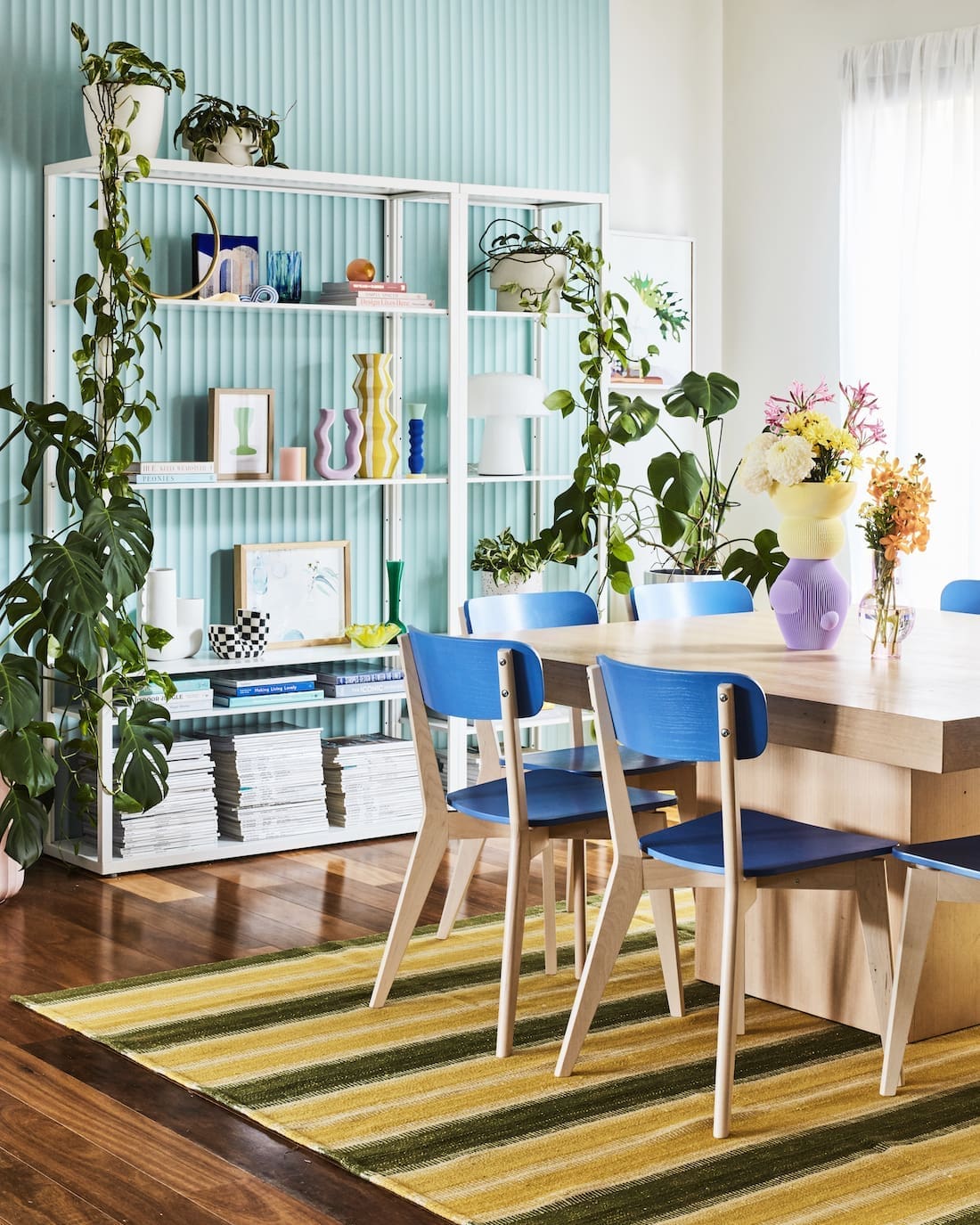 4. Built-in bookcase pantry
This IKEA bookshelf turned stunning built-in pantry from Breakfast at Kellie's is pure genius! She achieved her dream kitchen storage solution while on a budget and without needing to completely renovate her kitchen. I mean, we can't even tell it's a bookcase!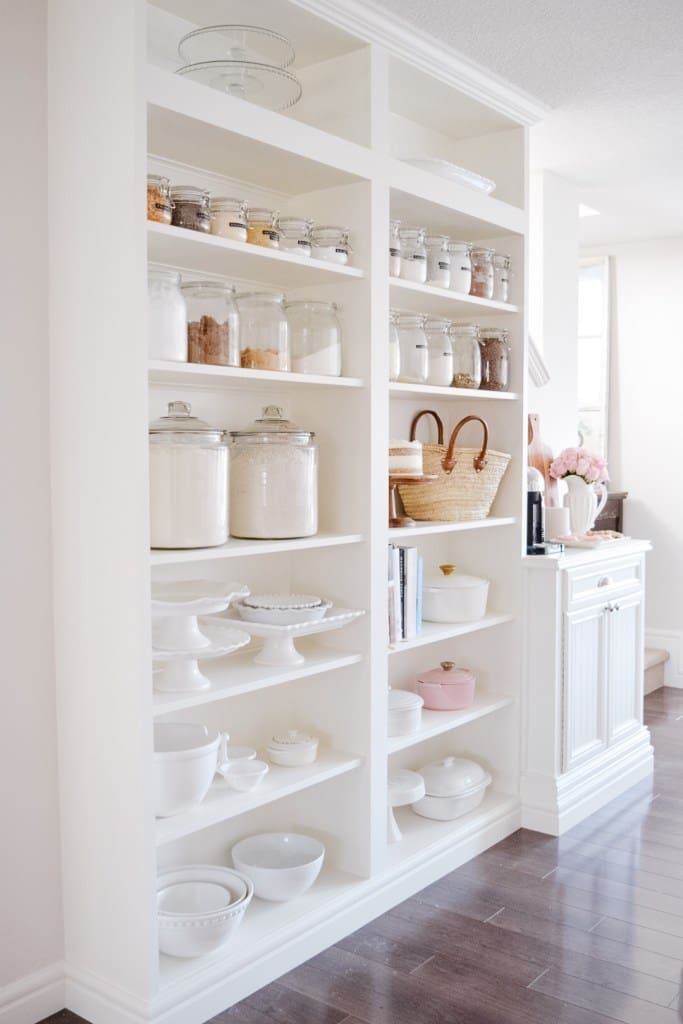 5. Create a kids play area
With summer around the corner, give your kids the ultimate outdoor play area. Not only will it keep them entertained for hours… it can help you have some peace and quiet in the home (we can dream, right?!).
One of our favourite places to shop for outdoor play products, such as sand pits and cubby houses, is Temple & Webster and you can explore their wide range here.
Or if you like the look of this outdoor play area Gina created for her children, read her full how-to guide here.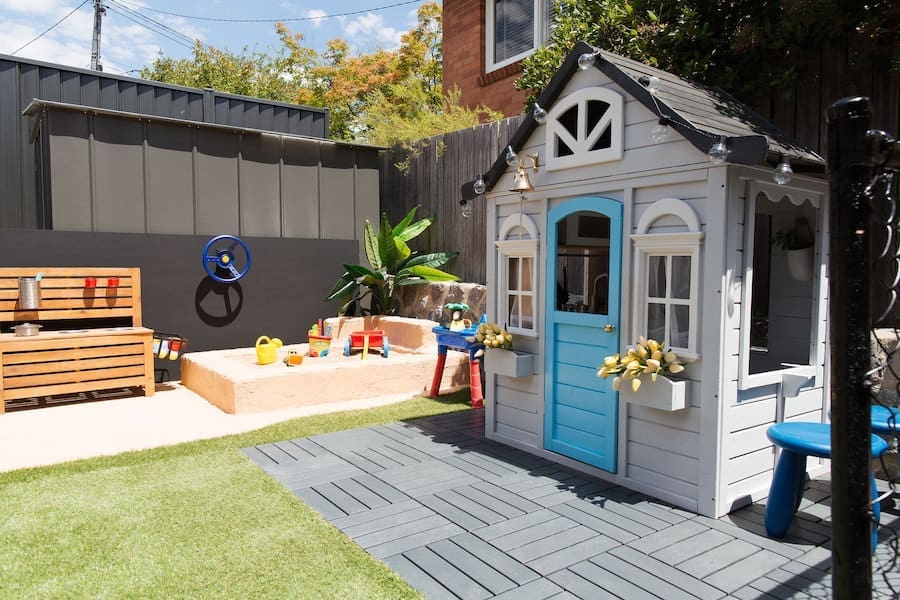 6. Introduce a barn door
Never underestimate your ability to create a new space with minimal work. Sometimes, one minor tweak to a space can completely change the feel. For example, one of our favourite renovation ideas — the barn door.
Below, we see the barn door Jessell and Andrew from @themartinezcasita DIY'd to hide their coffee bar during the day. You can also check out this small but stylish laundry renovation that is hidden behind a barn door.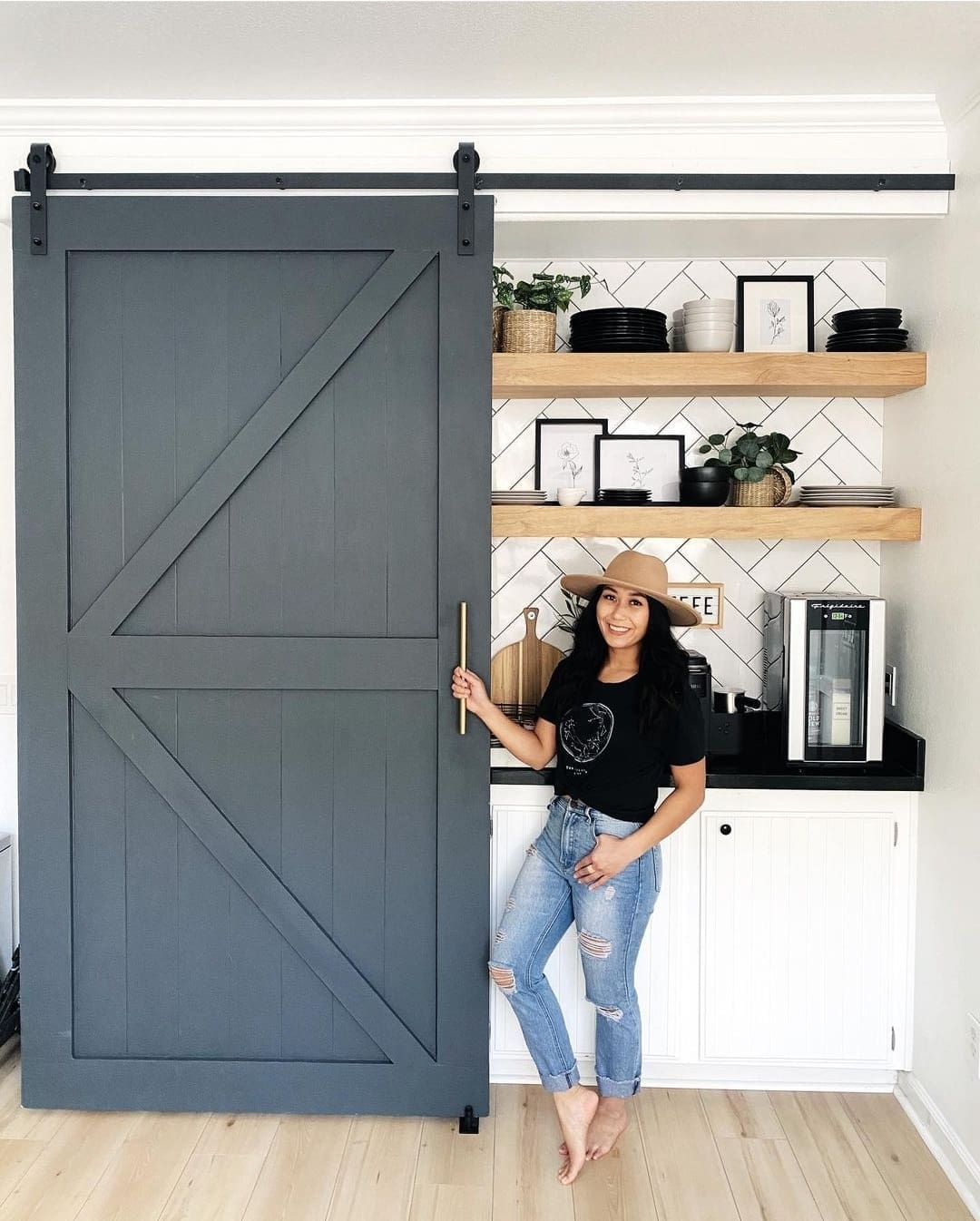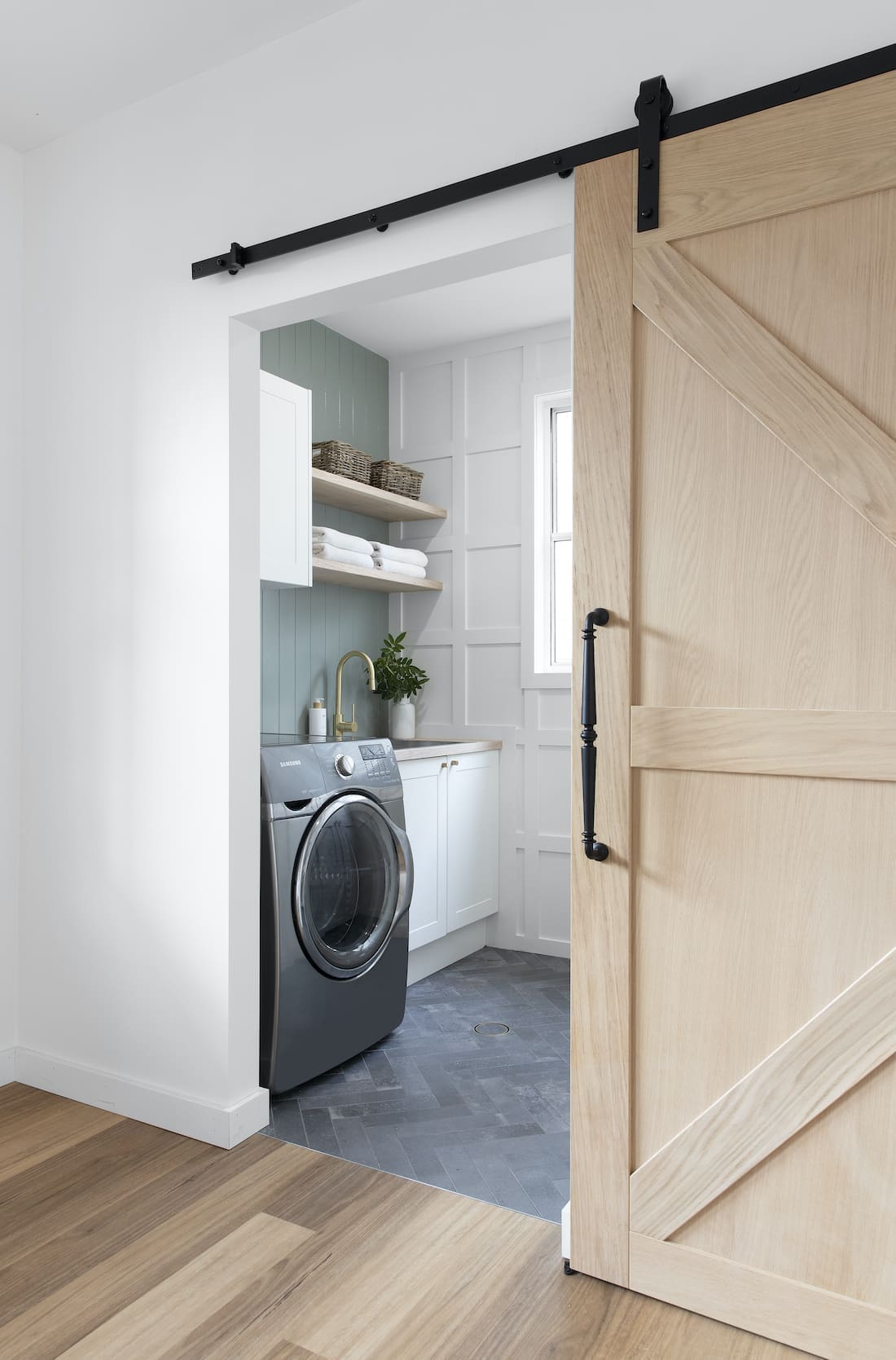 7. Garden vertical wall
Whether your goals are softening a harsh brick wall or just adding more greenery to your backyard, look no further than this vertical climbing star jasmine green wall. It will take you less than a day to set up and you'll be rewarded with a lush, flowering and fragrant green wall year-round!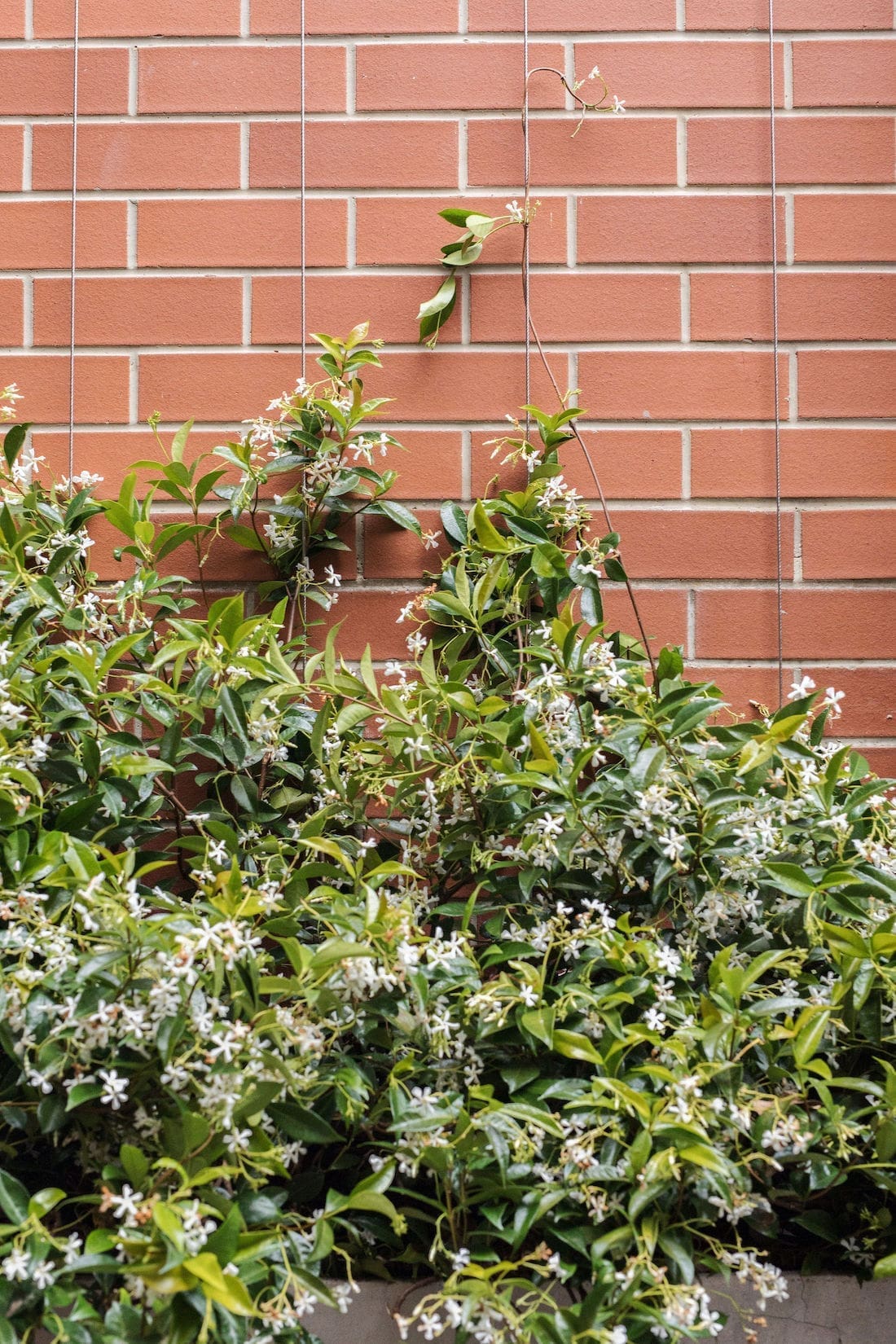 8. Window bench seat
Do you have an empty space below a window that you just can't figure out how to fill? Create the window seat of your dreams with this clever IKEA renovation by Kellin from Hydrangea Treehouse. She used IKEA Nordli drawers to create a functional and stylish built-in window seat.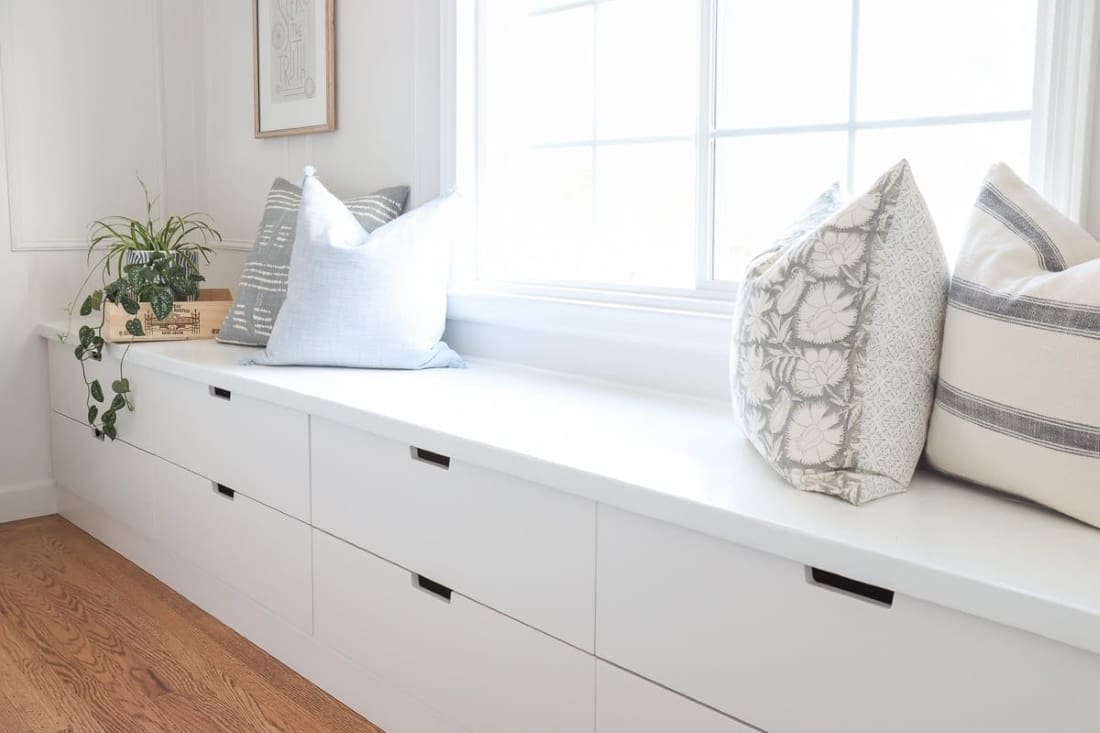 9. Faux plaster wall
We mentioned painting earlier and here's another way to add colour to your walls at home. Using paint and a plastic scraper tool, Geneva from Collective Gen created this faux plaster wall. She says her inspiration was the old, aged plaster walls she saw on her travels around Sri Lanka.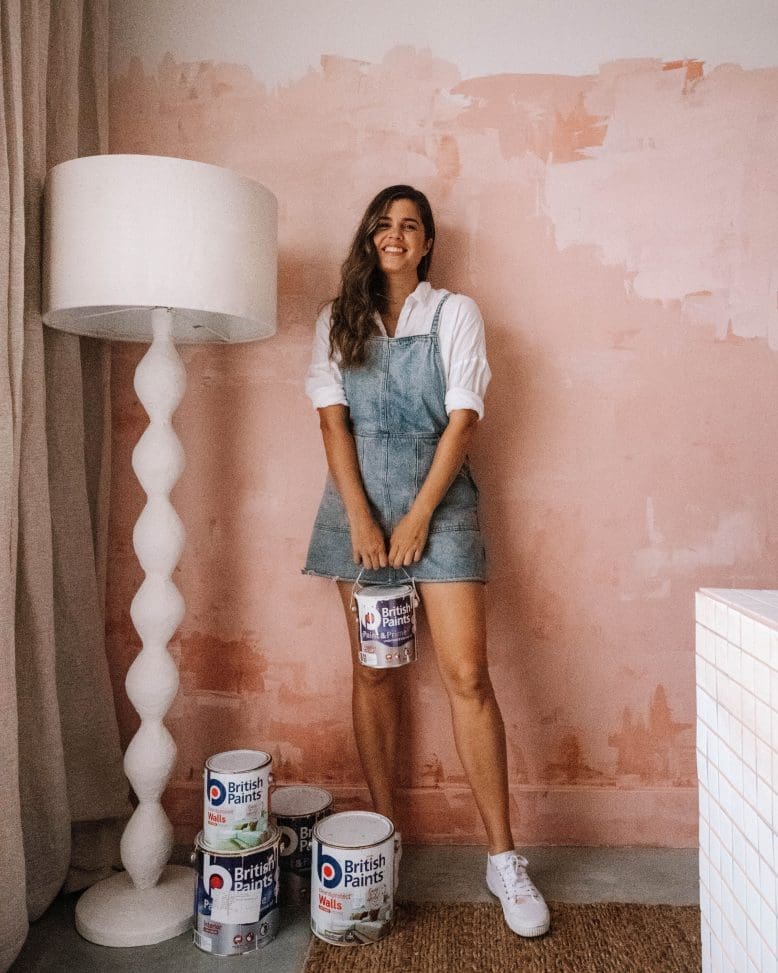 10. Laundry refresh
Do you dread walking into your laundry? Too often laundries are left as the forgotten utility room but no more! In this laundry tour, we chat with Interior Designer Jacqueline Chen who built the benchtop, shelving and sweet curtain in this laundry for less than $400!
Grab your screwdriver and get ready to create yourself a winning, budget laundry!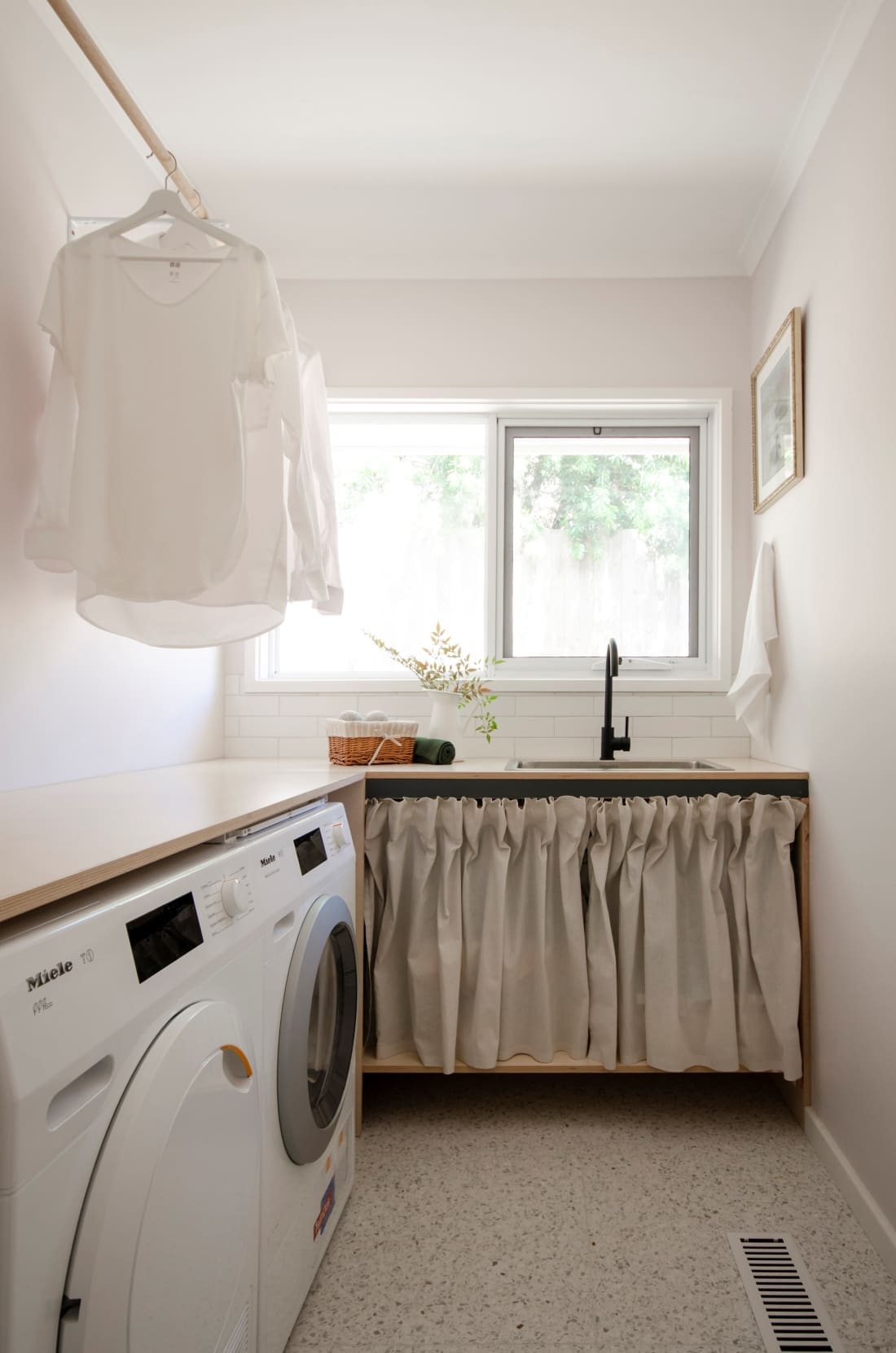 11. Start a herb or veggie garden
There's nothing more satisfying than growing your own vegetables. And for some reason, homegrown ALWAYS tastes better!
Now is a great time to start a veggie garden at home and you can create one no matter how much outdoor space you have. Only have a balcony? Many veggies can be grown in pots like herbs, tomatoes, capsicum, lettuce or spinach.
If you have more space, you could start one in an existing garden bed or in a standalone planter box. There are SO many options and so many delicious things to grow.
You might also like to read this helpful article on how to start a vegetable garden or our comprehensive guide to what to grow in autumn in Australia.
Grab your herb and veggie essentials here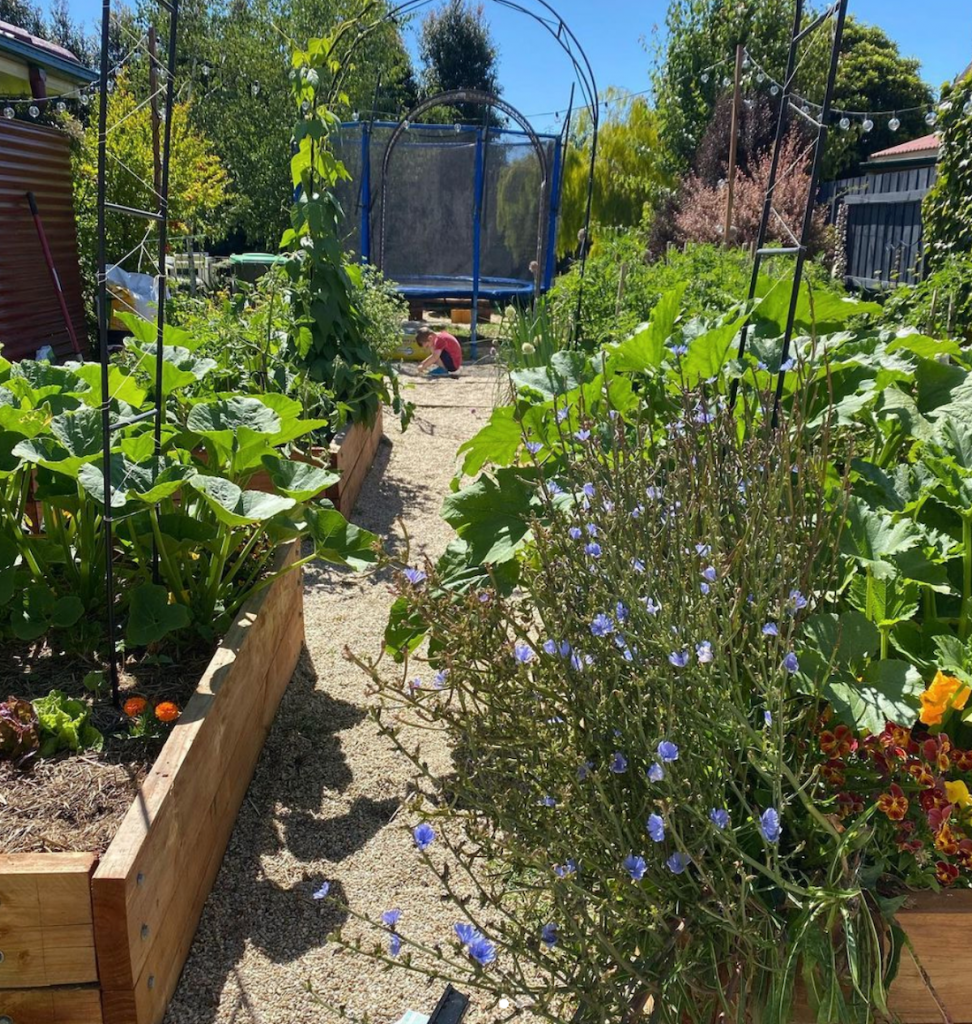 12. Give tired concrete a glow up
If drab concrete is bringing your outdoor space down, you'll be excited to know about a new renovation range on the market! Dulux has just launched its first Concrete & Paving products range. Perfect for concrete and paving (of course!), these product can transform garage floors, paths and patios. Just take a look at the driveway glow up below. You can find plenty more information about the Concrete & Paving range on the Dulux website, including a helpful how-to video.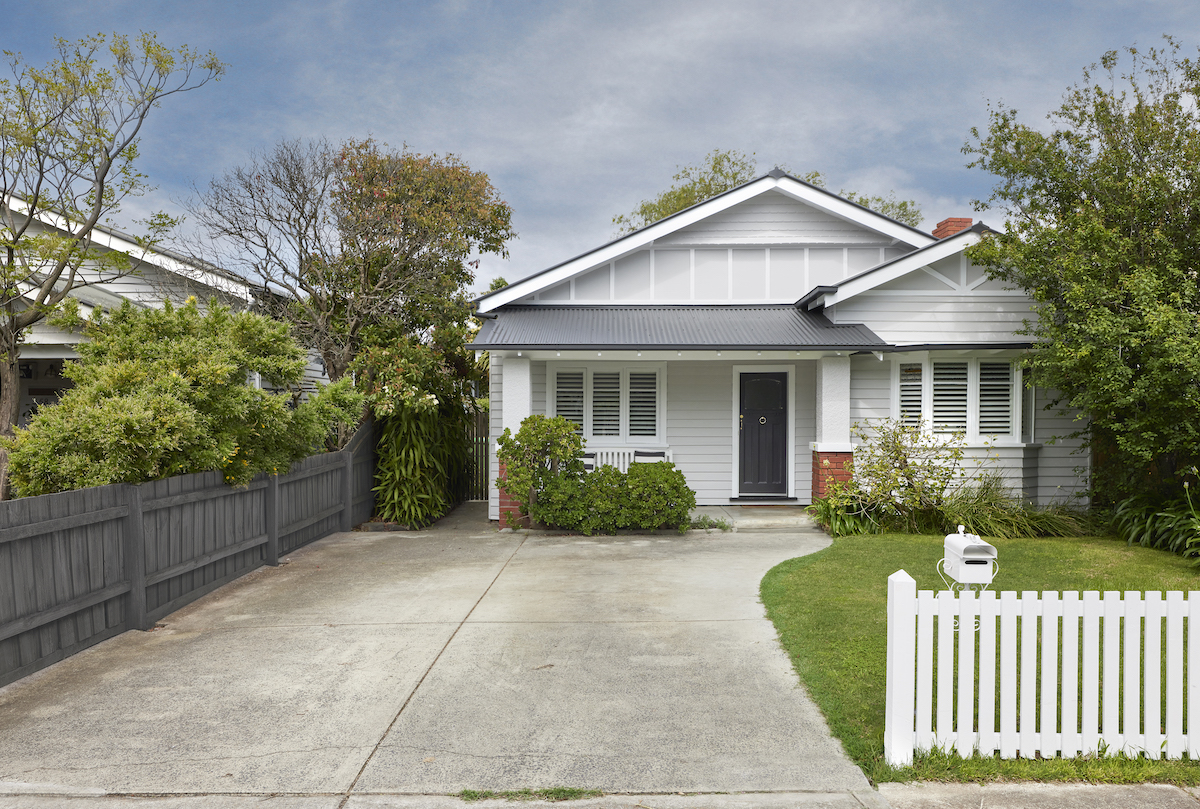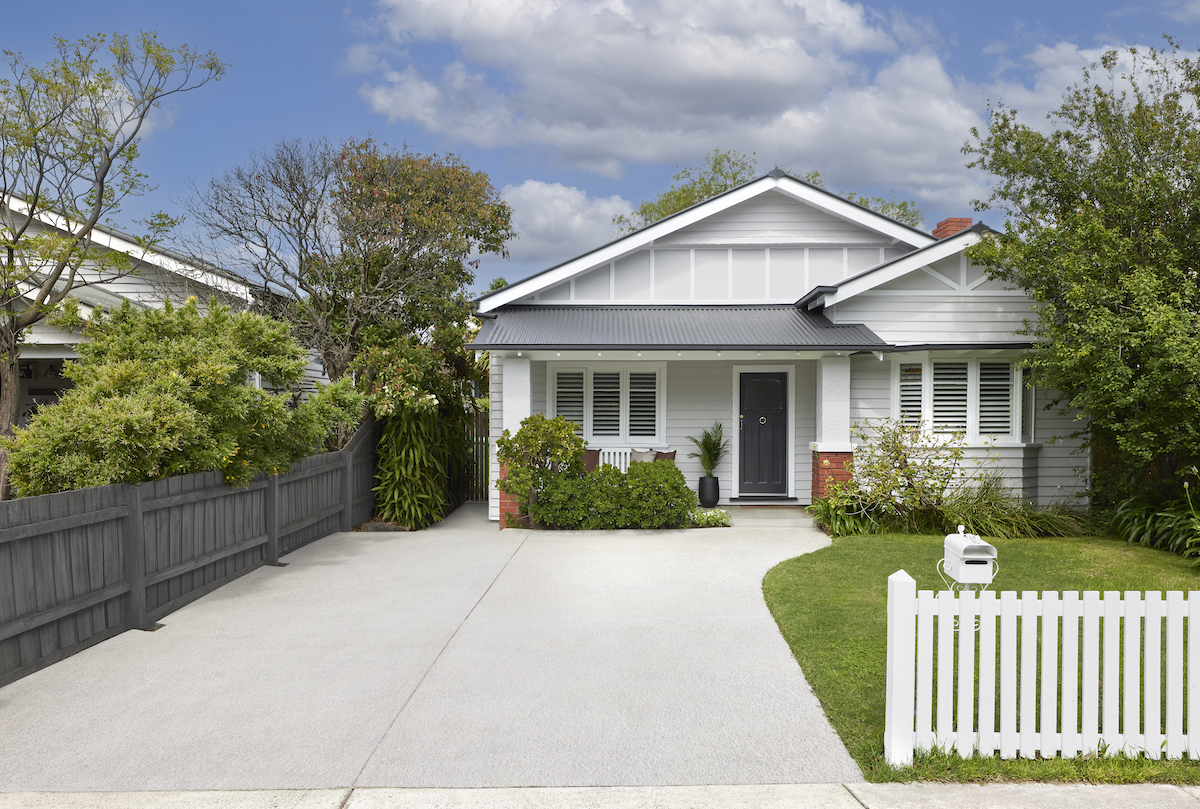 13. Elevate your bedroom with a half height wall
Half height walls or ledge walls are so popular right now! Give your bedroom a designer touch with this DIY home renovation idea.
For an affordable and simple solution (that can also be renter friendly), check out this tutorial where Mikahl shares how she used VJ panel directly onto a wall for added texture.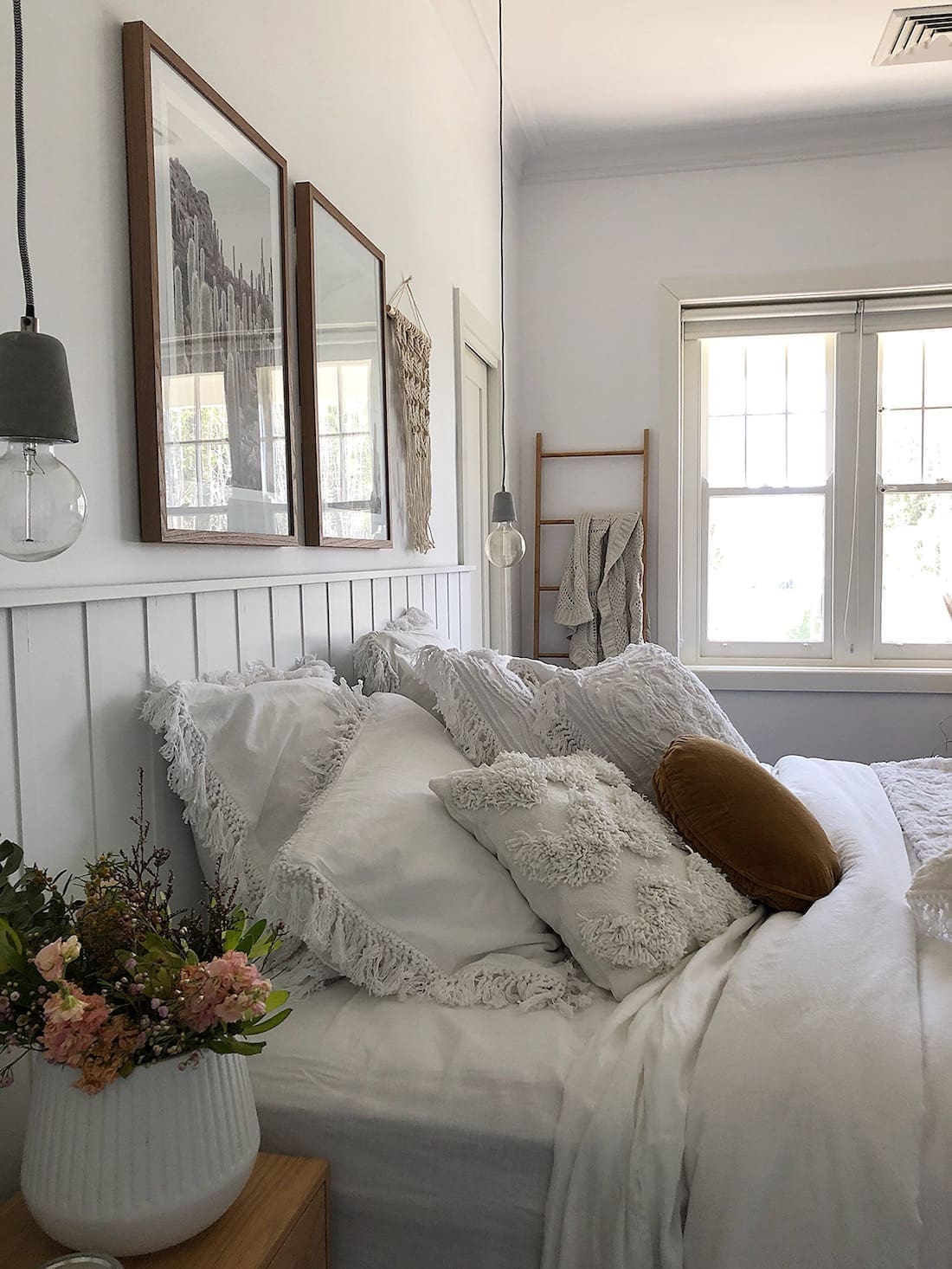 Or consider building out the half height wall to create a ledge. Gina recently did this in her master bedroom makeover using that gorgeous new Convex wall panel material and added terrazzo tile on top to finish the look.
Before you think 'too hard', she made this on her own (with the occasional help of her mini apprentice) and despite having no idea what she was doing, pulled it off. She shares all the steps here.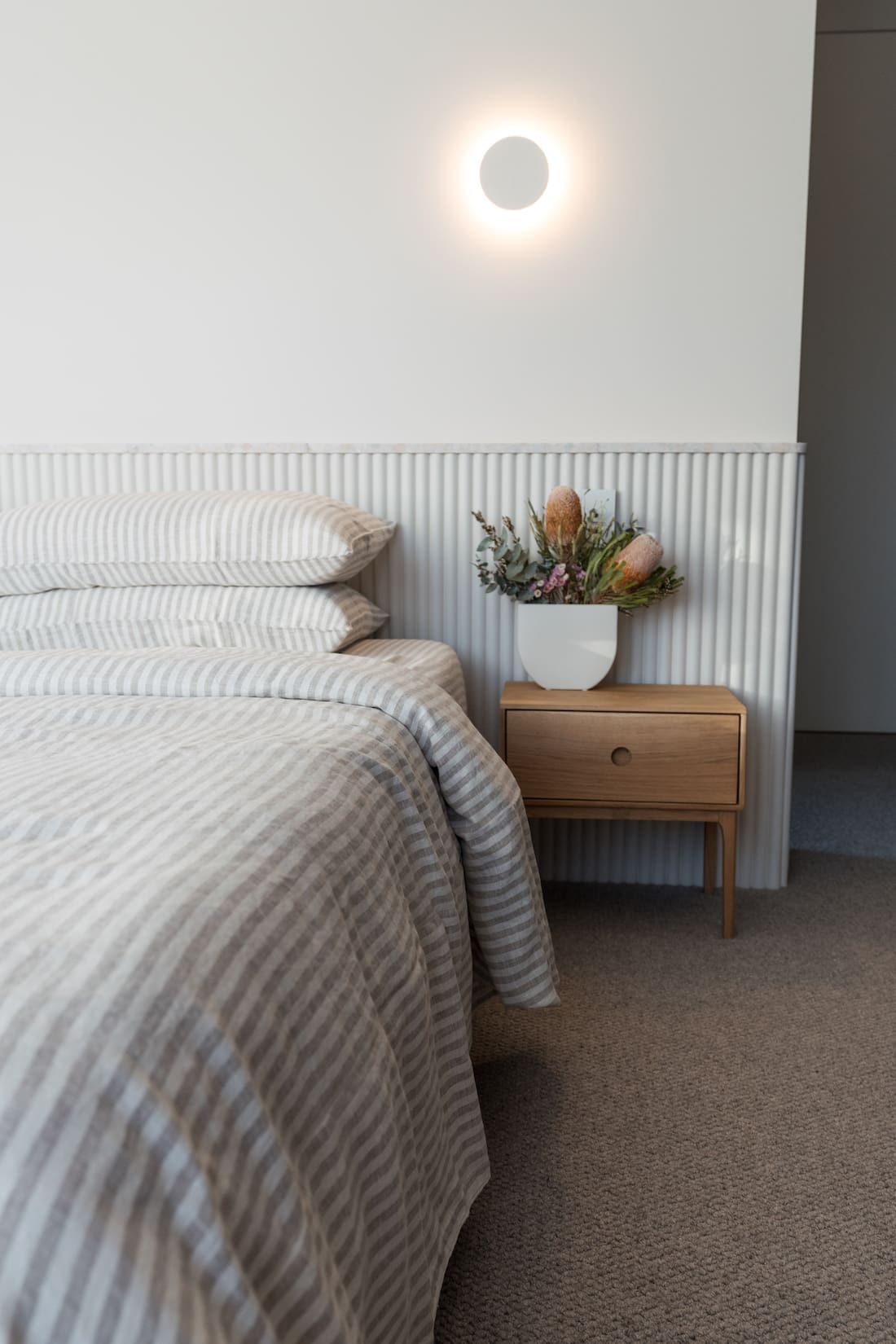 14. Introduce a pop of colour
Okay, so maybe we haven't sold you on painting a whole wall, but why not just add a dash of colour instead? A pop of colour can do wonders for a space!
For example, Instagram user @justoffroselane created a bold entrance by painting this rust coloured arch onto his wall.
Different colours can have various effects, so do a little reading on colour psychology to make an informed decision on what colour to bring into your space. You don't even have to be bold. There's nothing wrong with introducing a muted blush or even beige.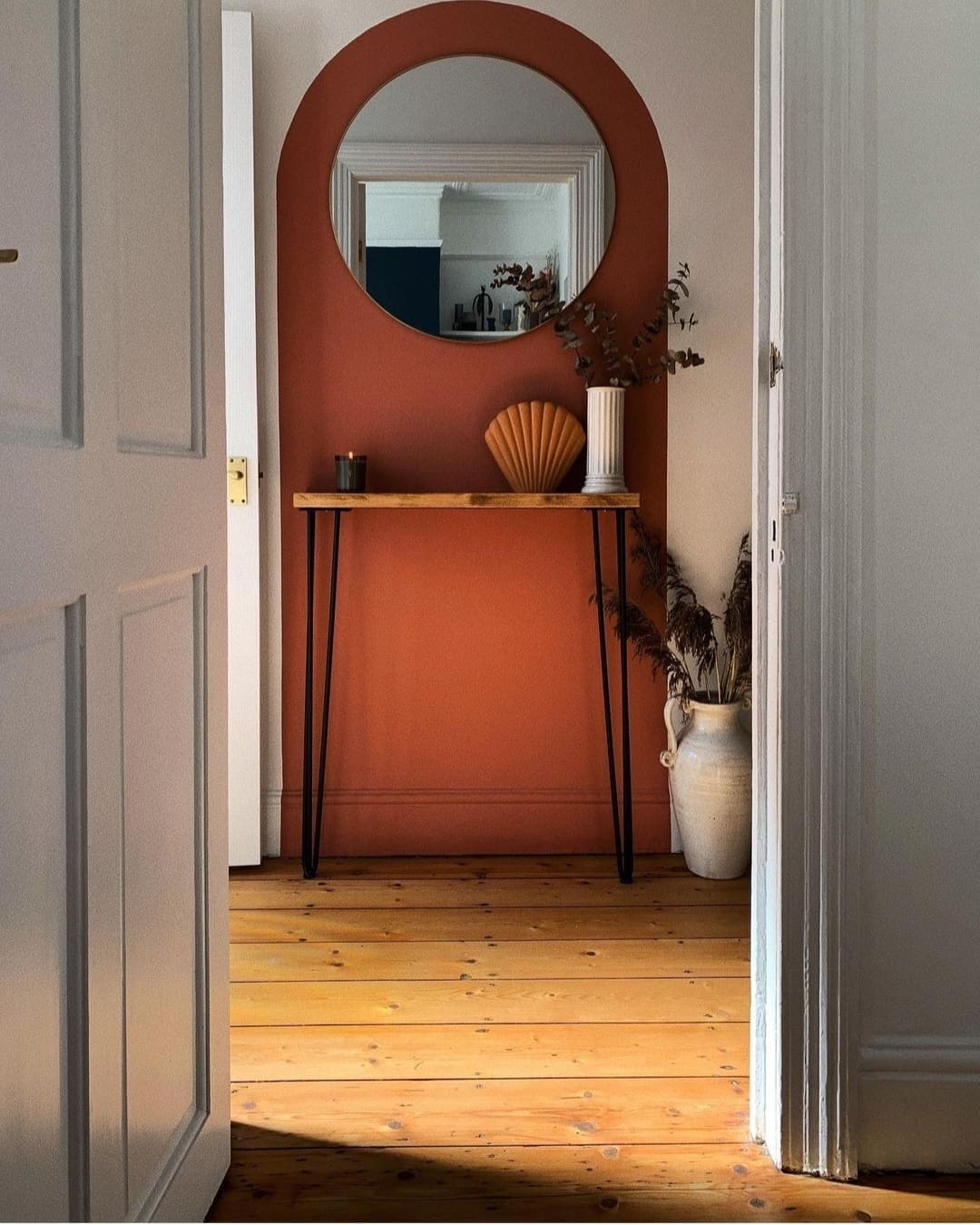 15. Paver walkway
If you're looking for another long weekend renovation project for your outdoors, this paver walkway DIY may be for you. Jen Woodhouse steps us through the A-Z of this walkway DIY, including some hot tips to create this space.
Jen uses artificial grass, and while it certainly lowers maintenance, we wouldn't shy away from using real grass or even Australian succulents.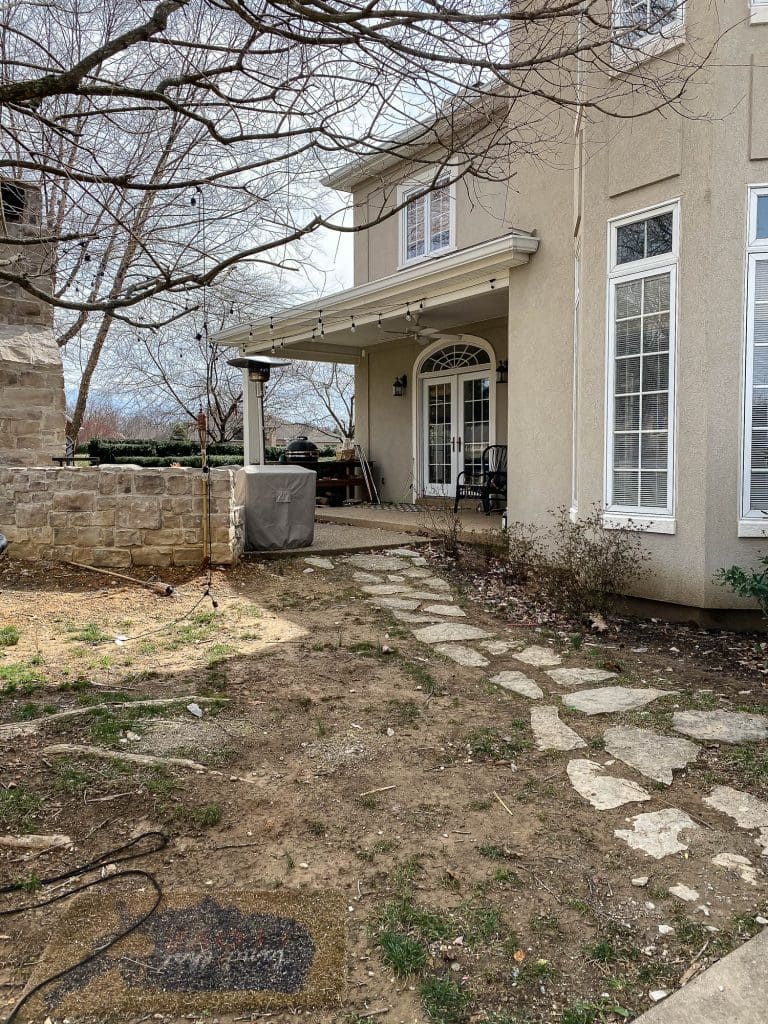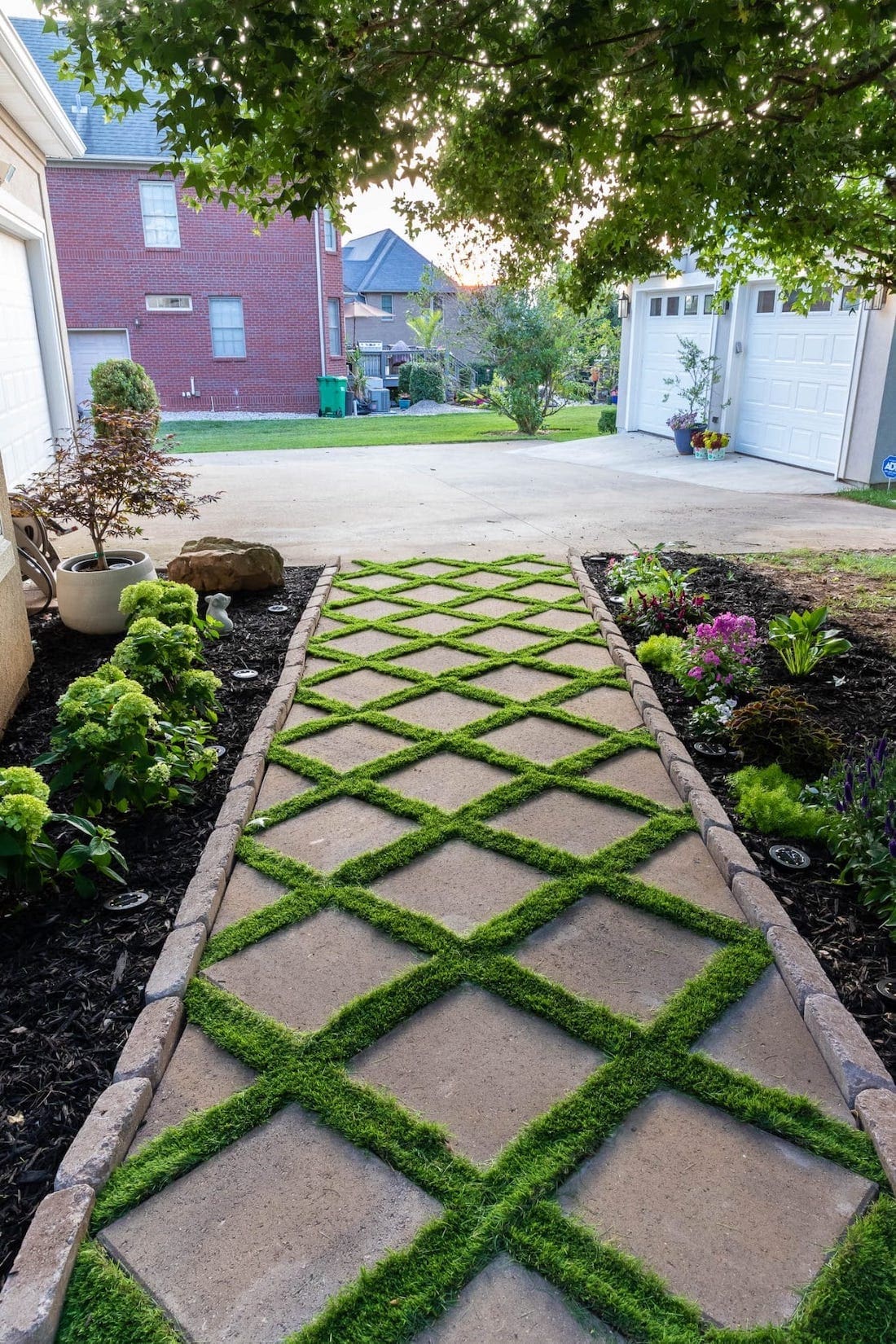 16. DIY self-adhesive tiles
Won't lie, we aren't completely sold on the adhesive tile trend but there's no denying it's an incredibly cheap and quick way to refresh a tired kitchen or laundry. Whether you're renting or simply looking for an affordable fix, stick on tiles could be the solution you've been looking for. It's one of the most popular weekend renovation ideas at the moment, and with the quick turn around it's easy to see why.
Kmart's self-adhesive tiles have been all the rage in Facebook groups and DIY circles since their release, but there are plenty of other patterns and designs on the market.
Shop some of our favourite self-adhesive tiles here
17. Transform an empty corner
If you have an empty corner of the home that's been bothering you, take a free weekend as an opportunity to transform it into a moment of interest. From music corners to gallery walls, we've gathered a complete list of how you could style an empty corner of your home here.
Take inspiration from this cosy corner Instagram fashion blogger Sharnna Caris created in her living room, complete with new shelves!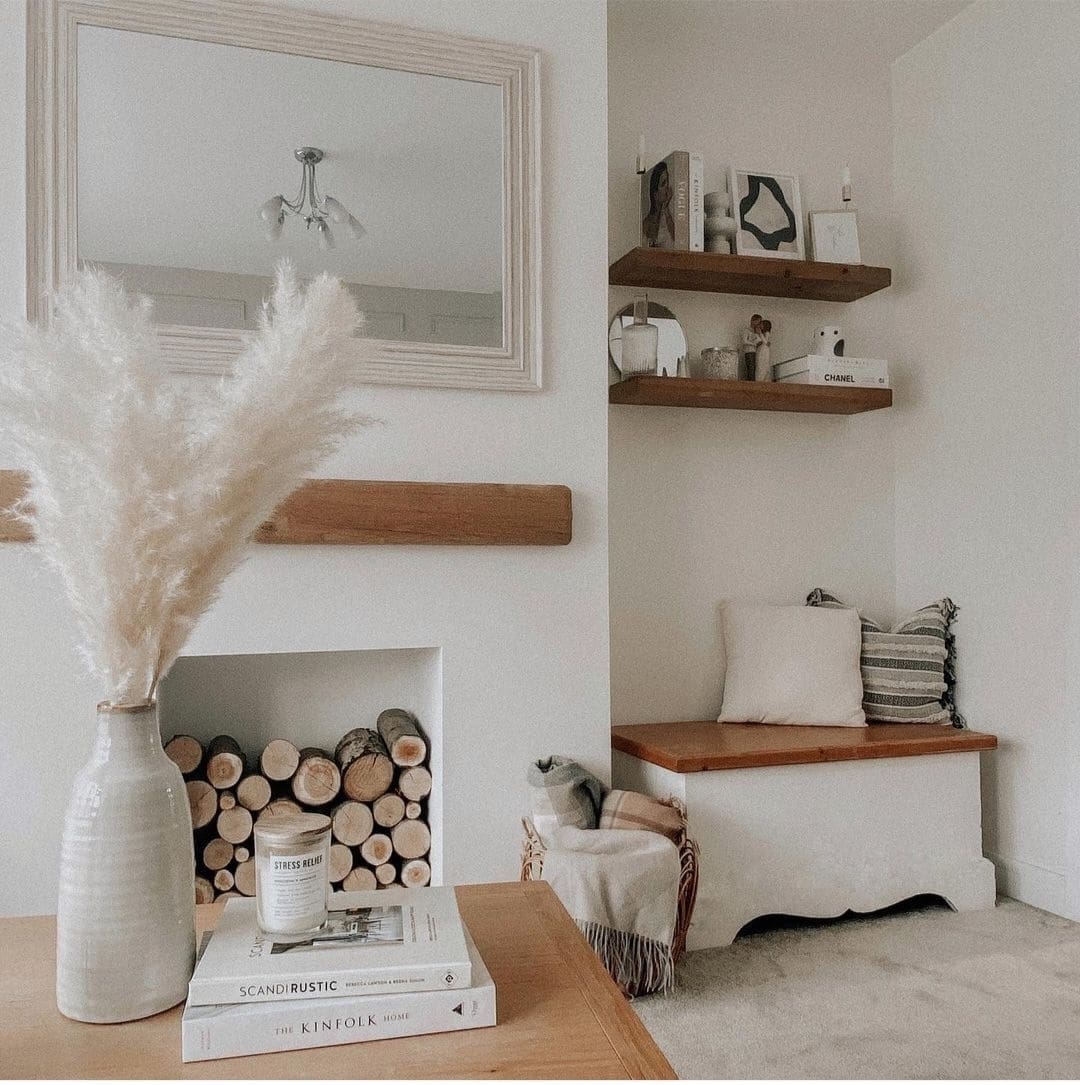 18. Door glow up
If there's one place a splash of paint has the greatest impact, it's your front door. Painting your front door can completely uplift your whole home. Plus it creates the best kind of first impression for yourself and visitors. From cheerful tones of sunshine yellow, peach and sky blue, to sophisticated hunter green and charcoal shades, the hardest part will be selecting a colour!
You can scroll through this fabulous front door gallery here for more inspiration. And don't feel limited to your front door. We're seeing plenty of people painting their interior doors too!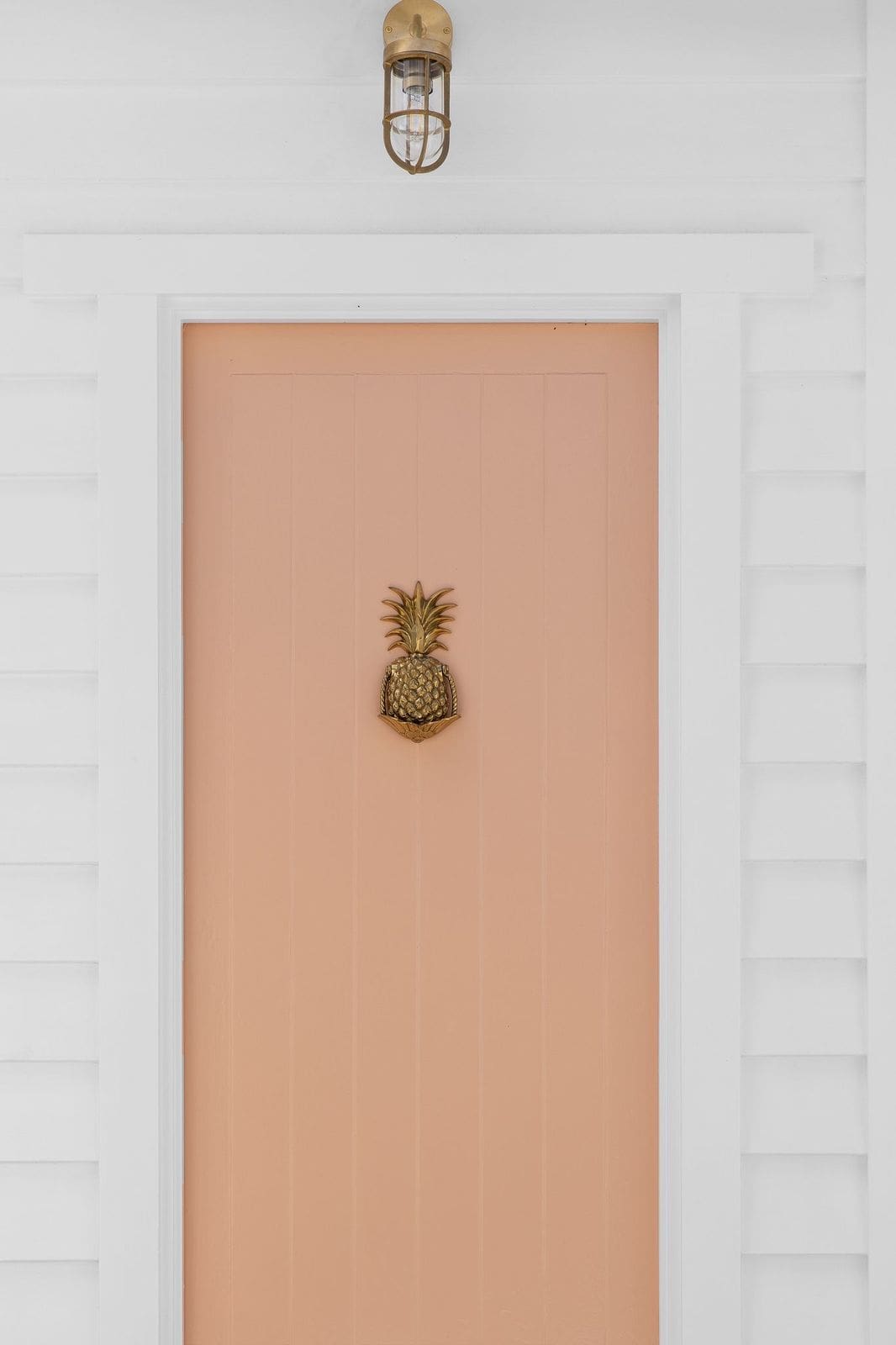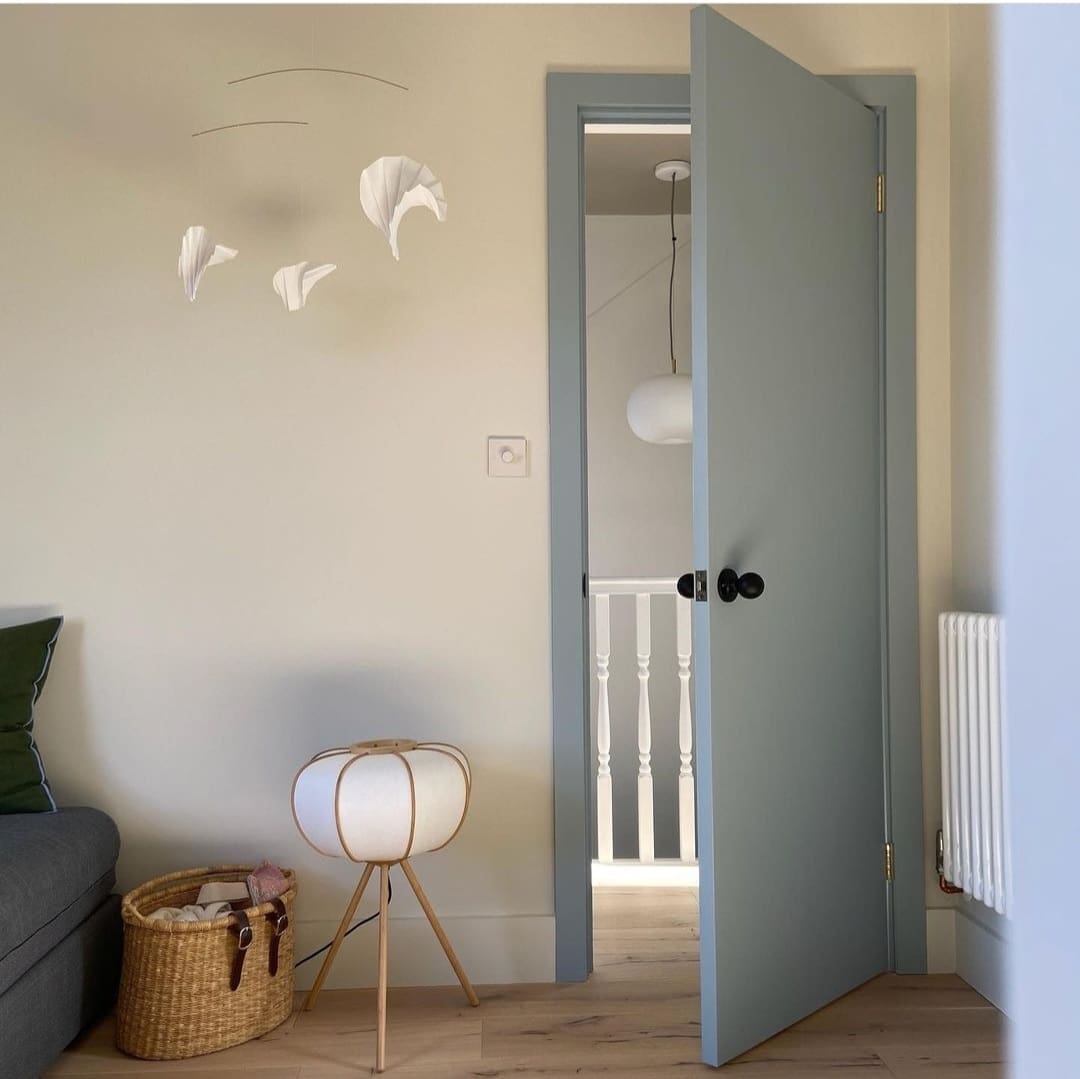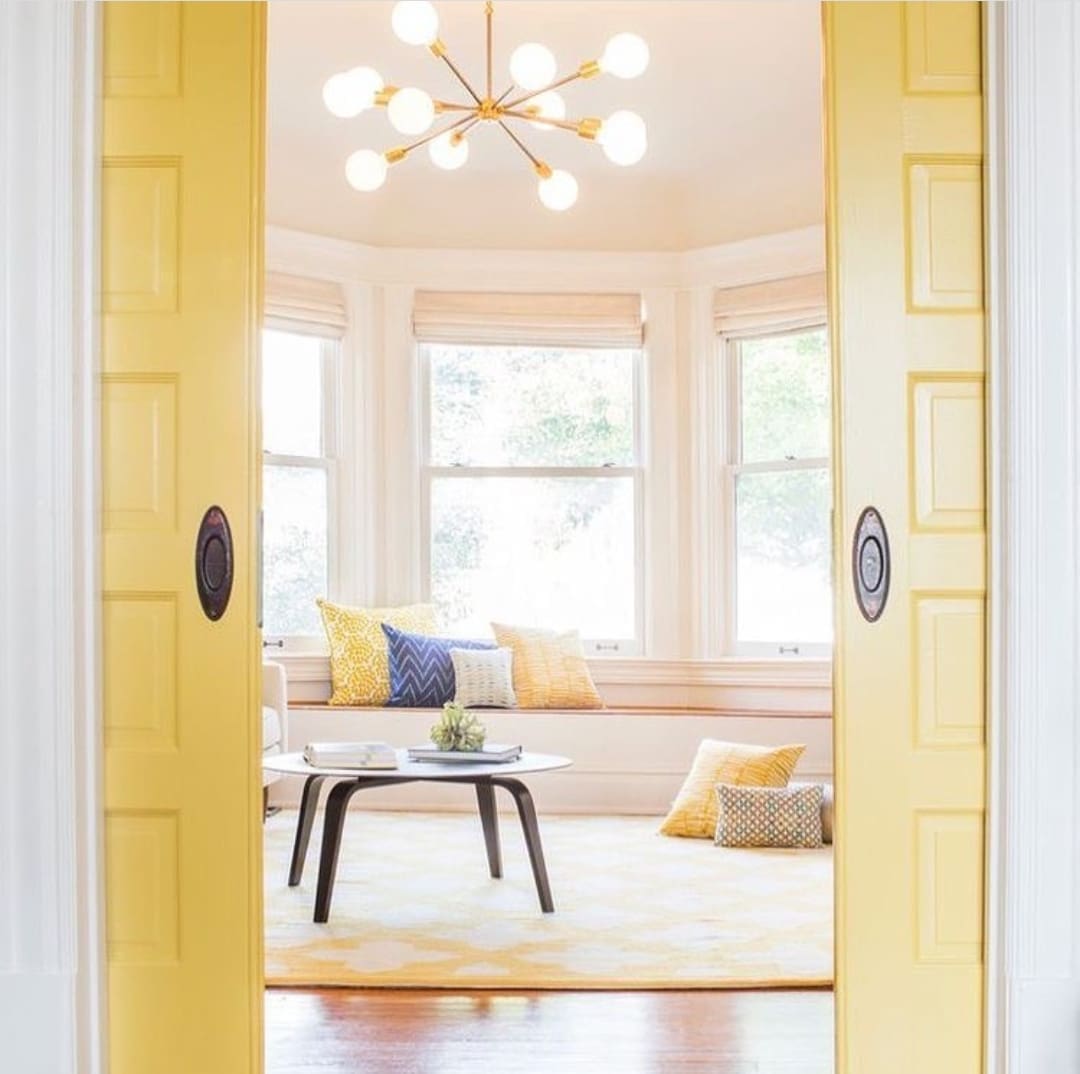 19. Outdoor pergola
Summer is almost here and that means it's the perfect time to get outside and enjoy the warmer weather. On of the best ways to renovate your backyard is to introduce a structure to it, and with the harsh Aussie sun, a pergola is a great idea!
Jen Woodhouse shares her outdoor renovation journey, including her floating deck as well as this DIY pergola.
We'll admit, this is probably the most challenging and costly of the weekend renovation ideas on this list. But where there's a will, there's a way! Perhaps you could rally some friends with DIY know-how together to help out or look into financing to make this reno goal happen.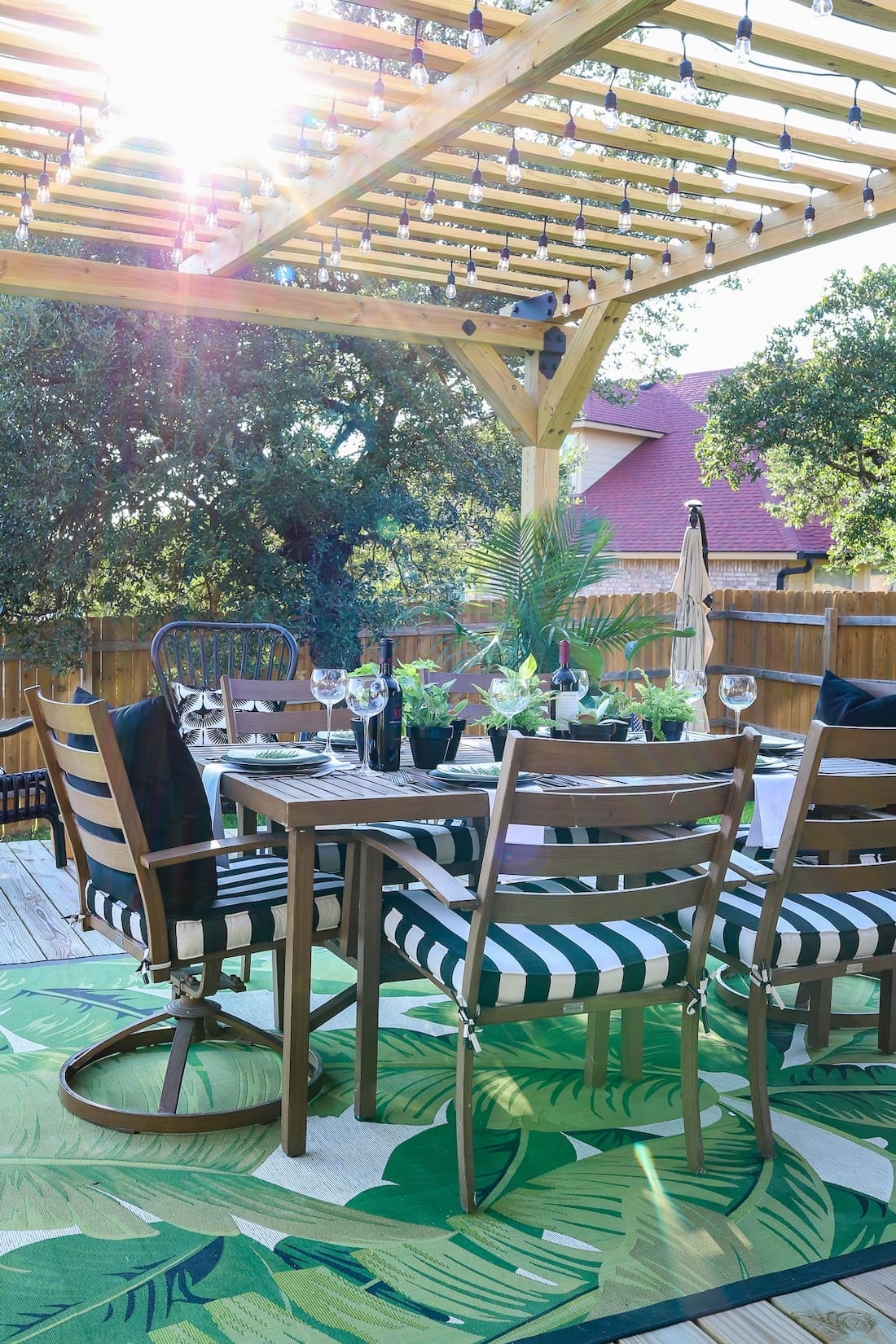 20. Square panel feature wall
Another sophisticated bedroom DIY project is to add wall panelling. There's no shortage of inspiration on Pinterest and here's one Gina created when she surprised her friend with a master bedroom makeover. Find the step-by-step tutorial to make this square panel feature wall with plenty of pics here.
Easy to copy and customise for you bedroom, living and dining spaces, it's a time-savvy DIY that can make a world of difference.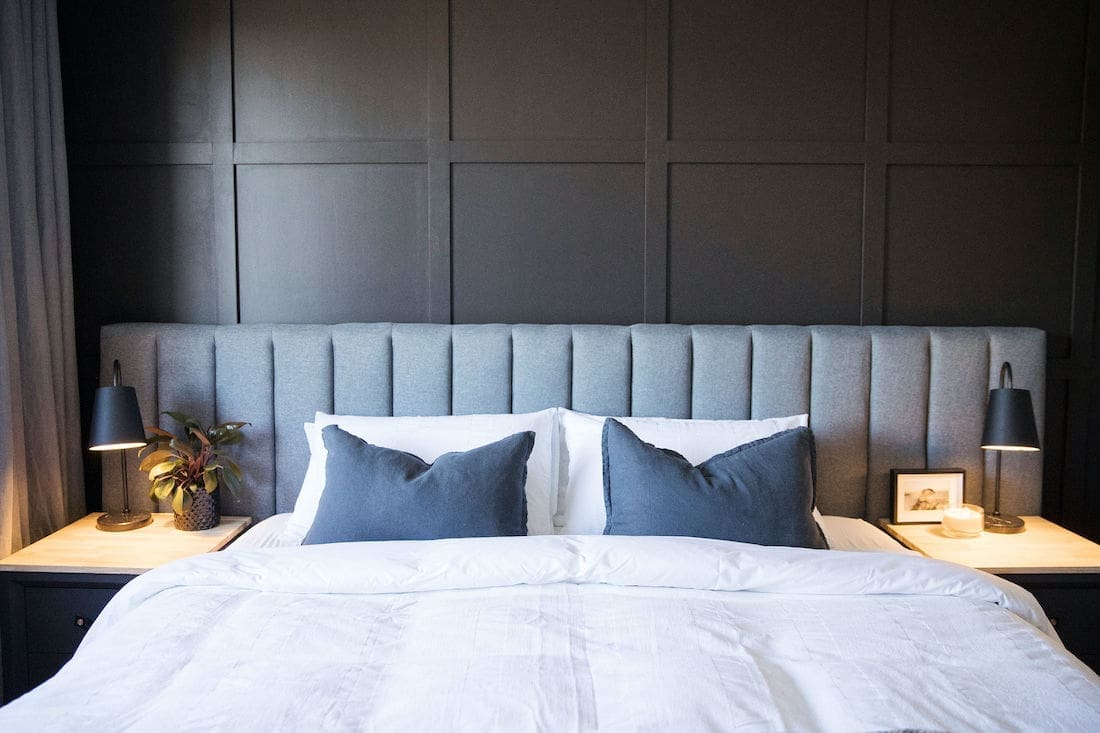 21. Alfresco makeover
This easy budget alfresco makeover by Jaimie from @reside_at_seventeen immediately caught our eye when it came across our Insta feed. Inspired by a laundry design, Jaimie transformed her tired alfresco into a beautiful outdoor living space using paint tile stencils.
Watch her Instagram video below, or find our full DIY rundown here.
Have you seen any other weekend renovation ideas? Have you tried any of these weekend renovation ideas? We'd love to hear your thoughts in the comments below!
Disclaimer: This post was first published in September 2022 and continues to be updated with the best weekend reno projects. It contains some affiliate links. This means that when you click on a link and purchase something from that site, we may make a small commission at no extra cost to you.